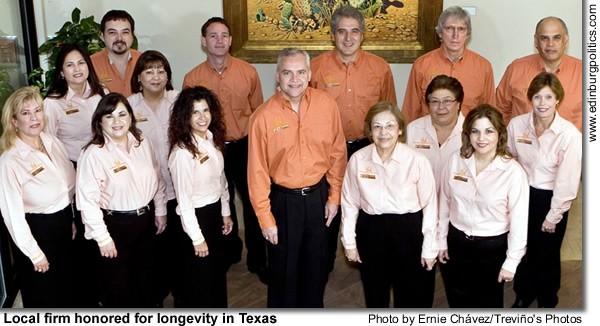 Edwards Abstract and Title Co., has been recognized by the Texas Land Title Association as the company with the second most consecutive years of service in the state of Texas. Edwards Abstract and Title Co. was founded in 1880 by Judge James Henry Edwards with property records of both Starr and Hidalgo counties. In 2008, Edwards is celebrating 128 years of serving the region with four branch offices in Hidalgo County. The company is independently owned and operated and the corporate office is located in Edinburg. Featured in the lobby of the Edwards Corporate Office in Edinburg are: Elva Jackson Garza, Vice President/Marketing Manager; Marilyn De Luna, McAllen Branch Manager/Escrow Officer; Diana S. Kaufold, Vice President/Edinburg Branch Manager/Escrow Officer; Byron Jay Lewis, President; Rachel Arévalo, Executive Vice President/Commercial Closing Specialist; Mary Arce, Weslaco Branch Manager/Escrow Officer (back) Mary Barrientos, Mission Branch Manager/Escrow Officer; Mel Casas, Branch Operations Coordinator; Edna Cazares, Comptroller; Dan Cook, I. T. Manager; Mark Peña, Attorney – Lewis, Monroe & Peña; Angie Villarreal, Assistant Plant Manager/Examiner; Nancy Bryant, Accounting Manager; Alan D. Monroe, Attorney – Lewis, Monroe & Peña and René Correa, Plant Manager/Title Attorney.
••••••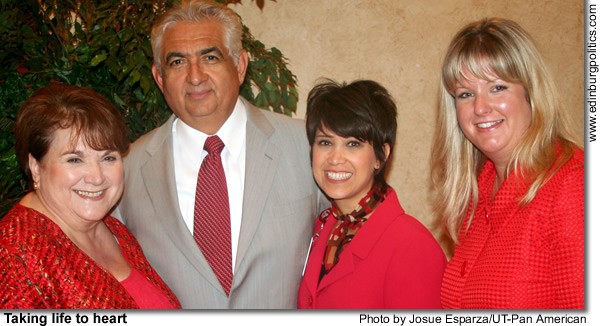 Dr. Blandina "Bambi" Cárdenas, president of the University of Texas-Pan American, spoke during the annual Go Red for Women Luncheon and Showcase, at the Cimarron Country Club in Mission on Thursday, May 22. At the event, hosted by the American Heart Association, Cárdenas talked about her heart surgery and the importance of maintaining a healthy lifestyle. Pictured from left to right are Cárdenas; Dr. Filiberto Rodríguez-Salinas, M.D. cardiovascular and thoracic surgeon; Gilda Romero, chief operating officer for the South Texas Health System; and Rebecca Taylor, senior corporate marketing director for the American Heart Association. For more information on the Go Red for Women event, contact Taylor at 956/984-0201.
••••••
<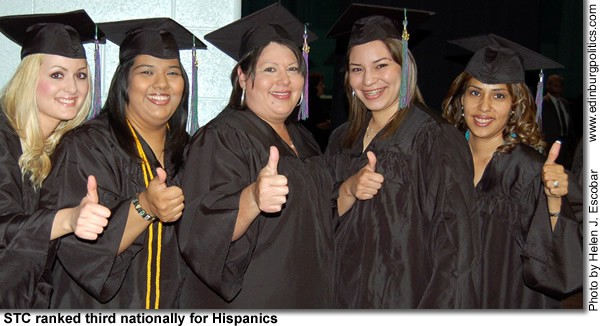 Once again South Texas College's commitment to the higher education of Hispanic students is being highlighted on the national education scene. Hispanic Outlook in Higher Education magazine ranks the college third in the nation in the enrollment of Hispanic students among all U.S. colleges. Hispanic students comprise more than 94 percent of the college's total enrollment. The ranking appears in the May 5, 2008 issue. Featured here are some of the more than 2,000 students who graduated earlier in May. See story later in this posting.
••••••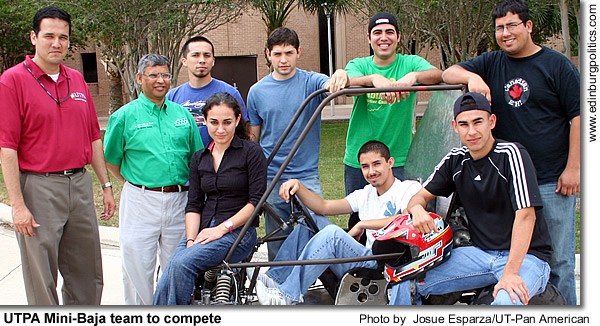 There are high hopes for "Archipos" and the Mini Baja team from The University of Texas-Pan American to do well as they gear up to compete in the international Mini Baja competition, June 11-14 in Orford, Quebec in Canada. The UTPA team will be among 120 teams competing from the United States and around the world in the international competition. Sponsored by the Society of Automotive Engineers (SAE), the object of the Mini Baja competition is to simulate real-world engineering design projects. Students work together to design, build, test, promote and race a vehicle within the limits of the rules. The team includes Dr. Arturo A. Fuentes, associate professor of mechanical engineering and senior adviser; Dr. Kamalaksha Sarkar, mechanical engineering lecturer and adviser; team captain Joe Villanueva; Torres; Julian Gutiérrez, co-captain; Humberto Rodríguez; Luis Domínguez, Eddie E. Pérez, Roberto Pérez, Victor Salinas, Nathaniel Olivarez, Astrid K. Torres, and Eleazar Ruiz. See story later in this posting.
••••••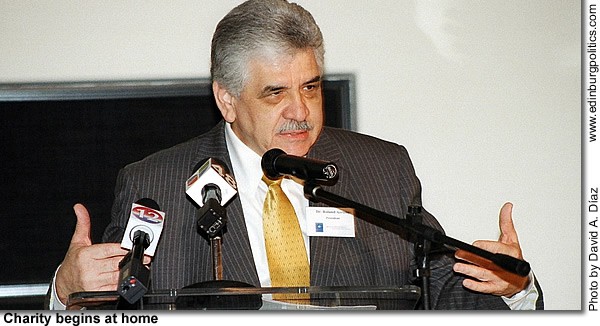 Dr. Roland S. Arriola, Ph.D., on Wednesday, May 28, announced the formation of ENCORE – Engaging Communities for College Readiness, a major initiative of the Texas Valley Communities Foundation to help more students aspire, and be academically prepared, for college and university life. Arriola, a former longtime board member of the Edinburg Economic Development Corporation, is president of the TVCF. The non-profit group, which is based in Edinburg, plans to create a $100 million endowment to help dozens of Valley charities help improve the quality-of-life in deep South Texas. See lead story later in this posting.
••••••