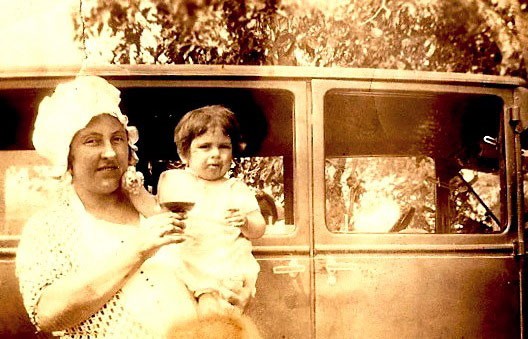 A Toast to Life
Mrs. Gloria G. Saca, seen here as an infant in the summer of 1928 outside her Mission home with her mother, Beatriz Chapa Garza, seemingly gives a toast to life with a glass of chilled tea. Mrs. Saca, a longtime Edinburg resident who passed away on May 15, 2005, is being remembered this month by her loving and extended family in Texas.
••••••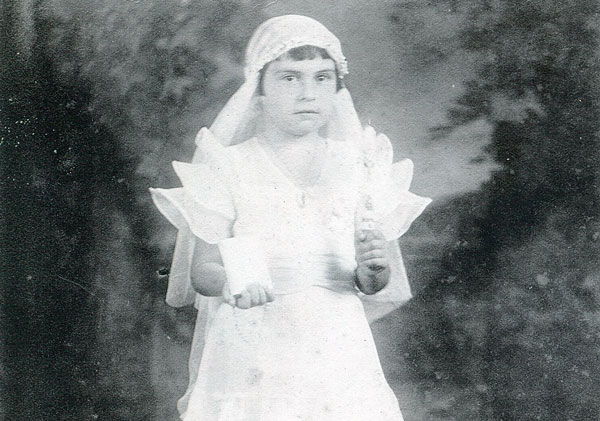 Holy Communion
As a young girl, and throughout her life, Mrs. Gloria G. Saca was always aware of the many blessings she had received from God, beginning in earnest when she received her First Holy Communion at Sacred Heart Catholic Church in Edinburg.
••••••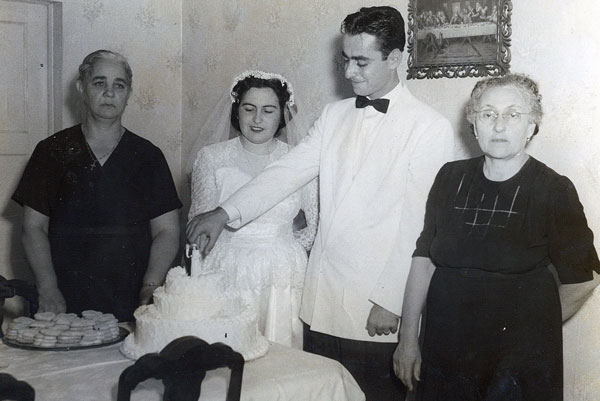 The One and Only
One of the happiest days of her life took place in 1950, when Gloria Garza married Carlos Saca, the son of Lebanese merchants, whose parents immigrated to General Teran, Mexico around the turn of the 20th century. They went on to successfully raise a wonderful family. Also shown with the couple are their mothers – Angelina Ancer Saca, shown on the left, and Beatriz Chapa Garza.
•••••
Third Anniversary –
In Memorium: Gloria G. Saca remembered as a champion of the elderly and disabled in Texas
..In my Father's house are many mansions, and I will go to prepare a place for you. I will come again and receive you unto Myself; and where I am, there ye may be also.
– John 14: 2–3
By DAVID A. DÍAZ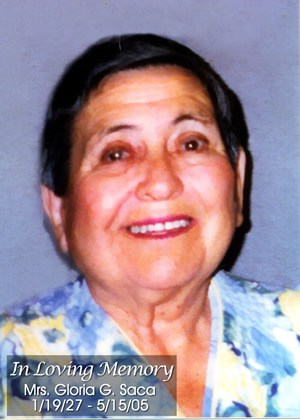 Beloved mother, grandmother, role model, and friend, Mrs. Gloria Garza Saca, 78, passed away, surrounded by her family, at her home in Edinburg on Sunday, May 15, 2005.
Mrs. Saca exemplified the best traits of South Texans: intelligence, determination, achievement, humility, and compassion.
She earned her credentials and many accomplishments the American way – successes forged from hard work that overcame economic and cultural obstacles.
An exemplary mother of three daughters and two sons, Mrs. Saca demonstrated courage and tenacity when at the age of 43, she enrolled at Pan American University and would go on to earn a Bachelor of Science with honors in Psychology.
She reached the heights of her chosen profession when she was named director of the Area Agency on Aging, where she pioneered key programs for the elderly and disabled in Texas.
Her skills were recognized at the national level, when in 1980, she was the only Mexican American woman from Texas invited to a White House conference on aging in Washington, D.C.
The highlight of that visit was a personal audience with First Lady Rosalynn Carter.
In 1978, Mrs. Saca was promoted to director of the Area Agency on Aging, a move that would define the path her successful career would take.
Breaking the barriers for minority women in the work force, she undertook this position with boundless talent and a unique perspective that would transform her into a champion for elderly rights.
Mrs. Saca traveled through Cameron, Hidalgo, and Willacy counties identifying and assessing the needs of older citizens. She worked tirelessly to plan, coordinate, and pool resources in an effort to develop a comprehensive and well-coordinated system of health and support services for the seniors of deep South Texas.
Her ultimate goal was to keep the elderly out of nursing homes in order to ensure their dignity and independence.
During her tenure as director, Mrs. Saca pioneered a vast array of committees and programs that are still in existence. They were developed to help older citizens by allowing them to be productive, worthwhile members of society.
Some of these efforts included: Senior Companion Program; Retired Senior Volunteer Program; Foster Grandparent Program; and Ombudsman Program.
Mrs. Saca also oversaw other key initiatives for South Texans.
Health screenings and health awareness seminars were organized for the first time. Funding was secured to purchase new vans for local housing authorities that served elders. These vans would provide medical transportation.
Senior service centers and nursing homes were monitored closely. An ombudsman program, the first of its kind in the Valley at that time, was established to advocate for quality of life, and to care for clients in nursing homes.
Area residents participated in the Senior Olympics at the Texas Senior Games Competition in Arlington after Mrs. Saca secured funding to bus and house them at various statewide competitions.
Mrs. Saca also helped expose the plight of the terminally-ill elderly patient by participating in the development of the first hospice care for the Rio Grande Valley.
After she retired from her professional life, she continued to serve her fellow Texans in many ways, donating her skills and contacts for many benevolent efforts, ranging from securing affordable housing for the needy to providing scholarships for deserving high school students.
In addition to her many charitable contributions, she continued to volunteer her time and efforts at the political levels, helping elect some of the most prominent public servants in South Texas.
Her family remained the focus of her life, and when she had successfully completed her professional goals, she made the most of her freedom by spending much of her time with her adult children and her grandchildren.
Mrs. Saca was preceded in death by her parents, Alfredo Garza and Beatrice Chapa Garza; husband Carlos Saca; sons Dr. Carlos Ramón Saca, M.D., and Jorge Jaime "Jimmy" Saca; brother Alfredo Garza, Jr.; and sisters Blasita Califa and Beatrice Flores.
Mrs. Saca is survived by her loving daughters Tula (Irineo) González, Judy (David) Díaz, and Sophia Margot (Rolando) Pérez; sister Sofia Canales; grandchildren Marieana Saca, Lauren Saca, James Saca, Robert Riggio, Monette Rodríguez, Dr. Sonia Razzetti, and Judin Pérez; and great-grandchildren Karolina Rodríguez, Christopher Rodríguez, Noah Razzetti, and Ella Maria Razzetti.
The Saca family gave a special thanks to her caregiver Lydia Bravo for her compassionate and caring manner in which she took care of Mrs. Saca for eight years.
Having the distinguished honor to serve as pallbearers were Max Ceballos, Hector Pulido, Jerry Canales, Dr. Larry Balli, Brandon Balli, Fred A. Garza and Ricky Alamia.
Honorary pallbearers were Senator Juan "Chuy" Hinojosa, State Rep. Aaron Peña, Fred R. Garza, Richard Alamia, Dr. Ramiro Flores, Jr., M.D., and Salvadór S. Díaz.