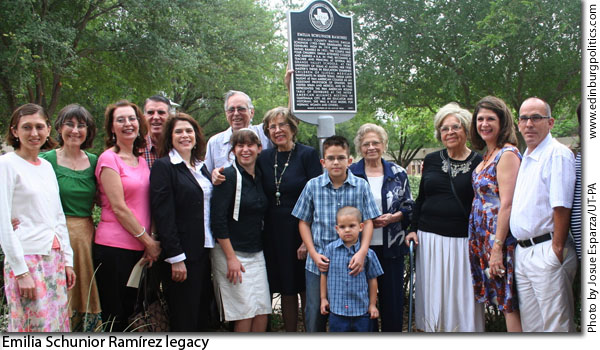 The first historical marker on The University of Texas-Pan American grounds was unveiled April 26 honoring Emilia Schunior Ramírez (1902 – 1960) a South Texas educator with deep roots in Edinburg. More than 40 community members, family and friends attended the celebration commemorating her life. The marker site was erected near Emilia Schunior Ramírez hall, located off of Sugar Road in Edinburg, which is named after Ramírez and once served as a women's dormitory. Pictured at the unveiling of the Hidalgo County historical marker honoring Emilia Schunior Ramírez are her children, along with their families, who came to the event at the UTPA campus. "This is a joyous occasion for the University as we not only celebrate our first historical marker on campus, but also honor the extraordinary life of Emilia Schunior Ramírez, a world-class educator, who made an impact on many lives in South Texas," UTPA President Dr. Blandina "Bambi" Cárdenas said. Emilia's eldest son, Alfonso Ramírez, who was Edinburg's first Hispanic mayor in the 1950s said his mother was a learner and spent most of her time continuing her education, See story later in this posting.
••••••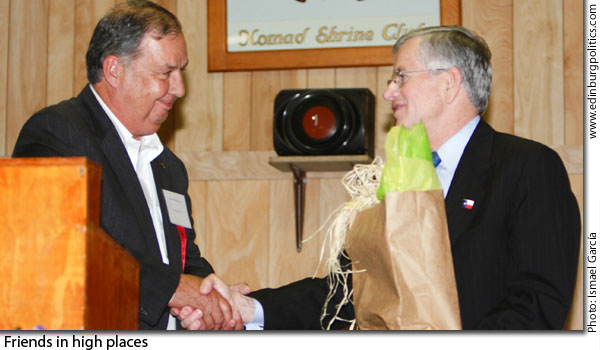 McAllen Mayor Richard Cortéz, featured left, on April 30 welcomed Speaker of the House Tom Craddick, R-Midland, at a major fundraiser in Pharr for the Hidalgo County Republican Party. Cortéz, who presented Craddick with a token of appreciation from McAllen for Craddick's work on behalf of South Texas College, continues to build his relationships with the top legislative leadership in Austin, which will be considering the legislative priorities from the McAllen City Commission beginning in January 2009. One of those efforts may include a plan to bring a University of Texas-Pan American facility into McAllen. Cortéz hopes that his city, local legislators, and the UT System can work out a deal with the Texas Legislature to build a state-of-the-art planetarium, known as a digital dome theatre, in the City of Palms. The idea has been in the development stage for about a year, said Cortéz, who wants the UTPA high-technology component to be one of the focal points of an even more ambitious goal – the creation of a high-end retail, entertainment, and housing district – known as "Central Park" – to be built near La Plaza Mall. The value of such a facility would extend beyond tourism dollars, Cortéz contends – it would inspire thousands of Valley students to seek education and careers in science, engineering, and technology. See related story.
••••••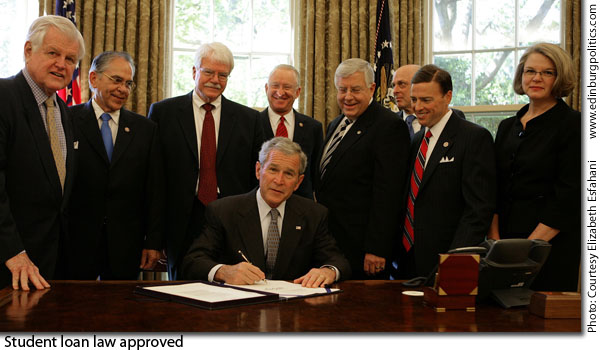 President George W. Bush signs H.R. 5715 into law on Wednesday, May 7, 2008, during a ceremony in the Oval Office. The bill, "Ensuring Continued Access to Student Loans Act of 2008," is designed to provide continued availability of access to the Federal student loan program for students and families. Looking on are, from left: Sen. Ted Kennedy, D-Massachusetts; Congressman Rubén Hinojosa, D-Mercedes; Congressman George Miller, D-San Francisco; Congressman Buck McKeon, R-Santa Clarita, California; Sen. Mike Enzi, R-Wyoming; Secretary of Treasury Hank Paulson; Congressman Ric Keller, R-Orlando, Florida; and Secretary of Education Margaret Spellings. See story later in this posting.
••••••
Garza reelected in match with Rodríguez, Espinoza survives challenge by Guerrero; $150 million school construction bond propositions widely approved
By DAVID A. DÍAZ
The make-up of the Edinburg City Council will remain the same for at least another year following the successful reelection bids on Saturday, May 10, of Mayor Pro Tem Alma A. Garza and Councilmember Gene Espinoza.
Garza captured 63 percent of the vote against Johnny Rodríguez for the Place 4 slot, while Espinoza, the more experienced of the two incumbents, pulled in 52 percent of the ballots in his race against Leonel Guerrero for Place 3, according to unofficial totals posted Saturday evening by the City Secretary's Office.
Both Rodríguez and Guerrero, along with family members, showed up at City Hall almost immediately after the polls had closed at 7 p.m., and stayed throughout an almost two-hour period, as the totals from the respective polling places were being posted in the city council conference room.
Allies for Garza and Espinoza, however, showed up in their places, and phoned in updates to their respective camps throughout the evening.
In another key election, Edinburg school district voters overwhelmingly passed two school bond construction proposals, which together approach $150 million to build or refurbish several new campuses, three fine arts annexes at the existing high schools, buy land for some of the campuses, and refinance old construction bond obligations at a lower interest rate.
Proposition I was approved by a vote of 3,151 to 1,312.
Proposition I includes building four (4) elementary schools, two (2) middle schools; converting Harwell Middle School into a fourth high school; three (3) multi-purpose fine arts centers at each of the existing high schools; Brewster School addition/renovations, and land acquisition for a total of $111,920,000 in long-term debt.
Proposition II was approved 3,064 to 1,294.
Proposition II includes $37,675,000 of 1998 Lease Purchase Bonds to be converted into Series 2008 voter authorized IFA supported bonds.
City voters also approved the reelection of Municipal Court Judge Toribio "Terry" Palacios, who was unopposed.
Palacios received 2,412 votes.
The terms for the two city council members and the municipal court judge are three years in length. They will begin their new terms of office on Tuesday, May 13, when they are scheduled to be sworn in as the main agenda items of the posted meeting of the Edinburg City Council.
That session, which is open to the public, will be held in the International Trade and Technology Center, where the city council meets, located at the University of Texas-Pan American.
The council meeting will begin at noon.
According to the unofficial totals:
Garza generated 2,314 votes against first-time political candidate Rodríguez, who received 1,382 votes, a difference of 878 votes. She posted a huge lead in the early vote – 1,375 to 878 – and also won on election day, with a margin of 939 to 504.
Espinoza had a tougher go at it both during early voting – he received 1,162 votes to Guerrero's 1,091 showing – and on election day, racking up 735 votes to Guerrero's 668 tally. It was also Guerrero's first entry as a political candidate. Espinoza's total vote was 1,897 compared with Guerrero's 1,759 — a difference of 138 votes.
Garza won in in six of the seven polling places where votes were cast on election day, while Espinoza took five of the seven polling places where votes were cast on election day.
The breakdown of the totals from the polling places in early voting and on election day follows:
Early voting, Fireman's Training Room (City Hall):

Garza, 1,375, Rodríguez, 878
Espinoza, 1,162, Guerrero, 1,091

Firemans Training Room (City Hall):

Garza, 123, Rodríguez, 59
Espinoza, 97, Guerrero, 81

Jefferson Elementary:

Garza, 161, Rodríguez, 74
Espinoza, 126, Guerrero, 104

Freddy Gonzalez Elementary:

Garza, 267, Rodríguez, 99
Espinoza, 175, Guerrero, 172

F. Barrientes Middle School:

Garza, 80, Rodríguez, 75
Guerrero, 78, Espinoza, 73

Fountain Center

Garza, 102, Rodríguez, 48
Espinoza, 85, Guerrero, 58

Robert E. Lee Elementary

Garza, 195, Rodríguez, 128
Espinoza, 163, Guerrero, 157

Capilla San José (Linn)

Rodríguez, 21, Garza, 11
Guerrero, 18, Espinoza, 16.
••••••
Edinburg residents to get first look at planned Hidalgo County Loop on Wednesday, May 14
By DAVID A. DÍAZ
With a planned $645 million Hidalgo County Loop destined to end up north of Edinburg – probably in the vicinity of the Edinburg International Airport – area residents on Wednesday, May 14, will have their first major look at how it may affect them.
Dubbed as an open house, engineers and environmental experts working on behalf of the Hidalgo County Regional Mobility Authority will be on hand at Edinburg North High School, located at 3102 N. Closner, on Wednesday, May 14, from 5:30 p.m. to 7:30 p.m., to answer questions and provide the latest data, including high-definition maps, regarding the planned route of the northern (Edinburg) portion of the Hidalgo County Loop.
The event, which will be conducted in an informal manner, will feature top officials on hand to address any concerns by residents, and the meeting also will provide residents the opportunities to submit written or audio recordings with their ideas, opposition, support, and questions.
The session, which is free and open to the public, represents the first preliminary outreach to the community. Formal public hearings will be scheduled later this summer by the Hidalgo County RMA, which is a countywide public entity created several years ago to develop, and finance, the construction of major roadways, including possible toll roads, in Hidalgo County.
The Hidalgo County Loop is a planned new roadway – slated for completion around 2013 – that will carry heavy commercial trucks and automobiles from the Pharr-Reynosa International Bridge in southmost Hidalgo County, west to the McAllen Trade Zone, where most long-haul truck traffic originates.
The planned roadway, which will be initially constructed as two lanes with wide shoulders, would continue to Peñitas, then go north about 16 miles in western Hidalgo County before going east for about 15 miles, connecting with U.S. Expressway 281 in north Edinburg.
Gerry Pate, managing general partner with Hidalgo County Road Builders, a coalition of area businesses which is designing the Hidalgo County Loop, provided the Hidalgo County RMA, which met at Mercedes City Hall on Thursday, May 7, an overview of the upcoming open houses, which also will be held in Hidalgo, Peñitas, Mission, and McAllen following the Edinburg session.
The public gatherings will solicit comments from all county residents, and will include Spanish language translators at the meetings. Hidalgo County Road Builders also will explain concepts regarding the processes involved in planning and building roads, including environmental impacts, right-of-way acquisitions, and provide the property owners bill of rights, which was mandated by the Texas Legislature in 2007.
In the coming days, his organization will launch a website that also will feature high-resolution maps showing the planned routes for the entire Hidalgo County Loop.
As part of its community education and outreach strategies, Hidalgo County Road Builders also have purchased advertisements in key area newspapers in Weslaco, Mercedes, Mission, and Edinburg. In addition, the private firm also has dropped off notices at 23 churches in Edinburg, at 10 day care centers for seniors, with students attending Edinburg schools near the planned northern loop, and with more than 100 registered letters send to area state, county, and local elected leaders and government officials.
The Hidalgo County RMA is paying for the Hidalgo County Loop with a series of financial mechanisms that include tolling and the newly authorized Tax Reinvestment Zone (TRZ), which uses property values from new development prompted by the road to pay for its construction, loans, and revenue generated from a $10 increase in the county auto license renewal fee.
On Thursday, February 28, Hidalgo County Road Builders, a private coalition, negotiated a $46.3 million contract with the Hidalgo County RMA to provide pre-construction services in preparation for the building of major portions of the $645 million Hidalgo County Loop, which will be designed to shuttle heavy commercial truck traffic coming to and from the region.
Services included in the agreement include advance planning, environmental clearance, preliminary and final design, right-of-way acquisition services. HCRB is contracted to complete the pre-construction services within 18 months and deliver to the RMA board a guaranteed maximum price for the completion, including construction of a major portion of the loop project by 2013.
Last month, the Hidalgo County Regional Mobility Authority (HCRMA) hired the international environmental engineering firm of PBS&J to manage the environmental assessment of the county's $650 million loop project.
The Hidalgo County RMA approved a $2.6 million contract Thursday, April 10, for PBS&J to provide these environmental services for the Loop.
"PBS&J's global experience and reputation are a perfect fit for this important project in Hidalgo County," said HCRMA Chairman Dennis Burleson of Mission. "The loop is an essential economic development tool for this county and we want to make certain it is developed to the highest of standards, whether that is engineering or environmental. PBS&J is a great addition to the team we have put together for this exciting project."
PBS&J's responsibilities include examining potential impacts of the loop project on the natural environment, area neighborhoods, historic resources, as well as archaeological sites. According to Burleson, the firm will make certain that the best practices and administrative rules of TxDOT, the Federal Highway Administration, and the National Environmental Policy Act (NEPA) are applied in identifying and mitigating project impacts and securing environmental clearance for the Project.
PBS&J will also be taking part in a series of public information workshops scheduled to begin in mid-May in Hidalgo County.
"Hidalgo County's RMA is taking a very innovative approach to funding and building a needed community roadway," said Tracy Hill, project principal for PBS&J. "We're pleased to be a part of this visionary group with the RMA and their developer, the Hidalgo County Road Builders. The RMA may have developed a blueprint for the way projects are handled in the future."
(Jim Moore, Director of Media Relations for Prevailing Trends, Inc. based in Austin, contributed to this story.)
••••••
UT-Pan American, McAllen could team up to build state-of-the-art planetarium: a digital dome theatre
By DAVID A. DÍAZ
The University of Texas-Pan American, which has become an integral part of Edinburg's economy and quality-of-life, may soon be branching out to the City of Palms if plans by McAllen Mayor Richard Cortéz materialize in the 2009 regular session of the Texas Legislature, which convenes early next January.
At a May 5 fundraiser for Rep. Verónica Gonzáles, D-McAllen, Cortéz shared his hopes for the Edinburg-based university to build a state-of-the-art planetarium, known as a digital dome theatre, that would serve as a premiere tourist and academic attraction for the Valley's second-largest city.
(Gonzáles is being challenged in the November general election by fellow McAllen attorney Javier Villalobos, a Republican. They are vying to represent House District 41, which includes southwest Edinburg.)
If approved next spring by state lawmakers, the venture would represent a major presence in McAllen by the local university, which currently has a branch campus in Rio Grande City and a coastal studies laboratory at South Padre Island.
The idea has been in the development stage for about a year, said Cortéz, who wants the UTPA high-technology component to be one of the focal points of an even more ambitious goal – the creation of a high-end retail, entertainment, and housing district – known as "Central Park" – to be built near La Plaza Mall.
The value of such a cutting-edge facility would extend beyond tourism dollars, Cortéz contends – it would inspire thousands of Valley students to seek education and careers in science, engineering, and technology.
"A digital dome theatre is a very sophisticated movie screen that will lend itself to provide many educational venues," Cortéz explained. "We think we can have a double use for it – area residents and tourists can come to enjoy some very dramatic viewings, plus it can be used as a classroom to teach astronomy, and related sciences."
In general, a planetarium features an optical device for images of planets, stars, and other astronomical phenomena to be projected onto the inner surface of a hemispherical dome, with seats for an audience.
A digital dome theatre, however, represents a dramatic advancement in planetariums, features high-definition images, sometimes projected on a large screens, and utilizes sophisticated software and the latest scientific data to accurately project images from as close as the moon to the outer limits of the known universe.
The envisioned digital dome theatre has been placed on McAllen's legislative wish-list.
"We have discussed this for more than a year," Cortéz said of fellow city leaders, key staff members, and local lawmakers.
"We have had talks with Sen. (Juan "Chuy") Hinojosa (D-McAllen) and Sen. (Eddie) Lucio (Jr., D-Brownsville), with Lt. Gov. David Dewhurst, with all of our state representatives, and with Henry Miller and Associates, which is developing Central Park," the mayor added. "They are all excited about having something like this in McAllen."
The price tag for the digital dome theatre is yet to be determined.
"We are in the planning stages of pricing them out," Cortéz noted. "We think it would be a good investment with Texas and a higher education institution like UT-Pan American or South Texas College to have this available for our citizens."
He added, "What we have learned is that in cities which have planetariums, their students' educational attainments and education scores are higher than cities without them. We want to create a gathering place that is conducive to learning, to a higher quality-of-life, that caters not only to young people, but to everyone. It would be very complementary to other assets we have in our city."
A description of what this type of facility can bring is provided on the website of a digital dome theatre located in Tallahassee, Florida:
"The Challenger Learning Center Downtown Digital Dome Theatre and Planetarium is a 50-foot, high-definition theatre with a 20,600-watt Dolby 5.1 surround sound system and state-of-the-art projectors. The Downtown Digital Dome features educational and entertaining programming for all ages – for both the young and the young at heart. Visitors are also able to view the night sky and explore the galaxy without the use of the outdated mechanical star-ball common to other planetariums. One of only 29 of its kind in the United States, the Downtown Digital Dome can seat 128 audience members. The Downtown Digital Dome Theatre and Planetarium can be rented for private functions such as presentations, film screenings and parties."
More information on the Challenger Learning Center theatre is available online at:
http://www.challengertlh.com/planetarium/planetarium_index.html
••••••
UT-Pan American houses historical marker honoring educator Emilia Schunior Ramírez from Edinburg
By MELISSA C. RODRÍGUEZ
The first historical marker on The University of Texas-Pan American grounds was unveiled April 26 honoring Emilia Schunior Ramírez (1902-1960), a South Texas educator with deep roots in Edinburg. More than 40 community members, family and friends attended the celebration commemorating her life.
The marker site was erected near Emilia Schunior Ramírez hall, located off of Sugar Road in Edinburg, which is named after Ramírez and once served as a women's dormitory.
"This is a joyous occasion for the University as we not only celebrate our first historical marker on campus, but also honor the extraordinary life of Emilia Schunior Ramírez, a world-class educator, who made an impact on many lives in South Texas," UTPA President Dr. Blandina "Bambi" Cárdenas said.
Emilia's eldest son, Alfonso Ramírez, who was Edinburg's first Hispanic mayor in the 1950s said his mother was a learner and spent most of her time continuing her education and teaching others.
"It's an honor to have a historical marker for her and it was an honor to have a building named for her years ago," Alfonso said.
Laurier B. McDonald, Hidalgo County Historical Commission member, said the marker signified the 132nd historical marker placed in Hidalgo County since 1936.
"We are really proud to have this marker here because it shows that education is number one in Hidalgo County. It's here on the campus, where much of the work for education of the Valley was started and is still going on," McDonald said. "There are more than 11,000 historical markers in the state of Texas and I'm proud that we now have one more."
Emilia graduated from Edinburg High School in 1919 and married Rafael Ramírez in 1921. The couple had four children. She attended college and earned a Bachelor of Arts in 1940 and became a teacher and principal at several Rio Grande Valley schools. At The University of Texas at Austin, her 1950 master's thesis in education examined children of illegal Mexican immigrants in South Texas. She later taught at Pan American College as an assistant professor of Spanish.
A reception and historical exhibit followed the unveiling ceremony at the UTPA College of Education.
Additional background on Emilia Schunior Ramírez is available online at numerous sources, including through the Handbook of Texas Online, which can be accessed at:
http://www.tshaonline.org/handbook/online/articles/RR/fradv.html
••••••
EEDC continues negotiations on property being eyed by DPS, which has $43.8 million in state funds to build a regional headquarters in Hidalgo County
By DAVID A. DÍAZ
Negotiations will continue with an unspecified bidder or bidders, including the Texas Department of Public Safety, who have expressed an interest in buying 20 acres of prime real estate owned by the Edinburg Economic Development Corporation.
The negotiations are part of the EEDC's strategies to convert the vacant property, which is grassland with trees, but considered to be prime real estate, into an economic jewel for the city and its economy.
Detailed information on the request for proposals by the EEDC is available on its website, located at http://www.EdinburgEDC.com
The site, which is currently vacant grassland with trees, fronts the south side of Trenton Road and the east side of Professional Drive. The property has been independently valued at $4.5 million, according to the EEDC.
That decision to continue behind-the-scenes talks was made on Tuesday, April 29, by the governing board of the EEDC, which is the jobs-creation arm of the Edinburg City Council.
The EEDC's five-member governing board includes Mayor Joe Ochoa; former Mayor Richard García, who is president of the EEDC board of directors; and Fred Palacios, Elias Longoria, Jr., and Dr. Glenn A. Martínez, Ph.D.
The issue of what to do with the public property first publicly surfaced during an EEDC board meeting on January 22, when EEDC executive director Ramiro Garza confirmed that the Texas Department of Public Safety was serious about building a proposed $43.8 million regional headquarters in Hidalgo County.
Currently, the DPS maintains an overburdened regional headquarters in McAllen.
During the EEDC's April 29 session, the governing board went behind closed doors – as allowed by state law – to deliberate their next move on the sale of the property, while a small delegation of DPS officials from Austin waited for the EEDC's decision in the main conference room.
State law allows governmental entities to go behind closed doors – known as an executive session – for certain issues, including discussion potential litigation, personnel, and real estate transactions.
On a unanimous vote, the EEDC governing board instructed Garza to continue talks on the sale of the EEDC property.
"They still want me to continue with the negotiations and make sure there is not a deadline," Garza said. "There was an April 20 deadline set during the March EEDC meeting, so now they have the latitude. We can call a special meeting, in a week or so, or wait until the next regular meeting in late May.
Garza and EEDC legal counsel Melissa Carranza explained they could not give much information while a possible deal was still being hammered out.
"I asked legal counsel how we can go about it" regarding releasing any information at this point, Garza explained. "Until a decision is made as far as who they are going to select, (the discussions) are still technically under consideration."
Carranza, who was substituting for EEDC general counsel Cynthia Gutiérrez, who was excused on important business, said that the closed-doors session, known as an executive session, significantly limits what information can be released to the public – even how many bids are on the table, and from whom.
"The fact the request for proposals process is ongoing, that is something that we don't disclose," Carranza said. "There has not been any agreement reached with any of the parties, and that is something that also remains confidential until there is an agreement."
On January 22, the EEDC board decided to put the site up for proposals for commercial development to see if any better offers than the DPS plan would be made by anyone else.
During the EEDC's regular monthly board meeting in February, the issue was discussed in executive session, but no action was taken.
During the board's March meeting, representatives from the DPS's headquarters in Austin showed up because they were in the Valley on other matters, and had seen on the EEDC's web site that board members were again scheduled to go behind closed doors to review the matter.
State funds for the new project were included in Proposition 4, a constitutional amendment approved statewide by voters last November. Included in Proposition 4 was the issuance of bonds to build a $43.8 million Hidalgo County Crime Lab and Regional Office in the McAllen area.
According to Proposition 4, the goal of the new DPS regional headquarters is to improve the crime lab's capacity and efficiency, expand the driver license office and parking, and accommodate growth for border security as part of a 105,000-square foot complex.
••••••
Department of Homeland Security awards grant for improvements to 22 miles of Hidalgo County levees
By CARI LAMBRECHT
Hidalgo County Drainage District No. 1 has been awarded a U.S. Department of Homeland Security grant to fund construction of 22 miles of levee barrier, aimed at improving flood protection in Hidalgo County and supporting the DHS mission of protecting our borders.
Construction of 10 segments of levee throughout Hidalgo County will be completed with this grant. HCDD No. 1 shall perform the work with federal oversight.
"The final cooperative agreement from DHS is what we've been waiting for to get this project started," said Hidalgo County Judge J.D. Salinas III. "But most importantly, 22 miles of our levees are going to be fixed, putting us closer to the end goal of rehabilitating the entire river levee system. The people and the future economic vitality of Hidalgo County are safer today than they were yesterday thanks to this federal grant and the open-minded attitudes of all who worked on it. We're glad this agreement is finally in place and that we can get on with the construction."
Precinct 2 Commissioner Hector "Tito" Palacios said the HCDD No. 1 would be putting up a non-federal share to complete the earthen levee system.
"We are pursuing legislation efforts to recoup monies through reimbursement," Commissioner Palacios said. "From the local level to the federal level, we all have a stake in making sure our levees are strong enough to hold the floodwaters from a hurricane. We all have a duty to the residents of Hidalgo County and the rest of the state and the county to make sure trade and commerce and lives aren't interrupted. We're upholding that responsibility together.
••••••
Congressman Hinojosa attends White House ceremony signing into law student loan legislation
By ELIZABETH ESFAHANI
Congressman Rubén Hinojosa, D-Mercedes, on Wednesday, May 7, attended a White House signing ceremony for the Ensuring Continued Access to Student Loans Act (H.R. 5715). At the ceremony, the President signed into law this timely bipartisan bill, which the Congressman helped author, that ensures the tumultuous credit markets does not prevent families from accessing the financial aid they need to pay for college.
"Today is an important day for families across America worried about how they will pay for college this fall. This law sends a clear message: We will do everything we can to reassure students that the turbulent U.S. economy will not impact their dreams of a higher education," said Hinojosa, Chairman of the House Subcommittee on Higher Education. "By signing this bill into law, we are putting safeguards in place so that no student ever forgoes a college degree because of an inability to secure a federal student loan. We have taken important steps toward restoring confidence for all stakeholders in the higher education community."
In recent months, the crisis in the nation's credit markets has made it difficult for some lenders that participate in the federally guaranteed student loan program to secure the capital needed to finance their student lending activity. As a result, some lenders have announced plans to scale back their lending activities; although others have announced plans to increase their share of loans. To date, no students or parents have run into problems in getting the federal student aid they are eligible to receive.
The bill provides new protections, in addition to those already under current law, to make certain that families continue to have timely, uninterrupted access to federal college loans in case the credit markets lead to a significant number of lenders in the federally guaranteed student loan programs to reduce their lending activity. The bill carries no new cost for taxpayers.
This legislation is supported by student groups, including the U.S. PIRGs Higher Education Project and the United States Students Association.
••••••
University of Texas-Pan American officials release statement on current student lending situation
The University of Texas-Pan American administration on Monday, May 5, said they has been closely monitoring the situation with the student loan credit crunch and the potential impact to students for the fall 2008 semester. While a serious loan access problem may be averted, UTPA has been tracking all developments as they occur and is taking action to ensure that student loan funds are available to all eligible students.
UTPA officials believe that it is essential to prepare for a potential student loan credit crunch now. Several steps have been taken so far:
Eligibility for grants and scholarships is maximized first for students in order to eliminate or reduce the need to take out student loans.
The university is in close contact with student loan providers to monitor their continued participation in the federal student loan programs.
A plan of action has been developed to transition current borrowers from one loan provider to others in the case that such action becomes necessary.
New student borrowers will be provided access to student loan providers that have committed to continued participation in the federal student loan programs.
UTPA has applied and been approved for participation in the Federal Direct Student Loan Program (FDSLP). This program provides access to federal student loans by having the U.S. federal government act as the lender for Stafford and PLUS loans. Participation in FDSLP ensures that UTPA student borrowers will have access to federal student loans for the upcoming academic year, regardless of private lender issues.
The university is making every effort to make sure that loan funding is available to our students should they have a need, regardless of what the lenders do. UTPA's Student Financial Services Office will be in contact with students, providing information and guidance on the steps they must take to ensure funding for the fall 2008 semester. UTPA remains committed to providing all eligible students financial aid, including loans, during the upcoming semesters.
For additional information, please contact the office at 956/381-2501.
••••••
Congressman Hinojosa, who grew up in segregated community, reacts to repeal of controversial 1931 city ordinance that divided Edcouch by race, origin
Congressman Rubén Hinojosa, D-Mercedes, on Monday, May 5, released the following statement regarding the repeal of a 1931 city ordinance in Edcouch that segregated the city into two areas based on racial and national origin.
"On this Cinco de Mayo, it is quite appropriate that the city of Edcouch is repealing a 1931 city ordinance that should have never been approved. This ordinance segregated the city into two portions based strictly on racial and national origin. It was this type of prejudice, sanctioned by a local government, which created fear and insecurity among Edcouch and Delta Region residents. It was this type of discrimination that caused my family to move from Edcouch to Mercedes, Texas.
"I recall how my brothers and I had to attend segregated schools in Edcouch. It did not matter that my parents and family were upstanding citizens of Edcouch, that my father started and ran a business, that we were hardworking and wanted to help the community grow. And it did not matter that we were U.S. citizens. No, it was our last name and family lineage that defined who we were and where we could live. That type of treatment stays in your mind forever. That is why we have to constantly strive to improve the living conditions for all communities in 2008 and beyond.
"The struggle for civil rights by Mexican-Americans and other Hispanics throughout the Southwest is well documented. In the Delta region, it was the 1968 Edcouch-Elsa High School walkouts that sent a loud message that justice had not yet been achieved for all. Those walkouts eventually led to a federal court declaring a ban on speaking Spanish to be unconstitutional. That demonstration and legal action led to the establishment of bilingual education in public schools back in the 1930s and 1940s. Little did anyone expect that a Mexican-American, born in Edcouch, would one day be the U.S. Congressman representing Edcouch and the Delta region. But we should not focus completely on the past. We must look forward, because many challenges remain.
"The ugly head of prejudice still shows itself, especially against immigrants. My parents were immigrants and many others like them are greatly responsible for much of the nations' economic growth. That is why immigration reform is so important. I continue to fight for comprehensive immigration reform in Washington.
At the local level, much remains to be done to help Edcouch and the Delta region reach its potential. That is why as a Congressman I have made this region a high priority. Projects such are the Mercado Delta and the future Gran Parque will raise the quality of life in this community to another level.
"I congratulate the city of Edcouch for being a full partner in these projects and for seeing a greater future for itself. Today, it has taken a very symbolic and significant step to correct an injustice from its past. For that, I commend the community and its city leaders. Edcouch's future is in its hands. Let's continue to work together to make Edcouch and the Delta Region a model of success for the Rio Grande Valley."
••••••
Colombia Free Trade Agreement, which awaits congressional action, is in best interests of America
By BILL SUMMERS
Native musicians Shakira and Juanes sing ballads of their homeland, a country rich in culture and steeped in folklore. But it seems Americans lately are the ones perpetuating certain myths, telling tall tales about the proposed free trade agreement with Colombia.
Some try to spin a yarn that foreign trade agreements are bad for American businesses and our own economy. Since 1992, the United States has implemented 15 trade agreements, with seven in Latin American countries through the contentious NAFTA and CAFTA-DR arrangements; in spite of them, or more likely because of them, U.S. manufacturing output rose 58 percent between 1993 and 2007, employment rose from 110.8 million to 137.6 million, and real hourly compensation increased 23.6 percent over the same period. Arguably, across the nation, trade spurred greater domestic productivity and created more, better paying jobs.
Closer to home, there is no argument: foreign trade, stimulated and sustained by NAFTA and CAFTA-DR, is especially good to Texas and the Rio Grande Valley. Hands-down, Texas is the top state exporter to NAFTA destinations, posting $52.4 billion in merchandise exports during 2003 alone, twice as much as the second-highest state exporter, California with $26 billion. Seventy-nine percent of those Texas exports shipped to Mexico, driven by the supply needs of maquiladoras at the Rio Grande border. At the southern-most border, in the Rio Grande Valley, trade produced an economic miracle: it drove down unemployment rates in parts of this area from 30 percent in 1993 to 5.6 percent now and it propelled this region as one of the fastest-growing in the whole United States.
Some others exaggerate the legend of an impoverished Colombia, corrupted by drugs and ravaged by violence. But this is a nation transformed: over the past decade under the Uribe administration, drug cartels dismantled, violent crime plummeted, and cocaine seizures doubled. Colombia now is characterized by good governance, open markets, steady growth, and low inflation. Last year, Business Week named it the "Most Extreme Emerging Market on Earth" and Standard & Poor's deemed its external debt as investment grade, only the third Latin American country to receive this rating.
And though a trade agreement should support this success and propel progress in Colombia, the truth is we need it more than they do. As our economy seems to slow, theirs clearly gains momentum. In 2007, the U.S. exported $8.5 billion in merchandise to Colombia, a 28 percent increase over the year prior; already Colombia is our fourth-largest export market in Latin America and twenty-sixth largest worldwide. They hunger for American merchandise and have the money to satiate it; at the same time, American businesses hunger for a ready market for their goods and services.
But we need a formalized agreement to help level the playing field for American manufacturers, farmers, and other service workers competing with other nations with whom Colombia already has trade agreements. American products and services are handicapped upon arrival, tagged for tariffs; products from Mexico, Argentina, and Brazil are not. At a clear competitive disadvantage, our market share is slipping: in 2007, U.S. merchandise held a 26.5 percent share of Colombia's import market, down from 28.3 percent in 2005 and 34.4 percent in 2001.
Moreover, American exports face an average tariff exceeding 11 percent upon arrival in Colombia, whereas 91 percent of their exports enter the U.S. duty-free under various unilateral trade preference programs. We need this agreement to make the benefits of this trade relationship truly reciprocal.
When the proposed free trade agreement goes into force, immediately 80 percent of U.S. consumer and industrial exports to Colombia are duty-free and all remaining tariffs are phased out over the next 10 years. American products and services finally can compete in a free and fair market.
For all the progress they made, Colombians earned the right to buy our merchandise; for all the progress trade promises, Americans right now need the opportunity to sell it. Certainly, the Colombia Free Trade Agreement represents our commitment to a U.S. ally that supports our policy and economic interests in this hemisphere; it also represents our commitment to manufacturers and farmers who support jobs at home.
It is time for the United States to start singing a different tune about trade. Namely one with a catchy Colombian beat.
(Bill Summers is President/CEO of the Rio Grande Valley Partnership, a regional chamber of commerce in southmost Texas.)
••••••
Attorney General Abbott seeks halt to marketer of screensaver software that contains spyware
Texas Attorney General Greg Abbott on Monday, May 5, charged a Colorado software business with selling screensavers that were bundled with adware or spyware. Further, although the defendants promised child-safe screensavers, their products commonly included images of unclothed women.
According to state investigators, Nexusmedia and its owner, Daniel J. McLaughlin, sold computer screensavers via the Internet. The defendants' Web site and online advertising claimed their products were guaranteed to be free from spyware or adware. However, Friday's enforcement action charges McLaughlin with bundling his screensavers with independent, unrelated software called the My Search Toolbar. Customers who purchased the screensavers were not given the opportunity to opt out of the toolbar. According to court documents filed by the state, the My Search Toolbar is commonly flagged as spyware or adware by anti-spyware software.
The state's enforcement action indicates that information about searches conducted using the My Search Toolbar is transmitted back to the My Search server. As a result, My Search can send unsolicited marketing information to the toolbar users. Because Nexusmedia and McLaughlin received compensation for the My Search Toolbar installations, the defendants had a financial incentive to increase the number of toolbar installations credited to them.
Nexusmedia also promoted its Web site as "G-rated" and safe for children. However, some of the defendants' screensavers, those which were titled "Hot" or "Celebrity," contained 70 images depicting naked and semi-naked females.
Friday's enforcement action charged the defendants with violating several provisions of the Texas Deceptive Trade Practices Act. The Attorney General seeks injunctions and civil penalties of up to $20,000 per violation of the act, plus attorneys' fees.
••••••
Sen. Cornyn presses for action on bill to address high gasoline prices by increasing domestic production
U.S. Sen. John Cornyn, R-Texas, on Wednesday, May 7, reiterated that Texans cannot afford further delay on addressing high gas costs and voiced support for the effort by Senate Republican Leader Mitch McConnell, R-Ky, to force the Senate to debate new energy legislation. McConnell, backed by Cornyn and other Senate Republicans, introduced the American Energy Production Act, S. 2958, as an amendment today to separate legislation currently before the Senate.
If enacted, the legislation would lead to the estimated production of up to 24 billion barrels of oil – enough oil to supply America for five years with no foreign imports. It was introduced last week as a stand-alone bill by Cornyn and his colleagues.
"More than two years ago – 744 days to be exact – House Speaker Nancy Pelosi and the Democrats promised a common sense solution to address rising gas prices," Cornyn said. "Since that time, gasoline prices have reached all-time highs. The time to act is now, and that's exactly what we are doing. This legislation would increase oil and gas production in America, boost refinery capacity in America, and allow energy exploration in ANWR and the Outer Continental Shelf. This is an important start to lowering gas prices."
"The Democratic majority in the Senate now has a decision to make – will they continue to ignore the pleas of Americans struggling with high prices at the pump or will they work with Senate Republicans to find solutions to this situation. I hope they will join with us in passing this amendment," Sen. Cornyn concluded.
The legislation will strengthen domestic energy production by exploring in ANWR, additional outer continental shelves, shale areas, and provide for increased refinery capacity.
Specifically, the American Energy Production Act:
Allows petitions for leasing activities in the Atlantic and Pacific regions of the Outer Continental Shelf in order to tap into the 14 billion barrels of known recoverable oil in this area.
Establishes a competitive oil and gas leasing program for the Arctic National Wildlife Refuge Coastal Plain under the Mineral Leasing Act, providing access to over 10 billion barrels of recoverable oil
Creates a revenue sharing agreement for participating states in which 37.5 percent of revenues will go to new producing states, 12.5 percent to the Land and Water Conservation Fund, and 50 percent to the Federal Treasury.
Repeals the $4,000 fee for new applications for permits to drill that was established in last year's Omnibus Appropriations Bill.
Suspends filling the Strategic Petroleum Reserve for 180 days
Repeals a provision in last year's Omnibus which reduced mineral leasing revenue payments to States by 2 percent, and restores the 50/50 Federal-State revenue sharing structure.
••••••
Second poll in one week reaffirms Rick Noriega, Sen. Cornyn in virtual tie, Noriega campaign announces
By ANTHONY GRAY
U.S. Senate candidate Rick Noriega remains locked in a close race with incumbent Sen. John Cornyn, an independent poll released Thursday, May 9, confirmed, the Noriega U.S. Senate campaign has announced.
The telephone poll conducted by Research 2000 for the online publication "Daily Kos" showed Noriega, D-Houston, at 44 percent compared to Cornyn, R-San Antonio, who received 48 percent of potential voter support.
Monday, a Rasmussen Reports poll also indicated that Noriega was within four points of Cornyn. In that poll, Noriega received 43 percent compared to Cornyn's 47 percent.
"Two independent polls in one week show the Texas Senate race is a dead heat. These polls confirm what people across Texas have been telling us. Traditional Texas voters are ready for a change in the U.S. Senate," said Mark Bell, Noriega's campaign manager.
Noriega is a five-term member of the Texas House of Representatives and a 27-year veteran of the U.S. military where he served in Afghanistan. He received more than 1 million votes to win the March Democratic Primary for U.S. Senate without a runoff.
Daily Kos offered the following about the Research 2000 poll:
"The Research 2000 Texas Poll was conducted from May 5 through May 7, 2008. A total of 600 likely voters who vote regularly in state elections were interviewed statewide by telephone.
Those interviewed were selected by the random variation of the last four digits of telephone numbers. A cross-section of exchanges was utilized in order to ensure an accurate reflection of the state. Quotas were assigned to reflect the voter registration of distribution by county.
The margin for error, according to standards customarily used by statisticians, is no more than plus or minus 4% percentage points. This means that there is a 95 percent probability that the "true" figure would fall within that range if the entire population were sampled. The margin for error is higher for any subgroup, such as for gender or party affiliation."
••••••
Cárdenas Autoplex, Inc. fined $100,000, sentenced to five years probation, for violating Bank Secrecy Act
Cárdenas Autoplex Inc. has been fined $100,000 and ordered to serve a five-year-term of probation for violating the Bank Secrecy Act, Untied States Attorney Don DeGabrielle has announced. U.S. District Judge Andrew S. Hanen handed down the sentence at a hearing held on Friday, May 9.
Through its representatives, Cárdenas Autoplex Inc., a Texas corporation and longtime Brownsville car dealership, pleaded guilty Sept. 25, 2007, to violating the Bank Secrecy Act by willfully failing to report the cash sale of an automobile in an amount over $10,000 to the United States government.
Cárdenas Autoplex Inc. is considered a nonfinancial trade or business as defined under Title 31, United States Code, Section 5312(a)(4), which is required under federal law to file a report within 15 days with the Financial Crimes Enforcement Network any time it receives more than $10,000 in coins or currency in one transaction or two or more related transactions. This reporting requirement is solely the responsibility of the nonfinancial trade or business, not the purchaser.
Cárdenas Autoplex knowingly failed to file an IRS Form 8300 in connection with three cash transactions totaling more than $44,000 relating to the sale of a 2003 Mercedes-Benz E55 within 15 days of the cash transaction(s). At the time the corporation entered its guilty plea, it admitted that it entered into an agreement with a customer to sell a 2003 Mercedes-Benz E55 automobile for a total price of $86,701.11, minus a trade-in allowance, receiving the balance of $44,289.35 in three cash payments of $20,000, $18,500 and $5,789.35 in July and August 2003 and knowingly failing to file the requisite Form 8300 required by law.
This case was investigated by agents from the Brownsville offices of the Internal Revenue Service, Immigration and Customs Enforcement and the Drug Enforcement Administration, the case is being prosecuted by Assistant United States Attorney Arthur R. Jones.
••••••
UT-Dallas undergraduate Benjamin Dower appointed student regent on powerful board for one-year term
By ANTHONY P. De BRUYN
H. Scott Caven, Jr., chairman of The University of Texas System Board of Regents, issued the following statement on Friday, May 9, regarding the appointment of Benjamin Dower of Austin, an undergraduate student at UT Dallas, as the next student regent on the Board. He is a senior economics major. The one-year term as student regent is effective immediately.
Gov. Rick Perry appointed Dower and nine other students to higher education governing boards across the state.
Statement from Caven:
"On behalf of the Board of Regents, I want to congratulate Ben Dower on his appointment to the University of Texas System Board of Regents. The Board considers the student regent position to be tremendously helpful in our work and deliberations. Ben is an outstanding choice and we look forward to serving with him.
"I also would like to take this opportunity to thank Regent Matt Camarillo for his tireless commitment and extraordinary service to the UT System during his tenure as student regent. He has been a remarkable colleague and ambassador of the UT System and we wish him well in his future endeavors."