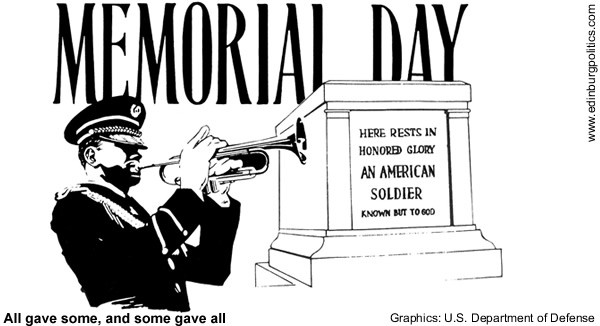 Memorial Day is a United States federal holiday that is observed on the last Monday of May (observed in 2008 on May 26). It was formerly known as Decoration Day. This holiday commemorates U.S. men and women who have died in military service to their country. It began first to honor Union soldiers who died during the American Civil War. After World War I, it was expanded to include those who died in any war or military action. Stories relating to Memorial Day are featured later in this posting, including President Bush's proclamation and prayer for peace, and updates on a major reform to the G.I. Bill that has passed the U.S. Senate and U.S. House of Representatives.
••••••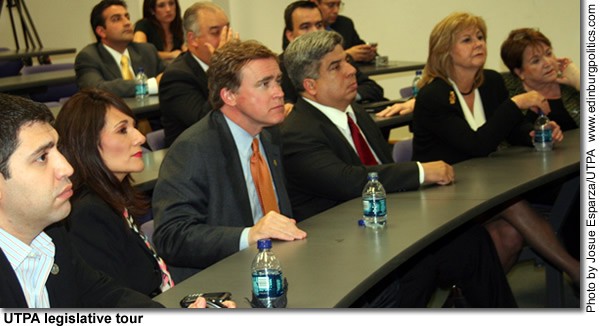 Rep. Verónica Gonzáles, D-McAllen, featured second from left, brought key House legislators for a recent tour of the newly-opened Rapid Response Manufacturing Center at the University of Texas-Pan American. "It's not every day that representatives from other regions of the state have the opportunity to see the burgeoning economic development of the Rio Grande Valley," said Gonzáles. "The Rapid Response Manufacturing Center is a perfect example of how the Valley is continually striving to create and sustain jobs and opportunities for local residents." Featured on the first row,, from left, are: Rep. Solomon Ortiz, Jr., D-Corpus Christi; Gonzáles; Rep. Dan Branch, R-Dallas, Chair of the Select Committee on Higher and Public Education Finance; Rep. Aaron Peña, D-Edinburg; Dr. Shirley Reed, president of South Texas College; and Dr. Blandina "Bambi" Cárdenas, president of UTPA. See story later in this posting.
••••••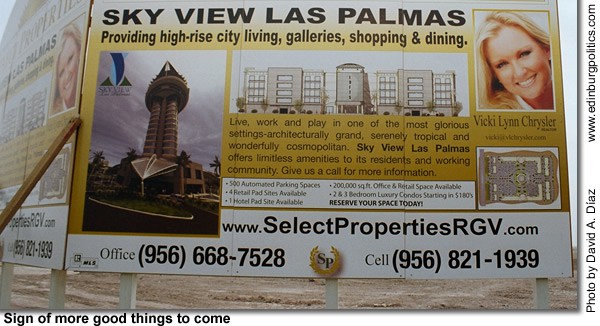 A billboard off the U.S. Expressway 281 northbound frontage road near Canton Road heralds the planned construction of a 14-story, $150 million complex that will feature luxury condominiums, a hotel, restaurant, and other amenities known as the Sky View Las Palmas. Work is already underway at the site, which is located near the 1.2 million square-foot Shoppes at Rio Grande Valley, where construction there also is moving forward. Sky View Las Palmas, which proposes to create about 200,00-square-feet of retail space, would be the latest major boost to construction activities in the city. It is tentatively scheduled to be built in four phases, according to the Edinburg Economic Development Corporation, and be wrapped up in about two years.
••••••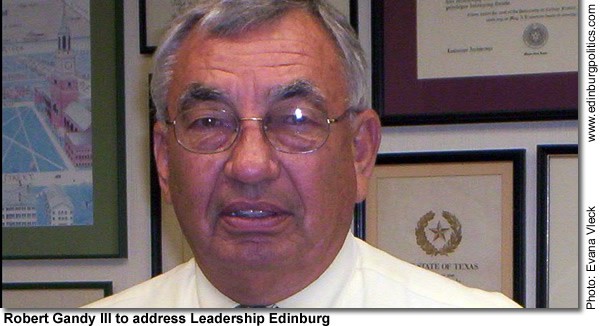 Robert Gandy, III, President/CEO of First National Bank, the largest privately held bank in Texas, will be the keynote speaker for the Wednesday, May 28 Leadership Edinburg Banquet at the Echo Hotel honoring the 19th graduating class. Tickets are available at $25 per person. Applications for Leadership Edinburg Class XX are currently available by contacting the Edinburg Chamber of Commerce at 383-4974. See story later in this posting.
••••••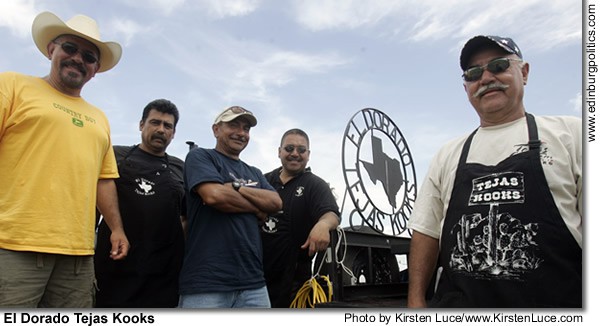 El Dorado Tejas Kooks of Houston, shown here last summer participating in the annual Texas Cook 'Em in Edinburg, are expected to be among dozens of teams competing for awards and $15,000 in cash prizes again this July 4, when the major event gets underway again at Edinburg Municipal Park. A new category has been added to the competition – T-Bone Steak. The event is free and open to the public, but there will be a $5 parking fee per family. For more information on the cook-off, including how to enter a team, please log on to http://www.Edinburg.com. See story later in this posting. (More information on photojournalist Kirsten Luce, who took this shot, is available at http://www.KirstenLuce.com).
••••••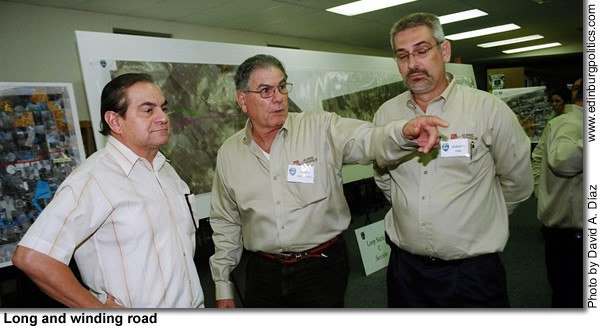 Homer Gutiérrez, an engineer with J.E. Sáenz and Associates, points out one of the dozen high-resolution maps to Mayor Joe Ochoa, left, that were part of an open house held Wednesday, May 14, at Edinburg North High School, that depict a possible route for the planned $650 million Hidalgo County Loop that could wind up near the city-owned South Texas International Airport in Edinburg. Ochoa, former Mayor Richard Garcia, and Gerry Pate, the leader of Hidalgo County Road Builders, the private coalition developing the loop system, agree it will have a major economic impact on the three-time All-America City. Also featured in this shot is Robert Fina, also an engineer with J.E. Sáenz and Associates, which is one of numerous area firms which make up the Hidalgo County Road Builders. See story later in this posting.
••••••
Edinburg hoping northern section of planned Hidalgo County Loop goes near city-owned South Texas International Airport
By DAVID A. DÍAZ
If tentative plans for the construction of the Hidalgo County Loop highway project remain on course, the South Texas International Airport in Edinburg – and with it, the local economy – could be big winners in the battle to tap into international cargo transportation markets.
The South Texas International Airport – formerly the Edinburg International Airport until the Edinburg City Council adopted the new name in July 2007 – has been undergoing a transformation in facilities and resources over the past few years in order to eventually become a major hub for commercial cargo air transportation.
But if the Hidalgo County Loop ends up anywhere near the city-owned airport, it could really take off, top city leaders predict.
On Wednesday, May 14, dozens of area residents received their first in-depth look into where the northern portion of the $650 million Hidalgo County Loop, which is being developed by the Hidalgo County Regional Mobility Authority, could connect to the three-time All-America City.
Currently, the Hidalgo County Loop could wind up intersecting with U.S. Expressway 281 in the vicinity of the air transportation complex, which covers about 500 acres located immediately off the highway, about 14 miles north of downtown.
Mayor Joe Ochoa, who attended the mid-May open house organized for the Hidalgo County RMA, said city leaders will be keeping a close watch on the proposed routes that impact northern Edinburg.
"Edinburg needs to position itself to make sure that these alternative routes do lead as close as possible to our airport, so we can take advantage of the north/south traffic coming from our border, making sure that it does travel as close as possible to our airport," said Ochoa. "Knowing that we want to become a cargo airport, that would be the best thing that could happen to this community."
Gerry Pate, managing general partner with Hidalgo County Road Builders, a private coalition developing the Hidalgo County Loop on behalf of the local RMA, said the northern leg of the loop would probably wind up near the local municipal airport.
"Right now, the plan is for the loop to terminate at U.S. 281, somewhere to the north of Edinburg, probably just south of the airport," Pate said in an earlier interview, pointing to a high-definition aerial map of northern Hidalgo County. "As you can see on this map, there are still several alignments being considered. Hopefully, later this summer, we will pick one of these, based somewhat on public input we get in the upcoming open houses. Then we will know more definitively where we are going to put it."
According to the RMA's timeline, the northern segment of the loop affecting Edinburg is scheduled to be finished by 2013, said former Mayor Richard García, who serves as president of the Edinburg Economic Development Corporation – the jobs-creation arm of the Edinburg City Council.
"This loop is designed to help Edinburg in more ways than one," García said. "It will effectively and efficiently direct heavy commercial truck traffic away from our city, thereby reducing congestion on our local roadways – which is good for our environment – and help create business and residential developments that always follow the creation of new road systems."
Pate said the Hidalgo County Loop also will play a big role in improving public safety for all area residents.
"It is designed initially to give a predictable way for the large amount of commercial truck traffic that is occurring along the border to move north to U.S. 281 and out of the county to destinations north of the county," Pate said.
The Hidalgo Loop is slated for completion around 2013.
Pate said the system will carry heavy commercial trucks and automobiles from the Pharr-Reynosa International Bridge in southmost Hidalgo County, west to the McAllen Trade Zone, where most long-haul truck traffic originates.
The planned roadway, which will be initially constructed as two lanes with wide shoulders, would continue to Peñitas, then go north about 16 miles in western Hidalgo County before going east for about 15 miles, connecting with U.S. Expressway 281 in north Edinburg.
The Hidalgo County RMA is paying for the project with a series of financial mechanisms that include tolling and the newly authorized Tax Reinvestment Zone (TRZ), which uses property values from new development prompted by the road to pay for its construction, loans, and revenue generated from a $10 increase in the county auto license renewal fee.
According to Pate, the work on the Hidalgo County Loop has followed, or will follow, this timeline:
• 2000
Hidalgo County Loop was added to the Metropolitan Transportation Plan by the Hidalgo County Metropolitan Planning Organization.
• 2002 – 2004
Hidalgo County conducted route corridor studies for Hidalgo County Loop.
• 2005
The Hidalgo County Regional Mobility Authority was created by Texas Department of Transportation Commission. Its chairman, Dennis Burleson of Mission, was appointed by Gov. Rick Perry; the remaining six members, including former Hidalgo County Judge Ramón García, were appointed by the Hidalgo County Commissioners Court, and the City of McAllen, because it is the most populated city in the county, received its own appointee.
• 2007
The Hidalgo County Regional Mobility Authority selected Hidalgo County Road Builders to develop Hidalgo County Loop. In early 2008, Hidalgo County Road Builders signed a has negotiated a $46.3 million contract with the Hidalgo County Regional Mobility Authority – a governmental entity – to provide pre-construction services in preparation for the building of major portions of the $645 million Hidalgo County Loop, which will be designed to shuttle heavy commercial truck traffic coming to and from the region.
• 2007 – 2008
The Hidalgo County Regional Mobility Authority have and will conduct additional planning studies.
• 2008 – 2009
The Hidalgo County Regional Mobility Authority will develop right-of-way maps and designs plans for Hidalgo County Loop.
• 2009 – 2010
The Hidalgo County Regional Mobility Authority will require the necessary right-of-ways for Hidalgo County Loop.
• 2010 – 2013
Construction of Hidalgo County Loop will take place.
••••••
Edinburg unemployment rate drops to 4.1 percent, second-best showing in past year-and-a-half
By DAVID A. DÍAZ
Edinburg posted a 4.1 percent unemployment rate in April 2008, the second-best showing that month among all major Valley cities, and at the same level as the state's record low, the Edinburg Economic Development Corporation has reported.
Edinburg's unemployment rate was better than the U.S. unemployment rate in April, which came in at five percent.
The unemployment rate is a key indicator of the strength of the local economy.
The EEDC is the jobs-creation arm of the Edinburg City Council.
The EEDC's five-member governing board includes Mayor Joe Ochoa; former Mayor Richard García, who is president of the EEDC board of directors; and Fred Palacios, Elias Longoria, Jr., and Dr. Glenn A. Martínez, Ph.D.
All cities in Hidalgo County for April 2008 had a combined 5.7 percent unemployment rate, an improvement over March level of 6.4 percent, the February level of 6.6 percent, and the January posting of 7.3 percent.
For April 2008, all cities in Cameron County had a combined 5.4 percent, compared with a 5.8 percent level in March, a 5.9 percent level in February, and 6.5 percent in January.
For all of 2007, the unemployment rate in Edinburg averaged 4.8 percent, according to the latest state figures compiled by the TWC.
In 2006, the city's unemployment rate averaged 5.3 percent, while in 2005, Edinburg's unemployment rate averaged 4.9 percent.
The best showing in history for Edinburg came in November 2007, when the unemployment rate dropped to 3.7 percent.
The highest unemployment rate in the past year for Edinburg came in July 2007, reaching 5.8 percent.
The April 2008 unemployment rate in Edinburg represents a growth of 2,654 jobs since April 2005, according to the Texas Workforce Commission.
In April 2008, there were 28,528 people employed in Edinburg.
In April 2007, there were 27,866 people with jobs in the three-time All-America City. In April 2007, the unemployment rate was 4.2 percent.
In April 2006, there were 26,920 people employed in Edinburg. In April 2006, the unemployment rate was 5.4 percent.
In April 2005, there were 25,847 people employed in Edinburg. In April 2005, the unemployment rate was 4.8 percent.
Those levels represent some of the lowest unemployment rates and the largest numbers of people employed in the city's history.
The unemployment rate is the number of persons unemployed, expressed as a percentage of the civilian labor force.
The civilian labor force is that portion of the population age 16 and older employed or unemployed.
To be considered unemployed, a person has to be not working but willing and able to work and actively seeking work.
McAllen, which usually has the lowest monthly unemployment rates in the Valley, had the best showing among major Valley cities in April 2008 at 3.9 percent, compared with a March level of 4.3 percent, and a 4.5 percent rate in February.
Harlingen had the third-lowest jobless rate among Valley cities in April 2008 at 4.8 percent, compared with five percent in March, and 5.1 percent in February.
Among the Valley's largest cities in April 2008, Weslaco posted a 5.5 percent unemployment rate, an improvement from the March level of 6.6 percent, followed by Brownsville with a 5.5 percent rate, also an improvement from the previous month's level of 5.9 percent.
Mission posted a five percent unemployment rate in April 2008, compared with a 5.6 percent level in March, while Pharr reported a 4.6 percent rate, compared with 5.2 percent in March.
The breakdown of Edinburg's unemployment rate for the past 16 months follows:
April 2008, the unemployment rate in Edinburg was 4.1 percent.
March 2008, the unemployment rate in Edinburg was 4.5 percent.
February 2008, the unemployment rate in Edinburg was 4.4 percent.
January 2008, the unemployment rate in Edinburg was 4.9 percent.
December 2007, the unemployment rate in Edinburg was 4.7 percent.
November 2007, the unemployment rate in Edinburg was 3.7 percent.
October 2007, the unemployment rate in Edinburg was 4.4 percent.
September 2007, the unemployment rate in Edinburg was 5 percent.
August 2007, the unemployment rate in Edinburg was 4.9 percent.
July 2007, the unemployment rate in Edinburg was 5.8 percent.
June 2007, the unemployment rate in Edinburg was 5.5 percent.
May 2007, the unemployment rate in Edinburg was 4.4 percent.
April 2007, the unemployment rate in Edinburg was 4.3 percent.
March 2007, the unemployment rate in Edinburg was 4.4 percent.
February 2007, the unemployment rate in Edinburg was 4.8 percent.
January 2007, the unemployment rate in Edinburg was 4.9 percent.
Also according to the Texas Workforce Commission:
The April 2008 statewide seasonally adjusted unemployment rate fell to 4.1 percent, down from 4.3 percent in March and 4.4 percent in April 2007, once again matching the record low.
The 4.1 percent April unemployment rate in Texas remains far below the U.S. unemployment rate of 5.0 percent. Seasonally adjusted nonagricultural employment in Texas grew by 15,400 jobs in April.
"Texas continues to outpace national trends with its record low unemployment rate," said Texas Workforce Commission (TWC) Chairman Tom Pauken. "Texas employers now have added 262,000 jobs in the past 12 months."
The Midland Metropolitan Statistical Area (MSA) experienced the lowest unemployment rate in the state at 2.4 percent (not seasonally adjusted). The Amarillo and Odessa MSAs were second at 2.8 percent, followed by the Lubbock MSA at 3.0 percent.
Financial Activities gained 6,900 positions in April, which represent more than half the annual job growth of 12,700 for that sector. Leisure and Hospitality added another 4,200 jobs last month, for a total of 41,300 positions added in the past 12 months.
"Business in Texas continues to expand with an annual job growth rate of 2.5 percent," said TWC Commissioner Representing Employers Ron Lehman. "Industries like Professional and Business Services and Natural Resources and Mining recorded annual growth rates of 5.0 percent or above."
Construction increased by 3,000 jobs in April, for a gain of 23,200 jobs over the year. Education and
Health Services grew by 2,800 positions this month, with 40,800 jobs added in the past 12 months.
"Texas workers are finding jobs across many industry sectors," said TWC Commissioner Representing Labor Ronny Congleton. "Our record low unemployment rate gives job seekers many choices and more chances to find a job."
••••••
Senate passes major reform of G.I. Bill supported by Democratic presidential candidates Obama, Clinton
On Thursday, May 22, the Senate overwhelmingly passed landmark legislation to provide post-9/11 veterans with comprehensive educational benefits, introduced by Senator Jim Webb, D-VA, 17 months ago on his first day in office.
Democratic presidential candidates Sen. Hillary Clinton, D-New York, and Sen. Barack Obama, D-Illinois, along with Sen. Kay Bailey Hutchison, R-Texas, voted for the legislation.
The measure – cosponsored by Sens. Chuck Hagel, R-Nebraska, Frank Lautenberg, D-New Jersey, John Warner, R-Virginia, and a strong bipartisan majority of their colleagues – was passed in the House the preceding week. Identical measures were included in the Iraq War emergency supplemental spending bills.
Major provisions of the bill include:
• Increased educational benefits would be available to all members of the military who have served on active duty since September 11, 2001, including activated reservists and National Guard. To qualify, veterans must have served at least three to thirty-six months of qualified active duty, beginning on or after September 11, 2001.
• The bill provides for educational benefits to be paid in amounts linked to the amount of active duty served in the military after 9/11. Generally, veterans would receive some amount of assistance proportional to their service for 36 months, which equals four academic years. Veterans would still be eligible to receive any incentive-based supplemental educational assistance from their military branch for which they qualify.
• Benefits provided under the bill would allow veterans pursuing an approved program of education to receive payments covering the established charges of their program, up to the cost of the most expensive in-state public school, plus a monthly stipend equivalent to housing costs in their area. The bill would allow additional payments for tutorial assistance, as well as licensure and certification tests.
• The bill would create a new program in which the government will agree to match, dollar for dollar, any voluntary additional contributions to veterans from institutions whose tuition is more expensive than the maximum educational assistance provided under S.22.
• Veterans would have up to fifteen years, compared to ten years under the Montgomery G.I. Bill, after they leave active duty to use their educational assistance entitlement. Veterans would be barred from receiving concurrent assistance from this program and another similar program.
••••••
Sen. Cornyn outlines his support for version of G.I. Bill modernization carried by Sen. McCain
U.S. Sen. John Cornyn, R-Texas, a member of the Senate Armed Services Committee, spoke on the Senate floor on Thursday, May 22, to outline his strong support for modernizing and expanding the Montgomery G.I. Bill program for active duty service members, veterans and members of the National Guard and Reserve.
"Clearly, an overhaul to the Montgomery G.I. Bill is long overdue and something that our troops deserve for their heroic service in the defense of freedom. I am hopeful that the final product of this legislation will reflect some form of bipartisan compromise and we can move forward with this important effort," Cornyn said.
However, echoing serious concerns outlined in recent letters to Congress by the Secretary of Defense and the Secretary of Veterans Affairs, Cornyn said one proposal, introduced by Sen. Jim Webb, D-VA., would greatly harm troop retention rates. Cornyn is backing an alternative bill, introduced by Sens. John McCain, R-AZ, and Lindsey Graham, R-SC – the Enhancement of Recruitment, Retention, and Readjustment Through Education Act, S. 2938 – which would strengthen our all-volunteer force and meet the educational needs of servicemen and women in Texas.
"I know it's not his intention, but Sen. Webb's bill actually would encourage people not to re-enlist by providing an incentive to leave early in order to obtain the benefits they would receive after three years of service," Cornyn said on the floor on May 22. "We need to make sure that we encourage continuation of service and retention in the military that is in the best interest of our all-volunteer military force. I believe that we ought to reward those who continue to serve. We especially ought to reward the families by allowing transferability of the benefit upon continued service to spouses and children. I can tell you, in speaking to Texans this last weekend, that one feature was something that they very much appreciated."
According to a recent Congressional Budget office report, Webb's bill could decrease retention rates as much as 16 percent. At a time when our troops are fighting on two fronts, and the Department of Defense is increasing the size of the Armed Forces to give troops more time at home between deployments, a drop in retention would have serious impacts on our All Volunteer Force.
A key component of the G.I. modernization bill that Cornyn is supporting is the issue of transferability – meaning, service-members will be allowed to transfer their education benefits to spouses and dependent children. Families, according to Cornyn, ought to be recognized for the sacrifices they make for their troops. Transferability is not included in the Webb legislation.
In letters to Congress, Secretary of Defense Robert Gates and Secretary of Veterans Affairs James Peake outlined their serious concerns with the Webb legislation.
The average cost of a four-year public school in Texas is just under $55,000. This includes tuition, fees, room, board, books, and supplies. Under the Graham Bill, troops serving three years can put roughly $58,000 towards that education. Troops serving 12 years or more can put roughly $76,000 towards their education. For more expensive schools, Texans can take advantage of the Hazelwood Act. Many Texas veterans (those who served on active duty for "more than 180 days") can supplement their GI bill benefits with "tuition exemption" benefits available under Texas' Hazlewood Act, allowing them to take classes at public institutions of higher education in Texas nearly free of charge.
••••••
Democratic Senate candidate Noriega hails Senate passage of G.I. Bill, criticizes Sen. Cornyn
By TONY GRAY
U.S. Senate candidate and state Rep. Rick Noriega, D-Houston, a Lieutenant Colonel in the Texas Army National Guard, on Thursday, May 22, applauded the Senate passage of the bipartisan Post-9/11 Veterans Educational Act, which would cover full in-state tuition at public universities for veterans.
U.S. Sen. John Cornyn, R-Texas, however, failed to support the bipartisan GI bill that passed the House of Representatives and the Senate and is supported by most leading veterans organizations, said Noriega.
Cornyn was one of only 22 senators to oppose the bipartisanly supported bill and on the Senate floor he went a step further signaling his support for a presidential veto of the expanded benefits for veterans.
"Sen. Cornyn's vote is an insult to our troops who have sacrificed so much to serve our country. Texas families deserve better," said Noriega. "Supporting our troops is about more than photo opportunities and speeches. Our brave men and women give their all on the battlefield and they deserve our full support when they return home. But today John Cornyn voted against a GI bill that would ensure our veterans receive the same sort of education benefit that their grandparents received after World War II. Worse yet, Cornyn signaled his support for a presidential veto, which would rob a large and deserving group of veterans of the tools they need to succeed in civilian life after serving our nation."
U.S. Sen. Kay Bailey Hutchison, R-Texas, joined 74 of her Senate colleagues in supporting the GI bill.
"Texas needs two Senators who will stand up for Texas families. In my ten years serving in the Texas State House I fought for our veterans and I will continue to fight to ensure our troops and veterans get the support they deserve in the U.S. Senate," added Noriega.
••••••
Prayer for Peace, Memorial Day, 2008
A Proclamation by the President of the United States of America
On Memorial Day, we honor the heroes who have laid down their lives in the cause of freedom, resolve that they will forever be remembered by a grateful Nation, and pray that our country may always prove worthy of the sacrifices they have made.
Throughout our Nation's history, our course has been secured by brave Soldiers, Sailors, Airmen, Marines, and Coast Guardsmen. These courageous and selfless warriors have stepped forward to protect the Nation they love, fight for America's highest ideals, and show millions that a future of liberty is possible. Freedoms come at great costs, yet the world has been transformed in unimaginable ways because of the noble service and devotion to duty of these brave individuals. Our country honors the sacrifice made by those who have given their lives to spread the blessings of liberty and lay the foundations of peace, and we mourn their loss.
Today, our service men and women continue to inspire and strengthen our Nation, going above and beyond the call of duty as part of the greatest military the world has ever known. Americans are grateful to all those who have put on our Nation's uniform and to their families, and we will always remember their service and sacrifice for our freedoms.
On this solemn day our country unites to pay tribute to the fallen, who demonstrated the strength of their convictions and paid the cost of freedom. We pray for the members of our Armed Forces and their families, and we ask for God's continued guidance of our country.
In respect for their devotion to America, the Congress, by a joint resolution approved on May 11, 1950, as amended (64 Stat. 158), has requested the President to issue a proclamation calling on the people of the United States to observe each Memorial Day as a day of prayer for permanent peace and designating a period on that day when the people of the United States might unite in prayer. The Congress, by Public Law 106-579, has also designated the minute beginning at 3:00 p.m. local time on that day as a time for all Americans to observe the National Moment of Remembrance.
NOW, THEREFORE, I, GEORGE W. BUSH, President of the United States of America, do hereby proclaim Memorial Day, May 26, 2008, as a day of prayer for permanent peace, and I designate the hour beginning in each locality at 11:00 a.m. of that day as a time to unite in prayer. I also ask all Americans to observe the National Moment of Remembrance beginning at 3:00 p.m., local time, on Memorial Day. I encourage the media to participate in these observances. I also request the Governors of the United States and the Commonwealth of Puerto Rico, and the appropriate officials of all units of government, to direct that the flag be flown at half staff until noon on this Memorial Day on all buildings, grounds, and naval vessels throughout the United States, and in all areas under its jurisdiction and control. I also request the people of the United States to display the flag at half staff from their homes for the customary forenoon period.
IN WITNESS WHEREOF, I have hereunto set my hand this twenty-second day of May, in the year of our Lord two thousand eight, and of the Independence of the United States of America the two hundred and thirty-second.
GEORGE W. BUSH
••••••
Sens. Hinojosa, Lucio hear testimony on state costs for taking care of children of polygamous compound
By SENATE MEDIA SERVICES
The cost of care and litigation surrounding hundreds of children removed from a west Texas polygamous compound has run into the millions of dollars, and costs will continue to rise, according to testimony at a Senate hearing Tuesday, May 20. The Senate Finance Committee heard from state and county officials in order to determine how much the state will have to spend to cover the cost of this massive operation.
Health and Human Services Commissioner Albert Hawkins said state agencies have already spent more than $5 million to provide food, shelter, counseling and other necessary services to the 465 children under its care in this case. Employee overtime and travel make up the bulk of this expense. As those children move into foster homes or remain under state care, these costs will mount, at a rate of more than a million dollars a month for housing and medical care. Hawkins assured the committee that his agency has implemented an auditing program to ensure that related expenses are justified.
County governments are also facing millions of dollars in costs. State District Judge Ben Woodward, one of the judges with jurisdiction over this case, said that two counties would bear most of this financial burden: Tom Green county, where the related trials and court proceedings are taking place, and Schleicher county, where the compound itself lies. Competency hearings and other legal services have already topped $2.2 million in Schleicher county, and Woodward said neither county will have the money to cover the legal expenditures surrounding the case. "We're at a point now where we're going to start limping along pretty badly," he said.
The state has a number of ways it can get needed money to local and county officials to offset the costs. Ursula Parks of the Legislative Budget Bureau laid out a number of options, from emergency funding from the Governor's office, to county assistance grants already allowed under statute.
Committee Chairman Sen. Steve Ogden, R-Bryan doubted the initial analysis would reflect the final state and county expense. He noted while the current cost analysis has dozens of different line items, the future analysis only considers a few potential costs."
The cost of this operation is going to be a lot more than is on this sheet of paper," he said. "It doesn't reflect what is going on now, and there are huge legal costs out there that we haven't even discussed yet." Ogden wants county and state officials to rework their future analyses, including estimations of the potential legal price tag, so lawmakers aren't caught flatfooted when the next legislative session in January. "I think its important to get a handle on all the costs so come around November y'all don't walk down here and say we were only off by 15 million, and you guys got to find it some place."
The Senate Finance Committee is chaired by Ogden and consists of Sens. Juan "Chuy" Hinojosa, D-McAllen; Eddie Lucio, Jr., D-Brownsville; Judith Zaffirini, D-Laredo; Kip Averitt, R-Waco; Jane Nelson, R-Lewisville; Bob Deuell, R-Greenville; Kyle Janek, R-Houston; Tommy Williams, R-The Woodlands; John Whitmire, D-Houston; Royce West, D-Dallas; Kevin Eltife, R-Tyler; Florence Shapiro, R-Plano; and Robert Duncan, R-Lubbock.
••••••
Rep. Verónica Gonzáles hosted state officials for tour of Rapid Response Manufacturing Center in Edinburg
By RICARDO LÓPEZ-GUERRA
Rep. Verónica Gonzáles, D-McAllen, recently hosted members of three Texas House committees for a tour of the newly opened Rapid Response Manufacturing Center on the University of Texas – Pan American campus. The tour, which was held on Thursday, May 8, began a5 4 p.m. at the UTPA Visitors Center.
Key members of the Select Committee of Higher and Public Education Finance, the Higher Education Committee and the Economic Development Committee were on hand to observe, first hand, how the Valley is merging education and industry to address the needs of its growing economy.
Each committee has a vested interest in the Center ranging from job creation and job-training programs to higher education and workforce readiness.
"It's not everyday that representatives from other regions of the state have the opportunity to see the burgeoning economic development of the Rio Grande Valley," said Gonzáles. "The Rapid Response Manufacturing Center is a perfect example of how the Valley is continually striving to create and sustain jobs and opportunities for local residents."
A strategy of the North American Advanced Manufacturing Research Initiative (NAAMREI), the Center will provide research, engineering design, and production expertise to enable current manufacturers and businesses as well as budding entrepreneurs to scale production from a concept to finished goods as rapidly and efficiently as possible.
NAAMREI is a network of 47 partners from K-12 and higher education, business, economic development, industry, finance and government focused on offering manufacturers across North America, and globally, access to proprietary, world-class advanced and rapid response manufacturing.
To learn more about the Rapid Response Manufacturing Center, call (956) 318-8955 or e-mail [email protected].
••••••
Robert Gandy, III to serve as keynote speaker honoring Edinburg Leadership Class XIX on Wednesday, May 28
By EVANA VLECK
The Leadership Edinburg Banquet honoring Class XIX will be held at the Echo Hotel on Wednesday, May 28 at 6:30 p.m. Tickets are available at $25 per person. Applications for Leadership Edinburg Class XX are currently available by contacting the Edinburg Chamber of Commerce at 383-4974.
"The Leadership Edinburg program is a true success story for the Edinburg Chamber of Commerce. Any program that continues to attract larger numbers of participants each year speaks to the caliber of the speakers, topics covered and overall program offered by the Leadership Edinburg Steering Committee," commented Elva Jackson Garza, executive board member and LE Class II graduate. "Every class is special and unique in their own way. Class XIX has been exceptional and has set the standard quite high for future classes that follow," she added.
Robert Gandy III will be the keynote speaker for the event. The public is invited to attend and learn more about the program.
Gandy is President/CEO of First National Bank, the largest privately held bank in Texas. Mr. Gandy graduated from Edinburg High School in 1965. He has a BA in Economics from Dartmouth College where he graduated Magna Cum Laude. After serving two years in the US Army with a tour in South Vietnam, Mr. Gandy entered Texas A&M and graduated with a degree in landscape Architecture. He currently serves as President of the Edinburg Foundation, Inc., a not-for-profit industrial land developer.
Gandy is a graduate of the inaugural Leadership Class I of 1999. He also served as President of the Edinburg Chamber of Commerce Board of Directors from 1995-1996. He was recognized as an inductee in the Rio Grande Valley Walk of Fame in 2007 and has been awarded a commemorative tile at the Dodge Arena in Hidalgo, TX. In addition, Mr. Gandy has devoted his personal time and energy to many civic organizations that have benefited from his leadership, skills and dedication to help others.
For more information please call The Edinburg Chamber of Commerce 956-383-4974.
••••••
U.S. Senate passes bill to modernize sex offender registry, focus on Internet dangers to children
By MATT MACKOWIAK
U.S. Sen. Kay Bailey Hutchison, R-Texas, Chairman of the Senate Republican Policy Committee, on Friday, May 23, announced Senate passage of two bills she co-sponsored that will better protect Americans from online predators and promote safe Internet use among children.
"The Internet has opened up communication and made information more readily available to millions of Americans. But as this technology advances, dangers online also increase. It is important that all Americans be protected from sexual predators who seek victims on the Internet and that parents, and educators have the tools to shield children from inappropriate content," said Hutchison.
The Keeping the Internet Devoid of Sexual Predators Act of 2007 (KIDS Act), S. 431, would expand on the successful efforts of the Sex Offender Registration and Notification Act by requiring convicted sex offenders to register email addresses, instant messaging screen names, or other identifiers used to communicate over the Internet. The bill also requires the Attorney General to maintain a system that allows commercial social networking sites to identify users who are listed in the National Sex Offender Registry.
The Protecting Children in the 21st Century Act, S. 1965, takes a multi-pronged approach to keeping children safe from online dangers. The bill creates an Online Safety and Technology Working Group to evaluate activities promoting online safety, current parental control technology, blocking and filtering software, and age-appropriate labels for content. It appropriates $5 million per year for the next two years to create and fund a public awareness campaign led by the Federal Trade Commission. The measure would also require schools receiving funding from federal Universal Service to offer age-appropriate online behavior education. The goal of the education is to help school-aged children safely navigate social networking sites and chat rooms and to teach them how to respond to cyber-bullying.
Hutchison is a cosponsor of the Combating Child Exploitation Act (S. 1738) and the Sex Offender Registration and Notification Retroactivity Correction Act (S. 2632), which would each further bolster national efforts to protect our children from predators. Each of these bills awaits approval by the Senate Judiciary Committee.
Hutchison has a long legislative record on protecting children. In 2003, Hutchison sponsored a bill signed into law to create the National AMBER Alert Network. Over the past four years it has resulted in the return of 230 children to their parents. In the current Congress she has introduced the Family Abduction Prevention Act to help prevent abductions of children by family members, which account for 78 percent of all abductions. The bill authorizes $500,000 in matching grants for fiscal year 2008 to help fund local law enforcement efforts to investigate and prosecute these cases and help states with costs associated with family abduction prevention.
Hutchison also cosponsored the Internet Safety Act, which was signed into law in 2006 when provisions of the bill were included in the Adam Walsh Child Protection and Safety Act. This legislation cracks down on Internet child pornography and related behavior by creating new penalties targeted at those who produce or knowingly facilitate Internet child pornography; expanding penalties for existing child pornography, sex trafficking, and sexual abuse offenses; and increasing resources for prevention and prosecution of child sexual abuse.
••••••
Congressman Hinojosa votes to override President Bush's veto of 2008 Farm Bill
By ELIZABETH ESFAHANI
Rep. Rubén Hinojosa, D-Mercedes, on Wednesday, May 21, joined a bipartisan majority in the House of Representatives to override the President's veto of the 2008 Farm Bill – historic legislation that preserves the economic safety net for rural America, protects our food security, makes unprecedented investments in nutrition programs that help needy families, and provides new opportunities for minority and beginning farmers.
The bill effectively becomes law after approval by the Senate.
"Congress has passed a fair and comprehensive farm bill that gives families the support they need and invests in our nation's future," said Hinojosa. "This legislation will strengthen rural America and ease the strain of rising food prices while adopting long-needed reforms to our agricultural policy. It is a shame that the President failed to reconsider his veto threat but I proud to say that an overwhelming majority of Congress recognizes the immense importance of this responsible piece of legislation."
The Food Conservation and Energy Act of 2008 – commonly referred to as the Farm Bill – re-authorizes American agricultural and food policy for the next 5 years. Nearly three-fourths of the $290 billion Farm Bill, including an additional $10.4 billion in new spending, goes to nutritional programs that will help 38 million American families afford healthy food. It also updates the food stamp and school lunch programs to reflect the current state of our economy and help about 11 million people by 2012. Households with children would receive 77% of food stamp benefits.
The Farm Bill also includes much-needed support for emergency food distribution organizations, such as food banks, food pantries, and soup kitchens by increasing funding for the Emergency Food Assistance Program by $1.25 billion – with $50 million for immediate shortages at food pantries. It also helps schools provide healthy snacks to students, with $1 billion for free fresh fruits and vegetables.
"Too many families in Texas must go to bed each night without enough to eat," said Hinojosa. "This bill expands our nutrition programs for low-income families so more families have enough to eat and are not further affected by rising food prices."
Texas fruit and vegetable producers will have a place in the Farm Bill for the first time. The legislation guarantees a historic $1.3 billion in funding for America's fruit and vegetable programs that support research, pest management, trade promotion, and nutrition for the industry.
The legislation also includes several critical provisions spearheaded by Hinojosa. The Farm Bill will create the Southwest Regional Border Authority, an independent joint federal-state agency to coordinate economic development in the Southwest border region. This authority, which was originated by Congressman Silvestre Reyes and Congressman Hinojosa, will unite local, state, and national leaders to address the long term economic needs of our region by providing a fast-track to obtain grants for development and infrastructure.
Another provision will help promote housing in rural Texas. The Congressman helped include a provision that authorizes $10 million in funding each year until 2012 for the non-profit Housing Assistance Council (HAC). HAC works to create more affordable rural housing for low-income families and its loans have helped operations at McAllen Affordable Homes and Proyecto Azteca. Over the years, HAC has provided financing totaling almost $1.3 million to help Affordable Homes of South Texas build 90 homes.
The Farm Bill also invests in America's future. It boosts conservation programs by $7.9 billion, which reduce soil erosion, enhance water supplies, improve water and air quality, increase wildlife habitat and reduce damage caused by floods and other natural disasters.
Lastly, the Farm Bill support Democratic efforts invest in a diverse energy supply. The bill invests in renewable energy programs providing $320 million in loan guarantees for the development of refineries that process renewable fuels, a key step toward bringing more renewable fuels to market. In addition, it includes $1.5 billion for production incentives for ethanol and biodiesel made from agricultural, forest, and waste plant materials.
The legislation approved today was supported by a broad range of farm organizations, including the American Farm Bureau, the National Farmers Union, the Rio Grande Sugar Growers, the Texas Produce Association, the Texas Vegetable Association, the South Texas Cotton & Grain Association, and many other agricultural, environmental, and nutrition groups. However, even in the face of this broad support, the President has threatened to veto this legislation.
"I urge our President to not stand in the way of fiscally responsible legislation that ensures a better future for rural America," said Hinojosa. "We must give our farmers the help they need and forge a new direction in farm policy."
••••••
Rep. Gonzáles announces sales tax holiday on May 24 – 26 for energy efficient products
By RICARDO LÓPEZ-GUERRA
Rep. Verónica Gonzáles, D-McAllen, has announced that a sales tax holiday for energy-efficient products will take place during the Memorial Day weekend, May 24-26. Texas consumers will get a break from state and local sales and use taxes on a variety of energy-efficient products, including household appliances.
"Anticipating the higher summer energy bills now is a great time to invest in energy-saving appliances," Gonzáles said. Appliances that have earned the Energy Star label from the U.S. Department of Energy and the U.S. Environmental Protection Agency use 10-50 percent less energy and water than other models.
"Purchasing energy efficient appliances during the holiday tax-free weekend makes both environmental and economic sense," she added. "It is an opportunity to combine both the immediate tax savings on purchases and the long-term savings on energy bills for years to come."
The holiday applies to Energy Star-rated products certified by the US Department of Energy. Products eligible for exemption from sales tax May 24-26 include refrigerators priced less than $2,000, dishwashers, clothes washers, compact fluorescent light bulbs, ceiling fans, dehumidifiers, programmable thermostats and air conditioners not exceeding $6,000. Delivery and installation charges may also qualify for the exemption, depending on the appliance.
For a detailed list of exempted products and a list of Frequently Asked Questions about the sales tax holiday visit:
http://www.window.state.tx.us/taxinfo/sales/faq_energystar.html
••••••
UTPA invites public to attend planetarium shows and night sky observation days, which are free-of-charge
By GAIL FAGAN
Enter a world of wonder and excitement when you journey to The University of Texas-Pan American this summer to explore the universe in the H-E-B Planetarium or to marvel at the night sky during a weekly Night Sky Observation Session, both free and open to the public.
One of three newly purchased full-dome videos are currently being presented on Fridays each week from 6-9 p.m. with starting times at 6, 6:45, 7:30 and 8:15 p.m. and on Saturdays each week from noon-9 p.m. with starting times at noon, 12:45, 1:30, 2:15, 3, 3:45, 4:30, 5:15, 6, 6:45, 7:30 and 8:15 p.m. Each presentation will also include a showing and discussion of the current night sky, which changes throughout the year.
Overseen by the UTPA Department of Physics and Geology, the 45-year-old planetarium, which has a 20-foot dome and seats 40, was recently equipped with surround sound and a new digital projection system allowing the arm-chair observer to travel through space and time in three dimensions. It was also made handicap accessible and underwent an updating to its reception area, where a number of educational, hands-on exhibits are on display.
The three new full-dome videos, which will rotate weekly, include "Oasis in Space" – a startling and beautiful voyage through our universe, galaxy and solar system in search of liquid water, a key ingredient for life on Earth; "Hubble Vision 2" – a fascinating tour of the cosmos from Earth's orbit highlighting the best of the Hubble Space Telescope's incredible images and its exciting discoveries; and "Sky Quest" – an exploration of the stars, planets and constellations, appealing to even the youngest, as told from the viewpoint of an astronomer, starting from her childhood fascination with favorite stars and finding constellations to modern day missions to Mars and the construction of her own mountaintop observatory. As more funds become available, additional videos will be added to the planetarium's library.
On Tuesdays each week from 7-10 p.m. starting June 3, campus astronomer Dr. Nicholas Pereyra, assisted by astronomy lab graders/instructors will conduct a night sky observing session north of the Physical Science Building using two 10-inch telescopes. Observers can also attend a presentation of one of the videos in the planetarium that same evening at 6, 7, 8 or 9 p.m.
Reservations for planetarium presentations to student groups from pre-K-12th can also be made for Monday through Friday (except holidays), 8 a.m.-3 p.m. Reservations can be made by contacting Lisa Smith, planetarium receptionist, at 956/316-7088 or via e-mail at [email protected].
The planetarium is located in the Science Building Courtyard which can be located on a campus map at http://www.utpa.edu/mapmenu.cfm. A weekly schedule of H-E-B Planetarium events and videos being presented is available at http://www.utpa.edu/dept/physci/planetarium.htm.
For more information, call 956/316-7088 or e-mail [email protected]
••••••
Secretary of State Wilson joins Sen. Cornyn, Land Commissioner Patterson, to help protect troops' voting rights
By SCOTT HAYWOOD
and
ASHLEY BURTON
Texas Secretary of State Phil Wilson joined U.S. Senator John Cornyn, R-Texas, and Texas Land Commissioner Jerry Patterson, as well as several representatives from Texas veterans groups on Tuesday, May 20, to discuss the state's efforts to protect the voting rights of America's armed forces who are serving overseas on Election Day.
"One of the most important duties of our Elections Division is to ensure the voting rights of the men and women who are risking their lives on foreign soil to protect the liberties and freedoms we enjoy in the United States," said Wilson. "I look forward to working with Senator Cornyn in his efforts to ensure the secure transmission of ballots to and from our troops overseas."
Cornyn, a member of the Senate Armed Services Committee, announced his sponsorship of new legislation, the Military Voting Protection Act of 2008 (MVP Act), which attempts to reduce delays and ensure that the ballots of overseas voters are delivered and returned in a timely manner.
Cornyn's office worked closely with Wilson in coordinating the bill to ensure its success in supporting Texas' military voters.
"America was built on the values of democracy, fairness and freedom. It is unacceptable that many of the men and women serving to defend those values are being denied one of our nation's most basic and cherished rights," Cornyn said. "The Military Voting Protection Act (MVP) would take several steps to significantly improve the process of delivering military absentee ballots to ensure every vote matters."
Wilson also spoke about an upcoming pilot program his office will implement for November's election to explore new ways to get ballot information to overseas troops through electronic mail. The program will allow military voters using the Federal Post Card Application (FPCA) for either temporary registration or a mail-in ballot the opportunity to receive their ballot through their military-issued email address, cutting down on the number of undeliverable ballots. Additionally, Wilson's office is developing a website specifically directed at overseas voters to streamline the FPCA process and provide additional support to the U.S. Armed Forces and citizens living abroad.
"As we continue to finalize the details for these new programs, I am confident that they will be additional examples of Texas reminding the nation that we are serious about voting rights – especially those of our military heroes," Wilson added.
••••••
Key Valley leaders, but no Edinburg politicians, endorse reelection bid for Sen. John Cornyn
U.S. Senator John Cornyn's campaign on Saturday, May 17, announced the endorsement of his re-election by more than 30 border region elected officials, past and present, business and civic leaders during an event this morning in Donna. The bi-partisan group pledged their support to Cornyn in recognition of his leadership and dedication on issues of importance to all Texans, particularly those in the Border Region.
Cornyn is being challenged by Rep. Rick Norriega, D-Houston, in the upcoming November general election.
"I am extremely honored to have the support and endorsement of so many dedicated leaders in the border region," Cornyn said. "Their selfless service to their constituents and their communities is a great inspiration to me. I am proud to have had worked productively on so many issues with the border region leadership. I look forward to continuing our excellent working relationship in the years to come."
Below is a complete list of endorsees from the Rio Grande Valley:
Elected officials, past and present:
Carlos Cascos, Judge, Cameron County
Rick Morales, Mayor, City of Donna
Chris Boswell, Mayor, City of Harlingen
John David Franz, Mayor, City of Hidalgo
Richard Cortéz, Mayor, City of McAllen
Jim Darling, Councilman, City of McAllen
John Ingram, Councilman, City of McAllen
Beto Salinas, Mayor, City of Mission
Rubén Plata, Councilman, City of Mission
Leo Olivarez, Councilman, City of Mission
Leopoldo "Polo" Palacios, Mayor, City of Pharr
John Neely, Mayor, City of Palm Valley
Robert Pinkerton, Mayor, City of South Padre Island
Ramiro Rodríguez, Mayor, City of Palmhurst
Connie de la Garza, former Mayor, City of Harlingen
Héctor Farias, former Mayor, City of Weslaco
Kevin Hiles, Mayor, Rio Grande City
Steve Brewer, Mayor, City of La Feria
Lori Weaver, Mayor Pro-Tem, City of La Feria
Efrén Garza, former Mayor, Penitas
Blanca Vela, former Mayor, City of Brownsville
Eddie Cantú, Councilman, City of Pharr
Bobby Carrillo, Councilman, City of Pharr
Adán Farias, Councilman, City of Pharr
Óscar Elizondo, Jr., Councilman, City of Pharr
Arturo Cortéz, Councilman, City of Pharr
Business/Ranching community leaders:
Rigo Villarreal, business community leader, South Texas
Pat Townsend, Jr, President/CEO, Mission Economic Authority
Mike Allen, Member, South Texas College Board of Trustees, City of McAllen
Sam Vale, Owner TELEMUNDO and Star/Carmago International Bridge, Rio Grande City
Susan Coates Durham, Executive Director, South Texas Property Rights Association
Virginia Townsend, Spokeswoman, O.W.L.S (Objective Watcher's of the Legal System)
Bill Summers, President/CEO, Rio Grande Partnership
••••••
Netroots groundswell on the Internet bolsters Senate Democratic campaign for Rick Noriega
By CARA MORRIS STERN
U.S. Democratic nominee Rick Noriega's campaign to unseat Sen. John Cornyn, R-Texas, is receiving tremendous encouragement from the online community. A favorite of the Texas blogosphere, Noriega was launched into the limelight with the "Draft Noriega for Senate" campaign started by Texas Netroots.
According to Wikipedia, netroots is a recent term coined to describe political activism organized through blogs and other online media, including wikis and social network services. The word is a portmanteau of Internet and grassroots, reflecting the technological innovations that set netroots techniques apart from other forms of political participation. In the United States, the term is used mainly in left-leaning circles.
Noriega's campaign continues to gain steam on blogs all across the nation after two new independent polls found the Texas Senate race in a dead heat, according to the Noriega campaign.
Bloggers and the netroots across the country are uniting behind Noriega to help get Noriega's story out to the voters of Texas and aid in the campaign's fundraising efforts. Because of his record of public service, both as a National Guardsman who served in Afghanistan and as a representative in the Texas legislature, Internet publications are promoting Noriega as the man to win in November.
He is touted as a candidate who could invigorate the Democratic Party, not only in the historically conservative state of Texas, but in the country as a whole.
"The campaign is excited by the positive feedback from the online community," said Tony Gray, campaign spokesperson for Rick Noriega for Texas. "The blogosphere is a powerful democratizing force through which the campaign and our supporters are reaching out to the public, articulating Rick's message and generating support and funds. We are encouraged that the online community here in Texas shares our commitment to bringing real change and real solutions to Texas and the nation."
"Conventional wisdom in Washington said that Texas was unwinnable for a democrat, but recent polls have proven that Texans are ready for Rick Noriega," Gray added. "We urge Rick's netroots supporters to break out their cameras and post video testimonials explaining why they support Rick Noriega and why they believe he can win in Texas this year."
••••••
Attorney General Abbott settles three-year-old case against Merck for false marketing of Vioxx
By TOM KELLEY
Texas Attorney General Greg Abbott on Tuesday, May 20, reached a $58 million settlement with Merck & Co. Inc. The settlement resolves a three-year investigation by Texas and 29 other states, which charged the company with unlawfully marketing the former prescription drug Vioxx. Texas' portion of the global agreed judgment will exceed $4 million.
The multi-state investigation revealed that Merck improperly marketed and promoted Vioxx, a "Cox 2-inhibitor" drug. The states charged Merck with marketing Vioxx as a pain killer, despite its knowledge that Vioxx carried major health risks. The company finally pulled the drug from the market in 2004 after Vioxx-related health risks were made public.
The May 20 settlement establishes several safeguards that will change Merck's marketing and promotional practices. Merck must now submit all television advertising to the U.S. Food and Drug Administration (FDA) for review and pre-clearance. Any FDA comments about the proposed drug commercials must be considered by Merck before the commercials are aired publicly. Under the agreement, the FDA can delay the launch of Merck's pain killer product commercials if the federal regulatory agency needs additional time to complete its review.
The settlement prohibits Merck from presenting misleading scientific data to physicians, and bars the manufacturer from using pro-Merck "ghost writers" to author articles and medical studies. Merck is also prohibited from using "promotional speakers" at continuing medical education events if the speakers' relationship with the company presents a conflict of interest.
The state of Texas has an active Vioxx-related case in Travis County District Court. In that 2005 case, the Attorney General charged Merck with suppressing critical information to physicians, patients and the Texas Medicaid program. According to court documents filed by the state, Merck failed to disclose the health risks associated with Vioxx. During the time period covered by the state's enforcement action, Texas spent more than $72 million on Vioxx prescriptions for Medicaid recipients.
••••••
President Bush: Don't build your Texas Wall!
By MONICA WEISBERG-STEWART
History is what have we learned from others mistakes and how did we get here today. No one would have ever expected that we in the U.S. would be putting up a wall considering the historical failure of border walls in China, Berlin, Morocco, India, etc. In fact, when most Americans think of walls they think of President Reagan's famous speech where he tells Mr. Gorbachev, to "Tear down this wall!"
The purpose of this wall is not to define boundaries. The U.S.- Mexican border is well defined and not in dispute. One of the motivations for the Israel-PA fence is to demark borders that are in dispute, especially to mark the limit of officially sanctioned settlements to the east and the suburbs of Jerusalem. It is meant, in part, to end the territorial question.
The U.S.-Mexico wall is intended to prevent illegal crossings. According to Chief Aguilar, the chief of border patrol, the fence will be a tool for border patrol by delaying illegal crosser by three minutes. The fence is intended to assist Border Patrol agents in apprehending violators and assist in their apprehension. The purpose is to slow them down and make them visible. The Israel-PA wall is intended to stop every terrorist's single attempt to cross it. If an illegal crosser attempts to scale the wall in the night, they are presumed to be a terrorist and the rules of engagement prescribe they are shot and killed. The purpose of the U.S.- Mexico fence is not related to violence, so comparing what Israel and the U.S. are proposing is a difficult task.
The 9-11 terrorists that entered the U.S. came through legal ports of entry through Canada. These terrorists entered our country with legal visas, they did not swim the Rio Grande. Through our ports of entry is the same way most of the undocumented aliens in the US entered, and how most of the illegal drugs come in; yet our government is not providing funding for infrastructure, technology, nor personnel to improve our ports of entry. The General Accounting Office has told Congress that our ports of entry are over 4,000 agents short; in dire need to be completely overhauled and will cost approximately $4 billion dollars to repair. I can do an entire speech on this topic alone. Officials of the Homeland Security Department give a broad estimate of $3 million per mile to build the fence, or about $2.1 billion to reach the goal this year, out of $5.2 billion for the Border Patrol this year. The officials have declined to provide Congress with a more exact price tag, saying costs vary depending on the difficulty of the terrain.
Although the Israel-PA wall is designed to be unbeatable, it is also designed to permit Israeli agriculture to benefit from Palestinian labor. On the West Bank the wall has access ways about every 2 1/4 miles.
The U.S. proposed wall has more gap than barrier. It is not being built along the riverbank and is not a continuous fence like many imagine. Texas, unlike other states, has a natural barrier that can gain the line of site of more than 3 minutes without wasting taxpayer's dollars. The proposed fencing for the Texas-Mexico border has been built on a false premise that one size fits all. The reality is that Texas is the only southern state with a natural international boundary in the Rio Grande. Farmers irrigate from the river, ranchers water their herd in the river, children and kayakers play in the river, and people are baptized in the river. It's truly a river of life. That is why any physical barriers must first take into consideration how to minimize impact on private landowners as well as many municipalities that hug the banks of the river.
To date this type of consultation is not occurring even though it is required by the Omnibus bill that was signed by President Bush in December 2007. This also gives the Department of Homeland Security the ability to look at other options other than fencing to secure an area. The Texas Border Coalition on Friday filed a lawsuit against the Department of Homeland Security for not following the consultation requirement of the law. This same organization has provided solutions that would cost less and gain more than the 3 minutes of a tool.
The motive of Palestinian terrorist crossers is murder. A barrier designed to prevent murder, including rules of engagement that are aimed at preventing murder can and has been designed.
In our case the motive of the vast majority of Mexican and other crossers is to work. A barrier designed to prevent work especially one whose rules of engagement are honest enough to recognize that is mostly the American aim is also one that is designed to fail. They will go under, over or around it, which they are currently doing in the fences that currently exist in the U.S. The last statistic I heard was that there are over 40 tunnels that have been found thus far. There is no wall high enough, deep enough, or long enough to keep out the desperate to feed their family unless we decide as a society that we are willing to kill them for seeking economic salvation. We should pray that our nation has not yet reached the point that we should kill people seeking to bus tables, pick onions, clean houses, roofers, lay tile, care for our children, care for our elderly, and do the jobs that Americans don't want. Congress has been asked on many occasions to pass legislation granting work visas based on supply and demand so we could distinguish between the people who are coming to work from the ones who want to cause us harm. Congress was asked to pass emergency legislation for farm workers to help pick the crops. They chose not to do so.
Currently, we have less than a five percent unemployment rate, the majority of Americans that want to work are working, and the rest don't want to do this kind of work. So when you go to the grocery store and your produce bill keep skyrocketing you can understand why. Instead, farmers are now buying farms in Mexico because it is easier than farming in the U.S. and they don't have a problem finding labor.
Without a wall, illegal border crossing arrests at the Texas-Mexico border have been falling for more than two years, a great tribute to the deterrence of Border Patrol and Border Protection agents. Arrests this year along the southern border are likely to be roughly half the nearly 1.6 million during the peak in 2000.
Immigrants will continue to come as long as America is creating more jobs than it can fill. Here in Texas, the Comptroller of Public Accounts confirmed this year that the absence of 1.4 million undocumented workers would represent a $17.7 billion loss to our gross state product.
Building a fence and keeping migrants out will only exacerbate existing labor shortages, particularly in the state's agriculture, restaurant, and hospitality industries. Fixing our nation's broken immigration system through comprehensive immigration reform including a temporary guest worker program- is a far better way to achieve real border security. In fact, it's the only way.
We know the proposed fence won't stop potential terrorist or illegal immigrants from hiking across the border into the U.S. It won't stop those with legal documents from coming to America and overstaying their welcome. And it won't keep people from entering the country using professional smugglers or fraudulent forms of identification. What a fence will do is divide communities on both sides of the border. It will provide a false sense of security to Americans, betray the Rio Grande Valley's rich history and encroach on privately owned, agricultural, suburban and urban land. A fence will damage bi-national cooperation between the U.S. and Mexico- one of our nations largest trading partners- and it will consume large apportions of the Lower Rio Grande Valley National Wildlife Refuge and Texas state parks that host hundreds of thousands of tourist each year.
If the purpose of the U.S.-Mexico wall were equal to the task in preventing terrorist violence in Israel, the American people would take a different approach. Money would be no object. The plan would not be more gap than barrier. It would be about actual enforcement and security, not the facsimile thereof.
If the purpose were equal to Israel's, we would not have faked consultation with the Border patrol; we would have paid attention to their recommendations. This month alone we flushed $20 million down the toilet because the designers of the virtual fence in Arizona never thought to ask the Border Patrol what they needed. The same attitude is contributing to what will be an ineffective and wasteful border wall here in Texas. The U.S. process is bankrupt and is causing more harm than good. The public loves the idea of building walls and fences because it legitimizes their superiority. Elected officials who want to be loved say they love the idea of building walls, too. There should be no doubt that this effort is not about enforcement or security, it's about politics.
If it were about achieving a goal other than beating a December 31 deadline, the government would be working with the Border Patrol, local officials and the public to put in place the best defense and not waive 37 laws to achieve this.
Perhaps more important than anything else, to achieve real security and enforcement we must have true comprehensive reform of our broken immigration system. Until our elected leaders find the political will to admit that markets find a way to balance people who want to feed their families with those who need labor- until our political leaders deal with that reality- we will continue to be fed these fake solutions based on false promises that are destined to fail. I recommend that you evaluate the candidates on the ballot in November against those kind of standards and make your judgments accordingly.
If anyone wants true security it is those of us who choose to live, raise our families, and work on the border.
President Bush don't build your Texas wall!
(Monica Weisberg-Stewart of McAllen chairs the Immigration Committee for the Texas Border Coalition, which is an alliance of mayors, county judges, and economic development officials that lobby on behalf of Texas communities along the Mexican border.)