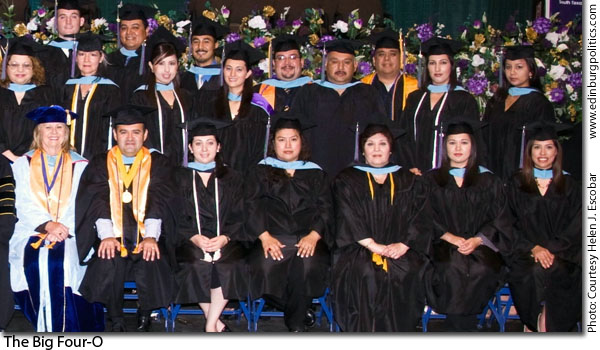 On Saturday, May 10, 40 more students celebrated their graduation from South Texas College's Bachelor Program. This marks the second class of graduates to earn a Bachelor of Applied Technology in Technology Management from the college since the program began in 2005. Through the program, graduates are prepared for a variety of career opportunities, including office management, paralegal management, plant supervisor, loan officer and supply chain management. Some of the members of this exclusive group are featured here. Sitting, from left: Dr. Shirley A. Reed, STC president; Juan E. Mejia, STC vice president of Academic Affairs; Yvette González; Mary J. Sustaita; María E. Cantú; Rosalba Ramírez; and Damaris Aguirre. Standing, from left: Yvonne Gutiérrez, Dustin Tichnell; Edna Marines; Adolfo Miranda; Mónica Garza; Gil Cisneros; María Ozuna; Richard García; Juan Segura; Johnny Valladarez; Sonia Elizondo and Mónica Jiménez. See story later in this posting.
••••••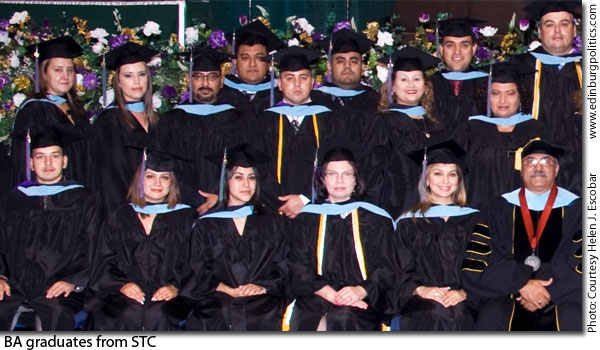 South Texas College is one of only three colleges in the state accredited to offer bachelor's degrees and is the only college in the state to offer two bachelor's degree options. In addition to its Bachelor of Applied Technology in Technology Management, the college was accredited to begin offering a Bachelor of Applied Technology in Computer and Information Technologies in spring 2008. Some of the 40 graduates from the groundbreaking academic program are featured here. Sitting, from left: Ricardo Garza; San Juanita Cuevas; Noriselda García; Diana Vittitoe; Elvira Alonzo; and Dr. Ali Esmaeili, STC associate dean of Bachelor Programs. Standing, from left: Alta Alaniz; Erica Villarreal; Isaac Sánchez; Sergio Cardoza; Arturo Flores; Daniel Cortéz; Lillian Silva Flores of Edinburg; Benjamin Arjona of Edinburg; Angélica Cantú; and Carlos Leal of Edinburg. See story later in this posting.
••••••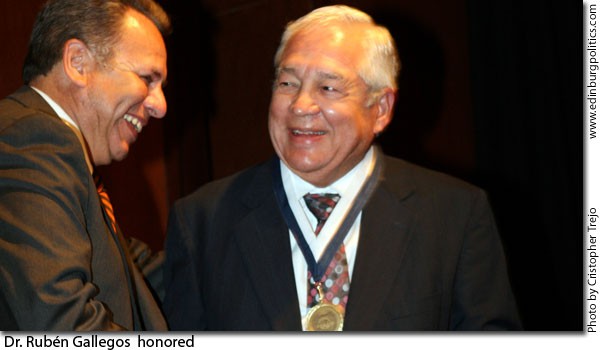 The University of Texas at Brownsville and Texas Southmost College on Friday, May 9, honored Dr. Rubén Gallegos (featured right), a former superintendent with the Edinburg Consolidated Independent School District, as one of this year's two Distinguished Alumnus. Gallegos is executive director of International Educational Services, an agency that provides children of illegal immigrants who have been arrested a basic education as they await deportation or reunification. See story later in this posting.
••••••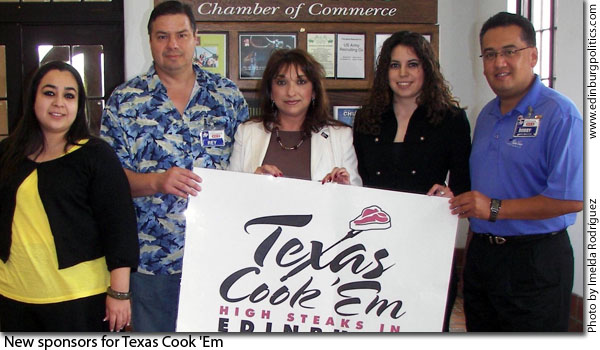 HEB and Inter National Bank are new sponsors for the third annual Texas Cook 'Em: High Steaks in Edinburg, a nationally-recognized competition coordinated by the Edinburg Chamber of Commerce, the Edinburg Economic Development Corporation, and the City of Edinburg, and held on July 4 at Edinburg Municipal Park. Featured, from left, are: Evana Vleck, Edinburg Chamber of Commerce Marketing Director; Rey Garza, HEB Unit Director; Cris Torres, Edinburg Chamber of Commerce Chairman; Letty Reyes, Edinburg Economic Development Corporation Project Manager; and Bobby Rodríguez, HEB Store Director. See story later in this posting.
••••••
Sen. Hinojosa, County Judge Salinas seek emergency help for storm victims in western Hidalgo County
By ARTURO BALLESTEROS
Residents in Alton, Texas, located in the western portion of Hidalgo County, felt the brunt of a storm early Friday morning, May 16. Sustained winds of up to 86 miles per hour tore through a mobile home community, destroying 25 homes and causing significant property damage. Thirteen residents were treated at a local hospital for minor scrapes. No fatalities were reported.
Sen. Juan "Chuy" Hinojosa, D-McAllen, and Hidalgo County officials have contacted the state's emergency management agencies, seeking a disaster declaration for Alton from Gov, Rick Perry.
"With 25 homes destroyed and those families now in need of assistance, of shelter and basic services, a disaster declaration is certainly in order. These residents need help getting their homes repaired or restored so they can go about their lives. Alton residents need to get back to their families, their jobs, and children wrapping up their school year. A disaster declaration would help them with the stress they are under right now," Hinojosa said.
County Judge J.D. Salinas has signed a local disaster declaration and the county is in the process of preparing a disaster summary outline (DSO), listing the damage based on a local assessment. Once the DSO is complete, the local declaration and the DSO will be sent to the Governor, asking the state for recovery assistance. State and non-profit agencies, including the Red Cross and the Salvation Army, have already been mobilized to offer Alton residents temporary relief.
Hinojosa offered the county his full support in seeking assistance from the governor.
"I have been in contact with Hidalgo County leaders and we are ready to assist in any manner possible to make sure Alton residents receive the help they need at this time," Hinojosa said.
••••••
Senate Transportation Committee to hold public hearing in McAllen Tuesday morning, May 20
The Senate Committee on Transportation and Homeland Security will hold a public hearing on Tuesday, May 20, at 8 a.m. in the City Council Chambers of McAllen City Hall located at 1300 Houston Avenue, Sen. Juan "Chuy" Hinojosa, D-McAllen, has announced.
The committee will hear public and invited testimony regarding the following interim charges:
• Review the status of structurally deficient bridges and provide increased oversight of TxDOT's bridge repair activities to ensure that any unsafe bridges are identified and repaired as soon as possible.
• Study the issue and amount of state agency expenditures on media activities and the legal authority for such expenditures. Develop recommendations for guidelines to ensure appropriate use of state funds to provide legitimate public education.
• Monitor urban crime laboratories and their compliance with state laws regulating their functions and make recommendations to restore public trust in their functions and to ensure full compliance with federal Homeland Security reporting requirements. Specifically, review the report
report issued by the Independent Investigator for the Houston Police Department Crime Laboratory and Property Room, the independent panel review of certain criminal convictions prompted by the conclusions of this report, and the implementation by the City of Houston of any reforms
recommended in this report.
Members of the legislative panel are: Chair and Sen. John Carona, R-Dallas; Vice Chair and Sen. Kirk Watson, D-Austin; Sen. Kim Brimer, R-Ft. Worth; Sen. Rodney Ellis, D-Houston; Sen. Robert Nichols, R-Jacksonville; Sen. Florence Shapiro, R-Lewisville; Sen. Eliot Shapleigh, D-El Paso; Sen. Jeff Wentworth, R-San Antonio; and Sen. Tommy Williams, R-The Woodlands.
•••••
Edinburg construction passes $16 million through April 2008; still lagging behind pace from last year
By DAVID A. DÍAZ
Total construction activities in Edinburg between January and April 2008 passed the $16 million level, with a planned commercial facility owned by Security First Federal Credit Union, valued at $8.6 million, leading the way, according to the Edinburg Economic Development Corporation.
The EEDC is the jobs-creation arm of the Edinburg City Council.
It's five-member governing board, which is appointed by the Edinburg City Council, includes Mayor Joe Ochoa; former Mayor Richard García, who serves as board president; Fred Palacios; Dr. Glenn E. Martínez, Ph.D.; and Elias Longoria, Jr.
The construction figures include the value of everything from installing plumbing to building the structures, but not the price of the lots.
Also, the city figures do not include the value of any construction work being conducted at the University of Texas-Pan American.
Two other commercial endeavors – each valued at $1.5 million – also helped boost the April monthly figure, which was significantly higher than the previous month's construction, which had reached almost $4.5 million.
Year-to-date, Edinburg has reported $33,638,836 in total construction, compared with $89,721,630 during the same four-month period in 2007.
Some of the large difference in the year-to-date figures are due to several commercial projects which began in the first part of 2007 as part of Doctors Hospital at Renaissance expansions, which included a cancer treatment center, a behavioral medical center, and a women's hospital.
In April 2008, total construction in Edinburg was reported at $16,018,968, compared with $13,056,149 in April 2007.
What are building permits?
The values of the construction are listed in building permits issued by the city's Code Enforcement Division.
Building permits are permits taken out in order to allow excavation and to protect public safety.
Building permits represent the estimated cost of construction, not the selling price.
The building permits do not include the price of the lot.
A start in construction is defined as the beginning of excavation of the foundation for the building.
A building permit is permission issued by a city's planning department to oversee and approve any changes to structures.
They are documents designed to guarantee that any construction work, from remodeling to demolition to building a new home or business facility, meets the city's building codes.
Most valuable projects
Security First Federal Credit Union received a building permit for the most valuable construction project in April 2008.
That permit, for work valued at $8,600,000, was issued for a commercial facility, located at 3515 South Jackson Road, in the AJ McColl Subdivision. Credit union officials, along with local community, business, and political leaders on Thursday, May 15, participated in a ground-breaking ceremony for the new financial institution.
Allan Mercado and José Chapa were issued building permits for the second-most valuable construction projects in April.
Mercado began construction on a commercial facility, valued at $1,500,000, located at 316 Conquest Boulevard in the Sheaval Subdivision.
Chapa began construction on a separate commercial project, also valued at $1,500,000, located at 2892 W. University Drive in the LNB Subdivision.
The fourth most valuable project authorized to begin in April belonged to Jeff Radesi, for a commercial facility, valued at $500,000, located at 443 East Trenton Road in the Shoppes at Rio Grande Valley Subdivision.
In all, there were building permits issued for eight new commercial projects, not including commercial additions or repairs, in April.
No new construction was authorized in April 2008 and in April 2007 for non-taxable structures, such as government facilities and churches – but not including UT-Pan American construction.
Single-family new homes
In April 2008, building permits were issued for the construction of 31 single-family homes, valued at $2,855,000, compared with 54 single-family homes, valued at $6,610,897, in April 2007.
Year-to-date, building permits have been issued for the construction of 115 new single-family residences, valued at $10,247,500, compared with 154 single-family residences, valued at $22,242,963 from January through April 2007.
Highlights of construction in April 2008 of single family homes valued at $100,000 or more include:
James Devries, 2910 Leslie Street ($250,000);
Dan Sitterly, 1905 Alazán ($205,000);
Joseph González, 725 Royal Street ($189,000);
Roger Burke, 3224 Country Club Drive ($150,000);
Rey Benavidez, 3113 Clubhouse Drive ($150,000);
West Wind Homes, 3505 Prestwick ($125,000);
Héctor Guerra, 703 Drennan ($109,000);
Mario Peña, 1326 Ticco Street ($100,000);
Raúl Fabela, 608 Alteza Drive ($100,000);
Óscar Cantú, 2007 Chippewa Avenue ($100,000);
Óscar Cantú, 2002 Chippewa Avenue ($100,000);
Óscar Cantú, 611 Oregano ($100,000); and
Óscar Cantú, 627 Oregano ($100,000).
Commercial new construction
In April 2008, the value of new commercial construction – not counting government facilities or churches – reached $12,362,200, compared with $2,792,275 in April 2007.
Year-to-date, new commercial construction reached $17,318,900, compared with 49,376,650 during the first four months of 2007.
Multi-family new homes
There were no building permits issued in April 2008 for multi-family homes, which include duplexes, triplexes, fourplexes, and apartment buildings with five or more units. By comparison, in April 2008, building permits had been issued for multi-family residences valued $2,121,000.
Year-to-date, building permits have been issued for eight new multi-family homes (all duplexes), valued at $760,000, compared with 26 new multi-family homes during the first four months of 2007 (26 duplexes and two triplexes/fouplexes), valued at $4,649,000.
Residential repairs
Also in April 2008, work was authorized for alterations, valued at $327,611, on single-family residences, compared with alterations, valued at $1,211,677, on single-family homes in April 2007.
Year-t0-date, alterations on single-family residences were valued at $1,568,531, compared with $2,326,717 between January and April 2007.
Commercial repairs
Also in April 2008, work was authorized for alterations, valued at $429,157, on commercial structures, compared with alterations, valued at $320,300, on commercial structures in April 2007.
Year-to-date, repairs/alterations on commercial structures total $1,301,234, compared with $1,267,800 from January through April 2007.
Chris Wicker received a building permit, valued at $200,000, for commercial additions/repairs, on a structure located at 1802 South Closner in the Country Club Subdivision.
No building permits were issued in April 2008 or in April 2007 for alterations/repairs on non-taxable structure.
Year-to-date, building permits valued at $2,442,671 were issued for repairs/alterations on non-taxable structures, compared with $9,858,500 during the first four months of 2007.
••••••
Securing your identity; Texas ranks 4th in ID thefts
By SEN. JUAN "CHUY" HINOJOSA
D-McAllen
In the past three weeks, a pair of news stories in South Texas have served as a reminder to all of us of the exposure we have to identity theft. These two stories, however, are not tales of consumers being careless with their personal data. Rather, these stories put business owners on notice as to their responsibilities in keeping consumer data safe and secure.
On April 30, a McAllen television station broke a story involving customer files found in a dumpster behind a closed fitness center. The customer files contained Social Security numbers, and copies of customers' cancelled checks or credit cards. Several days later, in Brownsville, police were investigating a similar case of document mismanagement. This time the abandoned files contained customer tax returns in addition to other sensitive financial information.
In Texas, someone's identity or personal financial data is stolen every 79 seconds. Texas ranks fourth in the U.S. for instances identity theft – 110.6 claims per every 100,000 residents. During 2006 alone, 26,006 Texas filed claims for ID theft related claims, including fraudulent use of credit cards, utilities, government documents, loans, and other services or products.
Victims of identity theft often bear a huge burden even after authorities and businesses step in when an ID theft claim is filed. ID theft victims spend thousands of dollars cleaning up their credit, not to mention the hours spent on the phone with creditors, closing unauthorized accounts, validating fraudulent charges, and essentially rebuilding their financial profile.
Combating identity theft is no longer just an issue of consumer responsibility. Corporations and businesses must take on a more substantive role as custodians of our personal financial data. Fortunately, policy makers at both the federal and state level have taken steps to keep businesses true to their responsibility of safeguarding the personal information of clients, customers, and employees.
At the federal level, the Fair and Accurate Credit Transactions Act requires financial institutions and other creditors that have consumer financial information on file to develop policies addressing identity theft risk and prevention. A reasonable requirement, especially since banks have a vested interest in keeping their customers' data safe.
Texas businesses face civil penalties of up to $50,000 for failing to protect consumer data; essentially, Texas businesses must erase, shred or otherwise destroy consumer information that is no longer needed. This law has the full support of the Attorney General's office and sets a firm standard for businesses owners.
The costs of lax data security policies are enormous – consumers are exposed to serious financial harm and businesses lose credibility as capable keepers of our financial data. Most importantly, Texans should know that the remedies exist when ID theft has occurred:
FIRST RESOURCE
ADDITIONAL RESOURCES
Credit Reporting Agencies:
••••••
Dr. Rubén Gallegos, former Edinburg school superintendent, honored as Distinguished Alumnus by UT-Brownsville
BY LETTY FERNÁNDEZ
The University of Texas at Brownsville and Texas Southmost College honored this year's Distinguished Alumnus Award recipients a day before Spring Commencement.
The reception for Dr. Rubén Gallegos and Dr. Ciro Valent Sumaya and was held at 6 p.m., Friday, May 9, at the Science and Engineering Technology Building Lecture Hall.
Gallegos is executive director of International Educational Services, an agency that provides children of illegal immigrants who have been arrested a basic education as they await deportation or reunification.
Gallegos was an associate professor at the University of Texas – Pan American at Brownsville, the predecessor to UTB/TSC, from 1984 to 1991 and retired from public school administration in 1993. He has also been an assistant elementary school principal, a Head Start program coordinator, assistant superintendent and chairman of the Texas Association for Mexican American Educators.
Gallegos was born in El Calavoz, Texas and is a graduate of Brownsville High School. He earned an associate of arts degree from Texas Southmost College in 1957 and was awarded a bachelor's degree in education from Pan American College (now the University of Texas – Pan American in Edinburg) in 1959. He earned a master's degree in education from East Texas State College (now Texas A&M University at Commerce) in 1962. He continued his studies and was awarded a doctorate of philosophy from East Texas State University (now Texas A&M University at Commerce) in 1970.
Gallegos has an elementary school in Brownsville named in his honor. According to that school's website (http://www.bisd.us/gallegos/index.htm), Gallegos' biography also includes the following highlights:
Born the oldest child of a family of migrant workers, Gallegos worked much of his early life in the agricultural fields of Texas, California and Colorado. Despite the demands of working in fields, Dr. Gallegos actively pursued an education, which led to him being graduated from Brownsville High School, followed by a college education that earned him a Bachelor's Degree from Pan American University and a Master's and Ph.D. from East Texas University in Commerce, Texas.
Gallegos admits he enjoyed school and that it was easy for him, but becoming a teacher was like many events in his life, "just by accident". During his undergraduate days he was hired by his former high school Principal, Homer Hanna, and began his remarkable educational odyssey at J.T. Canales Elementary School.
In 1965 Gallegos became the coordinator for Head Start and the opened the first school designed exclusively for migrant students, the current campus of Castañeda Elementary. His migrant campus was built with portable buildings and became the first school in the district to be financed with federal funds, the first with a full-time nurse on staff, the first to utilize teacher aides and the first to include a social worker. The campus began the school year late as migrant students arrived and utilized a longer school day with more intensive instruction.
In Dallas ISD, Gallegos aided the United Stated Federal Court in implementing a desegregation plan, which he said, "was a very difficult job", but was rewarding and taught him the skill of conflict management.
Edinburg ISD then lured the Rio Grande Valley native closer to home to a smaller school district. Elias Longoria, former Edinburg ISD Board of Trustees President, said Gallegos "was the best superintendent we ever had". After serving until 1982 at Edinburg, Gallegos took his education and his experience into the classroom at the University of Texas at Brownsville and prepared future administrators, many of whom now fill administrative positions within BISD.
In 1993, following another appointment as an assistant superintendent in Dallas ISD, Gallegos became the executive director of International Educational Services, Inc. in Los Fresnos. Unwilling to retire, Gallegos continues in that position at the present time and works with his son to help boys and girls, who arrived illegally into the United States. "I'm an educator, so we're going to teach them," he said.
Gallegos will address the graduates at December's Winter Commencement.
Sumaya spoke at Spring Commencement on Saturday, May 10 on the Student Union Lawn.
Sumaya has been founding dean of the School of Rural Public Health at the Texas A&M University System Health Science Center since 1997. He holds the school's Cox Endowed Chair in Medicine.
Sumaya was born in Brownsville and was the valedictorian of Brownsville High School's Class of 1959. He attended Texas Southmost College from May 1959 to August 1960. A 1962 Phi Beta Kappa graduate with high honors from The University of Texas at Austin, Sumaya also earned his medical degree from The University of Texas Medical Branch at Galveston in 1966. He also has a master's degree in public health and tropical medicine from Tulane University School of Medicine and School of Public Health in New Orleans.
••••••
Forty students celebrate graduation with bachelor's degree in technology management from South Texas College
By HELEN ESCOBAR
On Saturday, May 10, 40 more students celebrated their graduation from South Texas College's Bachelor Program. This marks the second class of graduates to earn a Bachelor of Applied Technology in Technology Management from the college since the program began in 2005.
The 2008 graduating class includes Nora Álvarez, Angélica Cantú, Sergio Cardoza and Maria J. Sustaita of Donna; Benjamin Arjona, Lillian Silva Flores, Mark García and Carlos I. Leal of Edinburg; Liz-Anne Riojas of Elsa; San Juanita Cuevas of Hidalgo; Juana María Flores of Los Ebanos; Damaris Aguirre, Alta Alaniz, Yvonne Angélica Gutiérrez, María Estella Cantú, Gil Arturo Cisneros, Arturo Flores Jr., Mónica Jiménez, Adolfo Miranda Jr., Dustin Matthew Tichnell and Johnny C. Valladarez Jr. of McAllen; Elvira I. Alonza, Daniel Cortéz, Maximilian García, Noriselda Cruz García, Rosa C. García, Ricardo D. Garza, Yvette González, María Elva Ozuna, Isaac Todd Sánchez, Robin Sánchez, Lourdes Trejo Sandoval and Sandra Zamora of Mission; Mónica Garza of Palmview; Juan José Segura of Pharr; Sonia R. Elizondo and Erica C. Villarreal of Rio Grande City; Rosalba Ramírez of Sullivan City; and Edna Reyes Fuentes and Diana Vittitoe of Weslaco.
"We are so proud of these students because each one joined the program with a unique set of challenges, whether it was juggling work and family commitments or coming back to college after years of being away from higher education," said Dr. Ali Esmaeili, associate dean of Bachelor Programs at STC. "Our students are highly committed to the program and realizing a brighter future after graduation. It was a real honor for our faculty and staff to have worked with each of these graduates and we know that they are prepared to meet the challenging demands of today's technology-driven workplace."
Through the program, graduates are prepared for a variety of career opportunities, including office management, paralegal management, plant supervisor, loan officer and supply chain management.
"As president of the Bachelors Program student BAT Club, I feel confident that I can speak on behalf of all my classmates and say that we are all very excited and relieved to have reached this point, especially given that most of us juggled our college work with full-time jobs and families," said Mark García, 2008 STC Bachelor Program graduate. "We are really happy and thankful to have had this opportunity and to work with such fine instructors and professionals at South Texas College. Personally, I learned alot of business and management skills that will help me excel in my job as a junior accountant with the Hidalgo County Drainage District #1. I came away with the knowledge to make the difficult decisions that business leaders face on a daily basis and look forward to continuing to grow as a professional with the skills I gained during the course of this challenging program."
South Texas College is one of only three colleges in the state accredited to offer bachelor's degrees and is the only college in the state to offer two bachelor's degree options. In addition to its Bachelor of Applied Technology in Technology Management, the college was accredited to begin offering a Bachelor of Applied Technology in Computer and Information Technologies in spring 2008.
For additional information about South Texas College's Bachelors Program visit http://www.southtexascollege.edu/ba/BAT or call 872-7270 or 872-2036.
••••••
University of Texas – Pan American leads nation in awarding bachelor's, master's degrees to Hispanics
By SANDRA GUZMÁN
The University of Texas-Pan American continues leading the nation in the number of bachelor's and master's degrees awarded to Hispanics according to The Hispanic Outlook in Higher Education Magazine's annual review of the "Top 100 Colleges for Hispanics."
The rankings, which were released in the May 5, 2008 edition of the publication, show UTPA maintained its second-place ranking with its awarding of 89 percent of its bachelor's degrees to Hispanics. Of a total of 2,404 bachelor's degrees awarded at UTPA, 2,148 were presented to Hispanics – 1,401 Hispanic females and 747 Hispanic males.
In master's degrees awarded to Hispanics, UTPA moved up one spot from last year's fifth to fourth ranking with 79 percent of the degrees going to Hispanics. Of the 631 master's degrees awarded, 500 were to Hispanics. Again, Hispanic females led in the earnings with 361 to 139 earned by Hispanic males.
"This is a testament to the University's commitment to providing students with quality programs, outstandingly qualified faculty and a supportive learning environment in which to earn their undergraduate and graduate degrees. We are proud the University continues to maintain its top rankings on the this list and continues to serve as a national leader," Dr. Blandina Cárdenas, UTPA president, said.
The Hispanic Outlook report is based on 2007 data gathered by the National Center for Education Statistics (NCES), which is produced by the U.S. Department of Education.
In addition, UTPA ranked fourth in colleges and universities across the country enrolling the most Hispanics. Of the 17,337 students enrolled at UTPA in 2007, 87 percent were Hispanic. A total of 15,006 Hispanic students enrolled at UTPA – 8,960 Hispanic females and 6,046 Hispanic males.
Of the 28 different academic program areas examined in the rankings, UTPA earned a spot in 12 categories. In degrees awarded to Hispanics by academic programs, UTPA ranked first in English literature, foreign language, and mathematics.
UTPA ranked second in biological and biomedical sciences, health sciences, and multi-interdisciplinary studies. The University ranked fourth in protective services and business and marketing. Other rankings in academic programs included seventh in communications, eighth in visual and performing arts, and 11th in engineering/engineering tech and public administration.
••••••
Report shows UT System gains in diversity, research, graduation rates
By MATT FLORES
Over the last five years, institutions within The University of Texas System have become more diverse in their student bodies, increased their research capacity by more than one-third and raised graduation rates at most academic institutions, according to an annual UT System report that gauges quality, impact, productivity and student outcomes.
Those gains and others were among 72 indicators measured in the 2007-08 Accountability and Performance Report approved by the UT System Board of Regents on Thursday, May 15 at a board meeting in Tyler. The report, which has been compiled for five consecutive years, contains an array of metrics, accountability indicators and analyses that plot the progress of all 15 institutions and system as a whole against priorities outlined in the UT System's 10-year strategic plan.
Dr. Geri H. Malandra, the UT System's vice chancellor for strategic management, noted among highlights in the report, trends relating to systemwide student diversity. In 2007, the proportion of white (38.4 percent) and Hispanic (38.1 percent) students enrolled at UT System institutions was nearly equal. And in 2006, 41.3 percent of first-time students at UT System academic institutions were Hispanic, which exceeded the proportion of Hispanics that year (35.5 percent) who graduated from all Texas high schools.
Also, as competition for research funding increased on a national scale from 2003 to 2007, research expenditures at the UT System rose by 34.1 percent, from $1.5 billion to more than $1.9 billion. In yet another measurement, five UT System institutions posted increases in four-year graduation rates while four posted increases in six-year graduation rates.
"This accountability report not only shows the UT System's commitment to transparency, but it demonstrates meaningful progress in the areas of productivity and student outcomes at our institutions," said Dr. Kenneth I. Shine, UT System chancellor ad interim. "This is illustrative of the significant value that students get from a UT System education and shows that we are good stewards with the tax dollars to which we are entrusted."
Among the report's other highlights:
In 2007, UT System institutions made 261,937 financial aid awards totaling $912 million, significantly greater than the 213,798 awards totaling $628.7 million in 2003. Most of the increase came from institutions, which provided 36 percent of grants and scholarships in 2007, compared with 27 percent in 2003.
In 2006, UT System health faculty logged 5.2 million outpatient visits and 1.4 million hospital days. Health care provided to the uninsured and underinsured totaled $1.4 billion, an increase of 49 percent from 2002.
From 2002 to 2006, the number of new invention disclosures by UT System institutions increased by 36.2 percent, to 655, and patents issued increased by 13.6 percent to 117, 72 of which were from health institutions. Gross revenue from intellectual property also increased – by 33.9 percent – to $35.6 million.
The UT System Accountability Report is regarded as one of the top models for higher education accountability in the nation. The System was the first higher education entity in the state to devise a comprehensive model for public accountability.
"We value this report as the gold standard of accountability in higher education and believe these measures to be the basis for key strategies for improving our system in virtually every performance category in higher education," said Robert B. Rowling, vice chairman of the UT System Board of Regents.
The UT System is one of the nation's largest higher education systems, with nine academic campuses and six health institutions. The UT System has an annual operating budget of $10.7 billion (FY 2008) including $2.3 billion in sponsored programs funded by federal, state, local and private sources. Student enrollment exceeded 194,000 in the 2007 academic year. The UT System confers more than one-third of the state's undergraduate degrees and educates nearly three-fourths of the state's health care professionals annually. With more than 81,000 employees, the UT System is one of the largest employers in the state.
••••••
Sen. Hutchison successfully boosts border law enforcement funding by $100 million
By MATT MACKOWIAK
U.S. Senator Kay Bailey Hutchison, R-Texas, on Thursday, May 15, successfully included $100 million in federal funding for domestic law enforcement along the border at a markup of the Supplemental Appropriations bill in the Senate Appropriations Committee. Hutchison's amendment was accepted after a voice vote.
The Bush administration has asked that Congress fund the $560 million Merida Initiative, a multi-year proposal to provide Mexican law enforcement with American equipment and training (not direct cash) to improve counter narcotics efforts. Hutchison has said she would only support the Merida initiative if there was also a major increase in funding for domestic law enforcement on the border, including police and sheriffs.
"I am pleased that the Senate Appropriations Committee accepted my amendment to increase funding for local law enforcement by $100 million," said Hutchison. "The Merida initiative will help Mexico combat the challenges of narco-trafficking, but it does not address the needs of U.S. border sheriffs and police officers who are waging the same battle every day. We will work to pass this funding in the full Senate."
Specifically, the $100 million will be made available to local law enforcement along the border and local law enforcement in High-Intensity Drug Trafficking Areas to combat narcotic activity stemming from the Southern border. Of this amount, $10 million will be directed to fully fund Project Gunrunner, an initiative to stem the flow of firearms into Mexico and thereby deprive the cartels of weapons.
"The narco-terrorists in Mexico have grown increasingly violent and sophisticated," said Hutchison. "Assaults are occurring with more intensity and frequency on both sides of the border. We must arm our local law enforcement officers to combat these crimes and protect themselves and our citizens."
••••••
U.S. Senate votes to block FCC rules that would have given more power to media conglomerates
By JUSTIN KITSCH
U.S. Sen. Byron Dorgan's (D-ND) "Resolution of Disapproval" to stop the Federal Communications Commission (FCC) from implementing rules that would result in more media concentration and fewer choices for consumers passed the Senate on Thursday, May 15.
Dorgan, who has criticized the new FCC rules, saying they would not only allow consolidation in the biggest markets, but also "open a gaping loophole for more mergers of newspapers and television stations across the country," cheered the action taken by the Senate. "We already have too much concentration in the media," Dorgan said. "The FCC rules give the green light to even more concentration."
"The FCC is supposed to be a referee for the media industry, but instead they've been cheerleaders in favor of more consolidation," said Dorgan. "Diverse, independent and local media sources are essential to ensuring that the public has access to a variety of information."
Following the FCC action on December 18, 2007, to allow newspapers to buy television stations in the top 20 markets and beyond, Dorgan introduced a Resolution of Disapproval to prevent this consolidation.
"The FCC must not be allowed to relax its media cross-ownership rules," said Dorgan. "More consolidation means fewer choices for consumers, and that is not in the public's best interest. There has been massive public outcry to these new rules, and they must be overturned."
This is not the first time Dorgan has fought efforts to give more properties to the big media owners. When the FCC voted to allow more consolidation in 2003, Dorgan and Sen. Trent Lott, R-Mississippi, passed a similar Resolution of Disapproval in the Senate to overturn the rule.
••••••
County Clerk Guajardo, District Clerk Hinojosa, elected to leadership posts of statewide organization
By RICARDO CONTRERAS
Hidalgo County Clerk, Arturo Guajardo, Jr., and District Clerk, Laura Hinojosa, were elected by their peers in Rockport, Texas, on Friday, May 9, as Director and Director in Charge, respectively, of the Region VIII County and District Clerk Association of Texas. As such, Guajardo and Hinojosa will serve as the liaisons between the 34 counties in the region and the executive board of the association.
"I am honored to have been elected to serve as Director in Charge and I look forward to taking on a larger role in the review and coordination of the association's efforts," said Hinojosa. "I am particularly excited that our region is being represented by both the county and district clerk simultaneously. Mr. Guajardo and I will work diligently with our colleagues and the executive board to insure that the values of the association, its members and the County of Hidalgo are best represented."
As the new director and director-in-charge, Guajardo and Hinojosa will oversee the general affairs of the region. This entails facilitating communication between clerks and the association, assisting in the preparation of meetings, seminars or conferences, and insuring that clerks are fulfilling their continuing education commitments required by the State of Texas. Additionally, they will serve as the voice of Region VIII at statewide board meetings, conferences, and legislative committee meetings to insure that tasks are performed for the benefit of the association. Guajardo and Hinojosa will continue to serve as the Hidalgo County Clerk and District Clerk.
"I look forward to representing the more than 30 counties in our region as their director. I am humbled by the confidence that my fellow colleagues have placed in me and I am excited about the opportunity to be an active member of the decision making body for the county and district clerks of Texas," said Guajardo.
The purpose of the County and District Clerk Association is to promote professional standards, to provide the means for the education of its members regarding the statutory and constitutional duties of the offices of the county clerk and the district clerk, and to participate in the legislative, judicial and executive processes of state government beneficial in the performance of the members' duties.
Guajardo's and Hinojosa's duties become official in June 2008 for a two year-term.
••••••
Audit shows Texas needs better dam oversight
By SENATE MEDIA SERVICES
At a Tuesday, May 13 meeting of the Senate Natural Resources Committee in Dallas, auditors said that the state only has seven dam inspectors, and while this number is supplemented by private contractors, only 43 percent of high hazard dams are inspected every five years. State auditors warned lawmakers that Texas lacks the manpower or resources to ensure consistent inspection of the 7600 dams under state regulation. At issue are some 1600 "high- and significant-hazard" dams that pose a downstream threat to life and property in the event of a failure.
The audit report also found that statutes regarding dam inspection and safety are out of date, and the state needs a program to help dam owners make necessary repairs. The report recommends the state update its inspection standards, increase agency power to enforce those standards, and devise a way to assess and prioritize inspections for dams that pose a bigger potential threat to the public. Warren Samuelson, Dam Safety Program Coordinator for the Texas Commission on Environmental Quality, testified that his program would need 24 additional full-time employees in order to meet these recommendations.
The Senate Natural Resources Committee is chaired by Sen. Kip Averitt, R-Waco, and is composed of senators Craig Estes, R-Wichita Falls; Juan "Chuy" Hinojosa, D-McAllen; Glenn Hegar, R-Katy; Mike Jackson, R-La Porte; Kevin Eltife, R-Tyler; Kel Seliger, R-Amarillo; Kim Brimer, R-Ft. Worth; Carlos Uresti, D-San Antonio; Robert Duncan, R-Lubbock; and Bob Deuell, R-Greenville.
••••••
HEB, Inter National Bank new sponsors for Texas Cook 'Em: High steaks in Edinburg, set for July 4
By EVANA VLECK
Edinburg business and community leaders are inviting the public to the hottest cook-off Valley-wide – the 3rd Annual Texas Cook 'Em: High Steaks in Edinburg – slated for July 4 at the Edinburg Municipal Park.
HEB and Inter National Bank are new sponsors for this event. Businesses and organizations see the value in being associated with the valley's hottest event by giving back to the community to provide quality of life programs and events fun for the entire family.
The Texas Cook 'Em committee and organizers are exceedingly grateful to all sponsors and volunteers.
Renowned cooks from across the country travel to Edinburg and compete to win over $15,000 in prize money.
The Texas Cook 'Em is sanctioned by the International Barbeque Cooks Association (IBCA) and is organized by the Edinburg Chamber of Commerce, City of Edinburg and Edinburg Economic Development Corporation along with our volunteers who help make Cook'em the hottest place to be July 4th weekend.
Cook 'Em is currently accepting cooks and vendors to take part in the sizzling 3rd annual cook off. Cost to register as a participating team is $75 per category or $200 for all four categories. Vendors only pay $100 to reserve a booth for selling their goods; call now as we take applications on a first come first serve basis.
The deadline to register is June 15th – limited spaces are currently available.
A big hunk of prize money, juicy T-Bone steak, tender ½ chicken, delectable pork spare ribs, and mouth-watering brisket are on the menu for this sizzling cook off. A fun children's area organized by the Dustin Sekula Memorial Library "Dusty's Coral" will offer fun children's activities with a western theme, plus live music by Texas Heat, and another very special headliner to later be revealed.
For more information or to register as a cook or vendor: http://www.edinburg.com or 956-383-4974. Do you have what it takes to be the best?
••••••
Congressman Hinojosa backs historic 2008 Farm Bill
By ELIZABETH ESFAHANI
Rep. Rubén Hinojosa, D-Mercedes, on Wednesday, May 14, joined a bipartisan majority in the House of Representatives to approve the final conference report of the 2008 Farm Bill – historic legislation that preserves the economic safety net for rural America, protects our food security, makes unprecedented investments in nutrition programs that help needy families, and provides new opportunities for minority and beginning farmers. The House of Representatives passed it by a veto-proof margin.
"Congress has passed a fair and comprehensive farm bill that gives families the support they need and invests in our nation's future," said Hinojosa. "This legislation will strengthen rural America and ease the strain of rising food prices while adopting long-needed reforms to our agricultural policy. I urge the President to reconsider his veto threat and pass this responsible piece of legislation."
The Food Conservation and Energy Act of 2008 – commonly referred to as the Farm Bill – re-authorizes American agricultural and food policy for the next 5 years. Nearly three-fourths of the $290 billion Farm Bill, including an additional $10.4 billion in new spending, goes to nutritional programs that will help 38 million American families afford healthy food. It also updates the food stamp and school lunch programs to reflect the current state of our economy and help about 11 million people by 2012. Households with children would receive 77% of food stamp benefits.
The Farm Bill also includes much-needed support for emergency food distribution organizations, such as food banks, food pantries, and soup kitchens by increasing funding for the Emergency Food Assistance Program by $1.25 billion – with $50 million for immediate shortages at food pantries. It also helps schools provide healthy snacks to students, with $1 billion for free fresh fruits and vegetables.
"Too many families in Texas must go to bed each night without enough to eat," said Hinojosa. "This bill expands our nutrition programs for low-income families so more families have enough to eat and are not further affected by rising food prices."
Texas fruit and vegetable producers will have a place in the Farm Bill for the first time. The legislation guarantees a historic $1.3 billion in funding for America's fruit and vegetable programs that support research, pest management, trade promotion, and nutrition for the industry.
The legislation also includes several critical provisions spearheaded by Hinojosa. The Farm Bill will create the Southwest Regional Border Authority, an independent joint federal-state agency to coordinate economic development in the Southwest border region. This authority, which was originated by Congressman Silvestre Reyes, D-El Paso, and Hinojosa will unite local, state, and national leaders to address the long term economic needs of our region by providing a fast-track to obtain grants for development and infrastructure.
Another provision will help promote housing in rural Texas. The Congressman helped include a provision that authorizes $10 million in funding each year until 2012 for the non-profit Housing Assistance Council (HAC). HAC works to create more affordable housing throughout rural United States and its loans have helped McAllen Affordable Homes and Proyecto Azteca.
The Farm Bill also invests in America's future. It boosts conservation programs by $7.9 billion, which reduce soil erosion, enhance water supplies, improve water and air quality, increase wildlife habitat and reduce damage caused by floods and other natural disasters.
Lastly, the Farm Bill support Democratic efforts invest in a diverse energy supply. The bill invests in renewable energy programs providing $320 million in loan guarantees for the development of refineries that process renewable fuels, a key step toward bringing more renewable fuels to market. In addition, it includes $1.5 billion for production incentives for ethanol and biodiesel made from agricultural, forest, and waste plant materials.
The legislation approved today was supported by a broad range of farm organizations, including the American Farm Bureau, the National Farmers Union, the Rio Grande Sugar Growers, the Texas Produce Association, the Texas Vegetable Association, the South Texas Cotton & Grain Association, and many other agricultural, environmental, and nutrition groups. However, even in the face of this broad support, the President has threatened to veto this legislation.
"I urge our President to not stand in the way of fiscally responsible legislation that ensures a better future for rural America," said Hinojosa. "We must give our farmers the help they need and forge a new direction in farm policy."
••••••
Sen. Cornyn: Final farm bill good for Texas agriculture community
U.S. Sen. John Cornyn, R-Texas, on Thursday, May 15, expressed his support for final Senate passage of The Food and Energy Security Act of 2007, H.R. 2419, more popularly known as the "Farm Bill." With the May 15 approval vote by the Senate, and the previous day's passage of this bill in the House, the legislation will now be sent to the President's desk.
"Passage of this bill is an important and long-overdue step for Texas farmers and ranchers, providing them a stable policy moving forward. It's not perfect but it represents a carefully-crafted compromise that will protect Texas agriculture, including family farms, strengthen key nutrition programs, and fight childhood obesity.
"One in every seven Texans can trace their employment to agriculture. In rural Texas, agriculture is the engine that drives much of the economy so this bill will also help protect and expand Texas jobs.
"I met frequently with farm and ranch leaders in Texas as this bill was being written, and on balance, they will be helped with passage of this legislation. I'm particularly pleased that we were successful in excluding burdensome livestock ownership regulations. Texas provides proof that a free market, not government mandates, is the best path to success for the cattle and beef industries.
"There are extraneous spending provisions in this legislation that I would have liked to see excluded, but overall, this is a good bill for Texas. It provides our farmers and ranchers with the support they need and will ultimately benefit consumers, particularly as working families struggle with rising food prices. I hope the President will sign it into law quickly."
In addition to a number of key programs in the bill that will benefit Texas, Cornyn was also successful in adding two key amendments to the farm bill. They are as follows:
Cornyn secured an amendment to ensure that taxpayers do not pay for natural disasters twice. The Senate Farm Bill establishes, for the first time, a standing trust fund to respond to weather-related disasters that are not covered by existing law. However, as written, the farm bill did not provide enough assurance that Congress would not double-bill taxpayers for disasters that would already be covered by the new trust fund.
Cornyn secured an amendment to combat childhood obesity through food stamps—the largest federal nutrition program. The U.S. Department of Agriculture plans to offer grants to state and local governments and non-governmental organizations to develop ways to fight obesity among all food stamp recipients. Cornyn amended the bill to make sure grants are available to prioritize the fight against obesity in children.
••••••
Rick Noriega calls on Sen. Cornyn for "real solutions and real relief" for Texans facing record gas prices
By TONY GRAY
Gas prices soared to their highest recorded prices yet this week, hitting a whopping $3.67 in Texas and a national average of $3.76, according to AAA's fuel gauge report. U.S. Senate candidate Rick Noriega, D-Houston, is committed to delivering immediate relief to Texans feeling the squeeze at the pump, as well as addressing the root of America's energy problems.
Noriega is calling for comprehensive and commonsense energy reform. In addition to providing immediate relief to Texans facing runaway energy costs, Noriega believes in developing alternative sources of energy, creating high-tech environmental jobs, taking on global warming and freeing the country from its dependence on foreign oil are paramount to a successful national energy policy.
"Voters want real solutions to our soaring gas prices and dependence on foreign oil, but Senator Cornyn is running on empty. Texans are demanding better," said Noriega, who is finishing his term as a state representative. "Texas families are working hard to make ends meet in the face of skyrocketing energy costs and stagnant wages. Instead of funding special interest giveaways at the taxpayers' expense, I will put Texas families first with real solutions to address our state's energy needs now and in the future."
This week, Cornyn reiterated his opposition to commonsense solutions that will deliver immediate help to Texas families, as well as comprehensive measures that will reduce America's dependence on foreign oil, Noriega said. Cornyn confirmed his support to drill for more fossil fuels and to do nothing to address the root causes of high gas prices or protect consumers from price-gouging by co-sponsoring the American Energy Production Act, S. 2958. Oil prices have quadrupled and gas prices have more than doubled during Senator Cornyn's time in the Senate. John Cornyn has stood idly by while Texans struggle to fill a tank of gas. For example, Texas Prison Guards in rural counties testified recently before the Texas Senate Committee on Criminal Justice that they cannot afford to drive to work.
If prices remain at current levels, $24.6 billion more will be spent on gasoline in Texas this year than was spent in 2001. Texas consumers, farmers, and businesses are on track to pay $39.5 billion for gasoline this year. [Department of Energy, Motor Gasoline Consumption, Price, and Expenditures 2002]
••••••
Sen. Hinojosa appointed to Joint Task Force on Sporting Goods Sales Tax by Lt. Gov. Dewhurst
By RICH PARSONS
Lt. Gov. David Dewhurst on Thursday, May 15, announced that Sen. Juan "Chuy" Hinojosa, D-McAllen, and other senators have been appointed to the Joint Legislative Task Force on Sporting Goods Sales Tax.
The joint legislative task force was created in House Bill 12, passed during the 80th Legislative Session. Sen. Kip Averitt, R-Waco, will serve as joint presiding officer of the task force.
Averitt is also chairman of the Senate Natural Resources Committee, while Hinojosa is a member of that panel.
As directed by HB 12, the joint task force will review the definition of "sporting goods" in the Tax Code. It will also determine the amount of sales tax revenue that must be generated from the sale of "sporting goods" to fund state parks, local parks, historic sites, coastal management programs and water planning. A final report is required no later than Dec. 15, 2008.
"Our state parks should be among the finest in the nation, showcasing Texas' unmatched natural beauty and diversity," said Dewhurst. "Like me, the Senate appointees to this important task force want to make our parks even better and preserve our great outdoors, and they will contribute invaluable insight and experience in exploring ways to improve the financing of our state parks system through the sales tax Texans pay on selected sporting goods."
Two other senators also were appointed by Dewhurst to the joint task force: Sen. Steve Ogden, R-Bryan, who is chairman of the Senate Finance Committee, and Sen. Tommy Williams, R-The Woodlands, who is a member of the Senate Finance Committee.
Hinojosa also is a member of the powerful Senate Finance Committee, which drafts the proposed state budget for the Senate.
••••••
Reforming health insurance to cover uninsured, save lives
By SEN. EDDIE LUCIO, III
D-Brownsville
The award-winning Lubbock Chamber of Commerce Employer Health Plan boasts an enrollment of 10,000.
Launched in 2006 with authority from Senate Bill 10 passed during the 78th Legislative Session, the health plan became a community collaboration involving the area's two major hospital systems and several health insurance providers. During the first year of the program, businesses with 15 employees saved $12,000 and those with 70 saved $100,000.
Sitting at a recent hearing of the Senate Finance Committee on which I serve, I learned from the Lubbock people of their successful health plan and began considering the possibility of similar plans in other regions of the state.
The Central Texas Regional Health Coverage Project representatives testified at this same hearing that offering a multi-county basic health plan at affordable prices for small employers and their employees would improve the health and access to healthcare of those insured by the program. They also noted that such a plan would help small businesses remain competitive and maintain a healthy workforce.
The Texas Department of Insurance (TDI) reports that the number of employers that offer health coverage decreases every year because of inaffordability. Hospitals are also negatively impacted by the uninsured. The Texas Health and Human Services Commission (HHSC) tells us that uncompensated care charges have increased from $5.5 billion to $11.3 billion over a five-year period, a tab the taxpayer often pays.
Reform is seriously needed. HHSC reports that the overarching goal of reform is to optimize investment in health care for more efficient use of funding and health outcomes, including investing in preventive care, reducing the number of uninsured Texans and optimizing Medicaid funding.
Another bill also called Senate Bill 10 from the 80th Legislative Session, authorized a subsidy health plan, the Health Opportunity Pool (HOP), which seeks to provide more low-income Texans with health care coverage, reduce reliance on expensive emergency room visits for basic care, and make it easier for the working poor to purchase employer-sponsored health insurance.
Altering its earlier approach through a waiver submitted to the federal Center for Medicare and Medicaid Services, HHSC has halted the first phase of implementation of the HOP, which would have provided coverage beginning later this fall to the parents of Medicaid and CHIP children through its existing contracted Health Maintenance Organizations. The agency determined that the limitations of this model outweighed the benefits, and thus shifted its focus to the longer-term solution, which will provide HOP enrollees premium subsidies that will allow them to select from commercial insurance options suited to their individual needs.
The new approach also protects funding for Texas' safety-net hospitals, rewards innovative local efforts to reduce uncompensated care, and establishes greater accountability and transparency in reporting uncompensated care costs.
HHSC has reported that "reimbursing hospital providers at the most expensive end of the care continuum does little to address root causes. Improving access to primary and preventive care will moderate indigent care costs and growth."
One-quarter of Texans lack health insurance, the highest uninsurance rate in the nation. With an average cost of family coverage at $12,000 a year, many families cannot afford health insurance.
A 2008 study by Families USA, a non-profit organization, found that out of 11,754,000 Texans between the ages of 25 and 64, 27.8 percent were uninsured. It further noted that uninsured Texans are sicker and die sooner than their insured counterparts. Between 2000 and 2006, nearly 17,700 Texans died in that age group because they had no health insurance.
••••••
RAHC dinner honors Kleberg Foundation, scholars
By WILL SANSOM
The Kleberg Medical Scholars, a group of internal medicine residents conducting research at the UT Health Science Center San Antonio Regional Academic Health Center, presented their 2007 research results May 1 in Harlingen at a dinner honoring The Robert J. Kleberg Jr. and Helen C. Kleberg Foundation.
The projects, conducted at Valley Baptist Medical Center, Su Clinica Familiar and with other clinical partners, are of strong relevance to the Lower Rio Grande Valley population in areas such as diabetes and congestive heart failure.
The Kleberg Medical Scholars are resident physicians at the center who conduct clinical research projects supported by stipends from The Robert J. Kleberg Jr. and Helen C. Kleberg Foundation. This Texas foundation has funded resident research at the center for five years in the amount of $1.5 million.
Results are in from the 2007 Kleberg-supported projects, while the 2008 projects are under way. James F. Hanley III, M.D., is the center's Internal Medicine Residency Program director.
Here are brief synopses of selected Kleberg Medical Scholar projects:
Hector Amaya, M.D., found that hypokalemia (low potassium level in the blood) is a significant problem in patients admitted to the hospital with congestive heart failure. This is important because low potassium has been associated with life-threatening arrhythmias and increased deaths. Hospitals might consider adopting a different threshold for replacement of potassium in these patients.
Irina Minina, M.D., is finding a relatively high frequency of orthostatic hypotension (a drop in blood pressure upon standing) in older patients who take blood pressure or other medications. Orthostatic hypotension is associated with an increased risk of falls and passing out (called syncope) when they stand. So far she has studied 37 patients. It may be that the change in blood pressure upon standing in older individuals is being overlooked and should receive more attention from physicians.
Luciana Oliveira, M.D., found drug-resistant infections called extended-spectrum beta-lactamases or more simply, ESBLs, in only 2 percent to 3 percent of patients she studied. This was fewer than predicted and may reflect the high quality of infection control at Valley Baptist Medical Center. However, these infections were associated with increased cost and number of procedures in the hospital.
Mario Tapia, M.D., Kleberg Medical Scholar and chief internal medicine resident at the Regional Academic Health Center, studied random blood sugars drawn at Su Clinica Familiar at the time of patients' visits. The blood samples were compared with hemoglobin A1C measurements. Dr. Tapia found the random blood sugar measurements did not correlate with the hemoglobin A1C measurements. The hemoglobin A1C is the standard by which a physician decides whether to treat a patient's diabetes more intensively.
A hemoglobin A1C reading is like having a movie of blood sugar instead of a picture. It is an average of sugars over three months versus a reading at only one point in time.
Tapia was very surprised by a cost analysis. Su Clinica spent a significant sum of money on random glucose tests, which appear to have no value when routinely obtained, versus only $2.76 every three to six months for a hemoglobin A1C test, which can impact the therapy of the patient.
Tapia calls random glucose testing "the appendix" of the management of diabetes. These tests take nurses' time, use glucometer finger strips and require sticks.
His study begs the question: Why do the random tests if they don't drive decision making in diabetes and aren't cost-effective?
In terms of diabetes management with hemoglobin A1C, Tapia said Su Clinica is very good compared to the national average in that 80 percent of its diabetic population has an acceptable blood glucose control by AQA standards. (AQA is a national alliance working to improve physician practice.)
"I want to stress how grateful we are to the Kleberg Foundation for five years of generous support that has made these projects possible," Hanley said. "The result is better health for Valley patients and a new class of physicians who are trained in conducting clinical research. It is hoped many of these resident scholars will stay in the Valley."
••••••
Attorney General Abbott reaches settlement with online incentive marketer World Avenue USA, L.L.C.
Texas Attorney General Greg Abbott on Wednesday, May 14, resolved an enforcement action involving World Avenue USA, L.L.C., an online "incentive marketer." The state alleged that the Florida company unlawfully promised "free gifts" and other similar incentives that were not actually free. According to investigators, the defendants enticed customers with free offers, but forced them to make purchases in order to obtain the "free" merchandise.
World Avenue USA relied upon e-mail solicitations, Internet pop-ups and banner advertisements to market certain goods, which it purported to give away for free. Shoppers that accessed World Avenue USA's numerous Web sites were required to complete lengthy "surveys" that merely exposed them to more offers and advertisements. To be eligible for the "free gifts," customers were required to complete as many as 18 "sponsor offers," most of which required purchases of goods and services from third-party vendors.
The state took legal action because World Avenue USA failed to disclose the numerous sponsor offers and that most of the sponsor offers required customers to make purchases. Because of the exhaustive chain of third-party sponsor offers, including new credit cards or movie rental memberships, most consumers left the Web site without reaching the point where they could claim their free gift.
Under the May 14 settlement, World Avenue USA has agreed to develop and implement standards and best practices to ensure that proper disclosures are included in the future. This agreement, which will serve as a model for incentive marketers who do business on the Internet, comports with the U.S. Federal Trade Commission's recent enforcement actions against others in the lead generation industry.
In the future when World Avenue USA advertises the word "free," it must clearly disclose if a purchase is required. Also, when a purchase is actually required, that disclosure must be in close proximity to the word "free" so that customers are adequately informed about costs associated with acquiring the "free" item. The company must disclose how many sponsor offers must be completed to receive the incentive product, and that customers have the opportunity to review all available sponsor offers before completing an offer and making a purchase.
World Avenue USA agreed to pay the state $800,000 to resolve the claims against it.
Texans who believe they have been deceived similar fraudulent business practices may call the Office of the Attorney General's toll-free complaint line at (800) 252-8011 or file a complaint online at http://www.texasattorneygeneral.gov.
••••••
Owner of 'The Sheriff's Journal' pocketed donations collected for fallen officers' families, says AG Abbott
Texas Attorney General Greg Abbott on Thursday, May 15, said his office secured court orders that permanently shut down a Houston-based "badge fraud" scheme that bilked small businesses nationwide. Brian Brumfield and his Houston-based business, Thornebrooks Shapiro, LLC, were ordered to pay $11,920,000 in civil penalties for illegally soliciting charitable contributions by falsely claiming the donations would benefit the surviving family members of fallen peace officers.
Abbott took legal action against Brumfield in February 2008 after uncovering evidence that Brumfield unlawfully converted charitable contributions into cash for his personal use. The defendant was ordered to pay $176,820 in restitution to contributors who gave to the non-existent police charity. Brumfield also faces an ongoing criminal investigation by federal authorities, who took him into custody earlier this year.
"This defendant raised charitable donations for fallen peace officers' families and illegally used those contributions for his personal use," Abbott said. "Badge fraud schemes take advantage of both generous contributors and the law enforcement families who should benefit from those charitable donations. The Office of the Attorney General will aggressively pursue criminals who attempt to exploit the families – and communities – of fallen law enforcement officers."
The Office of the Attorney General (OAG) began investigating Brumfield after several small business owners complained that the defendant sent fraudulent invoices for advertisements in "The Sheriff's Journal" and similarly-titled publications that were never ordered or authorized. Claiming the advertising had already been printed, the defendant continued sending invoices and making harassing telephone calls to demand payment, even after business owners disputed their bills. Some businesses paid the fraudulent invoices in an effort to avoid further telephone calls. Many of the invoices sought payments totaling between $100 and $600.
Brumfield claimed "The Sheriff's Journal" was published nationally to raise money for families of fallen law enforcement officers. However, investigators discovered that the magazines do not actually exist and none of the advertising money was used to provide benefits to law enforcement officers or their families. Instead, the defendant immediately converted the advertising revenue into cash for his personal benefit. Financial documents indicate Brumfield operated the scheme since at least May 2006, pocketing as much as $10,000 to $19,000 a month.
Attorney General investigators determined that business owners in Texas and at least 27 other states issued checks to the defendant. Those other states are: Alabama; Arizona; Arkansas; California; Colorado; Connecticut; Delaware; Florida; Georgia; Indiana; Kansas; Kentucky; Louisiana; Maryland; Massachusetts; Mississippi; New Hampshire; New Mexico; New York; North Carolina; Ohio; Oklahoma; Oregon; Tennessee; Vermont; Virginia and Washington.
The Attorney General's February enforcement action charged Brumfield with violating the Texas Deceptive Trade Practices Act and the state's telemarketing solicitation laws. It also accused him of failing to register as a telemarketer with the Secretary of State.
Brumfield, 38, has a criminal record dating back to 1989, including misdemeanor theft. In 1996, he was arrested for felony credit card abuse and was sentenced to five years probation. He violated probation in 1998 and was sentenced to six months in jail.
To report suspected badge fraud or telemarketing abuse, consumers may contact the Office of the Attorney General at (800) 252-8011 or file a consumer complaint form online at http://www.texasattorneygeneral.gov.