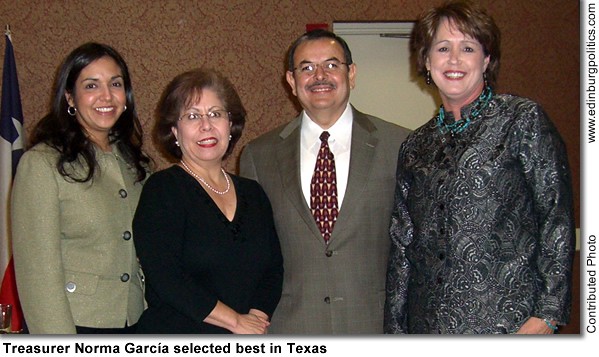 Hidalgo County Treasurer Norma G. García, featured second from left, has been named Texas County Treasurer for 2007 by her colleagues with the County Treasurers Association of Texas – the first time since 1971 that a local county treasurer has earned that prestigious honor. "Once again, Hidalgo County is recognized for outstanding leadership and performance in public service," said García. "It is especially important for the public to have full confidence that their hard-earned tax funds are being taken care of at the highest standards and principles, which produce the most beneficial consequences to those whom I serve." Featured with her during the award ceremony held in mid-October were: Kleberg County Treasurer Priscilla A. Cantú; García; Zapata County Treasurer Romeo Salinas; and Taylor County Treasurer Lesa Crosswhite, who also serves as CTAT president. See story later in this posting.
•••••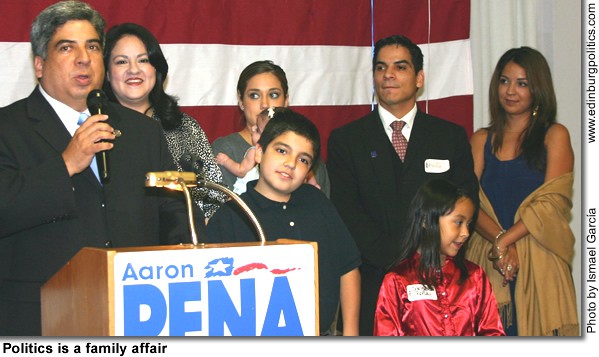 Rep. Aaron Peña, D-Edinburg, focused on his legislative efforts on behalf of the youth in his district during his Thursday, November 8 campaign kick-off, held at the ECHO in Edinburg.  Peña, who was born in Austin but grew up in Edinburg, reminded voters from the key Delta Area portion of his House District 40 of his deep roots in those communities. "My grandfather would never imagine what has happened to this community," Peña fondly recalled his paternal grandfather, Baltazar Peña, who migrated from Mexico to the Edcouch-Elsa region. "Who would have imagined that we would move so quickly to have the sort of growth that we have here? That was done because of the dreams that they had, the dreams of a better future, the dreams of educating our kids. So, that has always been my commitment, as it is yours, that we invest in our kids." Featured with Peña are, from left, back row: his wife, Mónica; daughter-in-law, Clarissa; granddaughter Addison; son Aaron Peña; daughter Adrienne Peña Garza; and in the front row: son Anthony; and granddaughter Chelsea Peña. The Edinburg lawmaker is facing a challenge from Eddie Sáenz, a civil engineer also from Edinburg, in the March 4, 2008 Democratic Party primary. See story later in this posting.
••••••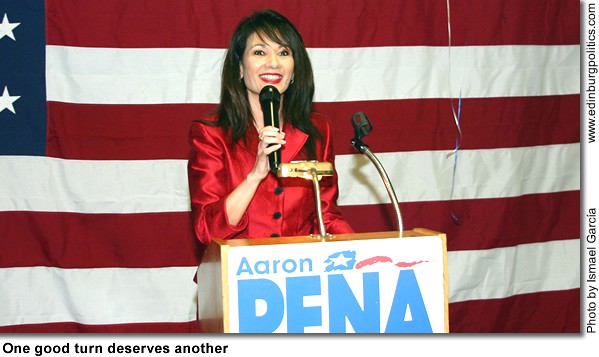 Rep. Verónica Gonzáles, D-McAllen, whose House District 41 includes southwest Edinburg, on Thursday, November 8, helped welcome dignitaries to the campaign kick-off for her colleague, Rep. Aaron Peña, D-Edinburg. Gonzáles, along with Rep. Armando "Mando" Martínez, D-Weslaco, and Rep. Ryan Guillen, D-Rio Grande City, showed up at Peña's event, even though Peña is facing a challenge from a fellow Democrat – Eddie Sáenz of Edinburg. Gonzáles will be having her own campaign kick-off on Tuesday, November 27, from 5:30 p.m. to 7:30 p.m. at the International Museum of Arts and Science, located at 1900 Nolana Avenue in McAllen. Gonzáles' campaign kick-off, which is being underwritten by her law firm, Kittleman, Thomas & Gonzáles, LLP, is free and open to the public. For more information, residents may call her campaign at 212-8950. Gonzáles is facing at least one opponent so far – fellow McAllen lawyer Javier Villalobos, who is seeking the Republican Party nomination. Both parties will hold their primary elections on March 4, 2008.
•••••• (more…)