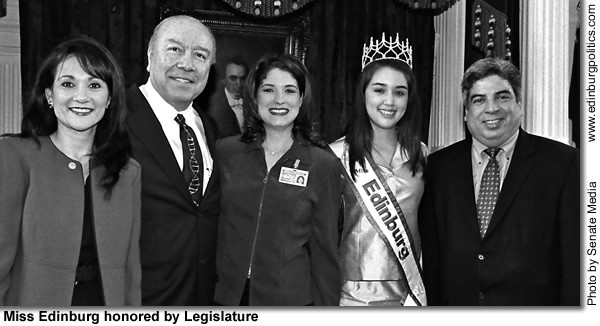 Laura Danielle González, Miss Edinburg 2007, has been honored by the Texas Legislature with congratulatory resolutions approved by the Senate and the House of Representatives. Miss González is a freshman honor roll student at Edinburg North High School who competed against 14 other outstanding local young women between the ages of 14 and 19 to capture the coveted crown. She stays on the A honor roll while participating in a wide variety of activities in school, including: dancing with the Golden Spurs; competing in University Interscholastic League events; is involved with the freshman student council; and is a part of the drama club. Miss González also was nominated to attend the 2007 Lead America Conference and was selected for the Duke University Talent Identification Program. She also is active in community affairs and she volunteers at local walks, including Relay for Life, and she is an altar server at Our Lady of Sorrows Catholic Church. "Laura is a source of great pride to her family, friends, school, and community, and the poise, grace, and commitment to excellence she has shown will serve her well during her reign as Miss Edinburg and throughout her life," said Sen. Juan "Chuy" Hinojosa, D-McAllen, author of the Senate congratulatory resolution. Featured with her during her recent visit to the Senate Chamber at the Texas Capitol are, from left: Rep. Verónica Gonzáles, D-McAllen; Hinojosa; Elizabeth Anguiano with the Edinburg Cable Network; Miss Edinburg Laura Danielle González; and Rep. Aaron Peña, D-Edinburg.
••••••
South Texas College President Dr. Shirley A. Reed was honored at the Border Texan of the Year Celebration Dinner on Wednesday, February 28 at Dodge Arena in Hidalgo. Reed, the founding president of STC, officially accepted the Border Texan of the Year award during the event, which is an annual tradition attracting more than 1,000 of the area's business, professional and government leaders.
••••••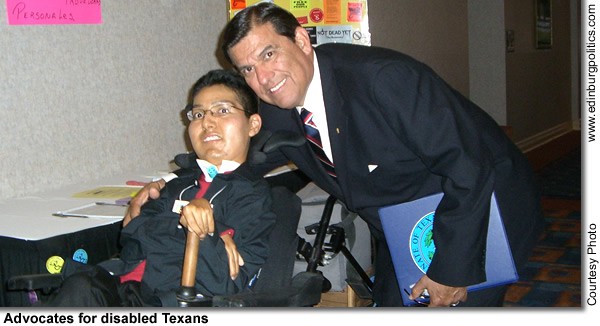 Sen. Eddie Lucio, Jr., D-Brownsville, recipient of the 2007 "Outstanding Legislator Award" by the Texas State Independent Council, congratulates Víctor Álvarez from McAllen, who was named "Consumer of the Year" by the organization. The 20-year-old, who requires round-the-clock care for spinal muscular atrophy, is a Bill Gates Millennium Scholar at the University of Texas-Pan American and writes a weekly column appearing in The Monitor.
••••••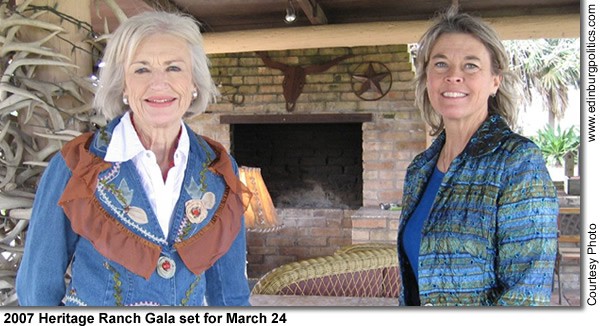 Heritage Ranch Gala Co-Chairmen Reba Showers and June Corso enjoy previewing El Canelo Ranch in preparation for March 24 event. See story later in this posting.
••••••
Robert Peña, Jr., bringing proven track record of successes in bid for ECISD Place 4 trustee slot
By DAVID A. DÍAZ
Robert Peña, Jr., 39, says if he is elected this spring to the Edinburg school board, the most important qualities of leadership he will bring to the community will be fairness, high goals, and common sense.
Peña, a native son, product of the Edinburg schools, and local businessman, said he decided to seek the Place 4 trustee slot in order to help raise the levels of expectations and community participation in the crucial arena of public education.
"We have an excellent school district, probably the best in South Texas," Peña said. "I want to do whatever it takes to help our students, educators and staff get the well-deserved recognition as one of the best school districts in all of Texas."
The former U.S. Marines platoon sergeant, whose nine-year military career included service in Saudi Arabia, Kuwait, and Iraq during the first Persian Gulf War, is owner of Development Consultants and Construction, an Edinburg residential and commercial builder, which he founded in 2001.
His immediate family includes his wife, the former Dora Denise González, a banker with Wells Fargo; his parents, Roberto and María Teresa Peña; sister and brother-in-law Norma and Óscar Villarreal; nephews Anthony and Joseph; niece Elizabeth; sister Anabelle Garza; nephew Steven; sister Nelda Iris Peña; and sister Genoveva Peña.
Many people already know him from his time spent as the executive director of the Edinburg Economic Development Corporation – the jobs-creation arm of the Edinburg City Council – which saw him work with political and business leaders to help usher a new age of economic prosperity and improved quality of life for the three-time All-America City.
He wants to apply the knowledge gained from, and discipline required by, his military, public service, and private sector experiences to provide what he says is a much-needed blueprint to effectively handle the district's enrollment growth, now averaging more than 1,000 additional students per year.
"I feel our district lacks the efforts in planning for the future," Peña said. "Although we have unsuccessfully attempted some (school facility) bond elections, I don't believe we have a long-range plan in place that will help us address the growth of the services and needs of the district."
If the school district has such a plan in place, "the public would be more aware of what our actual needs are, and then they could help the school board in developing a bond issue for our true needs," Peña said. "But without a plan, without a vision, without direction, the public is not going to write a blank check for a bond issue."
Using his expertise in construction, Peña said he would implement a facilities plan to address short-term and long-term needs of the Edinburg school district.
He said the district could utilize other resources, such as the University of Texas-Pan American, to help develop such a needs assessment and identify outside sources of grant funding.
Securing other governmental and private funding for facilities, technology, or other programs frees up more local funds for improved benefits and increased pay for teachers and staff, he suggested.
"I believe our school district has incorporated some tremendous improvements, but I want to take the challenge to the next level," he said.
Rising to the occasion is nothing new for Peña.
As the point man for the EEDC from 1994 to 2001, Peña's leadership and organizational skills helped the city's elected leadership land huge economic development prizes, from the combined $500 million privately-owned power plants in north Edinburg to multi-million dollar entertainment venues, such as Carmike Cinemas 20, the city-owned Edinburg Baseball Stadium, and a professional baseball team.
Almost 30 projects were brought into Edinburg under his watch as EEDC director, a position he said gave him the opportunities to meet and work with people from all walks of life and political persuasions.
Such exposure, he said, taught him the valuable lessons of keeping an open mind, listening to new ideas, and setting the highest standards for himself and his hometown.
"The public can be assured they would be electing an independent voice with leadership qualities who will help our community to develop short-term and long-term vision for the district," said Peña.
Leadership without accessibility is of little value, Peña believes, so he encourages residents to share their concerns and ideas with him, either by calling him at 956/318-1000, or by writing to him at his e-mail address, which is [email protected].
"Sen. Juan Hinojosa, a fellow Marine, says it best about people who are elected," Peña said. "'He said public office is a public trust, it belongs to the people. I agree with him 100 percent – and no one will need money, influence, or power to talk to me because I will be working with everyone."
••••••
Edinburg OKs most stadium upgrades proposed, and to be paid for, by Coyotes professional baseball team
By DAVID A. DÍAZ
The Edinburg Coyotes on Tuesday, March 6, received approval from the Edinburg City Council that will allow the professional baseball team to invest almost $95,000 for key improvements to the city-owned, $5.6 million baseball complex.
The Edinburg Baseball Stadium serves as home of the Edinburg Coyotes minor league baseball squad, which is part of the six-team United League Baseball, and the University of Texas-Pan American Broncs NCAA Division 1 baseball team.
In exchange for the private investment, the city will repair the sound system, valued at about $5,000, but decided to wait on a request from the team owners for the city to build a three-foot retaining wall at the concourse, which would cost about $8,900.
The city council instead opted to monitor pedestrian traffic along the concourse in front of the stadium before making any moves to build a wall, which club officials said would help prevent cars from parking too close to the facility.
The deal, sought by Edinburg Equities, L.L.C., which owns the team, will result in some key new attractions to the stadium, according to officials with the team and its league, the United League Baseball.
Team and league representatives will soon begin work on building a covered picnic area valued at $15,000, an outdoor bar and grill, valued at $18,310, a large advertising video monitor, valued at $45,000, and a new ticket booth/modifications, valued at $16,430.
The improvements are scheduled to be ready for fans to enjoy on opening day later this spring.
Craig Brasfield, president/executive general manager of the six-member United League Baseball, in a memorandum delivered to the city council also provided updates on other key issues, including noting that naming rights for the stadium were currently under negotiations.
"The Coyotes are in conversation with several prominent and interested partners that are considering the possibility of becoming the naming rights sponsor for Edinburg Baseball Stadium," he stated. "The City of Edinburg received 25 percent of all naming rights fees a sold by the Coyotes. Thus, I felt it necessary to let the Coyotes' partner, the City of Edinburg, know the progress being made."
Brasfield did not identify the prospective naming rights partners.
The most expensive addition, the video monitor, will serve as a stadium marquee sign, he added.
"The Coyotes are seeking to install a state-of=the art message center marque that will be placed in front of the stadium," Brasfield continued. "Various messages promoting the Edinburg Coyotes and the City of Edinburg will run on this message center for anyone coming to a ball game or special events at the stadium, or simply by driving by. Also, the Coyotes see the marquee sign as a major professional upgrade to Edinburg Baseball Stadium with its perception as a preeminent facility."
••••••
Edinburg's jobless rate in January lowest in the Valley at 4.9 percent
By DAVID A. DÍAZ
Edinburg's jobless rate, which is a key indicator of the strength of the local economy, remained the lowest in the Valley at 4.9 percent in January, keeping pace with the statewide average of 4.5 percent and the U.S. unemployment rate of 4.6 percent.
In 2006, the annual jobless rate for Edinburg was 5.3 percent, while in 2005, the annual jobless rate for Edinburg was 4.7 percent.
In 2006, the city's jobless rate was the lowest in the Valley during five months, according to the Edinburg Economic Development Corporation, and Edinburg registered the second-best showing for most of the other months last year, edged out only by McAllen.
The EEDC is the jobs-creation arm of the Edinburg City Council.
The EEDC's five-member governing board includes Mayor Joe Ochoa; former Mayor Richard García, who is president of the EEDC board of directors; and Fred Palacios, Mike Govind, and George Bennack.
As of January, according to the Texas Workforce Commission, 1,372 Edinburg residents were looking for jobs, while 28,120 local residents were employed.
The jobless rate, also known as the unemployment rate, is the number of persons unemployed, expressed as a percentage of the civilian labor force.
The civilian labor force is that portion of the population age 16 and older employed or unemployed.
To be considered unemployed, a person has to be not working but willing and able to work and actively seeking work.
The jobless rate for Hidalgo County was 7.7 percent in January, up from 6.9 percent in December. The January jobless rate for Hidalgo County represented 21,051 area residents without jobs, while 273,471 residents were employed during the first month of 2007.
McAllen had the second lowest monthly unemployment rate in January – 5.1 percent, or 2,065 of their citizens out of work, while 55,406 residents of the City of Palms were employed that month. In December, McAllen's jobless rate of 4.4 percent.
Harlingen's unemployment rate in January was 5.3 percent, while Pharr and Mission both reported a 6.2 percent jobless rate during the same month.
Brownsville's unemployment rate in January came in at 6.8 percent, followed by Weslaco, which reported a 7.5 percent jobless rate during that same month.
Cameron County's jobless rate in January was 6.6 percent, up from December's 5.7 percent unemployment rate. In January, 9,603 residents of Cameron County were looking for work, while 135,343 residents were holding down jobs.
Harlingen had the third-best showing among major Valley cities in January, reporting a 4.7 percent jobless rate, followed by Mission and Pharr, which each registered 5 percent unemployment rates for that month.
According to the Texas Workforce Commission:
Texas' seasonally adjusted unemployment rate fell to 4.5 percent in January from a revised 4.7 percent in December 2006 and down from 5.2 percent in January a year ago.
During the past 12 months, the Texas economy grew by 243,700 jobs for a growth rate of 2.5 percent, outpacing the nation as a whole.
The Texas Workforce Commission (TWC) annually revises the Total Nonagricultural employment and the Civilian Labor Force statistics, which includes the unemployment rate, under the guidance of the U.S. Department of Labor Bureau of Labor Statistics.
Eight Metropolitan Statistical Areas (MSAs) reported unemployment rates of 4.0 percent or lower.
The Midland MSA experienced the lowest unemployment rate in the state at 3.2 percent (not seasonally adjusted), and the Amarillo and Odessa MSAs followed at 3.6 percent.
"Our falling unemployment rate highlights the state's healthy economic climate," said TWC Chair Diane Rath. "Coupled with year-over-year, sustained job gains, these lower unemployment rates signify strength in the Texas labor market."
In the past 12 months, the Professional & Business Services industry saw gains of nearly 50,000 jobs, followed by Leisure & Hospitality, which grew by 40,000 positions.
"Employers in the Lone Star State continue to set a tremendous pace with record job growth," said TWC Commissioner Representing Employers Ron Lehman. "Ten industries spurred statewide job growth over the past year, with Manufacturing gaining 16,200 jobs and Construction growing by 26,600 positions."
The Mining industry has added jobs every month since November 2003. In January, Mining gained another 1,800 positions, reaching an annual growth rate of 12.7 percent. Financial Activities grew for the third straight month, adding 1,500 jobs in January and 12,800 positions since January 2006.
"We've made great strides, with a record number of workers – 11,063,400 – in the labor force today," said TWC Commissioner Representing Labor Ronny Congleton. "It's always good news when more Texans find work."
Initial claims for unemployment compensation in January 2007 were 59,196, down 2.6 percent from January 2006.
••••••
Sen. Hinojosa files bill to give Texans more control over their own health care
By MELISSA DEL BOSQUE
Saying Texans deserve more control over their own health care, Sen. Juan 'Chuy' Hinojosa, D-McAllen, on Tuesday, March 6, filed Senate Bill 1170 to increase fairness, transparency, and competition in the contracts that managed care organizations offer family physicians.
"Most of us know how time consuming and frustrating it is to fight with our health insurance company, imagine doing this every day, all day long. For most of our physicians, this is a painful reality," Hinojosa said. "Our families need to know that their doctors are spending their time healing them, not hiring lawyers to decipher the contracts they are forced to sign with HMOs."
Hinojosa said because managed care plans control a significant part of most physicians' practices, they force physicians to sign take-it-or-leave-it contracts that are not only bad for the physician, but can be detrimental to patient care.
"It's time to modernize our state statutes to reward fairness and transparency," Hinojosa said. "This legislation is an effort to restore balance in the contracts between physicians and the large commercial, investor-owned health plans."
SB 1170 would require full disclosure by health plans of payment terms so that physicians can make informed business decisions. It would also mandate that all contracts be written in plain language so that doctors no longer have to retain lawyers to deal with their correspondence with HMOs.
In addition, Hinojosa's bill would prohibit the current practice of managed care organizations imposing new categories of coverage on doctors without their knowledge and require managed care organizations to notify doctors before unilaterally changing the terms of contracts.
"Giving family doctors more leverage to negotiate their contracts with managed care organizations will allow them to act in the best interest of their patients," Hinojosa said.
••••••
Eight fallen Rio Grande Valley soldiers and their families honored at the Capitol
By ED SERNA
The Texas House of Representatives on Tuesday, March 6, honored eight Rio Grande Valley soldiers who lost their lives during Operation Iraqi Freedom and Operation Enduring Freedom.
Rep. Ismael "Kino" Flores, D-Palmview, filed memorial resolutions to pay tribute to the soldiers and their families, who were recognized on the House floor.
"It's an honor to pay tribute to our brave soldiers who made the ultimate sacrifice while serving our country," said Flores. "It's also important that we extend our appreciation, thoughts, and prayers to the soldiers' families who have been profoundly impacted by their loses."
Memorial resolutions were filed and read honoring the following soldiers:
•HR 678- U.S. Marine Lance Corporal Benito A. Ramírez of Edinburg
•HR 679- U.S. Marine Lance Corporal Julio C. Cisneros Álvarez of Pharr
•HR 680- U.S. Marine Sergeant Juan Calderón, Jr. of Weslaco
•HR 681- U.S. Army Sergeant Daniel Galván of Mercedes
•HR 682- U.S. Army Sergeant Javier Marín, Jr. of Mission
•HR 683- U.S. Army National Guard Sergeant Tomás Garcés of Weslaco
•HR 684- U.S. Army Staff Sergeant Omar D. Flores of Mission
•HR 74- U.S. Army Specialist James C. Kesinger of Orange Grove/Pharr (resolution filed by Rep.
González-Toureilles)
Eleven Rio Grande Valley soldiers have died serving in Operation Iraqi Freedom and Operation Enduring Freedom. In addition to the eight soldiers honored on March 6, three soldiers, including Marine Private First Class Dustin Michael Sekula, Army Sergeant Christopher Ramírez, and Army Specialist Mark Zapata were honored at the Capitol earlier this year.
Flores represents District 36, which includes parts or all of Hidalgo, Granjeno, McAllen, Mission, Palmview, Penitas, and Pharr.
••••••
DPS trooper Eduardo Chávez of Edinburg, who died in the line of duty, honored by Sen. Hinojosa
The late Eduardo Chávez, a Texas Department of Public Safety trooper from Edinburg who was killed last spring in the line of duty, was honored by the Texas Senate on Tuesday, March 6.
His bravery and sacrifice was highlighted in Senate Resolution No. 387, filed by Sen. Juan "Chuy" Hinojosa, D-McAllen.
The memorial resolution follows verbatim:
SENATE RESOLUTION NO. 387
WHEREAS, The Senate of the State of Texas honors and commemorates the life of Eduardo Chávez, who died May 2, 2006, at the age of 30; and
WHEREAS, A highway patrolman with the Texas Department of Public Safety, Trooper Chávez died while responding to a call to assist his brother, Trooper Enrique Chávez, on a narcotics arrest; he had joined the Texas Department of Public Safety in 2003 and was stationed in Palmview; and
WHEREAS, He had formerly served as a deputy with the Hidalgo County Sheriff's Department; in September of 2001, he risked his own life to save the life of a drowning child and to help a firefighter who was close to drowning; and
WHEREAS, Eduardo Chávez was born on December 1, 1975, in Reynosa, Tamaulipas, Mexico; he was a resident of Edinburg, Texas, for most of his life; a graduate of Edinburg High School, he attended South Texas Community College and The University of Texas-Pan American; and
WHEREAS, Eduardo Chávez had a special dedication to duty and strived for excellence in all of his endeavors; he had achieved a high level of expertise in the field of drug enforcement and was considered a true leader in his district; and
WHEREAS, State Trooper Eduardo Chávez was a courageous young man with spirit and enthusiasm who was dedicated to his work as a trooper and to protecting the citizens of this state; for his service and his sacrifice, Texas citizens are eternally grateful; now, therefore, be it
RESOLVED, That the Senate of the State of Texas, 80th Legislature, hereby pay tribute to the life of State Trooper Eduardo Chávez and extend sincere condolences to his bereaved family: his wife, Iliana Chávez; his son, Eduardo Chávez, Jr.; his parents, Enrique Chávez, Sr., and Isabel Chávez; his brothers, Enrique Chávez and Germán Chávez; and his sister, Mónica Chávez; and, be it further
RESOLVED, That a copy of this Resolution be prepared for the members of his family as an expression of deepest sympathy from the Texas Senate, and that when the Senate adjourns this day, it do so in memory of Eduardo Chávez.
••••••
Valley congressional delegation meets with Hidalgo County leaders to discuss levees, flood insurance
By ELIZABETH ESFAHANI
Congressmen Rubén Hinojosa, D-Mercedes, Solomon Ortiz, D-Corpus Christi, and Henry Cuellar, D-Laredo/McAllen on Wednesday, March 7, met with several Hidalgo County leaders to discuss the status of the Lower Rio Grande Flood Control Project as well as the impact of FEMA's digital Flood Insurance Rate Map for Hidalgo County.
Among the officials present Tuesday were Hidalgo County Judge J.D. Salinas, Commissioner Hector "Tito" Palacios, Drainage District Director Godfrey Garza, as well as Louis Jones of Dannenbaum Engineering Corporation and Gume Ybarra of Dos Logistics Inc.
Specifically, the Hidalgo County delegation discussed arrangements with the International Border and Water Commission to recover $10 million in bond money raised from citizens of Hidalgo County for levee improvements. The officials also briefed the congressmen on the anticipated impact following the completion of the Hidalgo County Flood Map Modernization Project set for completion by late 2008. When finished, the modeling will identify the areas in Hidalgo County that are significant Flood Hazard Zones.
Funding for the Raymondville Drain Project was also addressed. This year, Hinojosa again requested that language be inserted into the Water Resources Development Act that would reimburse the county for work done to expedite the project.
"I truly appreciate the tireless work of my colleagues from Hidalgo County. Their efforts are integral in making sure the region is adequately protected from an unforeseeable natural disaster," said Hinojosa. "The critical condition of the levees is of the utmost concern and rest assured that I will continue to push for levee repair that could potentially save hundreds of thousands of lives."
Over the past several years, Hinojosa has worked with his colleagues from the Congressional Border Caucus to obtain additional federal money to repair and raise the levees to avoid potential catastrophic flooding in the Valley. The International Boundary and Water Commission recently completed a study with the Army Corps of Engineers that concluded that many sections of the levees are sub-standard and would not hold up under severe rain events. The IBWC's Lower Rio Grande Flood Control Project's placed the total cost of repair at $125 million.
"The mistakes of Hurricane Katrina must not and cannot be repeated," said Hinojosa. "It is essential that we be as proactive as we can now in order to ensure that similar devastation doesn't happen again."
••••••
Congressman Hinojosa votes for clean water legislation, help for South Texas colonias
By ELIZABETH ESFAHANI
Congressman Rubén Hinojosa, D-Mercedes, Co-Founder and Chairman of the Congressional Rural Housing Caucus, on Wednesday, March 7, hailed passage of legislation reauthorizing $14 billion for the Clean Water State Revolving Fund over the next four years.
The program is the primary source of federal funding for clean water projects and provides low-interest loans to local communities for the construction of wastewater treatment facilities and other water pollution abatement projects. The 110th Congress marks the first time in 13 years that the fund has been reauthorized.
"With 20 percent of the country's population living in rural communities, it's critical that we address their infrastructure needs including access to clean water, working sewers, electricity, and other necessities. For more than a decade, the Clean Water State Revolving Fund has been an integral element in state and local efforts to deal with critical clean water infrastructure needs," said Hinojosa.
"As a community, our progress must be judged not by the status of our most fortunate members of society, but by that of our most challenged members. That is why I am committed to fighting for the resources needed to ensure a better standard of living for all Colonia residents and why I voted in favor of H.R. 720," said Hinojosa.
"There are more than 350,000 people who struggle in the unacceptable living conditions of the colonias every day," said Hinojosa. "Today's legislation addresses one of the fundamental goals of the Rural Housing Caucus and will go a long way toward improving the quality of life of those residents."
In addition to H.R. 720, The House of Representatives passed the following bills on the House Floor this week on clean water:
• H.R. 569, The Water Quality Investment Act. There is an increasing problem in many local communities across the country that, after heavy rainfall, sewer systems can overflow – in some cases due to aging sewer systems. This bill is a second bill to improve water quality – by authorizing $1.8 billion in grants to local communities over the next five years to construct treatment works to deal with sewer overflows. This bill is crucial because sewer overflows represent a major public health hazard. It will aid cities and states that find building or improving sewer infrastructure financially impossible without help from the federal government.
• H.R. 700, the Healthy Communities Water Supply Act. This bill is a third bill to improve
water quality. It authorizes $125 million for pilot projects to increase an area's usable water supply– by encouraging innovation in water reclamation, reuse and conservation. The bill will provide
funding for new technologies, including ideas like aquifer storage and retrieval and membrane
filtering technologies that have the potential to greatly increase our ability to use water more
effectively and efficiently. The bill will enhance usable water supplies in such areas as California
and parts of the Southwest that have long faced chronic water supply shortages amid continuing
population booms.
••••••
Congressman Cuellar secures commitment to help residents of colonias
By RUBÉN BAZÁN
The U.S. House of Representatives on Friday, March 9, passed H.R. 720, the Water Quality Financing Act of 2007. The bill will provide $14 billion in federal loan guarantees to help cities and towns finance water and sewer improvements.
During the floor debate, Congressman Henry Cuellar, D-Laredo/McAllen, secured an official commitment from Committee on Transportation and Infrastructure Chairman James L. Oberstar to help colonias and surrounding communities receive the help they need to improve living standards."Colonias lack the basic infrastructure that most Americans take for granted," said Cuellar. "With the negative impact on the health of residents, one of the greatest challenges facing colonias is access to water and sewer service."H.R. 720 ensures clean water and fosters economic development in local communities by helping pay for the building and improving of wastewater treatment facilities.
The bill will help colonias through a provision that requires states to set aside 15% of the money to communities with less than 10,000 people.
"I assure the gentleman [Mr. Cuellar] that this bill will go a long way to help states target additional support to the colonias," said Chairman Oberstar. "And we will work with the gentleman [Mr. Cuellar] to provide such language in the future." Cuellar continued, "I believe it is important that our communities are heard in Congress, and I will continue working with my colleagues in Washington to solve this increasing problem."
••••••
Sen. Lucio receives Outstanding Legislator Award for efforts on behalf of disabled persons in Texas
By DORIS SÁNCHEZ
For his support of expanding opportunities for independent living to disabled individuals, the Texas State Independent Council (SILC) on Monday, March 5, honored Sen. Eddie Lucio, Jr., D-Brownsville, with the Outstanding Legislator Award in Austin.Lucio, who was also singled out for his voting record in support of disabled people, said, "I am extremely flattered to be selected as the recipient of this award. I know there are some incredible Texans here tonight and I am honored to be in your presence."
"We selected Sen. Lucio because he has been so concerned about human needs and health issues, and he knows from his own personal experience what recovering from a disability is all about," said McAllen resident Morgan Talbot, vice chair of the Texas State Independent Living Council. "It is from his background that he understands the need for helping people with disabilities and he has been very supportive." Lucio was dragged by a bus he tried to board when he was in kindergarten.
He was in a cast for months and began crawling to re-learn how to walk.SILC advocates for the 21 statewide centers that facilitate programs providing the support, tools and encouragement necessary to enable people with disabilities to live on their own in the community, rather than in nursing homes or assisted living facilities.
The agency also promotes expansion of these independent living centers to other areas of the state.In the Rio Grande Valley, the Valley Association for Independent Living (VAIL) served 732 people in 2005 and 811 in 2006. VAIL headquarters is in McAllen with an office also in Harlingen.
"Independent living services are extremely important, not only for the individuals they directly serve, but for society as a whole," explained the senator. "The work the Council performs benefits not only the clients, but their families, communities, employers and friends as well.
"I support independent living efforts because if it means getting some recipients back to work and giving others the ability to hug their kids again, these services make a difference," added Lucio. "The admirable achievements of Víctor Álvarez, who was named Consumer of the Year, can be partially attributed to the efforts of SILC and VAIL, but especially to his determination to succeed by utilizing the resources they make available to him." For more information, the Texas State Independent Living Council maintains a website (www.texsilc.org).
••••••
Emergency hotline numbers, Email addresses posted for abuse allegations at Texas Youth Commission
By MELISSA DEL BOSQUE
A special command center has been set up to field complaints of abuse or exploitation at the Texas Youth Commission, Sen. Juan "Chuy" Hinojosa, D-McAllen, said Thursday, March 8.
"It's important that families and youth know that 24-hour phone hotlines and email addresses have been set up to field complaints of abuse at the Texas Youth Commission," Hinojosa said. "These are numbers where Texans can share confidential information that will help us reform the commission so that these horrible cases of abuse and exploitation never happen again."
To report abuse, neglect or exploitation of youth call the Command Center at:
1(866)-477-8354 or email [email protected]
Families and youth can also call the Texas State Auditor's Office to make a complaint:
1(800) 892-8348 or email [email protected]
••••••
Gov. Perry gives TYC legislation emergency status
Gov. Rick Perry on Monday, March 5 designated legislation addressing systemic failures at the Texas Youth Commission (TYC) as emergency items for the Texas Legislature. Perry also met with TYC special master Jay Kimbrough, TYC acting executive director Ed Owens and newly appointed TYC Chairman Don Bethel on Monday morning.
The emergency legislation would:
• Expand the jurisdiction for prosecution over crimes committed at TYC facilities to allow the current TDCJ special prosecution unit to handle such cases.
• Create a new TYC Inspector General with greater authority and independence of commission bureaucracy.
• Empower the Attorney General to have concurrent jurisdiction with the local county or district attorney for the prosecution of offenses involving TYC.
"If a local district attorney does not prosecute suspected child molesters, the state must have the authority to step in and enforce the law," Perry said. "With an Inspector General that reports directly to the Commission Board, we can ensure that administrative investigations are conducted with greater authority, the power of subpoena and independence from the bureaucracy."
On Friday, March 2, Perry appointed Jay Kimbrough as TYC Special Master and charged him with leading a commission-wide investigation of the commission's policies and procedures, reports of failures and wrong-doings by commission staff and specific instances of abuse.
Kimbrough has since coordinated his activities with Acting Executive Director Ed Owens; Attorney General Greg Abbott; key staff members for Lt. Gov. Dewhurst, Speaker Craddick and lawmakers; State Auditor John Keel; Texas Rangers Chief Ray Coffman; and Texas Department of Criminal Justice Inspector General John Moriarty.
"Every agency and officeholder I've spoken with has offered complete support for this investigation," Kimbrough said. "We have marshaled our resources, made assignments and have begun to execute our strategy. For the vast majority of youth commission workers who love their jobs and are committed to the mission, help is on the way."
Kimbrough said that the State Auditor's Office has agreed to provide an existing toll-free phone number, (800) TX-AUDIT, to report suspected criminal activity at TYC facilities.
••••••
Rep. Dunnam, House Democratic leader, calls on governor to fire TYC board
By KEVIN VICKERS
House Democratic Leader and Rep. Jim Dunnam, D-Waco, on Thursday, March 8, released the following statement in response to today's meeting of the House and Senate's Select Committee on Operation and Management of the Texas Youth Commission:
"Today, I am calling on Gov, Perry to fire the Board of the Texas Youth Commission.
"It is clear from the board members' testimony today, that they are totally incapable of reforming the TYC and protecting vulnerable Texas youth. Unfortunately, the Board members have refused to resign. However, Governor Perry has the responsibility and authority under the Texas Constitution to remove the Board immediately. Nothing short of the complete removal of the TYC Board is acceptable; and the committee's vote of no-confidence in the Board demonstrates that many of my colleagues agree.
"In spite of revealing testimony demonstrating the incompetence of the TYC Board, today's hearing did not give us a definitive answer to the most crucial questions: who knew what, and when did they know it? I am glad that Travis County District Attorney Ronnie Earle will help us get to the bottom of this story by aggressively investigating and prosecuting the destruction or alteration of government records in this case. This is not about politics — it is about demanding government accountability and doing what is right.
"I was also deeply moved by the testimony of the Texas Ranger who investigated the original cases of abuse at the TYC West Texas school. Ranger Brian Burzynski's dedication and commitment reflect the long and proud traditions of the Texas Rangers.
"Any Texas family who has experienced the horrible betrayal of sex abuse in TYC should come forward. It is now clear that sex abuse in TYC was not isolated to one facility in West Texas; instead it is a far too common occurrence at TYC facilities around the state."
••••••
Rep. Dutton, chairman of key House committee, files legislation calling for sweeping reforms at TYC
By NICOLE R. BATES
Rep. Harold Dutton, D-Houston, Chair of the Juvenile Justice and Family Issues Committee, on Tuesday, March 6, filed House Bill 2512. The bill calls for sweeping reforms in the Texas Youth Commission's (TYC) facilities in response to the recent allegations of abuse and mismanagement within the commission.
"It is imperative that we immediately restore public trust in our handling of juvenile offenders," Dutton said. "Parents and the courts need to have confidence that we are doing our best to protect these children while giving them another chance."
HB 2512 calls for limiting the total number of juvenile offenders detained by the TYC to a maximum of 3000 juveniles. This would ensure a more scrutinizing selection process so that only the most extreme offenders are detained by the TYC. Juvenile offenders of lesser crimes could be placed under the auspices of the Texas Juvenile Probation Commission or local community programs.
In an effort to remedy the myriad of problems caused by placing juvenile facilities in remote Texas locations and to make the detention facilities more accessible to offenders' families and local community support, the bill also requires the establishment of one or more community-based residential facilities in any county with a population of 600,000 or more. This would mean that more offenders could serve their sentence in their county of residence, since many juvenile delinquents come from urban or heavily populated areas.
In addition, the bill would limit future TYC facilities to house no more than 100 juveniles at a time and all current TYC facilities would be transferred to the Texas Department of Criminal Justice to be used for drug rehabilitation programs for adult offenders..
"House Bill 2512 begins the structural and cultural changes that will strengthen our juvenile justice system and ensure the safety of Texas juveniles," said Dutton.
••••••
House approves amendment to legislation that would punish alleged cover-ups at TYC facilities
By KEVIN VICKERS
Rep. Jim Dunnam, D-Waco, the House Democratic Leader, on Monday, March 5, offered an amendment to House Bill 8, also known as Jessica's Law, to make it a second degree felony for a state employee or a contract employee working for the state to cover-up an offense of "Continuous Sexual Abuse of a Young Child or Children."
The offense is punishable by two to twenty years in prison. The amendment was adopted on a vote of 135 to 7.
"In light of the abuses that have occurred at the Texas Youth Commission, this is a step in the right direction. I hope this legislation will help prevent future sexual abuse against Texas youth in state facilities.
"We must ensure that children in the state's custody are safe. And in order to do that we must ensure that no one attempts to cover-up these abuses."
Dunnam also on March 4 asked Speaker of the House Tom Craddick, R-Midland, to recognize him on a motion to bring House Bill 2340 to the House floor. HB 2340 would do several things to immediately help protect the youth in the care of the Texas Youth Commission (TYC).
Craddick's response to Dunnam's inquiry was "no."
"Speaker Craddick's disappointing and unfortunate action today speaks for itself. Apparently, neither Speaker Craddick nor Gov. Perry are willing to immediately address this sexual abuse scandal in a meaningful way.
"With all due respect, dispatching a couple of mini-vans of accountants to investigate serious allegations of criminal child sexual abuse in a state agency and a criminal cover-up of that abuse is like asking H&R Block to investigate a serial killer. Send in the Texas Rangers now. The safety of our children is at stake."
With bipartisan support, Dunnam and Rep. Tommy Merritt, R-Longview, filed HB 2340 that would immediately place TYC into conservatorship and strengthen the power of the conservator to address the sexual abuse scandals and subsequent cover-ups.
The bill would ensure that a conservator may legally be appointed over the TYC and require the conservator to station a Texas Ranger at every TYC facility to ensure the health, safety and welfare of the children in TYC's custody. It would also provide whistleblower protection for TYC employees who come forward with incriminating information.
The Dunnam-Merritt legislation would also create a specific toll-free number at the Texas Department of Public Safety to report information of improper behavior within TYC.
••••••Texas Senate approves measure by Sen. Lucio proclaiming "Desalination Day"
By DORIS SÁNCHEZ
Sen. Eddie Lucio, Jr, D-Brownsville, has introduced Senate Resolution 413 in the Senate Chamber that designated March 7, 2007, Texas Desalination Day to encourage ongoing investment in practical applications of desalination technology in the state.
Five years ago, Gov. Rick Perry launched an initiative to turn sea water into potable water. In late February, the Brownsville seawater desalination pilot was officially inaugurated, and soon the country's largest inland brackish groundwater desalination facility will begin operations in El Paso.
"As a state, we need to continue supporting desal technology and initiatives. The same technology that is being used on our Gulf waters is also helping our inland communities turn brackish groundwater into drinking water," said Lucio.
The idea for a desalination observance was developed jointly by members of the Texas Conservation Association and the South Central Membrane Association to raise awareness of the opportunities for this technology that exist in the state.
The senator explained, "I, for one, have seen—and tasted—the promise of desalinated water. I think no member of the Texas Legislature would argue when I say that of the many pressing demands on limited state resources, none is more important than water."
The population of Texas is projected to more than double from 2000 to 2060, increasing from 21 million to 46 million inhabitants. This growth will boost water demand by 27 percent; however, water supplies are expected to decrease by 18 percent, primarily because of accumulating sediments in reservoirs and depletion of fresh water aquifers. Desalination of seawater is a proven technology providing water supply solutions for countries worldwide and to communities across Texas, from Cameron County to San Angelo.
Major funding for seawater desalination studies has been provided by the Texas Water Development Board through a legislative initiative proposed by Gov. Perry in 2002. Further appropriations by the Legislature has allowed the Texas Water Development Board to fund numerous brackish groundwater desalination studies with the goal of accelerating development of new water supplies in rural communities.
••••••
Sen. Zaffirini files legislation promoting higher education excellence
By NICK ALMANZA
Sen. Judith Zaffirini, D-Laredo, filed legislation on Thursday, March 1, aimed at ensuring access, affordability and excellence in Texas higher education.
The six bills address multiple issues regarding higher education, from work-study mentorships to strengthening regulations banning hazing, and build on Zaffirini's highest legislative priority of supporting and advancing higher education throughout the state.
"Higher education, its practices and policies are of immense importance to our state's future because our growth, both economic and cultural, is coupled fundamentally with the success of our students and institutions," Zaffirini said. "These bills would enrich higher education practices and policies and help our students and institutions succeed."
SB 1050 would create new work-study opportunities by developing a program through which students could serve as peer mentors and tutors as part of their work-study financial aid program.
SB 1051 would provide waivers to the core curriculum for foreign students enrolled in international institutions in a joint-degree program with Texas colleges and universities.
SB 1052 would address higher education affordability by developing financial incentives to encourage students to complete the core curriculum at a community college and transfer to a four-year institution.
SB 1053 would require the Higher Education Coordinating Board, advising professionals and higher education representatives to develop an assessment of advisors at institutions of higher education to improve the quality of advising.
SB 1054 significantly would strengthen and clarify provisions of existing statutes banning hazing in schools.
SB 1055 would establish a commission to study and report on the projected need for faculty at public and private institutions of higher education.
Zaffirini is chair of the Senate Higher Education Subcommittee and a member of the Senate Education Committee. Prior to the 2007 legislative session she pre-filed SB 49, which provides financial relief to college students by allowing them to purchase textbooks tax-free during the beginning of the fall and spring semesters. Senator Zaffirini has filed a total of 49 bills for this year's 80th legislative session.
••••••
Sen. Lucio files bill to return power to set tuition rates back to the Legislature, away from colleges
By DORIS SÁNCHEZ
Sen. Eddie Lucio, Jr., D-Brownsville, on Monday, March 5, filed Senate Bill 1131 that would repeal tuition deregulation for higher education institutions in Texas and return control of setting tuition rates to the Legislature.
"In essence, my bill would freeze current college and university tuition rates at the 2006-07 levels," said Lucio, who opposed the tuition deregulation bill that passed during the 78th Regular Legislative Session. "We cannot continue in the path we are headed. Students are being priced out of a college education."
The statewide average for designated tuition for 15 credit hours in fall 2003, the last semester before tuition deregulation was implemented, was $625, and by fall 2006 it had risen to $1,125 according to estimates provided by the Higher Education Coordinating Board.
Since 2004, institutions have increased the total designated tuition charged to students from $51.8 million per year to $318.1 million for the 2006 year.
"I have been a college student for more than three years now, and I have never seen such an increase as the one we face today. With this increase, together with the high gas prices, it is making it even more difficult for students to continue with their higher education goal," said Carlos A. Martínez, a student at the University of Texas at Brownsville.
"This bill truly attempts to make college more affordable not just for today's students, but also for tomorrow's students," added Lucio.
Because most students will soon be pre-registered for fall classes, the bill would take effect immediately if it receives the necessary two-thirds vote in each chamber.
••••••
South Texas College President Dr. Shirley A. Reed honored at 2007 Border Texan of Year Dinner
By HELEN ESCOBAR
It was a night to remember for South Texas College President Dr. Shirley A. Reed, who was honored at the Border Texan of the Year Celebration Dinner on Wednesday, February 28 at Dodge Arena in Hidalgo.
Reed officially accepted the Border Texan of the Year award during the event, which is an annual tradition attracting more than 1,000 of the area's business, professional and government leaders.
The award is given by the BorderFest Association, the Hidalgo Chamber of Commerce and the City of Hidalgo.
"I was very touched by the recognition from old and new friends from education, business, government and the community at large from across the Valley," said Reed. "I have been so lucky in my career, coming to such a wonderful, thriving area with spirited, ambitious people. Yes, I have worked hard, but none of my accomplishments would have been possible without the support of every member of the Hidalgo and Starr county communities. I want to thank every single person that lives in the area. Your dedication to STC has been the cornerstone of my success. I accept this award on your behalf, as well as any woman struggling to reach for the stars. As I tell our students, anything is possible if you believe in yourself and give it 110%!"
Gary Gurwitz, founding member of STC's Board of Trustees, provided a unique look at Reed's personal life and biography, which moved many in the crowd.
"A number of the past recipients of this award have been national or statewide personalities," said Gurwitz during his speech. "Our homegrown recipients have lived and worked in the Valley most of their careers and have been outstanding in law, banking, business, education and other disciplines over many years. By contrast, this year's recipient is a relative newcomer to our Valley and our state and has achieved enormous results in just 13 short years. Just think of the tens of thousands of Valley people who have been positively impacted by what she has done in these few years and the best is yet to come."
Reed joins a prestigious list of former honorees including Governors George W. Bush and Rick Perry, Senators Kay Bailey Hutchison and John Cornyn, former Senator Phil Gramm, and Ambassador Tony Garza.
Reed was the founding president of South Texas College. Under her leadership, STC has flourished rapidly, growing to serve more than 18,000 students. In 2006, STC was named #2 in the nation of community colleges awarding associates degree to Hispanics and #3 in the nation of community colleges for enrollment of Hispanic students. She has expanded STC from one location to three campuses and two centers.
She has led STC to offers more than 90 degree and certification program options spanning an array of fields and opportunities. Because of her vision, dual enrollment programs are offered with high schools throughout Hidalgo and Starr Counties, providing opportunities for students to earn free college credits. Additionally STC reached a new milestone in fall 2005 as it began offering a Bachelor of Applied Technology degree in Technology Management. The college was granted accreditation, as one of only three schools in Texas, from the Southern Association of Colleges and Schools (SACS), to offer the four-year degree.
••••••
GOP Chairman Benkiser applauds House GOP leadership for taking child predators off the streets
By HANS KLINGLER
Republican Party of Texas Chairman Tina Benkiser applauded Republican leaders in the Texas House of Representatives for passing the "Jessica's Law" legislation. This legislation would strongly expand the criminal penalties for sexually assaulting a child.
"The Republican leadership in the Texas Legislature put sexual predators in this state on notice today. If you hurt our kids, you could suffer the ultimate penalty, the loss of your life," she said.
In 2005, 9-year-old Jessica Lunsford was abducted from her Florida home, sexually assaulted, and murdered by a convicted sex offender. States across the nation have been enacting stricter penalties for sex crimes against children. House Bill 8 authored by Debbie Riddle (R-Houston) and supported in a bipartisan manner would enact very strict penalties when dealing with persons who are convicted of sexually violent offenses against children.
"We must send a zero-tolerance message to predators that prey on our kids. The children of Texas are too important. Don't mess with them." Benkiser warned.
House Bill 8 will now go over to the Texas Senate where it will be considered along with the legislative efforts by Republican state senators to address "Jessica's Law".
••••••
Pew Hispanic Center to release report on Internet use among Latinos
The Pew Hispanic Center, in partnership with the Pew Internet & American Life Project, will release a report on internet use among Latinos Wednesday, March 14.
The report describes internet use within the diverse segments of the Hispanic population. It finds, for example, that Latino internet users are more likely to speak and read English, to have a high school degree and to have been born in the U.S. Only about one-third of Spanish-dominant Latino adults go online, compared with about eight-in-ten English-dominant Latino adults.
The report will be available on the Center's website, at 4:00 p.m., Wednesday, March 14, 2007.
The Pew Hispanic Center and the Pew Internet & American Life Project are non-partisan research organizations. They are part of the Pew Research Center and are funded by the Pew Charitable Trusts.
••••••
Texas Legislature Online offers wealth of information
By SEN. EDDIE LUCIO, JR.
For those of you with a little computer savvy and a big interest in the legislative process, information has just been made easier to access.
The Texas Legislature Online (TLO) web site (http://www.capitol.state.tx.us/ or http://www.legis.state.tx.us/ ) is considered one of the country's leading internet applications. It was first introduced in 1996 and has gradually been enhanced since then. Designed for the casual user, this system is easy to use and even contains a glossary for the "lingo" we use in the Legislature.
"TLO is an important Internet tool because it allows all Texans, regardless of how close or how far they live from the state Capitol, access to current information about the actions of their legislature," notes Linda Pittsford, manager of the Texas Legislative Council's Computer Support Center.
Although this virtual marvel is equipped with hundreds of capabilities, one of its most attractive features is the ability to tune into live broadcasts of the proceedings, as well as archived real video.
It allows you to track a bill from its infancy to its success or demise, and for the novice or someone needing a quick refresher course, it teaches you how to follow a bill.
The system is so "high-tech" that you can set up bill alerts and receive emails on the status and movement of a bill through the process. But these alerts aren't confined to email on your desktop computer; they are also available for email alerts through your cell phone or personal digital assistant (PDA). So you can be shopping at the grocery store, and that alert will go off telling you that the bill you're concerned about just passed out of the committee to which it was assigned. The system is so well-designed, it walks you through the steps needed to create the alerts.
There is another option that permits you to subscribe to RSS feeds, sort of like on the CNN web page. The feeds let subscribers know that new information is available on-line and sends these feeds to your home computer. And TLO also walks you through this function and how to install the necessary software for it as well.
Another attractive component of TLO is that it allows a bill's vote information to be accessed via several options, and House votes are posted within an hour. Before the House journal in which votes are recorded for the day is available, an unofficial vote report displays if it is a record vote and if the vote is not a record vote, a message that the journal is not available appears. Senate votes are available once the Senate Journal is published. However, all vote information for both the House and Senate prior to the 79th legislative session can be accessed only in the journals, also online.
One of the most talked-about abilities TLO provides is that of letting you create your own bill list, as simple or as elaborate as you need.
Another brand new feature is one that allows you to view the language of a House amendment while it is being discussed in the House Chamber. Amendments are provisions that are added to bills.
Committee reports are updated throughout the day on TLO. It also provides quick links to calendars that let you know what bills are up for consideration. This site includes links to the Texas statutes and committee reports on bills once they are heard.
Many people appreciate how interactive this system can be. It provides an area that allows you to ask questions or submit comments. With another click of the mouse or touch of the keypad, you can check and see who represents you not only in the House and Senate, but also in the U.S. Congress.
Remember, all it takes to access this and much more information is to log onto http://www.capitol.state.tx.us/ or http://www.legis.state.tx.us/.Online registration to receive emails and alerts is quick and simple.
Whether you live in a town near Austin, or as far away from the Capital City as Brownsville or El Paso, you can stay abreast of government in action. I highly recommend the Texas Legislature Online.
••••••
El Canelo Ranch hosts 2007 Heritage Ranch Gala
Heritage Associate FRIENDS and other guests to the Museum of South Texas History's Heritage Ranch Gala will be treated to a "high ol' time" at El Canelo Ranch in Kenedy County. Gourmet "grazing" and dancing under bright stars in a beautiful South Texas setting will make Saturday, March 24 an evening not to be missed.Stella García Zárate and her six children, Cecelia Dismukes of Houston, Laura Scanlan of Indianapolis,Mónica Burdette of El Canelo Ranch, Mike Zárate of Edinburg, Ricky Zárate of McAllen, and Vicky Adkins of Bainbridge Island, Washington will graciously open their family ranch for one evening to the Museum's guests.
The Gala will be set up in a meadow of wildflowers at the site of the original ranch headquarters of Isabel Yturria García's El Devisadero Ranch. Translated from Spanish, the name means overseer and was inspired by the fact that it sits on the highest elevation in Kenedy County and for hundreds of miles around. Isabel was the adopted daughter of Don Francisco Yturria (1830-1912), a prominent entrepreneur in South Texas and Northeastern Mexico.
To read more about the ranch history, visit the Museum's website, http://www.mosthistory.org.
Beginning at 6:30 p.m., guests will arrive and enter the ranch driving past the El Canelo headquarters and on to El Canelo II where the Gala will take place. Spotting wildlife along the way is highly likely as the Zarate Family is a good steward of natural habitat. Arriving at the Gala site, guests will enter and walk through the charming hacienda-style house which is home to Monica & Ray Burdette and the Inn at El Canelo, the Rio Grande Valley's first Bed & Breakfast. Leaving the house, guests will find themselves in a beautifully landscaped ranch garden where beverages will be available before making their way to the party site. There guests will mingle, enjoy hearty fare such as cabrito served on pan de campo cooked up by Don Strange of Texas, Inc., and kick up their heels to the tunes of Scott Randolph and White Lightening.
The Gala is the culmination of the Annual Heritage Associate Drive which raises a significant portion of the Museum's annual operating funds. Heritage Associates are donors whose gifts of $1,000 or more support the operation of the Museum each year. These donors will be honored guests.
Reservations for the Heritage Ranch Gala may be made by calling the Museum with a credit card. Current FRIENDS of the Museum may make a reservation for $150 per person and those who are potential FRIENDS may make a reservation for $165 per person. One can also become a FRIEND or renew your FRIENDship while making your reservations and take advantage of the special price. For security reasons, no one may be admitted to the event without an advance reservation.
Reservations are limited and should be made by March 16 For more information, call 383-6911 or go to http://www.mosthistory.org .