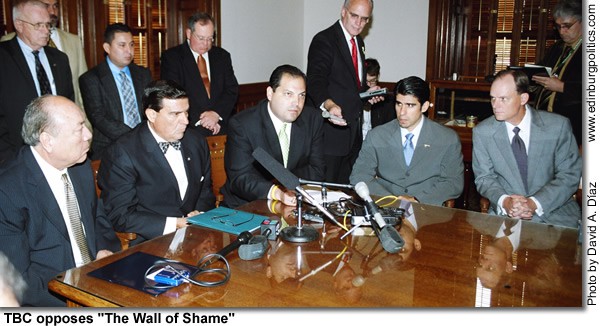 Hidalgo County Judge J.D. Salinas, center, on Wednesday, May 2, emphasized opposition from border leaders to plans by the federal government to build a border wall that could disrupt commerce between Texas and Mexico without increasing homeland security. Salinas was joined at a State Capitol news conference by numerous political and business officials, including, from left: Sen. Juan "Chuy" Hinojosa, D-McAllen; Sen. Eddie Lucio, Jr., D-Brownsville; Salinas; Rep. Eddie Lucio, III, D-San Benito, and Rep. Tracy King, D-Eagle Pass.  Hinojosa, a U.S. Marine combat squad leader during the Vietnam War, called the proposed barrier "The Wall of Shame".
••••••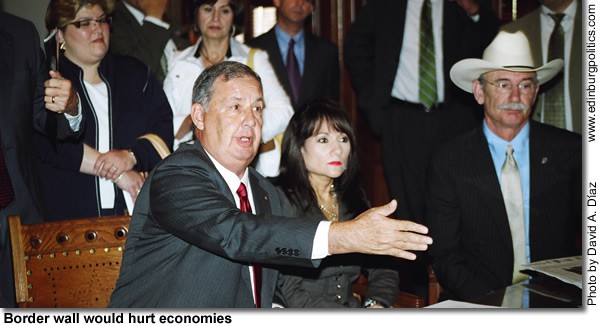 McAllen Mayor Richard Cortéz emphasizes the strong opposition to a planned border wall in deep South Texas that is being considered by the federal government as a way to curb illegal immigration. The wall would hurt the economies of the border region and Texas, Cortéz said during a May 2 press conference in Austin by the Texas Border Coalition. Featured with Cortéz are Rep. Verónica Gonzáles, D-McAllen, and Eagle Pass Mayor Chad Foster, chairman of TBC. "No one wants border security more than we do. However, we support security that is smart, takes advantage of our natural geographic barrier – The Rio Grande River – and doesn't repeat the mistakes of the past," Foster said. "Building a wall along the Rio Grande River accomplishes none of these goals."
••••••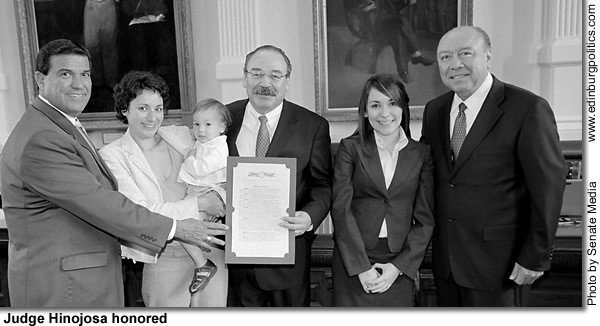 Former Cameron County Judge Gilberto Hinojosa (center) proudly displays the Senate Resolution honoring him for his years in public service presented on Tuesday, May 1 in the Texas Senate Chamber by Sen. Eddie Lucio, Jr., D-Brownsville (left). Joining Judge Hinojosa are Gina Hinojosa-Donisi (daughter) with her son Mateo, Xochitl Hinojosa (daughter) and Sen. Juan "Chuy" Hinojosa, D-McAllen (no relation to judge's family).
••••••
Key border leaders pull no punches in condemning planned wall in Texas
By DAVID A. DÍAZ
Powerful state officials have joined border leaders in roundly condemning plans by the federal government to build 153 miles of fortified fences – a border wall, as critics prefer to characterize it – mostly in deep South Texas as part of an immigration reform strategy that some say suggests racism.
The so-called border wall is supposed to help the federal government better control the flow of undocumented immigration into the U.S. from Mexico, and possibly make it more difficult for terrorists to get into the country. Opponents of the border wall to be built in Texas believe there are much better ways to reduce illegal immigration and improve homeland security, such as by increasing the number of U.S. Border Patrol officers and implementing high-tech security measures in the state.
A wall will send the wrong message to the world, and would create havoc along the state's border region, contends the Texas Border Coalition, an alliance of elected officials and economic development leaders representing more than two million border residents.
On Wednesday, May 2, TBC brought their message to the Texas Capitol, securing the support of the state's top legislative leadership, and the organization hammered the federal government for proposing the barrier, especially without the local input of border communities.
"Today marks a sad day for Texas and for our country in that we are being forced to tolerate a massive wall that will bring serious economic, economic, and psychological damage to those of us living on both sides of this proposed location," said Sen. Eddie Lucio, Jr., D-Brownsville. "Texas is connected to Mexico via 23 bridges. Through these bridges, we maintain our centuries-long blood-ties and friendships with Mexico, as well as our growing trade and tourism that benefit this state and this entire country. While our international bridges were built to better connect us, this wall will serve solely to divide us."
Lucio, who spoke at a May 2 Capitol press conference called by TBC, charged that "this wall is an affront to our culture, to our trade, and to our freedom by the federal government, and especially by the U.S. Department of Homeland Security and by Secretary Michael Chertoff, who promised us input before any decisions to build this wall were made in Washington."
Although Chertoff did not immediately respond, the federal government now says the proposed border wall is still in the development stage, and no final decision has been made on where it will be eventually located. The concerns raised by TBC also caught the attention of Texas' two U.S. senators in Washington, D.C.
Following the TBC news conference, U.S. Sens. Kay Bailey Hutchison and John Cornyn on Wednesday, May 2, called on DHS officials to work with Texas border leaders on any plans for construction of fencing and security barriers along the border. This call for cooperation by Cornyn and Hutchison follows concerns about inadequate communication from federal officials to local officials along the border, according to a joint announcement made by the two Republican lawmakers.
Sen. Juan "Chuy" Hinojosa, D-McAllen, called the proposed barrier "The Wall of Shame."
"This wall is really has a tinge of racism, that is why I call it 'The Wall of Shame,'" Hinojosa said during the TBC press conference. "(The 911 terrorists) didn't come from Mexico. They came from Canada. I ask, 'Why do we not put up the wall along the Canadian border? It is less secure than the Mexican border.' Quite frankly, it is because they are not Mexican."
Hinojosa, a U.S. Marines combat squad leader in Vietnam, said what the federal government is proposing for Texas "is a 'Wall of Shame' that has stained the reputation of our country and our democratic principles."
Eagle Pass Mayor Chad Foster, who serves as TBC chairman, said the planned wall has made border leaders "more united than ever, on a mission to protect the Texas border."
"No one wants border security more than we do. However, we support security that is smart, takes advantage of our natural geographic barrier – The Rio Grande River – and doesn't repeat the mistakes of the past," Foster said. "Building a wall along the Rio Grande River accomplishes none of these goals."
Foster said the Texas border with Mexico is unique "because we are the only state that has a river as a boundary line. What works in Arizona may not work in Texas."
He said a border wall has far-reaching implications, not just border security and immigration concerns.
"There are a lot of issues at stake: private property rights, the millions of dollars we invest in the hunting, fishing and birding industries in Texas, not to mention our own border communities," he said. There have been years of federal, state, and local government cooperation to improve the Rio Grande River, and a border wall can affect (water) runoffs."
Foster said TBC "is asking state leaders, who have a stake, to help us in Washington, D.C. , to achieve a right kind of border security that works for Texans and Texas."
Other leaders who joined Lucio, Hinojosa and Foster at the TBC May 2 press conference in Austin included Rep. Verónica Gonzáles, D-McAllen; Rep. Eddie Lucio, III, D-San Benito; Rep. Tracy King, D-Eagle Pass; McAllen Mayor Richard Cortéz; Hidalgo County Judge J.D. Salinas; Zapata County Judge Rosalva Guerra; Rio Grande City Mayor Kevin Hines; Hidalgo City Councilmember Guillermo Ramírez; Dennis Nixon, CEO of International Bank of Commerce of Laredo; Mike Allen, TBC vice-chairman, of McAllen; McAllen Police Chief Víctor Rodíguez; and Bill Summers, president and CEO, Rio Grande Valley Partnership.
The other elected officials on TBC include: Brownsville Mayor Eddie Treviño, Jr.; Cameron County Judge Carlos H. Cascos; Edinburg Mayor Joe Ochoa; El Paso County Attorney José Rodíguez; El Paso Mayor John F. Cook; Hidalgo Mayor John David Franz; Laredo Mayor Raúl Salinas; Harlingen Mayor Richard Rodríguez; Maverick County Judge José Pepe Aranda; Mission Mayor Norberto Salinas; Pharr Mayor Leopoldo Palacios, Jr; Roma Mayor Rogelio Ybarra; Val Verde County Judge Manuel Fernández; and Weslaco Mayor Joe V. Sánchez.
••••••
Sens. Hutchison, Cornyn call on U.S. Homeland Security to work with local officials on border wall
U.S. Sens. Kay Bailey Hutchison and John Cornyn on Wednesday, May 2, called on Department of Homeland Security officials to work with local officials on plans for construction of fencing and security barriers along the border. This call for cooperation by Cornyn and Hutchison follows concerns about inadequate communication from federal officials to local officials along the border.
"I am very concerned that the federal government respect private property rights," Hutchison said. "Months ago, we were given every assurance by DHS that state and local officials would be consulted on the location of the border fence. We expect DHS to honor their commitment to confer with the local landowners and elected officials."
"I am committed to ensuring that the Homeland Security Department consults with state and local officials on border security efforts. An open dialogue on the implementation of security measures along the border will ensure that we achieve these goals in the most effective manner," Cornyn said. "We must maintain a balance between security and legitimate trade and travel, which is so important to the economy in Texas border communities.
"In meeting with Secretary (of Homeland Security Michael) Chertoff several times over the last few months, including with our border sheriffs last week, he has made clear that he shares this commitment. We intend to hold him to it," Cornyn added. "In fact, I will be meeting with the Secretary on Capitol Hill this afternoon and will press him again on this. I appreciate the time he has taken to meet with our local officials to date, but we must make sure local officials, landowners and other stakeholders are part of this process."
Hutchison and Cornyn, both Republicans, requested in a November 17, 2006 letter that DHS Secretary Michael Chertoff meet with border community leaders and visit the border region. Secretary Chertoff met with local leaders and Hutchison and Cornyn in Hutchison's Washington office on January 17.
Chertoff and Cornyn also met with border mayors and county judges in Laredo on February 21.
••••••
Concerns over border wall need border summit
By SEN. EDDIE LUCIO, JR.
The proposed border wall is akin to the Maginot Line, a fortification the French built after World War I to protect them from further invasions.
The wall proved a failure during World War II because invading German forces maneuvered around it.
The border wall will bring serious economic, ecological and psychological damage to those of us living on both sides of its proposed location, but probably won't do much to deter river crossers.
I've introduced Senate Concurrent Resolution 43 in the International Relations and Trade Committee I chair, urging the U.S. Congress to extend laser visa stays from 30 days to six months, to give Mexicans parity with Canadians.
Mexican visitors' expenditures on the Texas border generate $9 billion in sales annually. Yet Mexican tourists don't just visit the border region, they also visit other parts of the state and country, injecting millions of dollars into the economies of these communities. Much like our Mexican visitors, thousands of Canadians spend their winters in South Padre Island with their six-month visas, adding to the area's revenues.
The wall could also negatively impact the $700 billion NAFTA trade in goods and services the three countries — United States, Mexico and Canada — currently enjoy.
To prevent further damage, I've called on our state leadership to hold a summit on the border, not in Washington, D.C., allowing the citizenry, experts, border legislators and business groups the opportunity to voice concerns and express alternative ideas to the 153-mile piece-meal barricade planned for certain Texas border cities and counties.
The opportunity to voice opinions was denied after U.S. Department of Homeland Security Secretary Michael Chertoff reneged on a promise to the border locals to seek their opinions before even thinking about building the wall.
It is reported that he told Laredo officials and Texas Border Coalition (TBC) members on February 21, 2007, "I do agree that where you have a significant river as a natural obstruction, fencing is not necessarily the right solution."
TBC, the group composed of border mayors, county judges, economic development commissions and businesses, continue to voice insightful proposals However, Washington only hears but doesn't listen. The summit would be the perfect forum to explore these ideas.
For example, the $50 billion cost to construct the wall could be better utilized to clear brush, especially the aggressive Carrizo cane, along the Rio Grande, where undocumented immigrants hide and smuggled drugs are stored. This money could also enhance the work of border sheriffs and the Border Patrol.
Brainstorming on long-term plans that would aid Mexico's economy to expand its job base should be another priority. The plan should include serious discussion of a guest worker program that meets the United States' labor and business changing needs, without usurping American jobs. Such a program could be a form of humanitarian aid to the desperate and hungry traversing the Rio Grande for the American Dream.
Virtual technology should be a high priority. There is a Senate bill proposing a pilot program using high-security drivers' licenses for Texas motorists to travel more easily in and out of Mexico. Effective technology could prove a less intrusive means of lowering illegal immigration, while monitoring the border for unsafe activities.
Mr. Dennis Nixon, chairman of the Alliance for Security and Trade in Laredo, said, "…Congress is so focused on the immigration problem on the southern border they are ignoring the gaping holes on the northern border that pose the largest security threat to this country since 9/11."
The summit should also be a forum for Homeland Security to inform us of the reality of terrorist threats from Mexico, especially since the arrests of 17 terrorists last year occurred in
Canada, not Mexico.
Washington also needs to explain threats to condemn riverfront property of Texas landowners through eminent domain, the government's power to condemn private land for public use. Texans shouldn't arbitrarily lose their lands to a federal fence.
If Texans wanted a divider with Mexico, we wouldn't have built 23 international bridges that have increased NAFTA trade and maintained our cultural and familial ties. The border wall can sever our progress and friendship. I, for one, will work to see that it doesn't become Texas' Maginot Line.
••••••
Hidalgo County Judge J.D. Salinas says proposed border wall is "doomed-from-the-start"
By CARI LAMBRECHT
Hidalgo County Judge J.D. Salinas joined members of the Texas Border Coalition, Sens. Eddie Lucio and Juan "Chuy" Hinojosa, plus Rep.Verónica Gonzáles and Eddie Lucio III on Wednesday May 2, at the state Capitol to adamantly oppose the U.S. Department of Homeland Security's ill-conceived plan to construct 370 miles of fencing along the southwestern border, of which 153 miles is slated to be built in Texas.
The plans — developed without any local input whatsoever and against the wishes of elected officials and business leaders — show that the Rio Grande Valley would be walled off from its friendly neighbor to the south by the end of 2008.
The Texas Border Coalition met with Lt. Gov. David Dewhurst and staffers from House Speaker Tom Craddick's office to share their concerns over this "wall of shame" or "Iron Curtain" and to ask for their assistance in putting a halt to this madness. State leaders said they stood behind this border-led effort that would ultimately affect the entire state. Dewhurst pledged to draft a letter to Congress opposing the wall.
TBC went into the May 2 meetings understanding that the border wall is a federal issue, but its members felt it was important to harness all the state's support in fighting the wall. Building a wall would spend money wastefully — $1.2 billion to be exact — do tremendous damage to Texas' relationship with Mexico, hurt the border economy, not to mention the environment.
"Yesterday, millions of people took to the streets, marching for immigration reform. It's obvious the will of the people is reform, not a wall," Judge Salinas said. "Historically, walls have crumbled under pressure. Recent statistics show that manpower, boots on the ground, more Border Patrol agents and National Guardsman are getting the job done. We don't need an overpriced unmanned wall."
Salinas and TBC said the money earmarked for this doomed-from-the-start project could be better spent cleaning up the river — clearing invasive carrizo cane would give Border Patrol agents a better line of sight — and things like levees and border infrastructure that would facilitate legal movement.
"It doesn't make sense that we'd put up barriers for people but not for floods that could wipe out parts of Hidalgo County," Judge Salinas said. "The federal government is not listening to those who live and know the border."
DHS Secretary Michael Chertoff met with border leaders, including Salinas, on Feb. 21, 2007, when, at that time, he said no wall would go up without local input. Chertoff also said: "I do agree that where you have a significant river as a natural obstruction, fencing is not necessarily the right solution." The Texas Border Coalition was stunned Friday when they learned of DHS' contradictory plans, which were supposed to be kept secret, according to an internal memo.
••••••
Congressman Hinojosa favors creation of federal border authority to help tackle border region's economic challenges
Congressman. Rubén Hinojosa, D-Mercedes, on Thursday, May 3, testified before a congressional
subcommittee in favor of the creation of a Southwest Regional Border Authority.
His remarks follow:
Chairwoman Norton, Ranking Member Graves and Members of the Subcommittee, I appreciate the opportunity to testify before you on H.R. 2068, which would establish the Southwest Regional Border Authority. I also wish to thank my colleague, Congressman Reyes, for his efforts to ease the poverty and financial hardships faced by residents of the Southwest border region by introducing this long-overdue legislation.
The U.S.-Mexico border region's economic challenges have become deeply entrenched as they have been overlooked by national policymakers. Throughout my district, low incomes and high unemployment have translated into a stagnant and depressed local marketplace. Many colonias along the border lack adequate water supplies and paved roads while a shortage of investment and development has limited the economic opportunities of residents throughout the region. In addition to current challenges, the border region is anticipating a rapidly expanding population and a resulting strain upon the area's local infrastructure which could exacerbate these problems.
Historically, Congress has confronted regional economic challenges by creating multi-state development commissions designed to coordinate local resources and encourage cooperation between federal, state, and local governments. While the Mississippi Delta and the Appalachian regions have received the focused attention of federally-sponsored economic development authorities, the federal government has neglected to provide leadership in addressing the dire needs of our southern border region.
The Southwest Regional Border Authority would represent a significant commitment by Congress to developing the economy of the Southwest. Because the challenges of this region cannot be isolated in any one city, county, or state, the Authority will work to stimulate the entirety of the area's economy by recognizing the connections between local economies and by coordinating the efforts of local officials.
By facilitating the provision of grants to states, local governments, universities, small businesses, and non-profit entities, the Authority will plant the seeds of future economic growth throughout the region.
By expanding transportation, public health facilities, wastewater treatment plants, and telecommunications networks, these grants will provide the border region with the infrastructure it needs to meet its current needs while preparing for the strain of an expanding population.
The provision of grants to state and local workforce development boards and to public and non-profit entities for job training and business development will assist the residents of border communities in attaining the skills needed to acquire well-paying jobs and to compete in the global economy. By creating a well-qualified workforce, the Authority would provide leadership in developing a diverse and sophisticated economy throughout the region.
Through research grants to universities, national laboratories, and non-profit organizations, technologies can be developed to ease the problems facing the region including water supply, public health, border security, and pollution while fostering economic development and creating skilled local jobs.
At a time when the mounting pressures of the global economy and income disparities are causing great economic distress in the border region, the Southwest Regional Border Authority has never been more needed. I appreciate the opportunity to testify on it today and encourage you to enact this legislation.
••••••
Congressman Hinojosa votes to override president's veto on bill requiring U.S. troop pullout from Iraq
By ELIZABETH ESFAHANI
Congressman. Rubén Hinojosa, D-Mercedes, on Wednesday, May 2, joined a majority in the House of Representatives to override the vetoed U.S. Troop Readiness, Veterans' Health and Iraq Accountability Act. This measure, rejected by the President yesterday, demands accountability from the Administration, delineates a phased plan for the Iraqis to take responsibility for their own future, and outlines a timeline for the redeployment of U.S. combat troops from Iraq. The bill received a majority of support, but not the two-thirds required to override the veto.
Hinojosa said:
"I am deeply disappointed that the President chose to veto responsible legislation that not only funds our troops beyond the President's request, but holds the Iraqi government accountable and outlines a plan to bring our brave men and women home. The president had an opportunity to amend what up until now has been a gross mismanagement of this war. Unfortunately, he has decided to let down the American people once again.
"The nation wants a new direction in Iraq. So while I will continue to see that our military has all the equipment and training they need, I will not support an Administration policy that puts more troops in harm's way with no clear goals on how to win the fight.
"Now is the time to reevaluate our strategy in Iraq. We need to redeploy our troops so they are not targets and the source of increased tension. We need to show the Iraqi government that they must step up to the plate now and make the hard political decisions necessary to save their country. They will never do this if we continue to prop them up.
"We have spent four years embroiled in this ill-planned, ill-advised war. Enough is enough. The president can no longer expect a blank check to do as he pleases."
••••••
House committee to hear resolution to award Texas Legislative Medal of Honor to Freddy Gonzalez
Rep. Aaron Peña on Tuesday, May 8, will present House Concurrent Resolution 121 calling for posthumously awarding the Texas Legislative Medal of Honor to Sgt. Freddy González before the Texas House Committee on Defense Affairs and State-Federal Relations. The hearing is scheduled for 8:00 am in room number E2.010 at the State Capitol in Austin.
Sol Marroquin the former chief of staff to Congressman Kika de la Garza, D-Mission, and author of "Part of the Team", a book on the life of Freddy González, is scheduled to testify before the committee. John Flores, author of "Freddy González: Timeless Story of a True American Hero", and others have also been invited to testify before the committee.
The Texas Legislative Medal of Honor is the highest military decoration that may be awarded by the state of Texas.
••••••
Hidalgo County Judge J.D. Salinas appointed to I-69 Alliance Board of Directors
By CARI LAMBRECHT
At the Friday, May 4 quarterly meeting of the Texas I-69 Alliance — a group of public and private sector leaders from 34 counties in Texas advocating for a safe, fast and controlled U.S. trade highway — Hidalgo County Judge J.D. Salinas was unanimously appointed to the Texas I-69 Alliance Board of Directors.
The Rio Grande Valley (Hidalgo and Cameron counties) has six members on the board: Mike Allen, Executive Vice President of External Affairs/ Strategic Projects at the McAllen Economic Development Corp.; Angela Burton, President/CEO of the Brownsville Chamber of Commerce; Alan Johnson, Executive Vice President/Regional Manager of Texas State Bank; Pete Sepúlveda, Executive Director of the International Bridge System in Brownsville; Pat Townsend, President/CEO of the Mission Economic Development Authority; and now, Salinas.
Bill Summers, President/CEO of the Rio Grande Valley Partnership — a regional chamber of commerce — serves as a Texas 1-69 Alliance co-chair.
"Until Judge Salinas was appointed to the board, the Valley did not have a judge representing us on the Alliance," Summers said. "It now shows that the County of Hidalgo is involved in the Alliance. We never had this kind of support from the county. The Texas Department of Transportation likes to hear from elected officials, not just business leaders. It's good to have him."
Salinas is eager to take on the responsibilities of a board member, which include providing feedback on state and federal legislation affecting the transportation corridor, garnering public support for the project and brainstorming ways to keep the project moving forward.
Last week, he already organized a meeting of leaders along U.S. Highway 281 to talk about transportation projects that would alleviate bottlenecks on the road, to prepare it for possible I-69 designation.
"It's important to me to address transportation issues in Hidalgo County and all along the proposed trade route because with improved and safer transportation, economic development follows," Salinas said. "It's all part of our big-picture vision for Hidalgo County."
••••••
Rep. Peña urges support for school property tax relief for senior, disabled homeowners in May 12 election
By REP. AARON PEÑA
Early voting has begun in communities all across the state of Texas. I encourage all citizens to participate in the democratic process and cast a ballot in your municipal and school board elections. We all have an opportunity to nurture a government that is responsible to will of the people.
I would like to bring special attention to an important constitutional amendment election that will help senior and disabled citizens in our community.
As a member of the Texas House of Representatives I was proud to co-sponsor Senate Joint Resolution (SJR) 13. I had the unique opportunity to work to get the legislation out of the Committee on Ways and Means, off of the House Floor and to the people of the state of Texas. SJR 13 proposes a constitutional amendment authorizing the Legislature to provide for a proportional reduction of school property taxes on the residence homesteads of the elderly or disabled.
Last session the Texas Legislature reduced school property taxes by one third. That rate cut was not applicable to residents aged 65 or older or disabled whose school property taxes had been previously frozen. Voters will now have an opportunity to redress that omission by casting a ballot in support of Proposition 1.
Many of the elderly and disabled in our communities are on a fixed income. With the rising costs of medical care, electric utilities and other necessary consumer goods we can provide them some much needed financial relief. This constitutional amendment simply extends to them the same proportional school property tax cuts that others previously received.
Early vote runs through Tuesday, May 8 and Election Day is Saturday, May 12. I urge all citizens to support senior tax relief and vote for Proposition 1.
••••••
State House Democratic Party leader Jim Dunnam blasts "Anti-Voter" registration bill approved by GOP
By KEVIN VICKERS
House Democratic Leader Jim Dunnam, D-Waco, on Tuesday, May 1, decried the passage of a bill through the Texas House which will prevent thousands of Texans from registering to vote.
The measure, known as House Bill 626, is similar to other measures being pushed throughout the United States aimed at decreasing minority registration and voting.
"This is nothing more than a more sophisticated literacy test and modern Jim Crow. It is shameful that House Republicans rammed through a bill to make it harder for Texans to register to vote," said Dunnam. "We should be making it easier for qualified Texans to cast a ballot, not harder."
"House Bill 626 takes us back 40 years, to the time of the poll tax and literacy tests. It is already a crime for non-citizens to vote in elections in Texas — this bill is totally unnecessary; instead of preventing non-citizens from voting, it will hurt everyday Texans across the state," continued Dunnam.
Voting rights advocates have pointed out that it is impossible to verify a voter's place of birth, which HB 626 requires be listed on Texas voters' registration certificates and verified by the Secretary of State.
Democrats offered an amendment which would have firmly restated state policy that no non-citizens should vote and also stiffened penalties for non-citizen voting. Republicans rejected the measure.
Dunnam concluded: "I am proud to have stood with many of my colleagues and fought for the right to vote for every Texan."
••••••
Texas Senate passes SB 769 by Sen. Zaffirini to improve state contracting practices
By NICK ALMANZA
The Texas Senate on Tuesday, May 1, passed Senate Bill 769 by Sen. Judith Zaffirini, D-Laredo, which significantly would improve the processes by which state agencies solicit, negotiate, enter into and manage contracts with vendors.
"Controversies regarding high-profile state contracts during the last several years have underscored the state's need for greater oversight and accountability in its contracting procedures," Zaffirini said.
SB 769 would subject major state contracts to a rigorous review process prior to its approval by using Governmental in Nature (GIN) analyses. What's more, the bill would expand the training processes for employees involved in contracting, improve contract reporting mechanisms for state agencies, require needed provisions to address amendments and address ethical issues specific to contracting.
SB 769 also would establish stronger review processes and safeguards prior to a state contract's approval and ensure that contractors perform outsourced duties and activities at the highest and most efficient quality levels.
In 2004 Lt. Gov. David Dewhurst directed Senate committee chairs to improve the accountability and provide stricter oversight of state outsourcing. Zaffirini served as chair of the Senate Finance Committee's Interim Subcommittee on State Contracting Practices and authored SB 12 (2005) based on the committee's findings.
SB 769 builds on SB 12 and includes additional reforms recommended by the Legislative Budget Board, various state agencies and the vendor community.
This bill must be passed by the House of Representatives before it can be sent to Gov. Rick Perry for final approval.
••••••
Gov. Perry urges legislators to support fiscal responsibility
Gov. Rick Perry on Wednesday, May 2, joined Texans for Fiscal Responsibility President Mike Sullivan and state legislators to emphasize the importance of fiscal restraint as the 2008 legislative session nears the end. In his State of the State address, Gov. Perry called on legislators to support an additional $2.5 billion in tax relief and to enact a tighter spending cap on state expenditures.
While commending legislators' budgetary restraint in passing budgets which leave roughly $8 billion unspent, Perry advocated using some of that money for tax relief. "I think it is reasonable to take about a third of that money and give it back to the people so it doesn't get spent just because we have it in our pocketbook."
Perry also advocated for a stricter spending cap, saying, "Taxpayers deserve a state spending limit that is actually a limit. I support tying spending increases to inflation and population growth."
Echoing his call from the beginning of session, the governor urged the legislature to promote greater budget transparency through detailed budget line items, rather than lump sum appropriations. Transparency initiatives also included disclosure of public funds on agency websites. Since January, the governor's office has posted all expenditures on the web. This effort was also met by the Texas Education Agency and the Comptrollers' Office. Gov. Perry also reiterated the importance of instilling a spending cap which ties spending increases to inflation and population growth.
"I commend legislators for supporting the elimination of the TIF tax and the end of large payment delays," Gov. said. "But there are still billions of dollars of spending gimmicks that, if not addressed when we have a record surplus, never will be."
Sullivan mailed 80,000 pieces of direct mail into the House districts of members sitting on Appropriations, Ways and Means and Local Government Ways Means Committees. Each mail piece contained a perforated post card an individual could send their representative urging a stricter state spending limit, real budget transparency in government, and the elimination of taxes and fees no longer needed. The response has generated more than 6,000 returns.
Noting that there are still 26 days left in session, Perry urged action on taxpayer protections, saying, "Let's make sure it's the taxpayers who have a good session – not just big spending special interest groups."
••••••
Senate Finance Committee approves SB 49 by Sen. Zaffirini for tax-free college textbooks
By NICK ALMANZA
The Senate Finance Committee on Thursday, May 3, recommended passage of Senate Bill 49 by Sen. Judith Zaffirini, D-Laredo, which would provide financial relief to college students by allowing them to purchase textbooks tax-free during the beginning of the fall and spring semesters. As chair of the Senate Higher Education Subcommittee, Zaffirini is committed to improving higher education accessibility and affordability.
"I would prefer to exempt textbooks from sales taxes year-round," Zaffirini said, "but this is a good first step."
SB 49 would establish two, 10-day periods per year during which a college student with a valid student identification card could purchase textbooks tax-free.
"The costs associated with higher education are becoming increasingly burdensome," Zaffirini said. "This bill would provide students with much needed financial support by creating two 10-day periods during which they could purchase textbooks tax-free. I am delighted that SB 49 was reported favorably by the Senate Finance Committee and thank Lt. Gov. David Dewhurst for supporting this bill that would increase student participation, higher education affordability and success."
According to the College Board, a non-profit higher education resource that administers the AP and SAT tests, student expenses for books and supplies increased 3.4 percent in 2003-04. Textbooks cost students at four-year institutions an average of $843 per year and students at two-year institutions an average of $745 per year.
This is Zaffirini's third attempt to pass this legislation. She authored similar bills during the 2005 Regular Legislative Session and Special Session.
••••••
Attorney General Abbott halts unlawful marketing of "cocaine" drink
Texas Attorney General Greg Abbott on Wednesday, May 2, filed a legal action against a Nevada company and its three Texas distributors for the marketing and selling of an energy drink as an unapproved drug, claiming it is a "legal alternative" to illicit street drugs.
The Dallas County District Court issued a temporary restraining order halting all Texas marketing and distribution of the drink, "Cocaine." Redux Beverages touts the canned drink as "speed in a can" and "liquid cocaine," with "warnings" that consumers who drink the product may succumb to "excess excitement, stamina, fun and possible feelings of euphoria."
"Texans will not tolerate the peddling of unapproved drugs," said Attorney General Abbott. "This advertising campaign entices young people with illegal drug references and false claims of health benefits. The Office of Attorney General will continue to aggressively enforce this state's consumer protection laws to ensure that Texans will not be deceived by the marketing of unapproved drugs."
A temporary injunction hearing in the case is set for Wednesday, May 16, at 9:30 a.m. in the 44th District Court of Dallas County.
The Texas Department of State Health Services recently detained a large quantity of the drink, valued at almost $200,000, at several warehouse locations in the Dallas area. The agency then referred the case to the Office of Attorney General for legal action.
In a warning letter issued to Redux, the U.S. Food and Drug Administration (FDA) noted that because the company markets Cocaine as an alternative to street drugs, including claims that it mimics the effects of recreational drugs, then Redux cannot also promote the product as a dietary supplement. Furthermore, the FDA considers street drug alternatives to be unapproved new drugs that are prohibited in the marketplace.
According to the Attorney General's filing, the company's claims that users can get high and feel euphoric make the product a drug, yet the FDA has not approved it for use as a drug. Without scientific proof as required by the FDA, the company also makes health claims that Cocaine lowers cholesterol, prevents hardening of the arteries, protects nerve fibers from glucose damage, and may be used in the treatment of depression or anxiety.
The Attorney General brings this action under the Texas Food, Drug and Cosmetics Act and the Texas Deceptive Trade Practices Act, which allow for penalties, respectively, of up to $25,000 and $20,000 per violation.
••••••
Senate honors former Cameron County Judge Gilberto Hinojosa for public service
By DORIS SÁNCHEZ
The Texas Senate joined Sen. Eddie Lucio, Jr., D-Brownsville, on Tuesday, May 1 in paying tribute to former Cameron County Judge Gilberto Hinojosa for his years of service.
The following were Lucio's remarks in the Senate Chamber:
"Having begun his career as an elected official by winning a seat on the Brownsville Independent School District board of trustees in 1984, Judge Hinojosa then assumed the first of several judicial positions with his appointment to the bench of Cameron County Court-at-Law 2 in 1985.
It was in 1986 when then-Gov. Mark White appointed him to a seat on the 107th Judicial District Court, on which he served until he successfully ran for Justice of the 13th Court of Appeals in 1990.
Instilled with a deep concern for his South Texas homeland and having extensive knowledge of public affairs, Judge Hinojosa turned his attention to county government and was elected to the office of Cameron County Judge in November 1994, where he served until December 2006.
His efforts to improve the quality of life for the area residents of Cameron County have had a lasting and enduring influence, and he may reflect with justifiable pride on the legacy of achievement that he has established."
The Senator then called on the members to welcome a "True Texas leader," and his family to the Texas Senate.
Joining Judge Hinojosa on the Senate floor were his daughters Gina Hinojosa-Donisi, her son Mateo, and Xochitl Hinojosa.
••••••
Edinburg Chamber of Commerce to sponsor Edinburg Expo 2007 on Tuesday, May 22
By EVANA VLECK
On Tuesday, May 22, the Edinburg Chamber of Commerce is hosting an Edinburg Expo. This will be the first Expo which will include local restaurants, shops, hotels and attractions. All Edinburg businesses are encouraged to take part in the Expo which will feature the BEST Edinburg has to offer.
The Edinburg Expo will take place at the Edinburg Activity Center, located on 123 E. Palm Drive, from 4:00-8:00 p.m. The chamber will accept the first 50 paid registrants on a first-come first-serve basis.
Letty Martínez, president of the Edinburg Chamber of Commerce President, said, "We are very excited about our upcoming expo; Edinburg is growing rapidly, and we need to keep our community informed of what's out there. The Expo is one way to bring Edinburg together under one roof, and show our citizens what Edinburg offers."
Booths are only $50 with an optional $25 for electricity. The Edinburg Expo is a free community event; for more information please call 956-383-4974.