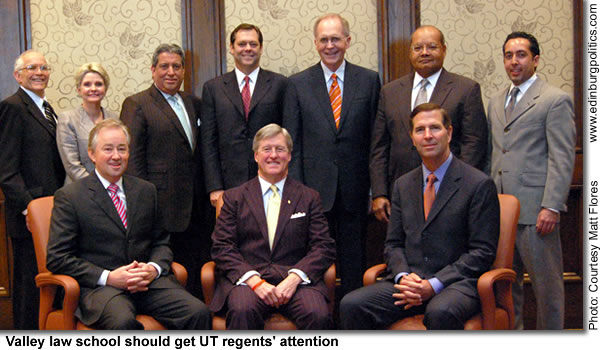 The University of Texas Board of Regents, the governing body for The University of Texas System, will hold their next regular meeting at the University of Texas-Pan American in Edinburg on Wednesday, February 6 and Thursday, February 7. The regents, who are appointed by the governor and confirmed by the Senate, wield tremendous influence over how and where the UT System's $10.7 billion, two-year budget is spent. District Judge Susan Criss, D-Galveston, a candidate for Texas Supreme Court, has called on the UT System to bring a law school to the Rio Grande Valley, which is predominantly Hispanic. "Of the more than 77,000 lawyers in Texas, only 14 percent are from minority populations, according to a report produced last spring by the State Bar of Texas," said Criss. "Yet more than 59 percent of Texas schoolchildren are considered to be from minority populations, and Mexican Americans make up one-third of our state's population. We need to encourage more minority students to pursue careers in the law." Featured in this group portrait taken in November are: standing from left: James D. Dannenbaum; Colleen McHugh; Robert A. Estrada; Paul Foster; John W. Barnhill, Jr.; Printice L. Gary; and student regent Randal Matthew Camarillo. Seated from left: Vice Chairman James R. Huffines; Chairman H. Scott Caven, Jr.; and Vice Chairman Robert B. Rowling. The UT Board of Regents is composed of nine members who are appointed by the Governor and confirmed by the Senate. Terms for regents are scheduled for six years each and staggered so that three members' terms will usually expire on February 1 of odd-numbered years. In addition, the governor appoints a student regent for a one-year term that expires on May 31.
•••••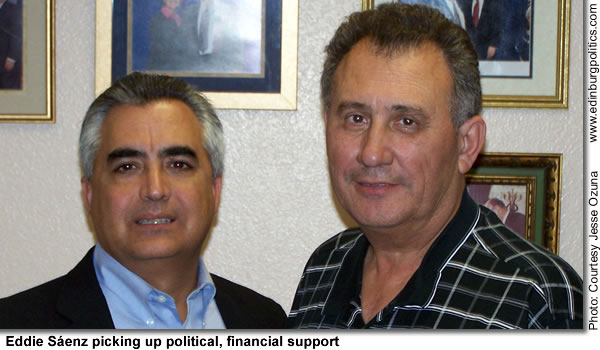 Eddie Sáenz of Edinburg, featured right with La Joya Mayor Billy Leo, who has endorsed his bid for state representative, House District 40, continues to build momentum – and financial support – in his bid to unseat Rep. Aaron Peña in the March 4 Democratic Party primary. Sáenz has raised more than $140,000 between July and December 2007, according to his campaign finance report released on Tuesday, January 15. Sáenz' report for the period ending December 31 shows that he has raised $140,835 since launching his campaign last September, with an average donation of $800 from 45 individual contributors and including a $105,000 loan from the candidate. See story featured later in this posting.
••••••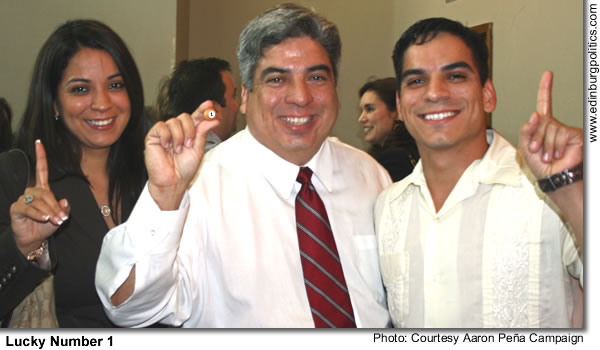 Rep. Aaron Peña, D-Edinburg, who is facing a challenge from Eddie Sáenz, also of Edinburg, in the March 4 Democratic Party primary, displays what he hopes is a good omen – a dice that he drew containing the number 1, which placed his name first on the election ballot for the House District 40 legislative district, which includes most of Edinburg. He was among dozens of elected officials, candidates, family members, and Democratic Party activists who showed up at the auditorium in the Hidalgo County Courthouse on Thursday, January 10, to draw for places on the ballot for contested state and local offices in Hidalgo County. "Local political lore maintains that the first poll position is to be desired and can be advantageous," Peña said after the drawing. "I am not quite sure if this is true but most of the candidates in the room this night seem to share the belief that it does." Also celebrating what they hope is a lucky pick by the local legislator were his daughter, Adrienne Peña Garza, and his son Aaron. A list of the contested races in Hidalgo County, with the order in which the names will appear on the ballot, is featured later in this posting.
••••••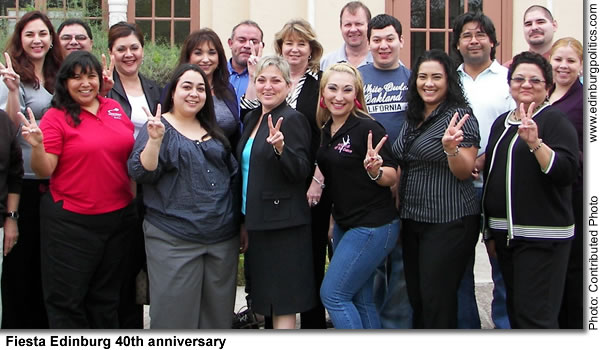 To help celebrate Fiesta Edinburg's 40th Anniversary, the Edinburg Chamber of Commerce and Fiesta Edinburg is going "retro". On Thursday, February 21, the community is invited to participate in Fiesta Hidalgo's first Disco Dance Party to help kick off the annual event's fourth decade. The festivities will be held in the Edinburg Activity Center, located on 123 Palm Drive. The Fiesta Edinburg Committee, featured in this promotional photograph, are hosting the Disco Dance Party, featuring the popular Deejay, "Johnny Joe". The dance will take place from 7-11 p.m., and everyone is invited to come out and take part in reliving the 70's. Attendees are encouraged to dress up in their flashy "retro" attire, as there will be a costume contest with $100 prize money, and $100 also will be awarded to the best dancer. The fee is $5 per person. For more information, contact the local chamber at 956-383-4974.
•••••• (more…)