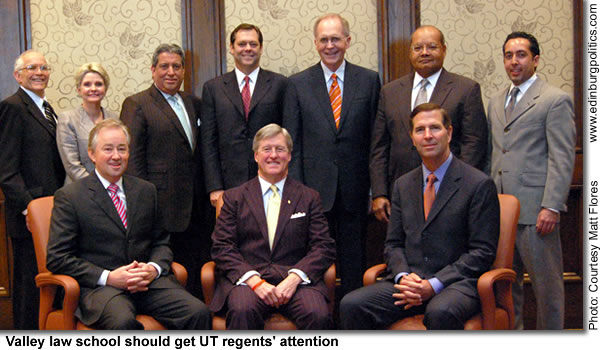 The University of Texas Board of Regents, the governing body for The University of Texas System, will hold their next regular meeting at the University of Texas-Pan American in Edinburg on Wednesday, February 6 and Thursday, February 7. The regents, who are appointed by the governor and confirmed by the Senate, wield tremendous influence over how and where the UT System's $10.7 billion, two-year budget is spent. District Judge Susan Criss, D-Galveston, a candidate for Texas Supreme Court, has called on the UT System to bring a law school to the Rio Grande Valley, which is predominantly Hispanic. "Of the more than 77,000 lawyers in Texas, only 14 percent are from minority populations, according to a report produced last spring by the State Bar of Texas," said Criss. "Yet more than 59 percent of Texas schoolchildren are considered to be from minority populations, and Mexican Americans make up one-third of our state's population. We need to encourage more minority students to pursue careers in the law." Featured in this group portrait taken in November are: standing from left: James D. Dannenbaum; Colleen McHugh; Robert A. Estrada; Paul Foster; John W. Barnhill, Jr.; Printice L. Gary; and student regent Randal Matthew Camarillo. Seated from left: Vice Chairman James R. Huffines; Chairman H. Scott Caven, Jr.; and Vice Chairman Robert B. Rowling. The UT Board of Regents is composed of nine members who are appointed by the Governor and confirmed by the Senate. Terms for regents are scheduled for six years each and staggered so that three members' terms will usually expire on February 1 of odd-numbered years. In addition, the governor appoints a student regent for a one-year term that expires on May 31.
•••••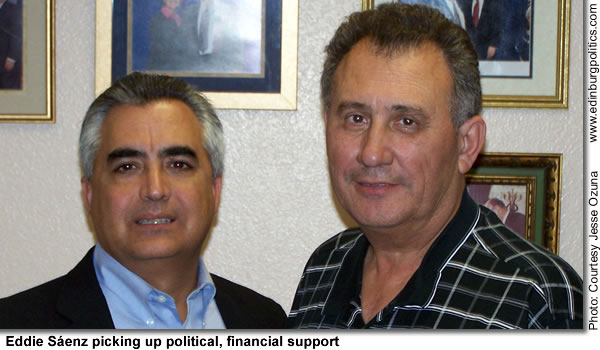 Eddie Sáenz of Edinburg, featured right with La Joya Mayor Billy Leo, who has endorsed his bid for state representative, House District 40, continues to build momentum – and financial support – in his bid to unseat Rep. Aaron Peña in the March 4 Democratic Party primary. Sáenz has raised more than $140,000 between July and December 2007, according to his campaign finance report released on Tuesday, January 15. Sáenz' report for the period ending December 31 shows that he has raised $140,835 since launching his campaign last September, with an average donation of $800 from 45 individual contributors and including a $105,000 loan from the candidate. See story featured later in this posting.
••••••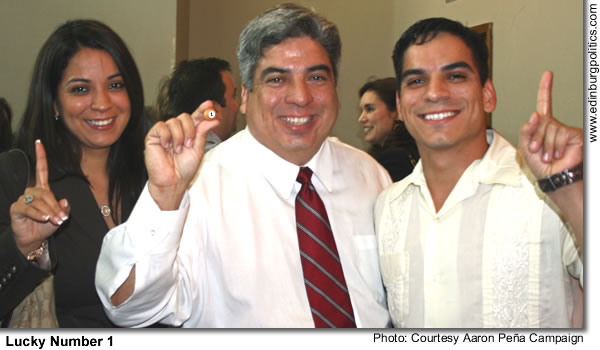 Rep. Aaron Peña, D-Edinburg, who is facing a challenge from Eddie Sáenz, also of Edinburg, in the March 4 Democratic Party primary, displays what he hopes is a good omen – a dice that he drew containing the number 1, which placed his name first on the election ballot for the House District 40 legislative district, which includes most of Edinburg. He was among dozens of elected officials, candidates, family members, and Democratic Party activists who showed up at the auditorium in the Hidalgo County Courthouse on Thursday, January 10, to draw for places on the ballot for contested state and local offices in Hidalgo County. "Local political lore maintains that the first poll position is to be desired and can be advantageous," Peña said after the drawing. "I am not quite sure if this is true but most of the candidates in the room this night seem to share the belief that it does." Also celebrating what they hope is a lucky pick by the local legislator were his daughter, Adrienne Peña Garza, and his son Aaron. A list of the contested races in Hidalgo County, with the order in which the names will appear on the ballot, is featured later in this posting.
••••••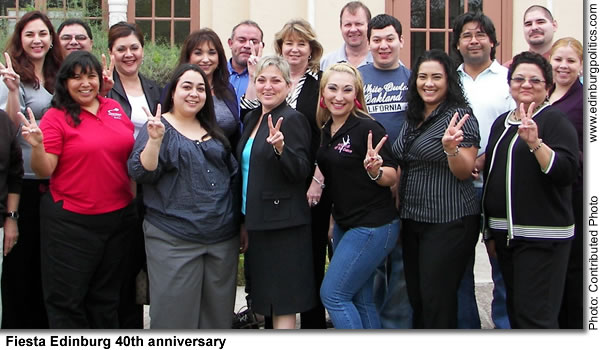 To help celebrate Fiesta Edinburg's 40th Anniversary, the Edinburg Chamber of Commerce and Fiesta Edinburg is going "retro". On Thursday, February 21, the community is invited to participate in Fiesta Hidalgo's first Disco Dance Party to help kick off the annual event's fourth decade. The festivities will be held in the Edinburg Activity Center, located on 123 Palm Drive. The Fiesta Edinburg Committee, featured in this promotional photograph, are hosting the Disco Dance Party, featuring the popular Deejay, "Johnny Joe". The dance will take place from 7-11 p.m., and everyone is invited to come out and take part in reliving the 70's. Attendees are encouraged to dress up in their flashy "retro" attire, as there will be a costume contest with $100 prize money, and $100 also will be awarded to the best dancer. The fee is $5 per person. For more information, contact the local chamber at 956-383-4974.
••••••
Judge Susan Criss raises $317,000 in her Democratic campaign for Texas Supreme Court, Place 8
Judge Susan Criss, D-Galveston, running for the Democratic nomination for Texas Supreme Court Place 8, on Thursday, January 16, reported her latest campaign finance report, showing that she has raised more than $317,000 for her campaign to restore balance and justice to the state's highest court.
"People from every corner of our state are signing on to my campaign to protect their constitutional rights," Criss said. "They deserve better than what they're getting from the current court, and they are willing to make sure I have the resources to run a winning campaign."
Criss' report shows that she has raised $317,083 since entering the race last year, including $260,057 for the period from July 1, 2007 to December 31, 2007. Her report showed $150,549.72 cash on hand as of the end of the year.
A former prosecutor and criminal defense attorney, Criss served as assistant district attorney in Galveston County from 1986 to 1997 before being elected to the 212th District Court in Galveston County, where she handles felony criminal and civil cases.
Criss has spearheaded tougher sanctions against sex offenders and fought for stronger child protections, and directed the Gulf Coast Task Force on Jail Diversion for the Mentally Ill, a groundbreaking group that seeks to secure treatment for non-violent mentally ill offenders in the community while saving taxpayers money and freeing up jail space for violent criminals.
She has been recognized around the nation for leadership on behalf of women judges and the recruitment of minorities for careers in the law.
As part of that commitment, Criss recently called on the University of Texas System to support the creation of a UT Law School in the Lower Rio Grande Valley, which is predominantly Hispanic.
"Of the more than 77,000 lawyers in Texas, only 14 percent are from minority populations, according to a report produced last spring by the State Bar of Texas," said Criss. "Yet more than 59 percent of Texas schoolchildren are considered to be from minority populations, and Mexican Americans make up one-third of our state's population. We need to encourage more minority students to pursue careers in the law."
Her dedication to minority issues and protecting working families also stems from her family, including her father, former Rep. Lloyd Criss, D-Galveston, who in the 1980s helped shape legislation she says freed thousands of Texas farm workers from working conditions she called "slavery."
After earning a BA in Government from the University of Texas at Austin and a law degree from the South Texas College of Law in Houston, Criss started her legal career as a law clerk in the Texas Attorney General's Environmental Protection Division and has also run her own private practice.
Recognized nationally as an advocate for fairness and equal opportunity in the justice system, Criss has received numerous awards, including the 2005 People Making A Difference Award from the Fred C. Johnson Foundation, the 2004 Outstanding Woman Officeholder in Texas Award from the Texas Democratic Women Association, and the 1994 Outstanding Young Lawyer of Galveston County Award.
(David A. Díaz contributed to this article.)
Pd. Pol. Adv. by Susan Criss Campaign; Lloyd Criss, treasurer; PO Box 16474, Galveston,TX 77552
••••••
Edinburg City Councilmember Espinoza bristles at Councilmember Garcia's references to corruption in city's awarding of professional services contracts
By DAVID A. DÍAZ
Negotiations with an architectural firm to renovate the existing Edinburg City Hall into a state-of-the-art Fire Administration and Emergency Operations Center were authorized by the Edinburg City Council on Tuesday, January 15, but not before Councilmember Gene Espinoza objected to concerns raised by Councilmember Gus García, Jr. that one of two other competitors be given the first shot at the city project.
The city government has $60,000 budgeted for the design of architectural renovation project, according to City Manager J.J. Rodríguez, who provided the council with the qualifications of Milnet Architectural Services, Boultinghouse Simpson Architects, and V•A Architecture, all of McAllen.
The city manager did not recommend anyone, leaving it up to the elected leadership to make the decision.
García cast the only vote against opening negotiations with Milnet Architectural Services, as favored by Espinoza.
While praising Milnet Architectural Services, which most recently worked on the major renovation of the former Park Bowl bowling alley into the Dustin M. Sekula Memorial Library, García said he wanted other businesses to have the chance to land contracts with the city government – suggesting that such a practice would reduce the public perception of corruption.
That comment by García set off Espinoza, who condemned such references as "insulting."
In recent months, the federal government has indicted numerous political leaders elsewhere in the Valley on charges of accepting alleged bribes and other kickbacks in exchange for awarding local government contracts to private businesses.
The chain-of-events leading to the brief flare-up at the Edinburg meeting, which was broadcast by the Edinburg Cable Network on Time Warner Cable channel 12, began innocently enough:
"Mayor, I move that we select Milnet," Espinoza said when the contract negotiations came up on the agenda.
Mayor Pro Tem Noe Garza seconded Espinoza's support for Milnet Architectural Services, prompting the following exchange between García and Espinoza:
García:
"Mayor, one comment. I know that in the past, we have discussed trying to divvy out contracts to different firms and giving everybody an opportunity to work with the city. I am very happy with Milnet Architectural Services. I know they did the library.
"But for the sake of being fair, and trying to, you know, spread the work around so that other people in the community, other businesses in the community, can have an opportunity to have some work from the city, just to keep things fair and on an even keel, I would like for the council to consider possibly giving it to someone else who possibly hasn't had an opportunity in the past.
"So, I am asking Mr. Espinoza to change his recommendation and possibly, maybe one of the other firms, giving someone else an opportunity to get some of the city business, just to be fair to all vendors applying for work here in the city. Nothing against Milnet Construction. They have done a wonderful job, Mr. Molina, at the library. I think it is just important to give everybody an opportunity to do some work in the city. That's all."
(García was referring to Rodolfo Roel Molina, Jr., A.I.A, who would be the principal in charge of the renovation and modernization of the old city hall project for Milnet Architectural Services. Molina was in the audience during the discussion.)
Espinoza:
"On high-dollar projects like this, or anytime we enter into – you know, the way the construction in our building has been lately, I don't mind passing – in fact, I'm the one that, when first elected, started that, where we are sharing more of the engineering work, instead of it going one way. But when it comes to construction and remodeling like this, I feel more comfortable going back with someone who has proven themselves. I think Mr. Molina did a good job with the library. I think he went above and beyond what was actually in his contract. That's why I…."
García:
"No question, I have to agree with you. I think Mr. Molina did a wonderful job. I know Mr. Snider, our fire chief, has approved this, and Mr. (city manager) Rodríguez has signed off. I'm sure that the other firms on here are more than qualified. As a matter of fact, I have worked with at least one of them on different occasions in my private industry, or private business, and quite frankly, they wouldn't be on here unless they were qualified and had the qualifications to do these type of jobs.
"I think that the qualification process is something that we go through and make sure they have proper references. Because it is a significant job and a significant amount of the taxpayers' money, I just want to be cautious whenever we award bids to different professional firms because there tends to be a perception in the community that, you know, as of late, there has been government apprehensions, and even indictments on council members throughout the Valley, because they awarded to certain contractors, to certain professional firms.
"My whole point is to avoid that whole situation by just being fair across-the-board, and obviously look at their qualifications, make sure they are qualified, they have the proper references, and they have the time to do the work. Again, I say Mr. Molina has done a fantastic job at the library…"
Espinoza:
"My answer is, Councilman García, I am very aware of what happens in the Valley and what is going on. And to even suggest that I may not know what is going on is absurd."
García:
"Well, no…"
Espinoza:
"Hold on, I'm talking.
"This man (pointing at Molina in the audience) is a professional.
"He has done work for us before. I have all the confidence in the world in him. And for you to even bring any of that up in your discussion is insulting."
In a separate action, the city council unanimously approved a motion by Espinoza to spend almost $30,000 more on an existing contract with Enríquez Enterprises, Inc. of Edinburg, which is working on the ongoing construction of the public safety complex.
The public safety complex involves a significant expansion and renovation of the facilities that currently house the police department and municipal court.
Enríquez Enterprises, Inc., a successful family-owned endeavor whose leadership includes former longtime Edinburg school board trustee Gilbert Enríquez, has a strong track record of accomplishment in the city: among its many projects, it built the state-of-the-art Edinburg Professional Baseball Stadium in the late 1990s, and is the general contractor for the ongoing construction of the multi-million dollar Edinburg City Hall.
Since the majority of the city government will be moving into the new city hall later this year, the current city hall will become a center for emergency responses featuring the Edinburg Fire Department.
The city manager laid out the need for the increase in the contract with Enríquez Enterprises, Inc., known as a change order.
"As part of the ongoing construction of the Public Safety Complex, Addition and Renovation, Municipal Court, staff and (Municipal Court) Judge (Toribio) Palacios have requested proposals for additional surveillance cameras, security panic buttons, and installation of conduit and boxes," Rodríguez stated in his agenda packet summary to the city council.
"Judge Palacios has requested a new wall and door for security purposes from his office to the judge's bench. Steel security mesh is also requested in the holding room area adjacent to the judge's bench," Rodríguez added in his report. "An electronic speaker is needed at the warrant office transaction window."
The city manager noted that money is available for the new work from the 2004 Tax and Revenue Certificates of Obligation Construction Fund and in the 2007-2008 Municipal Court Security Fund for this project.
Palacios was in attendance in the audience for the city council session, but was not asked to address the city council when the agenda item came up. The agenda item was listed as being on the Consent Agenda portion of the meeting, which means there was no opposition or questions from the city council. However, the mayor or a city council member can bring it up for discussion or questions during the meeting.
••••••
Eddie Sáenz reports raising more than $140,000 in primary challenge campaign against Rep. Aaron Peña
By KELLY FERO
Community leader, health care advocate, and civil engineer Eddie Sáenz on Wednesday, January 16, reported that he has raised more than $140,000 in his campaign for the Texas House of Representatives, saying that the contributions he has received from ordinary citizens shows that District 40 families and small businesses are ready to turn the page and move in a new direction.
"I am deeply touched by the level of support I'm receiving from people who are willing, like me, to invest in a new day for South Texas," Sáenz said. "Their generosity matches my personal commitment to make the case for positive change and reverse the damage done by my opponent's support of the politicians in Austin."
Sáenz' report for the period ending December 31 shows that he has raised $140,835 since launching his campaign last September, with an average donation of $800 from 45 individual contributors and including a $105,000 loan from the candidate.
Sáenz is running against Rep. Aaron Peña, D-Edinburg, whose political mentors in Austin stripped hundreds of thousands of eligible children of their Children's Health Insurance Program benefits and then voted against fully restoring the program when public pressure forced them to partially restore coverage. Peña joined 74 Republicans and seven Democrats in voting against full funding and then voted to deny expanding eligibility to additional children whose parents work but earn too little to afford health insurance on their own.
Sáenz is chairman of South Texas Health Systems, an award-winning network of acute-care hospitals specializing in children's care, cardiovascular health, and other treatments. He also served as chairman of Avance, a non-profit organization whose focus is to strengthen families. Avance helped initiate the CHIP enrollment process in the valley.
Sáenz is backed by mayors and community leaders throughout the district who are eager for a full partner in their efforts to create jobs, expand access to quality health care, improve public schools, make college affordable again for middle-class families, and improve vital public services.
Owner and chief executive officer of one of South Texas' leading civil engineering firms, Sáenz is a recognized expert in helping cities, school districts, and other public entities improve their operations and basic services.
Sáenz is a former chairman of the Edinburg Chamber of Commerce, the Texas Border Infrastructure Coalition Transportation Committee, and the Edinburg 2020 Action Committee, and served on the Edinburg Economic Development Corporation. A graduate of McAllen High, he earned his degree in civil engineering from the University of Texas at Austin in 1982. He is a member of the National Society of Professional Engineers, the American Society of Civil Engineers, and the Texas Society of Professional Engineers. He and his wife and daughter, Cassie, live in Edinburg.
The Democratic primary is scheduled for March 4. Early voting begins on Tuesday, February 19.
••••••
Edinburg retired teachers receive "13th check" in pension as a result of new law authored by Rep. Peña
By ORLANDO SALINAS
The long awaited "13th check" has arrived to tens of thousands of retired teachers across Texas.
Rep. Aaron Peña, D-Edinburg, recently visited with the Edinburg Retired Teachers Association to discuss the added paycheck they received earlier this month.
"This has been a long legislative struggle but I am glad that we were able to provide retired teachers a long overdue supplement to their pension," said Peña. "We were also successful in making the pension fiscally sound This will provide the foundation for providing a permanent raise next session."
Peña authored legislation this session that would have secured an increase in benefits for retired teachers.
The 80th Texas Legislature increased the contribution rate to the teachers' retirement fund from 6.0% to 6.58% of employee payroll. This, coupled with investment returns of 14.4% in 2007, yielded an actuarial valuation that allows the pension fund to pay the supplemental check and still have a funding period under 31 years as required b y state law.
At their recent visit with Peña at the ECHO Hotel, the retirees suggested that the supplemental check be made permanent and cost of living increases be considered in the next legislative session.
"I am glad that our local retired teachers are pleased with their recent check," said Peña. "It is a small measure of appreciation for their hard work and dedication to our children over the years. The 81st Legislative Session begins on January 13th 2009 and these issues are sure to be on top of our legislative agenda."
••••••
Edinburg retail economy in November up 16 percent over same month in 2006
By DAVID A. DÍAZ
Edinburg's retail economy in November 2007, as measured by the amount of local and state sales taxes generated by a wide range of local businesses, was up more than 16 percent over the same month period in 2006, the Edinburg Economic Development Corporation has announced.
The EEDC is the jobs-creation arm of the Edinburg City Council.
It's five-member governing board, which is appointed by the Edinburg City Council, includes Mayor Joe Ochoa, former Mayor Richard García, who serves as board president, Fred Palacios, Dr. Glenn E. Martínez, Ph.D., and Elias Longoria, Jr.
The latest monthly figure translates into more than $1 million generated in local sales taxes, mostly in November, sent to the state comptroller of public accounts in December, then sent back by the comptroller's office to the Edinburg city government in the form of a rebate on January 11, 2008.
The local sales taxes are generated by the city's 1 1/2 cent local sales tax and the 1/2 cent economic development sales tax that is administered by the EEDC.
Retail businesses are required to collect both the local and state sales taxes and send them to the Texas Comptroller of Public Accounts. The state government then sends the local share of the sales taxes to the communities in which they originated.
The local sales tax is used to help pay for dozens of major city services, ranging from new streets to city personnel.
Between January 1 and November 30, 2007, Edinburg's economy generated $14,456,157.64 in local sales taxes, compared with $13,011,655.02 during the same period last year, an improvement of more than 12 percent.
For the month of November, Edinburg's economy generated $1,040,411.98 in local sales taxes, compared with $896,393.22 in local sales taxes in November 2006, an improvement of 16.06 percent.
McAllen's economy generated more than $4.7 million in local sales taxes in November, compared with more than $4.5 million during the same month in 2006, an increase of 4.01 percent.
According to the comptroller's office, Hidalgo County also showed continued prosperity.
In November 2007, all cities in Hidalgo County generated more than $9.9 million in local sales taxes, up 5.17 percent over November 2006, which reached more than $9.4 million.
Neighboring Cameron County registered smaller economic growth, according to the state figures.
In November, all cities in Cameron County generated more than $5 million in local sales taxes, compared with more than $4.5 million during the same month in 2006, an increase of more than 12 percent.
Other major cities in Hidalgo and Cameron counties reported the following sales tax figures:
•Brownsville's retail economy generated more than $2.8 million in local sales taxes in November 2007 – 14.28 percent better than the November 2006 level of almost $2.5 million.
•Harlingen's retail economy generated almost $1.5 million in local sales taxes in November 2007, compared with more than $1.3 million in November 2006, an increase of 11.6 percent.
•Mission's retail economy generated more than $1 million in local sales taxes in November 2007, compared with more than $888,000 in November 2006, an increase of more than 15.6 percent.
•Pharr's retail economy generated more than $880,000 in local sales tax activities in November 2007, compared with almost $911,000 during the same month in 2006, an drop of almost 3.4 percent.
•Weslaco's retail economy generated almost $693,000 in local sales tax activities in November 2007, compared with slightly more than $660,000 in November 2006, an increase of almost 4.9 percent.
Statewide, Comptroller Susan Combs announced that the state collected $1.83 billion in sales tax revenue in December, up 9.1 percent compared to December 2006.
December state sales tax collections and January allocations to local governments represent sales that occurred in November.
Combs sent cities, counties, transit systems and special purpose taxing districts their first sales tax allocations of 2008 — $448.3 million, up 7.3 percent compared to January 2007.
"Since the state's 2008 fiscal year began last September, sales tax collections are up 7.3 percent compared to the same point in fiscal 2007," Combs said. "While increases have moderated compared to those of the past two years, solid sales tax growth continues."
Combs sent January sales tax allocations of $303.2 million to Texas cities, up 7.4 percent compared to January 2007. Texas counties received sales tax payments of $26.8 million, up 5.7 percent compared to last January.
In addition, $14.8 million went to 124 special purpose taxing districts around the state, up 16.5 percent compared to last January. Ten local transit systems received $103.4 million in sales tax allocations, up 6.2 percent compared to a year ago.
For details of January sales tax payments to individual cities, counties, transit systems and special purpose districts, locate the Monthly Sales Tax Allocation Comparison Summary Reports on the Comptroller's Web site at http://www.window.state.tx.us/taxinfo/allocsum/compsum.html.
The Comptroller's next sales tax allocation will be made on Friday, February 8.
••••••
Sen. Hutchison responds to criticism that border fence amendment threatens national security
(Editor's Note: Sen. Kay Bailey Hutchison, R-Texas, has come under criticism from some conservative political factions that an amendment she authored has the effect of repealing a law by Congress to build 700 miles of the so-called border fence. In the following article, released on Friday, January 11, Hutchison defends herself.)
By MATT MACKOWIAK
Myth: The language "gutted" the border fence.
FACT: The amendment mandates 700 miles of fence along the U.S. – Mexico border. Of that, 370 miles of fence must be completed by the end of 2008. The Secure Fence Act did not have a requirement of 370 miles of fencing by December 2008.
Myth: The border fence language was "deceptively" passed.
FACT: The border fence language passed four separate times over 7 months:
• The Comprehensive Immigration Reform Act of 2007 – May 23, 2007
• The FY 2008 Department of Homeland Security Appropriations Act – July 26, 2007
• The FY 2008 Department of Defense Appropriations Act – October 3, 2007
• The Omnibus Appropriations bill – December 18, 2007
Myth: The House of Representatives was unaware of the language.
FACT: It is troubling and unsettling for the ranking member of the House Homeland Security Committee to claim to be unfamiliar with an amendment that passed in the homeland security appropriations bill, the comprehensive immigration reform bill, and ultimately, the omnibus bill for which he voted. Further, Senate Majority Leader Bill Frist and Speaker of the House Dennis Hastert sent a letter to all four Chairmen of committees with jurisdiction, including then-Chairman Peter King of the House Homeland Security Committee, in September of 2006 explaining the need to amend the Secure Fence Act to provide more flexibility and consultation for locals.
Myth: The border fence language has little support among border representatives.
FACT: All Senators representing the four states that border Mexico, Senators John Cornyn (R-TX), Jon Kyl (R-AZ), John McCain (R-AZ) Pete Domenici (R-NM), Jeff Bingaman (D-NM), Dianne Feinstein (D-CA), and Barbara Boxer (D-CA), have co-sponsored this language. Additionally, all three times the amendment was considered prior to the Omnibus Appropriations bill, it passed unanimously.
Myth: A double-layer fence is the only way to secure the border.
FACT: Customs and Border Protection (CBP) has indicated that double layer fencing is not the most effective in all cases. Coyotes and drug runners are moving their trails based on designated fencing locations. Therefore, CBP needs flexibility to place new fencing where new routes are appearing to achieve operational control of the border. In a number of meetings with Senator Hutchison's staff, Border Patrol officials asked for the flexibility to locate the fence in places along the border that represent the highest threat.
••••••
Gov. Perry: Congress should reject a proposed tripling of the federal gasoline tax
Gov. Rick Perry on Tuesday, January 15, criticized the National Surface Transportation Policy and Revenue Commission's recommendations to triple the federal gas tax from its current 18.4 cents to nearly 60 cents per gallon (with a series of five tax increases over five years) and curtail states' ability to leverage the capital and innovation of the private sector.
Adding an even harsher blow to taxpayers, the commission encouraged states to follow suit and simultaneously raise their own gas taxes at an even higher rate than the proposed federal increase. Congress must reject these recommendations.
Thankfully states have a champion in U.S. Secretary of Transportation Mary Peters who believes that Washington cannot keep doing things the same way and expect different results. She has been a strong advocate of innovation and outside-the-box thinking and has publicly disagreed with many of this commission's recommendations.
"Tripling the federal gas tax while also insisting on a massive state gas tax increase is the wrong way to solve our transportation infrastructure challenges," said Perry. "Rather than take more of our money and deliver less of what we need, I suggest the federal government step aside, let states retain their dollars, and give them the freedom to solve problems at the state and local level. Texas can find solutions to the problems our state faces much better than Washington, D.C."
"Raising taxes is seldom the right answer and sending more of Texans' money to Washington, D.C. only to have it earmarked, redistributed to other states or locked into outmoded bureaucratic programs will do very little if anything to relieve congestion on Texas roads," said Perry.
Among U.S. states, Texas is the second largest donor to the federal Highway Trust Fund and ranks 50th in rate-of-return for our federal gas tax dollar. For every dollar sent to Washington, Texas receives back only 8 cents in federal transit program funds and only 70 cents in federal highway program funds.
"Tripling the federal gas tax while stifling states' ability to fund improvements by engaging the private sector could be a crippling blow to our economic future and disastrous for fast growing states like Texas," Perry said. "Washington clearly can't meet today's transportation demands, so why should anyone believe they can handle tomorrow's?"
In the absence of substantive changes to the size, scope and dependability of the federal government's support for the national transportation system, Texas and other states have sought new, innovative solutions to transportation problems. Investing private capital in public roads and netting dollars that can be used to build more roads in that region is far better than sending more money in the form of higher taxes to Washington, D.C. through a current funding system that is clearly broken.
Texas' transportation needs are a challenge that grows by a thousand people every day. In the next 25 years, road usage in the state is expected to increase by more than 200 percent and our entire states population is expected to double in the next 40 years.
"States must have the flexibility to move forward with their own solutions that are tailored to needs at the local level. Texas will not abandon the forward thinking initiatives we championed to meet our state's current and future transportation needs," concluded Perry. "It would be much more useful if the federal government would devote its energies to encouraging innovation, instead of stifling it."
••••••
Hidalgo County Democratic Party releases order of candidates' names for March 4 party primary
By DAVID A. DÍAZ
Democrats voting in the March 4 party primary will see the names of candidates in contested races appear on their ballot in the following order:
President
Joe Biden
Christopher J. Dodd
John Edwards
Barack Obama
Bill Richardson
Hillary Clinton
U.S. Senate
Rhett R. Smith
Gene Kelly
Richard J. (Rick) Noriega
Ray McMurrey
Texas Supreme Court, Place 7
Baltasar D. Cruz
Sam Houston
Texas Supreme Court, Place 8
Susan Criss
Linda Reyna Yañez
449th District Court
Jesse Contreras
Maxine Longoria-Nash
Hidalgo County Commissioner, Precinct 1
Tina Casares
Alfredo "Fred" Hernández
Sylvia Handy (Incumbent)
Justice of the Peace, Precinct 1, Place 1
Gilberto Sáenz (Incumbent)
Félix Guajardo
David Guerra
Justice of the Peace, Precinct 4, Place 1
Charlie Espinoza (Incumbent)
David Chavana
County Democratic Party chairman
Dolly L. Elizondo
Juan J. Maldonado (Incumbent)
Constable, Precinct 1
David Mora
Robert "Bobby" Maldonado
Jose Joe Alcalá
Celistino Ávila (Incumbent)
Constable, Precinct 2
Frank Prado, Sr.
Juan S. Quintanilla
Gilbert Chato Alaniz (Incumbent)
Constable, Precinct 4
Andres "Andy" Ríos (Incumbent)
Frank Cerda
Armando Patlán
Mateo Niño
J.E. "Eddie" Guerra
Ronny Pérez
"J.P." Flores
Constable, Precinct 5
"Walo" Bazán (Incumbent)
Juan Díaz Alemán
Mario Leal
••••••
Sen. Cornyn announces legislation to boost public access to federal spending records
U.S. Sen. John Cornyn, R-Texas, on Tuesday, January 15, joined Texas Comptroller Susan Combs at the University of Texas' Center for American History, to highlight their efforts on the state and federal levels to bring greater transparency to government. Cornyn announced plans to introduce legislation to boost the public's access to federal spending records.
"It's because of the work of Texans like Comptroller Combs and Texas' Freedom of Information Foundation that Texas has earned a reputation as one of the most open state governments in the nation. In the U.S. Senate, I have made it a priority to bring this same Texas Sunshine to the federal government," said Cornyn.
"While the recent enactment of the Open Government Act is a significant achievement in open government reforms, we still have a long way to go in the federal government—especially with regard to spending," Cornyn added. "For that reason, today I announced my plans to introduce a new bill to bring greater transparency to federal spending. The Federal Spending and Taxpayer Accessibility Act of 2008—based largely on the hard work of Comptroller Combs—would provide taxpayers with unprecedented access to federal spending records, on everything from staff salaries to travel expenses."
Cornyn said he is "hopeful the Senate will consider and pass this legislation quickly, so we can take yet another important step toward bringing Texas' level of accountability and responsibility to Washington."
Combs said: "It is clearly important for taxpayers to see where their money goes and hold state government accountable for its spending. I applaud the recent federal transparency on grants and contracts, but the public also deserves to know about the rest of federal spending. Governments heighten citizens' confidence when systems become accessible and we demystify government finances. I commend Sen. Cornyn for taking significant steps forward in transparency and accountability at the federal level."
Cornyn and Combs were also joined by Laura Prather, Vice President of the Freedom of Information Foundation of Texas.
Background on the Federal Spending and Taxpayer Accessibility Act of 2008 (FSTAA):
• Based on the work of Combs and the State of Texas.
• Expands upon the national web site, http://www.usaspending.gov, which allows taxpayers to search Federal contracts and grants.
• Directs the Office of Management and Budget (OMB) to create a web-based searchable engine that allows the public to take a close look at how certain federal agencies are spending taxpayer dollars.
• Could serve as the starting point for a comprehensive database of all Federal expenditures.
••••••
Gov. Perry calls for Texas Women's Hall of Fame nominations; deadline to submit names is March 3
Gov. Rick Perry on Wednesday, January 16, called for nominations of outstanding women for the Texas Women's Hall of Fame. Coordinated by the Governor's Commission for Women, the Hall of Fame includes notable Texans such as First Lady Barbara Bush, astronaut Sally Ride and tennis great Zena Garrison.
"The Texas Women's Hall of Fame allows Texans to honor women whose accomplishments continue to make our state great," said Perry. "By celebrating these outstanding women we inspire young Texans to work hard to become great leaders."
This year's categories for the Texas Women's Hall of Fame are leadership, historic preservation, health, physical fitness, education and performing arts.
An independent panel of judges will review the nominations and the governor will induct the women the panel recommends into the 2008 Hall of Fame at an awards ceremony this fall.
Nominees must be native or current Texas residents, and their noted achievement must have significant ties to Texas. Also these women must have been involved in the noted achievement during the past twelve months.
The Texas Women's Hall of Fame honors more than 100 women. A complete list of honorees is available at http://www.governor.state.tx.us/women/halloffame.
Nomination forms are available on the Governor's Internet site at http://www.governor.state.tx.us/women or by calling (800) 839-5323. Forms must be postmarked by March 3, 2008.
•••••
Sen. Van De Putte, D-San Antonio, to deliver Spanish language response to the State Of The Union address on January 28
U.S. Speaker of the House Nancy Pelosi, D-San Francisco, and U.S. Senate Majority Leader Harry Reid, D-Las Vegas, announced on Tuesday, January 15, that Gov. Kathleen Sebelius of Kansas will deliver the Democratic Address on the State of the Union following the President's speech to Congress on Monday, January 28.
Texas State Senator Leticia Van de Putte, immediate past president of the National Conference of State Legislatures (NCSL), will deliver the Spanish language address.
Reid and Pelosi praised Van de Putte as an effective state and national leader.
"As the first Latina to head NCSL and chair her caucus in the Texas Senate, Sen. Van de Putte has demonstrated tremendous leadership and a commitment to improving the lives of all Americans, Reid and Pelosi said. "As a national Hispanic leader for nearly 20 years, she has a proven record of advocating for Latino families. Sen. Van de Putte is uniquely positioned to articulate the Democrats' leadership on issues affecting the Hispanic community."
Van de Putte said: "Latinos in this country share all Americans' anxiety about the direction of our nation. We want responsive government and committed leaders. We want opportunities for our communities to grow and prosper. We want a brighter future for our children. I am especially honored to be able to share these sentiments in response to our President's State of the Union Address."
••••••
Former Gov. Romney, R-Massachusetts, secures major victory by taking GOP primary in home state
By KEVIN MADDEN
On Tuesday, January 15, former Gov. Mitt Romney, R-Massachusetts, earned an impressive victory in Michigan as tens of thousands of voters cast their ballot for conservative change in Washington.
Elections are about the future and Governor Romney has the experience, vision and values to build a stronger America, according to his campaign. His victory is a victory for optimism over Washington-style pessimism. With the announcement of today's results, Governor Romney made the following remarks to supporters, volunteers and the American people:
Governor Mitt Romney:
"Well, tonight, tonight marks the beginning of a comeback, a comeback for America. Only a week ago, a win looked like it was impossible, but then you got out and told America what they needed to hear. You said we would fight for every job. You said that we would fight to get health care for all Americans. You said we'd fight to secure our border. You said you'd fight for us to be able to get lower taxes for middle-income Americans, and Michigan heard, and Michigan voted tonight. Congratulations!
"Tonight proves that you can't tell an American that there's something that they just can't do because Americans can do whatever they set their hearts on. Tonight is a victory of optimism over Washington-style pessimism. Tonight, we are celebrating here in Michigan, I've got to tell you that. Guess what they're doing in Washington? They're worrying, because they realize, the lobbyists and the politicians realize, that America now understands that Washington is broken, and we're going to do something about it.
"America understands that Washington has promised that they'd secure our borders, but they haven't. Washington told us that they would live by high ethical standards, but they haven't. Washington told us that they'd fix Social Security, but they haven't. Washington told us they'd get us better health care and better education, but they haven't. Washington told us they'd get us a tax break for middle income Americans, but they haven't. Washington told us that they'd cut back on the earmarks and the pork-barrel spending, but they haven't. And Washington told us they'd reduce our dependence on foreign oil, but they haven't. And who's going to get the job done? We are!
"Guys, it was not very far from right here that Ann and I and our family behind us began our campaign at the Henry Ford Museum of Innovation. Wow that's powerful, I'll tell you. At the Museum of Innovation, we said that we're going to take innovation and change to Washington, recognizing that there's no way that an insider in Washington is going to turn Washington inside out. But we're going to do that. American voters said that knowing how America works is more important than knowing how Washington works.
"And what we're going to see in the next few days is Democrats saying that they're the party of change. You're going to hear Hillary Clinton and Barack Obama and John Edwards saying that they're the party of change. And I think they would bring change to America, just not the kind we want. I think they take their inspiration from the Europe of old: big government, big brother, big taxes. They fundamentally in their hearts believe that America is great because we have a great government, and we do have a great government, but that's not what makes us the best nation, the strongest nation, the greatest nation on Earth. What makes us such a great nation is the American people. I take my inspiration from Ronald Reagan and George Herbert Walker Bush, who took their inspiration from the American people – hard-working American people, people who believed in opportunity, who loved education, God-fearing people, people who also love their families, people deeply patriotic. It is that characteristic of the American people that makes us the most powerful nation on Earth. Ronald Reagan, George Herbert Walker Bush said we are a great and good people, it's exactly what we are. It's why we will always be the most powerful nation on Earth.
"Now, you heard right here in Michigan, our campaign, we said we were going to strengthen our military with additional troops and better equipment and better care for our veterans when they come home. We also said that we're going to strengthen our families. We said we're going to strengthen the economy. I will never accept defeat for any industry here in America, we'll fight for every job.
"I have a couple of questions for you. Is Washington, D.C., broken?"
Crowd: "Yes!"
Romney: "Can it be fixed?"
Crowd: "Yes!"
Romney: "Are we the team that's going to get the job done?"
Crowd: "Yes!"
Romney: "Alright, let's take this campaign to South Carolina and Nevada and Florida and all over the country, and let's take it all the way to the White House! Thank you so much!"
••••••
County Judge Salinas highlights achievements, goals in State of the County Address delivered January 14
By J.D. SALINAS
Hidalgo County Judge
Good evening. I am pleased and privileged to be here tonight with the honorable Hidalgo County commissioners, addressing you from the South Texas College Technology Center. Dr. Reed, you have a beautiful campus. Thank you for your hospitality.
Tonight is a particular honor for me. It's been a wonderful year and it's been so rewarding to work with each of you. Seeing all of you here is a humbling experience, one that I did not expect. My presence on this stage is only possible because of you, my family and especially my father. My father and mother had big dreams for me. They wished me to go to good schools, they taught me valuable lessons and they instilled in me a love for public service. My father has passed on, but I know he's looking down on me tonight with great pride. He'd also say I'm in good company.
We asked you to come here tonight for a few reasons:
To usher in the New Year by establishing a clear vision. Where are we headed in 2008? What are the county's priorities, and how do they relate to what you are already doing?
To ask what worked and what didn't. What challenges faced us last year and how did we respond?
To ask: How can we work together? We all know there's more work to be done.
Tonight, we gather to affirm the great spirit of this county.
We are lucky to serve during a time when Hidalgo County is seeing a tremendous amount of growth and prosperity. We have record low unemployment: 5.9 percent in November as compared to 17.4 percent ten years ago. Eight thousand new jobs were created in Hidalgo County last year. And we have been ranked as one of the top areas to live and relocate a business.
This prosperity is based on years of our hard work. I don't pretend to take credit for any of it, but I do ask: "How can it continue?" It can continue when we come together, like we have tonight, and commit to doing what is right for this county. It's about Partnerships … Prosperity… and People.
Our pride is based on our people. We have big dreams and big expectations that our lives and those of our children will be better. That we can provide for our children. That they are fed, clothed, safe, healthy and ready to learn. That we can get a good education and a good job. That we get affordable health care and that we live in peace.
To us, leadership means uniting efforts to address these common goals. It's about building teams and coalitions, motivating and inspiring others to join us. We can't tackle the big issues alone. So thank you for being here tonight. We hope you leave here believing that, together, we can make Hidalgo County a better place live for everybody.
Levees and the border wall
One of the most troubling issues we've dealt with this year is our faulty levee system. If a hurricane or even just a heavy rain would strike, the levees could overtop and cause significant flooding. What happens with the levees will have an impact on our economic growth. It also affects the safety of our residents.
In 2006, our taxpayers passed a $100 million bond for drainage projects; $40 million of that $100 million was set aside for the levees. However, fixing the levees comes with a price tag of $125 million. To upgrade our entire drainage system more than $500 million. We know that stretching our dollars is key. And, in 2007, we found more ways to do that.
A bill introduced by Congressman Ruben Hinojosa would allow the International Boundary and Water Commission to reimburse us for the design, construction, and rehabilitation of our levee. Hidalgo County should be able to recapture all $40 million, saving taxpayers, hopefully, from a second bond issuance. House resolution 4504 is something we all need to support in 2008. Federal legislation passed to allow the Drainage District to enhance flood protection, saving Hidalgo County more than $53 million that can be redirected to other critical drainage projects.
And now, the wall. How does it fit into this picture? We learned of the wall in May. Three hundred seventy miles to be constructed by the end of 2008 on the southern border. 70 miles in the Rio Grande Valley and 22 miles of that in Hidalgo County. Immediately, we began conversations to stop the plan from moving forward. We talked. The Department of Homeland Security ignored us. We wrote. They ignored us. We met. They ignored us. And we went to Washington. All this to no avail.
But we didn't just complain. We came up with a solution. And now, I think we're really talking. Homeland Security is listening. They are working with us to see if we can develop a win-win situation. The proposed hydraulic structure is a good common sense alternative. It is not a wall. Walls don't work. A decision on our proposal is expected soon.
Meanwhile, we are pushing ahead on our drainage issues. In July, we signed an agreement with the IBWC to allow the Drainage District to work on the federally owned levees. We are already soliciting bids for Phase I, which runs from Anzalduas Park to Inspiration Road.
We also broke ground on two ditches in Precinct 2: the Alamo Drain and the Pharr-McAllen lateral. These ditches will help ease localized flooding, especially in our urbanized areas.
We're aggressively moving forward with our flood control projects. We've got no choice. We're not going to be another New Orleans. We're not going to wait for the federal government to fund this project. We will take care of our people.
We want the levees fixed by the end of 2008.We cannot have instances in which we get a significant amount of rain and parts of the county flood. Even worse, what if we had a hurricane? What would we do then?
Emergency management/Hurricane Dean
We almost had to answer that question in August. On Aug. 16, Hurricane Dean was just a tropical depression, but two days later had grown into a Category 5 hurricane. Forecasters were predicting a direct hit on the state of Texas at one point, but until the storm crossed the Yucatan we would not know exactly where or exactly when.
As the weekend went by, we met with mayors, county judges, emergency planners and the state. Texas began deploying resources. A historic showing of support poured out for the Valley, like none the nation had ever seen before.
Let me give you the numbers: More than 1,000 buses deployed to the McAllen area. They came from as far away as Kiskadee, FL. Texas Military Forces deployed about 5,000 soldiers and airmen. We had thousands of bus drivers staying at the McAllen Convention Center and area hotels. And when the state shut down the 211 system, Hidalgo County picked it up, staffing it with volunteers from our health department and county and district clerks. In two days, the number of people registered grew from just 700 to more than 1500.
Hurricane Dean was a success story in a sense but it also raised a lot of questions that have no easy answers. It opened our eyes and the state's eyes to regional readiness issues. We have committed more resources to emergency management, by combining forces. The Fire Marshal's Office and the emergency management office merged to become the Office of Emergency Services. The safety of our residents comes first.
Education and workforce
Now I'd like to talk to you about the Building Future Talent initiative.
Building Future Talent is about the kids. It's about the next generation and leaving this county better than we found it. The idea to create an ACTIVE coalition of stakeholders — of business leaders, educators, parents, students, and employers — started with a series of conversations with our economic development partners.
The partners said Hidalgo County has a large number of high school dropouts. They said employers have difficulty filling entry level positions. And they said and we, as a county, have professional job shortages of nurses, teachers, and engineers. Together we decided to stop focusing on the negatives. Yes, these challenges do exist, but we can change them. As part of its economic development plan, Hidalgo County is making education first.
Hidalgo County is a rapidly growing County — second only to Flagler County, Florida — and we believe its most valuable resource is its people. Recent trends indicate that the nation will soon face a shortage of skilled workers as Baby Boomers retire and workforce demographics change. But fortunately, the Rio Grande Valley is expected to have a very young and growing work force. Will the next generation become our greatest liability trapped on welfare and locked up in our jails? Or will they become our biggest economic asset for the future?
On July 5, we organized a workforce public forum. More than 200 people attended to help us find solutions for building, retaining and attracting future talent. The public forum was followed up with a workforce summit in which we highlighted best practices, heard from our legislative leaders on higher educational funding, and learned from experts what is at stake if we don't act now.
If we increase the number of high school graduates just to the state average, to the local economy would increase by more than $1.2 billion per year. Now IF we raised the college graduation rates here to state standards, it would mean an additional $442 million dollars flowing into the area.
Building future talent is not at all about creating more low-wage jobs. It's about creating high-wage jobs and increasing the per capita income of our residents. Education is the answer to enhance our overall quality of life.
Our goals as a community are ambitious: We aim to improve educational attainment. We aim to enhance economic opportunities. We aim to enhance the image and communication about local talent. Pilot projects are slated to start as early as this spring (Thank you educators for taking the initiative to the next level) and we hope, we hope, that we can make a difference in the lives of the young people of Hidalgo County.
Other education successes
Talent comes in many forms. And in Hidalgo County, Head Start is one of the most important programs we have for nurturing that talent. The Hidalgo County Head Start program is the third largest program in the state. It serves to break the cycle of poverty, by not only educating pre-school students, but also educating the parents.
Did you know that half of our (762) Head Start employees are former Head Start parents?
Congratulations, Head Start. For only the second time in the program's 40-year history, the program complied with all performance standards.
Health
But how can we expect children to learn if they do not have healthcare? Take one look at our emergency rooms. They are full of people with sore throats and the flu because they do not have the means to pay. The lack of affordable healthcare hits Hidalgo County hard. More than half of our population does not have health insurance.
As an employer, Hidalgo County pays a living wage, but even our employees have to make hard decisions between buying shoes or putting food on the table and buying health insurance. There are families out there not as lucky as our employees, working jobs that pay an only a minimum wage, or who have no jobs at all.
But this year, county employees and their families will benefit from a 35% decrease in premiums. This will save taxpayers money and provide medical coverage for our employees and their families so they don't have to make that hard decision.
Prescription drug costs keep rising. We will continue to work with our local pharmacists or other organizations to get a discount drug prescription card for all residents. One of our biggest priorities as a court is to make sure we expand primary health care in each of our seven county clinics. Right now, people can go to our clinics to receive immunizations, preventive information, screenings and such. We could do better, but we need legislation to do that, and we are working with our state legislators on this very important project.
Hidalgo County, with the help of our local hospitals, increased the budget for indigent health care in order to serve more people. In fiscal year 2007, $2.9 million in hospital and county-based services were given above and beyond the $9.7 million originally budgeted, without affecting our county budget.
Hidalgo County clinics administered 45,000 immunizations this year. And it partnered with the Texas Military Forces to offer free medical checkups, dentistry services, immunizations, to more than 4,000 people through Operation Lonestar. We have also invested and upgraded the health department's computer systems and merged the indigent program with the health department, eliminating waste and saving money with a more efficient organizational structure.
Veterans
Hidalgo County took sides in some state and federal health issues this year. We need a Veterans Hospital in the Rio Grande Valley. Our soldiers fight for our freedom. Why has America failed to fight for them? America's treatment of its brave soldiers when it comes to health care has fallen far short. We've heard the horror stories from Walter Reed medical center, and from other veterans coming home with brain and spinal cord injuries who can't access the specialty care they need and deserve.
Our local VA clinics are overworked and understaffed. Disabled veterans living on tight budgets should not have to travel eight hours round trip to San Antonio to see a doctor for five minutes.
We deserve our own hospital. This year, we will continue to champion this cause. We must take care of our veterans. They have already taken care of us.
Criminal justice
In an ideal world, we'd be spending 50 percent of our budget on education and other quality of life programs, like health care. But, Hidalgo County spends more than half of its general fund on law enforcement and the criminal justice system.
But, a world without law enforcement would be a scary one indeed. We have to invest wisely. 2007 saw the expansion of the juvenile justice center. It is slated to open this year. It will have nearly four times the number of beds than the previous detention facility.
We have also embarked on a new substance abuse center, to be located in precinct 4, near Commissioner Garza's office. This center, the money for which was secured with the help of our state legislators, will treat individuals with substance abuse problems.
The biggest news on the law enforcement front, with the leadership of Sheriff Lupe Treviño, is that the court approved two new sheriff substations. This will increase community policing and reduce response times around the county. Our sheriff department faces many challenges, but one of the most costly is the jail. Illegal immigration costs the federal government billions of dollars, but also puts a strain on local jurisdictions.
One way we can reduce this cost to the county is to work hard to convince the federal government that it needs to increase, not decrease, funding for the State Criminal Alien Assistance Program, which reimburses county jails for housing criminal illegal immigrants. Like the levees, paying to house illegal immigrants in our jails is a federal responsibility. Because of the overcrowding due to the number illegal aliens, prisoners are being farmed out to other jails at a cost of $40 a day, putting a strain on our local budget.
Not only is space a challenge for the jail, but space is a challenge for our courts, too. Two new courts were created this past year: the 430th and the 449th district courts.
We're short on space. With the help of our very capable Budget and Purchasing officers, we're making progress on a solution, though. For starters, Hidalgo County administrative offices moved to Canton and Closer in August. The old building will be converted into a court annex soon. You may have noticed we improved parking for jurors. Thanks to Commissioner Garza. He was instrumental in acquiring property to increase parking. We will soon have ample parking for jurors and other court house staff.
Transportation
We cannot build courts fast enough. We cannot build roads fast enough. Just as our population growth is impacting the demands for new courts, this growth is also driving our transportation needs.
Commissioner Handy has been recognized by the state as the county commissioner who has paved the most roads in the entire state, and next year, her major goals are to continue that trend and also introduce solar lighting on rural county roads in her precinct.
Urban County finished up a similar project, installing solar lights in Granjeno. The county also used solar lighting in the parking lot of the new administration building. Again, we are saving taxpayer money, while at the same time decreasing our environmental impact.
Transportation affects our daily lives. If the traffic is bad, we are late to work or the kids don't get to school on time. If roads aren't maintained, we strain our cars and our pocketbook. But if we are being denied roads — like the fact we are the only metropolitan area in the nation without an interstate — we suffer economically.
When it comes to state and federal highways and interstates, Hidalgo County has a long way to go. This battle for adequate and fair transportation funding is a major challenge for us in 2008. We need over $1 billion for mobility projects over the next 20 years. We also need over $200 million for U.S. 281 upgrades.
U.S. Highway 281 was recently identified as a potential route for the future Trans-Texas Corridor.
We have been working this past year with the U.S. 281 Coalition on finding funding to alleviate the bottlenecks on the highway, thus making it more attractive for a potential interstate designation.
This spring, our office was selected to represent Hidalgo County on the I-69 Alliance board of Directors to advocate for the future transportation needs of this county.
The Regional Mobility Authority also got to work this year, beginning the design phase for the County Loop in western Hidalgo County. The court approved the use of an additional $10 fee on license plate registrations to be used toward construction of this loop. This money will stay here and directly benefit us by moving big trucks off residential and city streets — increasing safety — decreasing air pollution and enhancing overall mobility and economic growth. This user fee will generate about $180 million over the next two decades for our roads.
The court is working closely with the RMA to find other creative financing mechanisms to close the gaps in state and federal transportation funding as well.
Human infrastructure needs
Roads are not the only infrastructure projects Hidalgo County is involved in. Families have great needs, too: affordable housing, safe drinking water and electricity. Most people take these simple things for granted. This year, with leadership of Commissioner Handy, plans are underway to regionalize water and waste water treatment plant for the Delta area. This system aims to improve the economic viability of the area.
Park construction was also strong in 2007. In Precinct 2, Commissioner Palacios opened North San Juan Park and broke ground on the South Tower Road Community Resource Center and Multi-purpose facility. This year Commissioner Handy plans to renovate Sunrise and Sunset Parks.
In Commissioner Flores' precinct, the boat ramp at Anzalduas County Park is being restored, and Texas Parks and Wildlife awarded Hidalgo County $100,000 to construct the first phase of a hike and bike trail that will connect many of the cities trails. We will be work closely with the drainage district on this project.
Our office received a $325,000 planning grant to coordinate all these issues just mentioned to you, and to develop a blueprint to guide our economic growth for the next 5 to 10 years. So be ready, we will be calling on this year to help with this important effort.
Budget
The county collectively accomplished many things this year, but we've so far left out the discussion of how that was done. Balancing the books for a county this size takes great creativity and innovation, strict adherence to laws and an uncanny knack for numbers.
The 2008 general fund budget, of $148.2 million, is the first truly balances budget in more than 20 years. In this historic budget, we've committed ourselves to providing the same level of service or greater to the people of Hidalgo County, while being financially responsible and transparent with your hard-earned tax dollars.
We adopted a balanced budget and saved without increasing the tax rate. But we don't stop here. The court has appointed Valde Guerra, the court's chief executive officer, to conduct performance reviews on all county departments. Next year, we'd like to see an even leaner county budget. Wherever we can find waste and duplication, we want to get rid of it.
Closing
We have more work to do. We have more work to do for the people I meet day to day who tell me they want better jobs, better wages and better health care. More to do for the young people of this county who want to go to college, but need to work to help out their family.
The people I meet — in our small towns and big cities, in my office, at restaurants and grocery stores — they want to help themselves. They need us to change our priorities. They know we can do better. They know we can do more.
People tell us they don't want their tax money wasted. Educators tell us we can't teach children all alone, that parents and teachers need to raise their expectation of students. And community leaders tell us we need to position our county to compete in a global economy.
So as we ring in 2008, think about what you want and what you value. Talk to us, visit us, and tell us. There are many ways to do this and many ways you can participate. Last week, Commissioners Court began live broadcasts on our website. No longer do you have to make the trek to Edinburg stay up late waiting to watch county business being conducted. Our blog updates citizens as to what is happening in the county and we are taking full advantage of the internet and other media to inform you.
Come to our offices and talk face to face with the county employees that serve you full time. Come see how our Information Technology department instituted a biometric clock system to make Hidalgo County more accountable to the taxpayers. Come visit our tax collectors, our auditors, our groundskeepers, our county and district clerks, our judges, our analysts, our nurses, and our deputies. They all deserve thanks. And we expect your advice.
As a child, I remember my dad would barbecue in the backyard and when he was finished, he'd make a plate and cover it in foil. He'd give it to me and say, "Take it to your neighbors." I didn't understand why he asked me to do it back then, I just did it. But today, I understand. The county is a family and we must take care of one another's mothers, fathers and children like they were our own.
This night has focused on the big picture, how we build a better tomorrow for our children. That only happens when we all work together like we have in this past year, no matter how big or how small our job may be. I tell you: It's about partnerships, prosperity and people. Partnerships, prosperity and people. People are the spirit and the pride of Hidalgo County.
Thank you and God bless all of you. God bless Hidalgo County.