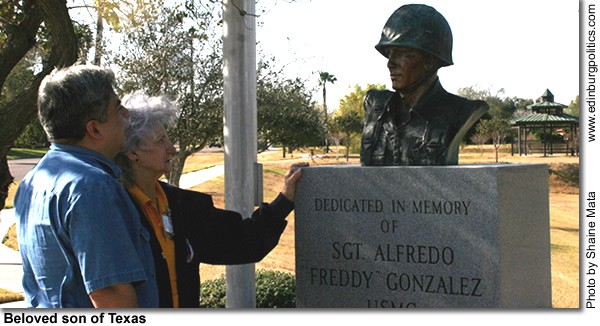 Mrs. Dolia González, A Gold Star Mother whose late son, U.S. Marine Sgt. Alfredo "Freddy" González, is featured in this bronze bust in Edinburg, will be accepting the Texas Legislative Medal of Honor – the state's highest recognition for valor – on his behalf at 2 p.m. on Monday, February 4 from Texas Gov. Rick Perry. Rep. Aaron Peña, D-Edinburg, shown with Mrs. González several weeks ago, on Tuesday, January 8, announced the big event during a city council meeting. What is sure to be a major ceremony, probably to take place at Cats Stadium, will speak volumes about Edinburg's native son and his mother and all of South Texas. "It will again send the message to the entire state and nation that Edinburg is the home to heroes," said Mayor Pro Tem Alma A. Garza. See story later in this posting.
••••••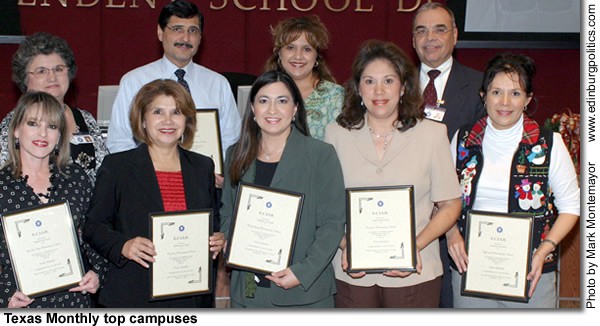 Edinburg principals of the elementary campuses that made the list of top campuses in the state by Texas Monthly magazine were honored recently by the Edinburg school board. This is the fourth year in a row that Texas Monthly has published a list of top public schools and the second consecutive year that they have ranked schools according to the number of subjects in which they continually excel, including reading, math, science, writing, and social studies. Elementary campuses making the prestigious list were Austin Elementary headed by Principal Homer Cano; Canterbury Elementary under Principal Dahlia Guzmán; De la Viña Elementary under Principal Erika Playle; Jefferson Elementary under Principal Ana Villalobos-Salinas; Lincoln Elementary under Principal Eva Sandoval; and Treviño Elementary under Principal Cynthia Sáenz. See story later in this posting.
••••••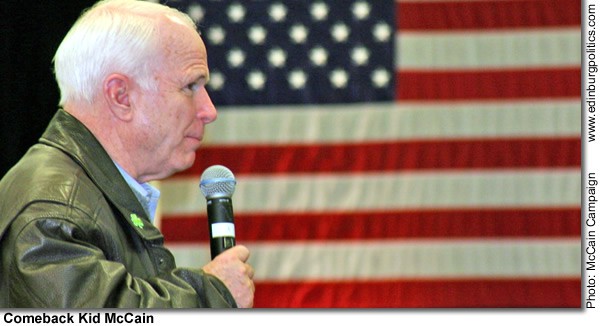 U.S. Sen. John McCain, R-Arizona, featured in a file photo, pulled off a major victory on Tuesday, January 8, winning the New Hampshire Republican Party primary, received 37 percent of the GOP vote. Former Gov. Mitt Romney of Massachusetts placed second with 31 percent, while former Arkansas Gov. Mike Huckabee, who had won several days earlier in the Iowa caucuses, came in third with 11 percent of the vote. "I hate to use the word kid, but I think we showed the people of this country what a real comeback looks like," he told supporters of his long-shot win in a state he won eight years ago against then candidate George W. Bush.
••••••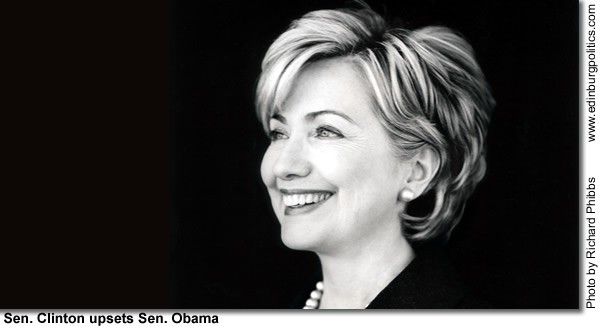 Sen. Hillary Clinton, D-New York, in this campaign photo, won the New Hampshire Democratic Party primary against former Sen. Barack Obama, D-Illinois, on Tuesday, January 8, less than a week after she placed a disappointing third in the Iowa caucuses. She received 39 percent of the vote to 36 percent for Obama in New Hampshire. Clinton's victory speech is featured later in this posting.
••••••
Judge Criss, Rep. Peña, Rep. Flores draw top billing on Hidalgo County Democratic Party primary ballots
By DAVID A. DÍAZ
Democratic candidates in Hidalgo County's March 4 party primary, or their representatives, were in Edinburg on Thursday, January 10, for the official drawing for a place on the ballot, with Judge Susan Criss, D-Galveston, Rep. Aaron Peña, D-Edinburg, and Rep. Ismael "Kino" Flores, D-Palmview, receiving top billing in their respective contested races.
The purpose of the drawing was to determine whose name appears first in contested races on the Democratic Party election ballot in Hidalgo County, a longtime stronghold for the Democratic Party.
Conventional theory holds that a candidate who has his or her name first on the ballot has an advantage, sometimes because when some voters don't recognize any of the candidates for a specific office, they mark the first name that appears on the ballot of that race.
"Local political lore maintains that the first poll position is to be desired and can be advantageous," Peña said after the drawing. "I am not quite sure if this is true but most of the candidates in the room this night seem to share the belief that it does."
Criss, a veteran district judge and former prosecutor from Galveston, is facing 13th Court of Appeals Justice Linda Yañez of Edinburg for Texas Supreme Court, Place 8.
Peña is facing a challenge from Eddie Sáenz, and Flores is being opposed by Sandra Rodríguez. There are no Republican candidates in either of those two legislative contests.
Meanwhile, Jesse Contreras, who is facing Maxine Longoria-Nash for the judgeship of the 449th District Court, will be first on the ballot in that race. The winner will face Judge Daniel Ríos, the presumptive Republican nominee and former city attorney for Edinburg, who was appointed several weeks ago by Gov. Rick Perry, who is Republican.
Peña, Flores, Contreras, and Longoria-Nash were among the dozens of Democratic Party candidates, their representatives, and party activists who attended the political event, which was open to the public, and coordinated by Hidalgo County Democratic Party chairman Juan Maldonado. Maldonado is facing a rival of his own for the top party post – Dolly Elizondo.
Peña, Flores, Sandra Rodriguez, who is challenging Flores, and Jesse Contreras and Maxine Longoria-Nash, who are battling for the nomination for 449th District Court, were among the major candidates who made appearances at the political event.
Maldonado said Hidalgo County will continue to remain a Democratic Party stronghold in Texas.
He predicted that local Democrats, who will face a small number of Republican candidates in the November general election, will win.
"We have taken care of the opposition," Maldonado contended. "The Republicans know they stand a very difficult chance."
He said that the upcoming battle between Rep. Verónica Gonzáles, D-McAllen, and her fellow McAllen attorney, Javier Villalobos, a Republican, will favor the Democratic incumbent.
"Even in Verónica's race, where the GOP drew a legislative district that was supposedly conservative and pro-Republican, I saw plenty of Republican leaders at her campaign kick-off late last year. We will win it hands down in November," Maldonado assured.
He acknowledged that having a strong Democratic Party presence in Hidalgo County was a two-edged sword.
"We have the luxury of taking the primary results and calling them the final results for most elections, but there is a downside to it," he said. "I will have to call all the winners in the Democratic Party primary later that month to come back and help bring out the vote for the presidential elections, and the remaining local elections, in November."
Six district court races drew no Democratic or Republican party opposition – contests that normally generated hundreds of thousands of dollars in campaign expenditures to increase voter turnout. Plus, Sheriff Lupe Treviño also drew no opponent, an example of another high-profile race that would peak voter interest and participation in primary and general elections.
However, he hopes having the presidential race on top of the general election ballot should bring out the masses.
"I remember the first time we have uncontested local races in a November election, but had a hot presidential election with Bill Clinton, those were longest lines at the voting precincts that I have ever seen in my life," Maldonado recalled.
Regardless, there will be several tough regional primary battles that should draw out voters in different portions of Hidalgo County.
"The Kino Flores/Sandra Rodríguez and Aaron Peña/Eddie Sáenz races will be hot," he said. "The 449th district court judge race also will be attractive, and the (county commissioner) Sylvia Handy race will also be a great one. She will make it exciting. She really goes out, works hard."
Pol. Ad paid for by Susan Criss Campaign. Lloyd Criss, Treasurer, PO Box 16474, Galveston, TX 77552
••••••
On 4oth anniversary of his death in combat, Freddy González to be honored by Gov. Perry on February 4
By DAVID A. DÍAZ
His country is protected by his namesake, his buddies in combat were saved by him, his fellow Marines have been inspired by him, he made his hometown famous, and in less than one month – exactly 40 years after being killed in action in Vietnam – the governor of Texas will come to Edinburg to posthumously honor him.
U.S. Marine Sgt. Alfredo "Freddy" González, the only son of a single working mother, twice answered his nation's call to arms against the forces of evil on the other side of the world.
For such devotion to his homeland and brothers-in-arms, and for much more, González is now officially a Texas hero – and his mother, Dolia, at 2 p.m. on Monday, February 4, will receive, in his memory, the Texas Legislative Medal of Honor.
The event, probably to be held at Cats Stadium – where González played high school football in the mid-1960s for the Edinburg Bobcats – is the result of House Concurrent Resolution 121, authored by Rep. Aaron Peña, D-Edinburg, and sponsored by Sen. Juan "Chuy" Hinojosa, D-McAllen.
The state legislation, approved unanimously by the Texas Legislature last spring, represents one of the rarest and most profound state actions – bestowing the Texas Legislative Medal of Honor, which is Texas' highest public recognition for valor.
Peña made the announcement on live television, being broadcast by the Edinburg Cable Network, at the beginning of the Edinburg City Council's regular public meeting, which began at 7 p.m. on Tuesday, January 8.
The update was breaking news, the Edinburg Democrat told the city council and viewing audience.
"I just got off the phone with the governor's office," Peña said. "They said he will definitely be here to bestow the medal."
He said the governor's decision came after ongoing negotiations with Perry's office to select the best date for such an important ceremony. Selecting the anniversary of González' heroic death will send a profound message about how Texas feels about its veterans and their families.
"The Valley has given up many sons and daughters to the service of our country, and Freddy González is one of the best examples," said Peña, who was raised in Edinburg. "Having heard the stories of his life and service, he exemplifies all the brave Americans who went to war in their youth, had a life full of promise, then lost it too soon. But they loved their communities, and this community does not forget their sons and daughters."
Beyond that, Peña added, "It is important that the governor pay honor and respect to South Texans, and their soldiers."
Hinojosa, who was contacted later that evening, said he was proud to have carried the legislation in the Senate on behalf of the González family and his legislative district.
"Our nation has honored Freddy González with the Congressional Medal of Honor and with a $900 million guided missile destroyer named after him, and there are streets and buildings in communities and on military installations in America bearing his name," said Hinojosa, himself a U.S. Marine combat squad leader in Vietnam. "Now, we have come full-circle, and the people of Texas, through the governor and Texas Legislature, will give him and his mother their rightful due."
The city's football stadium as the site for the ceremony represents the wishes of Dolia González, said Peña.
"The initial thought was we would have it at the Freddy González Elementary School, but in talking with some of the more senior U.S. veterans, they have told me there have been similar ceremonies like this, and the town pours into those events," Peña said. "That, coupled with the fact that Mrs. González said the football stadium where Freddy played quarterback was important to him, it is important to her as well."
Much remains to be done, he noted, such as making sure there is a back-up location in case inclement weather makes the stadium unavailable for use.
"The school district has said we can get anything we want. The elementary school has said whatever you want," said an appreciative Peña.
He spoke with Dolia González immediately after he wrapped up the final telephone call with the governor's office.
"She was very, very happy. She said this is good news," Peña recalled. "She told me, 'I think I am ready. Freddy's ready. Let's do this.' Those were her exact words."
Residents or groups which want more information on the event as it evolves, or to offer suggestions or help, may call Peña's district chief-of-staff, Orlando Salinas, at 383-7444, he said.
"We want to make her happy, and show her our appreciation," Peña added. "We have to honor his memory, but we are going to honor her as well. That is my intention."
Mayor Pro Tem Alma Garza, who led the city council session because Mayor Joe Ochoa was excused on important business, said the upcoming ceremony will speak volumes of Freddy and his mother, Dolia, as well as of the entire city.
"It will again send the message to the entire state and nation that Edinburg is the home to heroes," said Garza.
Legislative Medal of Honor
The Peña/Hinojosa resolution provides a detailed account of the actions taken by González. That resolution follows verbatim:
WHEREAS, The Texas Legislative Medal of Honor was established to honor gallant and intrepid service by a member of the state or federal military forces, and through his courageous actions in Vietnam, Sergeant Alfredo "Freddy" González distinguished himself as a worthy recipient of this prestigious honor; and
WHEREAS, Born May 23, 1946, in Edinburg and a graduate of Edinburg High School, Sergeant González enlisted in the U.S. Marine Corps in May 1965; after his first tour of duty in Vietnam, he was chosen to train new marines for guerilla warfare; and
WHEREAS, A few months later, Sergeant González learned of an ambush in which men who had served under him had been killed; impelled by a strong sense of duty to his fellow marines and to his country, he volunteered for a second tour in Vietnam; and
WHEREAS, When, at the end of January 1968, North Vietnamese and Viet Cong troops launched the massive Tet Offensive, Sergeant González and his platoon were ordered to Hue to relieve the pressure on that city; en route to Hue, the platoon's convoy was hit by heavy fire on several occasions; during one such encounter, Sergeant González saw an injured marine lying in the road ahead and ran through enemy fire to carry the man to cover, receiving fragmentation wounds in the rescue; and
WHEREAS, With the column halted by withering fire from a fortified machine-gun bunker, Sergeant González proceeded to guide his men to a protective dike; he then moved out onto a road being raked by the gun and destroyed the bunker with hand grenades; later, on February 3, Sergeant González was seriously wounded but continued to refuse medical treatment and to lead his men in their attack; and
WHEREAS, During fighting in Hue on February 4, his platoon of some 35 troops was again pinned down by a ferocious barrage; telling his unit to stay behind shelter, Sergeant González moved forward aggressively with hand grenades and small antitank rockets, firing numerous rounds against enemy emplacements; and
WHEREAS, Entering a church, where the North Vietnamese were heavily fortified, he succeeded in suppressing virtually all of their fire; before the last of it could be silenced, however, he was mortally wounded; and
WHEREAS, Because he succeeded in destroying so many North Vietnamese positions, Sergeant González was credited with saving the lives of the men in his platoon; the following year, in consequence of his extraordinary and selfless action, he was posthumously awarded the Medal of Honor, becoming the only marine in combat during the Tet Offensive to receive that award; and
WHEREAS, For those with whom he served, the heroism displayed by Sergeant González was completely in character; "it seemed like he was everywhere all the time," one remembered; "he was always there in the front, never in the back . . . he was always there for us"; and
WHEREAS, Among the awards subsequently conferred on Sergeant González were three Purple Hearts, four Presidential Unit Citations, and a Combat Action Ribbon, Good Conduct Medal, National Defense Medal, and Cold War Certificate; in addition, he was the posthumous recipient of two South Vietnamese decorations–the Vietnam Cross of Gallantry with gold palm and star and the Vietnam Service Medal with four bronze stars; in 1996, the U.S. Navy commissioned a new guided missile-destroyer in his honor; and
WHEREAS, Through his unhesitating selflessness and his unfaltering devotion to duty, honor, and his country, Sergeant Alfredo González embodied the highest ideals of the armed service, and he most assuredly merits the award of this state's supreme military medal; now, therefore, be it
RESOLVED, That the 80th Legislature of the State of Texas hereby posthumously confer the Texas Legislative Medal of Honor on Sergeant Alfredo "Freddy" González in recognition of his heroic service and express to his family its deepest appreciation on behalf of all his fellow Texans; and, be it further
RESOLVED, That an official copy of this resolution be prepared for the family of Sergeant González as an expression of highest regard by the Texas House of Representatives and Senate.
John Flores, author of When The River Dreams: The Life of Marine Sgt. Freddy González, contributed to this article.
••••••
La Joya Mayor Billy Leo backs Eddie Sáenz, calls on voters to support "a real Democrat and true leader"
By KELLY FERO
La Joya Mayor Billy Leo, a South Texas icon, longtime community leader, and Democratic activist, on Tuesday, January 8, announced his enthusiastic endorsement for Democratic challenger Eddie Sáenz in the race for House of Representatives District 40.
Sáenz is challenging Rep. Aaron Peña, D-Edinburg, in the March 4 Democratic Party primary.
"The incumbent supports a Republican leader at the State Capitol who has been in office for nearly 40 years and still hasn't managed to get the job done," Leo said. "It's time for a fresh voice and a new direction in Austin. That's why community leaders are uniting behind Eddie Sáenz so that the rest of our South Texas delegation can have a full partner in fighting for our families and our needs."
Leo's endorsement is a major development in the race. Sáenz has also been endorsed by Edinburg Mayor Joe Ochoa, Edcouch Mayor Calin Guzmán, Elsa Mayor Senovio Castillo, and La Villa Mayor René Castillo, in addition to several ex-mayors and other community leaders.
Leo said Sáenz' long years of expertise on civil engineering, health, transportation, water and wastewater, and other basic public service infrastructure projects is exactly the kind of leadership needed now to make a positive difference in the daily lives of working families and small businesses throughout the district.
Sáenz' die-hard Democratic principles were an important factor in Leo's decision, he said, including his opposition to the Republican leadership in Austin that has promised to push a voter identification bill again in the next legislative session. Sáenz' opponent supports the Republican leadership and failed to vote against the voter ID bill in the last session, Leo said.
"Eddie Sáenz is running as a Democrat and he will vote as a Democrat to protect our civil rights," Leo said. "We have had enough of a typical politician in this office who puts his own pension and personal ambition above the interests of the community."
Sáenz is owner and chief executive officer of one of South Texas' leading civil engineering firms and a recognized expert in helping cities, school districts, and other public entities improve their operations and basic services.
As chairman of South Texas Health Systems, Sáenz helped lead the effort to pass Proposition 15, the cancer research fund approved by voters last year. His opponent voted against putting the measure on the ballot.
Sáenz also served as chairman of Avance, a non-profit organization that works to strengthen families. Avance helped implement the enrollment process for the Children's Health Insurance Program (CHIP) in South Texas. Since his opponent took office, hundreds of thousands of eligible children of working parents have been stripped of their CHIP benefits.
As former chairman of the Edinburg Chamber of Commerce, the Texas Border Infrastructure Coalition Transportation Committee, the Edinburg Economic Development Corporation, and the Edinburg 2020 Action Committee, Sáenz has spoken out against a proposal by his opponent's political allies that would increase the state sales tax on everything from food and medicine for the elderly to child care services and car repairs, giving Texas the highest sales tax rate in the nation.
Sáenz graduated from McAllen High and earned his degree in civil engineering from the University of Texas at Austin. He and his wife and their teenage daughter, Cassie, live in Edinburg.
•••••
Sen. Hinojosa appointed to Sunset Commission, will help South Texas get its fair share of state resources
By JERRY HADDICAN
Sen. Juan "Chuy" Hinojosa, D-McAllen, on Tuesday, January 8, said his appointment to the important Texas Sunset Commission gives South Texas a unique opportunity to help shape state government in the years ahead, guarantee balance and fairness in Austin's spending priorities, and help protect local taxpayers against wasteful programs that have outlived their effectiveness.
"Our region will be heard when decisions are made about making state government work better and cost less," Hinojosa said. "I appreciate this chance to look into how state government can better serve the needs of the families and small businesses who depend on its vital services."
Hinojosa thanked Lt. Governor David Dewhurst, a Republican, for his show of faith in making the appointment and said he will approach his new position in the same spirit of bi-partisanship.
"Public input will be a key component of our work to safeguard vital programs while making sure that they are operating as effectively and efficiently as possible," Hinojosa said.
The Texas Legislature created the Sunset process in 1977 to find waste, duplication, and inefficiency in state government agencies. The 12-member Commission reviews the policies and programs of state agencies, identifies waste or duplication in public services or programs, and makes recommendations for improving state government's operations. In most cases, agencies under Sunset review are automatically abolished unless legislation is enacted to continue them.
Hinojosa said he looks forward to digging into the details of critical state agencies up for review next, including the transportation, public safety, and insurance departments.
Also on the review list are the agencies in charge of state parks and recreational facilities, the board that certifies physicians and other medical personnel, and the Texas Youth Commission, which became the subject of ongoing reform efforts after Hinojosa exposed corruption and abuse throughout the juvenile justice system.
Hinojosa said he will make recommendations in the weeks ahead for how the general public can participate in the review process and provide information to the Sunset Commission about how well or how poorly specific state agencies are doing their jobs.
••••••
Rep. Gonzáles appointed to legislative panel that will study Texas' emergency preparedness
By RICARDO LÓPEZ-GUERRA
Rep. Verónica Gonzáles, D-McAllen, has landed the appointment by House Committee of Public Health Chair, Diane Delisi, R-Temple, to examine an interim charge on the state's effectiveness in responding to public health state emergencies. A joint interim charge subcommittee between Public Health and Defense Affairs & State-Federal Relations will convene on Tuesday, February 5, 2008 for a public hearing.
The state's process for handling public health emergencies will be thoroughly examined, said Gonzáles. Between the medical community and local and state authorities, this charge will ensure the safety of our citizens and strengthen any weakness in the current system so that no Texan is vulnerable.
The sub-committee, comprised of three members each from the House Committee on Public Health and House Committee on Defense Affairs & State-Federal Relations, include Chair Diane Delisi, R – Temple, Rep. Jim Jackson, R-Carrollton, and Gonzáles from Public Health, as well as Chair Frank Corte, Jr., R-San Antonio, Vice Chair Juan Escobar, D-Kingsville, and Rep. Richard Raymond, D-Laredo, from the Defense Affairs Committee.
Current assessments of the state's strategies for public health emergencies are critical to a successful response in a campaign for emergency. The benefit of expert public testimony in both health-care and local authority will provide us with feedback of how Texas is equipped to respond in an emergency and determine how to best improve upon it," said Gonzáles.
"Measures must be quick and comprehensive to successfully secure the needs of Texans in a crisis situation," she said.
Gonzáles is currently serving her second term representing District 41 in Hidalgo County, which includes southwest Edinburg. In addition to serving on the joint interim charge sub-committee, she serves on the influential Judiciary and Public Health Committees and was recently appointed to the Aspen-Rodel Fellowship and the Texas Lyceum.
••••••
Primary candidates for Edinburg complete filing for March 4 party elections
By DAVID A. DÍAZ
Although the House District 40 battle between Rep. Aaron Peña, D-Edinburg, and his Democratic Party rival, Eddie Sáenz, also of Edinburg, is set to draw the most attention locally in the coming two months, Edinburg voters will be casting their ballots for numerous other key races, from president to constable.
Both the Democratic and Republican party primary elections will be held on March 4 (early voting will take place a couple of weeks earlier). However, in the primary races, voters can only cast their ballots in one party's primary election.
When the November general election is held, voters can cast their ballots for Republicans or Democrats.
The following candidates have filed for a place on the March 4 Democratic Primary election whose names will appear in Edinburg area ballots, along with the eventual candidates for President of the United States.
The names of the statewide and county candidates are listed in alphabetical order:
•U.S. Senate
Gene Kelly
Ray McMurrey
Rick Noriega
Rhett R. Smith
•Texas Railroad Commissioner
Art Hall
Dale Henry
Mark Thompson
•Texas Supreme Court, Chief Justice
•Texas Supreme Court, Place 7
Baltasar D. Cruz
Sam Houston
•Texas Supreme Court, Place 8
Susan Criss
Linda Reyna Yañez
•Texas Court of Criminal Appeals, Place 3
•Texas Court of Criminal Appeals, Place 4
•Justice, 13th Court of Appeals
Dori Contreras Garza (Incumbent)
•U.S. House of Representatives, District 15
Rubén Hinojosa (Incumbent)
•State Senate, District 20
Juan "Chuy" Hinojosa (Incumbent)
•State Representative, House District 40
Aaron Peña (Incumbent)
Eddie Sáenz
• State Representative, House District 41
Verónica Gonzáles (Incumbent)
•Hidalgo County Sheriff
•Hidalgo County Tax Assessor/Collector
Armando Barrera (Incumbent)
•92nd District Court
Ricardo P. Rodríguez, Jr. (Incumbent)
•93rd District Court
Rodolfo "Rudy" Delgado (Incumbent)
•139th District Court
•332nd District Court
Mario E. Ramírez, 332 District Court (Incumbent)
•389th District Court
Aída Salinas Flores (Incumbent)
•430th District Court
Israel Ramón, Jr. (Ramón will not be sworn into office until January 1, 2009. Judge Thomas Wingate, a Republican appointed by Gov. Rick Perry, did not file for election and will finish out his term on December 31, 2008)
•449th District Court
Jessie Contreras
Maxine Longoria-Nash
•Hidalgo County Democratic Party, Chairman
Dolly Elizondo
Juan Maldonado (Incumbent)
•Hidalgo County Constable, Precinct 4
Frank Cerda
James "J.P." Flores
Jose E. Guerra
Mateo Niño
Armando Patlán
Reynaldo Ronnie Pérez
Constable Andres Ríos (Incumbent)
•Justice of the Peace, Precinct 4, Place 1
David Chavana
Charlie Espinoza (Incumbent)
REPUBLICAN PRIMARY RACES, MARCH 4, 2008
•U.S. Senate
•Texas Railroad Commissioner
Michael L. Williams (Incumbent)
•Texas Supreme Court, Chief Justice
Wallace B. Jefferson (Incumbent)
•Texas Supreme Court, Place 7
Dale Wainwright (Incumbent)
•Texas Supreme Court, Place 8
•Texas Court of Criminal Appeals, Place 3
Tom Price (Incumbent)
Bill C. White
•Texas Court of Criminal Appeals, Place 4
Robert Francis
Paul Womack (Incumbent)
•Justice, 13th Court of Appeals
•U.S. House of Representatives, District 15
•Hidalgo County 449th District Court
Daniel Ríos (Incumbent/Appointed by Gov. Rick Perry)
•Hidalgo County Republican Party Chairman
Hollis Rutledge (Incumbent)
•State Representative, House District 41
••••••
Hidalgo County Judge Salinas to deliver 2008 State of the County Address at STC on Monday, January 14
By CARI LAMBRECHT
Hidalgo County Judge J.D. Salinas and Commissioners Sylvia Handy, Hector "Tito" Palacios, Joe Flores and Óscar Garza have scheduled the 2008 State of the County Address and Dinner on Monday, January 14, from 6 p.m. to 8 p.m. at the South Texas College Technology Center Campus located, at 3700 W. Military Road in south McAllen.
The State of the County Address, titled "Partnerships, Prosperity, People," will bring together about 400 community leaders from Hidalgo County to revisit the successes and challenges of 2007 and establish a clear vision for 2008.
The event, which is the first of its kind in Hidalgo County's history, will address topics such as the levees and the border fence, veterans' issues, health care, transportation infrastructure, economic development and emergency preparedness.
"There are so many people doing positive things in this county, and they may not know what their counterparts have accomplished or need their help on. We wanted to have an event that was like 'a year in review,' to share what we are doing with the public and ask the community to continue to work with us in 2008. We feel this event will bring great minds together and accomplish our mission to educate and inspire our citizens," said Salinas.
Salinas will give the keynote speech of the event. KRGV-TV News Channel 5 will air the State of the County Address live via streaming video on its website. The public is invited to watch live at 6:35 p.m. by logging on to http://www.newschannel5.tv.
The State of the County Address 2008 is being held in partnership with South Texas College, which is one of many educational institutions the Commissioners' Court has worked with in the past year on educational attainment and economic development issues through the Building Future Talent initiative.
Hidalgo County and South Texas College plan to unveil a new scholarship program at the event that will make it easier for Hidalgo County employees and their dependents to pursue higher education.
Schedule of Events
5:30 TO 6:00 p.m. Media availability with the judge and commissioners;
6:00 p.m.: Doors open to guests
6:20 p.m. Invocation
6:25 p.m. Welcome by Dr. Shirley Reed, president of South Texas College
6:35 p.m. State of the County Address by Judge Salinas
6:55 p.m. A Hidalgo County multi-media presentation
7:00 p.m. Dinner is served by STC Food Services with help from the STC Culinary Arts Program
7:45 p.m. Unveiling of the Hidalgo County Employee and Dependent Scholarship Program by Dr. Reed and the Hidalgo County Commissioners Court with special guest Veronica Reyna
For the latest Hidalgo County news, visit http://www.judgejd.com.
••••••
University of Texas System regents need to diversify to better represent South Texans, Hispanics
By SEN. EDDIE LUCIO, JR.
D-Brownsville
In 1881, the 17th Legislature passed a law stating that "there be established in this state, at such location as may be determined by a vote of the people, an institution of learning, which shall be called and known as The University of Texas."
Since its establishment, the UT System has been governed by 214 Regents appointed by the presiding Governors and has grown to nine academic universities and six health institutions. Two of those, the University of Texas at Brownsville (UT-B) and the University of Texas Pan-American (UT-PA) are in South Texas.
Representation from South Texas on the UT Systems Board, however, has been negligible.
From the South Texas region, since the 1800s, there has been one regent each from Brownsville, Mission, Roma, Del Rio and Victoria. El Paso has seen five, Uvalde two and Laredo one.
Since 1995, when ethnicity records began to be archived, only four regents have been Hispanic, and of those, two were from El Paso and one from Laredo. Only one African-American has been appointed since that year.
We need to up the ante when it comes to higher education opportunities for the social and economic outlook of our area and our state. It is time for South Texas to be better represented on a board that governs our two universities serving a rapidly growing population.
For 2006, UT-B and UT-PA combined, awarded 3,075 bachelor's degrees, or 12.5 percent of all bachelor's awarded at the nine UT institutions. For the entire system, 24,622 received undergraduate degrees. I commend both institutions for ensuring that these graduates completed their degrees. However, we must all work to increase that number. And while stronger representation on the Regents Board doesn't automatically guarantee increased bachelor's or other degrees for our area, a stronger voice is sorely needed during this time when tuition rates are on the rise.
We also can't ignore the fact that a greater student population will require more facilities, professors and other amenities, including expanded master's and graduate programs. A South Texas Regent could fight for this as well.
Certainly, it doesn't hurt to have a local serving on the Board of Regents as we grow our Regional Academic Health Center into a full-fledged medical school one day, as it is part of the UT Health Science Center at San Antonio. Our dream of having a law school for South Texans could be better fulfilled with homegrown representation as well. This is not to say we have not had friends on the Regents Board, whom we greatly appreciate.
The timing for a South Texan on the UT Board of Regents is definitely now. The Texas Higher Education Coordinating Board reported recently that the 334,000 Hispanic students enrolled in Texas public and private colleges last year represented a 40 percent leap from six years ago. However, the Hispanic population is growing so fast that the percentage of students compared to the total Hispanic population, 3.9 percent, has hardly increased from 2000.
The Corpus Christi Caller Times in an editorial called this situation "not good for a state that expects the Hispanic population to grow by 47 percent by 2010."
Since our Hispanic population is so great in South Texas, the impact of lower educational standards is enormous. While we battle to increase high school graduation rates, we must continue the quest for increased college graduation as well. But this goal will require a place for our students to go.
This is why we so badly need representation on the UT Board of Regents from someone who understands the area, the issues and the challenges we are facing not by reading reports or attending seminars, but by firsthand knowledge and experience.
As we begin another year in history and in education, we should expect and demand equal representation on a Board that determines the direction our universities will take and how we will meet the challenges facing us. A South Texan should be part and parcel of every one of these discussions
••••••
Lane Bryant latest store to join The Shoppes at Rio Grande Valley in Edinburg
By MEGAN PHILLIPS
Lane Bryant is the latest national retailer to announce plans to open a store at The Shoppes at Rio Grande Valley, a new regional shopping center currently under development in Edinburg, TX at the corner of Highway 281 and Trenton Road.
The 6,600 square foot Double Platinum store will feature a full assortment of Lane Bryant apparel including women's casual, career, active wear, swim, dresses, outerwear, maternity, accessories, as well as Cacique intimates, an in-store lingerie boutique. Projected to open in fall 2008, the new store will be the company's only "Double Platinum" store in the market for Lane Bryant.
The Shoppes at Rio Grande Valley broke ground on August 2, 2007. The open-air center developed by Manchester, CT based First Hartford Realty Corporation, will feature over 1.1 million sq. ft. of space on a 130-acre site. The super regional shopping center will feature a traditional department store, big box retailers, national and local specialty stores, restaurants, entertainment and a full-service hotel.
Lane Bryant joins previously announced retailers, JC Penney, Burlington Coat Factory, The SHOE DEPT and First National Bank.
"We are proud to bring Lane Bryant, the leading plus-size retailer in the country, to The Shoppes at Rio Grande Valley," said Alice Seale, Director of Leasing for First Hartford Realty Corp. "National retailers are increasingly looking at the Rio Grande Valley as a market that can support multiple locations. There is no doubt that the growth of this region is being recognized by the national retail community."
Lane Bryant is the nation's leader in women's specialty plus-size apparel, providing stylish, sophisticated, high-quality fashion for women sizes 14-28. With more than 900 stores in 46 states, the retailer has earned strong brand loyalty with customers.
In 1995, Lane Bryant began a transformation of the brand and has since become the plus-size industry leader, acknowledged for having a positive influence on the way women feel about their bodies.
In 2000, Lane Bryant launched a sensual line of intimate apparel and held the first lingerie fashion show for plus-size women. The event was widely acclaimed and created millions of impressions in the press.
In 2004, Lane Bryant partnered with Ford 12+, the plus-size division of Ford Models, in a nationwide search for the next plus-size supermodel. Lane Bryant is headquartered in Columbus, Ohio and is owned by parent company, Charming Shoppes, Inc.
Charming Shoppes, Inc. is the nation's third-largest specialty retail apparel holding company as measured by store units. In addition to Lane Bryant, the company owns and operates Lane Bryant Outlet, Fashion Bug, Fashion Bug Plus, Catherine's Plus Sizes and Petite Sophisticate. With more than 2,400 stores nationwide, Charming Shoppes mission is to serve the lifestyle apparel needs of women wearing plus sizes with the very best service, fashion selection, value and fit.
For more information, please visit http://www.lanebryant.com or http://www.charmingshoppes.com.
First Hartford Realty Corporation is a full service real estate developer based in Manchester, CT. The company has developed over 35 million sq.ft. in real estate, including over 6 million sq.ft. of retail space, since the company's inception in 1949. For more information, visit http://www.firsthartford.com
••••••
Six ECISD campuses named 'Best in Texas' by Texas Monthly magazine
BY GILBERT TAGLE
Texas Monthly magazine has named six Edinburg CISD elementary schools in its "Best Public Schools in Texas" list, announced Gilberto Garza, Jr., Superintendent of Schools.
The six ECISD schools were among 859 elementary, middle, and high schools across the state chosen for the distinction, said Garza.
Elementary campuses making the Texas Monthly list were Austin Elementary headed by Principal Homer Cano; Canterbury Elementary under Principal Dahlia Guzmán; De la Viña Elementary under Principal Erika Playle; Jefferson Elementary under Principal Ana Villalobos-Salinas; Lincoln Elementary under Principal Eva Sandoval; and Treviño Elementary under Principal Cynthia Sáenz.
Garza said that Austin, Canterbury, Jefferson, Lincoln and Trevino schools have made the Texas Monthly list two years in a row.
According to Texas Monthly, the schools were scored and analyzed by the National Center for Educational Accountability, performed better, across all grades, on the Texas Assessment of Knowledge and Skills (TAKS) test than did their counterparts at other schools around the state.
This is the fourth year in a row that Texas Monthly has published a list of top public schools and the second consecutive year that they have ranked schools according to the number of subjects in which they continually excel, including reading, math, science, writing, and social studies.
For a complete list of schools selected, pick up a copy of Texas Monthly magazine or visit their website at http://www.texasmonthly.com/schools.
For information on the KISD campuses selected, contact Deb Wells, Deputy Superintendent in charge of Curriculum and Instruction at (830)257-2200.
••••••
McAllen City Commission to Declare Monday, January 14 as "Verónica Gonzáles Day"
By RICARDO LÓPEZ-GUERRA
Rep.Verónica Gonzáles, D-McAllen, on Monday, January 14, will receive a proclamation from the McAllen City Commission highlighting her recent appointment to the Aspen-Rodel Institute and declaring that day "Verónica Gonzáles Day."
The event will be held from 4 p.m. to 5 p.m. at McAllen City Hall, located at 1300 Houston Avenue.
The city commission will be honoring the two-term state legislator for her achievements in the Texas House of Representatives and for her distinguished appointment to the Aspen-Rodel Fellowship. Gonzáles is teh first Fellow representing South Texas and the second Texas legislator distinguished as a "true rising star" of American politics.
(Editor's note: Gonzáles is running unopposed in March 4 Democratic Party primary. She will be facing fellow McAllen lawyer Javier Villalobos in the November general election. Villalobos is running unopposed in the March 4 Republican Party primary.)
•••••
State House panels to hold February 1 public hearing in Dallas to review immigration enforcement policies
By RAENETTA NANCE
The Texas House Corrections Committee and the Texas House County Affairs Committee on Thursday, January 4, announced a public hearing on immigration scheduled for February 1, 2008 in Richardson, Texas. The hearing is a result of a joint charge issued by Texas Speaker Tom Craddick, Midland, to be studied during the legislative interim which ends January 2009.
The Corrections Committee's chairman, Rep. Jerry Madden, R-Plano, had requested the charge to address the growing immigration crisis.
The committee members will hear testimony from the Texas Department of Criminal Justice, local officials, experts in the field and advocacy groups.
"As Speaker Craddick has said, the federal government has not acted and so the State must step forward and do what we can on this important and emotional issue," Madden said. "I look forward to working with Chairman Wayne Smith (R-Baytown) on examining as many options as possible for state action."
Currently, no statewide protocols exist for local agencies to identify illegal immigrants and coordinate with federal authorities.
Of particular interest to both committees is an area in immigration policy where there may be room for agreement- what happens when someone here illegally is charged with or convicted of committing a crime in our state. Madden pointed to the need for an effective uniform policy when coordinating with federal authorities on immigration matters.
For instance, he referenced so-called sanctuary cities and the need to understand how they process illegal immigrants who are convicted of crimes. Those in state prisons are returned to their country of origin following the terms of their sentences, but it is not known if local jails or county probation departments are doing the same.
"Collin County welcomes the opportunity to work with the House committees on the issue of illegal immigration," said Collin County Judge, Keith Self. "Collin County proactively looks for ways to protect our taxpayers in all areas, including illegal immigration. We welcome our own Chairman Madden and other State leaders to Collin County and we look forward to sharing with them our procedures that deal with those charged with offenses in our county. We will work closely with them to find solutions to this issue."
The immigration hearing will take place in the University Theatre at The University of Texas at Dallas, located at 800 West Campbell in Richardson, Texas. The hearing is scheduled to start at 10:30 am and signs will direct hearing participants and the public to appropriate parking.
Madden was elected to the Texas House of Representatives in 1992 and is currently chairman of the House Corrections Committee. He represents the 67th district of Texas that includes portions of southwest Collin County, including Plano, Dallas and Richardson. In 2007, Texas Monthly named him as one of the "Ten Best" Legislators, due in large part to his leadership in criminal justice, and his respectful working relationships with members of both parties.
••••••
Scientific breakthrough offers great promise
By REP. JUAN M. GARCÍA, III
D-Corpus Christi
As the New Year begins, a potentially stunning scientific development offers new hope for the families of those struggling with devastating ailments ranging from spinal cord injuries to Alzheimer's disease.
In recent years, a seemingly intractable impasse has formed between elements of the scientific and ethics committee. The In-Vitro Fertilization ("IVF") process, widely used by couples unable to conceive naturally, routinely results in dozens of fertilized embryos. After one or more of the embryos are actually chosen to grow, the rest are typically stored in refrigeration for some period and then discarded. Scientists believe that research on these stem cells, which contain "pluripotent cells", the unspecialized cells that can grow into any type of cell found in the human body, could hold the key to unlocking the cures to many of the diseases and conditions devastating families today, as well as have a massive impact on the provision of healthcare in America. But others believe that research on these embryos would violate the sanctity of life.
Last spring my office invited clergy members from over 300 Coastal Bend churches to meet and discuss this issue with the Texas scientists conducting the leading research in this field. Now, the impasse may be solved.
Scientists have for the first time grown colonies of these prized human embryonic stem cells using a technique that does not require the destruction of embryos, an advance that could significantly reshape the ethical and political debates that have long entangled the research. The new technique involves fusing a skin cell from a living adult with an existing, laboratory-grown embryonic stem cell. The fused, or hybrid, cell is "reprogrammed" into its embryonic state, Harvard University scientists reported in the journal Science. Such cells may eventually be used to grow new tissue and replacement organs and to cure a range of ailments.
"This is a tremendous scientific milestone, the biological equivalent to the Wright Brothers' first airplane," said Robert Lanza, chief scientific officer of Advanced Cell Technology in Worcester, Mass., a developer of stem cell therapies. Especially gratifying to stem cell researchers was that some of their biggest critics seem mollified. Richard Doerflinger of the U.S. Conference of Catholic Bishops said he was at a Vatican-sponsored meeting recently where the technique was described. "All the Catholic scientists and ethicists at the conference … had no moral problem with it at all," he said.
The scientists involved are quick to point out that this breakthrough is the beginning of the process, not the end. It will take future research to clear remaining technical hurdles, concluded the Harvard team.
But we have never before been this close to solving a stalemate as new as the most cutting-edge scientific research being done, and as old as the scriptures: "When does life begin?" As baby boomers struggle to maintain a quality of life for their parents beset by the ravages of Alzheimer's, and as our heroes return from war in the Desert beset by horrific burn wounds and scars, this development offers hope, and seems a response t the prayers of thousands. It's a good way to start the New Year.
(García represents Aransas, Calhoun and San Patricio counties and part of Nueces County.)
••••••
Remarks by Sen. Hillary Clinton on Tuesday, January 8, following the New Hampshire primary
Thank you. Thank you so much. I come tonight with a very, very full heart. And I want especially to thank New Hampshire. Over the last week, I listened to you and in the process, I found my own voice.
I felt like we all spoke from our hearts, and I am so gratified that you responded. Now, together, let's give America the kind of comeback that New Hampshire has just given me.
For all the ups and downs of this campaign, you helped remind everyone that politics isn't a game. This campaign is about people. It's about making a difference in your lives. It's about making sure that everyone in this country has the opportunity to live up to his or her God-given potential. That has been the work of my life.
We are facing a moment of so many big challenges. We know we face challenges here at home, around the world, so many challenges for the people whose lives I've been privileged to be part of. I've met families in this state and all over our country who have lost their homes to foreclosures. Men and women who work day and night but can't pay the bills and hope they don't get sick because they can't afford health insurance. Young people who can't afford to go to college to pursue their dreams.
Too many have been invisible for too long. Well, you are not invisible to me.
The oil companies, the drug companies, the health insurance companies, the predatory student loan companies have had seven years of a president who stands up for them. It's time we had a president who stands up for all of you.
I intend to be that president, to be a president who puts you first – your lives, your families, your children, your future. I believe deeply in America, in our can-do spirit, in our ability to meet any challenge and solve any problem. I believe in what we can do together. In the future, we will build together. There will be no more invisible Americans. So we're going to take what we've learned here in New Hampshire, and we're going to rally on and make our case. We are in it for the long run.
And that is because we are in it for the American people. This victory will serve notice that people across our country know what's really at stake, that we will all be called upon to deliver on the promise of America.
We'll be called upon to deliver on the promise that the middle class will grow and prosper again, to deliver on the promise the government will be of the people, by the people and for the people, not just the privileged few, to deliver on the promise that every generation will have their shot at the American dream, to deliver on the promise that we'll have the will and the wisdom to end the war in Iraq the right way, to deliver on the promise to take care of our brave veterans and restore America's standing, respect, and credibility around the world.
We know that for the promise of America to be real, we are called upon to deliver on that promise. And if you join in this call to greatness, we will, together, answer. So tomorrow, we're going to get up, roll up our sleeves and keep going.
I invite you to come join us at Hillaryclinton.com. We're going to tap into all of the spirit, the talent and just the plain grit of this great nation again.
We are determined to tackle our toughest problems and stand up to those who most need a champion because we are determined to make America work again for all of our people.
We came back tonight because you spoke loudly and clearly. You want this campaign to be about you because there is so much at stake for our country.
I have so many people to thank. I want to thank the two most important people in my life, Bill and Chelsea. I want to thank them for their incredible commitment, their passion and their heart. I want to thank my entire family, particularly my mother, who is watching tonight.
I want to thank the extraordinary team here in New Hampshire that never faltered one minute. That team had a great staff. It had volunteers and supporters from across the state and this country. I want to thank the young people across New Hampshire who came out.
They asked the hard questions and they voted their hearts and their minds and I really appreciate it.
Finally, I want to say how much I respect our Democratic candidates. Senators Dodd and Biden who were in the race earlier have given great service to our country. Governor Richardson, Congressman Kucinich, Senator Edwards and Senator Obama.
They all have put themselves on the line day and night on behalf of this country we love so much.
This campaign will transform America because we will take on the challenges. We will seize the opportunities. Every single day, I am not going out there on my own. I am going out there accompanied by millions and millions of people who believe, as I do, that this country is worth fighting for.
Thank you, and God bless you!
••••••
Consumer Alert: Landlords, roommates can fall prey to counterfeit checks
By GREG ABBOTT
Texas Attorney General
Texans who plan to get a roommate or rent out their house or apartment in the new year should beware of a new version of an old counterfeit check scam.
The U.S. Postal Inspector recently warned that some property owners are being duped by con artists using counterfeit checks. Managers of large apartment complexes and owners of a single rental property are targeted by the scam. A landlord should not trust a prospective tenant who responds from overseas to an online advertisement, pays a deposit with a cashier's check (possibly even offering to pay several months' rent in advance), and then asks the landlord to wire back part of the money. The checks often turn out to be clever counterfeits.
People who advertise seeking roommates should be careful of this scam as well. Roommates abroad who send large deposit checks and then ask to have some funds returned to them because of a "family emergency" or similar reason are simply trying to profit from the prospective roommate's trust.
To provide further reassurances, the scammer might even telephone the person who places the advertisement. But the result is invariably the same: They want to separate consumers from their money.
Many consumers mistakenly believe it is possible to get back their money, but the con artists behind these ploys are almost always in other countries. Even with the assistance of international law enforcement authorities, these thieves are nearly impossible to catch because they are constantly on the move.
Landlords and roommate seekers who are contacted with one of these offers should simply say "no."