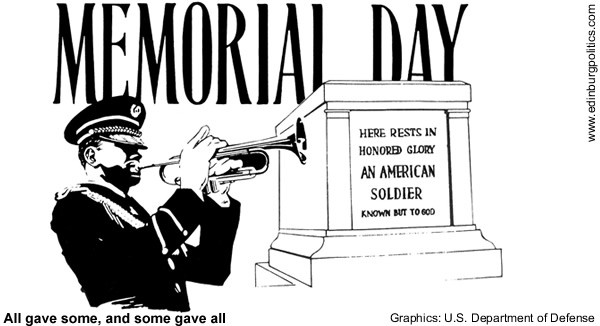 Memorial Day is a United States federal holiday that is observed on the last Monday of May (observed in 2008 on May 26). It was formerly known as Decoration Day. This holiday commemorates U.S. men and women who have died in military service to their country. It began first to honor Union soldiers who died during the American Civil War. After World War I, it was expanded to include those who died in any war or military action. Stories relating to Memorial Day are featured later in this posting, including President Bush's proclamation and prayer for peace, and updates on a major reform to the G.I. Bill that has passed the U.S. Senate and U.S. House of Representatives.
••••••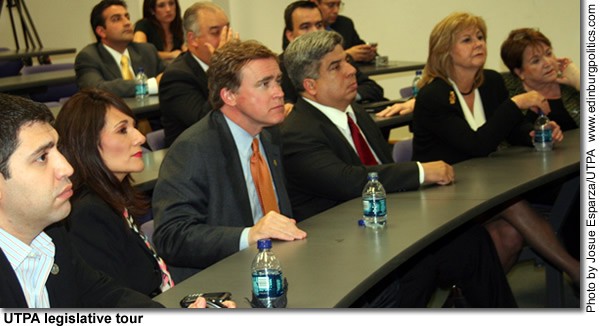 Rep. Verónica Gonzáles, D-McAllen, featured second from left, brought key House legislators for a recent tour of the newly-opened Rapid Response Manufacturing Center at the University of Texas-Pan American. "It's not every day that representatives from other regions of the state have the opportunity to see the burgeoning economic development of the Rio Grande Valley," said Gonzáles. "The Rapid Response Manufacturing Center is a perfect example of how the Valley is continually striving to create and sustain jobs and opportunities for local residents." Featured on the first row,, from left, are: Rep. Solomon Ortiz, Jr., D-Corpus Christi; Gonzáles; Rep. Dan Branch, R-Dallas, Chair of the Select Committee on Higher and Public Education Finance; Rep. Aaron Peña, D-Edinburg; Dr. Shirley Reed, president of South Texas College; and Dr. Blandina "Bambi" Cárdenas, president of UTPA. See story later in this posting.
••••••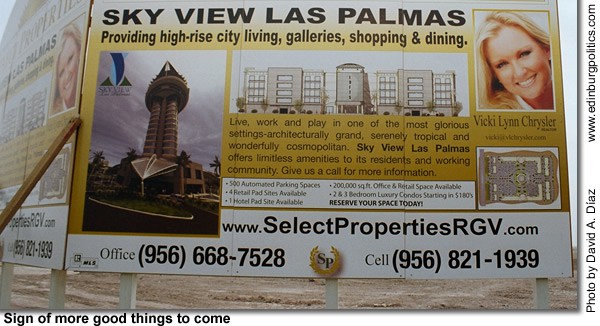 A billboard off the U.S. Expressway 281 northbound frontage road near Canton Road heralds the planned construction of a 14-story, $150 million complex that will feature luxury condominiums, a hotel, restaurant, and other amenities known as the Sky View Las Palmas. Work is already underway at the site, which is located near the 1.2 million square-foot Shoppes at Rio Grande Valley, where construction there also is moving forward. Sky View Las Palmas, which proposes to create about 200,00-square-feet of retail space, would be the latest major boost to construction activities in the city. It is tentatively scheduled to be built in four phases, according to the Edinburg Economic Development Corporation, and be wrapped up in about two years.
••••••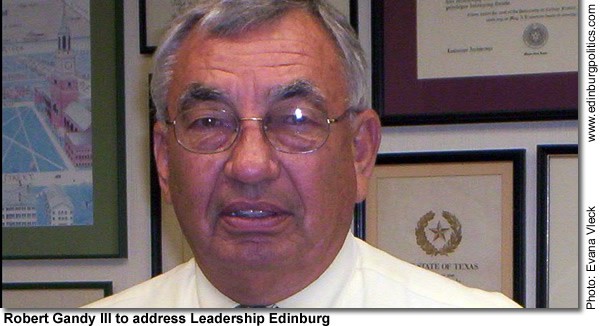 Robert Gandy, III, President/CEO of First National Bank, the largest privately held bank in Texas, will be the keynote speaker for the Wednesday, May 28 Leadership Edinburg Banquet at the Echo Hotel honoring the 19th graduating class. Tickets are available at $25 per person. Applications for Leadership Edinburg Class XX are currently available by contacting the Edinburg Chamber of Commerce at 383-4974. See story later in this posting.
••••••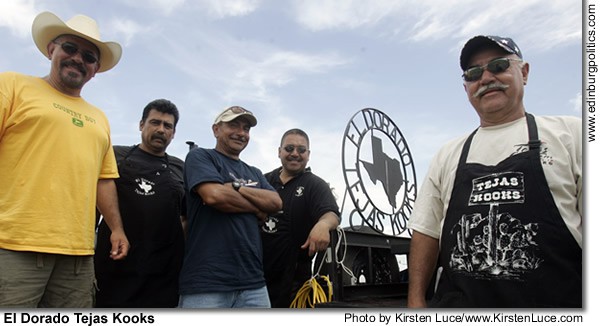 El Dorado Tejas Kooks of Houston, shown here last summer participating in the annual Texas Cook 'Em in Edinburg, are expected to be among dozens of teams competing for awards and $15,000 in cash prizes again this July 4, when the major event gets underway again at Edinburg Municipal Park. A new category has been added to the competition – T-Bone Steak. The event is free and open to the public, but there will be a $5 parking fee per family. For more information on the cook-off, including how to enter a team, please log on to http://www.Edinburg.com. See story later in this posting. (More information on photojournalist Kirsten Luce, who took this shot, is available at http://www.KirstenLuce.com).
••••••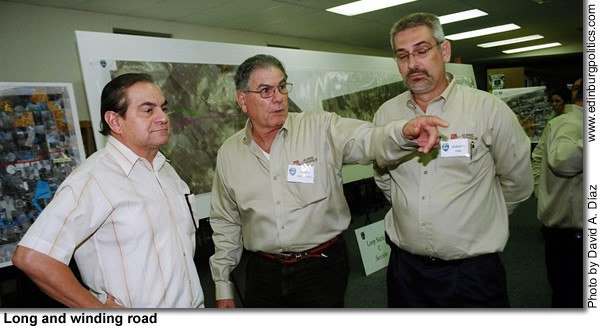 Homer Gutiérrez, an engineer with J.E. Sáenz and Associates, points out one of the dozen high-resolution maps to Mayor Joe Ochoa, left, that were part of an open house held Wednesday, May 14, at Edinburg North High School, that depict a possible route for the planned $650 million Hidalgo County Loop that could wind up near the city-owned South Texas International Airport in Edinburg. Ochoa, former Mayor Richard Garcia, and Gerry Pate, the leader of Hidalgo County Road Builders, the private coalition developing the loop system, agree it will have a major economic impact on the three-time All-America City. Also featured in this shot is Robert Fina, also an engineer with J.E. Sáenz and Associates, which is one of numerous area firms which make up the Hidalgo County Road Builders. See story later in this posting.
•••••• (more…)