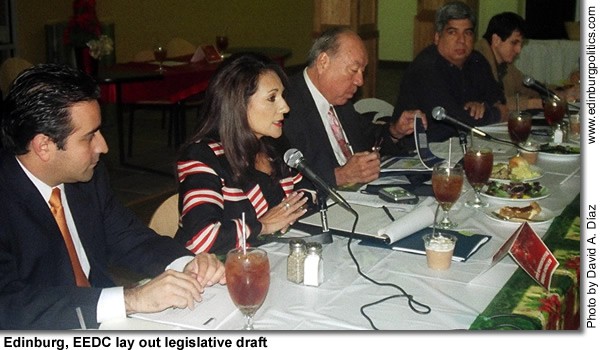 Rep.Verónica Gonzáles, D-McAllen, second from left, offers advice to the Edinburg City Council and top city administrators on Friday, December 5, during a legislative workshop held at City Hall. The preliminary legislative agenda, which has not yet been formally adopted by the city council or the EEDC, was presented to her, Sen. Juan "Chuy" Hinojosa, D-McAllen, and Rep. Aaron Peña, Jr., D-Edinburg. Strategies dealing with the city airport received top billing at the legislative work session. Edinburg wants the 490-acre facility to be enhanced so it can also protect the public safety while it promotes international trade and commerce. About a dozen legislative initiatives were discussed. Featured, from left, are: Ricardo López-Guerra, chief of staff for Gonzáles; Gonzáles; Hinojosa; Peña, and Orlando Salinas, chief-of-staff for Peña. See story later in this posting.
••••••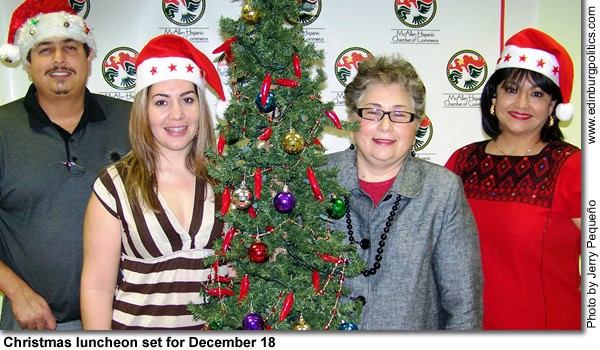 It's the Holiday Season and the McAllen Hispanic Chamber of Commerce is making plans for their Christmas Luncheon scheduled for Thursday, December 18 from 11:30 a.m. to 1 p.m. at the Renaissance Casa de Palmas Hotel.  The luncheon is being sponsored by Armondo Brennan of New York Life/Nautilus Group. The gathering will give new members an opportunity to introduce themselves to the membership. A short presentation will be made by Brennan on his services with New York Life and The Nautilus Group. Everyone dressed in some holiday attire will receive a special holiday gift courtesy of New York Life/Nautilus Group. Door Prizes will also be given away courtesy of the McAllen Hispanic Chamber and New York Life. Tickets to the luncheon are $15. For reservations and/or to purchase your ticket call the MHCC office at 928-0060. Featured, from left, making the final preparations for the luncheon, are: Armondo Brennan and Hazel Caraveo of New York Life/Nautilus Group; Rose Ramírez, Vice Chair of Health Issues for the McAllen Hispanic Chamber of Commerce, and Cynthia M. Sakulenzki, MHCC President and CEO of the McAllen Hispanic Chamber of Commerce.
••••••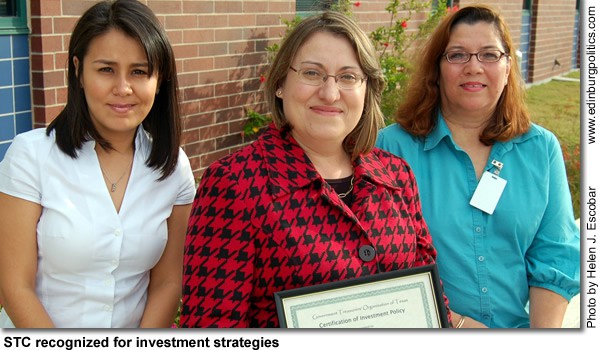 Once again, South Texas College's Business Office has gone above and beyond, this time earning the college accolades from the Government Treasurers' Organization of Texas. The organization awarded STC its Certificate of Distinction for the college's investment strategy.
The GTOT conducts an elective Investment Policy Certification Program, which is designed to provide professional guidance in developing an investment policy and to recognize outstanding examples of written investment policies. The program's Certificate of Distinction is awarded by GTOT to entities that have developed an investment policy which meets established criteria. The certificate is awarded for two years and then may be renewed upon review. STC's investing team poses with GTOT certificate. Featured, from left, is STC's investing team: Myriam López, STC senior account; Mary Elizondo, STC comptroller; and Alma Church, STC senior accountant. See story later in this posting.
••••••