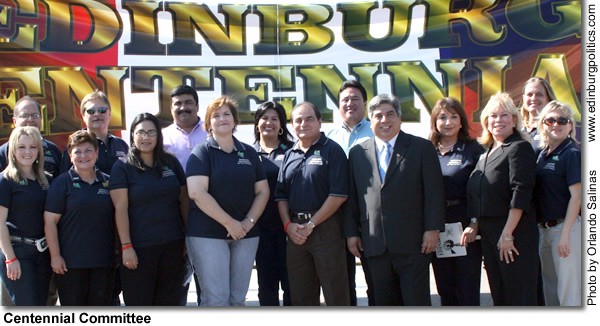 Members of the city's Centennial Committee, who helped organize a series of celebrations commemorating Edinburg's 100th anniversary, were publicly recognized on Friday, October 10, by city and state officials.  The group participated in a reenactment ribbon cutting with Rio Grande Switching at the Edinburg Depot, where passenger railroad services once played a vital role in the fledgling community's transportation system. Elected leaders in the photograph include Mayor Joe Ochoa, Mayor Pro Tem Gene Espinoza; Councilmember Alma Garza, and Rep. Aaron Peña, Jr., D-Edinburg.  Also in this photograph were Cynthia Bocanegra; Gus Casas; Elva Jackson Garza; Letty Gonzalez; Maggie Kent; Flo Prater; City Manager J.J. Rodríguez; Johnny Rodríguez; and Cris Torres.
••••••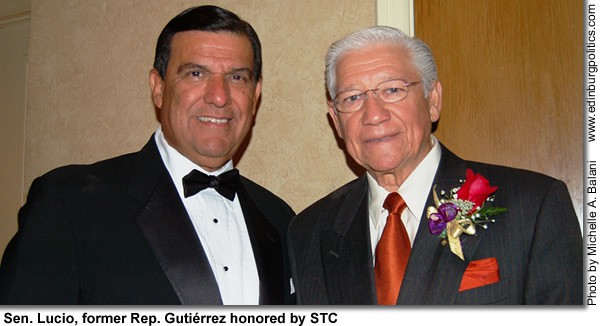 South Texas College's Valley Scholars Program, a scholarship program supporting academically gifted students, celebrated STC's 15th anniversary in stellar style with its annual A Night with the Stars fundraiser on Tuesday, October 7, at the Cimarron Country Club in Mission.  The special event honored Sen. Eddie Lucio Jr., D-Brownsville (featured left), and former Rep. Roberto Gutiérrez, D-McAllen, for their support of STC from its creation by the Texas Legislature in 1993. Lucio was the author of the legislation that converted the former Texas State Technical College branch campus in McAllen into South Texas Community College.  Gutiérrez was the sponsor of the measure. See story later in this posting.
••••••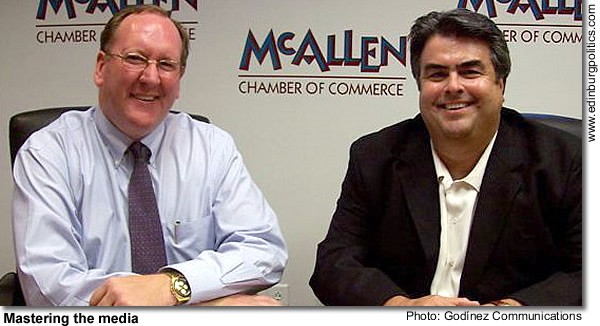 Brian Godínez (featured right), Senior Consultant with Godínez Communications, will be the featured speaker before the McAllen Chamber of Commerce on Tuesday, October 28, with his presentation, Bang For The Buck Marketing Strategies!  The session, hosted by the McAllen Chamber of Commerce, will focus on low-cost, high-value marketing techniques and their importance in a successful promotional strategy. The seminar, which will be held in the chamber's headquarters, located at 1200 Ash Ave in McAllen, will run from 11:30 a.m.  to 1:15 p.m., and lunch will be provided for registered attendees. The session carries a $10 fee per attendee. Featured with Godínez  is Steve Ahlenius, President and CEO of the McAllen Chamber of Commerce. See story later in this posting.
••••••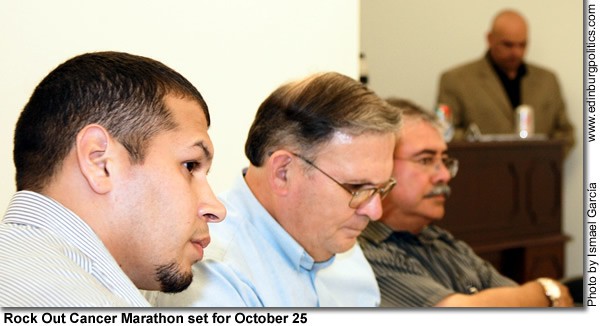 John Taméz, featured left, on Tuesday, October 7, updated the leadership of the UT-Pan American Alumni Association of plans by his group, the UT-Pan American Student Alumni Association, to organize a Rock Out Cancer Marathon at the Edinburg campus on Saturday, October 25. "The intention of hosting this event is to start new traditions that will continue to spread cancer awareness across UTPA and the community for many years to follow," he said. "The SAA will take an initiative to increase awareness for one of society's most common and life affecting diseases – cancer. This event is very dear to my heart because I am currently battling cancer and I know that there are many others in this struggle. This marathon will definitely help everyone." His presentation came before more than two dozen UT-Pan American alumni leaders meeting at the Wells Fargo Bank in Edinburg. Included in that session with Taméz were, from left: David Garza, president of the Houston chapter of the UT-Pan American Alumni Association; Dan Martínez, also with the Houston chapter; and Dr. Anthony Acosta, Ph.D., Multi-Media Program Director for Entravision Communications. The UT-Pan American Alumni Association has a website located at http://www.utpaalumni.com See related story later in this posting.
••••••
Ciro Treviño, ECISD Place 7 school board trustee, hopes to continue successful school board agenda
By B.L. LIM
Proven leadership and fiscal responsibility – these are the qualities that got Ciro Treviño elected to his first term of office on the Edinburg Consolidated Independent School District Board of Trustees.  He is banking on these same credentials to carry him through to a second term.
Treviño, however, faces a couple of challengers in the persons of a Carlos Ramos, a former police officer with the Edinburg school district, and Roger Bunch, a teacher with the school district's alternative campus.
Election Day is Tuesday, November 4. Early voting by personal appearance kicks off on Monday, October 20 and continues through Friday, October. 31. There will also be early voting the weekend of October 25 and 26.
Treviño, the Place 7 incumbent, only faced one challenger in his first election bid in May 2005.
While Ramos and Bunch are relatively new to school politics, Treviño heads for re-election with plenty of experience, both in the area of education and spending, the latter made more important
following the recent passage of the $112 million bond issue.
"As a board member, it is our sworn duty to see that taxpayers' money is being spent in the most fiscally responsible manner," said the former county tax assessor/collector. "I have done that and will continue to do so."
Treviño said although taxpayers of the district approved the bond issue, it is up to the board to see to that proceeds from the issue are spent wisely.
"I like to see the schools get built so that we can eliminate overcrowding," said Treviño, but adding that the district needs to keep operating in such a way that it does not waste taxpayers' money.
In the area of education, Treviño points to the recent successes achieved by the district's elementary and secondary campuses as proof that the current board is doing a good job of laying the ground work for excellence by creating a conducive environment for learning and teaching.
"Commitment, team work and dedication by teachers and principals to helping students are the keys to success," said Treviño.
The school district for the 2007-2008 school year boasted 12 Exemplary elementary campuses and 15 Recognized campuses, both all-time high figures. Treviño said the exemplary showing by the elementary campuses is made more incredible considering the fact that it was only in 2005 that
the district had only one Exemplary elementary campus to boast. That campus was Jefferson Elementary School.
Also in 2005 the district had 11 Recognized campuses and 15 Acceptable campuses.
Treviño said he would like to take the opportunity to thank and congratulate all the district's teachers and administrators and the entire community who work tirelessly to assure that students of the Edinburg school district are second to none.
Congratulations to the teachers, principals, parents and students," said Treviño. "Your success is an important achievement for all of Edinburg. It shows that our children's future is important to the whole community."
Treviño has never been one to observe from the sidelines and has taken on active roles to improve the well-being of the community, be it from the education standpoint or simply in the area of quality of life. A lifelong public servant, Treviño served as a commissioner on the Edinburg City Council from 1967 to 1969 after retiring from the accounting business.
He then ran for Precinct 4 Place 1 Justice of the Peace and got elected in 1969. He held the position until 1972, after which he was a Texas independent insurance agent from 1969 to 1990.
Treviño's long and distinguished public service with the County of Hidalgo began in 1972 when he ran for the first time for the Hidalgo County tax assessor/collector position. Voters elected him to the post and he continued to serve on the position until 1996.
His memberships on many agencies include state president of the Texas Tax Assessor-Collectors Association in 1981; state president on the Texas Association of Assessing Officers in 1985; chairman on the Texas Board of Tax Professional Examiners in 1996; board member on the Hidalgo County Appraisal District from 1982 to 1984; commander of the Freddy Gonzalez American Legion Post 408 from 1998 to 2001; member on the Veterans of Foreign Wars; vice-chairman on the Edinburg Housing Authority board of commissioners from 1996 to present; and member on the Edinburg CISD board of trustees from 2005 to present.
Treviño is a PSJA graduate and attended McAllen Business College and served in the United States Navy.
Treviño was married to the late Toni Anzaldua. His only son, Ciro L. Treviño, a former longtime band and fine arts director, passed away last year.
••••••
South Texas College honors Sen. Eddie Lucio Jr., former Rep. Roberto Gutiérrez at fundraiser
By MICHELE A. BALANI
South Texas College's Valley Scholars Program, a scholarship program supporting academically gifted students, celebrated STC's 15th anniversary in stellar style with its annual A Night with the Stars fundraiser on Tuesday, October 7, at the Cimarron Country Club in Mission.
The special event honored Sen. Eddie Lucio Jr., D-Brownsville, and former Rep. Roberto Gutiérrez, D-McAllen, for their support of STC from its creation by the Texas Legislature in 1993.
Lucio was the author of the legislation that converted the former Texas State Technical College branch campus in McAllen into South Texas Community College. Gutiérrez was the sponsor of the measure.
"I have been privileged to be part of the creation and evolution of STC and am truly humbled to be honored for my work," said Gutiérrez. "STC was created to give students an opportunity for a better life and the Valley Scholars Program is giving a special boost to very bright students who may not have otherwise been able to afford college."
During the evening, two former Valley Scholars were honored for their accomplishments, dedication to academic excellence, and service to the community. The honorees were alums Ada Karina Vela, who is now a pharmacist in the Valley, and Belinda Hernández, who is currently attending medical school at The University of Texas at San Antonio.
"Without the Valley Scholars Program at STC, I would not be where I am today," said Valley Scholars alum Ada Karina Vela. "When I was in high school, I didn't think college was an option for me because I knew my parents couldn't afford it. The program opened the door to a higher education, and provided me the resources, support and guidance necessary to be successful. I am both honored and grateful to be a part of this prestigious organization."
The event also featured a performance by Clueless, a recognition dinner and prize giveaway. More than 54 program sponsors were celebrated at the event, including executive sponsor Texas Border Business and diamond sponsors the McAllen Chamber of Commerce, South Texas Health System and BBVA Compass.
All proceeds from the event will benefit future STC Valley Scholars Program students. STC's Valley Scholars rank in the top 10 percent of their high school class, show exceptional leadership skills and are active in community service projects. They maintain high academic and social standards during their time at STC and go on to earn an associate's degree. More than 98 percent of program graduates go on to transfer to a four-year university or college.
For additional information about program visit http://www.southtexascollege.edu/ keyword "Valley Scholars" or call 872-2621.
••••••
DSHS commissioner Lakey approves Hidalgo County  operational plan for substance abuse center
By CARI LAMBRECHT
David Lakey, Texas Department of State Health Services Commissioner, on Tuesday, October 7, approved Hidalgo County's operational plan for a primary care/substance abuse facility aimed at providing quality outpatient primary care and alcohol and drug rehabilitation services to youths and adults in Hidalgo County.
With approval of Hidalgo County's operational plan, the $3 million appropriated during the 2007 legislative session for the center will now be turned over by the Legislative Budget Board to DSHS, which in turn will allocate it to the Texas Facilities Commission to build the new facility.
The primary care/substance abuse center will be constructed on a 6.31-acre parcel of land, which was donated by the county, east of Doolittle Road and north of Richardson Road in Precinct 4.
The operational plan calls for an approximately 13,000 sq. ft. building to be constructed, and for a committee to develop a funding and sustainability plan to fund the day-to-day operations of the facility.
The Texas Legislature only provided construction monies; thus, operational funds are being researched by the county, in coordination with various community partners.
"Hidalgo County looks forward to building partnerships with local health care providers, communities, foundations and educational institutions to infuse this building with the caring and supportive people it needs to positively influence the lives of our adolescents and adults hooked on dangerous substances," said Hidalgo County Judge J.D. Salinas III. "Hidalgo County is in great need of a facility like this. Getting our residents clean and healthy will make our workforce stronger and quality of life for everyone better."
For more information, visit http://www.co.hidalgo.tx.us
••••••
Rep. Gonzáles' legal and legislative careers honored by Texas Lawyer, Texas Monthly magazines
By RICARDO LÓPEZ-GUERRA
Rep. Verónica Gonzáles' career as a lawyer and as a legislator earned her and her law firm statewide recognition in two recent publications.
Gonzáles, D-McAllen, was named one of 30 Extraordinary Women in Texas Law in a special publication by Texas Lawyer, a weekly publication that is a primary source of legal news and information for the third largest legal community in the country.
Texas Lawyer's editorial staff spent several months researching and interviewing women licensed to practice law in firms, government, non- profits, universities and the corporate world. Selected through a nominating process among the more than 22,000 licensed female attorneys, the publication featured 30 women who made a significant impact on the state's law and legal practices in the past five years.
Gonzáles, the only attorney selected from the Rio Grande Valley, was profiled about her career as a lawyer and in the Texas House of Representatives, noting just some of the bills she has passed, such as providing streetlights in colonias, creating new courts and protecting victims of abuse.
Gonzáles was also featured, along with her law partners Ray Thomas and Michael McGurk, in Texas Super Lawyers 2008, published in Texas Monthly magazine. Attorneys chosen are selected by peer recognition and professional achievement. Firm associate attorneys Rebecca Vela and Deborah Cordova were also selected as 2008 Rising Stars, as attorneys practicing less than 10 years.
"I am honored and humbled to be recognized by these two publications, and to be named along with some of the most talented lawyers in our state's legal profession," Gonzáles said. "It is especially wonderful to share this recognition with my colleagues at Kittleman, Thomas & Gonzáles, LLP who were also selected for their achievements."
••••••
UTPA Alumni Association updated on planned Rock Out Cancer Marathon on campus Oct. 25
By UNIVERSITY RELATIONS
The Student Alumni Association (SAA) at The University of Texas-Pan American is hosting the Rock Out Cancer Marathon on Saturday, October 25 at the UTPA track and field, from 6 p.m. to midnight, to increase awareness of the disease during National Cancer Awareness Month.
"The intention of hosting this event is to start new traditions that will continue to spread cancer awareness across UTPA and the community for many years to follow," said John Taméz, president of the UTPA Student Alumni Association. "The SAA will take an initiative to increase awareness for one of society's most common and life affecting diseases – cancer. This event is very dear to my heart because I am currently battling cancer and I know that there are many others in this struggle. This marathon will definitely help everyone."
Taméz made a presentation about the marathon during a meeting on Tuesday, October 7, before more than two dozen leaders of the University of Texas Pan American Alumni Association (http://www.utpaalumni.com).
The UTPA Alumni Association Board of Trustees met in Edinburg in the Wells Fargo Bank, located at 2836 Trenton Road.
Every individual and group participant will be charged $20 per hour and will have the opportunity to participate for six hours. A $10 entry fee will be charged for non-marathon participants. Also joining the festivities will be five cancer awareness groups and foundations sharing information and literature. Cancer survivors will be honored with a special T-shirt and free food at the center of the field. The SAA will be selling sausage dogs and refreshments for all other participants.
Six local rock bands will entertain the participants and audience. There will also be a tent decorating contest for individuals who desire to camp out around the track and prizes will be given.
At 8 p.m., the SAA will honor friends and family members who have died of cancer by lighting the word "hope" by candlelight on the field.
The SAA is a newly created student organization at UTPA, armed with dynamic student members, which seeks to bring old traditions back to the university while creating new traditions that will be cemented with the student population.
The deadline for pre-registration is Monday, October 20, but all participants who do not pre-register are still encouraged to attend. Donations are also appreciated. All individuals and groups who are interested in pre-registering and committing to the marathon are encouraged to call Taméz at 956/289-3816.
About the UTPA Alumni Association
The UTPA Alumni Association is an organization of proud graduates, ex-students and friends who have joined together to provide continued support and service to UT-Pan American.
The Alumni Association began in the early 1970s with 600 charter members. The names of those charter members are etched onto a large plaque that now hangs in the Alumni Office.
The Association is a self-funded, membership-driven organization, that  offers its members a variety of ways to stay connected and explore opportunities for building a place in the world. Tangible benefits help members grow personally and professionally, and have a little fun.
The Alumni Association provides scholarships, mentorship, outreach and fundraising to improve the benefits and services for students and graduates; and to promote the University's educational and technological excellence.
The Association provides alumni programs and events, including alumni clubs and membership solicitation.
The Association has a 21 member working board and involves a commitment of time and resources. The board and most committees meet at least 4 times a year, usually at UTPA. Members are elected to a three-year term and may serve up to two terms.
In order to select a diverse cross section of alumni, the Nominations Committee takes into consideration the makeup of the board. Factors considered include geographical area of residence, year of graduation, occupation and volunteer activities.
More information on the UTPA Alumni Association Board of Trustees may be obtained by e-mail at: [email protected]
••••••
Brian Godínez featured speaker for October 28 marketing strategies seminar in McAllen
By MATT Z. RUSZCZAK
The McAllen Chamber of Commerce will be hosting the second of three professional presentations on profit growth strategies during its 4th Tuesday Lunch & Learn Business Seminar Series on Tuesday, October 28. The second session, labeled Bang For The Buck Marketing Strategies!, will be presented by Brian Godínez, Senior Consultant with Godínez Communications.
The seminar will focus on low-cost, high-value marketing techniques and their importance in a successful promotional strategy. The seminar will discuss the following promotional strategies:
Writing articles and editorials;
Utilizing day-to-day communication for marketing/advertising;
Networking for growth;
Strategic marketing/advertising alliances;
Sponsorship for publicity;
Teaching for growth; and
Maximizing your share of the customer.
The seminar will be held in the chamber's headquarters, located at 1200 Ash Ave in McAllen. The Lunch & Learn session will run from 11:30 a.m.  to 1:15 p.m., and lunch will be provided for registered attendees. The session carries a $10 fee per attendee.
Godínez spent several years working specifically in the media, marketing and technology sectors. In 2002, he created Godínez Communications, offering a diverse group of South Texas companies and institutions a variety of communications, marketing and business development services.
He has worked with several local-area community leaders, media, institutions and businesses providing marketing, strategic planning, planning facilitation, public relations, public involvement, advertising, multi-media production and Internet-based services.
Prior to his move to McAllen in 2002, Godínez spent 10 years in an executive capacity in the technology sector working in the Austin, Atlanta and Los Angeles markets providing web-enabled application software and services, Internet services, streaming media, and digital asset management and distribution. Throughout his technology career, Godínez helped secure funding for over $75 million dollars from private and venture sources.
Prior to his technology career, he spent more than 15 years working in the media and entertainment industry and produced award-winning advertising, television programs, major sports and concert events and campaigns. During his advertising and television career, Godínez generated more than $500 million in product sales and promotion. Key clients included Dallas Cowboys, NFL, ESPN, MTV, WGN and USA Network.
He has been a keynote speaker and panelist at several industry conferences and has volunteered on a variety of industry and non-profit boards and task force groups.
For additional information on the 4th Tuesday Lunch & Learn Business Seminar Series, or to register for the event, please contact Michelle Rodriguez at (956) 682-2871 or [email protected]
As seating is limited, timely registration is encouraged.
••••••
More laws and funding needed to stop human trafficking, which often goes through Texas
By SEN. EDDIE LUCIO, JR.
The horrific crime of human trafficking is rapidly outpacing the scope and size of yesteryear's enslavement.
This modern day slavery involves the recruitment, harboring and transportation or obtaining of a person for involuntary servitude, slavery, sexual exploitation, debt bondage and other crimes against humanity.
"Human trafficking is a horrific crime that has lasting consequences for its unfortunate victims.  The souls who fall victim to human trafficking are not only forced to work in deplorable conditions for no wages – but worse are all too often subjected to forced prostitution and other forms of sexual exploitation," said Texas Attorney General Greg Abbott.  "I am committed to continuing our efforts to improve victim services, increase criminal penalties for traffickers and expand law enforcement's ability to aggressively crack down on this degrading, inhumane criminal enterprise."
Approximately 17,000 victims are trafficked into the United States each year, and domestic trafficking of minors and women is a growing concern.
For example, an unsuspecting teenager may be enticed by someone offering a ride to the mall, a free meal or for runaways a place to sleep. These youths are often held captive, drugged and eventually required to pay for the drugs and boarding. They are then threatened and forced into prostitution to repay the human trafficker.
In response, the 80th Legislature directed the attorney generalto produce a report to help us determine what more is needed regarding existing laws and social services addressing the needs of human trafficking victims.
The Texas Response to Human Trafficking report differentiates between smugglers, often called coyotes, and traffickers: "Unlike smuggling, which is often a criminal commercial transaction between two willing parties who go their separate ways once their business is complete, trafficking specifically targets the trafficked person as an object of criminal exploitation."
While some victims enter the country illegally with a smuggler's help and the promise of a better life, others arrive with the necessary documents, but unknowingly rely upon traffickers for transportation and sponsorship. Still others are kidnapped or sold and forced to come to the United States.
A 2003 Caliber Associates study cited in the AG report states that "traffickers often prey on impoverished individuals who are frequently unemployed or underemployed and who may lack access to social safety nets, such as women and children from certain countries and cultures."
One of every five U.S. trafficking victims travels through Texas along Interstate 10, and nationwide nearly 20 percent of them are found in Texas. The U.S. Department of State's recent "Trafficking in Persons" report estimates that approximately 800,000 victims are trafficked across international borders yearly.
This problem has become so severe that the U.S. Congress passed the Trafficking Victims Protection Act of 2000, which stresses the need for states to punish offenders and care for victims.
As of June 2008, 39 states have passed a human trafficking law. Texas introduced one in 2003, making Washington and Texas the first two states to enact laws criminalizing human trafficking.
In 2007, Texas began requiring certain businesses licensed under the Alcoholic Beverage Code to post informational notices where human trafficking victims might see them, and also mandated that the national human trafficking hotline number be posted in overnight lodging establishments where crime has been prevalent. Although a good start, more must be done to stem this crime and ensure that victims are not further victimized once discovered.
It is difficult for average citizens or law enforcement officers to know whether employees of hotels, restaurants or private residences are actually human trafficking victims, especially when these individuals are terrified of reporting their captors or of escaping for fear of retaliation against them or their families. That is why I join the AG in calling for a statewide public awareness campaign, as well as specialized training of our law enforcement, rescue and health communities.
Funding is needed to train law enforcement officials to develop cases against human traffickers, as well as to assist victims. These dollars could equally train medical and rescue personnel to identify and help enslaved individuals.
To assist the rescued, resources must also be allocated for shelter and housing, medical, dental and mental health care, special services for child/juvenile victims and interpreter/translator services.
By raising awareness and modifying our laws and services, Texas will be better positioned to fight this modern day slavery and send a clear message to human trafficking criminals that they will be tracked down and prosecuted.
I look forward to working together with the Attorney General's Office and the Health and Human Services Commission – also producing a report on available services for trafficked victims at the federal and state level – to combat the crime of human trafficking through adequate prosecution, while assisting its victims to regain their lives and dignity.
••••••
Illegal crossings into Texas drop more than 50 percent in past 4 years, says Texas Border Coalition
A Texas Border Coalition analysis of the most recent data from the U.S. Department of Homeland Security shows that the number of immigrants illegally crossing the Rio Grande in Texas has declined by more than half over the past four years.
The drastic 56 percent decline in U.S. Border Patrol apprehensions has occurred even though very little of the Texas border has a fence; most of the border fencing in the Lone Star State is in El Paso and has been in place for years. The Border Patrol sector with the greatest amount of fencing – the San Diego sector – apprehensions have increased by 28 over the same period of time, according to the TBC analysis.
The Border Patrol generally associates apprehensions with the number immigrants attempting to cross the border illegally.
"The Texas Border Coalition has consistently said that border walls and fences won't work. Illegal crossers go over, under, through and around them. The results demonstrate, again, the facts of our analysis," said TBC Chairman and Eagle Pass Mayor Chad Foster.
"In San Diego, where the Border Patrol has erected double fences and walls, the number of illegal crossing has consistently gone up. In Texas, where there is hardly any fence, the number of illegal crossings has gone down significantly. In my home sector of Del Rio, the number of illegal crossings has declined 70 percent," Foster continued.
"The $50 billion that the border wall and fence will cost America is a waste. In Texas, we are securing the border with more Border Patrol and smarter enforcement. We don't need a fence," Foster said.
"To stop the remaining illegal crossings, Congress needs to enact immigration reform that includes a temporary worker program and legalization of the undocumented persons who will pay a fine and learn English. That will free up the Border Patrol and immigration enforcement personnel to rid the country of criminal aliens and to concentrate on stopping the bad guys from entering the United States, including any terrorists that might threaten to harm our nation," said Foster.
TBC is providing its analysis to members of Congress, the Texas Legislature and the presidential campaigns of U.S. Senators Barack Obama and John McCain. Both McCain and Obama have indicated their desire to review the Bush Administration's border security programs to make them more effective.
"We recommended a variety of border security initiatives that are more effective and not a waste like the border wall. We look forward to working with the new Administration – whoever it may be – to provide real solutions that will finish the job of securing our borders and reforming a broken immigration system," Foster concluded.
••••••
Senate committee, which includes Sen. Lucio, looks at future of inland, off-shore wind power in Texas
By SENATE MEDIA SERVICES
Texas will continue to lead the nation in wind-generated electricity, according to testimony offered at the Monday, October 6 Senate Business and Commerce meeting.
Committee chairman Sen. Troy Fraser, R-Horseshoe Bay, began the meeting with a brief history of wind power in Texas. Beginning in 1999, the Legislature mandated a goal of 2500 megawatts of wind generated energy by 2010. By 2005, that goal had been met, so lawmakers set a new benchmark of 5880 megawatts by 2015. As of this year, Texas has capacity to generate 6000 megawatts of wind energy, and should have a 10,000 megawatt capacity by 2010. Testimony Monday related to where new wind turbines will be built.
One burgeoning market for new wind generation lies off the Texas shore, according to Texas Land Commissioner Jerry Patterson. Unlike inland wind generation, which is generated mostly at night during off-peak demand hours, coastal wind farms generate power during the day. While off-shore construction has been impeded due to yearly hurricanes, Patterson estimates Texas should begin generating wind power from coastal farms in as soon as two years.
While off-shore wind generation shows potential, there is still a growing inland wind market. The committee heard testimony from representatives of power companies, and local residents in an effort to balance the needs of both groups. Gillespie County Judge Mark Stroeher testified that residents in his region are very concerned about new wind farms spoiling the scenic views in the Texas Hill Country. He wants some form of regulation to give local residents a say in where new wind farms are built.
Burt Gannin, a representative of Florida Power and Light, testified that letting the industry regulate itself is the best practice. His company generates between 35 and 40 percent of wind energy in Texas, and he said works hard to accommodate the needs of local residents. He said it is the free market environment that has contributed to Texas' status as the leading wind generation state in the country.
The Business and Commerce committee will look at what kind of regulation to place restricting new wind farm construction in the 81st Legislative Session. Fraser said at Monday's meeting that he would prefer a local regulation of new construction, because local authorities have to answer to residents through local elections.
In addition to Chairman Fraser, the Business and Commerce committee is vice-chaired by Sen. Chris Harris, R-Arlington, and is comprised of Sen. Kirk Watson, D-Austin; Sen. Leticia Van de Putte, D-San Antonio; Sen. Craig Estes, R-Wichita Falls; Sen. Eddie Lucio, Jr., D-Brownsville; Sen. Kip Averitt, R-Waco; and and Sen. Kevin Eltife, R-Tyler.
Session video and all other webcast recordings can be accessed from the Senate website's audio and video archive pages.
••••••
More than 1,000 classrooms recognized as Texas School Ready by UT center, says Sen. Zaffirini
By CELESTE VILLARREAL
The State Center for Early Childhood Education at The University of Texas Health Science Center at Houston (State Center) on Tuesday, October 7, recognized 1,123 early education classrooms across the state as Texas School Ready, Sen. Judith Zaffirini, D-Laredo, has announced.
Public pre-kindergarten, Head Start and private childcare classrooms that apply and meet the criteria are considered for certification. Almost 75 percent of applying classrooms were awarded certification for the 2008-09 school year, an increase of almost 10 percent from 2007-08. What's more, the State Center increased the total number of certified classrooms this year by 42 percent.
This certification program was created by Zaffirini's Senate Bill 76 (2003), which also created the Texas Early Education Model (TEEM), and Senate Bill 23 (2005), which expanded TEEM and directed the State Center to develop a school readiness system that would ensure children who leave early childhood programs are ready for kindergarten.
Pre-schools and child-care centers apply yearly to the State Center and provide information about classrooms and educational programs, including the learning environment and curriculum. Children attending applicant classrooms are followed from pre-k into kindergarten and evaluated by the State Center for early reading and social development to determine if the pre-k classroom effectively prepared the student for success in elementary school.
"I am delighted that so many classrooms across the state received this important accreditation that will improve the quality of pre-kindergarten education in our community," Zaffirini said. "Quality child care programs provide a positive, long-term economic development impact by allowing parents to re-enter the workforce with the knowledge that their children are prepared for school."
Zaffirini serves on the Senate Committee on Education and presides over two higher education subcommittees. Lt. Gov. David Dewhurst appointed her Chair of the Senate Finance Higher Education Subcommittee and the Senate Higher Education Subcommittee.
••••••
Lawsuit watchdog organization launches Good Judges Matter campaign in statewide, local races
By ELIZABETH WALKER
A large number of Texas voters skip Supreme Court and other judicial contests with many of them saying they simply don't know enough about the candidates to make an informed choice.
According to a recent survey of Texas voters, a candidate's judicial experience and judicial philosophy were mentioned as the top two most important factors when choosing whom to support in statewide and local judicial contests.  However, only 64 percent of voters surveyed said they usually cast a ballot in all or most judicial elections.
More than three in 10 voters said they voted in none or only some of these contests and 74 percent of these voters say they simply don't know enough about the candidates for judicial office to make an informed decision.  The survey of 804 Texas voters was conducted by Base1ice & Associates from July 27-30 and has a margin of error of ± 3.5%.
A lawsuit abuse watchdog organization on Wednesday, October 8, launched an educational campaign to encourage Texas voters to make their voices heard in statewide and local judicial contests and help voters make an informed choice in November.
"From schools to the environment to health care, our judges make decisions that can impact our daily lives; yet, in the last presidential election cycle, almost half a million voters didn't cast a ballot in the one contested Supreme Court race on the ballot," said Bill Summers, founder and president of Citizens Against Lawsuit Abuse of the Rio Grande Valley. "As voters go the polls this November, we hope they understand the importance of the judicial races and take advantage of the opportunity to elect quality candidates to the bench. Our Good Judges Matter campaign encourages voters to make informed decisions when they enter the voting booth."
The number of voters who skip judicial elections varies by election year but in the last presidential election about 500,000 of the 7.4 million voters who went to the polls did not cast a ballot in the one contested race for Texas Supreme Court.  In non-presidential election years, the drop off from the top of the ticket to the judicial contests can range from between 100,000 to almost 1 million voters, according to an analysis of election results posted on the Texas Secretary of State website.
Yet, despite the performance at the polls, a majority of Texans surveyed said they are interested in judicial elections at the state and local level.  And, when they learn more about the role of the high court in particular, the interest increases by almost 20 percent.
"It's the duty of every Texan to learn about our system and the judges seeking our vote," Summers said.  "In this election, we have the opportunity to vote in three contested races for the state Supreme Court and a host of local judicial contests.  Learn about each candidate and on November 4, you be the judge."
Citizens Against Lawsuit Abuse (CALA) is a nonprofit, nonpartisan, grassroots, public education organization dedicated to serving as a watchdog over the legal system and those who would seek to abuse it for undeserved gain. Founded in the Rio Grande Valley in 1991, CALA now strives nationwide to raise awareness of the costs and consequences of lawsuit abuse.  More than 25,000 Texans now support the movement.  For more information, visit: http://www.citizensagainstlawsuitabuse.com.
••••••
Attorney General Abbott reaches agreement with Countrywide, helps homeowners avoid foreclosure
Texas Attorney General Greg Abbott and six other state attorneys general on Monday, October 6, reached a nearly $8 billion agreement with Countrywide Financial Corp. The settlement resolves states' lengthy investigation into Countrywide's lending practices. Bank of America, which recently acquired Countrywide, agreed to the settlement.
Texans who are in default or likely to default on sub-prime mortgages issued by Countrywide could be eligible to participate in an extensive loan modification program. Through this program, eligible borrowers will be able to modify the terms of their loans to make monthly payments more affordable and allow more borrowers to stay in their homes.
Modified loan terms will vary according to each borrower's individual circumstances. Under the agreement, Countrywide customers may benefit from an automatic freeze or reduction in interest rates, an extension of loan terms, conversion to fixed term loans, or principal reduction. Eligible borrowers who participate will not be charged late fees, loan modification fees, foreclosure fees, or pre-payment penalties. Bank of America estimates that up to 30,000 Texas homeowners will qualify for the loan modification program.
"Today's agreement will help keep struggling homeowners out of foreclosure and in their homes," Abbott said. "Under the loan modification program negotiated by the states, Texas families can benefit from frozen or reduced interest rates, loan term extensions and conversions to fixed rate mortgages. As a result, this agreement not only assists homeowners, but also helps shore up communities and markets that have been affected by the residential mortgage lending crisis."
Under the October 6 agreement, Bank of America will spend $150 million nationwide to assist homeowners who have already lost their homes. The lending giant will spend up to $70 million to homeowners who, despite the loan modification program, are ultimately unable to keep their homes.
Bank of America also agreed to suspend the foreclosure process for eligible homeowners who are in default but wish to stay in their homes. The settlement resolves investigations into Countrywide's lending practices by Texas, Arizona, Iowa, Ohio and Washington. The settlement also resolved lawsuits against Countrywide initiated by Illinois, California and Florida. Other states also are participating in the settlement.
Under the October 6 agreement, Countrywide borrowers who have been foreclosed or who are unable to afford their homes even under a modified loan arrangement will be offered soft landing payments to ease re-location to another home.
Texans who believe they may be eligible for the program should visit countrywide.com or call (800) 669-0102.
The Office of the Attorney General (OAG) continues working to protect struggling homeowners. In September 2007, Attorney General Abbott launched the Texas Residential Mortgage Fraud Task Force, which includes key state and federal regulatory and law enforcement agencies that track and prosecute mortgage fraud.
The OAG has also taken legal action against a variety of mortgage-related practices, including title scams, fraudulent refinancing ploys, and other mortgage-related fraud. In 2007, Abbott secured $21 million in restitution for Texas homeowners who were harmed by lending giant Ameriquest Mortgage Co. The case resolved allegations that the company and its affiliates did not clearly disclose certain terms to homeowners, including unpredictable adjustable rates.
In 2006, Abbott negotiated an agreement with Green Tree Servicing L.L.C., a Minnesota-based firm that services manufactured housing debts in Texas. Under the settlement, Green Tree agreed to assist more than 1,200 Texas homeowners who may have been issued invalid titles to homes they purchased from unlicensed retailers in 2003. In a related move, the Attorney General secured an injunction and asset freeze against the unlicensed manufactured housing sellers. The OAG has also halted scams purporting to save homeowners properties from condemnation and cracked down on various title-related and refinancing scams.
Consumers who believe they have been targeted by a mortgage-related scam should contact the Office of the Attorney General at (800) 252-8011.
••••••
AIG bail-out provides opportunity for government to help help expand health insurance for all citizens
By BARBARA ANN RADNOFSKY
The U.S. government should stay in the business of insurance, now that we are in it in the biggest possible way. Well-handled insurance companies can make great profit and do good for people, particularly in traditional lines.
AIG comes with some problems. You and I own the largest imaginable seller of credit-default swaps (about half a trillion dollars as of June 30!). A credit default swap is a private, hidden-from-government-regulation contract where parties bet on whether the borrower will default. The weekend of September 13-14, the government, AIG, and outside advisors had no idea the size of AIG's shortfall, just that it was "$60 billion plus." That became $70 billion by Monday, September 15. I bet that AIG is actually on the hook for hundred of billions in losses. And we are stuck with it.
Here's how we re-tool AIG:
With the acquisition of the world's largest insurance company, the U.S. government has now (in addition to unimaginable obligations) the opportunity to get in the business of health insurance, regulating itself and the competing insurance industry. And now we can take a peek at the private securities deals our near-80 percent interest in AIG now stakes.
We put all U.S. citizens into a single insurance risk pool, with no exclusion for someone on account of health status. It is not single payer, and doesn't require nationalization of any more insurance companies. It means that those citizens who might get sick may nonetheless be covered; despite the risk the carriers might have to cover the loss.
The VA is a superb model, but has been altered from the reforms of the 1990s to narrow what was a single pool, taking all comers. Now, the VA arbitrarily turned its back on "group 8" veterans. To veterans in group 8, the VA refused coverage to those earning a pittance with disability which couldn't be proven as service-related. This makes no sense if we want as healthy a population as possible, or if we want to honor the promises made to those who served.
Once we regard all citizens as a single risk pool, the government puts AIG (under new management, please) heavily into the business of health insurance.
The advantage in negotiating reasonable prices, prompt payment and continuing competition, with national regulation, and massive revision of the unfair Erissa laws, will be a boon to employers who shouldn't bear the burden of health care insurance provision. Changing from the employer-based system is less revolutionary than the nationalization of AIG.
We need competent, transparent national insurance regulation. The health care providers will love it, as it carries with it provision for prompt payment and fair treatment. Business will love it. At least any businesses with employees needing health care will love it. Small and large business alike can depart from the crushing burdens of health insurance provision and this also helps everyone without insurance or with crummy insurance: most people, including a lot of Wall Street folks who will find out the hard way the cost of insurance once their COBRA runs out.
Now, one last question tied-in to the virtues of regulation: how come the big securities banking firms didn't demand short selling rules and enforcement before? Did no one suspect short sellers wouldn't suck onto the prospect of bank failure, after manipulative trading sealed the end of Bear Stearns and Lehman?
Why aren't we regulating health care insurance? There is no "free market" in health care insurance, and no true competition. No patient and no health care provider can possibly compete against an insurance company. It's not even close to a free market. I suggest that the analogy to what is happening now in our recognition of the disastrous failure to have reasonable regulation (including rate, prompt payment, and risk discrimination) of the financial industry, including insurers, and particularly with AIG as a bridge example, calls for reasonable regulation of the insurance industry. The benefit will be affordable health insurance for every citizen, with the current crushing burdens on employers, business, and patients released.
Barbara Ann Radnofsky is a Houston lawyer. For the past 15 years she has she been listed in the national version of the "Best Lawyers in America" and currently holds that honor in four practice areas; dispute resolution, medical malpractice, personal injury, and health law.