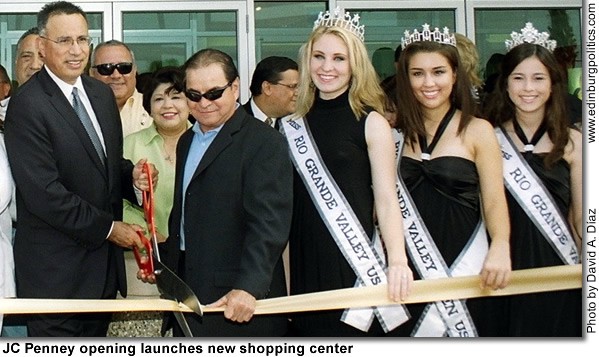 Crispin Fuente, store manager for JC Penny in Edinburg, participates in the ceremonial ribbon-cutting ceremony on Friday, August 1, as Mayor Joe Ochoa, featured to Fuentes' left, helps steady the ribbon. Almost a year to the day after groundbreaking was held for The Shoppes at Rio Grande Valley, the 103,000-square-foot JC Penney officially became the first retail center to open its doors at the planned 1.1 million square-foot retail, entertainment, and hotel complex, located on the northwest corner of U. S. Highway 281 and Trenton Road. The 80-store complex on 130 acres will provide one of the most unique shopping experiences in Texas. Following JC Penney will be the opening of Burlington Coat Factory in mid-August. TJ Maxx, The Shoe Department, and Academy Sports will open in the fall of this year, in time for the holiday season. More store openings will follow into next year with the addition of Lane Bryant, Ross Dress for Less and First National Bank during the early part of 2009. In addition to the mayor, other elected leaders at the ribbon-cutting included Councilmember Alma A. Garza, Councilmember Noé Garza, Elias Longoria, Jr., a member of the board of directors for the Edinburg Economic Development Corporation, Edinburg school board trustee Ciro Treviño, and Hidalgo County Tax Assessor-Collector Armando Barrera.  See story later in this posting.
••••••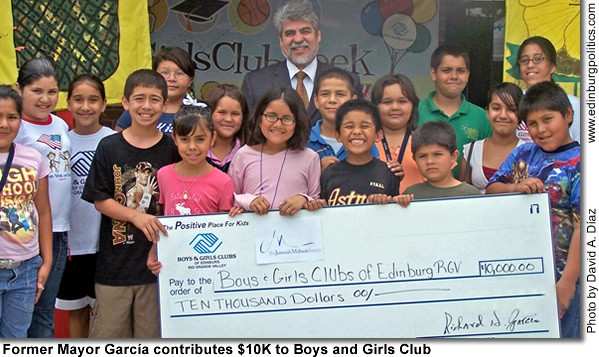 Former Edinburg Mayor Richard García, on behalf of himself and his law firm, García, Quintanilla and Palacios, has donated $10,000 to an annual fundraiser drive designed to help young people served by the Edinburg Boys & Girls Club RGV. In doing so, he issued a challenge to those in the legal community to match the gift, which was donated to the "It Just Takes One Campaign" now underway.  The campaign will raise funds for the Clubs' after-school programs and services for youth, ages 6-18, living in Edinburg and surrounding communities. Scheduled to run through August 15, the campaign seeks donations primarily from individuals. García said he and his law partners, including Edinburg Municipal Court Judge Toribio "Terry" Palacios and C.J. Quintanilla, have previously donated money to the Boys and Girls Club of Edinburg RGV. "The community needs to see the importance of the Boys and Girls Club of Edinburg, to see that there are people contributing," García said. "Edinburg has been very good to me over the years, and I figure one of the best ways I can give back to my community is to help our children." See story later in this posting.
••••••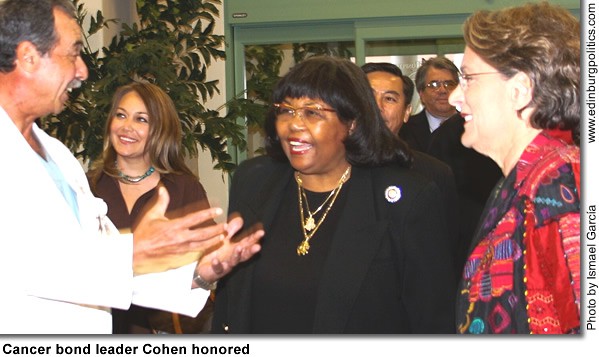 Rep. Ellen Cohen, D-Houston, featured right, shares a laugh with Dr. Carlos Mohamed, M.D, featured left, and other Houston lawmakers during a Thursday, July 10 visit to Doctors Hospital at Renaissance in Edinburg, which has a state-of-the-art cancer treatment center as part of its medical complex. Cohen, a 38-year breast cancer survivor, was the first House sponsor of Proposition 15. Last November, Texas voters overwhelmingly approved a constitutional amendment which will fund $3 billion in cancer research grants to conduct research to prevent or cure cancer, support existing research efforts in Texas, and implement the Texas Cancer Plan, a statewide blueprint for cancer prevention and control. A few days after her visit to Doctors Hospital at Renaissance, Cohen was a keynote speaker at "The American College of Surgeons Commission on Cancer: Coming Together 2008 – A National Forum on Cancer Care in the United States" held July 14 – 15 in Baltimore, Maryland.  Featured in this photograph at Doctors Hospital at Renaissance were, from left: Mohamed, who is an obstetrician and gynocologist; Prisylla Jasso, director of the Border Health PAC, which represents Doctors Hospital at Renaissance; Rep. Alma Allen, Ph.D., and Cohen.  See story on Cohen later in this posting.
••••••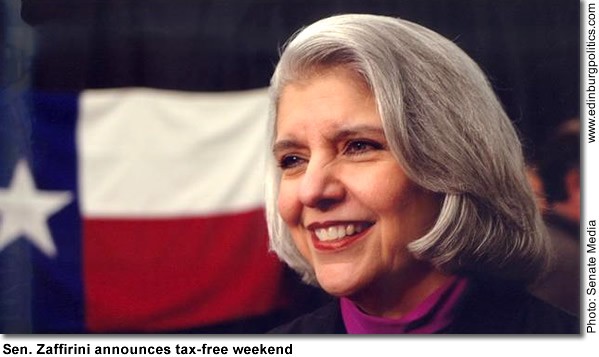 Sen. Judith Zaffirini, D-Laredo, announced on Friday, August 9, that the 10th annual sales tax holiday will take place Friday-Sunday, August 15-17. The tax holiday will provide Texas families with much needed back-to-school savings, and, for the first time, school backpacks and messenger bags costing less than $100 also will be tax exempt. "Family budgets are stretched farther than ever, especially with the high price of gasoline, groceries and other necessities,"  Zaffirini said. "I am pleased that even more items qualify for tax-free status this year so that families may enjoy greater savings." Most children's and adult's clothing and shoes priced less than $100 can be purchased tax-free during the holiday. A complete list of items that will be tax exempt during the sales tax holiday is available at http://www.window.state.tx.us/taxinfo/taxpubs/tx98_490/tx98_490.html. Since 1999 the clothing sales tax holiday has saved shoppers more than $388 million in state and local sales taxes. Zaffirini voted to expand tax holiday laws during the 2007 legislative session. Caption by Sarah Rayburn.
••••••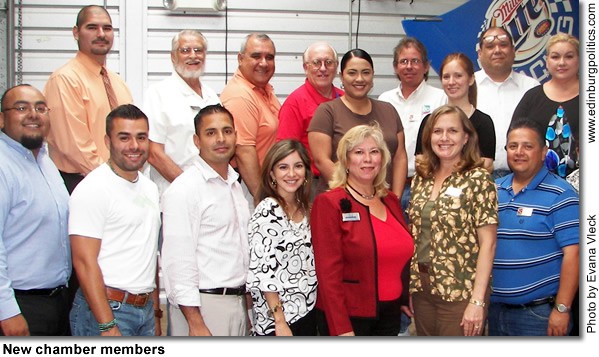 The Edinburg Chamber of Commerce and the Chamber Champion Committee recently announced that 10 new members have joined the Edinburg Chamber of Commerce. Some businesses are new to the Edinburg area, while others are existing, and all help in sustaining Edinburg's economy.  New members are as follows: Law Offices of Contreras & Muñoz;Molduflex; Wolfy's Wine & Liquor; Elite Rehab Service LLC; State Farm Insurance; Boys & Girls Club of Edinburg; Hacienda Ford; Copy Plus; Monte Cristo Pharmacy; and The Brass Chair Barbershop. Featured in this photograph, taken at Monster Carwash, include, back row, from left:  Aaron Ramírez, Dr. Walt Greene, Roy Peña, Gary Myers, Dina Araguz, Marty Martin, María Martínez, Joel Porras, and Imelda Rodríguez. Front row, from left:  Frank Lara, Óscar Hinojosa, Joe Sánchez, Celine Schulz, Elva Jackson Garza, Flo Prater, and Jay Flores.
•••••• (more…)