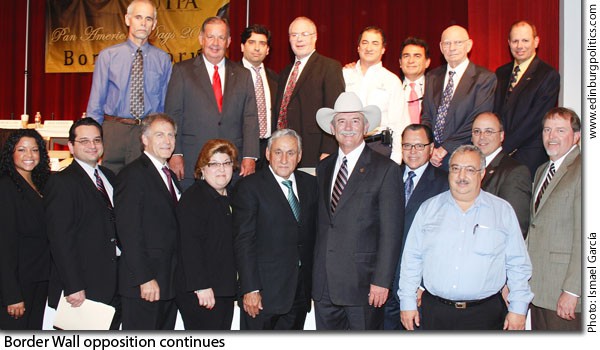 Key leaders of the Texas Border Coalition, welcomed here by Dr. Glenn A. Martínez, a member of the Edinburg Economic Development Corporation (featured bottom row, second from left), on Tuesday, April 15, in Edinburg spoke against federal government plans to build 2,000-mile border wall designed to stop terrorists from illegally crossing into the United States. Opponents against the wall say border security can be better enhanced with additional Border Patrol agents and high-technology detection systems. The wall, TBC leaders have contended, will hurt the border economies while doing little to stem the threat of terrorism. "It affects us very directly," contended Martínez. "Many of us have a family members, friends, business relations across the border, and building a fence sends a message that we are breaking ties with them." The international gathering, which included mayors from Mexican cities, will help spread the right image about border concerns, as well as favorably portray the local university. "It really shines a light on us and allows us to fulfill one of our functions as a major university – to project local knowledge to the world," Martínez reflected on the event. The TBC forum was hosted by The University of Texas-Pan American. See lead story later in this posting.
••••••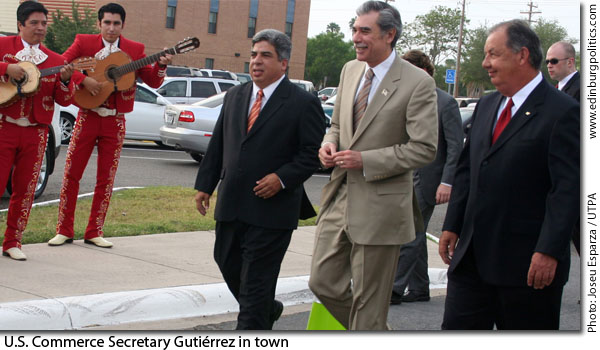 U.S. Secretary of Commerce Carlos Gutiérrez (center) was escorted by Rep. Aaron Peña, D-Edinburg (left) and McAllen Mayor Richard Cortéz upon his arrival at the University of Texas-Pan American on Thursday, April 11, for the opening of the Rapid Response Manufacturing Center. See story later in this posting.
••••••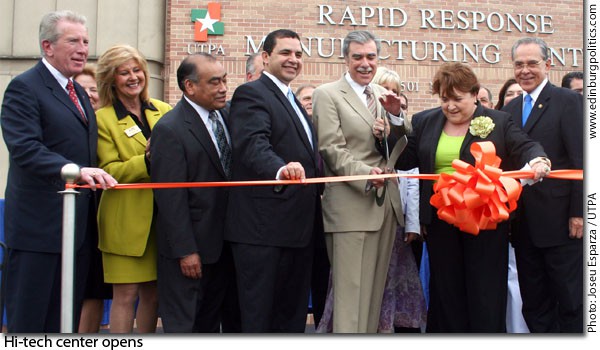 The development of a world-class advanced manufacturing industry in the Rio South Texas Region is one step closer following the official opening on Thursday, April 11 of the Rapid Response Manufacturing Center (RRMC) at The University of Texas-Pan American. UTPA President Dr. Blandina Cárdenas welcomed more than 200 representatives from education, business and government and presided over a ceremony that included remarks from U.S. Secretary of Commerce Carlos Gutiérrez, U.S. Representatives Rubén Hinojosa, D-Mercedes, and Henry Cuellar, D-Laredo/McAllen, and South Texas College President Dr. Shirley Reed. Featured, front, from left, are: right Dr. John Lloyd, RRMC director; Reed; Blas Castañeda, chief development officer, Laredo Community College; Cuellar; Gutiérrez; Dr. Blandina "Bambi" Cárdenas; and Hinojosa. See story later in this posting.
••••••
In battle over Border Wall, the medium is the message in order to influence national opposition
By DAVID A. DÍAZ
Texas elected and appointed officials meeting in Edinburg on Tuesday, April 15, agreed that more needs to be done to to counter negative portrayals in the national news media about the U.S.-Mexico border region, which in turn fuels support for the controversial multi-billion dollar so-called Border Wall.
Addressing several hundred students at the University of Texas-Pan American as part of a the week-long Pan American Days celebration, leaders with the Texas Border Coalition continued to hammer away against the federal government's plan to build a 2,000-mile long reinforced security fence to help reduce the likelihood that international terrorists could sneak into the United States from Mexico.
The fence, approved for construction soon after the 911 attacks against America, has faced stiff opposition from business and political groups, such as the Texas Border Coalition, which contends the fence – derisively called the "Border Wall" by its detractors – is bad for the American economy and smacks of anti-Hispanic racism.
The Texas Border Coalition is an alliance of mayors, county judges, and appointed economic and business leaders organized several years ago to lobby on major state and federal initiatives that impact the Texas border region.
Edinburg is a member of that organization.
Although only segments of the border wall have been constructed between California and Texas, a majority of the country favors it, according to a recent Fox News/Opinion Dynamics poll, which suggested that Americans, by a 51-30 percent margin, want the national fence built.
In order to block that goal, the national political mood, particularly in the Midwest, must be changed in order to reverse the mentality in the corridors of power in Washington, D.C.
"A really big part of it is educating the media about what is really going on," said Diana Lauritson, one of the panelists who participated in the TBC forum, which was hosted in the Student Theatre at UT-Pan American. "If you listen to Lou Dobbs or Bill O'Reilly, you are going to see one portrayal of the border, and it's not going to portrayed in a very positive light."
Lauritson, a policy and project coordinator with the Border Trade Alliance, a national grassroots advocacy group that works on border issues affecting the Southwest, said many Americans do not realize the border wall will also have a negative economic impact in the Mid-West, considered the cultural crossroads of the nation.
"A big thing is being able to educate your (political) representatives about the issues that are really going on and making sure that in the media, letting them know that things that happen down here really does affect the economy in the mid-West," she said. "That would change some of the perceptions."
The usual strong presence on regional news media was present for the forum, but whether their stories are picked up by key media outlets in the rest of the nation remains to be seen.
"A lot of it has to do with educating the political process and electing people who are knowledgeable about the issues," she said. "I also think you have to be able to reach out to people who don't live on the border, who don't know the rich economy down here, the culture, and how much trade impacts other parts of the country."
UTPA President Blandina "Bambi" Cárdenas, who was in the audience that featured several hundred students and other area residents, echoed TBC's concerns about media coverage at the national level.
She urged students, whose generation is flocking to the Internet to get their news, to use all forms of media to generate a positive image about their home regions.
By doing so, Cárdenas said, South Texans can better influence the political debate that affects their hometowns."
"Ultimately, we are border people," Cárdenas said. "The time has come for us to defend the border, to speak up for the border, to develop movies about the border, to know about the laws that affect the border. That is the challenge for each student."
Dr. Glenn A. Martínez, an associate professor at the university who helped put together the TBC/Border Wall forum, said the university was also using the Internet to help get out TBC's message.
"This event was webcast to more than 100 academic institutions throughout the country, and the names of UT-Pan American and Edinburg will resound across the halls of many universities in the nation," reported Martínez, who also serves on the board of directors of the Edinburg Economic Development Corporation. "It was broadcast live on the Internet, and people could hook up to Pan Am to see it. It will also be converted to DVD and sent to leaders nationwide to get out the message."
The forum also will be broadcast on the Edinburg Cable Network, which is found locally on Time Warner Channel 12.
One of the objectives of the forum "was to get neighbors together to talk, and show that spirit of cooperation to the rest of the country, and I think we did that successfully," Martínez added. "It is kudos for Edinburg to have this in the three-time All-America City, to have all these leaders converging here, to talk about the importance of this region, and how we have to defend it, like President Cardenas Cárdenas."
Although the Edinburg economy is not as impacted as McAllen or Brownsville by the flow of international commerce, the local community still will feel the negative effects of a border wall, he noted.
"It affects us very directly," Martínez contended. "Many of us have a family members, friends, business relations across the border, and building a fence sends a message that we are breaking ties with them."
The international gathering, which included mayors from Mexican cities, will help spread the right image about border concerns, as well as favorably portray the local university.
"It really shines a light on us and allows us to fulfill one of our functions as a major university – to project local knowledge to the world," Martínez reflected.
In addition to Lauritson, other members of the TBC panel included:
Pat Ahumada, mayor of Brownsville; Eddie Aldrete, IBC Bank; Robert Andrade, executive assistant to El Paso Mayor John Cook; Wayne Bartholomew, Frontera Auduban Society of Weslaco; Richard Cortéz, mayor of McAllen; Chad Foster, mayor of Eagle Pass who serves as TBC chairman; Jesus Mario Flores García, mayor of Piedras Negras; Ricardo Quintanilla Leal, mayor of Jaumave, Taumalipas; John McClung, Texas Produce Association; Keith Patridge, executive director, McAllen Economic Development Corporation; José Rodríguez, El Paso County Attorney; Monica Weisberg-Stewart, TBC Immigration Chair; Pat Townsend, Jr., of Mission, TBC Vice-Chairman; Joe Tucker, U.S. International Water and Boundary Commission; and Efraín Valdéz, mayor of Del Rio.
••••••
New center at the University of Texas-Pan American to launch South Texas as new hub of rapid response manufacturing
By GAIL FAGAN
The development of a world-class advanced manufacturing industry in the Rio South Texas Region is one step closer following the official opening on Thursday, April 11 of the Rapid Response Manufacturing Center (RRMC) at The University of Texas-Pan American.
UTPA President Dr. Blandina Cárdenas welcomed more than 200 representatives from education, business and government and presided over a ceremony that included remarks from U.S. Secretary of Commerce Carlos Gutiérrez, U.S. Representatives Rubén Hinojosa, D-Mercedes, and Henry Cuellar, D-Laredo/McAllen, and South Texas College President Dr. Shirley Reed.
The RRMC will provide research, engineering design, and production expertise to enable current manufacturers and businesses as well as budding entrepreneurs to scale production from a concept to finished goods as rapidly and efficiently as possible.
Located at UTPA, a earner-centered research university, the center is one of several strategies, including workforce recruitment and training, of the North American Advanced Manufacturing Research Initiative (NAAMREI). NAAMREI is a network of 47 partners from K-12 and higher education, business, economic development, industry, finance and government focused on offering manufacturers across North America, and globally, access to proprietary, world-class advanced and rapid response manufacturing.
"The research and development support provided by the Rapid Response Manufacturing Center at UTPA to reduce the concept-to-customer product time is set to manufacturing competitiveness worldwide," said Cárdenas, chair of the NAAMREI Consortium Network Leadership Team. "Through NAAMREI's efforts our region's workforce will be prepared to fill tomorrow's jobs, jobs that provide high wages, sustained economic growth and an improved quality of life for our growing population."
Recalling the McAllen area he visited while working in his father's business in Tampico, Mexico in the 1970s, Gutiérrez said he is amazed by its remarkable growth and energy.
"This is going to be one of the model communities of the future, I have no doubt about that, especially today when everything is so much about global competition and growth. Those communities that are growing are the ones that are looking forward and not looking back – thinking about how we can work to create a better future," he said, complimenting the McAllen area's grasp of the opportunities provided by NAFTA.
Dr. John Lloyd, RRMC director and research professor of manufacturing engineering at UTPA, said the center provides services and expertise to clients in four primary categories – research, development and demonstration (RD&D); education; innovation and entrepreneurship; and technology-based business incubation. It houses a staff of field and faculty engineers, student interns and support staff as well as project support space for clients in the development and implementation of mass customization and rapid response strategies.
"Customers will have access to planning and rapid prototyping systems, software resources for simulation and design and other resources available at the University. Student education and training will employ nationally recognized internationally dispersed, multidisciplinary team approaches to rapid response engineering design," Lloyd said of the facility initiated with $2 million in funding over the next three years.
The ability of the region to support faster speeds in the development, production and delivery of highly varying products was determined by the NAAMREI partners as key to the future of a globally competitive manufacturing sector and the economic development of the Rio South Texas Region said Keith Patridge, president and CEO of the McAllen Economic Development Corporation.
"Rapid Response Manufacturing tools will provide the catalyst that will give the Rio South Texas Region the ability to face the future in manufacturing in a sustainable manner and become a world leader in product innovation and commercialization," he said.
Reed said positioning the region as a world leader in rapid response manufacturing will bring significant economic benefits to the region.
"Providing high skill, high wage advanced manufacturing jobs will raise the per capita income in the Rio South Texas Region," she said.
Gov. Rick Perry and the Texas legislative delegation championed the opportunity for the state to lead the world in advanced manufacturing. Their support helped NAAMREI raise more than $8 million in funds awarded in 2007 to spur the development of advanced manufacturing in the region — $5 million from the U.S. Department of Labor's Workforce Innovation in Regional Economic Development Initiative for strategic planning and research, development and demonstration programs and $3 million from the Texas Workforce Commission to provide customized training to current and future employees of business and industry partners.
"We see this project as the next logical step in maintaining the economic vitality of this growing region," Hinojosa said. "The long term goal of the initiative is to position the region as the 'Third Coast,' acting as a major distribution hub for North America and as a major research center for rapid product innovation and advanced manufacturing. As a native of the Valley and a longtime proponent of this project, I am so pleased to see it coming to fruition."
Ultimately NAAMREI, which ties together more than 41 industrial parks across the Rio South Texas Region, will offer its services through a central complex, with initial construction to begin on an 80-acre site donated by the city of McAllen. Estimated completion date of this facility – the North American Research and Education World Premier Park – is 2011.
Chris Heacock, a director of operations for Siemens VDO Automotive Corp. (recently purchased by Brose), which has a manufacturing facility in Reynosa, Mexico and a distribution facility in McAllen, said he has already met with center representatives in hopes of growing his business, which last year produced 12 million electric motors, primarily for the automotive industry.
"We want to take steps to develop our engineering talent here. We want to start generating an intern program for our facility and possibly rotate them through our headquarters in Germany. My long-term goal is that we would start doing product development, application engineering and testing locally so we can run the business out of the McAllen area," he said.
Ruben De León, CEO of Bar-Lift Inc., a local company that produces a plastic rebar support, got his growing six-year-old business started with the help of TMAC (Texas Manufacturing Assistance Center) and facilities and resources that the RRMC offers.
"Next week I have an appointment with the Rapid Response Manufacturing Center regarding a new product. They are going to do the prototype. I love it," he said.
For more information on the Rapid Response Manufacturing Center, contact Lloyd at 956/318-8955 or e-mail [email protected]. For more information on NAAMREI, contact Wanda Garza, executive officer, at 956/872-2770 or e-mail [email protected]. You may also visit the NAAMREI Web site at http://www.naamrei.org.
••••••
Edinburg March construction reaches almost $4.5 million, compared with $13.6 million in March 2007
By DAVID A. DÍAZ
Total construction activities in Edinburg in March 2008 reached almost $4.5 million, according to the Edinburg Economic Development Corporation, with new single-family homes leading the way during the third month of the new year.
The EEDC is the jobs-creation arm of the Edinburg City Council.
It's five-member governing board, which is appointed by the Edinburg City Council, includes Mayor Joe Ochoa, former Mayor Richard García, who serves as board president, Fred Palacios, Dr. Glenn E. Martínez, Ph.D., and Elias Longoria, Jr.
The construction figures include the value of everything from installing plumbing to building the structures, but not the price of the lots.
Also, the city figures do not include the value of any construction work being conducted at the University of Texas-Pan American.
In March 2008, total construction in Edinburg was reported at $4,491,916, compared with $13,652,797 in March 2007. Year-to-date, total construction activities in Edinburg reached $17,619,868, compared with $76,665,481 during the first three months of 2007.
Some of the large difference in the two figures is due to several commercial projects which began in the first part of 2007 as part of Doctors Hospital at Renaissance expansions, which included a cancer treatment center, a behavioral medical center, and a women's hospital.
What are building permits?
The values of the construction are listed in building permits issued by the city's Code Enforcement Division.
Building permits are permits taken out in order to allow excavation and to protect public safety.
Building permits represent the estimated cost of construction, not the selling price.
The building permits do not include the price of the lot.
A start in construction is defined as the beginning of excavation of the foundation
for the building.
A building permit is permission issued by a city's planning department to oversee and approve any changes to structures.
They are documents designed to guarantee that any construction work, from remodeling to demolition to building a new home or business facility, meets the city's building codes.
Most valuable projects
Marilyn Asistores received a building permit for the most valuable construction project in March 2008.
That permit, for work valued at $275,000, was issued for a commercial facility, located at 1400 South Closner, in the Country Club Place Subdivision.
Alex Maheshware was issued a building permit for the second-most valuable construction project in March. He began construction on a commercial facility, valued at $250,000, located at 2029 Jackson Creek Avenue in the Jackson
Creek Phase 1 Subdivision.
The third most valuable project authorized to begin in March belonged to Judith Barron Martínez, for a single-family home, valued at $216,000, located at 1203 Esther in the West Meadows Subdivision.
Including the projects by Asistores and Maheshware, in March 2008, there were building permits issued for eight new commercial projects.
The remaining six new commercial buildings authorized for new construction in March 2008 were each valued under $100,000.
No new construction was authorized in March 2008 and in March 2007 for non-taxable structures, such as government facilities and churches – but not including UT-Pan American construction.
Single-family new homes
In March 2008, building permits were issued for the construction of 29 single-family homes, valued at $2,322,500, compared with 54 single-family homes, valued at $4,762,936, in March 2007.
Year-to-date, building permits have been issued for the construction of 84 new single-family residences, valued at $7,392,500, compared with 154 single-family residences, valued at $15,632,066 from January through March 2007.
Highlights of construction in March 2008 of single family homes valued at $100,000 or more include:
Judith Barron Martínez, 1203 Esther ($216,000);
Emma Carrillo, 414 N. Mon Mack Road ($150,000);
Mario Peña, 3607 Bianca ($125,000);
Stephen L. Aponte, 1211 East Canton ($120,000);
West Wind Homes, 3422 Prestwick Street ($111,000);
Don Beste, 2717 Nessuh ($110,000);
Óscar Cantú, 1906 Chippewa Avenue ($100,000);
Óscar Cantú, 1910 Chippewa Avenue ($100,000);
Óscar Cantú, 2006 Chippewa Avenue ($100,000); and
Óscar Cantú, 2010 Chippewa Avenue ($100,000).
A building permit was issued for an addition/repair of a single-family home valued at more than $100,000 in March.
Óscar Enríquez received a building permit valued at $135,000 for additions/repairs on a single-family residence located at 1222 Dartmouth Avenue in the West Meadows II Subdivision.
Commercial new construction
In March 2008, the value of new commercial construction – not counting government facilities or churches – reached $700,500, compared with $5,386,325 in March 2007.
Year-to-date, new commercial construction reached $4,956,700, compared with almost $46,584,375 during the first three months of 2007.
Multi-family new homes
The value of construction of multi-family homes, which include duplexes, triplexes, fourplexes, and apartment buildings with five or more units, came in at $574,000 in March 2008, compared with construction valued at $770,000 in March 2007.
The March 2008 figure represented six new duplexes that begin construction in March, compared with four new duplexes and two new triplexes/fourplexes in March 2007.
Year-to-date, building permits have been issued for 22 new multi-family homes (20 duplexes, two residences with five or more units), valued at $760,000, compared with 82 new multi-family homes during the first three months of 2007 (70 duplexes and 12 triplexes/fouplexes), valued at $2,528,000.
Residential repairs
Also in March 2008, work was authorized for alterations, valued at $344,060, on single-family residences, compared with alterations, valued at $336,575, on single-family homes in March 2007.
Year-to-date, alterations on single-family residences were valued at almost $1.2 million, compared with more than $1.1 million between January and March 2007.
Commercial repairs
Also in March 2008, work was authorized for alterations, valued at $98,185, on commercial structures, compared with alterations, valued at $564,461, on commercial structures in March 2007.
Year-to-date, repairs/alterations on commercial structures total $872,077, compared with $947,500 from January through March 2007.
In March 2008, work was authorized for alterations valued at $452,671 on non-taxable structures, compared with alterations valued at $1,832,500 on non-taxable structures in March 2007.
Two of the alterations of non-taxable structures involved work done at Iglesias Pescador De Hombres, located at 304 E. Schunior, valued at $190,000, and alterations at South Texas Independent School District, located at 510 S. Sugar Road, valued at $150,000.
Year-to-date, alterations on non-taxable structures totaled $2,442,671, compared with $9,858,500 during the first quarter of 2007.
••••••
Majority fails to show up for April 15 Edinburg City Council meeting as income tax deadline loomed
By DAVID A. DÍAZ
With three members of the Edinburg City Council excused on important business, the Tuesday, April 15 regular meeting wound up being cancelled for a lack of a quorum.
Councilmembers Gene Espinoza, Gus García, Jr., and Noé Garza were unable to make it to the 7 p.m. scheduled meeting, held in the International Trade and Technology Building at the University of Texas-American.
Only Mayor Joe Ochoa and Mayor Pro Tem Alma Garza were able to make it, prompting Ochoa to speculate that the absentee council members were still wrapping up their income tax returns as the midnight deadline approached.
At least three of the five members of the Edinburg City Council must attend in order for any actions to be taken by the municipal government on city council agenda items.
As of the end of the day on Wednesday, April 16, no decision had been made regarding whether the cancelled meeting would be rescheduled for later this month.
On Tuesday night, Ochoa said agenda items that were set for review and action that evening will probably be added to the next scheduled city council session, which won't take place until Tuesday, May 6 – four days before the city council and municipal court elections on Saturday, May 10.
Alma Garza and Espinoza are seeking reelection, and are being opposed by Johnny Rodríguez and Leonel Guerrero, respectively.
Municipal Court Judge Toribio "Terry" Palacios, a law partner to former Mayor Richard García, will also be on the ballot, but he is running unopposed.
Also on May 10, Edinburg school district voters will be casting their ballots regarding two school bond construction projects.
Proposition 1 includes building four (4) elementary schools, two (2) middle schools; converting Harwell Middle School into a fourth high school; three (3) multi-purpose fine arts centers at each of the existing high schools; Brewster School addition/renovations, and land acquisition for a total of $111,920,000. Proposition II includes $37,675,000 of 1998 Lease Purchase Bonds to be converted into Series 2008 voter authorized IFA supported bonds.
••••••
Rolando Garza, Hidalgo County chief tax appraiser, to focus on area property tax outlook on April 24
By EVANA VLECK
Rolando Garza, Chief Appraiser with the Hidalgo County Appraisal District will address the community as part of the upcoming Public Affairs Luncheon, on Thursday, April 24 from 11:30 a.m. to 1:00 p.m. at the Echo Hotel in Edinburg. Topics include Texas Property Tax law changes and an outlook on 2008 values.
The Public Affairs Luncheons was introduced in 2006, and since then have covered popular topics with speakers such as Mario Jorge from "TxDot", Judge JD Salinas III, Edinburg Mayor Joe Ochoa, State Representative District 41 Veronica Gonzales, "State Senator District 20 Juan "Chuy" Hinojosa, and State Representative District 40 Aaron Pena Jr. and others.
The vision is that it will inform, involve and educate Chamber investors and civic leaders. The event allows business people to meet, network and create opportunities for the companies they represent. We encourage all Chamber investors and others interested in learning about hot topics affecting our community and the Rio Grande Valley to attend.
Cost to attend is $10 per person or $100 for a table of 8, and will include a hot lunch, beverage and dessert. For more information on programs and events sponsored by the Edinburg Chamber of Commerce, call 956-383-4974 or log onto http://www.edinburg.com.
••••••
Legislative oversight committee, which includes Sen. Hinojosa, Rep. Peña, briefed on reforms involving Texas Youth Commission
Members of the Joint Select Committee on Management and Operation of the Texas Youth Commission (TYC) heard testimony Wednesday, April 16, on the progress of reforms mandated by legislation last session. In response to abuses at the Youth Commission, the 80th Legislature passed Senate Bill 103, which removed felony or adult offenders from the TYC, required more training, staff and better facilities, and increased accountability. According to Angela Isaack of the Legislative Budget Board, the population of juveniles housed at TYC facilities has decreased to about 2,300. Of those, 188 are misdemeanor offenders, and 102 are aged 19 or older.
The Texas Juvenile Probation Commission (TJPC) was expected to see higher caseloads as more offenders were referred there and fewer to TYC. In spite of the reforms, Executive Director of the TJPC Vicki Spriggs says her agency has not seen a significant increase in caseloads. She testified that despite a $57 million increase in funding to her agency, federal funding has decreased by $54 million. She maintains, however, that TJPC is still operating efficiently and closely with county based probation services, and juveniles referred to TJPC have a recidivism rate of 17 percent.
Committee members were less pleased with the reports of reform at TYC. Members were surprised to learn that many juveniles that need psychiatric treatment receive it only via video conferencing. TYC employs four full time medical doctors for the entire state, meaning that some remote facilities are only visited by a doctor for a few hours a week. Facilities do, however, have staff registered nurses around the clock.
Senator John Whitmire, who co-chairs the oversight committee, said more progress must be made. He said that many of the facilities are inadequate or even dangerous for juveniles. He pointed to the 45 percent correction officer turnover, the 50 percent recidivism rate , and told agency officials the level of mental and health care coverage is inadequate.
The Joint Select Committee on Management and Operation of the Texas Youth Commission is co-chaired by Senator John Whitmire, D-Houston, and Rep. Jerry Madden, R-Richardson, and consists of Senators Chris Harris, R-Dallas; Juan "Chuy" Hinojosa, D-McAllen, Kel Seliger, R-Amarillo, Florence Shapiro, R-Plano, Royce West, D-Dallas, Tommy Williams, R-The Woodlands, and Representatives Harold Dutton, D-Houston, Aaron Peña, D-Edinburg, Larry Phillips, R-Sherman, Debbie Riddle, R-Tomball, Sylvester Turner, D-Houston, and Corbin Van Arsdale, R-Houston.
••••••
Diabetes and obesity two most significant health disparities in South Texas, according to UT report
By WILL SANSOM
Diabetes and obesity are the two most significant health disparities in South Texas, according to a new report produced by the Institute for Health Promotion Research at The University of Texas Health Science Center at San Antonio.
The South Texas Health Status Review, released on Monday, April 14, urges health workers, researchers and policy makers to focus their efforts on reducing obesity because of its link to many other major health issues.
The report is the first comprehensive statistical analysis of the health disparities – differences in the disease burden among certain population groups compared to non-Hispanic whites – that impact South Texas residents.
South Texans more prone to obesity and other health issues
"Our review found that inequalities exist in obesity and several other health issues in South Texas, especially among Hispanics/Latinos, compared to those who live in the rest of Texas or nation," according to Amelie G. Ramírez, Dr.P.H., review leader and professor of epidemiology and biostatistics and director of the Institute for Health Promotion Research at the Health Science Center.
For the review, Ramírez' Institute for Health Promotion Research teamed up with the UT Health Science Center's Regional Academic Health Center in Harlingen and Edinburg and the Texas Department of State Health Services. The team collected, analyzed and organized county, state and national data on 32 health indicators, specifically targeting the 38-county South Texas region. The region has a 68 percent Hispanic/Latino population that faces barriers to health care, such as the lack of education, income and insurance.
The results compare South Texans' incidence, prevalence and mortality rates for the 32 health indicators – from AIDS to cancer to obesity to homicide – to the rest of Texas and the nation by age, sex, race/ethnicity and rural/urban location.
The review found that South Texas residents were at a disadvantage, regarding the incidence of disease, compared to the rest of Texas for 12 of the 32 health indicators analyzed, including diabetes, obesity, birth defects, and cervical, liver, stomach and gallbladder cancers. Also, incidence rates for many of the 32 health indicators were higher for South Texas Hispanics than non-Hispanic whites.
Review to stimulate, direct new studies
"We hope the review will give researchers and public health officials insight into what disparities exist in South Texas that will stimulate and shape research and interventions to reverse those disparities and bring health parity to Texas," Ramírez said.
The review identified obesity and diabetes as two of the top health disparities in South Texas. Including all of South Texans as a group, 30 percent are obese, a much higher rate than the 25 percent obesity rate for Texas and the nation's 23 percent rate. Furthermore, 34 percent of South Texas Hispanic residents are obese, compared to the 22-percent obesity rate of South Texas' non-Hispanic whites.
"In the review, we recommend that research in South Texas focus on obesity, as it spurs risk of diabetes and chronic disease," said Ramírez, who also is the Dielmann Chair in Health Disparities Research and Community Outreach and the Max and Minnie Tomerlin Voelcker Endowed Chair in Cancer Healthcare Disparities and Outreach at The Cancer Therapy & Research Center at the Health Science Center. "Also, behavioral and community-level interventions should target physical activity and nutrition, the modifiable factors that impact obesity."
The University of Texas Health Science Center at San Antonio is the leading research institution in South Texas and one of the major health sciences universities in the world. With an operating budget of $576 million and 5,000 faculty and staff, the UT Health Science Center is the chief catalyst for the $15.3 billion biosciences and health care sector in San Antonio's economy.
The UT Health Science Center has had an estimated $35 billion impact on the region since inception and has expanded to seven campuses in San Antonio, Laredo, Harlingen and Edinburg. More than 23,000 graduates (physicians, dentists, nurses, scientists and allied health professionals) serve in their fields, including many in Texas. Health Science Center faculty are international leaders in cancer, cardiovascular disease, diabetes, aging, stroke prevention, kidney disease, orthopedics, research imaging, transplant surgery, psychiatry and clinical neurosciences, pain management, genetics, nursing, allied health, dentistry and many other fields. For more information, visit http://www.uthscsa.edu.
••••••
Texas Health Insurance Risk Pool needs expansion and publicity to help more medically-uninsurable
By SEN. EDDIE LUCIO, JR.
D-Brownsville
The Senate Committee on State Affairs, on which I serve, is reviewing a program sponsored for medically uninsurable Texans that should be better publicized and expanded.
The Texas Health Insurance Risk Pool (THIRP) was created by the Legislature in 1989 for people unable to obtain health insurance. However, the program lay dormant until funded in 1997 to comply with the federal Health Insurance Portability and Accountability Act (HIPPA) of 1996. In 1998, the Pool's nine-member Board of Directors was appointed.
To be eligible, a person must be a Texas resident under age 65 who is either a U.S. citizen or permanent resident for at least three years and who meets one of three criteria. The person must be rejected by an insurer for health reasons or accepted but with a medical condition excluded; be diagnosed with one of the 55 medical conditions on the Board's list; or be certified by a Texas insurer that the person would be denied coverage.
Also, certain conditions disqualify people from THIRP, like coverage by or eligibility for an employer-based health plan, except for COBRA eligibility or part-time limited coverage. Other eliminators include termination or lapsed Pool coverage within the prior 12 months, jail or prison confinement, Pool coverage terminated for fraud, the lifetime maximum benefit of $1.5 million under the Pool's prior coverage was exhausted, or if another entity can pay the premiums. Enrollees without prior THIRP coverage are generally subject to a 12-month pre-existing condition exclusion.
Since 1998, 62,000 have been covered by this program and paid 63 percent of the costs, while private insurers have covered 36 percent of costs that increase yearly about 13 percent.
Only two Texas counties have over 3,000 people insured by this program. Most counties like Kenedy, Kleberg and Willacy have from up to 150 members and a smattering of counties that include Hidalgo and Cameron have from 150 to 400 members. The high premiums and out-of-pocket expenses combined with a lack of awareness keep enrollments low.
Although many cannot afford the plan, often those who can are unaware of the Pool's existence or eligibility requirements. More effort must be made to inform the public. Notification of THIRP in every workplace should be required, especially where there is no health insurance plan available.
To make the Pool more affordable but not competitive with the commercial market, we must look at additional funding sources. Pool premiums that average $540 monthly are set by law at 200 percent of the "standard risk rate," or twice the average rate available in the commercial market. It is worthwhile to investigate if THIRP can remain viable at lower percentage rates.
In the last two years, THIRP received $9.2 million in federal funds from the State High Risk Pool Funding Extension Act of 2006 to reduce member premiums and insurer assessments. In 2007, 180 insurers made payments to the Pool ranging from $7 to $21 million. Also last year, $162.4 million medical and $77.6 million pharmacy claims were paid by the Pool. As medical and prescription costs continue to rise, so do health insurance premiums, thus any funding increase is being swallowed by health care costs.
In 2006, enrollment was 28,206, dropping to 27,773 in 2007. Premiums are still too high and out-of-pocket expenses that include deductibles ranging from $1,000 to $7,500 continue forcing many to cancel THIRP, even if employed.
According to the Texas Medical Association, "Texas ranks 49th in the nation for employer-sponsored insurance; only 54 percent of Texans have coverage through their employers." For small businesses — the bulk of Texas employers — the number is even worse: 37 percent."
Although I have been pro-business throughout my legislative career, I have also always been pro-employee. Our workers are the backbone of business, so perhaps certain types and sizes of businesses that don't offer health coverage could contribute funds on a scale similar to medical insurers.
Business benefits when employees get regular health check-ups and care because they are usually healthier than those who wait until their conditions are so severe that they must obtain emergency care.
It is apparent that THIRP needs a financial booster to meet Texas's growing demands and to help more medically uninsured Texans. Since 80 percent of Texas businesses are small businesses often unable to afford employee health insurance, their participation in the Pool could help, as well as make premium rates more affordable for all participants.
The stated mission of THIRP's Board of Directors is to: "Foster public awareness of the Pool and provide eligible Texans with cost-effective health coverage that is consistent with major medical policies available in the commercial market." My goal is to help the Risk Pool to fulfill its notable mission and add more Texans. Note: For information on THIRP, please call 1-888-398-3927, TDD 1-800-735-2989, or email [email protected].
••••••
Owners of Edinburg ambulance companies found guilty of health care fraud by federal jury in McAllen
By ANGELA DODGE
A federal jury in McAllen on Monday, April 14, found former Hidalgo County Commissioner Guadalupe Garcés Jr. and his wife, Araceli Garcés, guilty of conspiracy to commit health care fraud and several substantive counts of health care fraud while operating a local ambulance company, United States Attorney Don DeGabrielle announced.
The Garcés submitted more than $14 million in false and fraudulent claims to both the Medicare and Medicaid health care programs.
The Garcés, who owned A-Stat Ambulance Inc., were formally indicted December 6, 2006, alleging they conspired to defraud Medicaid and Medicare by means of false and fraudulent claims in connection with the ambulance transportation of beneficiaries to and from dialysis clinics.
From May 2001 to June 2004, A-Stat Ambulance billed Medicare/Medicaid approximately $12 million and was paid approximately $4.5 million for transporting dialysis patients even though the Garcés knew transportation by ambulance was not medically necessary.
In May 2007, a federal grand jury returned a superceding indictment alleging health care fraud by another ambulance company, A Care E.M.S. Inc. after Medicare and Medicaid suspended all payments to A-Stat Ambulance because of fraudulent billing, the defendants incorporated A-Care EMS Inc. under their 20-year-old son's name and had him apply and receive Medicare and Medicaid provider numbers.
The investigation revealed the defendants continued to transport dialysis patients by ambulance when it was not medically necessary through A Care EMS Inc. from March 2005 through December 2006, billing Medicare/Medicaid approximately $3 million and being paid $1.6 million.
The investigation into A Care EMS Inc. lead to the indictment and guilty plea of Director of Operations Rodney Ramos who is now pending sentencing.
After the return of the jury's guilty verdict, the government asked the court for the defendants to be taken into custody; however, U.S. District Court Judge Ricardo H. Hinojosa allowed the couple to remain on their current bonds pending sentencing, scheduled for July 18, 2008, at 9:30 a.m. The defendants face a maximum punishment of up to 10 years in prison and a maximum $250,000 fine, plus restitution.
The investigation was conducted by the Department of Health and Human Services, FBI and the Texas Attorney General's Office. Assistant United States Attorneys Carolyn Ferko and Aníbal J. Alaniz prosecuted the case.
••••••
Hidalgo, Cameron counties enhance communications accessibility to deaf, hard-of-hearing with deaf link
By CARI LAMBRECHT
People who are deaf or hard of hearing and rely on American Sign Language (ASL) will now able to receive emergency messages on the Rio Grande Valley's local television stations in their own language.
Hidalgo and Cameron counties, striving to ensure that a significant segment the Valley's special needs population would be informed in an emergency situation, introduced the local television stations to Deaf Link.
Deaf Link Inc. is a San Antonio-based company contracted with the Governor's Division of Emergency Management to provide emergency messages in ASL. Deaf Link targets broadcasters in the 22 coastal counties of Texas — harnessing technology to provide them with timely severe weather alerts and state-issued emergency alerts in ASL — but until now, no county and no station had fully committed to the project.
"The support of Hidalgo and Cameron counties and the Valley broadcasters for this project has been unprecedented," said Bruce Whiteaker, broadcast program manager for Deaf Link.
The Valley broadcasters of KRGV-TV 5, KGBT-TV 4, KNVO-TV 48/Entravision, KTLM-TV 40, and KMBH-TV 60 committed to the project during a meeting with Deaf Link, Hidalgo County Judge J.D. Salinas III and Cameron County Judge Carlos H. Cascos and their emergency management staffs. This service comes at no cost to the counties or to the television stations.
"This project could potentially save lives," said Judge Salinas. "Deaf and hard of hearing people who rely on sign language do not fully comprehend closed captioning because ASL is not rooted in the English language or, for that matter, the Spanish language. It is a conceptual language. While closed captioning is a valuable communications tool, the information is not accessible for persons who are deaf and require ASL."
"Deaf Link will help us ensure the safety and security of people with disabilities that effect how they receive information during times of crisis," said Judge Cascos. "Ten percent of Texans with special needs — over two million deaf, hard of hearing, blind and deaf/blind — do not have adequate access to emergency information. We estimate that in our media market, there are up to 140,000 deaf and hard of hearing people that could benefit from the services the broadcasters and Deaf Link are now providing."
The Deep South Texas media market is one of the fastest growing markets in the United States, ranked 88th overall and fifth in the state by the Nielsen Station Index.
"The Valley is setting a wonderful precedent for the rest of the state to follow," Whiteaker said. "Word of hand travels very quickly, and we are confident other counties and broadcasters will catch on."
"Our shared goal is communications accessibility and making sure every segment of our population is prepared for and informed during an emergency," said Judge Salinas. "Deaf Link's services to our residents are so important and comes at no better time with the lead up to this year's hurricane season."
"Cameron and Hidalgo counties are proud to lead the way and help bring this long-overdue service to our residents and those residents of the surrounding areas. We are extremely proud of our forward-thinking broadcasters, too, for having no hesitation in stepping up to the plate," said Judge Cascos.
For more information about Deaf Link, visit http://www.deaflink.com.
How does it work?
Television stations already have canned "generic" ASL messages that can air immediately during a severe weather crisis or state-qualified emergency.
Within minutes after receiving authorized emergency information (from either the state of the National Weather Service), Deaf Link produces, from the 24/7 studio in San Antonio, "air ready" alerts for broadcast by cable or television stations in sign language, voice and text.
Television stations can size the video file sent to them by Deaf Link to fit their needs. Usually, the interpreter is placed in a "bubble" in the corner of the broadcast. Stations air the ASL interpretation of emergency information as they deem appropriate.
For the latest Hidalgo County news, visit http://www.judgejd.com
••••••
Forbes magazine: Rio Grande Valley and Texas Gulf Coast "the worst places to get sued in America"
By ELIZABETH WALKER
Forbes Magazine named the Rio Grande Valley and the Texas Gulf Coast among "The Worst Places to Get Sued in America," according to a recent article. The article echoed the most recent annual report from the American Tort Reform Association (ATRA), which dubbed south Texas a "judicial hellhole" – where uneven justice and unfair legal practices are commonplace – for the sixth year in a row.
"Everything is bigger in Texas, including the dollar signs personal injury lawyers see when they file cases in the 'magic jurisdictions' of the Valley and the Coast," Bill Summers, president and founder of Citizens Against Lawsuit Abuse of the Rio Grande Valley, said on Tuesday, April 15. "Now we've been called out by a well-respected, national publication for a hellish court system that continually serves up uneven justice to line the pockets of personal injury lawyers."
A copy of the Forbes article is available online at: http://www.forbes.com/2008/04/04/lawsuits-courts-law-biz-cx_bp_0407suitcities.html
"If you put pins on a map for the top 50 most outrageous verdicts, bizarre run-away juries and so forth, you would find this belt around the Gulf Coast that runs from southern Texas across Mississippi, Louisiana, Alabama and Florida. These are also some of the places people consider the worst places to get sued," said Walter Olson, a senior fellow at the Manhattan Institute as quoted by Forbes Magazine.
The Forbes echoed sentiments in the ATRA report which concluded that the Valley and the Coast persist as destinations for what's been described as "litigation tourism." Since courts in these regions notoriously favor personal injury lawyers, "plaintiffs' attorneys become the 'travel agents' for the 'litigation tourist' industry, filing claims in jurisdictions with little or no connection to their clients' claims," according to the report.
"It's no wonder enterprising personal injury lawyers would flock to judicial hellholes because judges systematically apply laws and court procedures in their favor," Summers said. In fact, the Rio Grande Valley and the Texas Gulf Coast are known collectively "as one of the toughest jurisdictions for corporate defendants in the country," according to published reports.
"Personal injury lawyers brag about their success in the Valley," Summers added. According to one prolific personal injury lawyer's description of Starr County, Texas, "That venue probably adds about 75% to the value of the case… [W]hen you're in Starr County, traditionally you need to just show that the guy was working, and he was hurt. And that's the hurdle."
In fact, a well-used quote from personal injury lawyer Dickie Scruggs sums up the personal injury lawyer view of "magic jurisdictions" as a place where "cases are not won in the courtroom. They're won on the back roads long before the case goes to trial. Any lawyer fresh out of law school can walk in there and win the case, so it doesn't matter what the evidence or law is."
Summers added, "Baseless lawsuits, with near-guaranteed windfall verdicts, are the bread and butter for more than a handful of personal injury lawyers who know how to strike it rich in judicial hellholes.
"Our judicial hellhole reputation – and the personal injury lawyers who exploit the system – make a mockery, not only of our justice system, but of our communities. We need a no tolerance policy for peddlers of lawsuit abuse and the judges who enable them. Until then, greed-fueled notoriety will continue to sully the proud landscape of Texas."
About CALA
Citizens Against Lawsuit Abuse (CALA) is a nonprofit, nonpartisan, grassroots, public education organization dedicated to serving as a watchdog over the legal system and those who would seek to abuse it for undeserved gain. Founded in the Rio Grande Valley in 1991, CALA now strives nationwide to raise awareness of the costs and consequences of lawsuit abuse. More than 25,000 Texans now support the movement. For more information, visit http://www.citizensagainstlawsuitabuse.com.
•••••
Founder of area children's rehab center pleads guilty to diverting more than $4 million in Medicaid funds for lavish lifestyle
Eliseo Sandoval, the former president and primary stockholder of McAllen-based Just for Kids rehabilitation center, on Monday, April 14, pleaded guilty to defrauding the Medicaid program. According to authorities, Sandoval filed inflationary cost reports to the taxpayer-funded program in order to obtain reimbursements to support a lavish lifestyle and personal business ventures, including real estate and sporting goods enterprises.
Sandoval, 38, entered a guilty plea just before his trial was scheduled to begin in Travis County District Court. Sandoval admitted that he used more than $4 million dollars in fraudulent, excessive Medicaid reimbursements to acquire a Brooks County ranch, a McAllen office building, several sports cars, a motorcycle and high-end sport utility vehicles. To purchase the office building, which doubled as a rehabilitation center for children, Sandoval obtained a mortgage, then used Medicaid funds to make mortgage payments and pay construction costs on the building.
"This defendant pleaded guilty to cheating the taxpayers to fund his lavish lifestyle," Attorney General Abbott said. "By charging Medicaid excessive amounts for his services, the defendant was able to open numerous businesses, purchase luxury vehicles and even buy a ranch. The Office of the Attorney General will continue aggressively cracking down on waste, fraud and abuse in the Medicaid system.
Abbott added, "We are grateful to the Travis County District Attorney's Office for their assistance with this case."
The investigation and prosecution was a joint effort of Attorney General Abbott's Medicaid Fraud Control Unit and the Travis County District Attorney's Public Integrity Unit. Texas Health and Human Services Commission auditors uncovered the defendant's fraudulent Medicaid cost-report scheme.
District Judge Wilford Flowers accepted Sandoval's guilty plea on first-degree felony charges. Sandoval's sentencing is set for June 6.
Sandoval pleaded guilty to three separate charges, including misapplying Medicaid funds through his business; filing false, excessive cost-report statements to Medicaid for reimbursement; and falsely claiming college degrees from the University of Texas Pan American and St. Edwards University. According to investigators, Sandoval claimed two college degrees in order to profit from a Medicaid provision entitling multiple degree-holders to higher reimbursement rates.
In July 2004, the Just for Kids pediatric rehabilitation center filed for bankruptcy, despite more than $10 million income from annual Medicaid payments. Shortly after Sandoval completed construction of the $3 million rehabilitation center, he filed for personal bankruptcy and sought bankruptcy protection for other businesses he controlled.
These businesses included Fishing Properties, which owned the building leased to his McAllen sporting goods enterprise, Rio Grande Outfitters. Sandoval also owned Genesis Pediatric Development, a real estate company that owned the Just for Kids rehabilitation office complex. Just for Kids in turn paid rent to Genesis and Sandoval. The defendant also profited from a Medicaid billing company that exclusively serviced Just for Kids, charging the organization 15 percent of its Medicaid-billed amounts for the service.
In 2006 alone, Texas spent more than $17 billion to fund its portion of the Medicaid program. To save taxpayer dollars and protect Texas seniors, Attorney General Abbott dramatically expanded the Medicaid Fraud Control Unit.
The unit has established field offices in Corpus Christi, Dallas, El Paso, Houston, Lubbock, McAllen, San Antonio and Tyler through authorization and funding from the 78th Legislature. It works with federal, state and local agencies across the state to identify and prosecute those who defraud the Medicaid program.
To obtain more information about the Attorney General's efforts to fight Medicaid fraud, access the agency's Web site at http://www.texasattorneygeneral.gov.
•••••
Attorney General Abbott, Texas Hospital Association promoting Victims Compensation Fund program
Texas Attorney General Greg Abbott on Wednesday, April 16, partnered with the Texas Hospital Association to launch an educational campaign for Texas crime victims. The "Ask Me…" campaign was created to raise public awareness about the Crime Victims' Compensation Program.
The Office of the Attorney General (OAG) and the Texas Hospital Association will distribute thousands of "Ask Me…" posters to hospitals and medical centers where crime victims might first seek care. "Ask Me…" encourages crime victims to ask doctors and medical personnel about the OAG's Crime Victims' Compensation Program, which helps crime victims and their families with the financial costs of violent crime. Through the Crime Victims' Compensation Fund, eligible victims may be reimbursed for out-of-pocket expenses they incurred because of the crime, including medical and counseling bills, funeral costs and relocation expenses.
"By partnering with the Texas Hospital Association, we hope to increase public awareness about our Crime Victims' Compensation Program," Abbott said. "Often, local hospitals or medical centers are the first responder to a crime victim's call for help. Our joint effort will educate crime victims about their rights and will explain how to obtain the financial assistance they need to help rebuild their lives."
Last year, the OAG received more than 37,000 applications for crime victims' assistance and awarded more than $65 million in benefits to victims and their families. The Crime Victim Services Division also distributed nearly $36 million in grants to nonprofit organizations and public entities that provide emergency shelter, crisis counseling, court accompaniment and other victim assistance.
The Crime Victims' Compensation Fund was established by the Texas Legislature in 1979 to help victims and their families who cannot afford the financial cost of crime. The Fund receives its money from fees, court costs and restitution paid by those convicted of a felony or misdemeanor in a state court. When eligible victims and their families have exhausted all other outside means of financial support, including private insurance, the fund helps them offset the expenses they incurred because of violent crime.
Claims under the Crime Victims' Compensation Fund may be approved for benefits up to a total of $50,000. People who suffer total and permanent disability as a result of a crime may qualify for an additional $75,000, which could be used for specific and limited expenses, such as lost wages, prosthetics, rehabilitation or making a home accessible.
Local hospitals and medical centers can provide crime victims with applications for financial assistance through the Crime Victims' Compensation Fund. In addition, every law enforcement agency in Texas is required by state law to provide crime victims information about the Fund and an application for financial assistance. Victims and survivors can also contact the OAG directly for an application.
For more information about the Crime Victims' Compensation Program, contact the Crime Victim Services Division at (800) 983-9933 or visit the agency's Web site at http://www.texasattorneygeneral.gov.
••••••
Congressman Hinojosa, House approve bill to ensure continued access to student loans for American families
By ELIZABETH ESFAHANI
Rep. Rubén Hinojosa, D-Mercedes, Chair of the Subcommittee on Higher Education, Lifelong Learning and Competitiveness, on Thursday, April 17, joined a bipartisan majority in the U.S. House of Representatives to approve legislation to ensure that the turmoil in the U.S. financial markets does not keep students and families from accessing the federal student loans they need to pay for college. The timely legislation was passed by a vote of 383-27.
The Ensuring Continued Access to Student Loans Act of 2008 (H.R. 5715) would provide new protections, in addition to those already under current law, to ensure that families continue to have timely, uninterrupted access to federal college loans in the event that stress in the credit markets leads a significant number of lenders in the federally guaranteed student loan programs to substantially reduce their lending activity. The bill carries no additional cost for taxpayers.
"Nothing is more important than reassuring students and families that there will be no disruption in the availability of federal student loans – regardless of what happens in our financial markets," said Hinojosa. "As of today, no student has been unable to find a lender for a federal student loan. However, we are not going to wait until students and families are denied loans before putting safeguards in place. This legislation assures every student that these federal dollars will continue to be available regardless of what happens in the U.S. economy."
In recent months, the crisis in the nation's credit markets has made it difficult for some lenders that participate in the federally guaranteed student loan program to secure the capital needed to finance their student lending activity. As a result, some lenders have announced plans to scale back their lending activity; while others have announced plans to increase their share of loans. To date, no students or parents have run into problems in getting the federal student aid they are eligible to receive.
H.R. 5715 would:
• Reduce borrowers' reliance on costlier private college loans by increasing the annual loan limits on federal college loans by $2,000 for all students, and by increasing the aggregate (the total loan limit over the course of a student's education) loan limits to $31,000 for dependent undergraduates and $57,500 for independent undergraduates;
• Give parent borrowers more time to begin paying off their federal PLUS loans by providing them with the option to defer repayment until up to six months after their children leave school – giving families more flexibility in hard economic times;
• Help struggling families pay for college by ensuring that short-term delinquencies in mortgage payments and medical bills don't prohibit otherwise eligible parents from being able to borrow parent PLUS loans. Under current law, parents with an adverse credit history are ineligible to receive a parent PLUS loan, except under extenuating circumstances. The legislation would temporarily classify as an extenuating circumstance delinquencies on home mortgages and medical bills of up to 180 days, therefore making it possible for parents who are being strained by the current housing market to secure loans for their children;
• Clarify that existing law gives the U.S. Education Secretary the authority to advance federal funds to guaranty agencies in the event that they do not have sufficient capital to originate new loans, and allow guaranty agencies to carry out the functions of lender of last resort on a school-wide basis. Under the Higher Education Act, these guaranty agencies are obligated to serve as a nationwide network of lenders of last resort if requested to do so by the Education Secretary;
• Give the U.S. Education Secretary the temporary authority to purchase loans from lenders in the federal guaranteed loan program, ensuring that lenders continue to have access to capital to originate new loans. The Education Department would be authorized to purchase loans only if doing so would not result in a net cost for the federal government; and
• Include a Sense of Congress that calls on federal financial institutions, including the Federal Financing Bank, to consider using their current authorities to inject liquidity into the student loan marketplace at no cost to the taxpayer to ensure students and parents continue to have access to low-cost federal loans.
U.S. Senator Edward M. Kennedy (D-MA), the chairman of the Senate Health, Education, Labor, and Pensions Committee, has introduced similar legislation in the Senate.
The House Education and Labor Committee has been closely monitoring the impact of the credit markets on the student loan industry and has been urging U.S. Education Secretary Margaret Spellings to put plans in place that would safeguard borrowers' access to federal college loans in the event that a large number of lenders withdrew from the federally guaranteed loan program.
••••••
113th lease sale nets $25.2 million for UT/A&M Systems' Permanent University Fund
By MATT FLORES
The Board for Lease of University Lands awarded 166 oil and gas leases covering 59,732 acres and received total bonuses of more than $25.24 million in its 113th oil and gas lease sale on April 9.
The funds are deposited into the Permanent University Fund and invested for the benefit of the University of Texas System and the Texas A&M University System.
The high bid of $2,282,814 was offered by Veritas 321 Energy Partners, LP on a 640.7-acre tract in Winkler County, Texas. Veritas also offered the high bid of $3,563 per acre for leases on three different tracts in Winkler County. The average bid per acre on the leases awarded in the sale was $423. Approximately 59,732 acres were leased, bringing the total University Lands under lease to 1,480,636 acres.
"This has been another exceptional lease sale, which has generated a significant amount of money for the support of higher education in the state of Texas," said Printice L. Gary of Dallas, a member of the University of Texas System Board of Regents and one of two new members of the Board for Lease. The other new member is UT System Regent James D. Dannenbaum of Houston.
The top five bidders at the latest lease sale were Veritas 321 Energy Partners, LP ($4,422,944), Clayton Williams Energy, Inc. ($3,674,010), T. Verne Dwyer ($3,130,407), Myco Industries, Inc. ($2,424,000) and J. David Williams ( $1,665,048).
The Board for Lease is composed of the Commissioner of the General Land Office and regents from the UT System and Texas A&M University System. Oil and gas bonuses and royalties earned from University Lands are deposited in the Permanent University Fund, a constitutionally-created endowment that benefits institutions in the two university systems.
The board is responsible for overseeing the oil and gas activities on 2.1 million acres of Permanent University Fund lands spread across 19 West Texas counties. This land was dedicated to the UT System by the state of Texas in the latter part of the 19th century. Over the years, these activities have directly generated more than $3.65 billion held as an endowment trust for The University of Texas System and Texas A&M University System.
Information about these sales may be obtained from the office of University Lands, P.O. Box 553, Midland, Texas 79702-0553, telephone (432) 684-4404, and fax (432) 682-7456. Additional information about University Lands, including oil and gas production and well data, is available online.
About the University of Texas System
Serving the educational and health care needs of Texans for more than 125 years, the UT System is one of the nation's largest higher education systems with 15 campuses – including nine academic and six health institutions – and an annual operating budget of $10.7 billion (FY 2008). Student enrollment exceeded 194,000 in the 2007 academic year. The UT System confers one-third of the state's undergraduate degrees and educates three-fourths of Texas health care professionals. With more than 80,000 employees, the UT System is one of the largest employers in Texas.
••••••
Executive search firm selected by UT System Regents for chancellor search to succeed Mark G. Yudof
By ANTHONY P. de BRUYN
An executive search firm has been selected to assist The University of Texas System Board of Regents in its search for the next chancellor of the UT System.
Florida-based Greenwood/Asher & Associates, Inc. will assist the Board during the national search to find a successor to Chancellor Mark G. Yudof, who was recently named president of the University of California system. In 2005, Greenwood/Asher assisted with the successful search for the president of UT Austin, the System's largest academic institution.
Dr. Kenneth I. Shine, the UT System's executive vice chancellor for health affairs, will become chancellor ad interim effective May 1.
The 10-member board of regents, led by Chairman H. Scott Caven, Jr., will act as the search committee, and advertisements for the position will be placed in national publications to expedite the search process.
The UT System chancellor serves as the chief administrative officer over of one of the nation's largest higher education systems, with nine academic campuses and six health institutions. The System has an annual operating budget of $10.7 billion (FY 2008) including $2.3 billion in research funded by federal, state, local and private sources. Student enrollment exceeded 194,000 in the 2007 academic year. The UT System confers more than one-third of the state's undergraduate degrees and educates nearly three-fourths of the state's health care professionals annually. With more than 81,000 employees, the UT System is one of the largest employers in the state.
••••••
National Association of Hispanic Journalists disturbed by figures that mask decline in newsroom diversity
By IVÁN ROMÁN
With more journalists of color leaving than entering the country's newsrooms in 2007, the National Association of Hispanic Journalists believes the news industry must focus on retention and management to reverse this disturbing development.
The 2008 newsroom census released Sunday, April 13, by the American Society of Newspaper Editors (ASNE) shows that the percentage of minority journalists working at daily newspapers actually grew from 13.43 percent to 13.52 percent of the 52,600 total newsroom.
But major retrenchment in newsrooms contributed to keeping that percentage steady. Buyouts and layoffs pushed some 2,400 newspaper journalists out the door in 2007, including 697 journalists of color. The 392 journalists of color hired for their first full-time newsroom job helped temper the decline.
However, last year marked only the second time since 1986 that recruitment of journalists of color did not replace or surpass those who left, upsetting the traditional balance of newsrooms' revolving door that kept minority representation flat for years.
Though it seems like ASNE's goal of reaching newsroom parity with the overall population of people of color in the country by 2025 is out of reach, NAHJ believes that it's time to redouble diversity efforts and focus on retention and increasing representation in management as a way to truly make an impact.
"We are not giving up, not by a longshot." said NAHJ President Rafael Olmeda. "Rather, we are sounding an alarm. If the newspaper industry is serious about parity as a goal, the time to act is now. With newsroom recruitment shrinking, the commitment to diversity needs to be at the forefront of the remaining recruitment and all retention efforts."
NAHJ challenged the industry to double the number of Latinos working in newsrooms between 2002 and 2007. NAHJ launched the Parity Project in newsrooms with the largest gaps between the size of the Latino community and the number of Latino journalists and proved that when commitment matches rhetoric, real measurable progress can be achieved.
Despite last year's newsroom staffing cuts and high turnover rates, all except two of the project's 24 media company partners still maintained a net gain of Latinos on staff compared to when they came on board, some as far back as 2003.
Although the numbers of all the various groups of journalists of color declined in 2007, there were still more Asian American and Hispanic journalists in newsrooms last year than in 2002 while the gains for black and Native American journalists during the same time period have been erased. NAHJ believes the Parity Project, established in April 2003, has contributed to keeping those gains on the plus side.
NAHJ endorses UNITY's call to the industry to focus its diversity commitment on the senior management level.
"Diversity needs to be on every organization's mind when decisions are made about the size and shape of each newsroom," Olmeda added. "And a concerted effort must be made to increase the number of Latinos and other people of color at every level of management, starting at the top."
Of the 1,700 journalists working full time for their newspaper's online operations, according to ASNE's survey, 17.79 percent were people of color, a higher percentage than the overall diversity figures.
As newsroom change and multimedia skills become more and more essential for all journalists, training staffers to work across media platforms is a way to increase retention. NAHJ calls on the news industry to provide the necessary training to slow the revolving door. NAHJ stands ready to partner with media companies and the news industry to help prepare Latino journalists for the future.
Founded in 1984, NAHJ's mission is to increase the percentage of Latinos working in our nation's newsrooms and to improve news coverage of the Latino community. NAHJ is the nation's largest professional organization for Latino journalists with more than 2,300 members working in English and Spanish-language print, photo, broadcast and online media. NAHJ is a 501 (c)(3) tax-exempt non-profit organization. For more information, visit http://www.nahj.org.
••••••
New GAO Report indicates need for continued efforts to boost access to government records
U.S. Sen. John Cornyn, R-Texas, on Tuesday, April 15, issued the following statement regarding a recent report from the Government Accountability Office (GAO) indicating more work is needed in ensuring public access to government records. The report shows that progress is being made among government agencies in reducing the delays in processing Freedom of Information Act (FOIA) requests since President Bush issued an executive order urging faster processing in 2005, but five government agencies have experienced an increase in request backlogs and two agencies have demonstrated no change in processing times.
"More than 200 years ago, the belief in open government and informed citizens served as the building blocks of our democracy. Today, millions of Americans hold fast to these principles and rely on the Freedom of Information Act to stay informed on the business of the federal government. A recent GAO report shows many government agencies are making significant process in reducing backlogs in processing FOIA requests, but the report also indicates more must be done to provide Americans with the information they request in a timely manner.
"Late last year, the President signed the OPEN Government Act into law—legislation I introduced with Sen. Leahy that makes the most significant reforms to FOIA in more than a decade, including real consequences for agencies that miss processing deadlines. I hope that as these new, important reforms are adopted throughout the federal government, FOIA requests will continue to be processed more quickly and efficiently."
Taking these efforts a step further, Cornyn and Sen. Patrick Leahy, D-Vt., recently introduced the OPEN FOIA Act, which would further strengthen FOIA by adding new transparency and accountability standards when Congress considers adding any new FOIA exemptions.
In addition, Cornyn introduced legislation on Monday, April 14, to increase transparency in federal spending and the congressional earmark process.
The new GAO report can be accessed here: