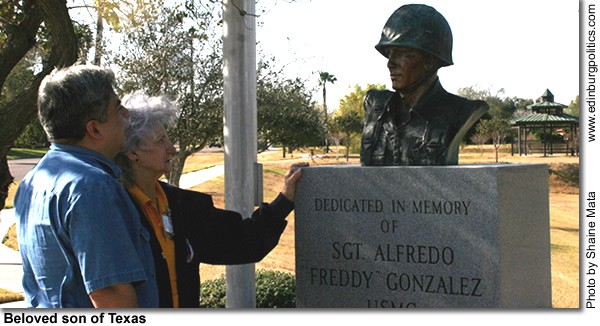 Mrs. Dolia González, A Gold Star Mother whose late son, U.S. Marine Sgt. Alfredo "Freddy" González, is featured in this bronze bust in Edinburg, will be accepting the Texas Legislative Medal of Honor – the state's highest recognition for valor – on his behalf at 2 p.m. on Monday, February 4 from Texas Gov. Rick Perry. Rep. Aaron Peña, D-Edinburg, shown with Mrs. González several weeks ago, on Tuesday, January 8, announced the big event during a city council meeting. What is sure to be a major ceremony, probably to take place at Cats Stadium, will speak volumes about Edinburg's native son and his mother and all of South Texas. "It will again send the message to the entire state and nation that Edinburg is the home to heroes," said Mayor Pro Tem Alma A. Garza. See story later in this posting.
••••••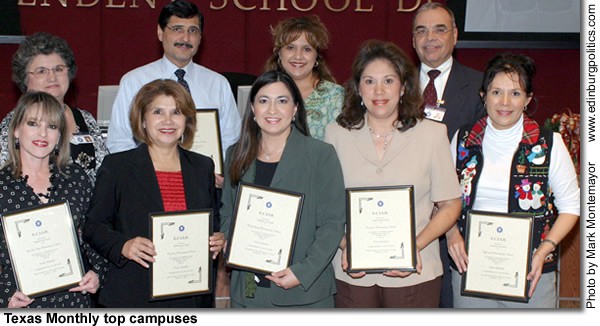 Edinburg principals of the elementary campuses that made the list of top campuses in the state by Texas Monthly magazine were honored recently by the Edinburg school board. This is the fourth year in a row that Texas Monthly has published a list of top public schools and the second consecutive year that they have ranked schools according to the number of subjects in which they continually excel, including reading, math, science, writing, and social studies. Elementary campuses making the prestigious list were Austin Elementary headed by Principal Homer Cano; Canterbury Elementary under Principal Dahlia Guzmán; De la Viña Elementary under Principal Erika Playle; Jefferson Elementary under Principal Ana Villalobos-Salinas; Lincoln Elementary under Principal Eva Sandoval; and Treviño Elementary under Principal Cynthia Sáenz. See story later in this posting.
••••••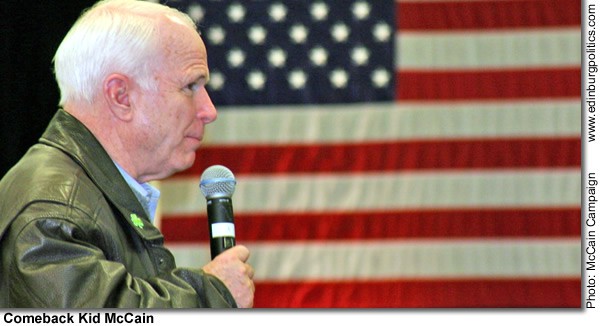 U.S. Sen. John McCain, R-Arizona, featured in a file photo, pulled off a major victory on Tuesday, January 8, winning the New Hampshire Republican Party primary, received 37 percent of the GOP vote. Former Gov. Mitt Romney of Massachusetts placed second with 31 percent, while former Arkansas Gov. Mike Huckabee, who had won several days earlier in the Iowa caucuses, came in third with 11 percent of the vote. "I hate to use the word kid, but I think we showed the people of this country what a real comeback looks like," he told supporters of his long-shot win in a state he won eight years ago against then candidate George W. Bush.
••••••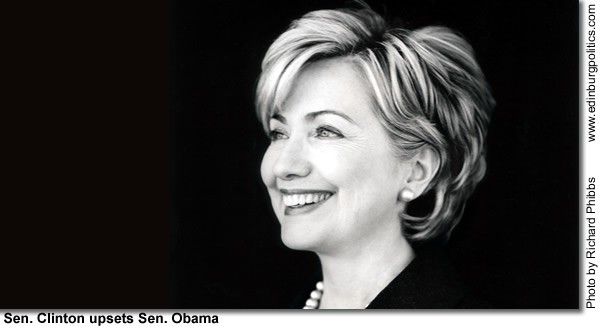 Sen. Hillary Clinton, D-New York, in this campaign photo, won the New Hampshire Democratic Party primary against former Sen. Barack Obama, D-Illinois, on Tuesday, January 8, less than a week after she placed a disappointing third in the Iowa caucuses. She received 39 percent of the vote to 36 percent for Obama in New Hampshire. Clinton's victory speech is featured later in this posting.
•••••• (more…)