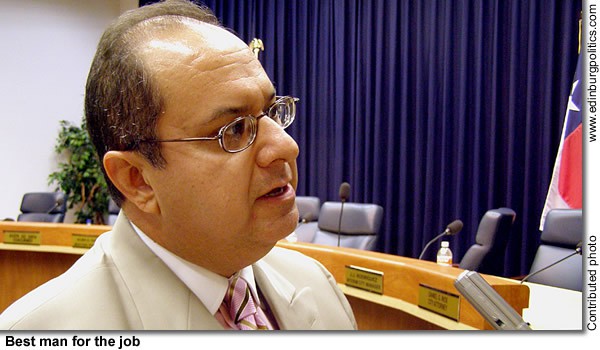 J.J. Rodríguez, the interim city manager since July 2006, on Tuesday, September 4, was offered the top city job on a permanent basis by the Edinburg City Council. Rodríguez, 43, whose entire public service career has been with the local municipal government, said he would accept the position, subject to final negotiations on his pay. See story later in this posting.
••••••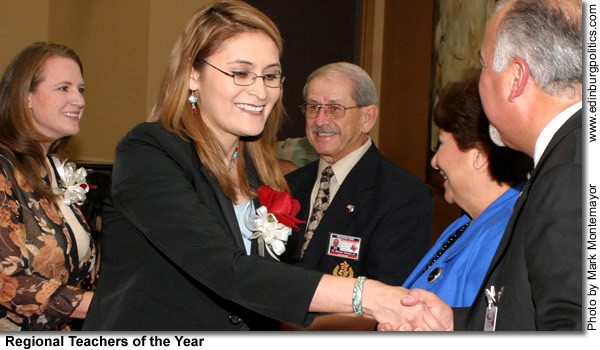 Claudia P. Mata, a teacher at Edinburg North High School, and Kimberly Baus, a fifth grade teacher at Canterbury Elementary, accept their award from Region One officials after being named Regional Secondary Teacher and Regional Elementary Teacher of the Year for 2007 at a recent awards dinner. See story later in this posting.
••••••


The Edinburg CISD had eight elementary campuses rated "Exemplary" by the Texas Education Agency in August. The ECISD had more exemplary schools than any other school district south of San Antonio. Featured with the superintendent are the principals of the campuses, from left: (1st row): Erika Playle of De la Viña Elementary and Sandra Guerra of Cavazos Elementary; (2nd row) Eva Sandoval of Lincoln, Dominga Vela of Jefferson Elementary and Ana Villalobos of Hargill Elementary; (3rd row) Nelda Gaytán of Austin Elementary; Superintendent Gilberto Garza, Jr.; and Cynthia Sáenz of Treviño Elementary; and (4th row) Gloria Rivera of Escandón Elementary. See story later in this posting.