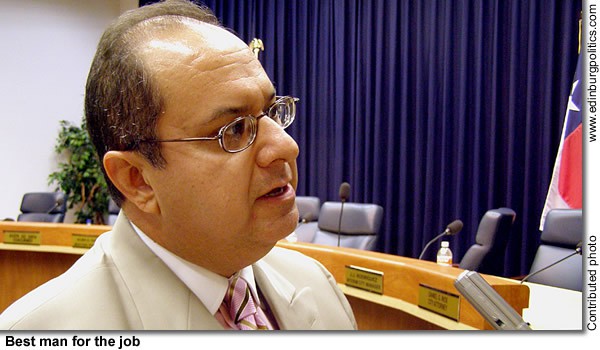 J.J. Rodríguez, the interim city manager since July 2006, on Tuesday, September 4, was offered the top city job on a permanent basis by the Edinburg City Council. Rodríguez, 43, whose entire public service career has been with the local municipal government, said he would accept the position, subject to final negotiations on his pay. See story later in this posting.
••••••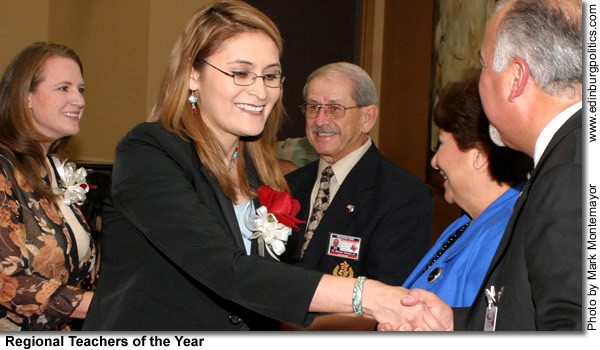 Claudia P. Mata, a teacher at Edinburg North High School, and Kimberly Baus, a fifth grade teacher at Canterbury Elementary, accept their award from Region One officials after being named Regional Secondary Teacher and Regional Elementary Teacher of the Year for 2007 at a recent awards dinner. See story later in this posting.
••••••


The Edinburg CISD had eight elementary campuses rated "Exemplary" by the Texas Education Agency in August. The ECISD had more exemplary schools than any other school district south of San Antonio. Featured with the superintendent are the principals of the campuses, from left: (1st row): Erika Playle of De la Viña Elementary and Sandra Guerra of Cavazos Elementary; (2nd row) Eva Sandoval of Lincoln, Dominga Vela of Jefferson Elementary and Ana Villalobos of Hargill Elementary; (3rd row) Nelda Gaytán of Austin Elementary; Superintendent Gilberto Garza, Jr.; and Cynthia Sáenz of Treviño Elementary; and (4th row) Gloria Rivera of Escandón Elementary. See story later in this posting.
••••••
Construction underway for $18 million private student housing complex by UT-Pan American
By DAVID A. DÍAZ
The construction of the first private student housing development to serve the University of Texas-Pan American will give the local economy an estimated $18 million shot in the arm, and send yet another message that both the university and city are growing by leaps and bounds, the Edinburg Economic Development Corporation has announced.
The EEDC is the jobs-creation arm of the Edinburg City Council. It is governed by a five-member board of directors, including Mayor Joe Ochoa; former Mayor Richard García, who serves as EEDC board president; and Fred Palacios, Mike Govind, and Dr. Glenn A. Martínez, Ph.D.
In August, the city's Code Enforcement Department issued a building permit for the first of eight, three-story housing structures that will be located on a 9.7 acre lot at 931 North Sugar Road, immediately west of the Edinburg Professional Baseball Stadium.
The complex, to be called The Veranda Place, is being built by Alta Construction of Addison, Texas.
The first series of 1201-square-foot apartments should be ready for occupancy by next May, according to Eric McMillen, vice-president of Dallas-area construction firm.
The builders are targeting August 2008 as the completion date for the entire complex, just in time for the fall semester.
He noted that his company is extensively employing local businesses to help build the complex.
The Veranda Place is one of three major student housing communities being developed by The Place/BV Student Housing Fund, LLC, a real estate investment fund focused on the acquisition and development of student housing properties nationwide.
These student housing development projects, with a combined value of $61 million, are all targeting openings in July of 2008.
In addition to The Veranda, The Place/BV Student Housing Fund, LLC is also constructing 2818 Place, to serve students of Texas A & M University and Huntsville Place, to serve the students of University of Alabama-Huntsville.
BVP Managers, LLC, a joint venture between Atlanta, Georgia-based Place Properties, L.P. and Chicago, Illinois-based Blue Vista Capital Management, LLC, serves as the Manager of the Fund.
"Veranda Place will be the first off-campus student community for the students of the University of Texas-Pan American," said Jessica H. Nix, Director of Marketing and Public Relations for Place Properties. "Veranda Place will be a garden style community offering four-bedroom, four- bathroom units and an amenity package that includes a clubhouse with onsite management, swimming pool, activity center, computer lab, and grilling stations. The community consists of 144 units/576 beds and is located across the street from the University's baseball stadium and next to the student center."
Edinburg's growth sparked interest
Trevor Tollett, Development Associate with Place Properties, noted that the economic vitality of the city helped spur interest in investing in Edinburg.
"UTPA, as well as the whole Rio Grande Valley, has and will continue to experience tremendous growth and there is a serious lack of off-campus student-oriented housing for the UTPA student body," Tollett observed. "Furthermore, the site is across the street from campus and, and although privately owned and operated, could be considered an 'on-campus' location at a price point consistent with the current on-campus housing owned and operated by the university."
Place Properties has spoken with the university officials and "received input in regards to where the university is headed in terms of enrollment and demand for student housing, and although they have not formally supported the project, they have not expressed any issues with us being in the community," Tollett added. "It is most important to note that statistics show that a potential student looking at a university will assess the available housing options. Having Veranda Place in the community will undoubtedly support the university's initiative to bolster enrollment and retain their students."
The university, which is the 10th-largest public university in Texas, is projected to have a student enrollment approaching 20,000 by 2010.
Other features
Rental rates will be approximately $405 per bed, which includes W/D in the units, completely furnished, all utilities including high-speed internet, cable, water and sewer (electric separate). This includes full access to the pool, which includes pool volleyball, as well as our clubhouse that will have a game room and computer lab. There will also be on-site property management and maintenance.
Nine of the units will be specifically designed for handicapped tenants, plus all apartments on the first floor are able to be converted to handicap-accessible formats, added McMillen.
In addition, the complex will featured gated access to improve security, and all units are wired so tenants may add, at their own expense, cable, telephone, and internet services, he noted.
Bob Clark, Chief Acquisitions Officer for Place Properties said, "As a part of our growth strategy, we continually seek high growth/high barrier to entry markets. Each of these three markets satisfies our investment criteria for a Place community."
••••••
J.J. Rodríguez unanimously selected permanent city manager by Edinburg City Council
By DAVID A. DÍAZ
J.J. Rodríguez, the interim city manager since July 2006, on Tuesday, September 4, was offered the top city job on a permanent basis by the Edinburg City Council.
Rodríguez, 43, whose entire public service career has been with the local municipal government, said he would accept the position, subject to final negotiations on his pay.
Currently, Rodríguez said he earns about $95,000 per year, plus receives a car allowance. He said that he and City Attorney Daniel Ríos will meet soon to hammer out the terms of his new contract, and when those discussions are concluded, the city council will again have to approve the deal.
Rodríguez, with the direction and advice of the mayor and city council members, has led the municipal government for more than a year, following the departure of then-City Manager Wendy Smith-Sturgis, who had resigned to become an assistant city manager with the City of McAllen.
Prior to succeeding Smith-Sturgis, Rodríguez had served as her assistant city manager.
The discussion on offering Rodríguez the permanent spot came behind closed doors, as allowed by state law, during the city council's regularly-scheduled meeting, held in the International Trade and Technology Building at the University of Texas-Pan American.
It its publicly-posted agenda, the city council stated it would go into executive session to deliberate on what to do regarding the search for a city manager.
Rodríguez said he was given support and direction from the elected leadership during the closed-door meeting, then left the room while the city council and the city attorney talked about the pending contract to be offered Rodríguez.
Following the decision, which was announced when the city council returned into open session, Rodríguez expressed appreciation for the opportunity to continue leading the local government.
"The American Dream is alive and well," said Rodríguez, reflecting on how his career first began as a part-time intern in the city's Planning and Zoning Department, and after almost 20 years, saw his journey take him to the top spot in local government.
In July 2006, Rodríguez agreed to fill in for Smith-Sturgis when she left, allowing the city council to conduct what eventually became an almost year-long search for other applicants. In the end, his leadership style, intimate knowledge of the local government and politics, and credentials were more than enough to prompt
the offer for permanent status.
"In my original discussions with the city council, when they asked me to serve on an interim basis, I essentially told them I wanted that time frame to be a trial basis for me to see if I could meet their goals and objectives," he said after the meeting. "They have indicated to me that I accomplished that."
Despite suggestions in published reports by the McAllen Monitor, Rodríguez was always an active candidate for the permanent status.
"I wanted them to have to opportunity to look at the caliber of applicants that were out there. They went through an initial six-month time frame after my appointment, then they wanted to take another six months," he recalled.
"Once I was asked, and entertained the discussion with them this evening, it became clear, through their huge vote of confidence, they felt I was meeting their goals and objectives. They had some input for me on areas, where we can perhaps improve, and it is more than doable," Rodríguez said. "I agreed and accepted their offer."
While Rodríguez filled in as interim city manager, the city council had agreed to let him keep his former position as assistant city manager vacant.
"Obviously, had they picked up an outside individula to come, what I had expressed to the council originally was that I wanted to revert to my original positon as assistant city manager so I would not be penalized for having served them and the citizens on an interim capacity," he said.
He wound up doing both jobs "with the assistance of a very good staff," he acknowledged.
Rodríguez said he represented continuity for the mayor and city council, an asset that worked to his advantage. During his term as interim top leader, he noted that major capital improvement projects have continued to move forward.
"We have begun construction of a water plant for which we are in dire need," he illustrated. "That is a $10 million investment that is currently underway. The continuation on that and a lot of other projects, which for several reasons suffered delays, but at the direction of the mayor and city council, we finalized these projects."
Rodríguez is a 1984 graduate of PSJA, and earned a bachelor's degree in economics from the University of Texas-Pan American in 1988. He said he lives in the McAllen area with his elderly mother.
••••••
Gov. Perry, Lt. Gov. Dewhurst sign bill by Sen. Hinojosa requiring schools to have defibrillators on campus
Gov. Rick Perry and Lt. Gov. David Dewhurst on Wednesday, September 5, visited schools in Austin, Houston and San Antonio to ceremonially sign Senate Bill 7, which requires every public school campus to have an automated external defibrillator (AED) readily available at all University Interscholastic League athletic practices and competitions. Equipping schools with AEDs will increase the survival chance for students who may suffer from cardiac arrest while at school or participating in athletics.
SB 7 was authored by Sen. Juan "Chuy" Hinojosa, D-McAllen, and co-authored by Sen. Judith Zaffirini, D-Laredo.
"A defibrillator in every school in Texas will result in more lives saved after sudden cardiac arrest," said Hinojosa. "In addition to protecting the safety of our children, educators will also now have access to this life saving technology in their schools."
"In a state that has long set the national standard for athletic competition, this bill establishes a benchmark for student safety by requiring the presence of an essential life-saving device at school activities," said Perry. "Texas knows the importance of putting our students first by taking common sense steps to reduce risk, and improve the chances of survival."
Each year, approximately 250,000 people die due to coronary heart disease without being hospitalized. Most of these deaths occur suddenly and are caused by cardiac arrest. A victim's chance of survival is reduced by 7-10 percent with every minute that passes without treatment. The American Heart Association estimates that more than 95 percent of cardiac arrest victims die before reaching the hospital. In cities where defibrillation is provided within 5-7 minutes, the survival rate from cardiac arrest is as high as 49 percent. According to a report by the House Research Organization, 15 Texas students have died from Sudden Cardiac Arrest in the last 10 years.
"Senate Bill 7 makes a significant investment in our children's safety and well-being. And it's an investment that will give parents peace of mind as their children leave for school every morning and most importantly, will save lives," said Dewhurst. "Not only will students benefit from having this life-saving technology close at hand, but also teachers, faculty, visitors and virtually anyone visiting a school campus or attending an athletic event."
SB 7 requires each school to have a defibrillator on campus and an individual present who is trained to use the device. Beginning this year, certain school personnel and students will be trained in the proper use of an AED and administering cardiopulmonary resuscitation (CPR). Additionally, the State Board of Education will include instruction in CPR and AED as part of the essential knowledge and skills of the health curriculum. The Texas Education Agency may accept donations to assist in the cost of providing this instruction. Private schools that accept AEDs or TEA funding for the devices will be subject to the same requirements for training.
According to the new law, schools, school district officials and others who might be called upon to use an AED will have immunity from liability. The bill also requires TEA to establish a cardiovascular screening pilot program to screen 6th grade students beginning this school year.
Senate Bill 7 took effect June 15, 2007.
••••••
Edinburg's Kimberly Baus, Claudia Mata named 2007 Regional teachers of the year
By GILBERT TAGLE
Edinburg teachers, Kimberley Baus and Claudia P. Mata have been named Regional Elementary and Regional Secondary Teachers of the Year, respectively, and now go on to represent the region at the state Teacher of the Year competition in October.
Baus, a fifth grade teacher at Canterbury Elementary, and Mata, a teacher at Edinburg North High School were named at the recent Region One Education Service Center annual Teacher of the Year Recognition Dinner.
Region One awarded Baus and Mata with a golden apple, the traditional gift to a teacher. The honorees also received a plaque and $500 from AT&T, the state and local sponsor of the Teacher of the Year program. In addition, each honoree will also receive a Teacher of the Year ring from Jostens, The Class Ring Company.
Gilberto Garza Jr., ECISD Superintendent of Schools, gave high praise to Baus and Mata. "These young women are two of the best teachers in Texas. The quality of their service and dedication to Edinburg students is an outstanding testament to the teaching profession."
"The Edinburg school district and the school board are very proud of these two teachers and the honor they have achieved and the honor they have brought our district," said Garza. "Some of the finest school teachers in the state are in our elementary and secondary schools doing what they were born to do. They are committed to teaching and to working tirelessly to make a difference in the lives of their students."
ECISD board president, Carmen González, called Baus and Mata "Shining Stars" who bring enlightenment to their students and their schools. "Kimberly Baus and Claudia Mata are two out of more than 2,000 teachers who make our district shine in education. Like these two great teachers, we have many, many others who are Shining Stars, too."
Kimberly Baus
Canterbury teacher Baus entered the teaching profession in a non-traditional way. She said she received her degree in the Advertising/Business Marketing field but soon recognized, by observing her husband (a science teacher), that she could apply her skills, creativity and work ethic in the classroom and have an impact on students.
Baus went through an Alternative Certification route and took her first teaching job at Jefferson Elementary in Edinburg as a third grade teacher. She credits her current success in the classroom to her mentor teacher and principal who guided her through her first year in the classroom in the hands-on aspects of day-to-day teaching, lesson planning, student motivation, and consistent classroom management.
In her 15-year teaching career, Baus said she has worked with students of all levels, backgrounds, and circumstances, but realizes that while they all have unique needs and abilities; there is a common thread to their success.
"I have made a personal commitment to my students to understand their academic and
emotional needs and to guide them through the learning process with genuine caring, consistent high expectations, and a belief that they can reach their goals," explains Baus. "I want my students to progress from understanding my high expectations of them to developing the highest level of expectations for themselves."
Claudia P. Mata
Edinburg North High School's Claudia P. Mata is a 12-year teaching veteran. She said that she came to the United States from Mexico when she was just 12-years old.
"I felt like I was on exhibition, caged in a world where I didn't belong. I felt suffocated inside, not being able to voice my opinion, ideas, or simply carry on a casual conversation," said Mata. It was this experience that she says helps her to relate to her students and enabled her to help them become stronger, self-motivated learners.
Mata said that by serving as an example to her students, she has shown that "success," regardless of the circumstances, is a "possibility" for all students. Mata strives to empower her students to become disciplined and dedicated students for life.
"I am forging the road ahead for my students, challenging them down life's difficult paths," Mata said. "No matter what life challenges them with, no matter what obstacles they have to face, they will remember the teacher who told them to live and learn with passion, for if they do, they too will succeed."
••••••
Sen. Hutchison legislation to fund for veterans health center expansion in Valley passes Senate
By GEOFF EMBLER
U.S. Senator Kay Bailey Hutchison's legislation to allow the U.S. Department of Veterans Affairs (VA) to enter into a $12 million lease to provide a major medical facility in Harlingen, as recommended by the August 2007 study requested by her, passed on Wednesday, September 5, as the Fiscal Year (FY) 2008 Military Construction and Veterans Affairs Appropriations bill passed the full Senate by a vote of 92-1. Hutchison's legislation passed yesterday by voice vote as an amendment to the bill.
"This is the first step toward delivering on a major improvement in health care for Valley veterans," said Hutchison, R-Texas. "Valley veterans have waited far too long for adequate health services, and this legislation clears the path to deliver a major expansion of services as quickly as possible. I'm going to continue to work to get every dollar needed to complete this project."
This authorization is the first step to deliver on the VA's commitment to rapidly expand services in the Valley as a result of the conclusions drawn from an independent study on the issue requested by Hutchison.
Valley veterans have been burdened with hours-long bus rides to receive treatment at the VA hospital in San Antonio. Expanded health care resources in the region will allow more convenient access to a wider range of medical services without arduous trips to another facility.
Hutchison personally made a request to VA Secretary Jim Nicholson to have his department conduct the study to examine access to health care for veterans in the Rio Grande Valley in December 2005. The VA contracted with an independent consulting firm to conduct the study. Senator Hutchison wrote a letter to Secretary Nicholson on April 5, 2007, requesting a progress report on the study and inquired about it further at a hearing with the secretary on April 12.
••••••
Congressman Hinojosa: Bill approved that will help college education become more affordable
By ELIZABETH ESFAHANI
Congressman Rubén Hinojosa, D-Mercedes, chair of the Subcommittee on Higher Education, on Friday, September 7, applauded the final passage of legislation that not only makes the largest investment in higher education in more than a generation, but also makes significant investments in Hispanic-Serving Institutions (HSIs) and Historically Black Colleges and Universities (HBCUs).
The College Cost Reduction and Access Act, which both the House of Representatives and Senate overwhelmingly approved, will boost college financial aid by more than $20 billion over the next five years. The bill pays for itself by reducing federal subsidies paid to lenders in the college loan industry.
Earlier last week, Hinojosa was appointed to the conference committee charged with reconciling differences between the House and Senate versions. As a conferee, Hinojosa was a key negotiator in efforts to formulate a final report. The legislation now goes to the President's desk for his signature.
"In 1944, the GI bill opened our college campuses to our returning veterans – rich, poor, black, Hispanic – they all had a shot at the American Dream of a college education," said Hinojosa. "This bill provides us another opportunity to make sure that America becomes smarter, stronger and richer as a result of an egalitarian investment in education."
The bill comprises of a package of investments to expand higher education opportunities. It guarantees a minimum increase of $1,090 in the maximum Pell grant over the next five years — reversing the last five years of stagnant funding – and would benefit over six million low- and moderate-income students nationwide. Over 400,000 of these students reside in Texas.
To reduce the cost of loans for student borrowers, the bill would cut interest rates in half from 6.8 percent to 3.4 percent over four years. In Texas, the debt of a typical need-based borrower at four-year public school is $14,233. Once it is fully implemented, this cut would save the typical Texan borrower $4,550 over the life of the loan. Roughly 205,500 students in Texas take need-based loans each year.
The final bill also contains a landmark provision that commits $200 million in grants over the next two years to HSIs, which enroll almost half of all Hispanic college students. Overall, the bill increases funding by $510 million over two years for minority serving intuitions. In the 15th Congressional district, University of Texas-Pan American, Coastal Bend College, and Harlingen's Texas State Technical College would gain from the provision, as would 41 other HSIs and nine HBCUs in Texas.
"I am particularly proud of our work to strengthen the institutions that are the gateways of access to higher education for minority students," said Hinojosa. "Close to half of our public school children are racial or ethnic minorities – one in five is Hispanic. It is clear that minority serving institutions will only grow in importance, and this initiative will ensure that our nation has enough college graduates to fuel our knowledge-based economy."
The College Cost Reduction and Access Act also includes a number of other provisions that would ease the financial burden imposed on American families by the cost of college, including:
• Tuition assistance for excellent undergraduate students who agree to teach in the nation's public schools;
• Loan forgiveness after 10 years of public service and loan repayment for college graduates that go into vital public service jobs; and
• Strategies to help colleges contain costs and make online information on college costs for students and parents more user friendly.
"This is a once-in-a-generation opportunity," concluded Hinojosa. "This bill will open the doors of higher education to a new generation of students and ensure America's future competitiveness and prosperity."
••••••
Valley state legislator recalls, reflects on 9/11
By REP. JUAN ESCOBAR
Who can forget the fear, confusion and the anger we felt on that fateful day in September 2001 when our enemies struck home? I will always remember where I was and what I was doing.
Around 6:00 a.m. in the morning, while grooming myself, preparing to attend a session of a national conference on drug trafficking hosted by the Department of Justice in San Francisco, California, there was a loud knock on my hotel room door. It was my partner.
"Terrorists just hit New York," he shouted when I opened the door. "Turn on your TV!" I did so, just in time to see the second plane hit the Twin Towers.
Within an hour, everyone in the conference had orders to return to their headquarters. For me that was Harlingen, where I worked as an investigator for the Department of Justice.
We had arrived by air in San Francisco, but all flights were cancelled for the return trip. We rented a car and drove back to Texas. The next day I was assigned to work with the FBI, identifying potential terrorist cells in South Texas.
The September 11, 2001 terrorist attacks on the United States brought grief to the families of more than 3,000 victims and shocked and traumatized billions around the globe. After the attacks on the USA, the free world's response to help knew no limits. Six years later, that is no longer the case.
Many Americans have reached their own opinions about the U. S. strategy, at home and abroad. Certainly, our government has been very effective at home in its fight against terrorism during the past six years. We have organized our Homeland Security, increased monitoring of people and goods entering the country at airports and ports, and launched stricter management and established pro-active systems to protect our borders. As a result, over the past six years there have been no more terrorist attacks of the magnitude of the 9-11 incident.
Overseas, we continue to pay the price. We have lost more than 3,800 young warriors, our country's elite. Behind every number, there is an American name, an American life sadly cut short, and a grieving American family and friends who will never forget their loved ones lost. Nearly 30,000 more have been wounded, and countless more are psychologically injured.
Too often during the past six years I have attended funerals for those South Texans who have died in defense of our freedom. The underlying message from the parents, wives, siblings, and friends of the dead is that the sacrifice of their loved one must be honored and remembered.
Yet the headlines state that our military coalitions are crumbling, and our so-called friends and allies are abandoning us as new governments are elected and defense postures are changed.
Will we go at it alone? Will we bring our soldiers home and prepare them to once again meet the enemy only in the streets near the Twin Towers, or the Pentagon building, or possibly the Gulf Coast of Texas?
Only time will tell. But the fact remains that we must continue to support our men and women in the military. We must continue to provide the best medical care and facilities for our veterans.
When you remember 9/11, honor those in service and pray for them along with our fallen warriors. The ultimate sacrifice of those who have gone before and those who soon may follow is a special lifeline to the continuation of freedom that too often we take for granted.
(Escobar represents District 43 which consists of Kleberg, Kenedy, Brooks, Jim Hogg, Willacy and part of Cameron counties.)
••••••
Sen. Hutchison files legislation to prohibit tolling of existing federal highways
By Matt Mackowiak
U.S. Senator Kay Bailey Hutchison, R–Texas, on Wednesday, September 5, filed S. 2019, legislation to prohibit the tolling of existing federal highways across the country.
"My bill will protect drivers from paying tolls on roads that were already paid for by taxpayers," Sen. Hutchison said.
The intent of Hutchison's legislation is to "prohibit the imposition and collection of tolls on certain highways constructed using federal funds," by blocking the U.S. Secretary of Transportation from approving tolls on existing federally-funded highways. Under current law, states can apply to the U.S. Department of Transportation to place tolls on existing federal highways.
Two weeks ago, Hutchison said she would "vigorously oppose" any effort by TxDOT to toll existing interstate highways through the use of "buy backs."
Earlier this year the Texas Department of Transportation (TxDOT) declared they will lobby Congress to allow for the "buy back" of existing federal highways in Texas for the purpose of tolling. The legislation specifically disallows states to place tolls on any federal highways they "buy back" from the U.S. Department of Transportation (DOT).
"I will work with members of the Texas Congressional delegation and the state legislature to ensure that Texans are never asked to pay a toll of an existing interstate highway," Hutchison said.
In February TxDOT released their legislative agenda in a report called "Forward Momentum," which seeks changes in federal law that would allow such buybacks for the purpose of tolling interstate highways, pending approval by local governments.
This legislation is similar to a previous effort by Hutchison to block the use of tolls on existing interstate highways as part of the 2005 Highway Bill. The amendment passed the Senate but was stripped in conference by the House of Representatives.
••••••
Three Edinburg schools named to 2007 Honor Roll by the Texas Business and Education Coalition
By GILBERT TAGLE
Three Edinburg CISD elementary schools have been named to the Texas Business and Education Coalition (TBEC) 2007 Honor Roll for their students' performance on the TAKS tests, announced Gilberto Garza, Jr. superintendent of schools. The school will be honored at an awards dinner in October in Austin.
Making the grade were Jefferson Elementary, Canterbury and Lincoln elementary schools, said Garza. The three schools, which are part of 385 public schools across the state named to the honor roll, are model schools from which other schools can learn how to educate all kids, said Garza.
This is the second year in a row that Jefferson and Lincoln elementary schools have made the TBEC honor roll.
"Every one of our schools in the Edinburg school district works hard and long to help our students do the best they can on the state-mandated tests," said Garza, "But in the case of these three elementary schools, their principals, their staffs and their parents have proven that a dedicated and united effort can make a big difference when it comes to student success."
ECISD school board president, Carmen Gonzalez, praised the three schools for their commitment to helping their students achieve academic success. "Every one of our elementary schools is working hard to educate their children. All of them deserve recognition, but these three schools met the criteria and are being recognized for their dedication and success. The school board wholeheartedly commends them."
Formed in 1989, the Texas Business and Education Coalition (TBEC) is a nonprofit organization of business executives and education leaders dedicated to improving the performance of the public school system by influencing state education policy and stimulating community-based improvement initiatives. Every year, TBEC creates an Honor Roll of the most outstanding public schools in the state.
TBEC volunteers will travel to Edinburg to present an Honor Roll banner to each school at a local ceremony so that students, parents, teachers, other staff members, and members of the community can join in the celebration. The volunteers will also tour the school, visit classrooms and talk with students and staff.
TBEC compiles its Honor Roll by analyzing three years of performance data for all Texas public schools. A school must have a high percentage of students meeting state standards on the Texas Assessment of Knowledge and Skills (TAKS) in all subjects for three consecutive years, with an emphasis on how many students score at the state's highest standard—commended—on all tests. Each school's student demographics, the number of subjects tested, and the grades served are also considered
••••••
Texas Residential Mortgage Fraud Task Force convenes to address growing housing crisis
Texas Attorney General Greg Abbott and key officials from state regulatory agencies on Wednesday, September 5, convened the Texas Residential Mortgage Fraud Task Force, a strategic partnership intended to improve collaboration among residential mortgage regulators and law enforcement officials. Task force members, including the attorney general and top real estate, banking and consumer credit regulators, will examine how to track and reduce mortgage fraud in Texas.
"Home ownership lies at the heart of the American dream," Abbott said. "To better track and prosecute mortgage fraud, the Texas Residential Mortgage Fraud Task Force will form a strategic alliance between law enforcement and regulatory agencies. We are committed to protecting Texas homeowners and cracking down on mortgage fraud."
The Texas Residential Mortgage Fraud Task Force was created under House Bill 716, which was authored by Rep. Burt Solomons, R-Carrollton, and Sen. Kip Averitt, R-Waco, during the 80th Legislative Session. The 2007 legislation was intended to reduce false or misleading information on residential home loan applications by increasing cooperation among regulators and requiring new disclosures at closing.
Effective September 1, mortgage lenders, bankers and brokers are required to warn loan applicants about the legal consequences of knowingly supplying false information on a residential loan application. Additionally, with the consent of the local district attorney, the attorney general is granted concurrent jurisdiction to prosecute criminal mortgage fraud cases, including those involving money laundering, loan document falsification, and mail or wire fraud.
"House Bill 716 is designed to more easily catch white collar criminals and put them behind bars where they belong," Solomons said. "We must take the necessary steps, including strengthening criminal penalties, to protect consumers and legitimate lenders in the mortgage loan process from fraud."
"Mortgage fraud is a serious, costly crime, and legitimate home buyers end up paying the price," Averitt added. "Through the Residential Mortgage Fraud Task Force, we will form a strategic partnership with local, state and federal officials, enabling law enforcement and state agencies to better track and prosecute mortgage fraud and its perpetrators."
Criminal mortgage fraud includes illegally inflating property appraisals; concealing a second mortgage from a primary lender; and concealing or stealing a borrower's identity. Under the Deceptive Trade Practices Act, the OAG has authority to prosecute misleading practices and has recovered millions of dollars for Texans harmed by title scams, undisclosed costs and other unlawful mortgage-related schemes.
State agencies and officials represented on the Texas Residential Mortgage Fraud Task Force include: the Attorney General; the Consumer Credit Commissioner; the Banking Commissioner; the Credit Union Commissioner; the Commissioner of Insurance; the Savings and Mortgage Lending Commissioner; the Texas Real Estate Commission; and the Texas Appraiser Licensing and Certification Board. Under Sec. 402.032 (h) of the Texas Finance Code, the attorney general "shall oversee administration of the task force."
Earlier this year, the OAG obtained $21 million in restitution for Texans harmed by lending giant Ameriquest Mortgage Co.'s deceptive lending practices. The settlement resolved allegations that Ameriquest and its affiliates did not adequately disclose certain terms to homeowners, including whether loans carried fixed or adjustable rates. According to court documents filed by the OAG, Ameriquest also charged excessive origination fees and prepayment penalties, refinanced borrowers into improper loans and inflated appraisals that qualified borrowers for loans.
In 2006, Attorney General Abbott negotiated a landmark agreement with Green Tree Servicing L.L.C., a Minnesota-based firm that services manufactured housing debts in Texas. Under the settlement, Green Tree agreed to assist more than 1,200 Texas homeowners who may have been issued invalid titles to homes they purchased from more than 115 unlicensed retailers in 2003. In a related move, the Attorney General secured an injunction and asset freeze against the unlicensed sellers.
The Office of the Attorney General has also halted scams purporting to save homeowners' properties from condemnation. It has also cracked down on various title-related and refinancing scams.
To better assist Texans who are considering a mortgage loan, Attorney General Abbott also added new online resources to the agency's Web site (www.oag.state.tx.us). The new Web page, "Avoiding Home-Buying Pitfalls and Scams," provides consumers with specific guidelines about the home-buying process as well as other helpful information. The Web page also helps homeowners recognize "foreclosure rescue" scams, equity-stripping schemes and other pitfalls to avoid when refinancing a home.
The most common pitfalls home buyers should be wary of include:
• Interest rate surprises. Consumers should ask their lenders for written information to help them compare and select a mortgage. Prospective home buyers should not hesitate to ask questions about the various types of home loans. For example, adjustable rate mortgages (ARM), have interest rates that periodically fluctuate, where fixed rate mortgages keep the same rate through the term of the loan. While many consumers are willing to accept loans with variable interest rates, they should be prepared for those rates – and their payments – to climb in the future. An interest rate that increases by even a couple of percentage points could add several hundred dollars to a monthly mortgage payment, especially early on when the borrower is carrying a large balance.
• Undisclosed costs. Not all mortgage loans have property taxes rolled into the monthly payment, so consumers should check before closing on the home whether they will have to pay those taxes separately. Consumers may also contact their county appraisal district for an estimate of property taxes. Similarly, while some mortgage loans include home insurance as part of the monthly payment, others might require consumers to obtain and pay the premium separately. If taxes and insurance are included in the monthly payments, these costs can often increase yearly. Thus, even with a fixed interest rate, the monthly cost of home ownership may rise because of taxes or insurance rate increases.
• Predatory refinancing. Homeowners considering refinancing or the need to take out a home equity loan should carefully read all terms of the agreement. If the new contract is for a variable interest rate, homeowners should ask the lender the amount of monthly payments after the rate has adjusted several times.
• "Credit clean-up" services. Consumers should be wary of "credit clean-up services," which are marketed to prospective home buyers who have imperfect credit. Many of these services charge hefty fees for merely sending letters to credit bureaus that question all items in a credit report. Credit bureaus may temporarily remove the entries pending further investigation; however, as creditors confirm the accuracy of the data, the items reappear on the report. Prospective home buyers gain little to nothing from these services. If negative items in a consumer's credit report are accurate, only time and diligent bill-paying will eliminate them.
• Title scams. Aspiring home buyers should always use an independent title company to complete their real estate transactions. Title companies conduct important research regarding a property's legal status. They confirm that prospective home buyers are working with the legitimate property owners – or their representative – and determine whether the property has any outstanding liens, including unpaid taxes or a previous owner's unpaid mortgage. Consumers should deal directly with a title company and not trust a financing company or seller to act as a go-between.
For more home buying tips, brochures, consumer columns and additional information on the mortgage industry, visit the Office of the Attorney General's Web site at http://www.oag.state.tx.us
••••••
UT-Austin Media Research Lab taps into consumer behavior to measure advertising effectiveness
Must-See TV is dead. Families and friends no longer gather 'round the living room television to catch "The Cosby Show," "Seinfeld," "Cheers" or "Friends" at 8 p.m.
Today, Americans live in a time-pressed society where multi-tasking is de rigueur and goes beyond watching TV during dinner. While mass media have evolved over the past 50 years—remember when there were three networks and FM radio delivered high fidelity sound—societal and technological trends over the past five years have fast-forwarded that evolution.
"New Media," including the Internet, Digital Video Recorders (DVRs), iPods, BlackBerrys, iPhones, video on-demand and video games, have proliferated of late. With these new technologies comes an explosion of information competing for our attention.
Not only do these technological and societal changes present challenges to the average person, they can confound the metrics-driven media industry—advertisers, marketers, public relations professionals, journalists and more—those trying to communicate a message to consumers and track the results.
"The distinctions between print, broadcast and mobile are disappearing," said Cindy Wells, manager of interactive media solutions at Tribal DDB, an interactive media agency. "The industry is evolving and everything will become a digital touch point. For example, the billboard will be digitized, consumers will be able to take TV shows on the go all through the device that is most convenient to the consumer."
Dr. Terry Daugherty is an assistant professor of advertising at The University of Texas at Austin and director of the Media Research Lab in the College of Communication. Daugherty is exploring the strategic, social and technological issues at the core of the media phenomenon and giving researchers across the country the tools to investigate media consumption, measurement variables and the effects of traditional and non-traditional media.
"I've always been fascinated with media, how it has evolved, how we are engaged by it and how we rely upon in our daily lives," said Daugherty who has worked in the media advertising industry. "The mass media are not only delivering new communication vehicles today—the cell phone is now considered an advertising channel—they're changing how we consume media, including 'old media.'"
For example, a growing number of Americans today are engaging in simultaneous media consumption because of time pressures, numerous media options, and personal choice, such as listening to music or watching TV while surfing the Internet or reading a magazine.
Chart showing the time spent with select media by U.S. consumers from 2003-2007 in hours per personAccording to eMarketer, 30 percent of total media time is spent multitasking and the more media a person consumes the more likely it is they will multitask.
"What researchers don't know is the effect multitasking has on the absorption of media messages, whether product placement in music lyrics, video games, television and film is effective, how mass media is best able to communicate health information and how people engage in video games, among hundreds of other questions."
"The answers to these questions have major implications for the multi-billion dollar media industry," said Daugherty. "There's immense pressure in the industry to justify return on investment for advertisers, and there are currently no standard measures to evaluate many of the tactics being used in this changing environment."
The goal of the Media Research Lab—the only one of its kind in the country—is to provide researchers at The University of Texas at Austin, and other academic institutions and corporations across the country, with the infrastructure to quantify these changes and answer those questions so that media of all kinds can identify new and meaningful ways to connect with their audiences.
Never Let Them See You Sweat
Online since spring 2006, the lab has been used for more than 35 teaching and academic research projects at The University of Texas at Austin, as well as at the University of Southern California, Michigan State University, Ohio State University, the University of Tennessee and the University of Georgia, among others.
There are two components to the Media Research Lab: the physical lab itself and the consumer online panel.
The physical lab features collaborative space for planning research, dedicated research stations for conducting experiments and data collection, continuous response measures for collecting immediate feedback, an eye tracking system for monitoring visual behavior for a variety of media and physiological measurement tools for monitoring biological responses to media consumption.
Physiological measurement tools in the lab measure the body's biological response—heart rate, perspiration and breathing—to various media. So instead of asking subjects how they feel after watching a television program or playing a video game, physiological measurements allow the researcher to observe biological responses that occur during the media exposure to determine precisely what they are experiencing. By monitoring certain physiological measurements, researchers can identify whether a person is enjoying a particular television or radio commercial.
Similarly, the lab's continuous response devices collect immediate feedback during exposure to media, such as television and movie content. Rather than exposing subjects to a program or advertisement and then asking them to report their evaluation, a continuous response device allows the researcher to record an evaluation from participants during the exposure itself.
This handheld input device—similar to a remote control—enables subjects to continuously indicate on the pad whether or not they like what they're watching. The researcher then overlays the collected data onto the actual content to examine exactly what content individuals did and did not enjoy.
Eye tracking systems in the lab monitor visual behavior for different types of media. For instance, if someone is monitoring product placement in a television show or video game and the participants never look at the product, the researcher may conclude the placement wasn't effective.
"Faculty and graduate students associated with the lab are using these systems to address many of the most pressing issues facing media professionals today," said Daugherty. "From this work, we are learning whether product placements in video games are viable advertising alternatives, why and how consumers use Digital Video Recorders to consume media, and what role user-generated content online plays within the media universe, as well as numerous other media issues."
20,000 Consumers Around the Globe
With 70 percent of the U.S. population using the Internet, it's not surprising that online panels are expected to account for the majority of consumer research in the future.
The second component of the Media Research Lab is the consumer online panel, an opt-in, informed consent, privacy-protected resource of more than 20,000 consumers around the world, who participate in real-time, Web-based research.
The panel was started in 2003 with two goals. The first goal is to provide advertising students with real data to conduct training on primary research methods. The second goal is to provide the infrastructure for students and faculty—from The University of Texas at Austin and other academic institutions—to conduct theoretically driven research using an adult population from around the world.
Panel members must be at least 18 years old to join, and all research conducted is used for academic purposes only. Participation is voluntary with cash prize drawings offered as incentive to join the panel and to participate in individual studies.
"In each of our research classes students develop a research project to analyze current media usage trends and brand preferences," explained Daugherty. "They start with secondary research and then examine primary research through the panel.
"By using the panel in classroom assignments, students gain first-hand knowledge of managing research data, including the technology and resources required to maintain it and the detailed steps required to execute an online survey or experiment.
"Not only are these students developing strong analytical abilities through these real-world activities, they also are bridging the gap between the rigor of the classroom and what will be expected of them when they graduate and enter the work force," he added.
While the consumer online panel helps students develop the skill set for success in media research, strategy, and decision-making, the panel's biggest potential impact is on the academic study of media.
The online panel provides scholars with an established infrastructure for conducting research. Therefore, many of the barriers typically associated with access to research participants, such as technological expertise, extensive planning time and participant recruitment, are removed or reduced.
"Researchers at other universities pay a small administrative fee to the Department of Advertising for administering the panel survey and are responsible for covering incentive costs, which are cash prize drawings offered to participate in specific studies," Daugherty said.
Because the panel is maintained and operated internally, rather than outsourced from a private research firm, there is an added level of control that allows for efficient adaptation in accommodating the changing needs of various projects.
Dr. Wendy Macias, associate professor in the Department of Advertising and Public Relations at the University of Georgia (and a University of Texas at Austin advertising alumna), and Dr. Sally McMillan, associate professor in the School of Advertising and Public Relations at the University of Tennessee, used the panel last year to identify different groups of online American senior citizens and examine their online health information attitudes and behaviors.
"The panel enabled us to do a broad-based survey among a specialized population, as we wanted to reach Internet users who were over the age of 55," said McMillan.
One of the results from their work with the panel is the research paper "My Granny Googles Better than Yours: Factors Influencing Differences in How Older Americans Use the Internet for Health Communication and Information."
"We found the quality of the panel members to be very high. The response rate and response time were both excellent, and the panel members seemed to take the survey very seriously by providing quality answers and thoughtful responses. Overall, the experience was very positive and I will likely use the panel again in the future."
Macias and McMillan hope that health information providers will use their panel findings to more effectively communicate with older consumers, which is not a monolithic group, but quite diverse in health attitudes and behaviors.
The Future
"The goal is to increase the number of panel participants to 50,000 over the next three years and to offer our expertise and resources beyond academia to the media industry itself," said Daugherty.
"Mass media will continue to evolve and consumers will adapt. It's exciting to speculate what's next. Thanks to the unparalleled resources in the lab and the panel, researchers—from any organization—have the tools to track and analyze mass media and recommend strategies on how best to engage consumers."
Anyone interested in participating in the online panel or academics interested in using it may do so by visiting the Media Research Lab.