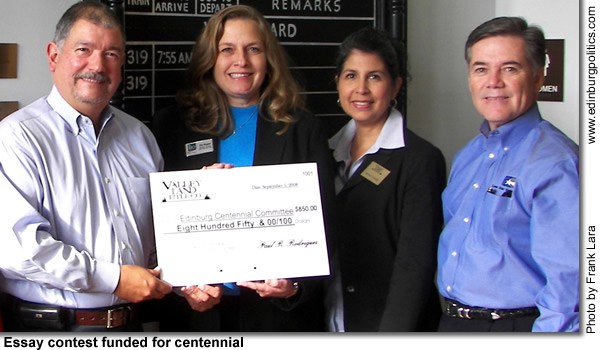 Valley Land Title and Lone Star National Bank recently contributed monetary donations that will be awarded as scholarship funds to 1st, 2nd and 3rd place winners of an essay contest that will be part of the city's centennial celebrations scheduled to begin in October. All ECISD 5th graders are encouraged to participate in the contest. The topic is Edinburg. Featured in this photograph are, from left: Paul Rodríguez and Susan Valdéz with Valley Land Title; and Elias Longoria, Jr. with Lone Star National Bank. Longoria is also on the board of directors for the Edinburg Economic Development Corporation, which is the jobs-creation arm of the Edinburg City Council.  See related story later in this posting.
••••••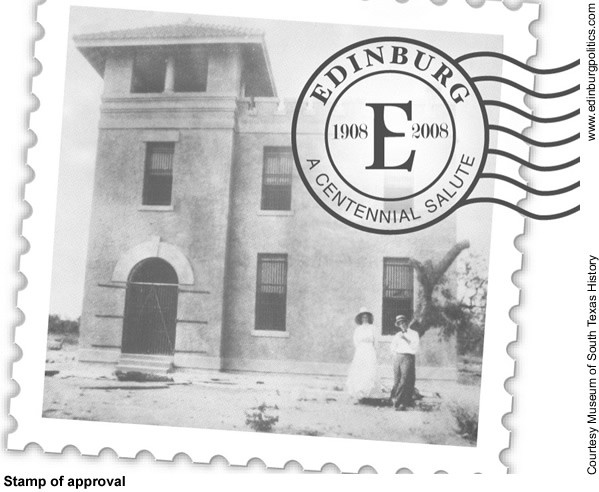 The Museum of South Texas History,  with its Upper Old Jail Gallery included in this postage stamp, will celebrate its hometown of Edinburg's 100th anniversary in October with a week of activities coordinated by the Chamber of Commerce and the Centennial Committee. A special exhibit entitled, Edinburg: A Centennial Salute, 1908-2008, has been created to commemorate the historic event.  Installed in the Upper Old Jail Gallery, this exhibit presents a sampling of photographs and artifacts from the museum's collections and is organized into four themes.  Those themes are education, government, civic life, and commerce. See related story later in this posting.
••••••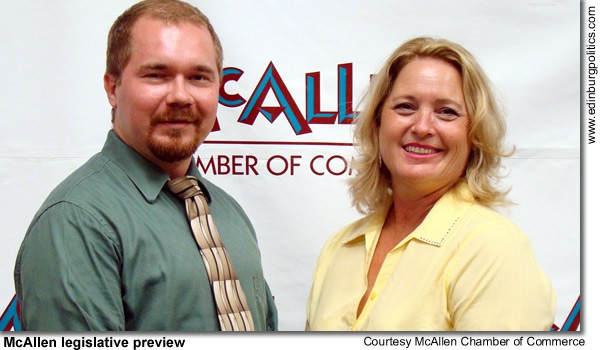 The McAllen Chamber of Commerce Governmental Affairs Council hosts monthly meetings featuring local elected officials, providing them the opportunity to reach out to McAllen Chamber of Commerce members among their constituents. On Wednesday, September 24, the McAllen Chamber of Commerce will welcome Rep. Ryan Guillen, D-Rio Grande City, as guest of the Governmental Affairs Council. Guillen will speak about his perspective of the major issues, challenges, and opportunities of the upcoming legislative session.  Featured making preparations for the event are Matt Z. Ruszczak, vice-president of governmental affairs, and Eva-Jean Radle,  vice-chair of the chamber's Governmental Affairs Council.  See related story later in this posting.
••••••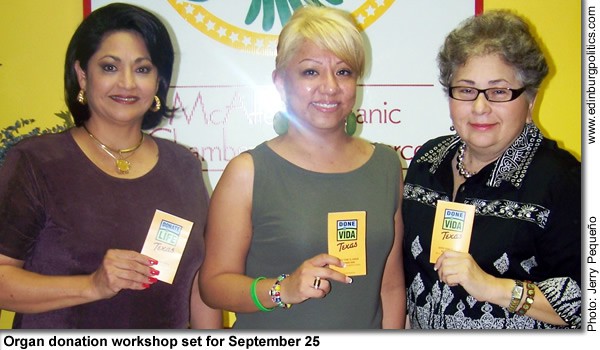 In Texas alone, more than 7,000 people are on the waiting list for life saving transplants. Knowing that the public has the power to donate life, the McAllen Hispanic Chamber of Commerce and the Donate Life Texas Organization are hosting an informative workshop to educate the public and dismiss the myths on being an Organ Donor on Thursday, September 25, from 6 p.m. to 7:30 p.m. at the MHCC Board Room, located at 24 N. 12th Street in McAllen. Texas Health Spring will co-sponsor the workshop and offer light dinner refreshments.  There is limited seating so reservations are required by calling the MHCC office at 928-0060. Featured making preparations for the free workshop are, from left: Cynthia M. Sakulenzki, president/CEO of the McAllen Hispanic Chamber of Commerce; Trisha Barrera, Donate Life Texas; and Rose Ramírez, MHCC Vice Chair of Health Issues and Texas Health Spring representative.
••••••