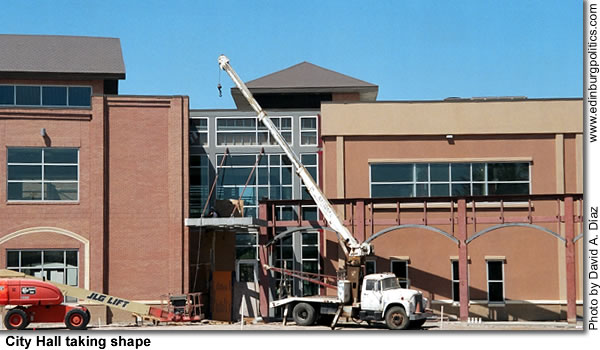 Work continued on Thursday, March 20 on the southern face of Edinburg City Hall, which is expected to be open by May, although it may not be until mid-summer before an old city hall annex, located north of the new facility, is demolished, and Kuhn Street is extended to serve the new complex. The groundbreaking for the 42,000-square-foot facility, located at 412 West McIntyre, took place in May 2006. It is designed to triple the amount of space utilized by city employees at the current City Hall. The project is expected to cost $6.65 million and will be funded through Certificate of Obligation Bonds. Due to construction, the section of McIntyre Street between 7th Avenue and 8th Avenue will be permanently closed. The existing city hall will be converted into a larger headquarters for the Edinburg Volunteer Fire Department.
••••••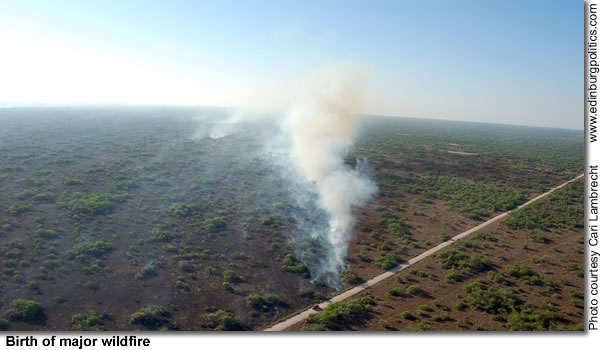 An aerial photograph taken on Wednesday, March 19, showed smoke from one of the wildfires that eventually consumed more than 26,000 acres in the ranch country north of Edinburg. Sparks from a utility line are being blamed for starting the initial fire, which was fueled by dry pastures, then spread by sustain winds approaching 50 miles per hour throughout that day and evening. Unofficial estimates predict the cost of the fires will approach $1 million. Sen. Juan "Chuy" Hinojosa, D-McAllen, on Thursday, March 21, criticized the Federal Emergency Management Administration (FEMA) for not doing enough to financially help victims of the wildfires. See lead story later in this posting.
••••••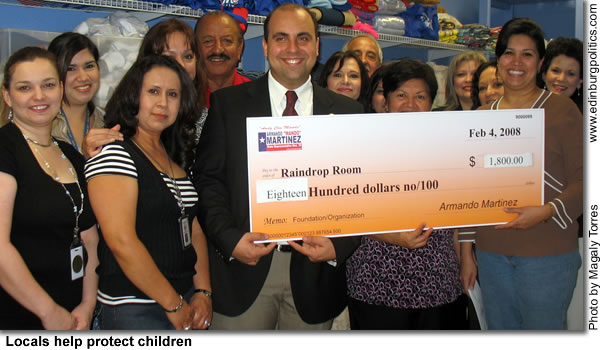 Rep. Armando "Mando" Martínez, D-Weslaco, recently presented a $1,800 check to the Raindrop Room, which is sponsored and maintained by the Upper Valley Community Partners Board, Inc. The Raindrop Room in Weslaco was established as part of the Rainbow Room in McAllen, a local charity organization whose mission is to provide Child Protective Services (CPS) caseworkers the additional resources, products, tools, training and support services necessary to accomplish this goal. The vision of this organization is: "Community partners will initiate, develop, and support projects that enable CPS caseworkers to make the most positive impact possible on the victims of child abuse and neglect in Texas Counties and on those who are at risk". Martínez organized a charity event in November 2007 to benefit various charity organizations in the Rio Grande Valley. Among those charities that benefited from the event was the Raindrop Room. The donation received will be used to restock the room with all new items for CPS clients such as diapers, baby formula, personal hygiene items, clothing and shoes. Featured, front row from left are: caseworkers Jovita Shives and Angie Romo; Martínez; Alicia de León, Rainbow Room coordinator; and Cynthia Bocanegra of Edinburg, the board president. From left, back row, are: Norma Reyes, caseworker; Rosie López, administrative assistant II; Johnny Rodríguez of Edinburg, a board member; Betsy Sinnett, program director; Junior Cordero and Ene Prado, board members; Georgina Morales, CPS director Region 11; and Marina Yzaguirre, program administrator.
••••••
Sen. Hinojosa criticizes FEMA for ignoring Valley victims following major wildfires in Hidalgo County
By JERRY HADDICAN
Sen. Juan "Chuy" Hinojosa, D-McAllen, on Thursday, March 20, called FEMA a "failed agency" that has consistently ignored the needs of the American people after FEMA turned down Gov. Perry's request for aid to fire victims in Brooks and Hidalgo County.
"FEMA is the number one example of how Washington DC has turned its back on the American people. We know how the people on the Gulf coast have suffered from FEMA's inaction after Katrina. Now we have massive fires in the Valley, and FEMA denies Gov. Perry's request for aid," said Hinojosa.
FEMA did grant an Emergency Declaration for Texas. That grant, however, provides only 75 percent assistance limited to federal fire fighting resources, and does not reimburse local and state entities for the money they spent to protect life and property, nor does it help fire victims, who will have to rely on volunteer organizations for help.
"FEMA's approach to aid for wildfires is fundamentally flawed," Perry said in a separate statement issued by this office. "It discourages state and local entities from taking steps to prevent the loss of lives and property by refusing to assist in the preventive efforts."
Perry on March 20 urged the Federal Emergency Management Agency (FEMA) to provide Texans more assistance in recovering from catastrophic losses and damages from three months of wildfires that have affected about 85 percent of Texas counties.
Since Jan. 1, 2008, more than 5,300 wildfires have burned nearly 940,000 acres and destroyed 140 homes in Texas. Some 216 of Texas' 254 counties have suffered damage from the wildfires.
In a letter to FEMA Administrator David Paulison, Perry called on the federal government to reimburse the state in full for operation efforts carried out since January.
"On behalf of all Texans affected by the ongoing wildfires, I strongly urge FEMA to reconsider its decision to deny our Texas request for aid," said Perry.
Perry continues to request federal aid for:
• Individual Assistance including the Individual & Households Program, Disaster Unemployment Assistance, Crisis Counseling, and Small Business Administration Disaster Loans and U.S. Department of Agriculture loans;
• Public Assistance, which includes debris removal, emergency protective measures and repair of damage to public structures; and
• Hazard Mitigation statewide, which entails actions to strengthen infrastructure against future disasters.
The state currently has the following air resources committed to wildfire response: 6 Air Attack, 5 UH-60s, 1 CH47, 5 Type 1 Helicopters, 1 ASM Aircraft, 3 Air Tankers and 4 SEATS. To provide an effective response for fire suppression operations, the Texas Military Forces and the Texas Forest Service have pre-positioned these aircraft to maximize effectiveness and minimize response time. Since Jan. 9, Texas aircraft have dropped a total of 2.2 million gallons of water and fire retardant.
"Real people suffered heavy losses from the massive fires over the last two days," added Hinojosa.
••••••
ECISD audit recommendations covered wide range of concerns, recommendations for improvements
By DAVID A. DÍAZ
It may be impossible for an organization the size of the Edinburg school district to maintain total control over how it handles its financial affairs and accounting practices.
But with a major school bond election to face Edinburg school district voters on May 10, it remains to be seen if any of its documented bookkeeping shortcomings will affect the public's willingness to approve almost $112 million for new campuses and land – including refinancing more than $37 million in existing bond debt that will save millions of dollars – in one of the fastest-growing school districts in South Texas.
Lingering in the background is an internal, but nonetheless public, document, entitled "Comments, Recommendations and Management Responses", which was presented in January to the Edinburg school board.
Among its key findings were a call for an accounting policies and procedures manual, which is an essential requirement to make sure assets are protected and finances are managed responsibly, to the establishment of an audit committee, which is designed to reveal and discourage fraud.
Those proposals were included as part of the 72-page Annual Financial Report, for the 12-month period that ended on August 31, 2007, that was prepared by Pattillo, Brown & Hill, L.L.P., a certified public accounting firm based in Brownsville.
Typically, an audit is defined as an independent review and examination of records and activities to assess the adequacy of system controls, to ensure compliance with established policies and operational procedures, and to recommend necessary changes in controls, policies, or procedures.
With the stakes so high in what promises to be a highly-charged political atmosphere, supporters and opponents of the May 10 bond election will be pulling out all stops to convince voters of the merit of their arguments.
The bond election issues involve the following measures:
Proposition 1 includes building four (4) elementary schools, two (2) middle schools; converting Harwell Middle School into a fourth high school; three (3) multi-purpose fine arts centers at each of the existing high schools; Brewster School addition/renovations, and land acquisition for a total of $111,920,000.
Proposition II includes $37,675,000 of 1998 Lease Purchase Bonds to be converted into Series 2008 voter authorized IFA supported bonds.
IFA means Instructional Facilities Allotment (IFA), which is a state fund available to help qualified school districts such as Edinburg receive help in paying for construction of new campuses.
IFA is distributed through grants, most of which go to districts with low property wealth.
Public confidence in the school district's financial affairs could be a key issue at the ballot box in May.
Among the 18 recommendations put forward by Carlos Cascos, the independent auditor for Pattillo, Brown & Hill, L.L.P., were the following findings, along with the responses from top school district administrators:
• During the disbursements testing, Cascos reported several instances where purchase orders were completed after the invoices were received.
A purchase order is generally defined as a written authorization for a supplier to ship products at a specified price, which becomes a legally binding contract once the supplier accepts it.
A disbursement is generally defined as money paid out, an expenditure.
School district administrators said they would tighten oversight to make sure only proper and authorized expenditures were paid, which would leave a proper audit trail.
An audit trail is generally defined as system that provides a means for tracing items of data from processing step to step, particularly from a machine-produced report or other machine output back to the original source data.
• During testing of bank reconciliations, Cascos reported that several bank reconciliations had a negative balance at year-end. Additionally, there were several bank accounts that were overdrawn at year-end.
A bank reconciliation is generally defined as the process of making sure the bank statement, checkbook, and books (ledger, journal, etc.) all agree.
School district administrators said they would review all bank accounts in order to avoid overdrawn accounts at year-end.
• During a review of disbursements, Cascos reported an instance where the invoice amount exceeded the authorized encumbrance by more than 30 percent.
An invoice is generally defined as a detailed list of goods shipped or services rendered, with an account of all costs; an itemized bill.
An encumbrance is generally defined as a commitment within an organization to use funds for a specific purpose.
School district administrators said they would review and verify all disbursements in order to ensure that the difference in properly authorized when the encumbrance has been exceeded.
• During a review of the general ledger, Cascos reported that payroll liabilities were not being reconciled. The accounts included outstanding balances from prior years that had not been reconciled.
A general ledger is generally defined as an organization's accounting records. This formal ledger contains all the financial accounts and statements of a business.
The payroll liabilities account tracks taxes deducted from employees' paychecks and hold temporarily until those funds are turned over to the government. These include federal and state income withholding taxes, local taxes, and the employee-paid portion of taxes such as social security and Medicare.
School district administrators said they would research the outstanding items from the prior year and reconciled the accounts throughout the year.
• During the annual inventory counts, Cascos reported that several times on the inventory count, sheets did not agree to with the actual count by his firm.
The independent auditor's review of inventory procedures found that several warehouses do not use the perpetual method to account for inventory throughout the year.
A perpetual inventory method is generally defined as an accounting method of maintaining up-to-date property records that accurately reflect the level of goods on hand.
Instead, adjustments were being made at year-end to reflect the physical inventory count. As a result, the school district is unable to ascertain the amount of shrinkage accumulated throughout the year.
Shrinkage is generally defined as inventory recorded on an organization's books but not on hand, due to theft, loss or accounting error.
School district administrators said they were in the process of implementing a perpetual inventory method in order to property record inventory throughout the year.
• During a review of bank reconciliation, Cascos reported that a duplicate check number was used to pay two separate employees. School district administrators said they will monitor the cash accounts closely and will look into modification of the internal accounting software in order to insure that duplicate check numbers do not occur.
• During the review of bank reconciliations, Cascos reported that the payroll and payroll escrow accounts are not being properly reconciled at year-end.
The payroll is generally defined as the financial record of employees' salaries, wages, bonuses, net pay, and deductions.
School administrators said they will review the bank reconciliations and ensure they are properly reconciled.
• During the review of bank reconciliations for student activity accounts, Cascos reported that several checks had not been cashed for a considerable period of time. School administrators said they will periodically placed stop payments on all such checks over 90 days old and prepare entries restoring the check amounts to the appropriate accounts.
• During the disbursements testing for student activity accounts, Cascos reported that invoices are not being stamped paid. School administrators said they will stamp invoices in order to indicate that payment has been made in order to avoid duplication of payment.
• In testing the district's compliance with the Public Investment Act (the "PFIA"), Cascos reported that investment officers are lacking formal training requirements. The PFIA requires the investment officers to attend an investment training session not less than once in a two-year period and receive not less than 10 hours of instruction relating to investment responsibilities.
School administrators said they would implement all requirements of the PFIA and ensure that all formal training requirements be met.
• During testing of payroll disbursements, Cascos reported four instances, out of a sample of 20, in which federal withholding taxes were deducted at different rates than authorized on the employee's W-4 form.
School administrators said they would review employees' files in order to ensure that federal withholding and other authorized deductions are being withheld from each employee, and that each employee's desired withholding status concurs with the payroll system.
••••••
$1.76 billion in direct damages if Hidalgo County levees are breached, says new economic impact study
By CARI LAMBRECHT
If the river levees in Hidalgo County were breached, the direct cost to residents and businesses would be approximately $1.76 billion, according to a new study commissioned by Hidalgo County Drainage District No. 1. These direct costs include $1.55 billion in damage to structure and their contents, $154 million in damage to automobiles and $507 million in alternative living arrangement expenses for the nearly 50,000 households that would be displaced by the flood.
The study, researched and written by Dr. Daniel Sutter, an associate professor economics, finance and business at the University of Texas-Pan American, also concludes that "the inundation by a levee failure would disrupt life in Hidalgo County for weeks if not months." More than 40,000 jobs with annual earnings of $950 million would be at risk. Retails sales between $680 and $940 million would be disrupted and trade imports and exports totaling millions of dollars per day would be interrupted. Ten to 20 lives would also be lost.
"The costs of a levee breach are by far even more tremendous than the cost of mandatory flood insurance, which we have said would harm our economy to no end. Now, we're not talking millions of dollars; we're talking billions of dollars. What is the federal government waiting for?" said Hidalgo County Judge J.D. Salinas III. "This study sends shivers down my spine, and it should send shivers down the spines of residents and businesses living here and of the officials elected to serve them. I urge the federal government to step up and appropriate funds to fix our levees. It is the right thing to do."
Salinas, on behalf of the Hidalgo County Commissioners' Court, sent several letters on Monday, March 17 to the Valley's congressional delegation, the President of the United States and the Governor of Texas, asking for support to fund this crucial infrastructure and homeland security project and enact legislative language that would allow for the recapturing of local taxpayer funds.
"These levees are a federal responsibility," Salinas said. "But it's a responsibility our lawmakers have shrugged off, failing to appropriate the necessary money to the IBWC. We know this is a very complicated situation, but it becomes very simple and clear to me when faced with the unsettling numbers in this study."
Update on River Levee Improvements
Construction is set to begin soon on sections of levee owned by the U.S. International Boundary and Water Commission. On March 13, the IBWC authorized Hidalgo County Drainage District No. 1 to proceed with the construction of Phase I of the Mission Levee Improvement Project. Construction on the 3.74 mile section is scheduled to commence in May 2008. Hidalgo County Drainage District maintains that it will complete 18 miles of IBWC-owned river levee by the end of the year.
Nevertheless, the funds being used to pay for these repairs are local taxpayer money from the $100 million bond approved in November 2006. Forty million of the $100 million has been earmarked for river levee improvements. The estimated cost of the entire Lower Rio Grande Flood Control Project — which encompasses the levees from Penitas to Brownsville — is $125 million, not counting for inflation, which could lead to a cost estimate three times as high based on construction estimates.
For the latest Hidalgo County news, visit http://www.judgejd.com.
••••••
Edinburg's jobless rate in January 2008 below five percent, second-best in the Valley
By DAVID A. DÍAZ
Edinburg posted a 4.9 percent jobless rate in January 2008, the second best showing among major Valley cities, the Edinburg Economic Development Corporation has reported.
The jobless rate is a key indicator of the strength of the local economy.
The EEDC is the jobs-creation arm of the Edinburg City Council.
The EEDC's five-member governing board includes Mayor Joe Ochoa; former Mayor Richard García, who is president of the EEDC board of directors; and Fred Palacios, Elias Longoria, Jr., and Dr. Glenn A. Martínez, Ph.D.
Edinburg, like almost all other cities in Texas, showed a slight increase in the number of unemployed residents from the previous month, according to the Texas Workforce Commission.
All cities in Hidalgo County for January 2008 had a combined 7.3 percent jobless rate, compared with 6.6 percent in December 2007, while all cities in Cameron County had a combined 6.5 percent jobless rate in January 2008, compared with a six percent jobless rate in December 2007.
McAllen, which usually has the lowest monthly jobless rates in the Valley, reported a 4.8 percent jobless rate in January 2008.
Among the Valley's largest cities in January 2008, Weslaco posted an 8.1 percent jobless rate, followed by Brownsville with a 6.6 percent jobless rate, Mission with a 6.3 percent jobless rate, and Pharr with a 6.1 percent jobless rate.
Harlingen had the third-lowest jobless rate among Valley cities in January 2008 at 5.4 percent.
In December 2007, Edinburg's jobless rate was 4.7 percent.
For all of 2007, the jobless rate in Edinburg averaged 4.8 percent, according to the latest state figures compiled by the TWC.
In 2006, the city's jobless rate averaged 5.3 percent, while in 2005, the Edinburg's jobless rate averaged 4.9 percent.
The best showing in history for Edinburg came in November 2007, when the jobless rate dropped to 3.7 percent.
The highest jobless rate in the past year for Edinburg came in July 2007, reaching 5.8 percent.
The January 2008 jobless rate in Edinburg represents a growth of 2,498 jobs since January 2005, according to the Texas Workforce Commission.
In January 2008, there were 27,905 people employed in Edinburg.
In January 2007, there were 27,744 people with jobs in the three-time All-America City. In January 2007, the jobless rate was 4.9 percent.
In January 2006, there were 26,472 people employed in Edinburg. In January 2006, the jobless rate was 4.8 percent.
In January 2005, there were 25,407 people employed in Edinburg. In January 2005, the jobless rate was 5.3 percent.
Those levels represent some of the lowest unemployment rates and the largest numbers of people employed in the city's history.
The state's jobless rate in January 2008 averaged 4.3 percent.
The U.S. unemployment rate in January 2008 was 4.9 percent.
The jobless rate is the number of persons unemployed, expressed as a percentage of the civilian labor force.
The civilian labor force is that portion of the population age 16 and older employed or unemployed.
To be considered unemployed, a person has to be not working but willing and able to work and actively seeking work.
The monthly breakdown of the city's jobless rate for the past 13 months follows:
In January 2008, the jobless rate in Edinburg was 4.9 percent.
In December 2007, the jobless rate in Edinburg was 4.7 percent.
In November 2007, the jobless rate in Edinburg was 3.7 percent.
In October 2007, the jobless rate in Edinburg was 4.4 percent.
In September 2007, the jobless rate in Edinburg was 5 percent.
In August 2007, the jobless rate in Edinburg was 4.9 percent.
In July 2007, the jobless rate in Edinburg was 5.8 percent.
In June 2007, the jobless rate in Edinburg was 5.5 percent.
In May 2007, the jobless rate in Edinburg was 4.4 percent.
In April 2007, the jobless rate in Edinburg was 4.3 percent.
In March 2007, the jobless rate in Edinburg was 4.4 percent.
In February 2007, the jobless rate in Edinburg was 4.8 percent.
In January 2007, the jobless rate in Edinburg was 4.9 percent.
Also according to the Texas Workforce Commission:
Texas seasonally adjusted nonagricultural employment grew by 28,000 jobs in January.
Texas employers now have added 277,200 jobs over the past 12 months, for an annual job growth rate of 2.7 percent.
The January 2008 statewide seasonally adjusted unemployment rate was 4.3 percent, up slightly from a revised December unemployment rate of 4.2 percent and down from 4.5 percent a year ago.
The U.S. seasonally adjusted unemployment rate was 4.9 percent in January 2008, down from 5.0 percent in December and up from 4.6 percent in January 2007.
"Banner job gains in January indicate a resilient Texas labor market," said Texas Workforce Commission (TWC) Chair Diane Rath. "Texas tops the nation in annual job growth rates in every industry sector, providing more opportunities for Texans."
The Midland Metropolitan Statistical Area (MSA) experienced the lowest unemployment rate in the state at 2.9 percent (not seasonally adjusted). The Odessa MSA was second at 3.4 percent, followed by the Amarillo MSA at 3.5 percent.
Professional and Business Services gained 9,700 jobs in January, for a total of 64,800 jobs created since January 2007 and a 5.1 percent annual growth rate. Trade, Transportation and Utilities increased by 6,300 positions last month, for a total of 46,200 jobs added in the past 12 months. Together, these two industries accounted for more than a third –110,000 positions – of the annual job gains recorded across the state.
"Texas employers kicked off 2008 posting prominent job gains," said TWC Commissioner Representing Employers Ron Lehman. "In the past 12 months, the state's annual job growth rate climbed to 2.7 percent, compared to the national growth rate of 0.6 percent."
Leisure and Hospitality added 5,200 positions last month, gaining 44,800 positions over the year, for an annual job growth rate of 4.7 percent. The Construction industry added 3,000 jobs in January for a 5.3 percent annual job growth rate since January 2007.
"Texans looking for jobs should feel confident," said TWC Commissioner Representing Labor Ronny Congleton. "With more than 28,000 jobs created statewide, the climate continues to provide many possibilities for Texas job seekers despite national economic concerns."
••••••
Edinburg city government's financial practices receive clean bill of health from independent auditor
By DAVID A. DÍAZ
The Edinburg city government has met the highest professional standards for how it documents its financial activities, according to an independent audit released before the Edinburg City Council on Tuesday, March 18.
Typically, an audit is defined as an independent review and examination of records and activities to assess the adequacy of system controls, to ensure compliance with established policies and operational procedures, and to recommend necessary changes in controls, policies, or procedures.
The report, presented by Georgia Loidl, CPA, with Long Chilton, LLP, also showed an increase in revenue and expenditures in the city's General Fund – which is the main operating account for the local government.
The independent audit covered the 12-month period, known as Fiscal Year 2006-2007, between October 1, 2006 and September 30, 2007.
Each 12-month operating year for the city budget begins on October 1.
It also provided a breakdown on the amount of money – and percentages – of the city's General Fund, which is the main financial account used to run much of the local municipal government – during FY 2006-2007, and compared those figures with the previous 12-month period, from October 1, 2005 to September 30, 2006, known as Fiscal Year 2005-2006.
The audit also tracked the amounts of money generated for and spent from the General Fund on a yearly basis going back to 2001.
During the fiscal year that ended on September 30, 2001, the General Fund had generated $5.93 million during that 12-month period, compared with the 12-month fiscal year that ended on September 30, 2007, when the General Fund generated $11.94 million.
Loidl's presentation before the city council mirrored the highlights published in her report, although she did note two facts of interest: between October 1, 2006 and September 30, 2007, the city government generated about $200,000 from the issuance of U.S. passports; and due to heavier-than-usual rainfall during that same period, the local government sold about $1.3 million less of city water.
Her audit did not include an examination of the record keeping by the Edinburg Economic Development Corporation, also a governmental entity, which is the jobs-creation arm of the Edinburg City Council. However, an audit conducted by another firm and released to the public in February 2008 concluded that the EEDC also had met the highest professional standards of accounting practices in how it handles its financial books.
Some of the major highlights of the audit of the city government included:
• In FY 2006-2007, the General Fund generated almost $32.3 million in revenue, compared with more than $29.2 million the previous year;
• In FY 2006-2007, the General Fund spent almost $30.2 million, compared with more than $27.5 million in the previous year;
• City property taxes were the single largest source of money for the city government in FY 2006-2007, bringing in almost $14 million, or slightly more than 43 percent of all revenue for the General Fund. The previous fiscal year, property taxes brought in slightly more than $12 million, representing 42 percent of that account's revenue.
• Public safety represented the lion's share of expenditures from the General Fund in FY 2006 – 2007, receiving slightly more than $12 million, or almost 40 percent of that city account's revenue. The previous fiscal year, public safety received about $1 million less, representing slightly more than 40 percent of the General Fund expenditures.
• Other taxes – including the one and one-half cent local sales tax – generated the second largest amount of money for the General Fund: more than $12.6 million in FY 2006 – 2007. This compares with FY 2005-2006, when the one and one-half cent local sales tax brought $11.6 million into the
General Revenue Fund, or about 40 percent of that account.
Two other major city financial accounts also were reviewed in the audit report.
The Water and Sanitary Sewer Enterprise Fund reported operating revenue of slightly more than $12 million during the fiscal year that ended on September 30, 2007, compared with slightly more than $13.3 million for the fiscal year that ended on September 30, 2006. The drop in revenue was attributed to heavier rainfall in Edinburg during that year, which resulted in less demand for city water by the community.
The Solid Waste Management Enterprise Fund registered almost $12 million in operating revenue for the 12-month period that ended on September 30, 2007, compared with almost $11.7 million in operating revenue during the previous fiscal year.
An additional breakdown of the city's General Fund revenue sources and expenditures for FY 2006-2007 follows.
Revenue Sources for the General Fund, which totaled $32,296,829, by category:
Property taxes: $13,958,579 (43.22% of the General Fund);
Other taxes: $12,611,249 (39.05%);
Intergovernmental: $1,403,282 (4.34%);
Charges for services: $1,401,180 (4.34%);
Other: $899,632 (2.79%);
Interest: $754,875 (2.34%);
Licenses and permits: $675,508 (2.09%); and
Fines: $592,524 (1.83%).
Expenditures from the General Fund, which totaled $30,193,281, by category:
Public safety: $12,051,531 (39.91% of the General Fund);
General government: $6,478,313 (21.46%);
Culture and recreation: $5,474,287 (18.13%);
Streets: $4,123,302 (13.66%); and
Health and welfare: $2,065,849 (6.84%).
A copy of the latest audit is available for public inspection or for purchase by contacting the City Secretary's Office at 383-5661 and submitting a public information request to view the material or to buy the audit.
Loidl's presentation is also being broadcast as part of the Edinburg City Council's March 18 meeting on the Edinburg Cable Network, which is available in Edinburg on Time Warner Cable channel 12.
••••••
UT-Brownsville/Texas Southmost College and DHS agree to study border security alternatives
By LETTY FERNÁNDEZ
U.S. Federal Judge Andrew Hanen of Brownsville on Wednesday, March 19, dismissed a civil action suit against The University of Texas at Brownsville and Texas Southmost College after the university and the U.S. Department of Homeland Security reached an agreement regarding access to university property.
Since last year, the university has pursued an agreement with DHS that would have allowed the agency to proceed with its goal of better securing the border while at the same time allowing the university to preserve the integrity of it's educational mission.
"It has been my duty to be a good steward not only of the resources entrusted to me, but also of the values and principles of our democracy," said Dr. Juliet V. García, UTB/TSC President. "I believe that we have begun to make progress toward a meaningful, consultative conversation to achieve the mutual objectives of the DHS and of the University."
Under the terms of the agreement:
• The university has agreed to a limited right of entry to DHS for six months for the purpose of studying the implementation of security measures on the border in the campus area.
• DHS will work with the university to jointly assess alternatives to a physical barrier.
• DHS has been authorized to conduct such studies, including environmental assessments, as required to consult with the university regarding alternatives to a physical barrier.
• DHS will consider the university's unique status as an institution of higher education and will take care to minimize impact on its environment and culture.
• DHS will conduct investigations to minimize the impact of any tactical infrastructure on commerce and the quality of life for the communities and residents located near the university.
• DHS will take all reasonable action to promote safety and minimize any impact on the university's educational activities.
• DHS will coordinate all entry to the campus and give prior notice of all activities on campus to campus Police.
• DHS has agreed that should damage to university property occur they will repair or make an appropriate fair market value settlement.
• DHS has agreed to hire contractors that carry sufficient liability insurance.
• DHS has agreed to not clear land, mow grass or otherwise alter the physical landscape of University property without the University's consent.
• The university retains the right to assert statutory and/or constitutional challenges to future government actions affecting University property.
"We are pleased that we have an opportunity to participate in meaningful discussions with DHS as we continue to seek a mutually acceptable solution that will allow us to maintain our fundamental mission in higher education," García said. "We hope to reach agreement on the most appropriate method to secure the border area near the university."
The agreement, negotiated between DHS officials and attorneys with the UT System and Texas Southmost College, was presented at a scheduled hearing Wednesday afternoon in U.S. District Court in Brownsville.
For more information, go to http://www.utb.edu and click on Border Fence Information.
•••••
Texas Banking Commission launches electronic notification system to combat identity theft
By JESSICA SANN
On March 1, 2008, the Texas Department of Banking launched the Closed Account Notification System, known as CANS, a secure electronic notification system which enables banks and credit unions to immediately notify all major check verification companies when certain accounts have been closed due to fraudulent activity by identity thieves.
This system is the first of its kind in the nation.
Prior to implementing CANS, a victim of identity theft would close the compromised bank account and assume that would be sufficient to stop unauthorized use of his or her identity. However, the bank did not have any way of getting the information that the account was closed to those who most needed it – check verification companies who utilize a database to advise merchants which checks are valid. Identity thieves could pass fraudulent checks on a victim's account for weeks to merchants who were not yet aware of the closed account.
Identity theft exacts its greatest cost on the victim through the accumulation of negative information in the customer's consumer credit report files. Every fraudulent check that is accepted adds to the burden of the victim as he or she tries to restore his or her good name. It is of the highest importance to catch identity thieves early, for the sake of the victim, and to deter future crimes.
Rep. Helen Giddings,D-Dallas, authored House Bill 2002, establishing an electronic notification system to combat the fast-growing crime of identity theft. When a bank customer closes an account due to identity theft, he or she now has more protection than ever from future identity theft.
"Notification happens by the second business day," says Giddings, "so that thieves are stopped in their tracks. No longer will identity thieves be able to profit from their crimes by passing bad checks for weeks. Millions of dollars will be saved, but most importantly, stopping identity theft early will help victims restore their credit and good name."
If you discover that an identity thief may have enough information to access your deposit account, file a police report and contact your financial institution immediately to close your account and request notification through CANS. For more information about this new consumer protection service, please contact the Texas Department of Banking.
••••••
Attorney General Abbott takes legal action to shut down casinos operated by Tigua tribe in El Paso
Texas Attorney General Greg Abbott on Friday, March 14, filed an enforcement action against the Tigua Indian tribe for conducting illegal gambling operations. In a motion for contempt of court, the state seeks to enforce a 2001 injunction prohibiting casino-style gambling at the tribe's Speaking Rock Entertainment Center.
"The Speaking Rock Entertainment Center is conducting illegal, casino-style gambling in clear violation of state law and a federal court order," said Abbott. "Today's enforcement action asks the federal court to hold the defendants in contempt for violating the law. As Attorney General, I am committed to vigorously enforcing Texas' long-time prohibition on casino gambling."
The March 14 legal action, which enforces the State of Texas' right to prohibit casino-style gambling, asks the U.S. District Court in El Paso to prevent the Tiguas from continuing to violate the law. The Attorney General took legal action after an undercover investigation revealed that the tribe was operating gambling machines in direct violation of Texas law and a 2001 federal court order.
According to state investigators, the Tiguas' Speaking Rock Entertainment Center operates illegal "eight-liner" gambling devices, which are a type of slot machine. A recently-launched tribal advertising campaign includes billboards announcing "We now pay real cash." Thus, the tribe is operating prohibited machines that rely upon prohibited payout methods. Affidavits filed with the court indicate the illegal eight-liners pay gamblers by transferring money onto a Visa card, which can be converted into cash. This is the case despite a September 21, 2001 injunction which restricts the tribe to amusement-style games that pay out prizes, toys, or novelties valued at less than $5.
When Congress passed the Restoration Act of 1987, the Tigua Indians of the Ysleta del Sur Pueblo first received formal tribal recognition from the federal government. The language of the Restoration Act, and a 1994 opinion by the U.S. Court of Appeals for the Fifth Circuit, plainly prohibit gambling on an Indian reservation if that same type of gaming is also prohibited by state law. That is, Restoration Act Indian tribes cannot conduct casino-style gambling if that type of gaming is prohibited by the state in which their reservation is located.
Prior to passage of the Restoration Act, the Tigua's leadership pledged to Congress that the tribe had "no interest in conducting high stakes bingo or other gambling operations on its reservation and that it remain[ed] firm in its commitment to prohibit outright any gambling or bingo in any form on its reservation." Despite that promise, in February, 1996, the Tribal Council enacted a gaming ordinance that purported to authorize high stakes gambling on the reservation.
The Tiguas subsequently opened the Speaking Rock Casino, which featured numerous games not authorized by Texas law, including poker, Tigua 21 (a form of blackjack), slot machines, and keno for profit in a public place. As a result, then-Attorney General John Cornyn sought an injunction against the tribe, which was granted on September 27, 2001, when a federal court ordered the Tiguas to cease, desist, and terminate its illegal casino operations.
The March 14 motion for contempt asks the Federal District Court to hold the tribe in contempt of court for operating eight-liners in violation of the September 21, 2001 permanent injunction and seeks to enjoin the following persons and parties: Ysleta del Sur Pueblo, the Tigua Gaming Agency, the Tribal Council, Tribal Governor Albert Alvidrez, Tribal Lieutenant Governor Filbert Candelaria and Gaming Commissioner Francisco Hernandez.
••••••
Bastrop County 8-liner operator pleads guilty, will serve five years in prison
The former owner of an illegal gambling establishment in Bastrop, located in central Texas, on Monday, March 17 entered a guilty plea and was sentenced to five years in prison. Texas Attorney General Greg Abbott's office prosecuted Johnny Ray Phillips, 54, for second-degree felony money laundering after an investigation by the Texas Department of Public Safety (DPS) revealed he was operating illegal eight-liners locally.
"This defendant pleaded guilty to laundering money earned at an illegal gambling facility in Bastrop County," Abbott said. "The Constitution and laws of Texas clearly prohibit casino-style gambling, including slot machines such as eight-liners and similar devices. Illegal gambling and money laundering are serious crimes that the Office of the Attorney General will continue to vigorously investigate and prosecute."
According to investigators with the DPS Criminal Intelligence Service, Phillips used his business as a front for an illegal gambling operation. As a result, authorities seized $24,000 from Phillips' two bank accounts, along with $19,600 in illegal gambling proceeds and 80 gambling devices from The Warehouse. Phillips, who has two prior felony convictions, and two other defendants were indicted in July 2007 after prosecutors from the Texas Attorney General's office presented the case to a Bastrop County grand jury.
Phillips' wife and business partner, Melissa Phillips, 52, who pleaded guilty to misdemeanor gambling promotion, agreed to forfeit all illegal proceeds and the eight-liner slot machines. A third defendant, Richard Etheridge, 64, pleaded no contest to misdemeanor gambling promotion. Etheridge, who cooperated with the Attorney General and the DPS, must pay a $4,000 fine. Etheridge earned a percentage of the illegal profits from Phillips' machines.
Both the state Constitution and Penal Code prohibit gambling in the state of Texas. The eight-liner machines used at Phillips' business are illegal under Chapter 47 of the Penal Code.
The March 17 pleas stem from a months-long undercover investigation by the DPS. During the investigation, which began in the fall of 2006, undercover DPS officers visited The Warehouse to collect evidence that Phillips was operating an illegal gambling parlor. To gain access to Phillips' business, the officers obtained membership cards that doubled as security access cards. Phillips' customers had to use access cards to enter the facility. The undercover officers were paid in cash by gambling parlor employees.
After the raid, investigators with the Attorney General's office and the DPS reviewed Phillips' bank records. That investigative accounting effort revealed numerous weekly cash deposits in excess of $1,000, all in small-denomination bills. Phillips had no legitimate business income to account for the source of the deposits. The thorough review of Phillips' accounts enabled the Attorney General to indict and convict Phillips for money laundering.
••••••
Former Deputy U.S. Marshall from McAllen sentenced for selling sensitive computer data
Jose Magallan, 53, of McAllen, was recently sentenced in Houston been sentenced for exceeding authorized computer access, United States Attorney Don DeGabrielle and Special Agent-in-Charge Wayne D. Beaman of the Department of Justice-Office of Inspector General (DOJ-OIG), Dallas Field Office, announced Friday March 14.
Magallan, a former Deputy United States Marshall stationed in McAllen was charged by a grand jury in Houston in April 2007 with two counts of providing information to non-law enforcement individuals in exchange for various amounts of money while employed with the U.S. Marshals Service. The indictment alleged continuing conduct from Nov. 8, 2006, to Feb. 1, 2007, in which computer information was disclosed in two separate instances in exchange for a total of $950.
On June 25, 2007, Magallan entered a plea of guilty to both counts in the indictment before Judge Vanessa Gilmore. Today, Judge Gilmore sentenced Magallan to three years probation with a condition of six months home confinement.
The charges are a result of an investigation conducted by the DOJ-OIG and the United States Attorney's Office. The case was prosecuted by Assistant United States Attorney Jim McAllister.
The sentencing came down on Friday, March 14.
••••••
DHS holds "Cyber Storm II" exercise to further cyber security preparedness, response capabilities in Texas
The U.S. Department of Homeland Security (DHS) in Washington, D.C. from March 10 through March 14 conducted the largest cyber security exercise ever organized. Cyber Storm II was designed to bring together participants from federal, state and local governments, including Texas, the private sector, and the international community.
Cyber Storm II was the second in a series of congressionally mandated exercises to examine the nation's cyber security preparedness and response capabilities. The exercise simulated a coordinated cyber attack on information technology, communications, chemical, and transportation systems and assets.
"Securing cyberspace is vital to maintaining America's strategic interests, public safety, and economic prosperity," said Greg Garcia, Homeland Security Assistant Secretary for Cyber Security and Communications. "Exercises like Cyber Storm II help to ensure that the public and private sectors are prepared for an effective response to attacks against our critical systems and networks."
Cyber Storm II included 18 federal departments and agencies, nine states (Calif., Colo., Del., Ill., Mich., N.C., Pa., Texas and Va.), five countries (United States, Australia, Canada, New Zealand and the United Kingdom), and more than 40 private sector companies. They include ABB, Inc., Air Products, Cisco, Dow Chemical Company Inc., Harris Corporation, Juniper Networks, McAfee, Microsoft, NeuStar, PPG Industries, and Wachovia.
Cyber Storm II objectives included:
• Examining the capabilities of participating organizations to prepare for, protect against, and respond to the potential effects of cyber attacks;
• Exercising strategic decision making and interagency coordination of incident response in accordance with national level policy and procedures;
• Validating information sharing relationships and communications paths for the collection and dissemination of cyber incident situational awareness, response and recovery information; and
• Examining means and processes through which to share sensitive information across boundaries and sectors without compromising proprietary or national security interests.
For more information on Cyber Storm II visit:
http://www.dhs.gov/xprepresp/training/gc_1204738275985.shtm
••••••
Rep. Riddle announces plans to file guest worker program before Texas Legislature in 2009
By JON ENGLISH
When Kansas lawmakers gathered at the end of February to consider a change to their state's immigration laws, they got an earful from a voice south of their border.
Rep. Debbie Riddle, R-Tomball, was invited by Kansas legislators to testify before the Senate Committee on Federal and State Affairs regarding a proposal to require employers to verify citizenship status of potential employees, deny any public benefits to illegal aliens, and allow law enforcement to enquire as to the citizenship status of any detainee.
Riddle told the committee such a proposal is even more urgently needed in her own backyard.
"My state, Texas, is a border state, and our costs are staggering," Riddle said. "There are those who cloak themselves with pseudo-compassion and stand ready to take as much money for services as necessary to satisfy any want or need of any and all illegal aliens.
"All the while, there seems to be little or no compassion or concern for the hardworking American citizen or legal immigrant who is actually paying the tab," she added.
Although employment opportunities are the main reason immigrants cross into America illegally, Riddle said there are more serious factors to be kept in mind.
"Thousands illegally cross our borders with intentions other than working," Riddle said. "The drug cartels find Texas a good a point of entry to get drugs to our kids throughout Texas, Oklahoma, and Kansas. MS-13 and other gangs create a true danger for our citizens, and that danger is spreading like a cancer to other states."
Riddle, who favors the development of an effective guest worker program, said after the hearing that she will propose legislation in Texas during the next session that is similar to the Kansas bill.
"The most effective way to solve the problem of illegal immigration in Texas is to remove the incentive to come here illegally," Riddle said. "If there are no jobs to be had when you get here and no way to survive without money, then there's no reason cross the border illegally in the first place!"
••••••
Consumer alert: check the source of online health information, then consult personal physician
When it comes to something as important as health and wellness, Texans seeking more information should always consult their doctor or licensed healthcare professional. According to a recent Pew Internet and American Life Project study, every day an estimated eight million Americans search the Internet for health care information. But Texans should never solely rely on a Web site to diagnose or treat a serious illness. Equally important, Internet users should always pay close attention to their information source.
Although many Web sites offer informative, helpful information about a variety of health and lifestyle issues, not every site can be trusted for accurate, factual material. Texans who consult the Internet for health care information should always pay close attention to who or what operates their favored Web sites.
In some cases, what appears to be medically-oriented Web site may actually be an advertising tool for a third party with a financial incentive to exaggerate or downplay a product's benefits or dangers. For example, Web-based law firm advertising is particularly common among Web sites that are dedicated to certain specific illnesses or prescription medications. In fact, a recent study revealed that Internet searches for medical information produced results that were "dominated by Web sites paid for and sponsored by either class action law firms or legal marketing sites searching for plaintiff referrals."
In contrast, an unbiased online information source might include a broader spectrum of data about a given subject matter. For example, Web sites created by reputable organizations like the American Cancer Society and the American Heart Association often feature peer-reviewed medical journals and other impartial research sources. In addition, many government agencies, including the Food and Drug Administration, impose similarly rigorous standards upon any research included on their Web sites.
But even trusted, verifiable online information cannot be relied upon to treat serious ailments or answer critical medical questions. Texans should always contact a licensed medical professional whenever their health is at risk. An in-person visit to a doctor's office or local clinic is the best way to ensure patients are getting accurate information that is tailored to their unique health needs.
Texans who have encountered misleading or deceptive medically-oriented Web sites may file a complaint with the Office of the Attorney General by calling (800) 252-8011 or visiting our the AG's site at http://www.texasattorneygeneral.gov.
••••••