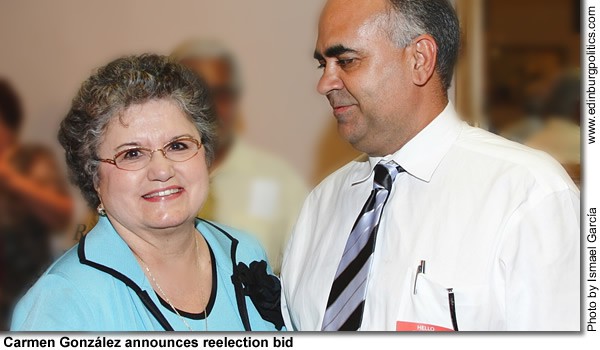 Edinburg school board trustee Carmen González, who is finishing up her first term on the seven-member school board, greets Saúl Ortega of Edinburg, one of several hundred supporters who showed up on Thursday, August 21, for her campaign reelection bid kick-off, held at the ECHO in Edinburg. A retired educator whose career saw her rise from the classroom to the top leadership position as interim superintendent of ECISD, González is being challenged by a former and longtime ECISD trustee, Gilbert Enríquez, a renowned leader in business construction projects in the region. The election is on Tuesday, November 4. In gearing up for her race against Enríquez, González pledged to focus on her continuing vision for the school district, not personal attacks. "For my part, and in my campaign, there will be no mud thrown from my direction, from my camp," she promised. "I will not throw mud, and I know I will be blessed because I will not be interrupted by negativism that may be circulating. I hope this will be a clean race, like it was when I ran (in 2005) against Obie Salinas, who was a gentleman with me all the way. We ran a good, clean campaign. I am going to ask the public to keep it clean." See lead story later in this posting.
••••••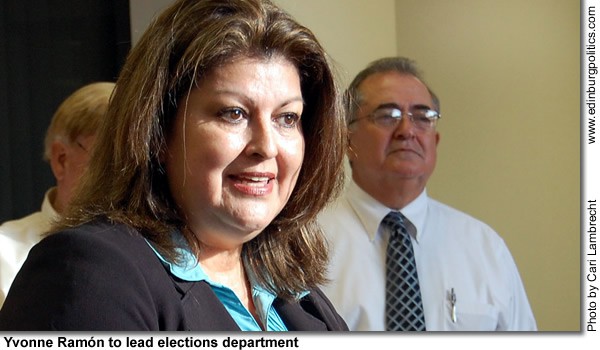 After a final round of interviews, the Hidalgo County Elections Commission on Wednesday, August 20, unanimously selected Yvonne Ramón to lead the Hidalgo County Elections Department. "Ms. Ramón was chosen today to uphold core values of trust, responsibility and commitment to public service," said Hidalgo County Judge J.D. Salinas III, who is Chairman of the Hidalgo County Elections Commission. "Out of 66 applicants, she is what we consider the best of the best." The other members of the commission are Hidalgo County Clerk Arturo Guajardo Jr., Hidalgo County Tax Assessor-Collector Armando Barrera, Hidalgo County Democratic Party Chair Dolly Elizondo and Hidalgo County Republican Party Chair Hollis Rutledge. See story later in this posting.
••••••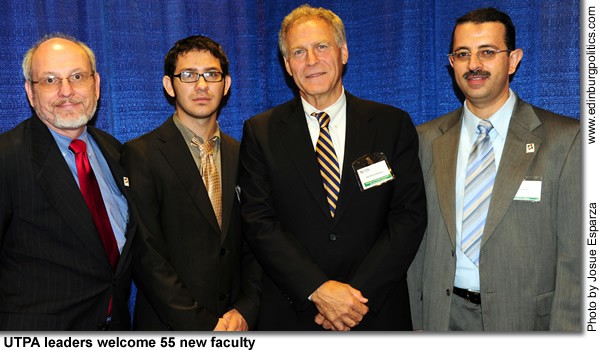 For the second year, new faculty at The University of Texas-Pan American were welcomed to campus on Tuesday, August 19 as part of the New Faculty Support Program, which helps incoming faculty members adjust to their new environment. Fifty-five full-time, tenure and tenure-track faculty who are new this fall to UTPA attended the program's opening reception and a two-day academic orientation. The year-long initiative was designed to help incoming faculty adjust to their new academic and community surroundings at UTPA. Featured here, from left during the first day of the academic orientation are: Dr. Paul Sale, UTPA Provost and Vice President for Academic Affairs; UTPA student Tony Matamoros; Keith Patridge, the president of the McAllen Economic Development Corporation; and Dr. Ala Qubbaj, director of the New Faculty Support Program Director Qubbaj. See story later in this posting.
••••••
The City of Edinburg was founded in 1908, where it was first named Chapin, Texas. In 1911, the town of Chapin was newly named Edinburg, and will officially reach its centennial of its founding on October 10, 2008. During the week of October 5 – 11, Edinburg will reflect on the establishment and growth of the community with a series of historic events, which are being organized the Centennial Committee. Local institutions which will spearhead the celebrations include The Dustin Michael Sekula Memorial Library, the Museum of South Texas History, the Edinburg Chamber of Commerce, the City of Edinburg, the Edinburg Economic Development Corporation, Edinburg Consolidated Independent School District, Daughters of the American Revolution, the Edinburg Volunteer Fire Department, and other various businesses, and organizations The event will feature Edinburg's largest birthday cake, free ice cream, a city proclamation, poetry readings, an essay contest, a historic exhibition, Fireman's Parade plus more. Some of the members of the Centennial Committee are, from left: Flo Prater; Joel A. Garza; Migdalie Rodríguez; Lynne Beeching; Miguel Gamboa; Elva Jackson Garza; Frank Lara; Letty González; Letty Reyes; Evana Vleck; Frank Garza; Viviana Ozuna; Rubén J. López; and Marco Cordova. Not shown are Valerie M. Haesly-Parson, Imelda Rodríguez, Lucy Robinson and Valerie Ramírez. Log on to http://www.edinburg.com for a complete calendar of events, or call 956-383-4974 for more information.
••••••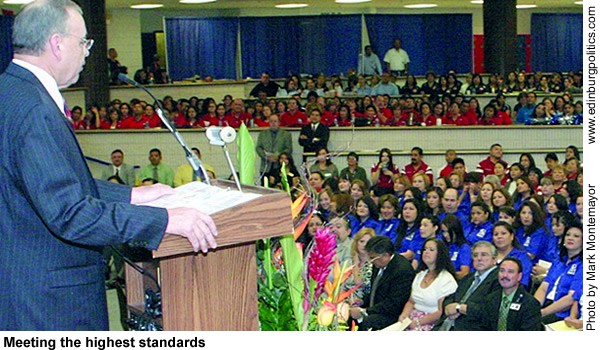 Gilberto Garza, superintendent of the Edinburg school district, on Tuesday, August 19, addressed the elementary teachers and paraprofessionals at the General Assembly. "It isn't by accident that the district had 12 Exemplary and 15 Recognized campuses last year, or that we had six schools named in Texas Monthly's Best Public Schools in Texas list, or that 33 schools received Gold Performance Acknowledgments for high academic accomplishments, or that we have two high schools who have been awarded the College Board Inspiration Award, or two high schools named in Newsweek magazine among the Top Five Percent of Schools in the nation," said Garza. See story later in this posting.
•••••• (more…)