Four leading members of the Edcouch-Elsa Independent School District have endorsed Democrat Eddie Sáenz in his race for the Texas House of Representatives District 40, saying that his strong support for teachers and opposition to private-school voucher schemes will provide the principled leadership area public schools need in Austin. Trustee Saúl Garcia said that Sáenz' opponent, Rep. Aaron Peña, D-Edinburg, has taken at least $47,500 from Austin lobbyists in the past five months, including more than $25,000 in direct contributions from special interests representing the Republican Party of Texas, including Speaker of the House Speaker Tom Craddick, R-Midland, and San Antonio millionaire James Leininger, all of whom are pushing a plan to siphon millions of tax dollars out of public schools to pay for a private-school voucher scheme. Featured from left are: García, Mingo Rodríguez, Sáenz, Richard Ozuna, Juan Ybarra. See related story later in this posting.
••••••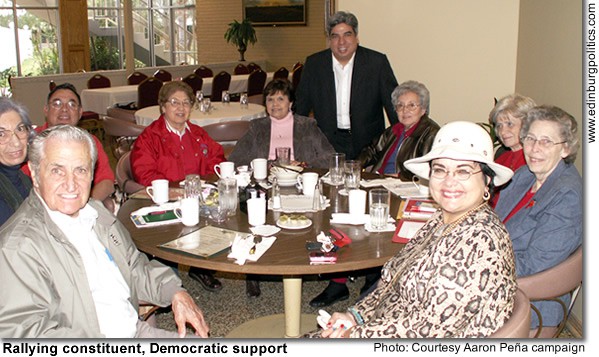 Rep. Aaron Peña, D-Edinburg, featured standing during a recent presentation before area retired teachers, is reminding voters of key votes that helped them, such as his support for a measure that earlier this month provided an extra pension checks to retired teachers. Peña has been endorsed in his re-election campaign in House District 40 by former Texas Democratic Party Chairman Charles Soechting, who served as state party chair from 2003-2006. "I have known Aaron and his family for over 30 years and it is a pleasure to endorse him," said Soechting. "Aaron is a good Democrat and I encourage every Democrat to come out and vote for him. Peña has a long history of Democratic activism. He got started in politics at age nine as a volunteer for Hubert Humphrey's Democratic Presidential campaign. And, he worked for Democratic State Representatives in the capitol, for the Texas Democratic Party, and for U.S. Senator Bob Krueger. He also helped draft the National Platform at the Democratic National Convention that nominated Al Gore for President in 2000. He was a delegate to the Democratic National Convention in 2004. Peña has served as chair of the Texas New Democrats and the Tejano Democrats as well. See story later in this posting.
••••••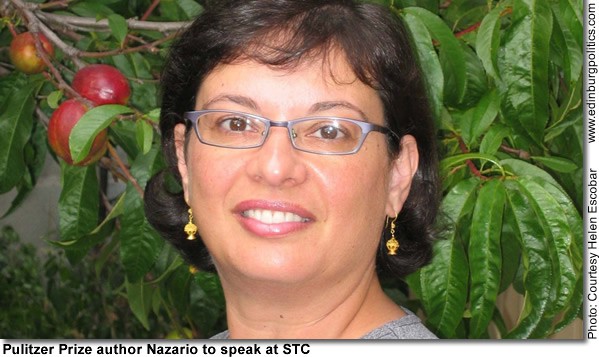 South Texas College welcomes Pulitzer Prize winning author and journalist Sonia Nazario to its Pecan Campus Building D Auditorium in McAllen on Saturday, February 2 at 7 p.m. The event is free and open to the public. Part of the college's Distinguished Speaker Series, Nazario's talk will examine issues related to immigration through the eyes of her latest book, Enrique's Journey, the story of a young child's trials to reach his mother in the United States. Based on the true story of one Honduras family, the book talks about the consequences of leaving one's homeland, the struggle to remain close when separated and the tribulations of trying to reunite and bond again. "I was inspired to write this book by what I learned and found it unbelievably moving – the story of children wanting, at all costs, to be with their mothers and going through dangerous and terrifying worlds to reach them," said Nazario. "To prepare to write the book I retraced the journey of Enrique for myself and I saw the dangers and misery of it through his eyes. The level of poverty and deprivation that these immigrants face is appalling and I want to give their voices an outlet." See story later in this posting.
••••••
Trenton Crossroads Plaza, featuring Alamo Drafthouse Cinema, set to open in about 60 days
By DAVID A. DÍAZ
Trenton Crossroads Plaza, an estimated $12 million, 101,000-square-foot commercial and retail center that will be anchored by Alamo Drafthouse Cinema, is back on track and set to open in about two months, weather permitting, Paul Garza, the project's developer, on Tuesday, January 22, told the Edinburg Economic Development Corporation.
The EEDC is the jobs-creation arm of the Edinburg City Council.
The EEDC's five-member governing board includes Mayor Joe Ochoa; former Mayor Richard García, who is president of the EEDC board of directors; and Fred Palacios, Elias Longoria, Jr., and Dr. Glenn A. Martínez, Ph.D.
The update, provided by Garza during the EEDC's regular monthly meeting, means the project, which was delayed for several months, is finally coming to fruition. With its pending completion, hundreds of new jobs and an enhanced quality-of-life will be generated in the three-time All-America City.
"A very good project takes some time to develop," Garza explained to the EEDC governing board. "This being especially creative in design, the amount of time we spent in creating what we did is going to be well worth it, all the way around. No one is going to have anything like it around here."
Alamo Drafthouse Cinema will be the first in the Valley, and will feature six screens.
The famous theater chain, which first opened its doors in central Texas about 10 years ago, offers a unique combination of theater and restaurant, according to company officials, by showing the best first-run and independent films while offering an extensive menu of fresh, handmade dishes and a wide selection of beers.
It will be part of a plaza which also will be distinct for deep South Texas.
The architecture, the use of limestone for construction, and the landscaping of the entire plaza, which will include parking for about 600 cars, will have the feel of the Texas Hill Country, Garza illustrated when he first approached the EEDC about two years ago.
"It will feel like San Antonio and have the tropical flavor of the Valley," he said at the time. "Right now, there are a lot of Valley residents who go up to San Antonio and Austin for shopping and entertainment. But our idea is to bring those attractions down here, and keep Valley money down here."
Trenton Crossroads Plaza is located on a 20-acre site in southwest Edinburg at the intersection of Trenton and Jackson roads.
"It is more of an entertainment center," Garza explained his vision for the plaza. "We aren't really looking for shops. This is a destination place for adults, where we will have restaurants, nightclubs, martini bars, in addition to community services open during the day, but not at night, like medical offices or a Mailboxes, Etc. – that type of scenario."
In addition to the major plaza, which houses the Alamo Drafthouse Cinema, another five restaurants and retail outlets are already open for business on commercial pads on the southern side of the site.
"They are about to put the lights on in the inside of the Alamo Drafthouse, and we are about to turn on the lights in the parking area, so it is about to get very colorful here, pretty soon, Thank God," he said.
A major visual highlight will involve an innovative structure, dubbed the Waters of Trenton, a light show that is smaller, but patterned, after the famous Bellagio Waterfalls in Las Vegas.
"You will see this phenomenal amount of lights and water feature," Garza said.
The EEDC's involvement centers on a contract it has with Garza, the owner of One Orion Development, Inc. in McAllen, who has spearheaded the creation of Trenton Crossroads Plaza.
Once the Alamo Drafthouse Cinema opens for business, and Garza presents documentation that at least 175 jobs are created and the plaza represents a private investment of at least $8 million, the EEDC will reimburse Garza up to $254,431 to help pay for his cost for water, sanitary sewer, and drainage improvements, and a gas line.
The reimbursement is typical of economic incentives provided to private interests by the EEDC in order to help spur major economic development and job creation.
Garza said the project will easily exceed the $8 million investment benchmark and 175 job-creation level required by the EEDC.
He estimated that more than 400 new jobs will come on board once Trenton Crossroads Plaza opens, and that figure does not include the new jobs created by five businesses currently open on the pad sites.
Work will begin again on the Alamo Drafthouse Cinema in the next few days, Garza reported, and more announcements are in the horizon.
"We just teamed up with a group which is excellent in what they do in construction, so there is going to be more some more stuf that will be coming," he said.
As for the delay that has moved the plaza's opening from last spring to this April, Garza assured the community that the wait will be more than worth it.
"It's like going to the doctor's, but you have to wait outside," Garza offered his analogy. "But once you are inside, when you get in, you forget all about the wait."
••••••
Edinburg's 2007 jobless rate averaged 4.74 percent, with 27,729 people employed through December
By DAVID A. DÍAZ
Edinburg's economy for 2007 averaged a 4.74 percent jobless rate, better than the 5.3 percent level averaged in 2006, and about the same as the jobless rate in 2005, the Edinburg Economic Development Corporation has announced.
The jobless rate is a key indicator of the strength of the local economy.
The latest statistics, compiled by the Texas Workforce Commission, also showed that Edinburg had the second lowest jobless rate among major Valley cities for December 2007, coming in at 4.7 percent, according to the EEDC, which is the jobs-creation arm of the Edinburg City Council.
The EEDC's five-member governing board includes Mayor Joe Ochoa; former Mayor Richard García, who is president of the EEDC board of directors; and Fred Palacios, Elias Longoria, Jr., and Dr. Glenn A. Martínez, Ph.D.
The 4.7 percent jobless rate of December 2007 also represented an increase in the jobless rate from November, 2007, which came in at 3.7 percent, the best showing in the city's history.
All major cities in Hidalgo County saw increases in their respective jobless rates over their showings in November 2007.
The highest jobless rate in Edinburg in 2007 came in July, reaching 5.8 percent.
The December 2007 jobless rate in Edinburg represents a growth of 730 jobs over December 2006, and a growth of 1,373 jobs over December 2005.
In December 2007, there were 27,729 people employed in Edinburg.
In December 2006, there were 26,999 people with jobs in the three-time All-America City.
In December 2005, there were 26,356 people employed in Edinburg.
Those levels represent some of the lowest unemployment rates and the largest numbers of people employed in the city's history.
With the exception of the July 2007 level, Edinburg has posted either the lowest, or second-lowest jobless rate, in the Rio Grande Valley each month in 2007.
The state's jobless rate in December averaged 4.5 percent.
The U.S. unemployment rate in December was five percent.
The latest 4.7 percent monthly figure compares with a 4.4 percent jobless rate in December 2006, and a 4.3 percent jobless rate in December 2005.
McAllen, which usually has the lowest jobless rates in the Valley, reported a 4.6 percent jobless rate in December 2007.
All cities in Hidalgo County for December 2007 had a combined 6.6 percent jobless rate, while all cities in Cameron County had a combined 5.9 percent jobless rate during the same month.
Among the Valley's largest cities in December 2007, Weslaco posted a 7.3 percent jobless rate, followed by Brownsville with a 6 percent jobless rate, Mission with a 5.6 percent jobless rate, and Pharr with a 5.5 percent jobless rate.
Harlingen had the third-lowest jobless rate among Valley cities in December 2007 at 5.1 percent.
The jobless rate is the number of persons unemployed, expressed as a percentage of the civilian labor force.
The civilian labor force is that portion of the population age 16 and older employed or unemployed.
To be considered unemployed, a person has to be not working but willing and able to work and actively seeking work.
In 2006, the annual jobless rate for Edinburg was 5.3 percent, while in 2005, the annual jobless rate for Edinburg was 4.7 percent.
The monthly breakdown of the city's jobless rate in 2007 follows:
In December, the jobless rate in Edinburg was 4.7 percent.
In November, the jobless rate in Edinburg was 3.7 percent.
In October, the jobless rate in Edinburg was 4.4 percent.
In September, the jobless rate in Edinburg was 5 percent.
In August, the jobless rate in Edinburg was 4.9 percent.
In July, the jobless rate in Edinburg was 5.8 percent.
In June, the jobless rate in Edinburg was 5.5 percent.
In May, the jobless rate in Edinburg was 4.4 percent.
In April, the jobless rate in Edinburg was 4.3 percent.
In March, the jobless rate in Edinburg was 4.4 percent.
In February, the jobless rate in Edinburg was 4.8 percent.
In January, the jobless rate in Edinburg was 4.9 percent.
Statewide, the jobless rate also went up in December, according to the Texas Workforce Commission:
Texas seasonally adjusted nonagricultural employment grew by 18,600 jobs in December.
Texas employers now have added 218,600 jobs over the past 12 months, for an annual growth rate of 2.1 percent, more than double the national growth rate of 1.0 percent.
The December statewide seasonally adjusted unemployment rate increased to 4.5 percent, up from 4.2 percent in November, but down from 4.7 percent a year ago.
The U.S. seasonally adjusted unemployment rate rose to 5.0 percent in December, up from 4.4 percent in December 2006.
"Texas employers finished 2007 at a vibrant pace," said Texas Workforce Commission (TWC) Chair Diane Rath. "The state's annual job growth rate leads the nation's by a ratio of more than 2-to-1."
The Midland Metropolitan Statistical Area (MSA) experienced the lowest unemployment rate in the state at 2.7 percent (not seasonally adjusted).
The Amarillo, Lubbock and Odessa MSAs were second at 3.2 percent.
Professional and Business Services gained 8,900 positions in December, for a total of 59,000 jobs created since December 2006 and a 4.7 percent annual growth rate. Education and Health Services recorded a monthly increase of 5,800 jobs in December, for a total of 29,100 jobs added in the past 12 months.
"Our economy continues to display broad-based vitality across most sectors," said TWC Commissioner Representing Employers Ron Lehman. "At 18,600 jobs, December 2007 job growth is almost twice the average December gain for the past five years."
Financial Activities posted a significant gain of 2,300 jobs in December, with industry increases for the past 14 months. Leisure and Hospitality added 2,200 positions last month, gaining 37,900 positions over the year and an annual job growth rate of 3.9 percent.
"Texans saw many new job opportunities in December," said TWC Commissioner Representing Labor Ronny Congleton. "From Construction and Manufacturing to Professional and Business Services and Education and Health Services, our state's businesses continue creating positions for those seeking work."
Construction in Texas gained 1,300 jobs last month, with 12,900 positions added over the year for a 2.1 percent annual job growth rate.
••••••
Eddie Sáenz to Rep. Peña: "Do the right thing and give back tainted swift boat cash"
By KELLY FERO
Democratic challenger Eddie Sáenz has called on his opponent, Rep. Aaron Peña, D-Edinburg, to return thousands of dollars in campaign contributions he accepted from Houston homebuilder Bob Perry, the man who funded the infamous Republican-led campaign against Vietnam War hero and 2004 Democratic presidential candidate John Kerry.
"Do the right thing and give back this tainted cash," Sáenz said in a public statement to his opponent. "To take money from the same man who swift-boated John Kerry is an insult to every Valley veteran, every South Texan who believes we need a veteran's hospital here, and every hard-working Democrat who believes we need a Democratic president in the White House."
Sáenz said his opponent's campaign finance report, filed this week, shows that he accepted a $10,000 campaign donation from Perry on November 8, 2007.
Perry, who has worked with top Republican strategist Karl Rove and former House Republican Majority Leader Tom DeLay for years, gained national notoriety four years ago as the primary funder behind the Swift Boat Veterans for Truth ad campaign that questioned Kerry's war record. He gave at least $4.45 million to the controversial campaign, according to press reports.
"My opponent likes to brag that he's helping Hillary Clinton's campaign," Sáenz said. "But he's bankrolling his own campaign with tainted money from one of the biggest Republican funders in the country while Valley Democrats are working hard to elect the first woman president."
Sáenz is chairman of the board of governors, an citizens advisory group, of South Texas Health Systems and is a vocal advocate for a veteran's hospital in Hidalgo County.
Sáenz is backed by mayors and community leaders throughout the district who are eager for a full partner in their efforts to create jobs, expand access to quality health care, improve public schools, make college affordable again for middle-class families, and improve vital public services.
Owner and chief executive officer of one of South Texas' leading civil engineering firms, Sáenz is a recognized expert in helping cities, school districts, and other public entities improve their operations and basic services.
Sáenz is a former chairman of the Edinburg Chamber of Commerce, the Texas Border Infrastructure Coalition Transportation Committee, and the Edinburg 2020 Action Committee, and a former member of the Edinburg Economic Development Corporation board of directors.
A graduate of McAllen High, he earned his degree in civil engineering from the University of Texas at Austin in 1982. He is a member of the National Society of Professional Engineers, the American Society of Civil Engineers, and the Texas Society of Professional Engineers. He and his wife and daughter live in Edinburg.
The Democratic primary is scheduled for March 4. Early voting begins on Tuesday, February 19.
••••••
Rep. Peña endorsed by former Texas Democratic Party chairman Soechting
By VINCE LEIBOWITZ
Rep. Aaron Pena, D-Edinburg, has been endorsed in his re-election campaign in House District 40 by former Texas Democratic Party Chairman Charles Soechting.
Peña faces second-time challenger Eddie Sáenz, an Edinburg engineer, in the March 4 Democratic Primary.
Soechting, who served as TDP chair from 2003-2006, first endorsed Pena in 2004 when Sáenz challenged him in that election cycle. Calling Peña a "good Democrat," Soechting praised the Edinburg legislator for his service:
"I have known Aaron and his family for over 30 years and it is a pleasure to endorse him," said Soechting. "Aaron is a good Democrat and I encourage every Democrat to come out and vote for him."
Peña has come under increasing fire since 2004 for his support of House Speaker Tom Craddick, R-Midland. In response to Soechting's endorsement, Peña thanked Soechting praised his experience in Democratic politics:
"I thank Charles for his friendship and support," said Peña. "Good Democrats like Charles have spent years laboring in advancing the cause of working Texans. I am proud to have spent many years working with good people like Chairman Soechting. These years of experience money cannot buy."
Although criticized for his vote for Speaker Tom Craddick, Pena has been a reliable vote for House Democrats on many issues of interest to progressive Democrats in the Texas House, and has carried legislation to make voter-verified paper trails mandatory in Texas elections. And, though he received little public credit for it, Peña laid the ground work, through his proposed legislation, for the consideration of a shield law for the media in Texas in the 80th Texas Legislature. Peña authored the first shield law bill filed in the last session of the legislature. Although a shield law didn't pass last session, this was the closest one has come to passing in several sessions.
Peña has a long history of Democratic activism. He got started in politics at age nine as a volunteer for Hubert Humphrey's Democratic Presidential campaign. And, he worked for Democratic State Representatives in the capitol, for the Texas Democratic Party, and for U.S. Senator Bob Krueger. He also helped draft the National Platform at the Democratic National Convention that nominated Al Gore for President in 2000. He was a delegate to the Democratic National Convention in 2004. Peña has served as chair of the Texas New Democrats and the Tejano Democrats as well.
(Vince Leibowitz is publisher of Capitol Annex (http://www.capitalannex.com), an Internet publication that covers Texas and national politics, with an emphasis on promoting Democratic Party issues and candidates.)
••••••
Senate Democratic hopeful Noriega to visit Edinburg at noon on Tuesday, January 29, at The Social Club
By SANDEEP KAUSHIK
Lieutenant Colonel and U.S. Senate candidate Rick Noriega, D-Houston, will barnstorm through numerous South Texas/Rio Grande Valley communities as part of a three-day "Answering the Call to Serve" tour of South Texas, including Edinburg on Tuesday, January 29.
He is scheduled to meet with local leaders from noon to 1:30 p.m. at The Social Club, located at 205 Conquest.
Keeping to an ambitious schedule, the fast moving caravan will cover hundreds of miles and make 15 stops over three days, starting in Corpus Christi on Monday morning, January 28, and concluding on Wednesday evening, January 30, in San Antonio. The tour will visit: Corpus Christi, Robstown, Kingsville, Falfurrias, Raymondville, McAllen, Brownsville, Weslaco, Edinburg, Laredo, Eagle Pass, Del Rio, Uvalde, Hondo, and San Antonio.
On the tour, Noriega will meet with local leaders, supporters and members of the general public, announcing major endorsements and contrasting his forward-looking action agenda against the status quo policies of Sen. John Cornyn, R-Texas.
He will emphasize his positive vision for solving the nation's most pressing problems. From putting our economy back on the right track, making college tuition affordable, fixing our broken health care system, to drawing on his military expertise in bringing the war in Iraq to a responsible close, Colonel Noriega will determined to stand up for all of the working families of Texas.
The South Texas "Answering the Call to Serve" tour will visit the following places:
South Texas Itinerary
Monday, January 28
7:30 to 8:30 am
Corpus Christi: breakfast with state representatives
Executive Surf Club, 309 Water St.
9:30 to 10:30 am
Robstown: coffee and doughnuts
Nueces County — Oak Pavilion, 415 Mainor Rd.
11:30 to 12:30 pm
Kingsville: lunch meet with local citizens
Location TBD
1:30 to 2:30 pm
Falfurrias: meet with local citizens
Location TBD
4 to 5 pm
Raymondville: meet with local citizens
Location TBD
6 to 7 pm
McAllen: State of the Union Rally
Cine el Rey, 311 S 17th St.
Tuesday, January 29
8 to 9 am
Brownsville: breakfast with local leaders
Location TBD
10 to 11 am
Weslaco: meet with local veterans
Weslaco City Hall, 255 S Kansas Ave.
12 to 1:30 pm
Edinburg: lunch meet w/local leaders
The Social Club, 205 Conquest Blvd.
5:30 to 6:30 pm
Zapata: rally with local citizens
Holiday Inn Express, 1675 S US Highway
7:30 to 8:30 pm
Laredo: meet and greet and GOTV event
Phillip V Room, La Posada Hotel, 1000 Zaragosa St.
Wednesday, January 30
8:30 to 9:30 am
Eagle Pass: breakfast, meet with local citizens
Cactus Steak House, 1916 E Main St., Eagle Pass
10:30 to 11:30 am
Del Rio: meet with local citizens
Falcon International Bank, 504 S Main St.
12:30 to 1:45 pm
Uvalde: meet with local citizens
Uvalde County Courthouse
3:30 to 4:45 pm
Hondo: meet with veterans and local citizens
Medina County courthouse steps
6 to 7:30 pm
San Antonio: Bexar County headquarters grand opening
Noriega Campaign Headquarters, 7121 New Highway 90, Ste. 214
••••••
Sen. Cornyn: Congress must act to address border wait times
U.S. Sen. John Cornyn, R-Texas, Ranking Member of the Immigration and Border Security subcommittee, on Thursday, January 17, said that statements by Homeland Security Secretary Michael Chertoff predicting longer lines at U.S. border crossings highlight the need for Congress to pass legislation he has introduced to address this problem.
Chertoff told the Associated Press earlier that day that new border crossing rules to take effect February 1 will mean longer lines for those entering the United States, but he said it was necessary to prevent another Sept. 11-style attack.
"It is critical that we secure our borders and know who is entering our country and why. But we must balance security with legitimate trade and travel," Cornyn said. "The Texas economy, and particularly communities in the border region, depends on efficient and effective trade. We cannot afford to allow congestion and unacceptable wait times to harm the economic progress Texas has made in recent years."
In an effort to address this impending situation, Senator Cornyn last month introduced The Emergency Port of Entry Personnel and Infrastructure Funding Act. The bill will make border inspection times more efficient by requiring construction of additional inspection lanes at U.S. ports of entry in Texas. It also authorizes U.S. Customs and Border Protection (CBP) to hire more inspectors and provide recruitment and retention incentives for all officers who serve on the southern and northern borders.
"This legislation comes in direct response to concerns raised by border officials and local leaders, including members of the Border Trade Alliance, who provided input on the best solutions for this problem now and in the future. The bill will maintain security and relieve congestion and wait times, which will help expand job opportunities along the border. Secretary Chertoff today gave voice to what many along the border have long predicted so it's critical that Congress act quickly and pass this needed legislation," Cornyn said.
Cornyn serves on the Armed Services, Judiciary and Budget Committees. In addition, he is Vice Chairman of the Senate Republican Conference and the Senate Select Committee on Ethics. He serves as the top Republican on the Judiciary Committee's Immigration, Border Security and Refugees subcommittee and the Armed Services Committee's Airland subcommittee. He served previously as Texas Attorney General, Texas Supreme Court Justice, and Bexar County District Judge.
••••••
TB research in high gear at Edinburg RAHC
By WILL SANSOM
Twenty-one months after opening the Regional Academic Health Center (RAHC) Medical Research Division at Edinburg, a dozen research scientists are conducting studies in the state-of-the-art building, including a team led by microbiologist Subramanian Dhandayuthapani, Ph.D., known by his colleagues as Dr. Pani.
In 2007, Pani and colleagues authored a paper in the journal Frontiers in Biosciences shining new light on the molecular basis of tuberculosis (TB). The team's findings offer clues as to how TB may lie dormant in the body for years in infected individuals before reactivating. New understanding of this characteristic could lead to new therapies for TB, which is important because emerging strains today are resistant to multiple drugs.
TB caused by bacterium
"The paper addresses the stress signaling mechanism in Mycobacterium tuberculosis, the bacterium that causes TB in humans," Pani said. "TB can activate after years of lying low. In studying how this latency is controlled, we found previously unreported signaling factors that accomplish this. The goal is to further study these factors and use this information to our advantage to develop anti-TB chemotherapeutics."
TB is a major problem in South Texas and the world
TB remains a major public health problem in several parts of the world. An estimated 8 million people contract the infection annually worldwide and 2 million die per year. "Multiple-drug-resistant TB and extensively drug-resistant TB pose serious threats to humankind," Pani said. "TB is a significant problem in the Lower Rio Grande Valley region of Texas, where the RAHC is located, particularly in Cameron and Hidalgo counties."
The prevalence rate of TB in these two counties is consistently higher than in the other 252 Texas counties, according to statistics from the Texas Department of State Health Services. TB patients in the two counties accounted for 10 percent of the 1,535 TB patients in Texas in 2005, according to figures provided by Pani.
TB bacteria resistant to antibiotics
Because bacteria in the latent stage are resistant to antibiotics, treating latent TB is impossible. "The molecular mechanism behind the dormant state of TB is considered key to the development of novel therapy for TB," Pani reiterated.
Pani's studies contribute to the understanding of this important phenomenon and his group conducts research to develop better diagnostic tools and new drugs. Other important research projects under way in his lab include:
• Developing genetically engineered vaccines to prevent tuberculosis and
• Determining the immune mechanisms that make diabetes patients more susceptible to TB.
Chinese scholar conducting research in Pani's lab
Recently, TB research at the RAHC attracted a visiting scholar from China. Rong Jianrong, M.D., joined Pani's group and is conducting research on the disease-causing mechanisms of TB.
Jianrong is spending six months in Pani's lab, and his research is fully supported by a visiting fellowship from the Shanxi Scholarship Council of China.
"This is an international scholar who has come to the RAHC to learn about TB," said RAHC Regional Dean Leonel Vela, M.D., M.P.H. "It is noteworthy that Dr. Pani's research is now receiving international attention. Dr. Pani is a major research asset at the Edinburg RAHC."
Pani is an assistant professor in the Department of Microbiology and Immunology, part of the Graduate School of Biomedical Sciences of the UT Health Science Center. In 2006, he became the first researcher to locate full time and permanently to Edinburg and the Medical Research Division of the RAHC.
••••••
Former Rep. Looney, D-Edinburg, finishes term on Texas Ethics Commission, succeeded by former Rep. Wilhelmina Delco, D-Austin
By ALEXIS DeLEE
Speaker of the HouseTom Craddick, R-Midland, on Wednesday, January 19, announced that he appointed former state Rep. Wilhelmina Delco, D-Austin, to the Texas Ethics Commission.
Delco replaces former Rep. Cullen R. Looney, D-Edinburg, whose term expired. She will serve as one of two speaker appointees to the commission.
"I served with Wilhelmina for many years in the Texas House, and she is an outstanding individual who will be an excellent addition to the Texas Ethics Commission," Craddick said. "Wilhelmina has had a long, illustrious career dedicated to serving the state of Texas, and I'm delighted that she has accepted the call to serve once again."
In 1974, Delco was elected to be the state representative for House District 50 in Travis County. She chaired the Committee on Higher Education for more than 12 years. She also chaired the Committee on General Investigation and she served as Speaker Pro Tempore for two years. Delco retired in January 1995, concluding her tenth term and twentieth year in the Texas House of Representatives.
Delco is a lifetime member of the Texas Congress PTA, National Girl Scouts of America, and the NAACP. She served six years on the board of trustees for Austin Independent School District, two years on the founding board of Austin Community College, and she was chairman of the board of Huston-Tillotson University in Austin. In 1986, Delco was inducted into the Texas Women's Hall of Fame.
"It is an honor to be asked to serve," Delco said. "The Texas Ethics Commission is a very important organization, and I look forward to serving my community in this capacity."
The Texas Ethics Commission is an eight member panel responsible for administering and enforcing the state government's ethics laws. The commission oversees a wide range of state ethics issues, including the personal financial disclosures of state officials, disclosure of political contributions made to members of the state government, and the regulation of the state's lobby industry. The Texas Ethics Commission is sanctioned to investigate and rule on the propriety of conduct of all state officials and employees.
Delco's four-year term is effective immediately and ends November 19, 2011.
Looney, whose term expired November 19, had succeeded former Rep. Tom Uher, D-Bay City, whose term has expired.
Looney, a native of Edinburg, served in the Texas House of Representatives from 1977-1981. A graduate of the University of Texas at Austin with a BBA and law degree, Looney also served three years in the Army as a 1st Lt. before entering into a successful law practice and member of the State Bar of Texas.
Involved in both local and statewide organizations, Looney has been a member or director to groups such as Security State Bank, Edinburg Improvement Association, Rio Valley Sports Authority, the University of Texas Chancellor's Council and the Texas A&M University-Kingsville Citrus Center Advisory Board.
••••••
Sonia Nazario, Pulitzer Prize winning author, major speaker for free event sponsored by South Texas College in McAllen on Saturday, February 2
By HELEN ESCOBAR
South Texas College welcomes Pulitzer Prize winning author and journalist Sonia Nazario to its Pecan Campus Building D Auditorium in McAllen on Saturday, February 2 at 7 p.m. The event is free and open to the public.
Part of the college's Distinguished Speaker Series, Nazario's talk will examine issues related to immigration through the eyes of her latest book, Enrique's Journey, the story of a young child's trials to reach his mother in the United States. Based on the true story of one Honduras family, the book talks about the consequences of leaving one's homeland, the struggle to remain close when separated and the tribulations of trying to reunite and bond again.
"I was inspired to write this book by what I learned and found it unbelievably moving – the story of children wanting, at all costs, to be with their mothers and going through dangerous and terrifying worlds to reach them," said Nazario. "To prepare to write the book I retraced the journey of Enrique for myself and I saw the dangers and misery of it through his eyes. The level of poverty and deprivation that these immigrants face is appalling and I want to give their voices an outlet."
"The theme of this book is love and triumph over adversity, a message that resonates strongly with our Valley community," said Jennifer Bryson Clark, chair of STC's Distinguished Speakers Committee. "We felt it was important to highlight this book and Sonia's experiences in writing it to emphasize the struggles that we all face, especially those who deal with immigration to the United States."
Nazario has enjoyed a two-decade career as a journalist for the Los Angeles Times. Her newspaper series, upon which her book is based, won more than a dozen awards, including a Pulitzer Prize for feature writing, the George Polk Award for International Reporting, the Grand Prize of the Robert F. Kennedy Journalism Award, and the National Association of Hispanic Journalists Guillermo Martínez-Márquez Award for Overall Excellence.
During her tenure, she has covered a range of social issues impacting American society including immigration, hunger and drug abuse to name a few. Nazario grew up in Kansas and in Argentina and has written extensively from Latin America and about Latinos in the United States. She began her career at the Wall Street Journal and joined the Los Angeles Times in 1993.
STC's Pecan Campus is located at the corner of 3201 Pecan Blvd and 29th Street. For additional information the event, contact Jennifer Bryson Clark at 872-3510.
•••••
Rwandan hero Paul Rusesabagina to appear on Wednesday, January 30 at UT-Pan American
By GAIL FAGAN
The University of Texas-Pan American will continue its 2007-2008 Distinguished Speakers Series on Wednesday, January 30 with the appearance of Paul Rusesabagina, famed humanitarian from Rwanda, Africa, who has been internationally honored for saving more than 1,000 civilians during the 1994 genocide that occurred in his native country.
Rusesabagina will speak at the UTPA Fine Arts Auditorium at 7:30 p.m. The free event is open to the public but seating is limited. UTPA students, faculty and staff will be admitted with a valid University ID at 7 p.m. while the general public will be allowed to enter at 7:20 p.m.
Considered the Rwandan "Schindler," Rusesabagina used his influence and connections as temporary manager of the luxury hotel Mille Collines in Kilgali, Rwanda to shelter 1,268 Tutsis and moderate Hutus, including his own Tutsi wife and children, from being among the more than 800,000 slaughtered by the Interahamwe militia.
Rusesabagina's story was chronicled in the Academy Award-nominated film Hotel Rwanda (2004), in which actor Don Cheadle memorably played the role of Rusesabagina.
Summoning great courage in the midst of one of his country's darkest periods, Rusesabagina was awarded the U.S. Presidential Medal of Freedom in 2005 from President George W. Bush. His autobiography, "An Ordinary Man," written with Tom Zoellner, was published in April 2006.
Rusesabagina will speak about genocide and share his emotionally-stirring story firsthand with the hope of preventing and confronting similar atrocities in the future.
The Distinguished Speakers Series is underwritten by student fees, the Student Union, and the Office of the President. A Distinguished Speakers Series Committee made up of students, faculty and staff chooses the speakers.
The final speaker in this year's series will be leading Latina playwright and author Denise Chávez, who will speak Tuesday, March 25. Her appearance is part of a weeklong schedule of presentations, readings, performances and other cultural activities during FESTIBA (Festival of International Books and Arts) scheduled for March 24-29 at UTPA.
For more information or if special accommodations are needed, contact the Student Union office at 956/316-7989.
••••••
Former Bastrop County Sheriff Richard Hernández, Commissioner Goertz, plead guilty to corruption
Former Bastrop County Sheriff Richard Hernández and sitting Precinct 1 County Commissioner David A. Goertz on Tuesday, January 22, pleaded guilty to official corruption charges brought against them in indictments handed down last May and July. Both were charged with misusing taxpayer resources, including county equipment, vehicles, materials, inmate labor, facilities and credit accounts, for their personal benefit. Goertz resigned as a condition of his guilty plea.
Hernández, 52, served as sheriff from January 1997 until he resigned last May following the first indictments. Under the plea agreement, he will spend 90 days in jail, serve 10 years probation and forfeit his peace officer's license. Hernández pleaded guilty to six felony counts, including theft by a public servant, abuse of official capacity and misapplication of fiduciary property. He must pay the county $16,000 for diverting county money for profit and personal use.
Goertz, 52, took office in January 2005. He pleaded guilty to a Class A misdemeanor charge, abuse of official capacity. His six-month jail sentence is probated for one year. He must pay $1,499 in restitution to Bastrop County along with a $1,500 fine. He must also perform 120 hours of community service.
The Attorney General's Special Investigations Unit investigated the case, headed by Capt. Forrest Mitchell. Assistant Attorneys General David Glickler and Harry White prosecuted both cases at the request of Bastrop County District Attorney Bryan Goertz, who is a distant relative of defendant David Goertz.
The most serious charges leveled against Hernández stemmed from his scheme with a local car dealer to sell his personal vehicle to eliminate the debt on the vehicle. At the same time, he sold a county sheriff's department vehicle to the dealer for $13,000, a price well below its current market value of about $30,000. Then Hernández, acting as county sheriff, immediately used county funds to purchase his personal vehicle back from the dealer for use as a county vehicle, clearing his debt in the process. Next, he bought back the more expensive county vehicle from the dealer for the original $13,000 selling price. However, he purchased this vehicle as an individual, not as Bastrop County Sheriff. Hernández, representing himself as a private citizen, later sold this vehicle to a dealer in another county for $28,500, pocketing the difference.
Hernández also committed theft by using county inmate labor and materials to build large barbecue pits, one of which he sold at 100 percent profit to a local citizen for $2,000. According to the indictment, Hernández used county materials such as motor fuel, propane, tools, tires and other items for his personal benefit throughout his time in office.
Both Hernández and David Goertz routinely used inmate labor to improve their residences, often as on-the-clock county employees oversaw the prisoners. Goertz used inmates on electrical wiring projects in his home, as well as other jobs that benefited him.
••••••
Attorney General Abbott awards $100,000 to consumer law program at St. Mary's University School of Law
Texas Attorney General Greg Abbott on Thursday, January 24, awarded more than $100,000 to St. Mary's University School of Law, which will use the funding to expand the legal services its consumer law clinic provides to South Texas residents.
"Today's award recognizes St. Mary's University School of Law's demonstrated commitment to local consumers," Attorney General Abbott said. "With additional resources, St. Mary's legal clinic can expand the availability of its high quality legal assistance. We look forward to working with Dean Cantú and his colleagues to aid South Texas consumers."
"We would like to thank the Attorney General and his staff for the support," said St. Mary's University School of Law Dean Charles Cantú. "St. Mary's University School of Law strives to graduate students who will one day become legal professionals with a dedication to excellence, a passion for service, and a commitment to ethical practice of law. A significant part of that educational process is the work done at the Center for Legal and Social Justice. Through the clinical work there, we nurture our students' desire to seek justice while meeting our University's mission of reaching out to our community."
The award is funded by the liquidation of Mark Nutritionals, Inc. In December 2002, the Office of the Attorney General took legal action against the San Antonio-based company for its widespread deceptive marketing and sale of unproven weight-loss products known as "Body Solutions."
Mark Nutritionals, Inc. filed for bankruptcy in September 2002, seeking to reorganize under Chapter 11. The case was converted to Chapter 7 liquidation in April 2003, and the Attorney General ultimately persuaded the bankruptcy court that the funds remaining in the case could best be used to advance consumer law education in Texas. In 2005, law schools at Southern Methodist University and the University of Houston received similar awards from the Mark Nutritionals bankruptcy to supplement their consumer law programs.
The St. Mary's University School of Law legal clinic addresses the legal needs of low-income people in San Antonio and South Texas. The legal clinic provides advice and representation in the areas of criminal defense, immigration law, family law and civil matters. The legal clinic will use the funding award to cover start-up expenses for its new Consumer Advocacy Program, which will help expand its direct legal services to consumers.
••••••
Texas journalists, Tyler lawmaker, appointed to Election Advisory Committee by Speaker Craddick
Speaker Tom Craddick, R-Midland, on Friday, January 11, appointed Rep. Leo Berman, R-Tyler, and David Wedel, and re-appointed Patrick Canty, Mike Rosen, Ben Philpot and Mike Ward to serve on the Elections Advisory Committee.
"Each of these individual's knowledge of the state's election process, from a legislative or a media standpoint, will make their contribution key to this advisory committee," Speaker Craddick said. "I am pleased to appoint them and am confident that they will serve this committee well."
The Elections Advisory Committee, comprised largely of editors and reporters selected from the state's television, radio and print media, meets twice a year to evaluate the tabulation of unofficial election returns compiled by the secretary of state's office, and to make recommendations for the future counting and reporting of ballots. The lieutenant governor and secretary of state are responsible for the appointment of an additional six members each to the advisory committee.
In addition to the committee members appointed by the speaker, the lieutenant governor and the secretary of state, several other prominent members of the Texas news media enjoy a standing membership on the advisory committee, including: the president of the Texas Association of Broadcasters, the president of the Texas Daily Press Association, the president of the Texas Daily Newspaper Association, and the chief state executive officers of the Associated Press and United Press International.
Berman was first elected to District 6 in 1998 and is chairman of the House Committee on Elections. Before joining the Texas legislature, Berman served with distinction for more than 22 years in the U.S. Army. Over the course of his military career he was awarded three Bronze Stars and nine Air Medals before retiring as a lieutenant colonel.
Wedel was named publisher of the Midland Reporter-Telegram in July 2007. Wedel has worked for the Reporter-Telegram for nearly 20 years and prior to his role as publisher, he served as the paper's general manager. Before beginning his career in journalism, Wedel worked for the Midland tax office of Coopers & Lybrand and served in the U.S. Army.
Canty is the publisher of the Odessa American. Over his 20-year career as a journalist, Canty has been actively involved in a variety of civic, charitable and industry organizations, including the American Society of Newspaper Editors, the Texas Associated Press Managing Editors, the Odessa Chamber of Commerce, the United Way, Rotary and the Boys Scouts of America. Canty has served on the Elections Advisory Committee since June 2005.
Rosen works as the chief political reporter for KTBC, Austin's local FOX affiliate, and has covered the legislature as a member of the capitol press corps for nearly 10 years. This is Rosen's second appointment to the Elections Advisory Committee.
Ward, a member of the capitol press corps since 1998, is the Austin American-Statesman's senior political correspondent. He has served on the Elections Advisory Committee for the past two years.
Philpott is the Senior Political Reporter for Austin's National Public Radio affiliate, KUT. Philpott has covered Texas politics since 2002 and has served on the Elections Advisory Committee since 2005.
All appointees will serve a two-year term beginning this month.