Congressman Patrick J. Kennedy, D-Rhode Island, a nephew of President Kennedy and the youngest member of the Kennedy family to be elected to office, on Monday, December 10, held himself out as an example of how mental health illnesses afflict everyone, including himself, as the keynote speaker for the ribbon-cutting of $53 million Renaissance Behavioral Center in Edinburg. Most Americans don't have insurance to get the type of treatment Kennedy received, he noted, "and that, my friends, is a real tragedy, and that is why I am so committed to making sure we get insurance coverage for mental health." See story later in this posting.
••••••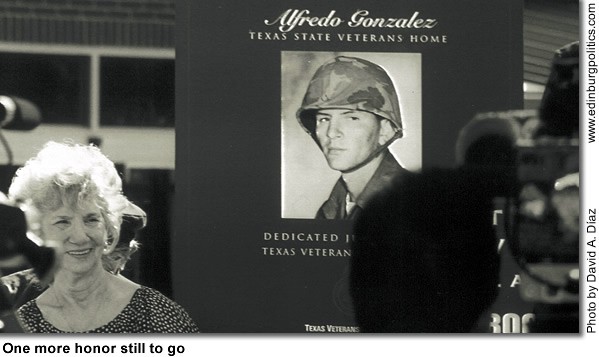 Dolia González of Edinburg, mother of American war hero Freddy González, who was killed in action during the Vietnam War, is featured here during the October 2003 grand opening of the Alfredo Gonzalez Veterans Home in McAllen, named in honor of her son. Last spring, the Texas Legislature voted to posthumously bestow the Texas Legislative Medal of Honor, but, according to a recent news report in the Ft. Worth Star-Telegram, Gov. Rick Perry hasn't found the time yet to hold the major ceremony that has come to the previous recipient's of the state's highest award for valor in war time. The story is available at:
http://www.star-telegram.com/state_news/v-print/story/297224.html
••••••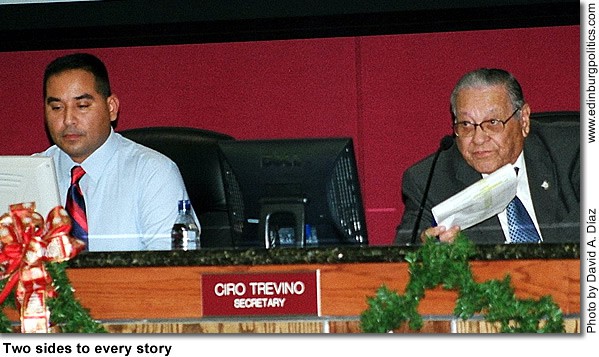 A simple majority of the Edinburg school board on Tuesday, December 11, agreed with concerns raised by Board Secretary Ciro Treviño, featured right, who was up for reelection next May, and approved a measure that changes the election date to November 2008, and extends the length of the terms of all board members to four years, from the current three-year length. Fellow trustee Robert Peña, Jr., featured left, disagreed, saying area voters, not the Legislature, should have the final say on whether the local school board trustees can make such dramatic changes in their power and election date. A new state law is behind the growing controvery. See story later in this posting.
••••••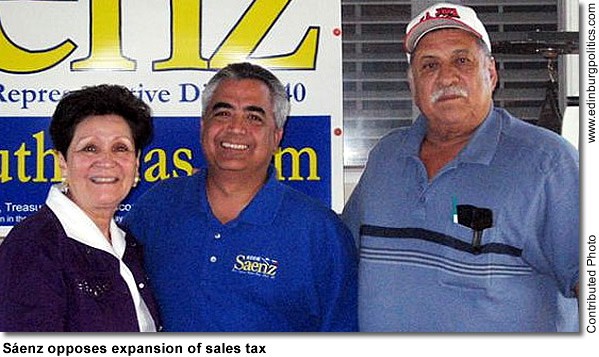 Democratic Texas House challenger Eddie Sáenz, featured centure, is calling on his opponent, Rep. Aaron Peña, D-Edinburg, to forcefully reject a proposal put forward by Peña's political allies in Austin to impose the state's sales tax on basic food items, visits to doctors, hospital stays, medicines for senior citizens, professional realtors, and a long list of other services. "This plan by my opponent's allies would raise taxes on every family and small business in our community and push our public schools to the brink of bankruptcy," Sáenz said. "For once, I hope my opponent will stand up for his constituents against these typical politicians in Austin who bankroll his political career." Sáenz said a plan unveiled on December 5 by Rep. Phil King, R-Weatherford, a key lieutenant of Texas House Speaker Tom Craddick, R-Midland, and other Austin leaders supported by Peña, would impose at least $5.2 billion a year in new taxes, according to an initial analysis. See story later in this posting.
••••••
Edinburg school board, by a 4-3 margin, increases power, changes election date from May to November
By DAVID A. DÍAZ
A simple majority of the Edinburg school board on Tuesday, December 11, agreed with concerns raised by Board Secretary Ciro Treviño, who was up for reelection next May, and approved a measure that changes the election date to November 2008, and extends the length of the terms of all board members to four years, from the current three-year length.
Treviño said the changes were being forced upon the local school board, noting that other area school boards reportedly had taken the same action, or were scheduled to do so in the coming days, and he would not knowingly "violate" a state law.
He emphasized the action was not of his own doing, but required by the Texas Legislature.
Trustee Robert Peña, Jr. had a much different take, claiming the state law was not clear, suggesting that the local governing board wait until the growing controversy is settled by state legislators during the 2009 legislative session.
Peña also suggested that school district residents be allowed to vote on the controversy, rather than allow trustees to expand their political power on their own.
Board president Carmen González, Vice President Omar Palacios, and trustee David Torres voted with Treviño to change the election date and lengthen the terms of office for the entire school board.
Trustees Peña, Jaime Chavana, and Greg García voted against the measure.
Like Treviño, González' reelection bid also was scheduled to go before voters in May 2008.
But now, both veteran political leaders will face reelection in November, on the same day area residents cast their ballots for president, along with a slew of statewide, countywide, and regional candidates.
Effective on the November 2008 election day, Treviño and González – or their successors – will begin serving four-year terms.
As for the remaining five school board members, their terms will increase to four years the day they – or their successors – face voters in their respective elections.
Adoption of the two major election changes was recommended by Superintendent Gilberto Garza, Jr. and Mario H. Salinas, the Assistant Superintendent for District Administration, according to the exhibit included as part of the school board's agenda packet.
Garza, Salinas, and school board attorney Jacques Treviño (no relation to trustee Treviño) have served as the major resource personnel on the legislation, preparing the research for the trustees and making recommendations.
Ciro Treviño said the Texas Legislature, through the passage of Senate Bill 670 last spring, required Edinburg and dozens of other school boards in the state to take the action by December 31.
"I have had a lot of questions, myself," Ciro Treviño acknowledged, then explained his upcoming vote.
"We didn't make this law," he noted. "This is not our law. We have been told by our attorney, and some other school boards already have approved this. They are basing it on the same facts. I don't want to violate the law."
In its previous meeting on Tuesday, November 27, the school board held a public hearing to discuss the impact of the state law. During that session, Treviño asked the school board attorney what would happen if the board members did nothing. The school board attorney said his research had not determined if the state could take any action against the trustees or school district.
During his remarks during the Tuesday, December 11 school board session, Ciro Treviño added, "I am going to do what I think is right. We have had this imposed on us. If there are things that are wrong here, it wasn't our doing. I just want to make it clear."
His comments followed a prepared statement by Peña, who outlined his strong opposition prior to the school board taking its vote.
"What is decided today does not affect a child or does not affect the district financially," Peña said.
"I am all for what is good for the district – that is why I ran. But this is not about the district, this is about us as elected officials."
He noted that voters elected him to a "three-year term".
He said he was "disappointed" that the vote was scheduled that evening, since trustees still could hold a special meeting before the end of the year to take any action.
"I still feel we don't have the full information," Peña continued. "We have talked about this having potential costs to us because elections do cost the district. We have talked about savings, but where has that been presented to us? We don't know how much it is going to cost us to have an election with the county. We don't have a comparison with the city."
Peña continued: "The county told us they would provide workers, but what is that going to cost us? If the (school) district were to provide workers (as) in the past, how many more are we going to need? What will that cost? We haven't even looked at what those costs would be, how the precincts were going to change, things like that."
He disagreed that the state law truly reflected the intent of legislators, contending that Senate Bill 670 "had little or no research, testimony, or consideration in the Texas Legislature."
The best move, he believes, would have been to put the controversial measure up for election before local voters.
"The voters should have a voice, and should have a choice," Peña said.
In the exhibit presented to the board trustees, the superintendent and assistant superintendent provided the following background:
"Under House Bill 1 (approved in the fall of 2006), a new joint election was established requiring school districts to participate in elections with cities and counties.
"Under Senate Bill 670 (approved in the spring of 2007), not later than December 31, 2007, the Board of Trustees may adopt a resolution changing the length of terms of its trustees. The resolution must provide for a term of either three or four years and specify the manner in which the transition is made. The transition must being with the regular election that occurs in 2008.
"Under Texas Education Code 11.0581, an election for trustees of an independent school district shall be held on the same date as municipal elections located in the school district; or the general election for state and county offices. Voters of joint elections must share common polling places. The district must adjust terms of office to conform to the new election dates."
••••••
Congressman Patrick Kennedy, JFK nephew, helps open $53 million Renaissance Behavioral Center
By DAVID A. DÍAZ
Congressman Patrick J. Kennedy, D-Rhode Island, a nephew of President Kennedy and the youngest member of the Kennedy family to be elected to office, on Monday, December 10, held himself out as an example of how mental health illnesses afflict everyone, including himself, as the keynote speaker for the ribbon-cutting of $53 million Renaissance Behavioral Center in Edinburg.
Kennedy, son of Sen. Ted Kennedy, D-Massachusetts, told a hushed audience of more than 100 doctors, medical professionals, community leaders and invited guests.
"I have bipolar disorder," said Kennedy, a leading advocate for reform in the mental health care system. "I used to self-medicate with drugs and alcohol because I didn't know what was wrong with me. Then, I got treatment, got on medications, and it made a world of difference. It was like turning a light switch on – I felt free simply because I got to restore the same chemical balance in my brain that had not been there before."
Bipolar disorder, also known as manic-depressive illness, is a brain disorder that causes unusual shifts in a person's mood, energy, and ability to function.
Most Americans don't have insurance to get the type of treatment Kennedy received, he noted, "and that, my friends, is a real tragedy, and that is why I am so committed to making sure we get insurance coverage for mental health."
Kennedy has assisted in the introduction of key legislation to assist and improve the overall health of all Americans by granting greater access to mental health and addiction treatment while prohibiting health insurers from placing discriminatory restrictions on the needed medical treatments.
"There isn't money in mental health right now, but if we have anything to say about it, there will be money in this, because there should be," he said. "Frankly, we save money by practicing preventative health care."
Mental health is the single leading cause of disability in the U.S., he reported.
"It outranks cancer, it outranks cardiovascular disease," Kennedy said. "It is number one in the world, according to the World Health Organization. So, this idea that we should be stigmatized by it is pretty sad as well."
His observations, honed by personal experiences, drew a sense of emotional importance to the 60,000 square-foot, 80-bed complex that is the latest addition to a $150 million expansion of Doctors Hospital at Renaissance, located in southwest Edinburg at the intersection of McColl and Owassa roads.
Immediately west of the expansion is the initial medical campus which features the Doctors Hospital at Renaissance.
The development of both sites, with their multimillion dollar annual payrolls, has been influenced greatly by the investment of millions of dollars in tax funds by the City of Edinburg over the past few years, including a bond election in the 1990s that help pay for the expansion of McColl Road, now a major roadway linking Edinburg and McAllen.
According to the Edinburg Economic Development Corporation, the jobs-creation arm of the Edinburg City Council, the Renaissance Behavioral Center will create an additional 400 new jobs, bringing the total number of jobs at both sites to 2,700.
The Renaissance Behavioral Center will provide both inpatient and outpatient psychiatric programs for both adults and children, according to Mario Lizcano, marketing director for Doctors Hospital at Renaissance.
"Specially trained physicians and staff will evaluate and treat patients for depression, adjustment disorders, bipolar disorder, schizophrenia, psychotic and personality disorders in a safe and secure environment," Lizcano said.
Kennedy praised the leadership of the hospital system, which is owned by about 300 area physicians, for embarking "upon an initiative like this – is truly extraordinary.
"There are three-quarters of a person that aren't even touched by the medical system – that is the emotional life of someone," he said. "When the emotional life is in turmoil, when you can't deal with that stress, that creates emotional problems, and that manifests itself in depression and anxiety. That cuts through your mental health. Your mental health, through the symptoms of sleeplessness, a loss of appetite, a whole slew of various criteria that one diagnoses depression. Those can manifest themselves through physical symptoms."
Though his speech, made only with fleeting reference to his prepared remarks at the podium, was somber and serious in nature, he also offered great hope and inspiration to people who are struggling with mental health illness.
Kennedy concluded his speech, first by thanking mental health physicians and professionals who he said had helped save him "from a life-and-death disease", then by taking a not-so-gentle shot at some health insurance providers:
"I thought of the story about the three doctors who all died the same day, and they all went up to Heaven.
"St. Peter is there, and the first doctor he sees is a cardiologist. The cardiologist says to St. Peter, 'You got to let me into Heaven, because I help keep people alive, because I keep them alive after they have had a heart attack.'
"St. Peter says, 'Sounds good to me. Come on in to Heaven!' So the cardiologist goes into Heaven.
"Then, an obstetrician comes up, and the obstetrician says, 'Now, you have to let me into Heaven because I help deliver all those newborn babies.' St. Peter says, 'Wow, that sounds good to me! Come on in to Heaven!'"
Kennedy then prepares the punch line, taking aim at Health Maintenance Organizations, more commonly known as HMOs. An HMO is a form of health insurance offered by a business, but all visits, prescriptions and other care must be cleared by HMO officials in order for a patient to be covered for medical treatment.
"Finally the HMO doctor came up. The HMO doctor said, 'Well, St. Peter, I have helped make the health care system run so much more cost-effectively. I have cut costs, streamlined budgets, done everything!'
"St. Peter said, 'Well, I have some good news and some bad news. The good news is you can come in to Heaven. The bad news is you can only stay 24 hours.'"
••••••
Eddie Sáenz calls on Rep. Peña to denounce Republican plan that could expand state sales tax
By KELLY FERO
Democratic Texas House challenger Eddie Sáenz is calling on his opponent, Rep. Aaron Peña, D-Edinburg, to forcefully reject a proposal put forward by Peña's political allies in Austin to impose the state's sales tax on basic food items, visits to doctors, hospital stays, medicines for senior citizens, professional realtors, and a long list of other services.
"This plan by my opponent's allies would raise taxes on every family and small business in our community and push our public schools to the brink of bankruptcy," Sáenz said. "For once, I hope my opponent will stand up for his constituents against these typical politicians in Austin who bankroll his political career."
Sáenz said a plan unveiled on December 5 by Rep. Phil King, R-Weatherford, a key lieutenant of Texas House Speaker Tom Craddick, R-Midland, and other Austin leaders supported by Peña, would impose at least $5.2 billion a year in new taxes, according to an initial analysis.
The plan would impose a state sales tax on medical, dental, legal, engineering, real estate, accounting, financial services, freight hauling, residential and nonresidential construction labor, residential remodeling, child day care, barbers and beauty, funerals, veterinarians, computer programming, public relations, car repair, private vocational education, and other educational services.
In addition, the Republican plan proposed by Peña's allies would extend the state sales tax to agricultural feed and seed, agricultural machinery, manufacturing machinery, residential gas and electricity, water, prescription medicine, over-the-counter drugs, containers, packaging and wrapping supplies, boats, Internet access, certain drilling equipment, newspapers, sales to nonprofits, religious writings, and countless other products and services.
The total plan could cost taxpayers more than $17 billion, according to the same preliminary analysis, and would create a paperwork nightmare for small business, farmers, and ranchers throughout South Texas.
"This is part of a Republican effort to shift the tax burden to low-income and middle-class consumers by taxing their food and other basic services," Saenz said. "I won't stand for it, and I hope my opponent will call his political allies in Austin allies and tell them to drop this unacceptable plan."
Sáenz, owner and chief executive officer of one of South Texas' leading civil engineering firms, is a recognized expert in helping cities, school districts, and other public entities improve their operations and basic services.
As chairman of the Board of Governors – a citizens advisory panel – for South Texas Health Systems, Sáenz helped lead the effort to pass Proposition 15, the cancer research fund approved by voters last week. His opponent voted against putting the measure on the ballot.
Sáenz also served as chairman of Avance, a non-profit organization that works to strengthen families. Avance helped implement the enrollment process for the Children's Health Insurance Program (CHIP) in South Texas. Since his opponent took office, hundreds of thousands of eligible children of working parents have been stripped of their CHIP benefits.
A former chairman of the Edinburg Chamber of Commerce, the Texas Border Infrastructure Coalition Transportation Committee, and the Edinburg 2020 Action Committee, Sáenz graduated from McAllen High and earned his degree in civil engineering from the University of Texas at Austin. He and his wife and their daughter live in Edinburg.
••••••
Sen. Lucio announces reelection bid for seventh term; district includes portion of Hidalgo County
By DORIS SÁNCHEZ
Sen. Eddie Lucio Jr., D-Brownsville, on Monday, December 10, officially announced he is running for reelection to his Senate District 27 seat after filing with the State Democratic Party.
First elected to the House of Representatives in 1986 and then to the Senate in 1990, the senator has held positions and chairmanships in numerous committees. Besides chairing the International Relations and Trade Committee, he also serves on the Committees on Finance, State Affairs, Business and Commerce, and the Subcommittee on Emerging Technologies & Economic Development.
Despite the demands of the Legislature requiring long absences from his beloved family for lengthy periods of time, as well as from South Texas and its people he dearly loves, Lucio cited the million children in Texas without health insurance, neighborhood schools that lack the necessary funding and teachers who don't make what they deserve as primary reasons why "it's clear that there are fights left to fight."
He also noted, "When state and federal bureaucrats talk about securing the border, but instead of doing what they should do in protecting us from those who truly want to harm America, they act to divide communities in their zeal to scapegoat minorities, it's clear that we still have work to do."
Lucio is enormously proud to have passed the legislation and secured the funding that created the Regional Academic Health Center. He added, "I will continue to fight hard for more funding to expand this facility. I also worked to secure $9.9 million for renovations and construction projects at the South Texas Hospital in Harlingen. But as long as South Texans still lack affordable and accessible health care, I have more work to do."
One of Lucio's greatest goals is to fund a full-fledged medical school in South Texas that will increase affordable health care and train a labor pool for hard-to-fill health-related jobs. "That, coupled with another success—the Irma Rangel Pharmacy School in Kingsville—will fulfill the vision of South Texans trained and ready to care for South Texans."
Other priorities include managing the tremendous growth from this past decade, and fighting for infrastructure and economic development to keep "our region vibrant."
Lucio explained, "Our state's and nation's economic vitality begins here. South Texas is the doorway that opens up international trade and commerce to the rest of Texas and the United States. Yet, we still don't have an interstate highway, and I'll continue to fight for that. We still don't have a second causeway to bring in greater tourism dollars and as a hurricane safety measure, and I'll continue to fight for that as well."
One of his greatest legislative privileges is serving on the Finance Committee. He stated, "Instead of being Austin's after-thought, we now have a place at the most important table in the Legislature, the Senate Finance Committee. I'm proud to serve the people of District 27 on that committee, and I'm proud to be able to work together with the Valley Delegation to make sure that our region is recognized as the economic powerhouse that fuels much of the rest of the Texas economy.
"But most of all, our place at that table reminds the people in Austin that we are equal Texans deserving of equal educational, health, employment and other opportunities," he continued.
Lucio also expressed his passion for providing affordable housing to low-income households through programs like the Bootstrap Self-Help Program, to "give South Texas families a chance to become homeowners."
This past session, Lucio worked with his colleagues to garner an additional $5 million for affordable housing. He has also passed numerous bills to make the "American Dream" of home ownership possible for thousands of Texans, including first-time home buying assistance for teachers and law enforcement.
Lucio concluded his announcement with this commitment:
"I wholeheartedly believe we have made great strides in making the Valley a desirable, economically vibrant, and healthy place to live. I believe I have the passion, the experience, the leadership and roots in the Valley to make sure this progress continues.
"I am a Valley native and proud of my family's roots in this community. I am proud of my family's history and commitment to public service here, my father's 30 years as a sheriff's deputy, my years as a county treasurer and legislator, and my son's service in the Texas House.
"We are a family that is Valley dedicated and Valley proud!"
••••••
Congressman Hinojosa says historic energy bill will increase U.S. independence from foreign oil
By ELIZABETH ESFAHANI
Congressman Rubén Hinojosa, D-Mercedes, on Thursday, December 6, joined a majority in the House of Representatives to pass historic legislation that would increase America's energy independence and provide relief to families struggling with sky-high gas prices.
"For too long, our energy policy has been out of touch with the economic, environmental, and geopolitical realities that America faces," Hinojosa said. "This bipartisan solution finally recognizes the need to diversify our energy supply, invest in clean energy, and better protect our economy. We are moving our country on the path toward energy security and providing much-needed aid to Texas consumers."
After decades without a change in mileage standards, the bill would boost the fuel efficiency of vehicles to 35 miles per gallon by 2020. This is the first increase in a generation and is widely supported by environmentalists and the auto industry. By modernizing fuel standards, American families would save at least $700 per year at the pump. The change would also reduce greenhouse gases by an amount equal to taking 28 million of today's cars and trucks off the road.
In addition, the measure makes a historic commitment to alternative clean energy, thereby reducing America's dependence on foreign oil. It invests in American-grown biofuels and requires that 15 % of the nation's electricity come from renewable sources by 2020. If signed into law, the landmark legislation would save consumers billions of dollars by implementing new energy efficiency standards for a wide range of products, appliances, lighting, and buildings.
"Throughout our history, America has prospered thanks to an abundant supply of affordable energy. But if we want to remain a global leader, we cannot continue to take these resources for granted," Hinojosa said. "This bill acknowledges that we must find new ways to fuel our economy so that our future competitiveness does not suffer."
The bill would generate new American jobs as well, training workers for 3 million new "green" jobs over the next decade. It would encourage America's innovators to embrace renewable energy by pouring savings from tax provisions into clean energy and new American technologies. It also promotes renewable energy through tax incentives for solar, wind, biomass, and geothermal technologies and supports cutting-edge research.
"As the nation's largest producer of wind energy, Texas is set to gain from Congress's unprecedented investment in clean energy technologies," Hinojosa said. "The many Texas farmers who grow crops that can be converted into biofuels will also reap the benefits of this ambitious effort."
••••••
South Texas College ranks as third fastest growing community college in nation
By HELEN ESCOBAR
A new report by national education journal Community College Week ranks South Texas College as the third fastest growing community college in the nation. Colleges were grouped by average enrollment with STC competing against colleges with enrollment of more than 10,000 students. STC outpaced colleges from major metropolitan areas across the country including Houston, Los Angeles, Columbus and Austin. More information about the report can be found at http://www.ccweek.com.
"With our increasing enrollment, we are proving that we are focused on providing access to higher education to all students of any age, with a particular emphasis on creating a seamless transition from the K-12 environment to college," said Dr. Shirley A. Reed, STC president. "We listen to the community and develop innovative new instructional programs that ensure we continue serving as the catalyst for regional economic prosperity and social mobility."
STC fall 2007 enrollment peaked with more than 20,386 students attending classes at the college. This is an increase of 10.4 percent from fall 2006 to fall 2007.
"This is confirmation of what we have known for a long time," said Keith Patridge, president and CEO of the McAllen Economic Development Corporation. "There is a great demand for educational opportunities in our community and STC has found the key to meeting that demand. The future of our community rest squarely on our ability to provide our employers with a workforce that possess the skills they demand. Working closely with our business community, STC has identified those skills and successfully created a delivery system to teach them to be a large part of our community."
The college's Dual Enrollment Program, which allows high school students across Hidalgo and Starr counties to earn college credit, grew more than 19 percent from fall 2006 to fall 2007. Offering one of the largest dual enrollment programs in the entire state of Texas, STC and its school district partners are giving 5,719 students the chance to get a jumpstart on their college educations.
"Our goal is to make the Valley a place where college is not just a choice, it is an expectation and this ranking is a testament to that vision," said William Serrata, STC vice president for student services and development. "We are doing everything within our capabilities to bring students opportunities to enroll and succeed. STC prides itself on being aggressive in developing new programs and initiatives and this ranking is a tribute to our work on behalf of the community."
Enrollment also increased in the college's Nursing and Allied Health Division and Distance Education Program. The NAH Division saw a 19 percent enrollment increase from fall 2006 to fall 2007. The college's Distance Learning Program saw an increase of 20 percent from fall 2006 to fall 2007, which signals the increasing popularity of Web-based courses.
For additional information about South Texas College call 872-8311 or visit http://www.southtexascollege.edu.
••••••
UT System regents adopt resolution to cap tuition and fee increases for 2008 – 2010
By MATT FLORES
As the nine University of Texas System academic institutions continue to finalize their tuition and fee proposals for 2008 – 2010, the UT System Board of Regents today (December 6) unanimously adopted a resolution instructing the campuses to limit proposed increases in tuition and fees to 4.95 percent, or $150 per semester, whichever is greater, for each of the academic years 2008-09 and 2009-10.
The action, taken at a special called meeting of the Board in Austin, comes before the institution presidents are to submit their final campus tuition and fee proposals to UT System Chancellor Mark G. Yudof for review. The Board of Regents – which has ultimate authority to set tuition and fees for all campuses – plans to discuss the finalized proposals in March of next year.
"We take the trust and responsibility the Legislature placed in us when they gave us the authority to set tuition in 2003 very seriously," Regents' Chairman H. Scott Caven, Jr., said. "Since that time, our institutions have increased tuition to make up for years of stagnant funding, large increases in enrollment, and to advance excellence in the classroom and remain competitive.
"Higher education is a labor-intensive business. The costs of recruiting and retaining outstanding faculty and the facilities and equipment they need to educate students increase much more quickly than other costs in the regular marketplace. We work hard to create efficiencies in all areas and we will continue to work hard to keep tuition as low as we possibly can without sacrificing the quality of the education we provide to our students."
The Higher Education Price Index (HEPI), which reflects the effects of inflation on the current operations of colleges and universities, is widely regarded as a more accurate indicator of higher education costs than the Consumer Price Index (CPI), which is a measure of the average change over time in a fixed market basket of goods and services that people buy for day-to-day living. The HEPI typically exceeds by one to two percentage points the CPI every year.
"No one likes to raise tuition and we certainly do not expect students and their families to bear the entire burden of rising educational costs. While we would expect that tuition will continue to rise as inflation increases, at this time there are other sources of revenue and savings associated with our numerous system-wide cost saving initiatives that can be tapped to meet a portion of these costs. Having said that, and while keeping in mind the best interests of both the campuses and the students, the Board feels strongly that a 4.95 percent annual cap will allow sufficient resources to meet strategic needs and goals as defined by each campus tuition policy advisory committee," Caven said.
As in the past, the Board also emphasized that the campus plans should include setting aside at least 20 percent of new tuition revenues for financial aid programs, as well as a variety of strategic incentives to encourage students to graduate on time by taking more semester credit hours in each term they are enrolled. Campuses should also ensure that no qualified student will be denied a UT education for financial reasons.
UT institutions will use the additional tuition revenues to enhance student services and academic programs, such as retaining outstanding faculty and scientists, hiring additional advisers and faculty members, reducing class sizes, making much needed repairs and renovations to campus buildings, and addressing rising energy costs that affect their operating budgets.
Serving the educational and health care needs of Texans for more than 125 years, the UT System is one of the nation's largest higher education systems with 15 campuses – including nine academic and six health institutions – and has an annual operating budget of $10.7 billion (FY 2008) including $2.3 billion in research funded by federal, state, local and private sources. Student enrollment exceeded 190,000 in the 2006 academic year. The UT System confers more than one-third of the state's undergraduate degrees and educates nearly three-fourths of the state's health care professionals annually. With more than 80,000 employees, the UT System is one of the largest employers in the state.
••••••
Lt. Gov. Dewhurst named 2008 Texas of the Year by Texas Legislative Conference
Lt. Gov. David Dewhurst has been named 2008 Texan of the Year by the Texas Legislative Conference. Dewhurst, a Republican, will receive the honor at the organization's 42nd annual conference in March.
"I'm deeply honored and humbled to be recognized by the Texas Legislative Conference as 'Texan of the Year' for 2008. In everything I do as Lt. Governor, I put Texas first. And I look forward to working with my fellow Texans to build on all of our success in the new year," Dewhurst said.
Conference organizers credited Dewhurst's initiatives to bring together Republicans and Democrats to pass legislation to create new jobs and economic opportunity, improve schools, and protect public safety as a catalyst for his selection. Dewhurst led the effort to pass one of the toughest Jessica's Laws in the nation. Dewhurst's Texas Children First Initiative imposes tough new penalties against child predators.
"Lt. Governor Dewhurst has worked to balance three budgets without increasing the tax burden on Texans. He fought successfully to raise teacher salaries and educational standards, increase accountability, and reduce drop out rates," said conference Advisory Committee Chairman Robert Howden.
Among his achievements to keep higher education and affordable and accessible, Dewhurst worked to pass the "Be On Time" loan program which provides college students with zero interest, forgivable loans if they graduate on time with at least a "B" average."
The Texas Legislative Conference is a non-partisan organization of Texas business and political leaders who meet annually in New Braunfels to focus on public policy issues. Past honorees include First Lady Laura Bush, President George W. Bush, Barbara Jordan and Lady Bird Johnson.
••••••
Consumers, don't pay up front to borrow holiday cash
By GREG ABBOTT
Texas Attorney General
With the holiday season in full swing, many Texans might encounter advertisements promising instant cash loans. Consumers should avoid loan offers that require up-front payments for "taxes" or "processing fees." Legitimate lenders never ask borrowers to pay money up-front in order to obtain a loan.
Posing as legitimate loan offers, these slick loan promotions often appear online, in newspaper classified ads or on flyers. Some scammers provide a toll-free number for borrowers to call and supposedly speak with someone who claims to be a reputable bank representative. Other con artists send official-looking correspondence guaranteeing a loan for hundreds or even thousands of dollars at a reasonable interest rate.
In both schemes, borrowers are instructed to wire several hundred dollars in advance to cover the loans' taxes or processing charges. Once consumers send the money, they never hear from the scam artist again.
Many of these schemes give the impression that they are based in the United States. Often, they provide "confirmation" correspondence with a return address in this country. The unfortunate reality is that most scammers are based abroad and use stolen or disposable cell phones that cannot be traced. The correspondence addresses are either nonexistent or anonymous drop boxes. Once money is wired to the scammers, they are able to pick it up from any of thousands of locations around the world, with little chance of being caught.
Consumers who need extra cash over the holidays should consider approaching local lenders to discuss their options in person. Borrowers should also carefully protect their personal information, especially Social Security and bank account numbers. While reputable lenders typically require Social Security numbers and other information to conduct credit checks on a borrower, scam artists often obtain victims' personal information to perpetrate identity theft.
Texans can verify they are dealing with a legitimate, properly licensed organization by contacting the Texas Department of Banking toll-free at (877) 276-5554 or online at http://www.banking.state.tx.us.
To report an advance fee scam or to obtain additional information, call the Office of the Attorney General at (800) 252-8011 or visit us online at http://www.oag.state.tx.us.
••••••
South Texas College's IT Symposium provided roadmap for businesses, educators looking at employees of tomorrow
By HELEN ESCOBAR
South Texas College's IT Symposium held at the McAllen Convention Center in early December provided a roadmap for instructors and business owners hoping to understand the mindset and prospects of the employees of the future.
"We are here today to discuss information technology as a valid, long-term career path for the future and to plan to the needs of our future workforce," said Mario Reyna, STC division dean for business, math, science and technology. "But to begin to understand this career path, we must first take a look at a new generation entering and preparing to enter the workforce. They are truly different and so is their view of the world and work."
José Cruz, STC vice president for information and services and planning, provided a glimpse into the current classroom experience and the difficulties that a new generation of students encounter and must balance with their technology-driven reality.
"Students and workers aged 25 and below are part of a group called 'millennials' and they are different in their view of the world and their view of what the future holds in store," said Cruz. "They do not respond to the typical classroom environment. They require a less structured environment, where multiple stimuli are present and coursework is flexible and adaptable to the needs of the group.
They are very focused on the here and now and operate as a collective. They have been termed as the generation that can truly envision and make a better world a possibly and I believe that is true. With their keen insight into technology and how it can improve our lives rather than make it more complicated, they have a fresh perspective and will invent the systems and solutions to make our world a better place."
Dave Mosby, author of the Paradox of Excellence, was the keynote speaker at event. Mosby, a business and technology veteran with thirty-five years of experience, including nearly 20 years in CEO positions, told the audience of 150 business people and educators about his understanding of the millennial employee.
"As employers you have to understand that the most important customers you have are the ones working for you," said Mosby. "Therefore you have to understand the millennial generation and adapt to their way of thinking and operating. They tend to collaborate and look for projects that will allow them to work as a team to solve issues. They each understand their abilities and want to contribute their specific skill sets.
This means that the way we typically set up offices will no longer work. We have to look at open, adaptable spaces, allowing employees to integrate technology in everything they do from Web searching to software to instant messaging. We must give them access to the tools they understand to make them efficient and effective at their jobs."
In conclusion he reinforced his message of collaborative work.
"To keep up with millennials, we must focus all our efforts on the collaborative business environment. We must look at how we collaborate with other organizations, how our different departments collaborate together. How do we collaborate with customers and suppliers? Once we understand these forms of collaboration, we can then begin to develop a collaborative culture. Then we can build the systems, software and services that add value to our businesses and keep them in touch with the needs of industry today and tomorrow."
In addition, the college's faculty and administration provided an overview of the variety of instructional programs available to prepare the information technology employees of tomorrow, including the new Bachelor of Applied Technology in Computer and Information Technology and a variety of associate's degrees and certificates in the fields of computer science, computer and information technologies and business computer systems.
The IT Symposium was made possible through a grant from the U.S. Department of Labor.
••••••
Sen. Cornyn urges SCHIP funding levels to meet Texas needs
U.S. Sen. John Cornyn, on Tuesday, December 11, in a letter to Senate Finance Committee leaders, urged that any extension of the State Children's Health Insurance Program (SCHIP) will not withhold funds Texas relies upon for current and future needs of its program. Cornyn reiterated his support for responsible reauthorization and expansion of the program.
"Reauthorization of SCHIP is extremely important to Texas. The original intent of this program is sound—providing health insurance to low-income children," Cornyn said. "This past year, Gov. Perry and the State Legislature took steps to enroll significantly more of these low-income children in SCHIP. In the absence of a bill that covers low-income children first, I am urging leaders of the Senate Finance Committee to ensure an extension will not restrict any current or future Texas funds."
–Below is the letter Sen. Cornyn sent to Senate Finance Committee Chairman Max Baucus, D-Mont., and Ranking Member Chuck Grassley, R-Iowa–
December 11, 2007
Dear Chairman Baucus and Ranking Member Grassley:
I strongly support responsible reauthorization and expansion of the State Children's Health Insurance Program (SCHIP). I have voted this year to achieve that goal. Unfortunately, it appears increasingly unlikely that Congress will pass a bill the President can sign into law by the end of the year. In the event Congress passes an extension rather than a reauthorization, I support additional funding above the current baseline to allow states to cover the originally intended population of low-income children. However, I strongly oppose any new policy that would jeopardize the funds Texas currently has or is expected to receive.
In the most recent legislative session, the Texas State Legislature passed House Bill 109, addressing key enrollment and eligibility issues in the Texas SCHIP program. As a result, SCHIP in Texas has substantially increased its enrollment, which had previously dropped due to budget difficulties from a high of 529,000 in May 2002 to a low of 291,000 in September 2006. But since August of this year, more than 40,000 children have been enrolled in SCHIP. In addition, the Texas Health and Human Services Commission expects this number to grow as outreach and enrollment efforts are increased.
If Congress were to enact a long-term extension with new policy that confiscates previously unused funds or alters the expected allocation, these gains in states like Texas would likely be lost.
Thank you in advance for your careful consideration of this issue and for your continued support of the SCHIP program.
Sincerely,
JOHN CORNYN
United States Senator
Cornyn serves on the Armed Services, Judiciary and Budget Committees. In addition, he is Vice Chairman of the Senate Republican Conference and the Senate Select Committee on Ethics. He serves as the top Republican on the Judiciary Committee's Immigration, Border Security and Refugees subcommittee and the Armed Services Committee's Airland subcommittee. He served previously as Texas Attorney General, Texas Supreme Court Justice, and Bexar County District Judge.
••••••
Rep. Noriega says Sen. Cornyn voted against tax relief measures
By ANDREW DUPUY
Although it would have prevented over 1.5 million Texans from having to pay the Alternative Minimum Tax (AMT), U.S. Senator John Cornyn on Thursday, December 6, voted against a bill to provide tax relief to middle class families.
The legislation would provide AMT relief for 23 million American families, and included tax credits for college tuition, tax relief for members of the armed forces, and deductions for school teachers buying supplies for their classrooms out of their own pockets. As has become his practice, Cornyn followed the Republican leadership in voting to block the measure.
"Once again, this demonstrates that John Cornyn is out of touch with regular Texans and Texas values," said Rep. Rick Noriega, D-Houston, who has filed as s a Democratic candidate for Cornyn's seat.
The disputed votes by Cornyn, according to Noriega, were:
•AMT Relief. The bill Cornyn blocked would extend for one year relief for families that would be impacted by the alternative minimum tax. This relief would benefit 23 million American families, including 1,532,300 in Texas. [Citizens for Tax Justice, 11/15/07]
• Extending tuition tax credit. The bill Cornyn blocked would extend for one year a federal higher education tuition tax credit that allows lower- and middle-class families paying for college to deduct up to $4,000. In 2003, 3.6 million Americans benefited from this tax cut, including 249,008 in Texas. [Democratic Policy Committee, 9/26/06]
• Teachers' out-of-pocket expenses. The bill Cornyn blocked would extend for one year a federal provision that allows school teachers to deduct up to $250 a year for money that they spend out of their own pockets to buy supplies for their classrooms. In 2003, 3.3 million Americans benefited from this tax cut, including 264,979 in Texas. [Democratic Policy Committee, 9/26/06]