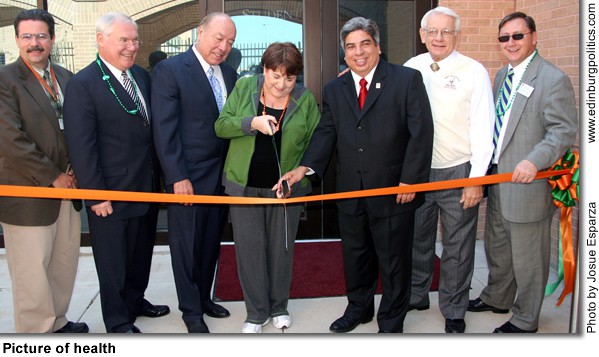 The University of Texas-Pan American Wellness and Recreation Sports Complex (WRSC), which was voted on, inspired by, and built for students, was officially dedicated Tuesday, October 30 during a ceremony commemorating the $26 million facility. The goal of the 156,000-square-foot facility, located on the corner of Sugar Road and Schunior Street, is to promote recreation, health, fitness, and interaction among the UTPA community. Featured, from left, during the Student Health Center ribbon cutting, are: Rick Gray, Student Health Services director; Dr. David Prior, UT System executive vice chancellor for Academic Affairs; Sen. Juan "Chuy" Hinojosa, D-McAllen; Dr. UTPA president Blandina Cárdenas; Rep. Aaron Peña, Jr., D-Edinburg; Dr. John Edwards, vice president for Enrollment and Student Services; and Dr. Jerry Price, associate vice president and dean of students. See story later in this posting.
•••••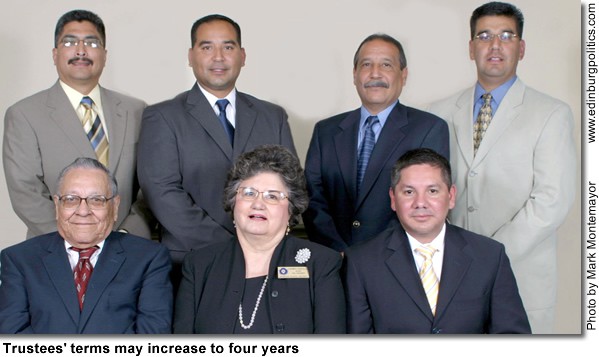 A little-known state law passed by the Texas Legislature last spring could have a big impact on the length of the terms of Edinburg's seven school board trustees, but only if the local board acts before the end of this year. Currently, each school board trustee in Edinburg serves a term whose length is for three years. The Edinburg school board, featured in this portrait, has three meetings left this year in which to decide whether to increase the length of their elected terms. Featured, first row, from left: Secretary Ciro Treviño; President Carmen González; and Vice President Omar Palacios. Standing, from left: David Torres; Robert Peña, Jr.; Jaime Chavana; and Greg García. See story later in this posting.
••••••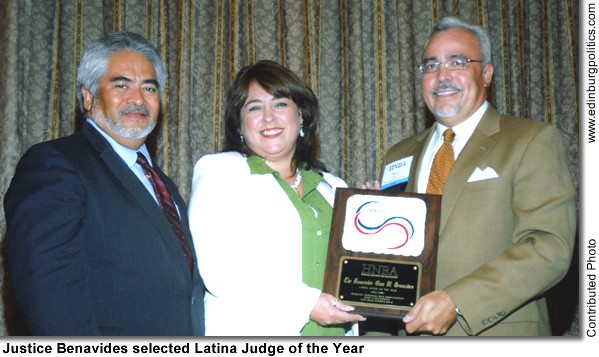 The Hispanic National Bar Association recently selected Honorable Gina M. Benavides of Texas' 13th Court of Appeals as their Latina Judge of the Year. Benavides is featured here receiving the award on Friday, October 5, 2007 at the HNBA's 2007 Annual Convention in San Juan, Puerto Rico. This isn't the first time the Corpus Christi native has been recognized for her achievements in the courtroom. Benavides was named by Texas Monthly as a Super Lawyer in 2003 and 2004, a distinction bestowed upon her by her peers as being one of the best lawyers in the State of Texas. Less than 10 percent of all lawyers in Texas earn this distinction. The 13th Court of Appeals sits both in Edinburg and Corpus Christi. Benavides hears cases in both courts assigned at random. See story later in this posting.
••••••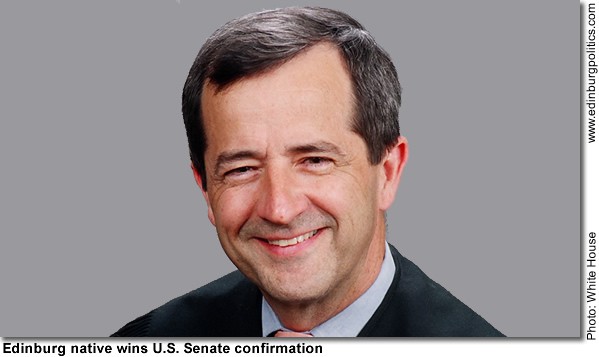 Judge Leslie H. Southwick, a native of Edinburg, was recently confirmed by the United States Senate as a judge on the United States Court of Appeals for the Fifth Circuit. That court hears appeals from federal trial courts in Texas, Louisiana, and Mississippi. Southwick was confirmed by the Senate on October 24, 2007. He was sworn in on October 30. Southwick is the son of the late Dr. Lloyd M. Southwick, an Edinburg physician, and of the late Ruth Tarpley Southwick Flanagan, whose family first came to the Valley in 1922. His stepfather, the late James M. Flanagan, was a native of Johnstown, Pennsylvania who retired to McAllen in the 1960's. See story later in this posting.
••••••
Judge Criss says Justice Yañez would make Texas history by challenging GOP instead of fellow Democrat in election for state Supreme Court
By DAVID A. DÍAZ
With three spots on the Texas Supreme Court – all held by Republicans – up for grabs in November 2008, Judge Susan Criss of Galveston, a Democratic candidate for one of those posts, is encouraging fellow jurist Linda Yañez of Edinburg to run for chief justice of the state's highest civil court, and not against Criss.
Criss, who has presided over some of the most famous trials in Texas in recent times, is a Democratic candidate for Place 8 on the Texas Supreme Court, currently held Phil Johnson, a Republican from Amarillo. Johnson was appointed by Gov. Rick Perry, a Republican, on March 15, 2005.
Filing begins in early December and ends in early January for all candidates who will be seeking their party's nomination in the March 4 primary elections.
But Criss says that after she announced her plans last spring to run against Republican Johnson, Yañez said several months later that she would run against Criss in the March 4 Democratic Party primary for the right to face Johnson.
"It doesn't make sense for two Democrats to be running against each other to face one Republican when there are two other seats on the Texas Supreme Court, also held by Republicans, that will be on the ballot in next year's presidential election," said Criss.
The Texas Supreme Court is the state's highest legal arena for civil matters and is comprised of a chief justice and eight justices elected on the statewide ballot.
If a Texas Supreme Court justice does not finish off his or her term, the governor appoints a replacement – as was the case for Johnson – and for Chief Justice Wallace Jefferson of San Antonio, who was appointed by Perry on September 14, 2004.
Criss, who is recognized around the nation for her leadership on behalf of women judges and the recruitment of minorities for careers in the law, says Yañez is shortchanging herself and the Texas Democratic Party.
"Justice Yañez says she wants to make history by becoming the first Latina on the Texas Supreme Court. If she really wants to make history, she has the opportunity to become the first Hispanic Chief Justice of a state's highest court, both in Texas and in the United States," said Criss.
Criss' father, former Rep. Lloyd Criss, D-Galveston, was chairman of a powerful House legislative committee, who in the 1980s strongly helped then-Rep. Juan "Chuy" Hinojosa, D-McAllen, and then-Rep. Alex Moreno, Jr., D-Edinburg, to pass a series of "landmark civil rights laws" she said helped free thousands of Texas farm workers from labor conditions that approached "slavery."
"Justice Yañez has the opportunity to build political momentum and party unity for herself and Texas Democrats by seeking election as Chief Justice of the Texas Supreme Court, instead of needlessly dividing Democratic Party resources and loyalties," Criss said. "As for me, I am very qualified, organized, and determined to defeat my Republican opponent."
Criss has served almost 10 years as judge of the 212th District Court in Galveston County, and was a former prosecutor, criminal defense attorney, and assistant district attorney in Galveston County from 1986 to 1997.
She criticized the Republican-controlled Texas Supreme Court for being out-of-touch with the vast majority of Texans.
She contrasted her judicial philosophy with that of the Republican-dominated Texas Supreme Court.
"Judges enforce the guarantee of equal justice under the law," Criss said. "The powerless and the most vulnerable must get the same trial as the most powerful and wealthy."
By standing together as a team, instead of being on opposite sides, Criss said she and Yañez would help Democrats finally break the Republican stranglehold on statewide elected offices.
"Justice Yañez in 2002 was only able to pick up 42 percent of the vote when she ran against a Republican appointee for Texas Supreme Court," Criss recalled. "But as a team, we can help generate huge numbers of votes from my home region of Houston and from her home region of South Texas. Together, we can help carry the Texas Democratic Party to historic victories next November, from the courthouse to the state house to the White House."
Pol. Ad paid for by Susan Criss Campaign. Lloyd Criss, Treasurer, PO Box 16474, Galveston, TX 77552
••••••
State law affecting length of school trustees' terms causing confusion, concern, say Edinburg leaders
By DAVID A. DÍAZ
There's a popular saying at the Texas Capitol when it comes to legislation – laws are like sausages, it is better not to see them being made.
But for a growing number of school districts in Texas, many of them are now wishing they had seen Senate Bill 607 coming, because local school boards, including Edinburg, are now facing a December 31 deadline on the politically-charged issue of extending the length of the school board trustees' terms from three years to four years.
SB 607 was passed last spring in an attempt to address issues unique to the board of trustees of the Alief independent school district, located in the Houston region. But as is sometimes the case, the bill flew through the legislative process without any apparent concerns that it would affect possibly dozens of school districts statewide, including Edinburg.
SB 670, by Sen. Rodney Ellis, D-Houston, and Rep. Hubert Vo, D-Houston, requires that by December 31, 2007, the board of trustees of an independent school district – such as Edinburg – in consultation with its attorney, can lengthen the term of office with the passage of a resolution.
But that change could have far-reaching political consequences, raising concerns about which school board trustees will be the first to be impacted, and what type of selection process – even flipping a coin – would be used.
On Wednesday, November 7, Edinburg Superintendent Gilbert Garza, Jr. said his leadership team is busy preparing an analysis of how the law will affect the elections of local school board members.
Only one thing seems to be for sure so far – the Edinburg school board will not take up this issue at its upcoming regular board meeting, set for Tuesday, November 13. But more than likely, the board will receive a power-point presentation on the issue two weeks later, on Tuesday, November 27, the superintendent predicted.
It is possible, he noted, that the board could take action on November 27, and put into motion the process to lengthen the terms of the board members.
Whether any public input is required – such as a public hearing or even an election on the issue itself – are among the thorny political questions administrators hope to answer in the coming weeks.
By comparison, when the Edinburg city council, in the 1990s, wanted to change from a two-year term to its current three-year term, they had to take the plan before voters during an election. That city measure, promoted by Mayor Joe Ochoa, wound up being easily approved.
Garza, along with Mario Salinas, the school district's Assistant Superintendent for District Administration – and who handles the district's election process – acknowledged that the new state law is raising concern throughout Valley school districts.
"This issue here, as far as the district administration is concerned, is that we are not looking to see what decision willbe favorable to one board member or another, we have to look at what is in the best interest of the voter in our community, and how we can comply with the law," said Garza.
On Tuesday, October 30, Garza, Salinas, school district attorney Jacques Treviño, and board members Robert Peña, Jr. and David Torres went to Austin to try to get answers to a difficult problem.
They met with Elizabeth Hanshaw Winn, lead attorney with the Elections Division of the Texas Secreatry of State, trying to get a handle on what stands to be a political hot potato along many different levels.
"We wanted to get an opinion from the Secretary of State on the mandates of the new law, because we need to know what options we have," said Salinas.
Such action also would require the U.S. Department of Justice to come into the process, making sure that any proposed changes do not discriminate on a number of different levels.
It is also unclear what would happen if no action is taken by the local school board.
If no action is posted on the board agenda for the November 27 meeting, then only one more regular school board meetings is scheduled before December 31, unless the school board schedules a special session on the issue.
A bill analysis, which is background provided by the Texas Legislature, explained the history that led to SB 670, and some of the impact of the measure:
House Bill 1, passed by the 79th Legislature, Third Called Session in 2006, mandated that school districts hold joint elections with a municipality, county, or the state. This would require 50 to 70 school districts to change from May to November elections, either because they are not part of a municipality with a May election, or because the district is not located in a municipality and therefore, will have to join with the county or state elections.
The approved bill and subsequent changes came about because Alief ISD, located in part within the Houston city limits, currently holds elections each May, and about one-third of the trustees are elected to the school board each year for three-year terms. Because the district is required to change to a November election, trustees will be running for election in even-numbered presidential and non-presidential years and in odd-numbered Houston city election years. This would raise the costs of the elections for Alief ISD.
About a year later, SB 670 authorized a school district's board of trustees to adopt a resolution changing the length of the terms of its trustees not later than December 31, 2007, to address the rising costs of multiple elections and the confusion among voter precincts.
This new law did not expressly grant any additional rulemaking authority to a state officer, institution, or agency.
SB 670 amended Section 11.059, Education Code, by adding Subsection (e), as follows:
(e) Authorizes the board of trustees of a school district to adopt a resolution changing the length of the terms of its trustees not later than December 31, 2007. Requires the resolution to provide for a term of either three or four years and to specify the manner in which the transition from the length of the former term to the modified term is made. Requires the transition to begin with the first regular election for trustees that occurs after January 1, 2008, and requires that a trustee who serves on that date serve the remainder of that term. Provides that this subsection expires January 1, 2013.
••••••
Judge Leslie H. Southwick, Edinburg native, confirmed by Senate for U.S. Court of Appeals for Fifth Circuit
Judge Leslie H. Southwick, a native of Edinburg, was recently confirmed by the United States Senate as a judge on the United States Court of Appeals for the Fifth Circuit. That court hears appeals from federal trial courts in Texas, Louisiana, and Mississippi.
Southwick was confirmed by the Senate on October 24, 2007. He was sworn in on October 30.
Southwick is the son of the late Dr. Lloyd M. Southwick, an Edinburg physician, and of the late Ruth Tarpley Southwick Flanagan, whose family first came to the Valley in 1922. His stepfather, the late James M. Flanagan, was a native of Johnstown, Pennsylvania who retired to McAllen in the 1960's.
"The confirmation of Judge Leslie Southwick to the U.S. Court of Appeals for the Fifth Circuit is a victory for America's judicial system and for the citizens of Louisiana, Mississippi, and Texas," said President Bush. "The bipartisan vote resolves a long-standing judicial emergency and will help ensure that the Fifth Circuit can operate more effectively. Judge Southwick is a man of character and intelligence who will apply the law fairly. I appreciate the Senate's approval of his nomination."
Southwick is married to the former Sharon Polasek of Houston, Texas.They have two children: Philip, who is an architect, is married to Mary Voorhies, and lives in Austin; and Cathy, who works at the Museum of Fine Arts in Houston
Southwick's only remaining relatives in the Valley are his aunt Rennie Mae Bormann of McAllen, and her children Ron Bormann, Becky Bormann, and Lois Trewin, all of McAllen. His uncle, Ed Bormann, passed away on Easter Sunday, 2007.
Southwick attended Edinburg public schools, graduating from Edinburg High School in 1968. He then attended and graduated from Rice University and the University of Texas School of Law.
After receiving his law degree in 1975, Southwick moved to Mississippi in order to be a law clerk for a judge on the Fifth Circuit Court of Appeals, the court on which he will now serve. Following that clerkship, Southwick was an attorney for twelve years in one of the largest law firms in Jackson, Mississippi.
For 18 months beginning in August 2004, Southwick took a leave of absence from the state court when his Mississippi National Guard armored brigade was called to active duty. He served as a lieutenant colonel and the staff judge advocate for his brigade in Iraq during 2005, returning to the state court in January 2006.
In June of 2006, President Bush nominated Southwick to be a United States District Judge in Jackson, Mississippi, but he was not confirmed by the Senate prior to the adjournment of Congress in December 2006. In January 2007, President Bush nominated Southwick for the position on the Fifth Circuit Court of Appeals.
••••••
UT-Pan American open $26 million student wellness complex influenced by Sen. Hinojosa and Rep. Peña
By MELISSA VÁSQUEZ
The University of Texas-Pan American Wellness and Recreation Sports Complex (WRSC), which was voted on, inspired by, and built for students, was officially dedicated Tuesday, October 30 during a ceremony commemorating the $26 million facility.
In addition, UTPA held a ribbon cutting for its $1.5 million Student Health Center, located adjacent to the WRSC, during the celebration. Both the health center and the WRSC opened their doors to the University community Aug. 27.
UTPA President Dr. Blandina Cárdenas, who made her first appearance on campus after having had major heart surgery in September, led the ceremony decked out in workout wear along with other UTPA administrators, who were also dressed for a day at the gym.
"Thank you for taking the time to join us and to be here for the official dedication of this extraordinary student-generated, student-owned and student-inspired facility, our Wellness and Recreational Sports Complex and our Student Health Center," she said.
Cárdenas said the input and approval of UTPA students were crucial to the creation of the WRSC, which was initiated in spring 2004 with student elections being held to decide whether a fee should be created to fund the facility. Eighty-five percent of UTPA students voted in favor of the binding referendum for the establishment of the WRSC. A UTPA Recreation Sports Complex Task Force, made up of mostly students, staff and faculty, was formed and led the way to the WRSC becoming what it is today. With student needs in mind, the task force researched the construction, architecture and design of the complex, Cárdenas said.
"This is a real celebration for the students of UTPA who initiated the effort that made this building a reality. It is also a real celebration for the generation of students who will follow them, who will be inspired to come here and who will be inspired to think about college as a fun and important place," she said.
Miranda Ramírez, a UTPA senior and member of the task force, said there was student input every step of the way from the choice of exercise machines to the type of furniture chosen for the complex.
"It is rewarding to see all of our ideas come to life. We wanted to not only make this new facility a place for people to workout and enhance their quality of life, but also a place to study, make new friends, and learn the importance of being healthy," Ramírez said. "This new facility has long been awaited for and the students have embraced it warmly."
She said the task force traveled to different Texas universities to get ideas for the new wellness center, and were able to discuss and implement what they discovered. Ramírez said with the WRSC in place, UTPA has become just as competitive as other universities, and it has become a place for students to unwind, relax and get fit.
"It is a great time to be a Bronc. Today the Wellness and Recreational Sports Complex embarks on creating an exciting future, fostering an appreciation for wellness and recreational activity among students, faculty, staff and alumni," she said.
Also in attendance were Rep. Aaron Peña, D-Edinburg, and Sen. Juan "Chuy" Hinojosa, D-McAllen, who helped clear the final hurdle in the Texas Legislature on May 25, 2005 for House Bill 258, which was signed by both the House and Senate, and approved the establishment of the WRSC.
"This legislation, with the help of Senator Hinojosa, was my first piece of legislation. When I drive by each day and night because I live down the road I am very proud of this facility and what is happening to this University. We are growing and we are growing fast. It has added so much to our community," said Peña, who wore a UTPA cap in the spirit of the occasion.
Hinojosa, who sponsored the bill and considers UTPA the "economic and culture center for South Texas," said he was very proud of the students who took the lead on expanding UTPA's facilities and offerings to the University community. He said not only is it essential for the students to exercise their minds in the classroom, but it is equally important for them to exercise their bodies in the new facility.
"This is why this wellness center is so important because it goes hand in hand with getting an education," Hinojosa said.
Cárdenas thanked Dr. John Edwards, UTPA vice president for Enrollment Student Services, who was an early advocate for the wellness center and was instrumental in bringing the idea to UTPA students, for pushing the initiative forward.
Edwards said the inspiration for the WRSC came about because of the health issues facing Americans today, and also for the opportunity to create a health-conscious college campus, and develop a synergy among the UTPA community and its alumni.
"If you have good health, you have everything," he said. "That is what has driven us – that idea that our students deserve a place to exercise and to develop healthful habits."
Dr. David Prior, executive vice chancellor for Academic Affairs for The University of Texas System, who also attended the ceremony, said UTPA was blessed to have such a facility on its campus.
"A facility like this is an integral part of a University education. The wellness center will serve this campus in so many different ways. In fact it will enhance the quality of life for all our students and the community at large who participate here. It will become a focal point for students who gather here. It will transform student campus life for this particular university, but also it will be a great recruiting magnet for students who are looking at this university, and will see this as a wonderful facility," Prior said.
The goal of the 156,000-square-foot facility, located on the corner of Sugar Road and Schunior Street, is to promote recreation, health, fitness, and interaction among the UTPA community. The state-of-the-art facility provides students, staff and faculty numerous indoor and outdoor features including more than 10,000-square-feet of new weights and cardio equipment, a 34-foot climbing wall, a walking-jogging track, racquetball courts, indoor and outdoor basketball courts, aerobic studios with digital sound, outdoor tennis and sand volleyball courts, and an outdoor leisure pool with fountain, spa, and a lazy river.
The Student Health Center offers UTPA students the same types of services that can be found at their family doctor's office – general medical care as well as specialty clinics. At 7,450 square feet, the health center houses a new lab, a larger fully-licensed class D pharmacy, private waiting areas, and separate areas for check-ins and treatments. UTPA's Student Health Services is one of only six student health centers accredited in Texas by the Accreditation Association of Ambulatory Health Care (AAAHC), a national organization based in Chicago that accredits ambulatory health care organizations. It was also the first in The University of Texas System to hold the AAAHC accreditation.
The general contractor for the WRSC and the Student Health Center was Wilson Construction, while architects for the wellness center were F&S Partners and Solka, Nava Torno for the health clinic.
••••••
State representative hopeful Eddie Sáenz calls on NFL to drop plans to charge for TV broadcasts
By KELLY FERO
Eddie Sáenz, a Democratic state representative candidate for House District 40, which is anchored in Edinburg, has called on the National Football League to drop plans to charge exclusive subscription prices for certain televised games, leaving the vast majority of loyal fans in the dark.
"Football in South Texas is an important family affair," Sáenz wrote in a letter to NFL Commissioner Roger Goodell. "It is unfair to allow only a select few to see it."
Sáenz faxed his letter to Goodell on Tuesday, October 30, in response to an ongoing effort by the commissioner and other football executives to limit television broadcasts of certain games to subscribers of its new NFL Network.
"I am currently running for the Texas House of Representatives," Sáenz wrote in his letter. "If I am elected, one of the first bills I intend to file will try to guarantee access by the broadest audience to any televised NFL game."
Sáenz said South Texas represents a market of millions of consumers for the NFL's telecasts and products. This gives the region leverage in bringing pressure to bear on the league.
"It is an important function of government to ensure competition in the market," Sáenz said.
Sáenz is challenging Rep. Aaron Peña, D-Edinburg, for the legislative seat.
The Democratic Party primary election will be held on March 4, 2008.
House District 40 includes all but southwest Edinburg, La Joya and Sullivan City in western Hidalgo County, Edcouch, Elsa, La Villa, and San Carlos in eastern Hidalgo County, and northern Hidalgo County.
••••••
Verónica de Lafuente, former legislative liaison for Hidalgo County, named director of public affairs for private firm Hidalgo County Road Builders
The company selected by the Hidalgo County Regional Mobility Authority (RMA) to build a bypass loop in the county has selected Verónica de Lafuente to manage community outreach and public affairs for the project.
Hidalgo County Road Builders (HCRB) was granted an approximately $650 million contract by the RMA to construct a commercial loop to relieve congestion being caused by economic growth and the North American Free Trade Agreement.
"Veronica is the ideal person to reach out and educate the public about this project," said Gerry Pate, Managing Partner of HCRB. "She has a terrific background in politics and business and has long been active in the community. We chose a person for an important job who has great experience and who cares deeply about the future of Hidalgo County and the entire valley."
Before joining HCRB, de Lafuente had been involved in legislative affairs on various levels going back to 2002, including acting as a liaison for Cameron and Hidalgo counties on issues critical to the Rio Grande Valley.
She advised Cameron County Commissioners on matters of appropriation and legislation that were critical to their constituents while also advising on federal matters and important appointments to boards and commissions. De Lafuente was previously a legislative liaison for governmental affairs for Texas Southern University, and a legislative assistant for Rep. Joe Pickett, D-El Paso.
"I couldn't be more excited about this project coming to Hidalgo County," de Lafuente said. "This is a chance to be a part of not just solving the problem of truck traffic, but also planning for the future, and managing growth. The RMA and Hidalgo County Road builders will be doing some innovative things to show how a local community can take control of its own transportation and economic development destiny."
De Lafuente will begin meetings with community leaders, civic organizations and various associations as she begins to outline the loop, or truck bypass. RMA commissioners unanimously approved HCRB as the exclusive contractor to build the toll road, in part, because of innovative
funding mechanisms that reduce reliance upon the state for money.
Hidalgo County will be the first in the state to use a Tax Reinvestment Zone (TRZ) to pay for road construction. Recently approved by the Texas Legislature, the TRZ uses tax money generated from business growth prompted by the road's development to fund future road projects.
Hidalgo County Road Builders have also recently opened an office in McAllen at 801 West Nolana, Suite 205, which is where de Lafuente will be headquartered and where the initial components of the construction project will be managed. The company's phone number is 956/213-7283.
••••••
Justice Gina Benavides named Latina Judge of the Year by Hispanic National Bar Association
By EVELYN ESCAMILLA
The Hispanic National Bar Association recently selected Honorable Gina M. Benavides of Texas' 13th Court of Appeals as their Latina Judge of the Year. Benavides received the award on Friday, October 5, 2007 at the HNBA's 2007 Annual Convention in San Juan, Puerto Rico.
"My parents, especially my father, instilled in me an obligation to serve our community. Being a judge affords me the opportunity to give back for all I have been given," Benavides said. "For someone with my humble background to receive this honor from an organization that stands for so much, it truly takes my breath away. I want to thank HNBA, Jimmy Reyna and Benny Agosto for this honor."
This isn't the first time the Corpus Christi native has been recognized for her achievements in the courtroom. Benavides was named by Texas Monthly as a Super Lawyer in 2003 and 2004, a distinction bestowed upon her by her peers as being one of the best lawyers in the State of Texas. Less than 10 percent of all lawyers in Texas earn this distinction.
The 13th Court of Appeals sits both in Edinburg and Corpus Christi. Benavides hears cases in both courts assigned at random. Former HNBA President, Benny Agosto Jr. said Benavides is making a real difference for not only Latinos, but for all Texans.
"Justice Benavides didn't just complain about injustice before she became a Judge, she did something about it. As a jurist, now she provides justice to all the litigants that come before her at the Court of Appeals," Agosto said.
Benavides graduated from the University of Texas at Austin with a Bachelor in Business Administration. She then attended law school at the University of Houston Law Center and was admitted to the State Bar of Texas in 1988. She is the mother of two children, Daniella and Ricardo.
Before joining the 13th Court of Appeals, Benavides was a litigator with more than 17 years of courtroom experience. She spent the first half of her career working at Adams & Graham Law Firm in Harlingen.
As a primarily defense lawyer, Benavides tried more than 30 cases in the areas of toxic tort, products liability, commercial litigation and personal injury. After 12 years she joined the law firm of Gonzáles and Associates, Law Firm, where she continued her practice as a plaintiff's lawyer representing families. Benavides took the bench earlier this year in January of 2007.
The Hispanic National Bar Association (HNBA) is an incorporated, non-profit, national association representing the interest of over 33,000 Hispanic American attorneys, judges, law professors, and law students in the United States and Puerto Rico.
••••••
Sen. Cornyn questions decision to strip $3 billion from border security legislation
U.S. Sen. John Cornyn, R-Texas, the ranking member of the Immigration, Border Security and Refugees subcommittee, on Tuesday, November 7, urged Democratic leaders in Congress to restore $3 billion in funding for border security to the Department of Defense appropriations bill.
This funding was aimed directly at improving border security and enforcing existing immigration laws. It was added by the Senate on October 3 through an amendment supported by Cornyn, but was stripped from the bill during recent negotiations between House and Senate leaders.
"The principal responsibility of the federal government is the protection of our country and its citizens. Nowhere is that more critical than the security of our borders. Yet, for years, the federal government has stood by and done little to strengthen our broken borders or enforce our immigration laws," he said, adding:
"In fact, the failure of comprehensive immigration reform earlier this year can be tied directly to a lack of confidence by the American people that the federal government is serious about securing the border and enforcing our immigration laws.
"It is unconscionable that after the Senate overwhelmingly approved $3 billion in border security funding, the majority in Congress would strip it out behind closed doors. It is a needed and long overdue measure to secure our borders, regain public confidence and help our state and local officials who have been struggling to address this growing problem. I hope that my colleagues in the majority will re-think this decision and do what's right for America's security."
Cornyn cosponsored a similar funding amendment to the Department of Homeland Security appropriations bill in July, but with the President expected to veto that measure for unrelated reasons, Cornyn has made clear that it was imperative for this funding to be allocated as soon as possible.
••••••
Attorney General Abbott takes action to halt another Cameron County colonia development
Texas Attorney General Greg Abbott on Monday, November 5, announced legal action against a Cameron County rural housing project developer, whom he is charging with violating state colonia-prevention laws.
According to court documents filed by the Office of the Attorney General (OAG), Aurora Graham of Mercedes failed to install or bond sewer and water services on residential lots she sold in the Gallegos Subdivision, near Los Fresnos. The state also charged Graham with failing to obtain required plat approvals from local authorities.
"This defendant is charged with violating colonias prevention laws by illegally subdividing property without first obtaining approval from local authorities," Abbott said. "Texas law requires border-area developers to guarantee that basic water and sewage infrastructure will be installed before lots are sold to unsuspecting purchasers. We will continue investigating and prosecuting wrongdoers who violate colonias prevention laws."
According to the Attorney General's petition, which was filed in Travis County district court, Graham illegally subdivided a tract into 10 half acre residential lots without first obtaining the Cameron County Commissioners Court's approval. The local officials' approval is necessary to ensure that electrical utility service will be available on property and that the land is not situated in a flood-prone area.
An investigation by the Office of the Attorney General revealed that Graham already sold nine lots for about $13,000 each. The total value of these transactions exceeds $100,000. Today, most of the lots remain vacant because the subdivision lacks utilities. Purchasers interviewed by the OAG claimed they made $500 down payments to the defendant and continue to make $200 monthly payments, even though they have been unable to use the property.
According to state authorities, Graham's failure to build or bond water and wastewater infrastructure and her failure to obtain required approvals from local authorities violate numerous provisions of the Texas Local Government Code. She could face penalties of up to $15,000 for each lot sold. The Attorney General also seeks to prevent Graham from continuing to sell lots illegally and is asking the court to force her to either meet the necessary platting and infrastructure requirements or refund the purchasers' money.
In Texas, unincorporated residential subdivisions near the U.S.-Mexico border that lack adequate water and sewage services are commonly referred to as colonias. Most colonias lie outside city limits or in isolated areas of a county and lack even basic infrastructure and utilities.
Earlier this year, the Legislature passed a measure that provides the OAG with additional resources to prevent unlawful colonia developments. In mid-October, the Attorney General took legal action against Manuel Montemayor who, like Graham, was offering unapproved lots for sale in Cameron County. In 2006, Abbott concluded a similar case in Cameron County against Eric Solis, who sold lots in a colonia known as Toribio Estates. The Cameron County Engineering Department assisted the OAG in all three investigations.
Before purchasing residential property outside city limits, border area purchasers should check with county officials to confirm the property was legally subdivided and that the developer has made necessary arrangements to supply required infrastructure.
Consumers can file complaints with the OAG against developers or sellers who fail to provide water and wastewater services, or who subdivide land without first obtaining necessary county approval. Complaints can be filed on the Attorney General's Web site at http://www.oag.state.tx.us or by calling (800) 252-8011.
The Office of the Attorney General also maintains the state's Colonia Geographic Database, which offers geographic and descriptive data on more than 1,800 colonias. To access the database, or for more information regarding Attorney General Abbott's colonias-prevention efforts, visit the "Texas-Mexico Border" page on the Attorney General's Web site.
••••••
Stopping Crystal Meth in South Texas
By REP. JUAN GARCÍA
(D-Corpus Christi)
Crystal Methamphetamine, the insidious drug which has ravaged parts of our state, is sometimes referred to as 'crank', 'speed', 'ice', 'chalk', and 'zip'. The wildly addictive substance is smoked, snorted, orally ingested, and injected, and has cut a swath of destruction through many American communities.
Recent law enforcement reports describe a new variant which has hit the streets, referred to as "Strawberry Quick": Dark pink in color, strawberry scented, resembles "Pop Rocks" candy, and is clearly targeted at even younger children.
Meth varies from other drugs in that it requires no poppy seed, coca plant, or hemp harvest. Anyone with a high school chemistry set and access to the internet can cook up this witches' brew. Meth mixers will cut their concoction with anything: drain cleaner, rubbing alcohol, starter fluid, ammonia, coffee filters, crushed glass, even brake fluid.
But there is one necessary ingredient: Pseudoephedrine, a substance found in everyday cold and allergy medicine like Sudafed.
Which is why in August of 2005, the Legislature took steps to make obtaining this vital component more difficult.
"Prior to the ephedrine law, individuals were going to the stores and scooping the shelves clean," says Detective John Cottle, the Narcotics District Commander for Austin. Now anyone purchasing this medicine must show photo I.D., and is limited to 9 grams per month (the equivalent of two 15-dose boxes of Claritin-D).
This obstacle has had an impact: So far this year, there have been 33 meth labs seized across Texas; in 2002 the figure was 350. But the laws of economics remain fixed: an increasingly scarce supply has driven up price and demand (Cottle estimates that the price for an ounce of the substance has gone from as low as $850 to a high of $1600 in the past year).
Desperate addicts have become more aggressive to fund their habit, with a spike in car thefts, petty burglaries, and robberies. When funding for drug tasks forces (special units dedicated to enforcement, like the one that was so successful here in the Tri-County area), was diverted for Homeland Security, meth chemists set up camp in cheap motels and country flop houses in rural areas, where the toxic (and explosive) fumes from their mixing are harder to detect.
Because the Legislature did not include a centralized electronic database to track ephedrine purchases (logs are kept on paper), it has proven difficult for law enforcement personnel to cull the information across large counties, much less the whole state.
Entrepreneurial meth dealers will travel from town-to-town, maxing out their allotted purchase at each stop. We need statewide a "Meth-Check" system, like that utilized in Kentucky, requiring purchasers to swipe their driver's license or state-issued I.D. card, allowing detectives to track an individual purchaser across a region, and also detect a dealer's efforts to enlist others in an area to purchase the pseudoephedrine for him.
Kudos to the CVS drug store chain, which will voluntarily install Meth-Check in all 6,200 of its stores by the end of this calendar year. Wal-Mart is also working on its own similar system.
We need to employ technology to cut off this bane before it claims another young South Texan.
(García's district includes San Patricio, Aransas and Calhoun counties and part of Nueces County. Contact his office at [email protected]).
••••••
Attorney General Abbott urges top lenders, loan servicers to address growing housing crisis
Texas Attorney General Greg Abbott on Tuesday, November 6, proposed a series of foreclosure prevention measures to four home mortgage lending and residential loan servicing companies. At a meeting convened Monday, November 5, by the Office of the Attorney General, mortgage industry leaders were asked to implement several important measures that are designed to prevent Texans from losing their homes to foreclosure.
By the end of next year, approximately $600 billion worth of subprime adjustable-rate mortgages are expected to increase homeowners' monthly payments nationwide. During yesterday's meeting, Citigroup, HSBC, Wells Fargo and Chase were urged to implement several measures designed to preserve homeownership in Texas, improve consumer communication, and resolve complaints.
"Mortgage lenders, loan servicers, and public officials must work cooperatively on behalf of Texas homeowners who are affected by the looming housing crisis," said Abbott. "Because of the housing industry's tremendous economic impact, resolving this issue is important to the Texas economy's continued growth and expansion. We believe that the proposals laid out in our meeting offer real solutions that will help keep Texans in their homes."
Abbott outlined five measures that lenders and loan servicers should implement to restore borrowers' financial stability and reduce foreclosures in Texas:
• Provide long-term solutions for borrowers with adjustable-rate mortgage loans (ARMs). Mortgage companies should consider easing homeowners' mortgage-related burdens by converting adjustable-rate loans into fixed-rate products. Many ARM loans have already adjusted and pushed countless consumers into the foreclosure process. Because of high foreclosure costs, this proposal benefits lenders, loan servicers and homeowners.
• Mitigate first, collect second. Under the protocols currently used by most lenders, homeowners who have difficulty making payments receive expedited referral to the collection process, which is often antagonistic and intimidating. Attorney General Abbott encouraged companies to engage homeowners before sending a case to collections by reviewing each case in a non-confrontational setting and exploring solutions, the chances of a debtor repaying their obligations increases.
• Create an in-house resolution committee to address consumer complaints. Attorney General Abbott urged Monday's participants to dedicate in-house staff to immediately address consumer complaints received by the Texas Office of the Attorney General (OAG) and report promptly to the OAG on the status of those complaints.
• Improve communication with consumers. While many companies have adjusted their protocols and are engaging consumers who face imminent foreclosure, Attorney General Abbott recommended that companies improve their communication efforts. The attorney general also encouraged the companies to contact consumers well before ARMs reset to higher interest rates so that fixed-rate options can be explored.
• Waive applicable penalties and fees. Attorney General Abbott urged lenders and loan servicers to waive penalties and late fees associated with loans at risk of foreclosure while the companies work with troubled consumers to preserve their loans.
Abbott also requested that Monday's participants follow up with the OAG within 30 days on their implementation of these five measures. Specifically, he wants to know the percentage of ARMs that were converted to fixed-rate loans and the number of service fees that were waived.
In October, Abbott made the same proposals during a meeting with Countrywide Mortgage, Houston-based Litton Loan Servicing and Dallas-based EMC Mortgage.
Protecting Texas consumers is one of Abbott's top priorities. Under the Deceptive Trade Practices Act, the OAG has prosecuted a variety of deceptive loan practices, including title-related scams, fraudulent refinancing ploys, and other mortgage-related fraud.
Earlier this year, the OAG obtained $21 million in restitution for Texans harmed by lending giant Ameriquest Mortgage Co.'s deceptive lending practices. The settlement resolved allegations that Ameriquest and its affiliates did not adequately disclose certain terms to homeowners, including whether loans carried fixed or adjustable rates. According to court documents filed by the OAG, Ameriquest also charged excessive origination fees and prepayment penalties, refinanced borrowers into improper loans and inflated appraisals that qualified borrowers for loans.
In 2006, Abbott negotiated a landmark agreement with Green Tree Servicing L.L.C., a Minnesota-based firm that services manufactured housing debts in Texas. Under the settlement, Green Tree agreed to assist more than 1,200 Texas homeowners who may have been issued invalid titles to homes they purchased from more than 115 unlicensed retailers in 2003. In a related move, the Attorney General secured an injunction and asset freeze against the unlicensed sellers. The Office of the Attorney General has also halted scams purporting to save homeowners' properties from condemnation. It has also cracked down on various title-related and refinancing scams.
To better assist Texans who are considering a mortgage loan, Attorney General Abbott recently added new online resources to the agency's Web site (http://www.oag.state.tx.us). The new Web page, "Avoiding Home-Buying Pitfalls and Scams," provides consumers with guidelines about the home-buying process as well as other helpful information. The Web page also provides tips on recognizing "foreclosure rescue" scams, equity-stripping schemes and other refinancing pitfalls. Consumers who believe they have been targeted by a mortgage-related scam should contact the Office of the Attorney General at (800) 252-8011.