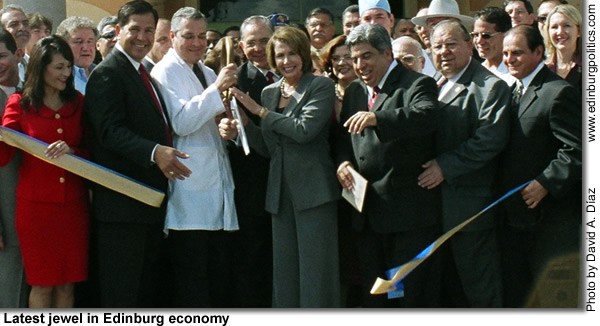 Only the appearance in Edinburg of Congresswoman Nancy Pelosi, D-San Francisco, the highest ranking elected woman in American history, could take attention away from the grand opening of the latest treasure in the city's economy – the $67 million Women's Hospital at Renaissance. Pelosi, the Speaker of the U.S. House of Representatives, helped draw hundreds of area residents, hospital leaders, and other political figures to the Thursday, September 27 ribbon-cutting event at the 200,000-square-foot, state-of-the-art medical complex, located in southwest Edinburg at 5502 South McColl. Featured during the ribbon-cutting, from left, were: Rep. Verónica Gonzáles, D-McAllen; Rep. Ismael "Kino" Flores, D-Palmview; Dr. Carlos J. Cárdenas, chairman of the board of Doctors Hospital at Renaissance; Congressman Ruben Hinojosa, D-Mercedes; Pelosi; Rep. Aaron Peña, D-Edinburg; Pharr Mayor Leo "Polo" Palacios; and Edinburg Mayor Joe Ochoa. See story later in this posting.
••••••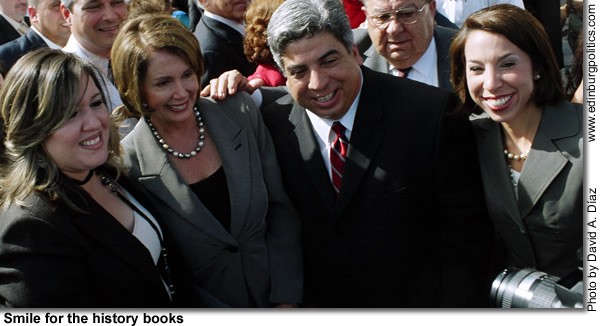 U.S. Speaker of the House Nancy Pelosi, D-San Francisco, featured second from right, poses for a portrait taken on Thursday, September 27, with Rep. Aaron Peña, D-Edinburg, along with Blanca Cárdenas, McAllen Chamber of Commerce, and Marissa Castañeda, Chief Operations Officer for Doctors Hospital at Renaissance. Pelosi, the first woman Speaker of the U.S. House of Representatives, was in Edinburg that morning to help celebrate the grand opening of the $67 million Women's Hospital at Renaissance. Pelosi is the first U.S. Speaker of the House in office to visit the three-time All-America City. See story later in this posting.
••••••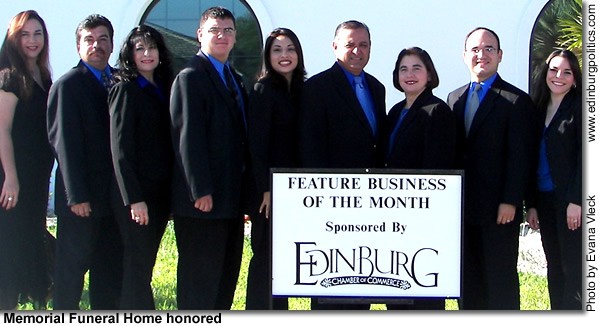 Memorial Funeral Home, located at 208 E. Canton Road, has been selected as the Small Feature Business of the Month by the Edinburg Chamber of Commerce. Leon and Velma de León, shown fourth and third from the right, "are small business owners who believe in making a contribution in the communities they serve," said Elva Jackson Garza, vice-chair of membership for the local chamber. "Not only do they support the various programs and events sponsored by the Edinburg Chamber of Commerce, but they take it to the next level by actively participating personally." Featured in this portrait, from left, are: Melissa Rodríguez, representing the Edinburg Chamber of Commerce; David Rubio; Paula Ysquierdo; Martín Ortíz; Verónica Moreno, funeral director; Leon De León, owner/funeral director; Velma De León, owner/funeral director; Lee Castro, funeral director and vice-chair of tourism for the Edinburg Chamber of Commerce; and Illiana Aldrete.
••••••
Mikhail Gorbachev coming to Edinburg on October 9, Robert F. Kennedy Jr. scheduled for November 14
Former president of the Soviet Union and Nobel Peace Prize winner Mikhail Gorbachev will kick off this year's Distinguished Speakers Series at The University of Texas-Pan American Tuesday, October 9.
Gorbachev will speak at the UTPA Fine Arts Auditorium at 7:30 p.m. The free event is open to the public but seating is limited. UTPA students, faculty and staff will be admitted with a valid University ID at 7 p.m. while the general public will be allowed to enter at 7:20 p.m.
He served as leader of the Soviet Union from 1985-1991. Gorbachev is world-renowned and admired for streamlining and decentralizing the oppressive system he inherited. In an effort to secure relations with the West, Gorbachev signed two broad disarmament pacts, and ended Communist rule in Eastern Europe. He taught the world two new words: perestroika (governmental restructuring) and glasnost (political openness). As a result of his extraordinary achievements, Gorbachev was the recipient of the 1990 Nobel Peace Prize, the Orders of Lenin, the Red Banner of Labor, and the Badge of Honor.
The Distinguished Speakers Series is underwritten by student fees, the Student Union, and the Office of the President. A Distinguished Speakers Series Committee made up of students, faculty and staff chooses the speakers.
Named one of Time Magazine's "Heroes for the Planet," Robert F. Kennedy Jr. will serve as the next Distinguished Speaker Nov. 14, 7:30 p.m. at the Fine Arts Auditorium. His visit will coincide with UTPA's International Week, Nov. 12-16, where he is expected to discuss the topic of "Our Environmental Destiny."
For more information or if special accommodations are needed, contact the Student Union office at 956/316-7989.
••••••
U.S. Speaker Pelosi applauds women's hospital, impressed by area's focus on health, science
By DAVID A. DÍAZ
Only the appearance in Edinburg of Congresswoman Nancy Pelosi, D-San Francisco, the highest ranking elected woman in American history, could take attention away from the grand opening of the latest treasure in the city's economy – the $67 million Women's Hospital at Renaissance.
Pelosi, the first female Speaker of the U.S. House of Representatives, helped draw hundreds of area residents, hospital leaders, and other political figures to the Thursday, September 27 ribbon-cutting event at the 200,000-square-foot, state-of-the-art medical complex, located in southwest Edinburg at 5502 South McColl.
She was the featured guest – and keynote speaker – who came to Edinburg at the request of U.S. Congressman Rubén Hinojosa, D-Mercedes. Before arriving for the 10 a.m. event at the new hospital, Pelosi spoke to hundreds of students at the University of Texas-Pan American's sixth annual Hispanic Engineering, Science & Technology Week, known as HESTEC.
On January 4, 2007, Pelosi was elected to serve as Speaker, becoming the first woman, the first Californian, and the first Italian American to hold the position.
"My mother always used to say, 'If you don't have your health, you don't have anything.' That is a concern on a national level, in terms of public policy. That is why we have made health care a premier issue in our new Congress, and in our new direction in Congress," Pelosi told the gathering at the hospital. "That is why I am absolutely delighted to see this manifestation of concern for the health and welfare of people in this community, regardless of income station or affliction."
Pelosi linked the advent of the new hospital to HESTEC, observing that the Valley continues to advance on many different levels, and those developments help the entire nation.
"It is a pleasure for me to be here, pleasure to be here in this dynamic area, in South Texas, where the focus is on science, health, and technology," she said. "I'm so privileged to be here in this beautiful community."
Visit to pay dividends
Sen. Juan "Chuy" Hinojosa, D-McAllen, was part of the Edinburg state legislative delegation that greeted Pelosi at the hospital.
He said her visit to Edinburg and Hidalgo County was as important as it was unprecedented.
Her trip to Edinburg "shows our growth, economically, politically, in terms of being able to get, for the first time, the U.S. Speaker of the House to visit our area," Sen. Hinojosa said. "It's important that the key leadership in Washington, D.C. knows our area, visits our area, gets a feel for our area, f0r when they consider policies and debate legislation that impact us, particularly immigration reform and the border wall."
The Speaker of the House of Representatives is elected by his or her fellow members to preside over the House. The Speaker typically maintains three roles, as the representative for his or her district, as a leader of his or her party, and as the leader of the House as a whole. The party that holds a majority of the seats in the House will generally elect a representative of their own party to serve as Speaker.
In addition to Congressman Hinojosa and Sen. Hinojosa (no relation), other elected leaders in attendance included Edinburg Mayor Joe Ochoa; state Reps. Aaron Peña, Jr., D-Edinburg; Verónica Gonzáles, D-McAllen; Ismael "Kino" Flores, D-Palmview; and Juan Escobar, D-Kingsville; Pharr Mayor Leo "Polo" Palacios; and McAllen City Commissioner Jim Darling.
Pelosi said she was impressed with Edinburg and the Valley.
"Let me say that I am the first sitting speaker to ever visit this region, and what an honor that is for me. It's when you get off the plane, you know that you are in a very special place – a place that is invigorated by the diversity of the community, a place that loves its country, a place that is very patriotic, and that makes a great contribution to the strength of our country," Pelosi said. "That strength is defined in many ways – it is also measured in the health and well-being of our people. That is a national security issue as well as a personal fulfillment issue."
Revolutionize women's health care
The Women's Hospital at Renaissance is one of only 17 freestanding women's hospitals in the U.S., according to Mario Lizcano, Director of Marketing, and is designed to revolutionize the way health care is delivered to South Texas, on behalf of women of all ages, including labor and delivery of children, neonatal intensive care, and newborn nursery services.
"The hospital has been designed and furnished to provide the highest level of comfort and privacy, every room is private and spacious," Lizcano noted.
Other services offered by the new hospital include general and outpatient surgery, such as hysterectomy, removal of ovarian cysts/tumors, treatment of endometriosis, and other procedures.
The facility will have a significant positive economic impact for Edinburg, said Ochoa.
"An additional 1,000 jobs will be created with an average hourly rate of $22.50, and local governments in Edinburg will receive an estimated $1.9 million in local property taxes every year," Ochoa said.
The city has played a direct role in bringing the Women's Hospital at Renaissance – and the equally impressive Doctors Hospital at Renaissance located across the street – in many different ways, Ochoa said, ranging from securing money to expand McColl Road to helping provide other key infrastructure, such as water/wastewater lines, needed to make such a large hospital system a reality.
Serve the poor
Former Mayor Richard García, who now serves as president of the Edinburg Economic Development Corporation – the jobs-creation arm of the Edinburg City Council – said the new hospital will serve women and families from all walks of life.
The EEDC is governed by a five-member board of directors, which also includes Ochoa, along with Fred Palacios, Mike Govind, and Dr. Glenn A. Martínez, Ph.D.
"Women's Hospital at Renaissance has publicly committed to provide increased local access to quality, high-tech affordable health care for all stages of a woman's life, and for all newborns," García said.
García noted that, according to hospital leaders, 70 percent of patients treated will qualify for Medicaid, and 20 percent of patients treated will qualify for Medicare.
Hospital officials said they will probably provide up to $2.5 million in indigent health care per year.
Pelosi was evidently moved by the invocation delivered earlier that morning by Monsignor Gustavo Barrera, who invoked the Biblical passage where Jesus Christ admonished people to look after the poor.
"Faith and science must work together; I believe in the power of prayer, I believe in the effectiveness of science, and I see in this community very, very obvious manifestations of both," she said.
"However, Christ said it – it was clearly a call to action: when we do for the least of Christ's brethren, we do for him," Pelosi reflected. "We must remember that. That's why when I toured the hospital and received a presentation this morning, the one word that just kept coming to my mind was 'respect' – respect for the needs of all the people who need to be served in this community."
Throughout her remarks, Pelosi made references to America numerous times, and as she was wrapping up her presentation, she addressed Ochoa, who during his administrations has led the community to two prestigious All-America City titles.
"I know, Mayor Joe Ochoa, you want me to say, 'Edinburg, the All-America City,'" Pelosi told a pleasantly-surprised mayor.
Then she drew her loudest applause and cheers when she explained how she knew how to push the right political buttons for the mayor:
"We have to read minds," she proclaimed with humor. "That's why I'm Speaker."
••••••
Defense lawyer says Eddie Sáenz will be cleared of DWI charge
By DAVID A. DÍAZ
Eddie Sáenz of Edinburg, who is challenging Rep. Aaron Peña, D-Edinburg, for the March 4 Democratic Party primary nomination, will be cleared of a DWI charge stemming from a September 22 incident in Mission, says his attorney, Ric Salinas.
Sáenz, 47, was formally charged with driving while intoxicated at a Thursday, September 27 afternoon public hearing before Mission Municipal Court Judge Jonathan Wehrmeister.
Sáenz, a civil engineer, was released on a $5,000 personal recognizance bond.
Sáenz' attorney, who is a son of Mission Mayor Norberto Salinas, told reporters after his client's court hearing that he expects to clear Sáenz of the charge.
"I have reviewed some of the documents so far, and I think there is a real question whether or not he was driving under the influence of alcohol," Salinas told XRIO Cable 6, the local FOX News affiliate. "But at this point, I have the utmost confidence that we will be successful."
Sáenz, who filed for the House District 40 state representative seat several weeks ago, did not issue any statements.
Sáenz' top campaign strategist, Kelly Fero of Austin, said both men were under instructions from attorney Salinas to remain silent.
"I apologize that we have no statement at this time on advice of counsel," Fero said Friday, September 28. "I know it's been frustrating for you and others that neither Eddie nor I have been able to say anything this week. Believe me, it's frustrating for us, too."
House District 40 includes all but southwest Edinburg, La Joya and Sullivan City in western Hidalgo County, Edcouch, Elsa, La Villa, and San Carlos in eastern Hidalgo County, and northern Hidalgo County.
Also quiet has been Peña, himself an attorney, who has issued no public reaction.
Instead, much of the Valley press has been the entity delivering, in many cases, punishing shots of negative publicity at Sáenz.
The penalties for DWI in the state range from a misdemeanor to a felony, depending on whether a person has been convicted for DWI in the past.
There is no indication that Sáenz, a public figure who has run for state representative before, has ever been convicted for DWI.
In Texas, a first-time DWI is a Class B misdemeanor, which can result, upon conviction, of up to six months in the county jail and a fine up to $2,000.
A second DWI is a Class A misdemeanor, with the penalties going up to as much as one year in the county jail and up to a $4,000 fine.
A third DWI is a third degree felony, which can result in up to 10 years in prison and up to a $10,000 fine.
A conviction for any of these also carries a mandatory driver's license suspension of at least a year.
A motorists driver's license is also automatically suspended for refusing to take a breathalizer test requested by police.
In Texas, a person is legally intoxicated and could be arrested and charged with DWI with a .08 BAC (blood or breath alcohol concentration).
According to the Mission police report prepared by investigator Art Hernández, Jr., Sáenz was driving on 2200 East 495 when he was spotted by Mission police officer J. Pérez, who said Saenz failed to signal a lane change.
The Mission police officer turned on his patrol car's emergency lights and instructed Sáenz to pull his vehicle over.
"Ofc. Pérez then made contact with the driver, who he identified as José Eduardo Sáenz," the investigator's affidavit continued. "Ofc. Pérez could detect a strong odor of an alcoholic beverage emitting from Sáenz' breath."
In Hernández' affadivit, Pérez reportedly said Sáenz agreed to take a series of field sobriety tests, which Pérez said Sáenz performed "poorly."
Pérez then placed Sáenz under arrest and took him to the Mission Police Department, where Sáenz was read his DWI statutory warnings, and asked to submit to a breath test, which Sáenz refused.
In almost all cases, defense attorneys say a person brought in on suspicion of DWI should never provide any breath test or body fluid sample without consulting them first, and that an attorney should always be present prior to answering any questions or taking any tests.
••••••
Elsa Mayor Castillo, former Elsa mayors Barco, Madrigal endorse Eddie Sáenz for District 40 post
By KELLY FERO
Elsa Mayor Senovio Castillo and former Elsa mayors Tony Barco and Gregorio Madrigal on Monday, October 1, called on voters to join them in backing Democratic challenger Eddie Sáenz in his race for House of Representatives District 40, saying that the successful businessman and hospital chief has the skills needed to help meet the challenges of providing basic public services to the residents and taxpayers and of the Delta Region.
Sáenz is facing Rep. Aaron Peña, D-Edinburg, in the March 4 Democratic Party primary election. So far, there are no other candidates seeking that legislative seat.
House District 40 includes all but southwest Edinburg, La Joya and Sullivan City in western Hidalgo County, Edcouch, Elsa, La Villa, and San Carlos in eastern Hidalgo County, and northern Hidalgo County.
"Eddie brings the best of the past and the best of the future to this campaign," Castillo said. "He shares our values and traditions, and he understands our hopes for a state representative who will be our partner in bringing new energy and infrastructure to our area."
Former Mayors Barco and Madrigal agreed.
"It's not about playing politics in Austin but about being committed enough to our community to be here when we need him," Barco said. "We need new resources, new programs, and a new direction in the Texas House."
"The people of the Delta Region work hard," Madrigal said. "We need a state representative who works hard, too."
Sáenz welcomed the Elsa endorsements, which follow on the heels of Edinburg Mayor Joe Ochoa's announcement last week that he too is supporting the challenger in next March's Democratic primary.
Owner and chief executive officer of one of South Texas' leading civil engineering firms, Sáenz has earned a reputation helping cities, school districts, and other public entities improve their operations and basic services.
Sáenz is also chairman of the Board of Governors of the Edinburg Regional Medical Center and Edinburg Children's Hospital, an award-winning network of acute-care hospitals specializing in children's care and cardiovascular health. He also served as chairman of Avance, a non-profit organization whose focus is to strengthen families. Avance helped initiate the CHIP enrollment process in the valley.
Sáenz is a former chairman of the Edinburg Chamber of Commerce, the Texas Border Infrastructure Coalition Transportation Committee, and the Edinburg 2020 Action Committee. A graduate of McAllen High, he earned his degree in civil engineering from the University of Texas at Austin in 1982. He is a member of the National Society of Professional Engineers, the American Society of Civil Engineers, and the Texas Society of Professional Engineers. He and his wife, Sandra, and their 16-year-old daughter live in Edinburg.
••••••
Rep. Peña named by Speaker Craddick to legislative panel on toll roads
By ALEXIS DeLEE
Speaker Tom Craddick, R-Midland, on Thursday, September 27, announced the appointment of Rep. Aaron Peña D-Edinburg, Rep. Larry Phillips, R-Sherman, and Rep. Wayne Smith, R-Baytown to the Legislative Study Committee on Private Participation in Toll Projects, which will study the implications of allowing comprehensive development agreements between toll project entities and private companies that would permit the private companies to operate and collect revenue from the toll project.
"This session, the issue of toll roads built with private equity became a matter of much concern among the legislature and the general public," Craddick said. "It is my hope that this committee will come up with substantive recommendations so that we can resolve conflicts on this issue."
The committee will also study the implications of selling an existing and operating toll project to a private entity.
The committee will consist of nine members. The governor, the lieutenant governor and the speaker each appoint three members to the committee. A presiding officer will be elected from among the committee's own members. The committee will report its findings and recommendations to the legislature by December 1, 2008.
Gov. Rick Perry and Lt. Gov. David Dewhurst have yet to announce their appointees.
"After the remaining appointments are made I am expecting a series of public hearings in order to seek public input on the direction of Texas policy," Peña said. "I would invite comments from the general public on this important issue."
••••••
Edinburg's August 2007 jobless rate drops below five percent
By DAVID A. DÍAZ
Edinburg's jobless rate, which is a key indicator of the strength of the local economy, in August 2007, dropped under five percent, an improvement from July 2007, and representing the addition of 556 jobs since August 2006.
The latest numbers were released by the Edinburg Economic Development Corporation, which is the jobs-creation arm of the Edinburg City Council.
The EEDC's five-member governing board includes Mayor Joe Ochoa; former Mayor Richard García, who is president of the EEDC board of directors; and Fred Palacios, Mike Govind, and Dr. Glenn A. Martínez, Ph.D.
Edinburg reported an unemployment rate – also known as the jobless rate – of 4.9 percent in August 2007, compared with 5.8 percent in July 2007.
In August 2006, Edinburg's jobless rate was 5.9 percent, while in August 2005, Edinburg's unemployment rate was 5.1 percent.
The latest figures place Edinburg with the second-lowest jobless rate among major Valley cities for the month of August 2007.
Only McAllen, at 4.3 percent, registered a lower unemployment rate in August than Edinburg.
With the exception of the July 2007 level, Edinburg has posted either the lowest, or second-lowest jobless rate in the Rio Grande Valley each month this year.
Among the Valley's largest cities, Weslaco in August 2007 posted a 6.5 percent jobless rate, followed by Brownsville with a 5.6 percent jobless rate, while Mission and Pharr registered 5.1 percent and 5.3 percent jobless rates, respectively.
Harlingen had the third-lowest jobless rate among Valley cities in August 2007 at 5 percent.
The jobless rate is the number of persons unemployed, expressed as a percentage of the civilian labor force.
The civilian labor force is that portion of the population age 16 and older employed or unemployed. To be considered unemployed, a person has to be not working but willing and able to work and actively seeking work.
Between August 2005 and August 2007, Edinburg has seen an increase of 1,066 jobs, according to the Texas Workforce Commission.
In August 2005, there were 25,622 people employed in Edinburg.
In August 2006, there were 26,132 people with jobs in the three-time All-America City.
In August 2007, there were 26,688 people employed in Edinburg.
Those levels represent some of the lowest unemployment rates and the largest numbers of people employed in the city's history.
In 2006, the annual jobless rate for Edinburg was 5.3 percent, while in 2005, the annual jobless rate for Edinburg was 4.7 percent.
McAllen's jobless rate of 4.3 percent in August was an improvement over its 5 percent jobless rate in July.
The same trend was seen for Hidalgo County, with the jobless rate for all cities in the county averaging 6.1 percent in August 2007, compared with 7.2 percent in July 2007.
The state's jobless rate in August averaged 4.2 percent. The U.S. unemployment rate in August was 4.6 percent.
The monthly breakdown of the city's jobless rate in 2007 follows:
In August, the jobless rate in Edinburg was 4.9 percent.
In July, the jobless rate in Edinburg was 5.8 percent.
In June, the jobless rate in Edinburg was 5.5 percent.
In May, the jobless rate in Edinburg was 4.4 percent.
In April, the jobless rate in Edinburg was 4.3 percent.
In March, the jobless rate in Edinburg was 4.4 percent.
In February, the jobless rate in Edinburg was 4.8 percent.
In January, the jobless rate in Edinburg was 4.9 percent.
Statewide, the jobless rate also improved in August.
According to the Texas Workforce Commission:
The Texas seasonally adjusted unemployment rate fell to 4.2 percent in August, down from last month's 4.4 percent, and down significantly from 4.9 percent a year ago.
Seasonally adjusted nonagricultural employment in Texas grew by 10,400 jobs, remaining strong, despite the U.S. economy's loss of 4,000 jobs this month. Texas employers have added 229,000 jobs in the past year.
"Our strong Texas economy continues to surpass national trends, with employers adding jobs statewide again this month," said Texas Workforce Commission (TWC) Chair Diane Rath. "At 4.2 percent, the Texas unemployment rate continues to hover at 30-year record lows and remains well below the national unemployment rate of 4.6 percent."
The Midland Metropolitan Statistical Area (MSA) experienced the lowest unemployment rate in the state at 2.8 percent (not seasonally adjusted). The Amarillo and Odessa MSAs tied for second at 3.3 percent.
The Service Providing sector showed the largest gains. Professional and Business Services showed significant gains of 5,500 jobs, after a banner July, when the industry added 7,300 positions. This industry now stands at a solid 5.1 percent annual growth rate, bringing 62,100 jobs to the Texas economy over the past 12 months. Government jobs also contributed to the state's economic health, adding 6,800 positions in August.
"Employers are adding jobs in a wide variety of industries and I'm particularly encouraged by the strong showing in the Service Providing sector," said TWC Commissioner Representing Employers Ron Lehman. "Texas' annual job growth rate now stands at 2.3 percent, well-above the national rate of 1.2 percent."
Leisure and Hospitality added 3,500 jobs, following an increase of 1,300 jobs in July, representing an annual growth rate now at 4.4 percent. Natural Resources and Mining increased by 1,600 jobs this month and added 16,500 jobs over the year showing a strong annual growth rate of 8.8 percent. Education and Health Services created another 1,600 jobs this month, adding to July's tally of 2,800 positions.
"There are 229,000 more jobs in Texas as compared to this time last year," said TWC Commissioner Representing Labor Ronny Congleton. "Our state offers many opportunities to Texans seeking jobs."
••••••
Edinburg keeps same city property tax rate for the 13th consecutive year
By DAVID A. DÍAZ
The city property tax rate will remain the same for the 13th consecutive year – 63.5 cents per $100 assessed valuation – following action taken on Thursday, September 27, by the Edinburg City Council.
The city property tax rate is a formula used to determine how much taxes local residents must pay on their homes and businesses to help cover the costs of running the city government.
The city government generates money from various sources, including city property taxes, local sales taxes, state and federal grants, fees, and other resources.
With more than $152 million in new homes and commercial properties added this year to the city's tax base, the Edinburg City Council was able to keep the city property tax rate at the same level and still raise enough money to pay for city government services and projects in the new 12-month fiscal year, which runs from October 1, 2007 through September 30, 2008.
The city property tax rate was approved on a 3 – 0 vote, with Mayor Joe Ochoa and Councilmember Gus García excused on important business. Mayor Pro Tem Alma Garza, Councilmember Noe Garza (no relation), and Councilmember Gene Espinoza voted for the city property tax rate.
Adoption of the city property tax rate means that a resident whose home or business building is valued – after claiming all eligible city tax breaks – at $50,000, that resident would get a property tax bill later this fall from the city government for $317.50.
For the owner of a home or business building whose taxable value was $100,000, the tax bill from the city government would be $635.
The owner of a home or business building whose taxable value was $30,000 would get a tax bill from the city government for $190.50.
According to the city's notice on the new property tax rate, the average taxable value of a home in Edinburg this year is $87,556, compared with $76,396 last year.
Those averages do not include the primary homes of several thousand Edinburg residents who are 65 years of age or who are physically-disabled. State and city laws require the city government to reduce the taxable value of their homes.
Other highlights of the growth of property values in Edinburg include:
• The total appraised value of all property in Edinburg, including churches, government, public schools, and the University of Texas-Pan American, from which the city government does not collect property taxes, is $2.9 billion for the current tax year, compared with more than $2.5 billion the previous year;
• More than $203 million in new property was created in Edinburg in the current tax year, compared with more than $350 million in new property in the previous year; and
•The total appraised value of new taxable properties in Edinburg this year is estimated at almost $152 million, compared with more than $160 million the previous year.
••••••
Hidalgo County Judge Salinas elected to help lead Conference of Urban Counties
By CARI LAMBRECHT
Hidalgo County Judge J.D. Salinas III on has been elected by his peers to the Conference of Urban Counties executive committee this week, giving South Texas a strong voice in matters such as indigent health care and statewide transportation issues.
The announcement was made on Friday, September 28.
Beginning January 1, he will serve as Vice Chair of Administration. Salinas' specific responsibilities include approving minutes and record keeping for the 34-county group, which represents the counties containing more than 80 percent of the states' population.
All officers of the association also participate in Board of Directors' meetings, held weekly when the Texas Legislature is in session and monthly in the interim, and in the strategic planning meetings for the association.
"It is an honor to be elected to the executive committee of such a prestigious group. I will represent Hidalgo County and all of South Texas to the best of my ability and make sure that issues important to us are heard," Salinas said.
Urban County officers are elected during the autumn of odd numbered years and serve 2-year terms. Judge Salinas also serves on the CUC's policy committee.
The Conference of Urban Counties was formed in 1974 by the state's six most populous counties — Harris, Dallas, Tarrant, Bexar, El Paso and Travis. The group advocates at the state level on behalf of urban counties and helps develop policy initiatives in member counties. Member counties receive many benefits, including technology discounts.
••••••
New Texas program to protect victims of domestic violence
By SEN. EDDIE LUCIO, JR.
October marks Domestic Violence Awareness Month. As a staunch believer that an ounce of crime prevention is worth a pound of safety, I authored a bill this past session giving victims of this and similar criminal acts a legal avenue to keep their residential, business and/or school addresses out of public record.
Through the leadership and tenacious efforts of Rep. Verónica Gonzáles, D-McAllen, and Rep. Ryan Guillen, D-Rio Grande City, on the House side, we passed Senate Bill 74 that creates an Address Confidentiality Program (ACP).
Currently 30 other states have implemented some type of confidentiality program. Our bill directs the Office of the Attorney General (OAG) to assist eligible victims of family violence, sexual assault or stalking by allowing them to use a substitute post office box address in lieu of a physical address so their assailants won't locate them.
Participants will also be able to use pseudonyms. The pseudonym would be incorporated into all public files and records concerning the offense, including police reports, press releases and records of judicial proceedings.
To apply, a person must first meet with a victim's assistance counselor, file an application with the OAG's office, and designate the OAG's office as the chosen mail routing designee to conceal the physical address from an assailant. Enrollment lasts three years, but may be renewed as necessary.
I encourage victims of abuse, especially serious domestic violence, to apply for this program. The ability to conceal their identities for many can mean the difference between living and dying. This presented a problem during the first years I tried passing this bill, because these individuals could not openly advocate for themselves. Fortunately, our advocacy groups came through and we prevailed this time.
As a Cameron County advocate, Ms. Lillie Champion, executive director of Friendship of Women, Inc., expressed her gratitude for Senate Bill 74. She says, "This will impact victims of abuse in our country tremendously. There has been an urgent need to have victims' addresses protected because our experience has been that even when there is a protective order…, the perpetrator will ignore this out of anger and…get the address information from the victim through public records."
The need to conceal identities remains critical. Nationwide, more than a million women and nearly 400,000 men are stalked annually, and one in 12 women and one in 45 men will be stalked in their lifetimes. Of those women who have been killed by an intimate partner, 76 percent were stalked by that partner in the year before their deaths. Additionally, 81 percent of women stalked by a current or former intimate partner are eventually physically assaulted by that individual.
Unfortunately the passage of this legislation came too late for many. In 2006, 120 women died from domestic violence in this state. Two of these victims were from Cameron County and three from Hidalgo County. While not foolproof, an ACP can be the hinge that closes the door to a stalker or potential killer, especially in cases of domestic violence, which often escalates when victims leave the relationship and seek a new residence.
Ms. Estella De Anda, executive director for Mujeres Unidas in McAllen, sees this new program as one that "will make a tremendous difference to the many women and children attempting to start a new life away from the violence, especially in the small communities we serve in South Texas."
ACPs don't just protect adult victims, but children as well. For example, in the state of Washington, 60 percent of their ACP participants are children. Limiting or ending exposure to dangerous behaviors can break the cycle of abuse for youngsters because they may become less inclined to use or tolerate violence when facing conflict.
Those dedicated to ending this type of abuse are to be saluted on behalf of the victims of these crimes. Our local professionals and volunteers, as well as our law enforcement officers, endeavor almost daily to protect victims of domestic violence and assist those trying to escape it.
During the years I spent trying to pass Senate Bill 74, I spoke with women relocated across the country hoping to return to Texas, but feeling unsafe because we lacked a program that offered address privacy. Now many can of them can come back home! I encourage South Texans to support Texas' new Address Confidentiality Program.
••••••
Attorney General Abbott launches school safety initiative to protect Texas students
As the state's chief law enforcement official, Texas Attorney General Greg Abbott on Tuesday, September 25, called for new safety measures designed to protect students from school violence.
Abbott, whose office serves on the Texas School Safety Center (TxSSC) board, urged school districts to implement new safety procedures to help prevent a Columbine or Virginia Tech-style shooting in Texas. The TxSSC, created in 1999 in the aftermath of the Columbine tragedy, provides schools with research, training, and technical assistance to reduce youth violence and promote safety in Texas schools.
"Texas schools must be safe and secure," Abbott said. "This school safety initiative teaches educators how to prevent school shootings – and how to react if disaster strikes."
Abbott added: "During a school shooting, panic can overwhelm students and teachers. The difference between life and death can depend on how they respond in the seconds before and after an incident. Our school safety toolkit outlines steps that schools can take to secure students and save lives."
Abbott was joined by Houston ISD Police Chief Charlie Wiley in unveiling new training tools to assist educators and law enforcement improve campus safety.
The attorney general recommends Texas school districts adopt the following safety measures:
• Develop, implement and annually practice campus emergency plans. Schools must develop and implement school emergency plans and update their existing plans. Schools should team up with law enforcement to practice school safety drills once a year, rather than once every three years as current law requires.
• Establish a Campus Crime Stoppers or similar anonymous incident reporting program. According to research by the U.S. Secret Service, most school violence incidents were foreshadowed by warning signs that went unreported to authorities and school personnel. Schools must educate teens that it is "Cool to Come Forward."
• Encourage information-sharing between law enforcement, juvenile justice officials and school authorities. Strict interpretations of the Health Insurance Portability and Accountability Act (HIPAA) and the Family Educational Rights and Privacy Act (FERPA) have hampered information-sharing between schools and law enforcement during "imminent danger" situations. Information-sharing between school districts and law enforcement must prioritize public safety over personal privacy concerns.
Beginning in September 2008, Texas school districts must report the results of their first campus security audits to the TxSSC. Texas law requires schools to conduct these safety audits every three years and practice their campus emergency management plans.
Abbott encouraged all school districts to team up with law enforcement to annually practice campus safety procedures: "Having a plan is important, but executing that plan under stress – when seconds count – is critical to saving lives."
To help school safety administrators improve campus safety, the Office of the Attorney General (OAG) will provide all Texas public schools with an interactive DVD and CD-Rom, "School Safety: Saving Lives When Seconds Count." The video illustrates the enormous impact school and law enforcement personnel can have during a crisis situation. The training materials offer administrators, principals, teachers and school safety officials the tools they need to conduct school safety audits, prepare incident command kits and address warning signs. The materials also include a special School Safety Guide as well as other useful OAG publications addressing juvenile crime and discipline.
Recognizing that students are critical to school safety, the OAG also developed and launched the Texas Teen Page. This interactive and comprehensive online Web community encourages Texas teens to make good choices, including coming forward to report suspicious behavior on campus. The Texas Teen Page also offers students helpful information, including how to make wise financial decisions, recognize summer job scams and spot fraudulent credit card or scholarship offers. The Texas Teen Page can be accessed by clicking on the "TXT" icon on the OAG's main Web site at http://www.oag.state.tx.us.
Abbott encouraged Texas students to come forward and report alarming behavior to authorities. He encouraged all school districts to implement a Campus Crime Stoppers program, which allows students to anonymously report perceived campus threats. Under Texas law, the identity of any person who provides information to the Crime Stoppers program is protected.
"Campus Crime Stoppers is critical to school violence prevention," Abbott added. "We are working closely with the Texas School Safety Center and the Governor's Criminal Justice Division to evaluate the expansion of this and similar valuable reporting programs. Children are the future of our great state so we must keep them safe."
The Governor's Criminal Justice Division (CJD), along with the Crime Stoppers Advisory Council, are jointly charged with coordinating Texas Crime Stoppers chapters. Additionally, CJD provides training, travel, technology and telecommunications funding to Crime Stoppers.
In May, Abbott and several state attorneys general launched the National School Safety Task Force, which identified innovative programs, policies, and legislative initiatives that would improve school safety. The attorneys general sought input from educators, law enforcement, and public and private educational advocacy groups across the nation. Abbott supports the national task force recommendations, which include improving reporting systems; clarifying existing privacy laws; and reporting data on persons who are disqualified from possessing firearms for mental health reasons to federal authorities responsible for administering the National Instant Criminal Background System.
For more information, visit the Office of the Attorney General's Web site at http://www.oag.state.tx.us
••••••
DEA briefs Sen. Cornyn on efforts to curb drug abuse, smuggling in Texas
U.S. Sen. John Cornyn, Ranking Member of the Senate Subcommittee on Immigration, Border Security and Refugees, was briefed on Thursday, September 27, by high-ranking officials from the Drug Enforcement Administration (DEA) concerning anti-drug-trafficking operations along the Texas-Mexico border.
Cornyn, R-Texas, requested the briefing, particularly to get an update on efforts to stop methamphetamine trafficking into Texas from Mexico.
About 80 percent of methamphetamine in the U.S. is manufactured in Mexican labs. Its availability remains high in north Texas, particularly in the Dallas-Fort Worth area. However, enforcement trends and changes in the street price of methamphetamine indicate positive effects of a federal law, which Cornyn supported, and which went into effect in September 2006.
The Combat Methamphetamine Epidemic Act of 2005 requires retailers who sell pseudoephedrine and ephedrine products—the main ingredients in methamphetamine—to keep records of individuals who purchase the products and make those records available to police should they request them. The law also prohibits individuals from purchasing more than nine grams of the products a month.
"Yesterday's briefing by the DEA was an insightful look into efforts underway to crack down on drug-smuggling along the Texas-Mexico border," Cornyn said. "The rising threat of drug cartels in Mexico, which are growing more powerful and organized, is yet another critical reason that the security of our borders must be one of our nation's top priorities.
"I was pleased to hear that a new federal law that I supported is having a direct impact on the feasibility of producing methamphetamine, by making it more difficult to purchase the over-the-counter ingredients that meth labs use to produce the drug. Even so, drug abuse and smuggling remain serious problems in Texas, and I will continue to work to curb both through tougher laws and increased security along our borders."
Prices for methamphetamine rose 37% in 2007, to $194.25 per gram. DEA officials on September 28 told Cornyn the rise in the drug's price may be an indication that traffickers are having a difficult time moving their products through Mexico. The officials also told Cornyn the law has had a visible effect on the number of methamphetamine labs — dropping them down to a fraction of what they were just two years before it took effect.
••••••
Attorney General Abbott takes action against debt collector in Texas for harassing consumers
Texas Attorney General Greg Abbott has charged a Tarrant County-based collection firm with attempting to unlawfully collect invalid debts from consumers nationwide. The Attorney General's enforcement action seeks a permanent injunction against DTech Billing Service, L.L.C., whose illegal collection practices include threatening telephone calls, deceptive mailers and excessive fees and charges.
"Today's enforcement action protects Texans from harassing phone calls and other unlawful debt collection efforts," Attorney General Abbott said on Tuesday, September 18. "By attempting to collect from someone who does not owe a debt, collectors are violating the law. Debt collectors who break the law have no place in Texas."
According to court documents, DTech Billing Service used numerous unlawful collection tactics on behalf of several telecommunications companies that provide payphone services, including collect calls, to inmates and other payphone users. DTech frequently made rude and harassing phone calls to consumers who maintained they had either satisfied the debt they owed or never accepted the collect calls and never incurred the alleged debt. Consumers also complained that DTech Billing Services failed to validate the debts owed and continued billing for those debts, even after consumers disputed the bills.
The Attorney General's lawsuit also charges DTech Billing Service with sending unlawful mailers to consumers, claiming the corporation's membership with a "credit reporting agent" and thereby threatening to harm consumers' credit ratings when consumers had not accepted the collect phone calls. DTech also failed to notify consumers about its two-week billing cycle, sometimes even charging a $29 late or processing fee before the consumer received a written statement.
The attorney general seeks restitution for consumers who did not owe money but were coerced into paying the defendants. The lawsuit also seeks civil penalties for violations of both the Texas Debt Collection Act and the Texas Deceptive Trade Practices Act.
Consumers who receive harassing calls or mail from debt collectors about invalid debts may call the Office of the Attorney General's toll-free complaint hotline at (800) 252-8011 or file a complaint online at http://www.oag.state.tx.us.
••••••
Edinburg Chamber of Commerce appoints Imelda Rodríguez as Director of Tourism
By EVANA VLECK
Imelda Rodríguez has been appointed Director of Tourism for the Edinburg Convention and Visitors Bureau, the organization has announced.
Rodríguez has years of experience in the business and non-profit field. Her background lies in different avenues of interest and professional development, including travel and the outdoors.
She has been employed with the Edinburg Chamber of Commerce for two years as a tourism assistant, and since then has become very involved with the chamber's program of work, which in part includes making Edinburg a tourism destination.
Her personality and dedication is a great asset, and the chamber staff is glad to have Rodríguez serve as a liaison between winter visitors, businesses, members and the community at large.
"Imelda is highly qualified to serve this position, her passion and love for Edinburg is something that's extremely valuable to our organization," said Letty Martínez, Chamber president. "Imelda is familiar with the chamber's mission and plans to continue fostering the growth and educating local and out of town visitors on Edinburg's unique metropolis and nature destinations. We are all proud to have her on board."
Rodríguez was born and raised in Edinburg, and holds a large interest in the outdoors; she feels that Edinburg has a lot to offer as far as tourism goes. She plans to conduct monthly tours of Edinburg for anyone who has interest in seeing Edinburg's growth and splendor. The tours will focus on Edinburg's city expansion while focusing on the floral and fauna, and will make stops at several Edinburg destinations including the Edinburg World Birding Center, the Museum of South Texas History, and La Sal de Rey where she recently hiked and photographed.
Rodríguez currently holds monthly hotel/motel meetings, and is also working on one of Edinburg's most notable events: Edinburg Night of Lights which will take place on Saturday, December 1st, 2007 at the UTPA Quad beginning at 4 pm.
The traditional Night of Lights parade will proceed at 6 pm beginning at the County Court House going West down University and ending at the Professional Baseball Stadium. Admission is free. For more information on Night of Lights or the Edinburg Chamber of Commerce please call 956-383-4974, and to reach Rodríguez, email her at [email protected]
••••••
Texarkana man sentenced to prison for robbing Inter National Bank in Edinburg
A Texarkana man on Wednesday, September 26, was sentenced to federal prison for robbing the Inter National Bank in Edinburg, United States Attorney Don DeGabrielle has announced.
Francisco Torres Jr., 32, Texarkana, who had pleaded guilty in June to robbing the Inter National Bank in Edinburg, and placing the lives of bank employees in jeopardy by using a "Molotov cocktail," was sentenced to 97 months imprisonment without parole.
On March 27, 2007 Torres entered the Edinburg branch of the Inter National Bank, approached a teller and displayed an incendiary device commonly referred to as a "Molotov cocktail, " and gave the teller an note stating, "no alarms, no police, give me the money in the drawer or we all burn you." After receiving approximately $3,196 in United States currency, Torres fled the bank. A bank teller triggered the silent alarm and the Edinburg Police Department responded.
Torres lead officers on a high speed chase. Eventually, Torres stopped on the lawn of a residence. When an officer exited his patrol unit and approached Torres, who remained in the vehicle, Torres accelerated towards the police officer. The officer fired his service weapon to protect himself from the oncoming vehicle.
A short while later the vehicle pursuit came to an end on the grounds of The University of Texas-Pan America, where Torres had left the vehicle and fled into a classroom building. Officers found Torres, arrested and searched him. Officers found the bank robbery note and the $3,196.00 dollars in Torres's pocket. Subsequent analysis of the, "Molotov Cocktail," found it to be a functioning incendiary device.
Torres has been in custody since his arrest.
The investigation leading to the charges was conducted by the Federal Bureau of Investigation, the Edinburg Police Department, the Edinburg Fire Marshal's Office and the Texas State Fire Marshal's Office. The case was prosecuted by Assistant United States Attorney Steven T. Schammel.
••••••
Edinburg man sentenced to 20 years imprisonment for child pornography
Ruben Gómez of Edinburg has been sentenced to nearly 20 years imprisonment – the statutory maximum punishment – for distributing child pornography and attempting to entice a young girl via the internet to engage in sexual activity, United States Attorney Don DeGabrielle has announced.
At a hearing on Wednesday, September 26, U.S. District Judge Randy Crane handed down a 235-month prison term on each of the two counts of conviction and further ordered the sentences be served concurrently. The sentence imposed is the maximum under the applicable sentencing guideline range and five months less than the 20-year statutory maximum punishment. Upon release from prison, Gómez, 47, is to serve a five-year term of supervised release during which he must comply with strict conditions regarding his use of the internet and contact with minors and must also register as a sex offender.
Gómez pleaded guilty to both federal felony offenses in July 2007, admitting that from November 2006 until early January 2007, he had entered an internet chat room labeled "EIGHTH GRADE HOTTIES" and began a computer chat with a young 14-year-old girl. During the online sessions with the young girl, Gómez portrayed himself as a 30-year-old man from Texas, sent images and movies of child pornography to the young girl and eventually arranged to meet with her on February 1, 2007, in Mission, for the purpose of engaging in sexual activity.
Unknown to Gómez, the 14-year-old girl was actually a police officer in Waterford, Ohio, who was conducting an undercover internet sting operation into child exploitation crimes. The investigative information developed in Ohio was forwarded to agents of Immigration and Customs Enforcement (ICE) in McAllen, who initiated their own follow up investigation into Gómez' activities.
On February 1, 2007, ICE agents were waiting at the appointed time and place in Mission for Gómez to arrive to meet the "girl." Upon arrival, Gómez was arrested. Gómez admitted to investigating agents he had planned on meeting with the girl to engage in sexual intercourse and to having sent images of child pornography via his home computer and the internet to the 14-year-old during his online chats. A search warrant was subsequently executed at Gómez' residence and his home computer was seized. A forensic examination of the computer resulted in the discovery and seizure of more than 250 images and at least 50 video-clips of child pornography.
In arriving at the lengthy prison terms, the court found Gómez possessed an extensive collection of child pornography that included not only pictures and videos of adult men engaged in sexual acts with girls under the age of 12, but also images and videos of sexual acts being performed on young prepubescent girls sadistic and violent in nature. Moreover, Gómez had distributed some of his child pornography to the "14-year-old girl" in an attempt to entice her to have sex with him.
Gómez, who has been in custody without bond since his arrest will remain in federal custody to serve his sentence.
This case is being brought as part of Project Safe Childhood, a nationwide initiative designed to protect children from online exploitation and abuse, launched in February 2006 by the Department of Justice. Led by the United States Attorneys Offices, Project Safe Childhood marshals federal, state and local resources to better locate, apprehend and prosecute individuals who exploit children via the Internet, as well as identify and rescue victims. For more information about Project Safe Childhood, please visit http://www.projectsafechildhood.gov/.
The case was prosecuted by Assistant United States Attorneys Alex C. Lewis and Juan F. Alanís and investigated by the New Waterford, Ohio, Police Department and the United States Immigration and Customs Enforcement.