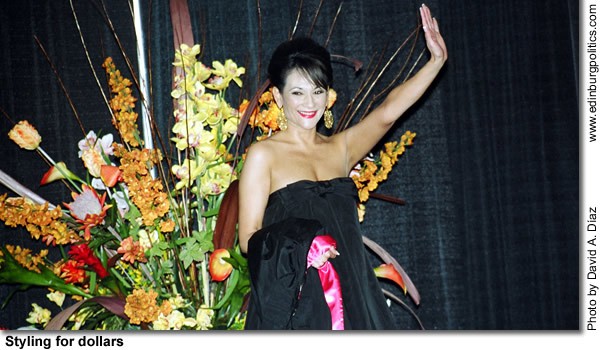 Rep. Verónica Gonzáles, D-McAllen, thanks several hundred supporters on Friday, August 24, as she participates as a model for her unique fund raiser, which featured her and other lawmakers in a fashion style show at the Embassy Suites in McAllen.  She picked up almost $50,000 for her campaign war chest, along with endorsements from key political figures. She is facing at least one opponent in 2008: Republican Javier Villalobos.  Both of them are McAllen-based attorneys.  See story later in this posting. 
••••••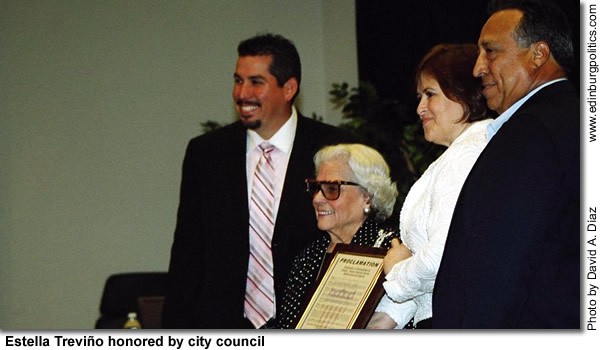 Estella Treviño, longtime executive director for the Edinburg Housing Authority, beamed with pride on Monday, August 20, as she posed with the Edinburg City Council, which presented her a proclamation chronicling many of her achievements on behalf of the community. Among her accomplishments are helping provide affordable housing to thousands of residents, creating opportunities for property owners to rent homes to qualified families, and fighting the negative image of public housing.  "Ms. Treviño and the agency have received a host of awards for her diligent efforts including the Outstanding Services Award in 1975; the Specific Activity Award for outstanding programs offered through the Drug Elimination Program in 1994; the Award for Excellence in Youth Sports in 1995; the Family Self-Sufficiency Program Award in 1996; the Texas NAHRO Member of the Year Award in 1998; and the 2005 Texas NAHRO Hall of Fame Award," said Mayor Pro Tem Alma Garza. "Widely known as an advocate of public housing and the elderly Ms. Treviño has changed the agency from merely providing assisted housing to helping residents achieve self-sufficiency and marketable skills enabling many of them to move beyond subsidized housing to homeownership."   
••••••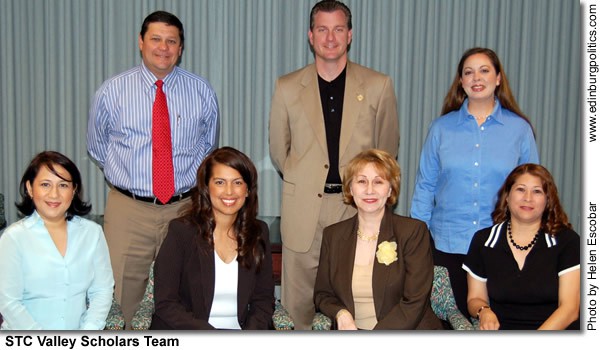 South Texas College's Valley Scholars Program is celebrating its 10th anniversary at its annual Night with the Stars this October. The special event is designed to celebrate 10 years of academic excellence and pay tribute to ten outstanding Valley Scholar students, who have continued on to successful careers and have made positive changes in their communities. The celebration will take place on Thursday, October 4, 2007 at the Cimarron Country Club and will be an evening of celebration, recognition and entertainment. All proceeds from the event will benefit future South Texas College Valley Scholars Program students. As a result of the 2006 event, more than $40,000 was raised for the program. The coordinating team for the event includes, from left, seated: Sora Yañez, graphic designer; Marie Olivárez, STC Valley Scholars coordinator, Anahid Petrosian STC Assistant to the Vice President for Instructional Services , and  Sylvia Bernal, administrative assistant. From left, standing, are:  Roberto Gutiérrez, STC Fundraising Development Associate; George McCaleb, STC Director of Operations; and Ginna Gutiérrez, secretary. 
•••••• 
Rep. Gonzáles picks up at least $46,000, key endorsements, during fund raiser
By DAVID A. DÍAZ 
Rep. Verónica Gonzáles, D-McAllen, on Friday, August 24, raised almost $50,000 for her political campaign, while picking up key endorsements from Sen. Juan "Chuy" Hinojosa, D-McAllen, Sen. Eddie Lucio, Jr., D-Brownsville, and McAllen Mayor Richard Cortéz, among others. 
She represents House District 41 legislative seat, which includes southwest Edinburg, most of McAllen, a portion of northeast Mission, and all of Palmhurst and Alton. 
Her fund raiser, held at the Embassy Suites, marked the first major legislative event of the upcoming political season in the Valley, which traditionally begins after Labor Day in early September. 
All Valley state representative and senate posts, along with congressional seats, are up for grabs in party primaries and general election in 2008. 
Gonzáles, first elected in 2004 in what many perceived was an upset victory over longtime Rep. Roberto Gutiérrez, D-McAllen, is facing at least one challenger for the November 2008 general election: Republican Javier Villalobos, also of McAllen. 
Both the incumbent and the challenger are attorneys. 
So far, no other candidates have expressed public interest in running for the state post. 
Her fund raiser, which featured more than a dozen state legislators and other area elected officials, drew several hundred supporters, who paid between $150 for a single ticket, and between $1,000 and $5,000 for public recognition as a major donor. 
For their support, donors were treated to a dinner and a fashion style show, featuring Gonzáles, Hinojosa, Lucio, and numerous other Valley and state lawmakers, who, to the cheers, laughter, and whistling of the audience, strutted their stuff up and down a catwalk. (A catwalk is a narrow, usually elevated platform used by  models to demonstrate clothing and accessories during a fashion show.) 
Marianne Manko, a former KRGV TV News anchor, and Roy Cantú, public information director of the McAllen Cable Network, which is a city-owned news channel, served as mistress and master of ceremony. 
They introduced the legislators-turned-"models", and gave  biographies of the lawmakers, along with descriptions of the fashions being featured – much to the delight of the audience, which cheered the politicians, not only for their endorsements of Gonzáles, but also for having the courage to participate in a fashion style show. 
Lucio, modeling an expensive tuxedo, joked to the gathering, "We wouldn't do this for any other Valley state representative", prompting a feigned look of disappointment from Hinojosa. "Not even for my good friend, Sen. Juan Hinojosa," Lucio emphasized, prompting a roar from the crowd. 
Gonzáles already held a fund raiser in Austin earlier this summer, boosting her campaign war chest at the time to almost $50,000. 
The August 24 event should help Gonzáles approach the $100,000 mark. 
Typically, a campaign for state representative can easily reach $300,000 and more in the Valley. 
House Speaker's race 
Good times aside, the lawmakers stressed the need to reelect Gonzáles to a third two-year term, which would begin in January 2009, not only for South Texas, but because it will influence the January 2009 election of the next Speaker of the House. 
The Speaker of the House has vast powers, including the authority to appoint lawmakers to the most powerful committees, and to appoint chairmen of those committees. 
"We strongly support Verónica. Not only is she a good-looking lady, she's got brains," said Hinojosa. "She gets the job done, she is issue-oriented. Let me tell you, I am voting for Verónica." 
Rep. Ismael "Kino" Flores, D-Palmview, is a top lieutenant for Speaker of the House Tom Craddick, a Republican from Midland. 
Craddick will be under statewide pressure to throw his political support – and at least some of his extensive financial resources, which approach $4 million in his own campaign account — behind Villalobos. 
During the contentious redistricting battles in 2003, the Republican-controlled Texas Legislature, led by Craddick, redrew the physical boundaries of Texas' congressional and state legislative districts, and in particular, reshaped House District 41 to favor a Republican candidate. 
But Flores, who is expected to face at least one Democratic Party challenger based partly on Flores' support for Craddick, praised Gonzáles. 
"I've know Verónica for a long time, and she has done an outstanding job. She has come in, taken control of every situation that has been placed before us. She has helped unite us in a way we should be united as a South Texas delegation," Flores said. "Verónica was one of the strongest reasons that this year, the Valley had the very best legislative session. A big part of it was Verónica Gonzáles, so I ask for your support." 
Rep. Aaron Peña, D-Edinburg, did not participate as of model, although he was evidently at the function. 
He was not present with his wife, Mónica, when she was seated for much of the event at the same table as the McAllen mayor and his wife. 
Peña and Flores are both Craddick supporters, and as such, hold powerful positions as chairmen of influential House committees – slots they contend helped the Valley land valuable projects and significant state funding. 
Craddick, meanwhile is facing challenges to his role as House speaker from several Republican lawmakers, as well as from at least one Democrat – Rep. Senfronia Thompson, D-Houston, the Dean of the House of Representatives. 
Show of support 
Gonzáles thanked Cortéz and his wife, Elva, who were in the audience, for supporting her, as well as former U.S. Congressman Kika de la Garza, D-Mission, and his wife, Lucille, who also were in attendance. 
Rep. Armando "Mando" Martínez, D-Weslaco, Rep. Eddie Lucio, III, D-San Benito, and Rep. Juan Escobar, D-Kingsville/Willacy County, were Valley lawmakers who also participated in the fashion show. 
Other notables in the audience included: Justices Linda Reyna Yáñez and Dori Contreras Garza, members of the Texas 13th Court of Appeals; Hidalgo County 206th District Court Judge Rose Guerra Reyna; Hidalgo County 389th District Court Judge Letty López; Hidalgo County Juvenile Justice Court Judge Maxine Longoria Nash; Hidalgo County District Clerk Laura Hinojosa; and Dr. Shirley Reed, President of South Texas College. 
Three supporters, dubbed Diamond Sponsorships, each made $5,000 contributions: ATI, South Texas Vo-Tech, and Border Health PAC. 
Four Platinum Sponsorships, which represent donations of $2,500 each, were also announced: Farmers Employee and Agent PAC of Texas; Lone Star National Bank; Atlas & Hall LLP; and Texpac. 
Gonzáles also picked up 21 Gold Sponsorships, each representing $1,000 contributions, from: Joe García; Mr. and Mrs. Carlos Garza; Valero PAC; Jaime González; Roerig Oliveira & Fisher; Mr. and Mrs. James Aldrete; Meldon and Hunt; Mr. and Mrs. Glenn Jarvis; Mr. Joe Phillips; Linebarger Goggan Blair & Sampson, LLP; Texas Friends of Time Warner PAC; Malany and Flanagan; Sergio Contreras and Friends; Julian Rodríguez; Annie's List; Jake Fuller; Ms. Katie Rodríguez; Dr. John Gerling; Ms. Leticia Hinojosa and Friends; Caballero Governmental Affairs; and Mr. and Mrs. Raudel Garza. 
Rep. Rene Oliveira, who did not attend the function, is a partner in the law firm of Linebarger Goggan Blair & Oliveira. 
Carlos Garza, chairman of the Anzalduas International Bridge Board, is a former McAllen mayor pro-tem and longtime city commissioner, and is President and CEO of Inter National Bank, headquartered in McAllen. 
Jarvis is a member of the board of trustees for South Texas College. 
García, a former chief of staff for Lucio and Rep. Renato Cuellar, D-Weslaco, is an Austin lobbyist whose clients include the City of McAllen and the Texas Border Coalition. 
Caballero Governmental Affairs is led by Elvia Caballero of Austin, a Weslaco native whose clients include the City of Edinburg. 
•••••• 
County Judge Salinas, Rep. Martínez thank task force that had come to help during hurricane threat
By CARI LAMBREHCT 
Hidalgo County Judge J.D. Salinas and Rep. Armando Martínez, D-Weslaco, on Thursday, August 23, traveled to College Station to meet with and personally thank members of Texas Task Force One (TX-TF1) at their day-long Hurricane Dean debriefing. 
TX-TF1, Dallas-based Texas Task Force 2 and other state assets — including more than 1,000 buses and drivers — began leaving the San Antonio and the Valley on Tuesday, August 21, standing down the largest ever hurricane evacuation effort in United States' history. 
TX-TF1 deployed its first responders all over the state to help local, state and federal officials deal with the once-menacing Hurricane Dean. TX-TF1 is responsible for search and rescue operations.  
"Mainly, Rep. Martínez and I attended this meeting to thank these brave men and women for coming to our aid. It's the least we can do to thank the real heroes of Texas," Salinas said from College Station, the home of his alma mater, Texas A&M. 
"We talked about things we could do differently to better support Texas Task Force One, the military forces and other volunteers, and we evaluated our state and local evacuation plans from a logistical point of view," Salinas said. "We owe it to ourselves and to the rest of the country to stand back and take a long hard look at the rights and wrongs of our disaster planning. It is important we keep this dialogue flowing between our local, state and federal counterparts." 
Salinas — a proud Aggie — also met with Dr. G. Kemble Bennett, vice chancellor of Texas A&M University's College of Engineering, to encourage the university system to expand its presence in the Valley. Bennett is the founder of Texas Task Force One. 
Addressing the crowd of emergency responders from across the state, Bennett received a standing ovation. 
"Congratulations to you and the security that you brought to the Valley," Bennett said.  "It seems that your presence created calmness." 
Salinas also addressed the first responders. 
"It doesn't matter if you're Republican, Democrat, Aggie or Longhorn, black, white or Hispanic. This event was about taking care of each other. Today, it was us, but tomorrow, it might be your communities," Salinas said. "We'll be here for you." 
"I had to make some really tough decisions over the weekend, and it was reassuring to know that the elite crews of Texas Task Force One were in close proximity. When I was making those decisions, I was thinking about our kids. It was hard, but I'm glad you were there for us," the county judge added. 
Martínez, a professional firefighter and advanced EMS instructor, said TX-TF1 and the state play a pivotal role in emergency preparedness.
"I'm elated with the response we got," Martínez said. "We came out here to continue to cultivate our relationship with Texas Task Force One, and to build on what was learned with Hurricane Dean. We need to be prepared for any type of catastrophic event."
About TX-TF1 
TXTF-1 is an elite group of more than 300 urban first responders trained to handle man-made and natural disasters. The group, which represents more than 60 jurisdictions and agencies from across the state, is sponsored by the Texas Engineering Extension Service (TEEX), part of the Texas A&M system. The TX-TF1 concept was established after the 1995 bombing in Oklahoma City, Okla., and the group's first deployment was to the Del Rio floods in 1998. Since, TXTF-1 has played in instrumental role during the collapse of the World Trade Center towers in New York City, the Colombia Space Shuttle recovery and Hurricanes Katrina and Rita. 
The task force's capabilities include damage assessment, physical search and rescue operations in damaged or collapsed structures, shoring and cribbing operations to stabilize damaged buildings, emergency medical care for entrapped victims, swift water rescue boat operations, hazardous material surveying and evaluation and search and rescue operations in contaminated environments. 
For more information, log on to http://www.texastaskforce1.org, http://www.teex.org  or http://www.judgejd.com. 
•••••• 
As Edinburg continues to grow, city council may keep city property tax rate at same level
By DAVID A. DÍAZ 
With more than $152 million in new homes and commercial properties added this year to the city's tax base, the Edinburg City Council may be able to keep the city property tax rate at the same level and still raise enough money to pay for city government services and projects in the upcoming 12-month fiscal year, which begins October 1. 
The city property tax rate is a formula used to determine how much taxes local residents must pay on their homes and businesses  to help cover the costs of running the city government. 
The city government generates money from various sources, including city property taxes, local sales taxes, state and federal grants, fees, and other resources. 
Currently, the city property tax rate in Edinburg is 63.5 cents per $100 valuation — a level which has remained the same for a dozen years. 
At its Tuesday, August 20 public meeting, the Edinburg City Council voted to consider maintaining the same level. But it still must go through two more public hearings in the coming weeks. 
The August 20 action by the city council — with Mayor Joe Ochoa and Councilmember Gene Espinoza absent but excused to tend to family priorities – sets into motion public hearings on August 28 and September 4 to get input from residents on how they feel about keeping the same city property tax rate, and to find out what the impact would be on current city government services. 
If approved later this fall by the Edinburg City Council, the city property tax rate would mean that a resident whose home or business building is valued – after claiming all eligible city tax breaks – at $50,000, that resident would get a property tax bill later this fall from the city government for $317.50. 
For the owner of a home or business building whose taxable value was $100,000, the tax bill from the city government would be $635. 
The owner of a home or business building whose taxable value was $30,000 would get a tax bill from the city government for $190.50. 
According to the city's notice on the new property tax rate, the average taxable value of a home in Edinburg this year is $87,556, compared with $76,396 last year. 
Those averages do not include the primary homes of several thousand Edinburg residents who are 65 years of age or who are physically-disabled. State and city laws require the city government to reduce the taxable value of their homes. 
The city council is still developing the city budget, which will break down in detail how much revenue will be generated by the city government, from which sources, and on what the money it receives and generates will be invested. 
Details on the proposed city property tax rate will soon be published, as required by law, in the Edinburg Review. But that information is already available on the city's web site at http://www.CityofEdinburg.com 
There was little discussion on the issue during the city council meeting, with the exception of Noe Garza, who  emphasized that the city property tax rate has not increase for a dozen years – a period spanning the administrations of Ochoa and former mayor Richard García. 
The notice of the public hearing to consider the new property tax rate does provide other insight into the continuing growth of Edinburg, such as: 
•The total appraised value of all property in Edinburg, including churches, government, public schools, and the University of Texas-Pan American, from which the city government does not collect property taxes,  is $2.9 billion for the current tax year, compared with more than $2.5 billion the previous year; 
•More than $203 million in new property was created in Edinburg in the current tax year, compared with more than $350 million in new property in the previous year; and 
•The total appraised value of new taxable properties in Edinburg this year is estimated at almost $152 million, compared with more than $160 million the previous year.
•••••• 
Rep. Flores, Texas Alcoholic Beverage Commission, to kick off "Facts about Underage Drinking" campaign
Rep. Ismael "Kino" Flores, D-Palmview, will be helping spearhead local efforts to help families learn about, and discourage, drinking of alcoholic beverages by underage Texans. 
Flores and other area lawmakers, along with TABC officials, are scheduled to host a news conference on Thursday, August 30, at South Texas College  at the Pecan Campus in McAllen.  The press conference, which will begin at 10 a.m. in the Student Lounge (Building H) at the main campus, located at 3201 W. Pecan Boulevard. 
The state officials will be joining community leaders in Hidalgo and Cameron counties to launch the Facts about Underage Drinking Campaign, an effort to encourage parents to talk to teens about alcohol and provide education about the consequences of underage drinking. 
The Facts about Underage Drinking Campaign is an 18-month pilot program that will run in Hidalgo and Cameron counties. Although various reasons exist for hosting the campaign in Hidalgo and Cameron counties, the TABC felt that the strong community spirit expressed during initial discussions with community leaders created the perfect environment for a campaign that relies so heavily on involvement at the local level. 
State representatives from Hidalgo and Cameron counties have been invited to attend.
For more information please contact Deborah Dixon, TABC Director of Education and Prevention, at 512-206-3290. 
•••••• 
South Texas College celebrates 10 years of online education
By HELEN ESCOBAR 
South Texas College's Distance Education Department marks its tenth anniversary this year, offering students courses through the Internet and other forms of communication.
"It is amazing how quickly distance education has expanded at South Texas College and we are pleased to mark this tenth year with several major developments," said Maricela García, director of Distance Education for STC. "Last semester we offered more than 80 courses to over 2,700 students, showing just how exponentially we have grown from day one. Now we are expanding to offer three new all-online degree programs this fall, as well as offering our courses to students across the state and the country." 
Starting in fall 2007, STC will offer three all-online degrees. Students interested in Business Administration, Criminal Justice and Social Sciences will be able to earn their entire degrees online. Students will be able to take these courses from any location where they have Internet connections. 
Currently STC offers distance education via four course formats. Web-based courses make up more than 90 percent of the college's distance education offerings, providing students the ability to log on at any time and follow instruction, participate in chats and blogs, take tests and complete assignments online. Telecourses are available on DVD, teleconference courses are offered via live, two-way interactive broadcast, and hybrid courses combine Web instruction with a reduced requirement for on campus attendance. 
In addition to offering courses, the division also provides opportunities for instructors from across the college to offer "Web-Enhanced Courses." The courses integrate Web-based tools to supplement the regular classroom instruction. More than 180 instructors used this format last spring, uploading data, reports, links to Web sites, blogs and chat tools to help students master subject areas. 
"We are continually updating and improving our services to address the needs of students from technical helpdesks, to offering courses from other colleges, to providing online tutoring and orientation," added Garcia. "Everything we do is to benefit our students and make their lives easier. We look forward to another ten great years as this instruction method continues to expand." 
For additional information about these online degree plans or other distance education questions contact STC's Office of Distance Education at 872-2598 or visit http://www.southtexascollege.edu. 
•••••• 
Gov. Perry ordered implementation of resource demobilization plan for Hurricane Dean
With Hurricane Dean tracking southward, eventually sparing Texas from any major impact, Gov. Rick Perry on Tuesday, August 21, ordered the state to begin withdrawing resources that had been pre-deployed to South Texas.
Approximately 1,600 buses, Texas Military Forces search and rescue aircrafts and 4,500 personnel, Texas elite search and rescue teams, and 80 refuelers were staged in the Rio Grande Valley region and San Antonio to support communities' preparedness efforts for potential storm effects. 
The resource demobilization plan included resources intended for evacuation, search and rescue operations, and the safe return of private fuel sector and volunteer disaster relief organization assets. The statewide shelter hub network, which consists of 28 communities in Texas, will also stand down preparedness efforts. 
"At every level, Texans responded to this threat with remarkable forethought and dedication," said Perry. "Luckily, our state was spared and it is time for the dedicated men and women who answered the call of duty to return home." 
"Texans can rest assured that the next storm to threaten Texas, be it next week or next year, will be met with the same level of commitment. We were ready this time and we will be ready next time," he added. 
The State Operations Center (SOC) began withdrawing resources this morning. The state worked closely with federal and local officials, private companies and volunteer organizations to organize support efforts for South Texas.
HURRICANE DEAN 
The following demobilization actions took place: 
Texas Department of Transportation (TxDOT) 
• Courtesy patrols were deployed along evacuation routes to support the safe departure of emergency vehicles and buses previously deployed to support a possible evacuation. 
• TxDOT scaled back its temporary suspension on lane closures for highway construction projects in its southern coastal districts and along potential hurricane evacuation routes. Temporary lane closure suspensions remained in place along select evacuation routes to facilitate the safe departure of emergency vehicles and buses previously deployed to support a possible evacuation. 
• TxDOT oversaw the return of materials previously deployed for comfort stations and temporary refueling locations along evacuation routes. 
Texas Department of Public Safety (DPS) 
• DPS coordinated the return of school buses and other emergency personnel from the Rio Grande Valley. Buses left in groups of 20 every 15 to 20 minutes. They went to the Alamo Dome to unload any equipment that was loaded onto them and for a final safety check before heading to their home destination. After all school buses were withdrawn, commercial buses followed. 
Texas Parks and Wildlife 
• Search and rescue teams demobilized beginning on August 21. 
Texas Engineering and Extension Service 
• Texas Task Force 1 and 2 stood down their efforts beginning August 22. 
•••••• 
Edinburg school district adds 40 classrooms to handle 1,000 new students for fall semester
By GILBERT TAGLE 
Amidst constant rainy days this summer, the Edinburg school district built seven classroom wings to help alleviate the overcrowding at seven elementary schools, announced Superintendent of Schools Gilberto Garza, Jr. 
Garza said the seven wings are equivalent to 49 classrooms or almost two elementary schools. 
Garza said a board-appointed Facilities Advisory Committee recently began meeting with district administrative officials to review facility needs for the district. 
The Facility Advisory Committee will be meeting over the next few months to study the district's facility needs and work with school officials to arrive at viable recommendations that can be taken to the school board for their consideration. 
Garza said a special study commissioned by the school board two years ago shows that in 10 years, the district's student population will be at 49,500 students. 
The district currently has 170 portables or the equivalent of six elementary schools, across the district being used for instructional purposes, Garza said. Because there is shortage of classrooms, Garza said, the district has 4,500 students having to learn in portable buildings. 
Garza said that the lack of classroom space has created the need for roving teachers who roam from room-to-room throughout the day to teach their classes. He said the use of roving teachers is an alternative measure being used to maximize the use of classrooms temporarily vacant at any period during the school day. 
•••••• 
South Texas College begins preparations for Valley Scholars Program set for October 4 in Mission
By HELEN ESCOBAR 
South Texas College's Valley Scholars Program is celebrating its 10th anniversary at its annual Night with the Stars this October. The special event is designed to celebrate 10 years of academic excellence and pay tribute to ten outstanding Valley Scholar students, who have continued on to successful careers and have made positive changes in their communities. 
The celebration will take place on Thursday, October 4, 2007 at the Cimarron Country Club and will be an evening of celebration, recognition and entertainment. All proceeds from the event will benefit future South Texas College Valley Scholars Program students. As a result of the 2006 event, more than $40,000 was raised for the program. 
In order to be eligible for the program's scholarships, students must rank in the top 10 percent of their high school class and who show an interest in scholastic achievement, leadership and community service. Once admitted students must maintain a 3.25 grade point average at STC and full-time enrollment status during the fall and spring semesters.  Each student is also required to be actively engaged in a variety of community service projects throughout the academic year.
"Through last year's event we were able to raise funds for an additional 40 scholarships for some very deserving students," said program coordinator Marie Olivárez. "Since our inception in 1997, more than 500 students have gone through the program, graduated STC and gone on to amazing academic careers at colleges across the nation. We rely on the community to help us make these students' dreams reality." 
For additional information about the event, to become a sponsor or to purchase tickets visit http://www.southtexascollege.edu/nightwithstars/index.html or call 956-872-2621.
•••••• 
Sen. Cornyn meets with Border Patrol officials, community leaders in Laredo
As the Department of Homeland Security moves forward with efforts to better secure the border, U.S. Sen. John Cornyn, ranking member of the Senate Immigration, Border Security and Refugees subcommittee, on Thursday, August 23, was in Laredo to participate in a U.S. Border Patrol Air Operations helicopter tour of the border and receive a briefing by the Laredo Sector Border Patrol. 
Joining Cornyn on the aerial tour was Laredo Border Patrol Chief, Carlos Carrillo, who discussed the latest security measures in place at the I-35 checkpoint, and the challenges posed by Carrizo cane, the invasive plant that has provided shelter to illegal immigrants attempting to cross the border.
The I-35 checkpoint is the largest inland checkpoint in the country. 
"The I-35 checkpoint serves as a critical line of defense against illegal immigration and drug smuggling. It was both important and instructive to see firsthand the important work being done by Laredo's Customs and Border Patrol Agents. For example, seeing the growth of Carrizo cane from a bird's eye view really helps you understand what a challenge it is to control the border in this area. The Border Patrol does a tough job under even tougher circumstances and we should make sure they are receiving the support that they need and deserve," Cornyn said. 
Cornyn has been actively working to address the Carrizo cane problem, and involve the Homeland Security Department and national officials in developing a plan to tackle challenges on the stretch of the Rio Grande River that serves as the international border.
Carrizo cane is an invasive plant that can grow up to 30 feet, and in large colonies along both sides of the Rio Grande River. The aggressive growth of this plant hinders Border Patrol surveillance efforts, and provides convenient safe harbor to illegal crossers who hide in its dense reeds. 
In July, the U.S. Senate unanimously approved an amendment introduced by Cornyn that would require the Homeland Security Department to develop an action plan for dealing with Carrizo cane, in coordination with other relevant agencies, and examine all potential avenues for managing the plant and reducing its hindrance of border security efforts.
The Senate also approved a second amendment authored by Cornyn to authorize $100 million in funding for border law enforcement officials. The funding reimburses law enforcement officials who participate in immigration training initiatives, including identifying, processing and detaining offenders. The Senate also recently unanimously passed an amendment co-sponsored by Sen. Cornyn to ensure local officials have input on the placement of fencing and physical barriers along the border. 
Also on August 23, Cornyn addressed leaders of the Laredo Chamber of Commerce at a roundtable luncheon, as well as Laredo Mayor Raúl Salinas and other elected officials. Cornyn discussed several legislative issues important to Laredo, including immigration reform, border security and economic growth. The luncheon also provided an important opportunity for Cornyn to hear first hand from local officials and business and community leaders so he can continue best addressing their needs in the Senate.
•••••• 
Commission for a College Ready Texas to visit Harlingen on September 11
By DEBBIE RATCLIFFE 
After successful meetings in Austin, Houston, Arlington, and Midland, the  Commission for a College Ready Texas (CCRT) will hold a meeting in Harlingen during September.     
The Harlingen regional meeting is scheduled for September 11 from 9:30 a.m. to 12:30  p.m. at the Harlingen Independent School District Administration Building at 407 N. 77  Sunshine Strip, Harlingen. 
Recognizing the importance of broad, diverse public engagement, Gov. Rick  Perry appointed the commission in March to provide a forum to exchange views on  aligning high school curriculum with college standards. The goal of the CCRT is to  provide support to the statutorily-created vertical teams and to the State Board of  Education (SBOE) regarding the requirements of House Bill 1.   
Passed and signed into law in 2006, House Bill 1 requires the vertical teams of  educators to define college readiness and the SBOE to re-align high school curriculum  and develop online instructional resources for students and professional development for  educators.  The activities of the CCRT aim to provide a forum for Texans to share their views on college-readiness, to facilitate the work of college readiness across the state,  and to provide research and support to the vertical teams and to the SBOE in fulfilling the  requirements of HB 1.   
The commission is chaired by Austin attorney and education policy leader Sandy  Kress, and ex-officio members of the CCRT include acting Commissioner of Education  Robert Scott, Texas Education Agency, and Commissioner of Higher Education  Raymund Paredes, Texas Higher Education Coordinating Board. 
At the Harlingen meeting, the commission will solicit public  testimony on college readiness at the meeting on the following topics: the importance of  preparing students for college and career, specific ideas about the definition or measures. 
•••••• 
Dedication of Francisco Barrientes Middle School set for Sunday, September 23
By GILBERT TAGLE 
The Edinburg school district will formally dedicate Barrientes Middle School on Sunday, September 23 at 2 p.m., announced Eva Torres, principal. BMS opened its doors on August 27. 
The district's fifth middle school bears the name of Francisco Barrientes, a longtime parent volunteer and a state-recognized Texas Hero for Children. He is a graduate of Edinburg High School and a lifelong resident of Edinburg. Over the last 27 years, he has volunteered more than 27,000 hours of service to helping Edinburg schoolchildren and their parents.
Barrientes MS has 42 classrooms (26 regular rooms, six science labs, five computer labs); a completely remodeled library that is two times bigger that the original library for the school facility; a gym; athletic facility; band and choir facilities, cafeteria; and a stage for theatre arts. The renovation of the school facility has given it a compete facelift and new outward and inward appearance. 
Carmen González, school board president, said Barrientes Middle School is fully comparable to Edinburg's four other middle schools: "Every effort has been made by the school board and central administration to provide the school with the staff, tools and resources needed to help the students successful learn." 
Torres said the school has 162 staff members, 83 of which are teachers. "I feel we have chosen highly qualified and experienced staff who will work hard to provide the optimum learning climate for Barrientes students."
"Middle School is the time for students to establish the strong educational foundation that will prepare them to succeed not only in high school , but in college as well," said Torres. "My staff and I are ready to establish a college bound culture among our students and help them to look beyond high school and into career choices that bring them success in their lives." 
Torres said her assistant principals are Ramón Rodríguez; Arnold Pesina; and Odilia Ortíz Villarreal, all of who are very familiar with the educational goals of the ECISD.
Also leading the Barrientes educational team will be Irene Valdéz, curriculum assistant; J.G. Treviño, athletic coordinator; Elva Montero, instructional lead teacher; Heydy Garza, testing facilitator; Estella Alemán Padrón, librarian; and Melva Flores, school nurse. 
Additionally, Rene Salinas will serve as head counselor, and will be assisted by counselors María Ruelas, Denise Salazar and Melissa Rodríguez. 
Salinas, who comes from Edinburg North High School, will serve as the eighth grade counselor; Ruelas, who comes from Memorial Middle School, will serve as the seventh grade counselor; Salazar, who comes from LBJ Elementary School, will serve as the sixth grade counselor; and Rodríguez, who comes from Harwell Middle School, will serve as the migrant counselor. Enoch Reyes will serve as the social worker for the school. 
Barrientes is looking at bringing aboard several new programs that aim to help students achieve the "college bound culture." The programs include a Springboard English Language Arts program based on the College Board curriculum; participation in the Advancement Via Individual Determination) college-preparatory; and participation in the University of Texas – Pan American's Education Talent Search Program which guide students to a post secondary, college bound path.
Barrientes school's participation will also be included in a grant being developed with UTPA and the Shell Scholars (Shell Oil Company) which aims to work on encouraging and enabling middle school students who demonstrate high skills in math and science to aim for careers in engineering. 
"We are very excited by the opportunities that Barrientes Middle School will be able to provide to middle school students," said Torres. "The educational success of our students is crucial to their personal success, their families and to the life of this community. We pledge to do everything necessary to equip our students with life skills and life-long learning that will make them world class leaders." 
This past spring, a committee which included student leaders from the middle schools from which Barrientes school has drawn students, chose the "Bearcat" as their mascot. The school colors will be royal blue and orange. 
The school board has approved a color-coded school uniform policy that goes into effect on the first day of school. Sixth graders will be required to wear royal blue shirts; seventh graders will wear orange shirts; and eighth graders will wear royal blue/orange combination shirts. 
The color-code policy will enable school administration and staff to be able to distinguish students by grade and know where they are supposed to be at all times. The shirts will be available for purchase at registration. 
•••••• 
Speaker Craddick elected to board of directors of American Legislative Exchange Council
At July's annual meeting of the American Legislative Exchange Council (ALEC), in Philadelphia, Speaker Tom Craddick (Midland) was elected to serve as Secretary of ALEC's Executive Board of Directors. 
"I am excited to serve this important and principled organization in this capacity," Craddick said. "I would like to thank my fellow ALEC members who have entrusted me with this position, and I look forward to working with the executive board on a variety of issues affecting legislatures across the country." 
The national secretary, as a member of the executive board of directors, ensures that all meetings are recorded and serves as the custodian of the ALEC seal for all official documents. The secretary also gives notice of all meetings to the ALEC members and the board of directors in accordance with the provisions of the organization's bylaws. 
ALEC's annual meeting hosted more than 2,000 state legislators and business leaders from across the country and overseas. As a non-partisan, public-private partnership, the organization's mission is to promote free markets, limited government, federalism and individual liberty. 
Craddick has been instrumental in helping the state overcome a $10 billion budget shortfall and producing model ethics, insurance, tort and transportation reforms. Under his leadership, Texas made historic cuts in property taxes and restructured public school finance, while adding urgent improvements to Texas' public schools. 
Craddick has long been an advocate for higher education, and he has made that a priority by improving funding for Texas' higher education institutions and enacting reforms to help better prepare students for college and entry into the workforce.
Craddick worked with House members to help save taxpayer money by using abandoned customer funds held by Texas' rural telephone companies to establish scholarships for rural students who want to go to college or receive vocational training. Under his leadership, Texas also saw the introduction of healthy marriage and marriage preparation programs to encourage fewer broken homes and less need for governmental support. 
Craddick holds both a Bachelor of Business Administration and a Master of Business Administration from Texas Tech University. He is a sales representative for Mustang Mud, an oilfield supply company, owns Craddick Properties, a Midland investment business, and is president of Craddick, Inc. Craddick married the former Nadine Nayfa, a native of Sweetwater, in 1969. They have two children, a daughter-in-law, and a one-year-old grandson. 
••••••