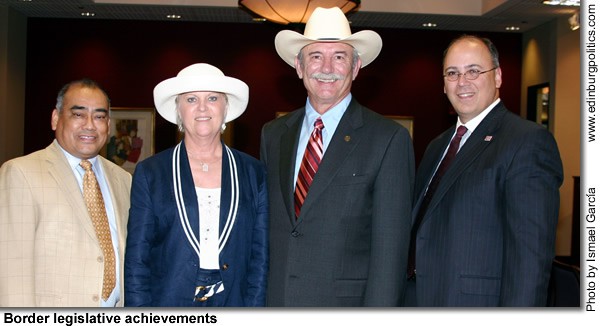 Healthcare, workforce and education, transportation, immigration and border security issues crucial to all Texans – and representing hundreds of millions of dollars in state funds for more than two million residents – were successfully championed during the 2007 state legislative session by the Texas Border Coalition. Featured following TBC's August 2 meeting in Brownsville are, from left, are the following TBC leaders: Blas Castañeda, chief development officer of Laredo Community College; Wanda Garza, executive officer for workforce development and external affairs for South Texas College; TBC chairman and Eagle Pass Mayor Chad Foster; and Eddie Aldrete, senior vice president for International Bancshares Corp. (IBC). See story later in this posting.
••••••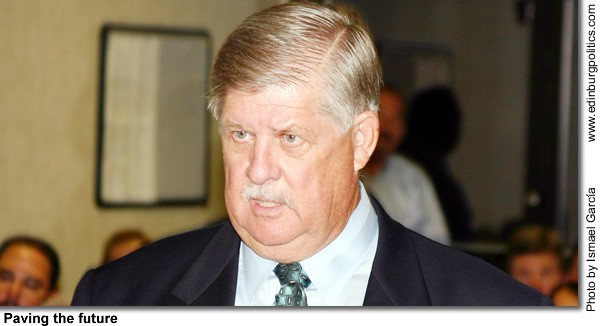 Gerry E. Pate, P.E., managing partner for Hidalgo County Road Builders, outlines his vision for improving Hidalgo County's major roadway system during the August 9 meeting of the Hidalgo County Regional Mobility Authority. The RMA selected Hidalgo County Road Builders as the agent in charge of developing and designing an estimated $643 million highway loop for southern Hidalgo County. See story later in this posting.
••••••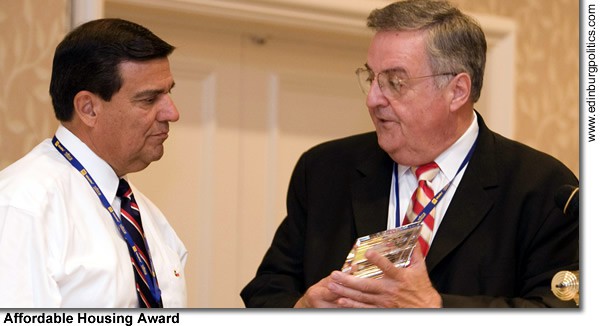 Sen. Eddie Lucio, Jr., D-Brownsville, (featured left), on August 1 received the 2007 Texas Affiliation of Affordable Housing Providers Award from Executive Director Jim Brown for his work in providing affordable housing to Texans during the organization's Texas Housing Conference in Austin. See story later in this posting.
••••••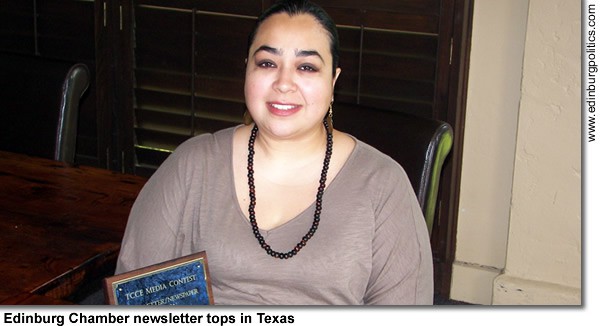 The Edinburg Chamber of Commerce was recognized as the 1st place winner in their division at the TCCE State conference held in July in Temple, Texas. Evana Vleck has been employed with the Edinburg Chamber of Commerce for a year and a half, and since then has produced 8 Newsletters. Each bi-monthly publication focuses on Edinburg Chamber events or accomplishments, and is filled with community news covering the chamber, the city of Edinburg, the Edinburg Economic Development Corporation, local organizations, local business, and more. Vleck says "I feel that we have a down to earth approach with our Newsletter; we concentrate on stories that will reach the attention of businesses, but more overly reach the vast community; we cover expos, chamber nominees, special events, meetings and more. It's a pleasure writing for Edinburg, and I feel honored to receive recognition for the chamber's newsletter." The Depot Express offers unique advertising opportunities that reach all Edinburg Chamber of Commerce members. For more information on the Edinburg Chamber of Commerce, or to advertise in the Depot Express please contact Evana Vleck at 956-383-4974.
••••••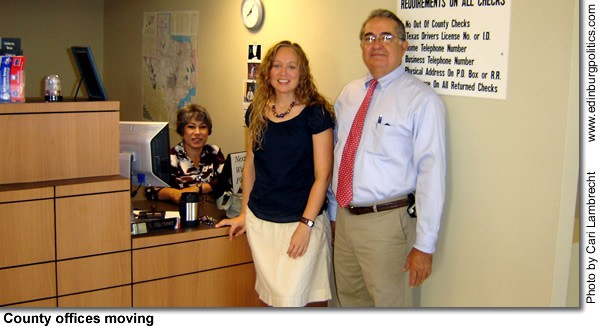 Relocation of key Hidalgo County office to the "Old K-Mart building," located at 2802 S. Business Hwy 281 (corner of Canton and Business 281), has already begun. On Thursday, August 9, Tax Assessor-Collector Armando Barrera saw his first customer, Julie Kracht, who said she once shopped at the old K-Mart building. It was interesting to see it renovated into the new Hidalgo County Administration Offices, she told Barrera. See story later in this posting.
••••••
Hidalgo County RMA stresses it wants local firms, workers to benefit from new road contract
By DAVID A. DÍAZ
A hundred million dollars here, a hundred million dollars there, and pretty soon, you're talking about a lot of money.
With perhaps that saying in mind, the Hidalgo County Regional Mobility Authority on Thursday, August 9, selected Hidalgo County Road Builders – an alliance of engineers, construction teams, map-makers and surveyors – to design and build, in southern Hidalgo County, the first phase of a long-envisioned county-wide highway loop.
The new roadway could cost more than half a billion dollars.
How that new public roadway system will be designed and financed are now part of the responsibilities of Hidalgo County Road Builders, with the approval of the Hidalgo County RMA.
The local RMA is a public entity created in 2006 by the Hidalgo County Commissioners Court to come up with ways to improve the region's highway – and even railroad transportation – systems.
Additional information on the local RMA, whose members are appointed by the Hidalgo County Commissioners Court – with the exception of the RMA chairman, who is appointed by the governor – is available on the Internet at:
http://www.lrgvdc.org/RMA/what.html
The first leg of this countywide loop – known as the Southern Loop Project – is part of short-term and long-term plans to carry heavy commercial truck traffic away from population centers, and help relieve traffic congestion on the existing, and overwhelmed, major roadways in one of Texas' most populous counties.
The county-wide loop could be similar to Loop 410 that surrounds and serves the San Antonio greater metropolitan area.
The initial timetable for the Southern Loop Project, which will require obtaining environmental clearances and right-of-ways, is scheduled to take 18 months before any construction work begins.
The specifics of the plan are still in the developmental stages.
But with the price tag to design and build the Southern Loop Project estimated to approach $650 million, the RMA leadership made it clear that it wants much of that money spent on the local workforce.
"Smear" tactic
Although experience was required as the top reason to award the contract, both Hidalgo County Road Builders and Dannenbaum Engineering – the two finalists for the job – emphasized their local ties to the region.
Hidalgo County Road Builders is a subsidiary of Pate Transportation Partners of Houston.
It edged out Dannenbaum Engineering, also of Houston, for the right to serve as the agent for the Southern Loop Project.
Like Hidalgo County Road Builders, Dannenbaum brought to the table an elite list of area firms, including companies well-known in Hidalgo County, such as Williams Brothers Construction Company, Inc., which has operations in Brownsville, and TEDSI Infrastructure Group, which has operations in Mission.
But unlike their competitor, Dannenbaum had to handle questions from the RMA board that resulted from a McAllen Monitor article, published two days before the RMA session, which portrayed Dannenbaum in a negative fashion. One of the Dannenbaum officials told the RMA board that the newspaper article was incorrect, claiming it was a "smear" tactic against their proposal.
However, in its edition the next morning, the McAllen Monitor did not make reference to being accused of a "smear" tactic, which is a deliberate effort to hurt someone's good reputation.
Dennis Burleson, the chairman of the RMA, said both firms brought excellent credentials, but after the RMA board heard from – and asked questions of – the two competitors during separate presentations, the group unanimously selected Hidalgo County Road Builders.
RMA: Hire locally
Rick Pérez, vice-chairman of RMA board, emphasized the need to hire locally.
He addressed Gerry E. Pate, P.E., managing partner of Hidalgo County Road Builders and Pate Transportation Partners.
"If your firm were to be awarded this contract and construction starts on some of these projects, as a member of this RMA board and as a citizen of this county, I would really appreciate it if most of the work that can be given to local people be given to them," said Pérez. "We want money to stay with our local people."
Pate, like his counterparts with Dannenbaum Engineering, repeatedly assured the RMA board that they would extensively utilize local talent, noting Hidalgo County Road Builders also included several area businesses.
"I hear you," Pate said. "I absolutely hear you."
He noted that Hidalgo County Road Builders includes firms that, combined, currently represent more than 1,000 skilled personnel from the Valley.
He noted that J.E. Sáenz and Associates, an engineering firm, is based in Edinburg. It's owner, J.E. Sáenz, was introduced to the RMA board as part of Pate's presentation.
"J.E. Sáenz and Associates understands Hidalgo County," Pate told the RMA board. "For 21 years, the firm's founder, Eddie Sáenz, has worked on a broad range of projects in Hidalgo County – for both the state and local municipalities. The firm has experience ranging from preliminary planning, surveying, design, construction management, and project management."
Three other members of Hidalgo County Road Builders – RODS Mapping and Surveying of Spring, Texas, which has a branch office in Edinburg, L&G Engineering of Mercedes, and Ballenger Construction Company of San Benito – also have deep Valley roots, Pate noted.
Marketing, outreach program planned
Jennie N. Taraborelli, a partner with Pate Transportation Partners, was also present for the RMA board meeting. She later echoed Pate's commitment, and promised the new team will keep the public informed about business opportunities and project activities.
"We have worked diligently to become part of the community in every area where we are developing projects," she said. "The commitment is the same in Hidalgo County. We will set up a Hidalgo County Road Builders office in the county. We have yet to pick a specific location, but one of our local partners, L&G Engineering, is helping us find a suitable spot for the team."
The new team will also develop a comprehensive outreach effort to keep political leaders and the community up-to-speed on every level of its work, she added.
"Hidalgo County Road Builders has committed to the RMA to work hand-in-hand to develop a public involvement/public outreach program," said Taraborelli. "As a firm, we believe strongly in keeping the citizens of the county as informed as possible every step along the way. We will meet with elected officials from both the county and the various cities in the county to brief them on our project plan and answer any questions they might have. We will set up a website, in both English and Spanish, and keep it updated continuously throughout the development process."
••••••
Texas Border Coalition shapes laws to benefit millions of its constituents
By DAVID A. DÍAZ
Healthcare, workforce and education, transportation, immigration and border security issues crucial to all Texans – and representing hundreds of millions of dollars in state funds for more than two million residents – were successfully championed during the 2007 state legislative session by the Texas Border Coalition.
TBC is an alliance of elected leaders and economic development officials from El Paso to Brownsville which represents the interests of people who live in 11 Texas counties which border Mexico. It is dedicated to improving the quality of life for its constituents through legislative actions at the state and federal levels.
For the recently-concluded five month state legislative session, which ended May 30, TBC registered major victories, according to a legislative report that has been issued by the organization.
Eleven significant pieces of legislation promoted by TBC were approved by state leaders, with only one – legislation that would have provided an additional $12 million for the Skills Development Fund – being vetoed by Gov. Rick Perry.
But even with the veto of House Bill 48, the Skills Development Fund still received $50 million. A portion of that fund will continue to be used to help train several thousands border Texans with new skills.
Eagle Pass Mayor Chad Foster, who serves as TBC chairman, reflected on the legislative scorecard compiled by the organization.
"It went well, but we can always do better, and that is the challenge," said Foster. "If it was easy, everyone would be doing it. It is of utmost important for the continued growth of the border communities – unless we take actions, we are going to be left behind."
In addition to Foster and Rodríguez, other TBC members include: Brownsville Mayor Pat M. Ahumada; Cameron County Judge Carlos H. Cascos; Del Rio Mayor Efraín Valdéz; Edinburg Mayor Joe Ochoa; El Paso Mayor John Cook; Harlingen Mayor Chris Boswell; Hidalgo Mayor John David Franz; Hidalgo County Judge J.D. Salinas, III; Laredo Mayor Raúl Salinas; Maverick County Judge José Pepe Aranda; McAllen Mayor Richard Cortéz; Mission Mayor Norberto Salinas; Pharr Mayor Leopoldo Palacios, Jr; Rio Grande City Mayor Kevin Hiles; Roma Mayor Rogelio Ybarra; Val Verde County Judge Manuel "Mike" Fernández; Mike Allen of McAllen, TBC treasurer and a member of the South Texas College Board of Trustees; Monica Stewart of McAllen; Pat Townsend Jr., TBC vice chairman and president and CEO of the Mission Economic Development Agency; Blas Castañeda, chief development officer of Laredo Community College; and other community leaders.
TBC helps pass border security laws
In recent months, TBC has been most visible on the national stage, fighting plans by the federal government to build a high-security fence – portrayed as a "border wall" by detractors – that would separate populated regions of the Texas border from Mexico, including El Paso and Laredo, and the Lower Rio Grande Valley.
Nationwide, the federal government – beginning in 2008 – wants to build 700 miles of additional fortified fence to run through portions of the California, Arizona, New Mexico, and Texas borders with Mexico.
The so-called "border wall" is being promoted as a way to help curb illegal immigration into the U.S., and also help protect the nation from international terrorists trying to sneak into the nation. The barrier would cause economic, environmental, and cultural havoc for Texas border communities, TBC officials contend.
While TBC will maintain a high profile on the national level with the border wall controversy, it still managed to help pass immigration and border security initiatives at the state level.
Among the key legislation that was shaped by TBC include the following border security measures:
•Securing $43 million for the Department of Public Safety, which will hire almost 100 new highway patrol officers, narcotics enforcement experts, vehicle theft specialists, special crimes enforcement staff, and Texas Rangers;
•Securing $23 million for aircraft operation to purchase four new helicopters and 19 additional staff members;
•Securing $20 million for the Texas National Guard;
•Securing $17 million for surge operations for local law enforcement needs;
•Securing $20 million for the Texas National Guard;
•Securing $6.5 million for joint intelligence operations;
•Securing $1 million for a border security and technology training center; and
•Creation of the Border Security Council.
Health care advancements
TBC also championed the expansion of the CHIP, the Children's Health Insurance Program, that will add almost 130,000 children of working families to the program, which provides comprehensive – and affordable – health insurance protection.
CHIP is designed for families who earn too much money to qualify for Medicaid, yet cannot afford to buy private insurance for their children.
CHIP coverage provides eligible children with coverage for a full range of health services including regular checkups, immunizations, prescription drugs, lab tests, X-rays, hospital visits and more.
Under CHIP, most co-payments for doctor visits and prescription drugs range from $3 to $10.
José R. Rodríguez, the El Paso County Attorney, also serves as the chairman of Texas Border Coalition's Committee on Border Health, which made HB 109 one of its top legislative priorities.
For the border region in particular, HB 109 will have a profound and positive impact at many different levels, said Rodríguez.
"The Texas border has the highest rates of uninsured in the nation, approximately one third of the population," he noted. "HB 109 represents not only more health insurance coverage for children, thus closing the gap on the uninsured, but also an investment in the healthy workforce Texas needs to compete in the global economy. Because the border has the fastest growing young population in the nation, it is good public policy to invest in the healthcare of America's future workers."
HB 109 also requires the Texas Health and Human Services Commission to conduct a community outreach and education campaign, including a toll-free hotline.
HB 109 will dedicate $75 million to CHIP in the next biennium, which begins September 1.
Education and workforce
TBC also successfully pushed for the advancement of medical and health care education programs in border communities.
Under House Bill 1, the state budget approved by lawmakers, TBC:
•Secured an additional $48 million for the Texas Tech medical school in El Paso;
•Secured an additional $5 million to be shared by the University of Texas Regional Academic Health Center in Harlingen and Edinburg;
•Secured an additional $3 million for the Laredo Campus Extension; and
•Secured an additonal $1.5 million for the UT-RAHC in Brownsville.
Other initiatives that will benefit the border economy and quality-of-life includes legislation that will direct the Texas Education Agency to coordinate with the Texas Higher Education Coordinating Board to develop immediate and long-term action plans for adult basic education.
Also, the state coordinating board must assess the current and future demands of adult education, and study the current organizational structures – and roles –of state agencies that impact adult education,
••••••
EEDC, area public, private interest groups forge partnership to improve labor force
By DAVID A. DÍAZ
With historically high levels of employment blessing the Valley – a region that often struggled with double-digit jobless rates – an alliance of public and private sector organizations on Wednesday, August 8, was formed to better prepare the young people of South Texas for the 21st century global economy.
Meeting at the McAllen Convention Center, Hidalgo County political, business, and community leaders – including the Edinburg Economic Development Corporation – participated in a signing ceremony formalizing the adoption of a "Memorandum of Understanding on Advancing an Action Agenda for Building the Future Talent of Hidalgo County."
Participating in the signing ceremony were Hidalgo County J.D. Salinas, III, who spearheaded the Workforce Summit 2007, along with Congressman Rubén Hinojosa, D-Mercedes, Sen. Eddie Lucio, Jr., D-Brownsville, Rep.Verónica Gonzáles, D-McAllen, Dr. Blandina "Bambi" Cárdenas, president of the University of Texas-Pan American, and Dr. Shirley Reed, president of South Texas Community College.
Ramiro Garza, Jr., executive director of the Edinburg Economic Development Corporation, said the partnership represents a major step forward in organizing major stake holders which prepare the area's labor force and which seek to employers.
"This is the first step. It is important that we be part of this, that we collaborate," Garza said. "This consortium is going to be key for us to identify future needs, come together and come up with future programs that will lead to a better quality of life for the region."
Salinas explained some of the objectives of the gathering.
"This summit provides a unique opportunity to better understand the important role in transforming our workforce," the county judge said. "We must foster a working coalition that links and supports education, economic development, and workforce. This has never been more critical in today's highly competitive global market."
Garza said that after finally bringing unemployment in Edinburg and South Texas to historic low levels, the next step is to improve the skills of one of the youngest labor forces in the U.S.
"Unemployment is reduced, we have single-digit unemployment, an improvement over what we had a few years ago. But there is another challenge to a low jobless rate – below five percent in Edinburg that at times was even better than the state and national averages," Garza observed. "The new challenge is that the labor market is tightening. How do we come up with different ways to prepare our workforce for the future? What are the new jobs out there? How do we match the educational system with the business community, and how can we, as economic development corporations, be part of that, take a larger role than we have before?"
The Edinburg EDC is the jobs-creation arm of the Edinburg City Council.
It is led by a five-member governing board which features former Mayor Richard García as president, along with Mayor Joe Ochoa, Fred Palacios, Mike Govind, and Dr. Glen E. Martínez, Ph.D.
Salinas emphasized the relative young age of the Valley's population, and the impact it will have on the state and national economies.
"Hidalgo County is a rapidly growing Texas county, and its most valuable resource is its people," the county judge said. "Recent trends indicate that U.S. communities will soon face a shortage of skilled workers, as baby boomers retire and workforce demographics change. "But fortunately for us, the Lower Rio Grande Valley is expected to have a healthy labor supply," Salinas continued. "It is up to us to capitalize on that advantage. Will our people be our biggest burden or our biggest asset?"
Garza expressed optimism about the alliance.
"There was never a consortium in place. Today, this is the first step in doing that," Garza said. "The next step is a summit, there will be committees working together on economic development, education K-12, higher education, and all of us will be working on different objectives, and come back with reports with some achievable outcomes every year."
••••••
Workforce Summit 2007 energizes local communities about educational and employment issues
By CARI LAMBRECHT
Building, attracting and retaining future talent are the most important things we can do to see our region prosper, Hidalgo County Judge J.D. Salinas III told more than 200 participants at the Workforce Forum 2007 on Wednesday, August 8, after illustrating his vision with a short video filled with local children expressing their dreams of becoming doctors, teachers, veterinarians, singers and dancers.
"You see those kids, they are the future," Salinas said. "What we do here today affects their future."
Public school educators, university and college officials, top employers, economic development and workforce specialists, and federal and state decision makers attended the event at the McAllen Convention Center to devise solutions to the challenges that were identified at the Workforce Public Forum held on July 5.
Some of the challenges participants identified at that time were the low educational attainment levels (nearly 50 percent of Hidalgo County residents do not have a high school diploma or GED), the disconnect between K-12 and higher education and the lack of communication between the business community and educators.
The purpose of the Workforce Summit, organized by the Office of the County Judge, was to energize and engage the local community about educational and workforce issues. The partners — The University of Texas-Pan American, South Texas College, Region One and Workforce Solutions —along with the legislators and congressmen signed a pact that would commit them to the goals of the Workforce Summit: to improve educational attainment, enhance economic opportunity for the local labor force and promote and communicate our own budding talent. Others also filled out volunteer commitment cards.
Next steps include creating the Coalition for Building Future Talent, which will be responsible for carrying out the goals indentified in the Memorandum of Understanding.
With the signing of the MOU, participants promised to link workforce and economic development objectives, build upon the best practices of each partner and leverage resources where possible to achieve the outlined goals.
"Hidalgo County is the second fastest growing county only to Flagler County, Fla," Salinas said. "Our young growing workforce can be our biggest asset or our biggest burden."
Dr. Ray Perryman, president and CEO of The Perryman Group, an economic research and financial analysis firm in Waco, Texas, and the prolific author of several books, more than 350 academic papers and 1,800 trade articles, spoke about the "Economics of Education."
The high school graduation rate — specifically among Hispanics — is getting better, he said, but more work must be done. However, "What is the payoff for a better educated workforce?" he asked. Education translates to better, higher paying jobs, a larger tax base, and wealthier cities and people, but also to lower crime rates, higher voting rates, and the productivity of everyone goes up.
He continued by saying a "college-going" culture should be ingrained in our children early on, and higher education should not be a question of if, but of where.
"We are talking about changing fundamental culture in our households," Perryman said.
Perryman also addressed immigration issues, saying that the U.S. economy relies heavily on undocumented workers.
"If we didn't have them our economy would fall apart," he said. He said a real discussion needs to be had to legalize this workforce so vital to our ways of life. Perryman shot down the idea of a border wall and supported injecting our borders with more technology and workers to process trucks faster. An extra 30 seconds in line is wasted money, he said.
Congressman Henry Cuellar, D-Laredo/McAllen, emphasized the entrepreneurial spirit and small business development. For years the country has depended on natural resources, whereas now we depend on human resources. The size of the workforce is the most important asset for an economy, Cuellar said.
Dr. Daniel King, superintendent of Pharr-San Juan-Alamo school district and former Hidalgo superintendent, asked educators to move beyond current models. Don't put dropouts back in high school, the very place they dropped out from, he said. Develop other programs. Keep them "going through the pipeline."
Rick Guerra, a local restaurant owner, encouraged educators to learn a thing or two from business and for business to communicate better with educators. And Keith Patridge of the McAllen Economic Development Corporation said "speed" was an issue the community needed to work on. The speed in which a product enters the marketplace is remarkable, he said. Where new business can shine is with speed to market, customization and innovation.
A plethora of speakers highlighted their own best practices. Congressman Rubén Hinojosa, D-Mercedes, told participants, though, that if they needed legislative help in making their ideas become reality, pounding the halls of Congress, just as Salinas has done on several issues — the wall, the levees, and the Veterans' Administration hospital — is the quickest route to success. He, along with Cuellar, Sen. Eddie Lucio, Jr., D-Brownsville, and Rep. Verónica Gonzáles, D- McAllen, signed the MOU, pledging their support.
(EDITOR'S NOTE: Gonzáles is facing at least one Republican opponent – McAllen attorney Javier Villalobos – in the November 2008 general election for House District 41, which includes southwest Edinburg.)
"It is important that what we started here today does not end here. After today, the real work begins," Salinas emphasized at the end of the Summit.
The Office of the County Judge thanks speakers, participants, UTPA, STC, Workforce Solutions, Region One, the Greater McAllen Alliance, McAllen Chamber of Commerce, Blanca Cantú of Cantú's Flowers, Casa de Palmas Hotel and the economic development corporations of Edinburg, McAllen, Mission, La Joya, Mercedes, Alamo, Donna, Hidalgo, Weslaco and Pharr for the continued support.
••••••
ECISD looks to ink mutual police aid agreements with city, county
By GILBERT TAGLE
Edinburg school district campuses, already among the safest schools in Texas, will soon be a little safer under a restructuring plan the school board has given its support.
The plan, which shifts five officers and two dispatchers who work on a rotational basis with the patrol division over into the schools during the daylight hours, will save district taxpayers approximately $200,000 a year in staff salaries, overtime, fuel costs and vehicle maintenance, announced Mario Salinas, assistant superintendent for District Administration.
Salinas outlined the plan briefly to the school board during their regular board meeting on July 31. The board meetings are videotaped and are aired three times a day (8 a.m., 5 p.m. and 11 p.m.) on the school district's television channel, KATS-TV, Cable Channel 17.
Based on a recommendation from the superintendent's office, the school board has given the green light to administration to proceed with the plan to restructure the Police Department's Patrol Division.
The school district is working on a Memorandum of Understanding with the City of Edinburg and City of McAllen Police Departments and the County of Hidalgo Sheriff's Department to provide a police response to alarms at the schools during the night time hours.
Restructuring will streamline efficiency of police response
The patrol division that is being revamped consists of four officers that operate on eight hour shifts 24-hours a day. At any one shift, there is only one officer patrolling the entire school district.
At 945-square miles, the ECISD is one of the largest land mass school districts in the nation. The district has 27 elementary schools, five middle schools, three high schools and one alternative education school plus the district's other facilities. A dozen or more of those schools are outside the Edinburg inner city and two schools are with the City of McAllen limits.
At any one time, there is only one patrol officer on duty during the day and at night. The patrol officer's duties have been to patrol the schools in order to prevent burglaries occurring at the campuses during the evening hours.
"Because we feel that the Edinburg CISD's geographic area is one of the largest in the nation, we feel that one patrol officer cannot effectively patrol our entire school district, especially at night when burglar or fire alarms may go off at any school," said Salinas.
"A patrol officer may be out patrolling Hargill Elementary on any given night when he receives a signal that an alarm has sounded at Freddy Gonzalez Elementary in town," said Salinas. "The reality is that Hargill Elementary is more 24 miles from town, and the response time is just not feasible."
"Having one patrol officer, especially at night with no dispatcher for the officer to call on for assistance, places that officer in a life-threatening situation, not to say places the burden of liability on the school district," said Salinas.
"The Edinburg and McAllen city police departments as well as the Sheriff's Department have multiple patrol units out during the day and at night that are ready to assist the Edinburg school district," said Salinas. "Those law enforcement agencies are prepared and equipped to respond quickly to any alarm or emergency during the evening hours."
Salinas said, "The restructuring plan in absolutely no way reduces the police force. No police officer will be out of a job. They will be reassigned to the schools where a police presence is needed during the daytime and by virtue of their presence on a campus they will ensure the further safety of our students."
"The Edinburg school district has one of the best school safety programs in the nation," said Salinas. "There is no other Valley school district that has the number of police officers and police security officers that we have in our elementary and secondary campuses," said Salinas.
"There is a lot of confusion and misinformation that has been circulating around the community about this restructuring plan," said Salinas. "The one and only truth is that under this new plan, we will have five additional officers assigned to our schools to protect our students during the day when the presence of police is most needed on campuses."
Salinas said, "Community members and parents should be not be worried by the move to ask the city police and the Sheriff's Department to respond to alarms at our schools at night.'
"Our schools will in no way be less safe than they are now," said Salinas. "There will continue to be certified police officers and police security officers on our campuses on a daily basis throughout the school year."
"During sports activities, our district police force will be present to provide security," said Salinas. "During regular activities, the district has a strict mandatory policy that our school administrators follow. The policy calls for staff presence on all campuses up until the last child has been picked up. We will maintain that policy."
Salinas said that once the district has struck Memorandums of Understanding with the cities of Edinburg and McAllen and the County of Hidalgo, the new plan will be implemented. "We will evaluate the effectiveness of the restructuring after three months. If we see that it is not providing the kind of streamlining and cost savings that we had hoped for, then we will re-visit the issue of a school district-sponsored patrol division."
Safe schools a high priority for district
School safety has been a high priority of Superintendent Gilberto Garza Jr. and the school board. Garza formed a committee made of the school district chief of police, the assistant chief of police, campus principals, and school administrators who worked on the restructuring plan.
In keeping with its commitment to make ECISD schools safer, the school board accepted the committee's recommendations and in December 2006 approved funding for 18 new Police Security Officers (PSOs) to serve the district's elementary schools who did not have the presence of security on their campuses.
The addition of 18 officers brought the number of PSOs the district has to 40. Because PSOs are not certified police officers, they are not licensed to carry firearms, but they do provide a police presence nevertheless. The district also has 50 commissioned police officers who are armed.
Each of the middle schools has two police officers; two PSOs; and a truancy officer to help the principal and staff maintain order and provide security. Each of the high schools has four police officers; three PSOs; a truancy officer; and a camera monitor for the security cameras.
Each school campus has its own Emergency Operations, a plan that custom fits their school and its needs. Additionally, the district also has school guidance activities; enforcement of the Student Code of Conduct; Crisis Management training and procedures; safety and security drills; campus visitor check-in procedures; and Lockdown and Intruder procedures that are Standard Operating Procedures the district is using to address school safety daily.
••••••
Key county offices begin relocating to former K-Mart Building in south Edinburg
By CARI LAMBRECHT
Relocation to the "Old K-Mart building," located at 2802 S. Business Hwy 281 (corner of Canton and Business 281), has already begun. On Thursday, August 9, Tax Assessor-Collector Armando Barrera saw his first customer, Julie Kracht, who said she once shopped at the old K-Mart building. It was interesting to see it renovated into the new Hidalgo County Administration Offices, she told Barrera.
The motor vehicle registration division was the first county department to make the move. From August 13 through August 17, the main tax office, currently located at 100 E. Cano, will be relocating. The main office will be closed during this time, but people can still pay their taxes at the following substations:
•722 Breyfogle Rd., Mission: 205-7050;
•1902 Joe Stephens Dr., Weslaco: 973-7825; and
•501 Earling Rd., San Juan: 283-1645.
"I think people are going to like the new building," Barrera said. "There is more lobby space, and it is much brighter."
The new Hidalgo County offices span 55,552 sq. ft. and sit on 6.24 acres of land, with 280 parking spaces. They will house about 180 employees among the tax and auto licensing divisions, the Hidalgo County Treasurer's Office, Auditor's Office, Veterans' Services, Fire Marshall, Purchasing Department, and the Office of Budget and Management (which includes Safety Division, Risk Management, Worker's Comp, Litigation, Health Insurance and agenda coordinator). Each department has allowed for future growth, and compared with the current facilities, it is a major step up.
The county acquired the K-Mart building in 2005 at a cost of $1,635,000. The renovations of the building began late in 2006 and have cost approximately $3.1 million. The money comes from certificates of obligation.
The county judge's office will remain at the current administration building, along with Hidalgo County Department of Human Resources, the Court of Appeals, Hidalgo County Auxiliary Court B, Child Protective Services court, public defenders program and adult probation court services. Adult probation court services will likely move at a later date, but the location is to be determined, according to supervisor Rick Guerrero.
The moving schedule is as follows:
•August 13 through August 17: Tax Office;
•August 20 through August 24: Veterans' Services and Fire Marshall;
•August 27 through August 31: Auditor's Office and Treasurer's Office;
•September 3 through September 7: Buffer Week;
•September 10 through September 14: Purchasing;
•September 17 through September 21: Budget and Management; and
•September 24 through September 28: Finish the move.
Those interested in scheduling a tour of the new administration building can do so by contacting the public information office.
••••••
Texans urged to check for potentially dangerous tires distributed by Foreign Tire Sales, Inc.
Foreign Tire Sales, Inc. (FTS), in accordance with the National Traffic and Motor Vehicle Safety Act, today issued a recall of tires that could be in danger of tread separation. The Office of the Attorney General is urging Texas drivers to check their vehicles for these potentially dangerous tires and contact FTS to learn more about replacing the recalled products.
The recalled tires were made by Hangzhou Zhongce Rubber Co. Ltd. ("HZ") in China and distributed in the United States under several names, including Westlake, YKS and Compass. The tires were sold from 2004 to 2006 for light trucks, sports utility vehicles, and vans.
According to FTS, the U.S. distributor, at least 270,000 tires may have insufficient or missing "gum strips," an important safety feature on certain tires that helps prevent tread separation. More than 50,000 of the potentially unsafe tires are believed to have been sold in Texas.
Consumers should immediately check the sidewalls of their tires for the brand name, size, model, and U.S. Department of Transportation (DOT) number. Tires subject to today's recall bear the DOT number "FTS" as part of the number.
Consumers who own any of these tires should immediately contact FTS toll-free at (888) 899-9293 or online at http://www.foreigntire.com. FTS may require consumers to complete a questionnaire and present it to a local dealer to obtain replacement tires. Consumers who own these tires should avoid driving for long distances on hot roads. Contact FTS to locate the closest tire shop or mechanic participating in the recall.
In most cases, consumers should not be charged to replace the defective tires. Check the FTS Web site or hotline for additional information.
Specific tire sizes and models affected:
• LT235/75R-15 CR861, CR857 (Partial D.O.T. Number: 7DT5FTS)
• LT235/85R-16 CR860, CR861, CR857 (Partial D.O.T. Number: 7DT2FTS)
• LT245/75R-16 CR860, CR861, CR857 (Partial D.O.T. Number: CR857)
• LT265/75R-16 CR860, CR861, CR857 (Partial D.O.T. Number: 7DT4FTS)
• LT31X10.5R-15 CR861, CR857 (Partial D.O.T. Number: 7DT6FTS)\
As part of general tire safety, consumers should keep the following tips in mind:
• Inspect tires at least once a month and before every long trip for patterns of uneven wear. Check tire inflation pressure in accordance with manufacturer recommendations.
• Do not overload your vehicle. Excess weight can place extra stress on your tires. Check your tire placard or vehicle owner's manual for the maximum amount of weight your vehicle can safely carry.
• Develop safe driving habits. Observe speed limits and avoid fast stops, starts, and turns. Avoid contact with potholes, debris, and curbs when driving or parking your vehicle.
• Keep your vehicle properly maintained. Rotate tires regularly, get wheels balanced, and get a front-end alignment if necessary.
• Use the proper tires for your vehicle. Check the vehicle manufacturer's recommendations before replacing a tire with a different size and/or construction.
• Be aware of how the outside temperature affects your tires. Hot weather can be especially hard on tires.
• Have any tire problems checked out by professionals. If you find that one of your tires is losing pressure, take it to a tire expert for a complete internal inspection.
• Avoid buying used tires. You might be getting previously recalled or otherwise dangerous tires.
••••••
Sen. Lucio recognized for legislative leadership on affordable housing
By DORIS SANCHEZ
The Texas Affiliation of Affordable Housing Providers (TAAHP) recently presented Sen. Eddie Lucio, Jr., D-Brownsville, an award in appreciation for his work in providing affordable housing for Texans at its Texas Housing Conference 2007, held in Austin on July 30 and August 1.
TAAHP is an organization of more than 170 state and national housing providers. Our membership represents a broad array of members including: nonprofit developers, for-profit developers, investors, lenders, management companies, market analysts, accountants, lawyers, financial advisors, etc.
TAAHP's premier purpose is to work for laws, regulations, and programs that are necessary for, and contribute toward, the development of a viable affordable housing inventory in Texas, and to promote the common interests of the members of the affordable housing industry through communications and conferences.
"Organizations like yours that work to provide affordable housing to families of limited incomes should be applauded," said Lucio, who expressed appreciation to the conference attendees for being recognized for his legislative efforts to improve the quality of life for people in his senatorial district and throughout the state.
"For the first time in recent history a consortium of those involved in the Affordable Housing Industry joined together to pass a very proactive housing bill in this year's legislative session," said TAAHP Executive Director Jim Brown. "I wish to applaud all of the parties and stakeholders in affordable housing who crafted this legislation. Special thanks are due to Sen. Lucio."
The theme of the conference was "Under Construction: Affordable Housing Partnerships."
As a member of the Finance Committee, Lucio worked with Lt. Governor David Dewhurst and Chairman Steve Ogden, R-Bryan, to double the funds available in the Housing Trust Fund, through an appropriation of an additional $5 million for the biennium.
This is the only housing program in Texas that is solely supported by state funds. He also passed or sponsored other bills to offer communities more affordable housing tools, like the means to develop Urban Land Banks that allow tax delinquent properties to be turned into affordable housing.
"Although we experienced great success during this last session, there is still much more that needs to be done. It is unacceptable that Texas ranks near dead last in home ownership rates," Lucio added. "It is also inexcusable that we have one of the highest foreclosure rates in the country and that other states have Trust Funds with much greater state support than ours.
"What this means is that we need to go back to the drawing board and revisit affordable housing during this interim. We need to work with organizations such as yours to provide the necessary tools that engender greater housing opportunities in Texas," he concluded.
••••••
Some Fisher-Price toys recalled due to lead poisoning hazards, says AG Abbott
The Office of the Attorney General is urging Texas consumers to stop using certain toys after Fisher-Price and the U.S. Consumer Product Safety Commission (CPSC) issued a recall due to potential lead poisoning hazards. Texans are urged to remove these toys from their homes and contact Fisher-Price to learn more about replacing the recalled products.
According to CPSC, toys and figures bearing the likeness of characters from Sesame Street, Dora the Explorer and other popular children's programs contain surface paints with excessive levels of lead, which could be toxic if ingested. More than 950,000 of the recalled toys were sold nationwide from May 2007 to August 2007. The products were sold both alone and as parts of sets. The toys are all marked with "Fisher-Price" and may have a date code between 109-7LF and 187-7LF marked on the product or packaging.
A detailed list of the recalled toys can be found on the Attorney General's Web site at http://www.oag.state.tx.us.
Consumers who own these recalled toys or figures should immediately remove the products from children and contact Fisher-Price at (800) 916-4498. Consumers who wish to return the recalled product will receive a voucher for a replacement toy of the consumer's choice (up to the value of the returned product).
CPSC tests consumer products on an ongoing basis to ensure they are safe. As it did with the Fisher-Price toys, the CPSC issues warnings whenever products do not meet certain safety standards.
While the majority of consumer products are safe when used properly, consumers are encouraged to regularly check the CPSC Web site (http://www.cpsc.gov) to make sure they do not have items that could pose a danger. Many of the alerts posted by CPSC involve toys, car seats, cribs and other items for children. Parents and friends might be particularly interested in the "Toys" and "Child Products" section of the CPSC Web site, which provides information on recent recalls. The Web site also allows consumers to submit information on a product they believe is hazardous.
Texans are understandably concerned about their safety, particularly that of their children. Consumers can contact the Office of the Attorney General at (800) 252-8011 or online at http://www.oag.state.tx.us. Our staff will gladly help consumers find federal, state and local resources that will assist them in gathering critical information about a product's safety record or reporting their concerns.
Below is a list of resources from several federal agencies that test and regulate the safety of consumer goods:
Consumer Product and Safety Commission (CPSC)
Information about dangerous and recalled consumer goods and household items, including toys, children's cribs, car seats, smoke detectors, electronics, sporting goods, lawnmowers, gas grills, and many others
Consumer hotline: (800) 638-2772 (TTY 800-638-8270).
Food and Drug Administration (FDA)
Information about dangerous and recalled foods, cosmetics, pharmaceuticals and other health-related items
General information: (888) 463-6332
National Highway Traffic Safety Administration (NHTSA)
Information about auto safety technology and alerts/recalls on dangerous vehicles and components such as defective tires, etc.
General information: (888) 327-4236
U.S. Department of Agriculture
Information on food contents and nutritional value, including an online search tool for the profiles of 13,000 common foods
Environmental Protection Agency (EPA)
Information about toxic products, such as asbestos, pesticides, and pollution
General information for Texans: (214) 665-6444
••••••