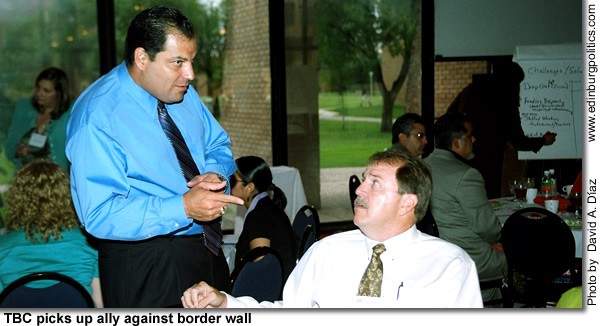 Hidalgo County Judge J.D. Salinas,III, standing, and Pat Townsend Jr., president and CEO of the Mission Economic Development Agency, featured here on Thursday, July 5 in Edinburg, discussed progress on efforts by the Texas Border Coalition to continue rallying opposition against the planned U.S. border wall, set to be built in 2008 and to be located along the U.S.-Mexico border, including in the Lower Rio Grande Valley. On June 30, Democratic presidential candidate and current New Mexico Gov. Bill Richardson voiced his strong opposition to the planned wall, a view shared by TBC. Salinas and Townsend are members of TBC, an alliance of elected leaders and economic development officials representing more than two million residents who live in the 11 Texas counties that border Mexico. See story later in this posting.
••••••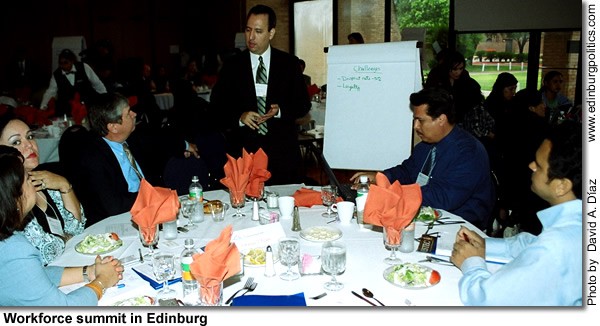 Ramiro Garza, Jr., standing, the executive director of the Edinburg Economic Development Corporation, led a roundtable discussion on Thursday, July 5, during a workforce summit held at the University of Texas-Pan American. The gathering, held in the University Ballroom, served as a preparation for a major conference, to be held August 8 at the McAllen Convention Center. More than 150 area leaders participated in the preliminary summit, entitled "Building Future Talent," where they developed strategies for helping Hidalgo County residents acquire the education and skills needed to effectively compete in a global economy. See story later in this posting.
••••••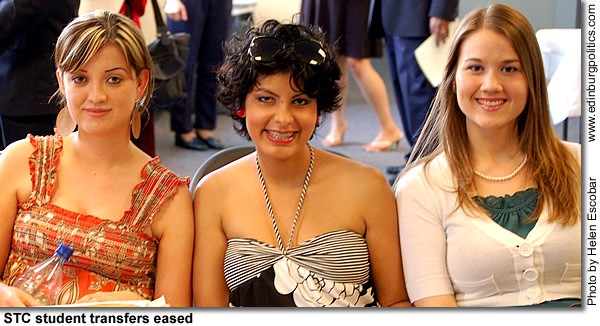 South Texas College and The University of Texas-Pan American are expanding their partnership allowing for seamless transfer opportunities for liberal arts students. Some of the students planning to take advantage of the new agreement include, from left: Marisol Hernández, class of 2007; Michelle Escamilla, class of 2009; and Micah Mullins, class of 2007, study social work at STC, who plan to transfer to UT-Pan American upon graduation. See story later in this posting.
••••••
County Judge Salinas applauds Gov. Richardson's promise to bring down planned U.S. border wall
By DAVID A. DÍAZ
New Mexico Gov. Bill Richardson may not be considered as one of the leading Democratic candidates for president in 2008, but his credentials and campaign platform – including his opposition to a planned border wall that would separate the U.S. from Mexico – have made a believer out of Hidalgo County Judge J.D. Salinas.
Richardson, a former congressman, U.S. Energy Secretary, and U.S. Ambassador to the United Nations, made headlines recently when he emphasized his opposition to the federal government's planned construction of about 700 miles of additional fortified fence – characterized as a "border wall" by its detractors – to run through California, Arizona, New Mexico and Texas.
Addressing the 24th annual conference in Los Angeles of NALEO, the National Association of Latino Elected Officials, Richardson on June 30 hammered at the proposed wall, which includes plans for 153 miles of new fortified fences in Texas, mostly along the Lower Rio Grande Valley.
"The first thing that will go down"
"As president, I will not militarize the border," Richardson said. "The first thing that will go down when I'm president is this wall."
Richardson's pledge drew strong praise from Hidalgo County Judge J.D. Salinas, who, along with other members of the Texas Border Coalition, has called for improved border security, but without building a physical barrier in populated areas of the state, especially in the Lower Rio Grande Valley.
The Texas Border Coalition is an alliance of elected leaders and economic development officials representing more than two millions people who live in the 11 Texas counties that border Mexico.
"I think of all the candidates, Republicans, Democrats, or independents, Gov. Richardson is the only one who has been steadfast in saying he is against the border wall," said Salinas.
In addition to Salinas, other members of TBC include Eagle Pass Mayor Chad Foster, who serves as TBC chairman; Cameron County Judge Carlos H. Cascos; Edinburg Mayor Joe Ochoa; El Paso Mayor John Cook; El Paso County Attorney José R. Rodríguez, Hidalgo Mayor John David Franz; Laredo Mayor Raúl Salinas; Maverick County Judge José Pepe Aranda; McAllen Mayor Richard Cortéz; Mission Mayor Norberto Salinas; Pharr Mayor Leopoldo Palacios, Jr; Rio Grande City Mayor Kevin Hiles; Roma Mayor Rogelio Ybarra; Val Verde County Judge Manuel "Mike" Fernández; Weslaco Mayor Joe V. Sánchez; Mike Allen of McAllen, a member of the South Texas College Board of Trustees; Monica Stewart of McAllen; and Pat Townsend Jr., president and CEO of the Mission Economic Development Agency, and other community leaders.
"Walls never work"
"Northern Mexico, Reynosa, McAllen are the same community – we just happen to have a river between us," the county judge contended. "What kind of message are we telling our neighbors by building a wall or a fence? All the walls and fences in history have never worked. What makes us think this one is going to work?"
On October 26, 2006, President Bush signed H.R. 6061, which was earlier approved by Congress and the U.S. Senate, calling for the additional high-security fencing along key areas of the U.S.-Mexico border. The border wall is intended to slow the flow of illegal immigration into the U.S., and has also been touted as a way to help protect the country from foreign terrorists coming into the nation.
On his campaign web site, Richardson contends that "building a fence will not increase security, just as attempting to deport 12 million illegal immigrants is not feasible or reasonable. I believe a realistic immigration reform plan must address the problem from all sides – securing the border, penalizing employers for knowingly hiring illegal workers, offering a tough but reasonable path to legalization, engaging Mexico in the reform process, and improving our current immigration quota system."
He continued that theme at the NALEO conference, telling an estimated 1,000 conference participants "that it is important that we return to the traditions of America, not one that has a wall between two brother and sister nations."
Media bias?
Salinas wants to keep the border wall controversy alive long enough to force a higher profile in the presidential campaigns.
"We need to bring this up every chance we have," Salinas said. "If we are talking about the levees causing possible problems in Hidalgo County, we need to hold the federal government accountable when they say they don't have the money to fix our levees, then how is it they have the money to build a wall or a fence? We need to keep educating the American people that we don't want a wall."
Perception is critical, and Richardson contends that support for the border wall is fueled by negative stereotypes of immigrants, especially Mexican Americans, that are portrayed in the U.S. press.
"I have a message to the American media," Richardson told the NALEO gathering. "Have you noticed when they depict immigrants, they have somebody crossing a wall, jumping, as if they were criminals? How about the American media looking at the farm workers who break their back to bring agriculture to this country? How about the American media also covering the men and women who work in the hotels where we all stay? How about the American media covering the Latino immigrant who has died for this country?"
Salinas, along with other TBC leaders, are also determined to utilize the news media to continue getting their messages out to all the presidential contenders.
"As the issue of immigration continues to take center stage, they are going to have to eventually take a stand and say how they feel on this border wall," Salinas predicted. "I invite them to come to UT-Pan American and hold a debate, like has been done in the past, and talk about the immigration reform issues we have, including the wall. What better place to talk about immigration reform than down here, the front door to America?"
Salinas said the concept of the border wall goes counter to the image of America, both abroad and to its own citizens.
"I think it is very hypocritical. We are putting a wall or a fence against Mexico, which is our biggest trading partner in the world," Salinas said with dismay. "I think it is ironic that the father of our current president helped tear down the Berlin Wall, and now we have his son dealing with the situation of building a wall between Mexico and Texas, where he grew up."
••••••
Economic development leaders in Hidalgo County lay foundation for Workforce Summit on August 8
By CARI LAMBRECHT
"Building Future Talent" — the workforce forum organized by the Office of the County Judge J.D. Salinas III and partners including The University of Texas-Pan American, Workforce Solutions, South Texas College and Region One — captured the energy of more than 150 educational, business, social and economic leaders on Thursday, July 5.
Guided by engaging keynote presentations and plenary panels about real-world educational experiences and data, workforce trends and generational expectations, the participants in the forum, which was held at UTPA's University Ballroom from 9 a.m. to 3 p.m., freely shared their ideas about recruiting and retaining future talent for Hidalgo County's booming regional economy to form the framework for a strategic future vision.
Forbes, a leading financial news outlet, recently tapped Hidalgo County as an area ripe for business. In the last five years, this border county added more than 50,000 jobs, a 25 percent increase. However, Forbes also mentioned that Hidalgo County has a low attainment level.
Ramiro Garza, executive director of the Edinburg Economic Development Corporation, was one of the participants of the forum.
"It used to be that we had the challenge of a high unemployment rate, but we have brought the jobs to reduce it," Garza said, noting Edinburg has seen record low jobless rates during the past few years. "Now, there are challenges with the low unemployment rate – there is a tighter labor market out there, so we want to be able to find some of the solutions to improve our educational attainment."
The EEDC is the jobs-creation arm of the Edinburg City Council. Former Mayor Richard García serves as president of the EEDC board of directors, which includes Mayor Joe Ochoa, Mike Govind, Fred Palacios, and George Bennack.
"It is not so much just having an abundance of labor anymore, it is being to have a workforce that is better prepared to compete in a global market," Garza continued. "We are trying to create a consortium to address these challenges.
The Edinburg EDC leaders reported that there were many ideas presented at the forum.
"I believe everyone agrees that there is no one entity that can address all the issues we have before us," he said. "Everyone agrees there has to be some kind of regional consortium to be able to implement some of the solutions we have discussed here, whether it involves creating mentorships for students to encouraging the business community to be more engaged with the young generation."
The county judge explained to the audience that "the reason we are here is the build the future. It's all of our problems — we need to tackle it."
Some of the challenges identified in the plenary panel and breakout sessions included:
•The communication disconnect between industry and education;
•Limited adult and continuing education, internship programs and real-world experience;
•A lack of basic skills and technical skills on behalf of potential workers and a lack of flexible training programs on behalf of the employer; and
•The issues associated with a mobile, young workforce — the attraction and retention of homegrown and foreign laborers when there are so many other places to go.
Preparing for a global society
Hidalgo County is a region preparing for a global society, speakers agreed.
"Historical inattention to South Texas makes the work we face formidable," said UTPA President Blandina "Bambi" Cárdenas in her opening remarks. "We have got to focus on making this region ever more competitive."
Cárdenas noted that the long road ahead was mitigated by "ganas" and strong values"
"Ganas" is a Spanish word meaning "motivation" or "desire".
"We are a wonderful patchwork of large and small cities … multiple political entities and interests. That can be an asset if the barriers to collaboration are removed," she added.
In this four county region of Hidalgo, Cameron, Starr and Willacy, according to Workforce Solutions CEO Bonnie González, 50 percent of the workforce does not have a high school diploma or a GED. But the people in the workforce development industry look at that as an opportunity, she said. The main focus today was to strategize how to identify and retain local talent. It's about helping business partners become more efficient.
"It's really about us. It's really up to us to make it work," she said.
Salinas echoed González' sentiment: The statistics can be scary, he said. But where do we go from here?
"Our growing labor force needs to turn into our biggest asset, not our biggest liability," Salinas said.
Some of the broad solutions suggested by the participants were: Introducing a career mindset; mastering the English language; opening lines of communications, possibly through a consortium, between employers and educational institutions; learning what differentiates generations of workers; leveraging existing technology; having realistic wage and workplace expectations; raising awareness about educational opportunities and branding/marketing the region.
The next step toward "Building Future Talent" will be the upcoming Workforce Summit.
It is scheduled for August 8 at the McAllen Convention Center.
Keynote speaker will be Ray Perryman, Texas' foremost economist, and other confirmed guests are Congressmen Rubén Hinojosa, D-Mercedes, and Henry Cuellar, D-Laredo/McAllen.
At the McAllen summit, participants will create the action agenda for the future.
"The barriers to collaboration Dr. Cárdenas mentioned were removed today," Salinas said. "Everybody who attended this forum today has the will and the way to make things happen. I look forward to the many months ahead. Economic development through educational attainment is one of my foremost goals. Education is the key to everything we do."
David A. Díaz contributed to this article.
••••••
Construction activities in Edinburg exceed $102 million through May
By DAVID A. DÍAZ
The value of construction activities in Edinburg from January through May passed $102 million, with one construction project worth almost $3 million and a second one worth $2.5 million leading the way as the most valuable projects for the month of May.
During the same period in 2006, total construction activities in Edinburg had totaled almost $92 million.
For the month of May – the latest figures available from the city government – Edinburg generated more than $12.5 million in total construction, compared with more than $15 million in May 2006.
The latest numbers, compiled by the city's Code Enforcement Department, were released by the Edinburg Economic Development Corporation, which is the jobs-creation arm of the Edinburg City Council.
The EEDC is governed by a five-person board of directors, which includes Mayor Joe Ochoa, former mayor Richard García, who is the EEDC board president, and Fred Palacios, Mike Govind, and George Bennack.
The estimated value of construction for a project is included when the city issues a building permit.
A building permit is permission issued by a city's planning department to oversee and approve any changes to structures.
They are documents designed to guarantee that any construction work, from remodeling to demolition to building a new home or business facility, meets the city's building codes.
The building permit does not include the value of the lot.
A breakdown of the major construction categories year-to-date and by month in Edinburg includes:
•Total new construction, January through May, was $102,291,804, compared with $91,798,450 during the same period in 2006. In May, total new construction was $12,570,174, compared with $15,085,715 during the same month last year;
•Total new commercial construction, January through May, was $55,641,650, compared with $34,217,864 during the same period in 2006. New commercial construction in May reached $6,265,000, compared with $4,918,864 in the same month in 2006;
•Total new construction of single-family homes, January through May, was valued at $27,185,210, compared with $30,386,340 during the same period in 2006. New construction of single-family homes in May totaled $4,942,238, compared with $5,515,665 in the same month last year;
•The number of single-family homes built in the first five months of 2007 totaled 278, compared with 346 from January through May 2006. In May, construction began on 55 new homes, compared with 64 new homes in the same month last year;
•Total new construction of multi-family residences (duplexes, triplexes, fourplexes, and apartments), January through May, was valued at $5,395,000, compared with $5,255,000 in the same period in 2006. New construction of multi-family residences in May totaled $710,000, compared with $1,968,000 in the same month last year;
•The number of multi-family residences built, from January through May, totaled 56 (54 duplexes, two triplexes/fourplexes), compared with 64 (63 duplexes, 1 triplex/fourplex) in the same period in 2006. New construction of multi-family residences in May totaled 8 (all duplexes), compared with 27 (all duplexes) in May 2006;
•Total residential alterations, January through May, were valued at $2,564,765, compared with $3,125,842 during the same period in 2006. Total residential alterations in May were valued at $238,048, compared with $801,161 in May 2006;
•Total commercial alterations, January through May, were valued at $1,682,688, compared with $6,907,404 during the same period last year. Total commercial alterations in May were valued at $414,888, compared with $1,882,025 during the same month in 2006; and
The two multi-million dollar construction projects authorized in May belonged to Jack Penn and Doctors Hospital at Renaissance.
Penn was issued a building permit for work valued at $2,950,000 for a commercial facility located at 2698 South Expressway 281 in the FairHaven Crossing Subdivision.
Doctors Hospital at Renaissance was issued a building permit for work valued at $2.5 million for a facility at 5502 South McColl Road in the Doctors Center Subdivision.
Mark Rodríguez was issued a building permit for a commercial facility, valued at $650,000, being built at 4752 South Jackson Road in the Stoneworks Plaza Subdivision.
The fourth-most valuable project in May to receive a building permit belongs to Elias Lozano, for a home, valued at $300,000, located at 2313 Hampton Drive in the Bently Estates Subdivision.
••••••
South Texas College named to top 100 list by Community College Week
By HELEN ESCOBAR
South Texas College ranks in the top 100 community colleges in the nation in awarding associate degrees according to the national education journal Community College Week.
"We couldn't be more pleased with these ranking as they show how hard our team works to ensure student success," said Dr. Shirley A. Reed, STC president. "I congratulate the faculty, staff and administration on this accomplishment. I know that our new counseling and advising programs, as well as our articulation agreements with other colleges and universities, have been instrumental in improving our graduation rates in all fields of study."
According to the publication's June report "Top 100 Associate Degree Producers," STC also ranks third in the nation in awarding degrees to Hispanic students and fifth in awarding degrees in the field of education. The college ranks in the top 50 in the nation for awarding degrees in the fields of criminal justice, and family and consumer sciences and human services.
The college announced this ranking on the heels of signing an articulation agreement with The University of Texas Pan-American for liberal arts majors. The agreement supports STC students studying social work or world languages. It will help these students to quickly and transparently transfer credits to UTPA for completion of their bachelor degrees.
Community College Week ranks colleges based on the number of degrees granted annually. The data is collected by the National Center for Education Statistics. For additional information about the publication and its national rankings visit http://www.ccweek.com.
For additional information South Texas College visit http://www.southtexascollege.edu or call 872-8311.
••••••
Coastal erosion at South Padre Island to be reviewed by congressional subcommittee on August 14
Congressman Solomon P. Ortíz, D-Corpus Christi/Brownsville, has announced that the United States House of Representatives Natural Resources Committee's Subcommittee on Fisheries, Wildlife and Oceans will hold a formal field hearing on Saturday, July 14, 2007, to examine coastal erosion issues in South Texas at South Padre Island at 11:30 a.m. at the La Quinta Inn and Suites, 7000 Padre Boulevard, South Padre Island.
The hearing is entitled: "Vanishing Beaches: Coastal Erosion and its Impact on Coastal Communities."
"The health and well-being of our coastal lands is of tremendous concern to coastal communities," said Ortíz. "We live upon – or near – delicate wetlands that act as strainers for the Earth's ecosystems and we have an obligation as temporary residents here to leave this place in better shape than we found it."
"The health of our coastal economy is of great concern to communities like South Padre Island on coastal barrier islands," said Ortíz. "We have struggled to repair eroded South Padre Island beaches which saw great damage last winter, so the choice of South Padre Island was ideal to hold this field hearing."
The Subcommittee on Fisheries, Wildlife and Oceans is chaired by the Congresswoman Madeleine Z. Bordallo, D-Guam.
Witnesses will be by invitation only. The use of cellular telephones is prohibited on the Committee dais or in the Committee field hearing rooms during a meeting of the committee pursuant to Rule 3(k) of the Committee Rules.
••••••
South Texas College, UT-Pan American expand partnership to benefit liberal arts students
By HELEN ESCOBAR
South Texas College and The University of Texas-Pan American are expanding their partnership allowing for seamless transfer opportunities for liberal arts students.
"We have been working very closely cooperating on strategies for job placement, counseling and advising and financial aid, as well as signing a transfer agreement for STC education majors and this is another exciting addition to our flourishing partnership," said Juan Mejia, vice president for instructional services at STC. "We are the only two institution of higher education serving Hidalgo and Starr counties and we know that it is imperative we work together to create opportunities in higher education. This agreement is just another way for us to make a college degree an attainable goal for local students."
In a ceremony held at STC's Pecan Campus the two institutions signed an agreement to help students who complete an Associate of Arts in Social Sciences with a concentration in Social Work or an Associate of Arts in Language or Cultural Studies at STC to quickly and transparently transfer all core and field-specific course credits to UTPA for completion of their bachelor's degrees. The colleges have and will continue to develop joint curriculum standards in these fields of study.
For additional information about the agreement contact Dr. Ali Esmaeili, associate dean for bachelor programs and university relations for STC, at 872-7270.
••••••
Former East Texas Senator Drew Nixon indicted on charge linked to 2006 election
A Panola County grand jury charged former State Sen. Drew Nixon, 47, with illegally committing acts of official oppression prior to the 2006 local election. The two-count indictment, which was unsealed on Thursday, July 5, stems from an investigation by the office of Texas Attorney General Greg Abbott.
Earlier this year, officers with the Texas Attorney General's office began investigating several pre-election irregularities involving the May 2006 Panola County Fresh Water Supply District No. 1 board member elections. At the time the irregularities occurred, Nixon allegedly served as both accountant and election administrator for the district. The state's investigation revealed Nixon's attempts to impede two prospective water district board candidates from appearing on the election ballot.
"Texas will not tolerate illegal acts that undermine the integrity of the electoral process," said Attorney General Abbott. "Election officials have a duty to serve the public's interest, not their own. Voters can rest assured the Office of the Attorney General is committed to strictly enforcing election laws."
Nixon surrendered July 5 to the Panola County Sheriff's Office.
While working as the water district's paid accountant, Nixon simultaneously served as a self-appointed election administrator for the May 2006 board election. Nixon is charged with misleading two potential candidates, Dickie Jacks and Jon Kunkel, who planned to challenge incumbent board members.
Despite advice and instruction from the Texas Secretary of State's office, Nixon initially refused to accept the challengers' ballot applications. Despite questions from both would-be challengers, Nixon claimed they were not eligible to appear on the ballot. He told both candidates they resided in the wrong precincts.
Official oppression falls under the category of offenses known as "abuse of office" in the state's Penal Code. It is a Class A misdemeanor, which can result in a punishment of up to one year in prison and a maximum $4,000 fine.
••••••
Sen. Cornyn: Freedom Of Information Act (FOIA) report shows need for open government bill
U.S. Sen. John Cornyn, a member of the Senate Judiciary Committee and leading open government advocate in Congress, made the following statement Monday regarding a new report on Freedom of Information backlogs and in advance of the 40th anniversary of the implementation of the Freedom of Information Act (FOIA):
"This report confirms the inability of the federal government to live up to standards of openness and accountability throughout the years. It reinforces the need for the important reforms in the OPEN Government Act. This bill, which I introduced along with Sen. Patrick Leahy (D-Vt.), would address problems of long delays and shed more sunshine on our government.
"The report indicates many backlogs of not merely weeks, but in some instances up to 20 years. This is unacceptable. The default position of our government must be one of openness. If records can be open, they should be open.
"More than 40 years ago, responding to a clear public need, Congress passed the Freedom of Information Act. Unfortunately, backlogs and delays have plagued this system, impeding the America people's right to clear and open government. It's time for Congress to pass the OPEN Government Act to reform and strengthen FOIA, and expand public access to information."
A report released Monday by the National Security Archive at George Washington University found that the oldest FOIA requests still pending in the federal government were first filed two decades ago.
Sens. Cornyn and Leahy introduced the Open Government Act of 2007 in March. This legislation, which would make the most significant reforms to the Freedom of Information Act in more than a decade, would expand accessibility, accountability and openness of government information to the American people.
For more information on Cornyn's efforts to expand open government: http://www.cornyn.senate.gov/FOIA.
••••••
Texas A&M System becomes first university system in state to post expenditures online
By TERRI PARKER
The Texas A&M University System has become the first university system in Texas to post comprehensive expenditure reports on the internet. Making the reports readily available is part of the system's ongoing effort to increase transparency of its financial information and accountability in spending and a high priority of Texas Governor Rick Perry.
The reports are located on the system website at http://tamus.edu/financial/transparency.
"Our institutions of higher education offer the best bang for taxpayer buck in the nation and now Texans can see for themselves where their hard-earned dollars are going at the Texas A&M System," Perry said. "Add this accomplishment to the list of many things I am very proud of the A&M System for taking the lead on."
"I applaud the Texas A&M University System for taking the lead among higher education institutions in showing detailed expenditures online," said Texas Comptroller Susan Combs. "Starting in January, the Comptroller's office began posting expenditures for state agencies on our website because Texans deserve transparency. As we continue this initiative, we are also working on implementing new legislation that creates a comprehensive, searchable state expenditure database."
"The citizens of Texas deserve to know exactly how their tax dollars are being spent on education, research and service programs," said Texas A&M University System Chancellor Michael D. McKinney. "We are fulfilling the expectations set by the Governor, Comptroller and Legislature by making this information accessible to the public in great detail."
The Texas A&M System reports include expenditure information for fiscal year 2007 to date, as well as information from fiscal years 2006 and 2005. Information is posted for the System Offices and for each of the System's nine universities, seven agencies and health science center. The reports, which will be updated quarterly, include information on salaries, employee benefits, operations and maintenance, utilities, debt service, and a multitude of purchases made through procurement and bid processes.
"Spending resources responsibly is our top priority," said B.J. Crain, the A&M System's associate vice chancellor for budgets and accounting. "We have worked to prepare online reports that are well-organized and easy to understand. The procurement process can be complicated, but we are dedicated to promoting opportunity for vendors, including historically underutilized businesses."
The effort to increase financial transparency across the A&M System aligns with the Window on State Government project launched earlier this year by Combs. The project includes a website at http://www.window.state.tx.us with links to recent expenditure reports of several state agencies, with plans to add more.
About the A&M System
The A&M System is one of the largest systems of higher education in the nation, with a budget of $2.6 billion. Through a statewide network of nine universities, seven state agencies and a comprehensive health science center, the A&M System educates more than 103,000 students and makes more than 15 million additional educational contacts through service and outreach programs each year. Externally funded research brings in almost $620 million every year and helps drive the state's economy.
••••••
CINESOL 36 HR. FILM RACE to hold first-of-its-kind filmmaking contest in the U.S. in Harlingen
By LUPITA GUTIÉRREZ GARZA
CINESOL 36 HR. FILM RACE, a 36-hour filmmaking competition, has announced a call to entries. CINESOL 36 is the first competition of its kind in the U.S., and will take place August 24 – 26, 2007 in the Rio Grande Valley. The Registration and Staging area will be at the Harlingen Downtown District Office on Jackson Street.
Both novice and seasoned filmmakers will have the chance to compete in this fast paced movie-making contest. Participants, whose completed movies must be no more than ten (10) minutes long, will have their movies reviewed and judged by moviemaking professionals.
On Sunday, September 2, 2007 the Top Ten (10) films will be officially unveiled and premiered during the 14th Annual CineSol Film Festival to be held Labor Day Weekend at the South Padre Island Convention Center.
That Sunday, at the end of the special matinee screening, the winning team will receive "CINESOL 36 – Bravo Award 2007" title and an industry package worth about $3,000. Other Awards and Recognition will be for the following: Audience Choice, Best Art Direction, Best Sound, Best Actor, Best Actress, Best Cinematography, Best Director, Best Music, and Best Script.
Best Under 18's Film -To be eligible for the "CINESOL 36 – Bravo II Award 2007", and an industry package worth about $750.00 (two-thirds of the team members must be under 18 years of age).
Participants in this 2ndAnnual CINESOL 36 HR. FILM RACE will plunge into the world's most extreme filmmaking. Filmmakers, musicians, and actors of all ages are invited to take part in CINESOL 36 HR. FILM RACE. Interested parties should visit http://www.cinesol.com.
Information and Entry Forms can be downloaded from the site. "This event will bring the best rookie and experienced filmmakers of the region for a non-stop weekend of action and fun," says Monica Solomon, CINESOL Board Member.
Solomon, who welcomes inquiries from additional sponsors, expects CINESOL 36 HR. FILM RACE to draw several hundred competitors to Harlingen during the Kickoff event and even more to the Island during the screenings. Early interest in the event has been extremely high.
Harlingen is an ideal place to have the Kick-off event. Its central location will help those film makers from the Upper and Lower Valley meet deadlines for registration and for submitting their entry on time.
••••••
Mi Educación es la Causa: Chicana and Chicano Pedagogy in the 21st century
By HELEN ESCOBAR
Chicana/o scholars, NACCS Tejas membership and members of the Texas and southwest communities are invited to submit abstracts and proposals for presentation of papers, exhibits, performances or cultural productions for the NACCS Tejas Regional Conference to be held at South Texas College's Pecan Campus in McAllen from February 28 through March 1, 2008.
Deadline for submission of abstracts and proposals is January 14, 2008.
The strategies, techniques, and approaches that teachers can use to facilitate learning.
Through activism in society, the classroom and in the home, Chicanas/os have worked creatively to bring about social change in this nation. This is the historical spirit that will be celebrated and examined during the 2008 NACCS Tejas Regional Conference. It will provide a forum for participants to collectively explore la causa through the prism of Chicana/o pedagogy, envisioning new teaching strategies that address the needs of la raza in the 21st century.
The conference will take a multidisciplinary approach and so submissions from a wide range of disciplines are welcome. While the primary theme for the conference centers on Chicana/o pedagogy in the 21st century, other topics related to the Chicana/o experience will also be considered. A 100 to 250 word abstract or proposal should be submitted for consideration of suggested papers, panels, artistic exhibits or performances.
The conference also seeks exhibitors in a wide range of areas including publishers, artists, museums, archives and other vendors related to this field. There is no charge to exhibit. A formal proposal detailing the exhibition must be provided.
There is no fee to submit materials for consideration, but there is a $20 conference fee for presenters and exhibitors. The conference coordinator reserves the right to approve or deny all submissions. Send questions and submissions to conference coordinator Victor Gómez at [email protected] or speak with him via phone at 956-566-9067.