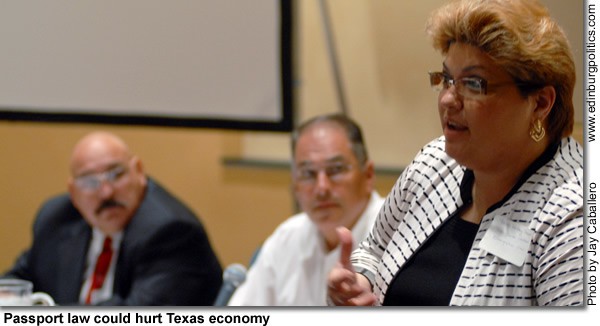 The recent announcement that the U.S. government has been unable to meet a deadline requiring Americans to have a passport in order to return by plane from Mexico or Canada is a sign of worse things to come, border leaders fear. "Many Americans still do not realize that as soon as 2008, they may be required to present a passport to re-enter, by land, into the U.S. from Canada or Mexico," says Monica Stewart of McAllen, chair of Texas Border Coalition's Immigration Committee. "There are better, more fair ways to protect our homeland security without hurting our way of life." Congress is acting on that concern, seeking to delay the passport requirement for land travelers until June 2009. Stewart is shown here with Laredo Mayor Raúl Salinas and Rio Grande City Mayor Kevin Hiles. See story later in this posting.
••••••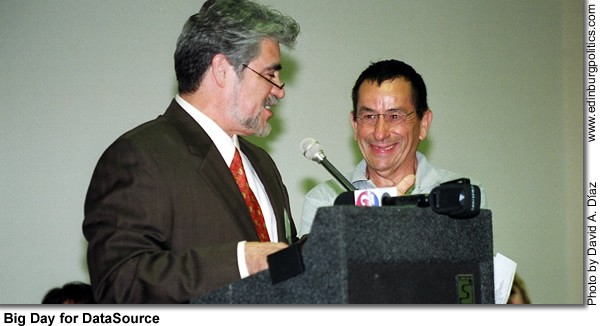 Carlos H. Arce, chief strategist for NuStats, the founding company for DataSource, on Friday, June 15, reacts with happiness as former Edinburg Mayor Richard García, president of the Edinburg Economic Development Corporation board of directors, congratulates DataSource leaders for setting up their firm in Edinburg. Mayor Joe Ochoa (not shown in the photograph), along with Dr. Blandina "Bambi" Cárdenas, president of the University of Texas-Pan American, also were on hand to welcome DataSource, which was recruited into the city by the EEDC. DataSource is bringing with it plans to hire as many as 150 new employees within the next 12 months, and has invested $400,000 into its facility, located in the Renaissance Industrial Park in east Edinburg. The company's annual economic impact to the city is estimated at more than $680,000 annually. See story later in this posting.
••••••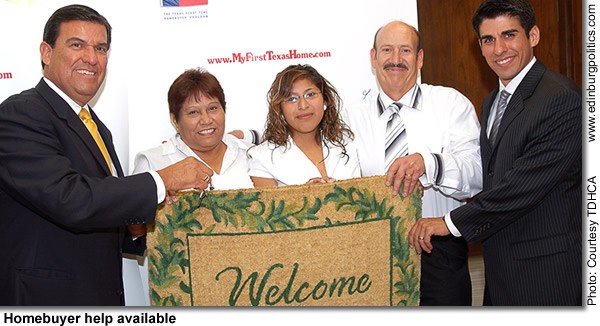 State Sen. Eddie Lucio, Jr, D-Brownsville, left, and his son, Rep. Eddie Lucio, III, D-San Benito, right, at a Wednesday, June 6 press conference celebrated with the Prado family, who recently purchased their new home through the Texas First Time Homebuyer Program. The two South Texas lawmakers helped announce the availability of $97 million in homebuyer funds through the program, which is administered by the Texas Department of Housing and Community Affairs. Featured with the Lucios are, from left, Francisca Prado, Juan Prado, and Dora Prado, Juan Prado, and Francisca Prado. The story later in this posting.
••••••
U.S. House votes to delay passport requirement for land travelers returning from Mexico, Canada
By DAVID A. DÍAZ
Concerns raised by the Texas Border Coalition and many other groups over a law that will require Americans – beginning on January 1, 2008 – to show a passport in order to return by land from Mexico or Canada are receiving strong support in Congress.
The Texas Border Coalition is an alliance of mayors, county judges, and economic development leaders which represents the more than 2 million Texas residents who live in the 11 counties that border Mexico.
On Friday, June 15, the U.S. House of Representatives overwhelmingly approved an amendment offered by Congressman Steven C. LaTourette (R-OH) that prohibits the Department of Homeland Security (DHS) from implementing phase II of the Western Hemisphere Travel Initiative until June 1, 2009.
Phase II will require all Americans entering Canada or Mexico by land or sea (including ferries) to have a passport or a new border crossing card, according to LaTourette.
A day earlier, on Thursday, June 14, the Senate Appropriations Committee approved an amendment by Sen. Patrick Leahy (D-Vt.) and Sen. Ted Stevens (R-Alaska) to halt the launch of the same plan for a new border-crossing card for at least 17 months, to give the Departments of State and Homeland Security more time to fix its problems.
Texas Border Coalition says delay needed
The two legislative actions came within hours after a call was issued by the Texas Border Coalition for the federal government to delay the land component of the Western Hemisphere Travel Initiative (WHTI).
TBC leaders have warned that the serious problem being experienced for air travelers under WHTI is a bad omen for tens of millions of Americans who cross into and return by land from Mexico or Canada.
Almost 70 million legal crossings take place at land ports of entry every year, according to Sen. Eliott Shapleigh, D-El Paso.
A port of entry is a place where a person may lawfully enter a country. Cities on a land border are usually ports of entry, where passports, visas, and luggage are inspected by the federal government.
The breakdown of the U.S. government's ability to meet the passport requirements for air travel is a sign of worse things to come, contends Monica Stewart of McAllen, chair of TBC's Immigration Committee.
"Many Americans still do not realize that as soon as 2008, they may be required to present a passport to re-enter the U.S. from Canada or Mexico," Stewart said. "There are better, more fair ways to protect our homeland security without hurting our way of life.
Currently, Americans do not need a passport to cross Canada or Mexico, as Mexican and Canadian laws do not require U.S. passports to enter at land entries.
"Nobody can say with the straight face that the federal government is ready for this. If the new passport requirements for air travel gave us a taste of purgatory, the new land requirements will give us a bellyful and plenty of leftovers," LaTourette said. "My amendment simply asks the DHS to slow down and get it right this time."
LaTourette's amendment is part of a $37 billion spending bill that will fund the Department of Homeland Security. LaTourette spoke on the floor of the disastrous implementation of the new rules regarding air travel, and said every House member and every senator has been besieged with pleas of help from constituents who can't get their passports even though they applied for them up to four months ago.
He and his colleague, Congressman Dennis Kucinich (D-OH), argued that constituent service is as important as legislating, and members have an obligation to do both.
Better options available
Stewart noted that the Texas Legislature considered, but did not pass, a landmark program that would have developed a Texas driver's license designed to meet the border security needs for Texas and the nation.
Senate Bill 2027, by Shapleigh, would have authorized the Texas Department of Public Safety to work with the U.S. Department of Homeland Security to develop an enhanced driver's license pilot project on the U.S.-Mexico border.
Sen. Juan "Chuy" Hinojosa, D-McAllen, was the coauthor of SB 2027; Rep. Ryan Guillen, D-Rio Grande City, was the House sponsor of SB 2027.
The pilot project would have been modeled on pilot program legislation recently enacted in Washington State, according to Shapleigh. The new licenses would include proof of citizenship and other information that can easily be scanned at border ports of entry.
However, the multi-million dollar price tag for SB 2027 wound up killing the proposed state pilot program.
Stewart said the federal government should help states such as Texas pay for that project because it would help improve homeland security.
"Our government should contract out with the private industry such as Disney on how to move large amounts of people in a secure fashion with keeping lines down as minimally as possible," she offered.
In Washington State, the new licenses include radio frequency ID chips and other advanced security features, the El Paso lawmaker noted. They are not only less vulnerable to forgery but also, at about $40, less expensive than a $97 passport.
Millions of legal crossings annually
"Our border is the most vibrant region of the hemisphere with over 68 million legal crossings a year. With passport requirements coming soon, we need to make secure, fast crossings work for all who live and work in our region," said Shapleigh.
The Texas Border Coalition expressed strong support for SB 2027 since new federal mandates may require, as early as 2008, that U.S. border crossers to have a passport, Shapleigh added.
In addition to Stewart, other members of TBC include Eagle Pass Mayor Chad Foster, who serves as TBC chairman; Cameron County Judge Carlos H. Cascos; Edinburg Mayor Joe Ochoa; El Paso County Attorney José Rodríguez, El Paso Mayor John Cook; Hidalgo Mayor John David Franz; Laredo Mayor Raúl Salinas; Maverick County Judge José Pepe Aranda; McAllen Mayor Richard Cortéz; Mission Mayor Norberto Salinas; Pharr Mayor Leopoldo Palacios, Jr; Rio Grande City Mayor Kevin Hiles; Roma Mayor Rogelio Ybarra; Val Verde County Judge Manuel "Mike" Fernández; Weslaco Mayor Joe V. Sánchez; Mike Allen of McAllen, a member of the South Texas College Board of Trustees, and Pat Townsend Jr., president and CEO of the Mission Economic Development Agency, and other community leaders.
••••••
Edinburg EDC leaders welcome DataSource and its 110 new jobs
By DAVID A. DÍAZ
DataSource and NuStats, two experienced and dynamic data collection firms that provide a wide array of services in survey and market research, were officially welcomed to Edinburg on Thursday, June 14, during ribbon cutting ceremonies in the three-time All-America City.
The public event, which was held from 5 p.m. to 7 p.m., featured company leaders along with area elected officials and university leaders.
At least 110 new local jobs are projected to be created within the next 12 months with the opening of the Edinburg facility, located at 1920 Southeast Industrial Drive, in the Renaissance Industrial Park in east Edinburg.
Kelly Castleberry, DataSource's senior vice president and chief operating officer, said the firm believes it will wind up hiring up to 150 employees. Currently, about 60 employees are on the payroll.
DataSource is affiliated with NuStats, a premier survey sciences consulting company focusing on social policy research and best known for its national practice in travel behavior research.
Mayor Joe Ochoa, former Mayor Richard García, and Dr. Blandina "Bambi" Cárdenas, president of the University of Texas-Pan American, joined DataSource officials and employees for the celebration.
Ochoa is on the five-member governing board of the EEDC, and García serves as president of that board. Fred Palacios, Mike Govind, and George Bennack round out the EEDC board of directors.
The EEDC is the jobs-creation arm of the Edinburg City Council.
$680,000 annual economic impact
In March, the EEDC participated in recruiting DataSource, along with its projected labor force and its estimated $683,056 annual economic impact, to Edinburg.
"DataSource is a survey data collection firm in San Marcos, Texas that works on complex social policy research," explained EEDC executive director Ramiro Garza, Jr. "NuStats is survey sciences consulting company that focuses on social policy research and travel behavior research. They are expanding their presence in Texas with the Edinburg call center facility, constructing an 8,565 square foot social science research facility."
DataSource is investing up to $400,000 for construction of that facility.
EEDC incentives package
Under terms of the agreement with the EEDC, DataSource has up to a year to meet the 110 employee figure.
On a quarterly basis, the EEDC will reimburse DataSource $1,000 for each new worker hired, not to exceed $110,000.
The EEDC also authorized a payment of $100,000, which has been made, for the site improvements at the DataSource research facility.
Following several successful years of independent growth, PTV, a German-based firm with broad specialization of software and technology applications, acquired DataSource and its sister company, NuStats. DataSource retains a close affiliation with its founding company, NuStats, a full service research company established in 1984 by Dr. Carlos Arce. This new structure provided a strong combination of existing expertise and cohesive leadership along with more data collection specialization in conducting various types of survey and market research.
DataSource highlights
According to company leaders:
The Edinburg facility is part of the firm's efforts to continue its focus to expand its bilingual offerings and expertise for clients worldwide.
DataSource is a survey data collection company dedicated to high-quality execution of large, complex behavioral research projects.
Anticipating an increased demand for its services, DataSource has expanded capacity by establishing an additional survey operations facility in Edinburg. The facility location near the University of Texas at Pan American is strategic – they are looking at college students as a primary source for its labor supply.
The facility is state-of-the-art, incorporating current hardware and software technology for computer assisted telephone interviewing in social surveys. At launch, DataSource has 60 research work stations, which with administrative and training space occupy over 7,000 square feet. Projected expansion will grow the facility to about 100 stations and close to 10,000 square feet. This will likely happen within 12 months, company leaders said.
The most significant direct benefits of the facility are:
•The facility will generate a monthly average of 8,000 hours of part-time employment for students. This has the potential to expand to 15,000 hours per month. The work provides practical social science experience and exposure to state-of-the-art methodologies;
•DataSource has hired a half dozen professional staff, with additional staff projected with expansion;
•DataSource is expect to contract with, or team up with, university faculty and other local subject matter experts to serve as consultants on NuStats projects;
•Access will be made generated to world-class survey capabilities and significant data sets that can be applied to locally oriented projects;
•Visibility and recognition will be created for the university within the NuStats client community that includes the Department of Human Services, the U.S. Department of Transportation, the Environmental Protection Agency, many states and metropolitan government units, national foundations, and major corporations;
•Opportunities will be created for advanced undergrad student employees to transfer to its facilities in Austin, Atlanta and Washington, with potential to concurrently enroll in graduate school and or jump start professional careers; and
•Opportunities will be generated for collaborative research work with university units and faculty and for more competitive teaming arrangements in the pursuit of research contracts and grants for work in NuStats specialties of transportation, border health and other conditions, immigration, environment, and bi-national trade.
Additional information on the company is available online at: http://www.datasource.us/
••••••
Edinburg "advisory committee" recommends city tax incentives for buyers of new homes
By DAVID A. DÍAZ
Future buyers of new homes in Edinburg might qualify for a break from city property taxes under a plan being promoted by an informal advisory group organized by Mayor Joe Ochoa.
The plan, dubbed the Homebuyers Tax Abatement Incentive, was unveiled during a special work session of the Edinburg City Council, held Tuesday, June 6, in the International Trade and Technology Building at the University of Texas-Pan American.
Cleveland, Ohio, Portland, Oregon and Waco, Texas offer similar tax incentives.
Locally, Weslaco also has had a successful single-family home tax abatement program, reports Weslaco City Manager Anthony Covacevich.
Proponents of the plan, who are part of a group calling itself the "Mayor's Advisory Committee," said the tax break, which would be temporary, would only apply to the value of the home, and not to the value of the lot.
The Mayor's Advisory Committee was organized with the support of Ochoa, and includes representatives from the county government, school district, hospitals, and other key stakeholders in Edinburg.
The plan would not affect any existing city property tax breaks, and it would only apply to city property taxes.
Currently, Edinburg's city property tax rate is 63 cents per $100 assessed property valuation.
The tax abatement proposal recommends that tax abatement be applied only to new, non-occupied homes which must be the primary residence of the homeowner.
It would have to be a single-family residential dwelling or a condominium, and would have to be located within the city limits.
Any new, previously-unoccupied home or condominium would be eligible, regardless of its selling price.
Spark new construction
Johnny Rodríguez, CEO of Austin Personnel Services of Edinburg, served as a spokesperson for the group and for the homebuyer plan.
He gave an example of how such a measure might work.
For a newly-constructed home valued at $100,000, Rodríguez illustrated, the city would not collect any city property tax on that structure in the first year, then collect 20 percent the following year, 40 percent in the third year, 60 percent the fourth year, and 80 percent of the fifth year.
From the sixth year on, the city would collect 100 percent of the assessed city property taxes.
On a home valued at $100,000, the total city property tax savings for the homeowner would be $1,905, he calculated.
"We are here to better the city, to help it grow, and one of the ideas we came up with is the Homebuyers Tax Abatement Incentive," said Rodríguez.
He said the tax abatement plan could help spark the construction of new homes in the three-time All-America City.
"The construction and sales of new homes in Edinburg and in the Rio Grande Valley have slowed in recent months due to rising interest rates on mortgages and an oversupply of new homes that were built over the past few years, as numerous builders entered the Valley housing market," Rodríguez
said.
"Currently, Edinburg has an oversupply of vacant homes sitting on the market," Rodríguez continued. "Because of lackluster home sales, national home builders have decided to leave the Valley housing market."
He cited D.R. Horton and KB Homes as examples of major homebuilders that have left or will be leaving the Edinburg and Valley housing market.
Other builders have postponed development of new residential subdivisions and construction of homes, he added.
Home inventory
"Currently, there are 191 new homes in Edinburg alone which are vacant or unsold," he said. "Single-family residential building permits and valuations are down."
In Edinburg, between April 2006 and April 2007, building permits for new homes have dropped 20 percent (223 permits vs 282 permits), he added. "Single-family residential valuations (on new construction) are down $2.6 million compared to last year."
To help "jump-start" the sales of new homes in Edinburg, "the Mayor's Advisory Committee is promoting the development of a tax abatement to buyers of new homes that would encourage people to move into, and buy, new homes in the city," Rodríguez said.
Under the plan, Rodríguez said, the homeowners would benefit by saving money, builders will benefit by selling homes more quickly, and financial institutions would be able to offer more affordable mortgages.
He noted that Cleveland, Ohio currently offers a 15-year, 100 percent property tax abatement on the residential dwelling, but not on the lots, for buyers who purchase new homes.
"Sixty percent of homeowners who received the abatements said they would not have purchased homes in Cleveland if it wasn't for this tax abatement that we are trying to adopt here and present to you," said Rodríguez.
For every dollar in tax abatements provided in Cleveland, $1.50 in new property taxes was generated – it increased the population and the tax base of Cleveland," he reported.
Citizen input applauded
The city council took no action, at the advice of City Attorney Daniel Ríos, since the plan was not specifically mentioned in the city council workshop agenda, as required by the Texas Open Meetings Act.
However, Ríos said the presentation was properly posted and allowable.
The workshop, which lasted about 20 minutes, and included introductory remarks by Ochoa, is currently being broadcast on the Edinburg Cable Network, channel 12 on Time Warner Cable. It is also available on the internet through the city's web site, http://www.CityofEdinburg.com
"If we anticipate that some of these issues will be issues this council will address at future meetings, I would caution the council to refrain from discussing the issues tonight, because such issues were not specifically laid out in the agenda," Ríos said before the presentation. "Certainly, it is perfectly fine to listen and to direct staff to look at issues to present for this council's consideration in the future, but I would caution you to refrain from engaging in any discussions amongst yourselves about the merits of any particular proposal."
Ochoa said he had shared similar sentiments with the group, but emphasized that the advisory council is one way for Edinburg residents to bring their concerns and ideas directly to the city council.
"That's what I have stressed to the individuals that have come forth," the mayor said. "One of my biggest components to this advisory council is to be able to invited as many members of the public to any of these meetings that I am hoping will take place in the future."
Ochoa suggested that the group, which has had several previous meetings, will have other ideas to bring to the council.
"This is nothing set in stone, this is nothing that we are saying has to be done," Ochoa remarked about the homebuyer tax incentive plan. "I think these are great ideas. I think should be implemented, but would require further discussion. With proper timelines, and with the leadership that has stepped up to the plate, it is very commendable."
••••••
State agency announces release of $97 million for the Texas First Time Homebuyer Program
The Texas Department of Housing and Community Affairs (TDHCA) has announced the release of $97 million in homebuyer funds dedicated to making Texans' dreams of homeownership come true. TDHCA is making these funds available through the Department's Texas First Time Homebuyer Program in the form of low interest rate loans beginning as low as 5.25 percent.
The Texas Department of Housing and Community Affairs is Texas' lead agency responsible for affordable housing, community and energy assistance programs, and colonia activities. The Department annually administers funds in excess of $400 million, the majority of which is derived from mortgage revenue bond financing and refinancing, federal grants, and federal tax credits.
"This $97 million in homebuyer funds will have a tremendous and positive impact on Texas residents, and certainly those living right here in the Valley," said Michael Gerber, TDHCA Executive Director. "We feel we are, quite literally, putting a down payment on a brighter future with this funding release. However, I encourage interested individuals to not wait too long to contact TDHCA or a participating lender. This is an extraordinary opportunity for low to moderate income Texans to buy a home with affordable monthly payments, and the funds will not last."
Gerber added that, in a first for the program, the first time homebuyer requirement will be waived for Texas veterans.
"We are particularly proud of our ability to reach these American heroes and help them secure a home of their own," he said. Under this waiver, Gerber explained, any vet who can provide proper discharge papers and who has not previously participated in this loan program can be a current homeowner and still participate in this program.
The state-sponsored First Time Homebuyer program offers qualifying households the ability to purchase a home at rates typically unmatched anywhere in the state, bringing homeownership within reach for many Texas families.
Approximately 50 lenders with more than 500 branch offices throughout the state offer the below-market interest rate loans. Interested homebuyers may visit the program's website at http://www.myfirsttexashome.com or call (800) 792-1119 to learn more about eligibility requirements, program details, or to find a participating lender.
Gerber explained that loans through this program will be available in two forms: unassisted loans, with no additional funds for down payment and closing costs, and assisted loans which come with down payment and closing cost assistance. Interest rates will range from 5.25 percent for statewide unassisted loans to 5.99 percent for assisted loans statewide.
TDHCA is reserving $15 million of these funds for a 22-county region of southeast Texas impacted by Hurricane Rita officially designated by Congress as the Hurricane Rita Gulf Opportunity ("GO") Zone. Loans made inside the Rita GO Zone will be offered at the 5.99 percent rate and all with come with the 5 percent grant for down payment assistance.
As Texas' lead agency for promoting homeownership, TDHCA focuses on the act of buying a home and helping transform the lives of the individuals who participate in its programs. TDHCA's homebuyer programs each year help thousands of low- to moderate-income Texans achieve their homeownership goals, while educating them about the risks and responsibilities that accompany those rewards.
To facilitate this aspect of TDHCA's mission, the Department sponsors the Texas Statewide Homebuyer Education Program (TSHEP), a statewide program offered by local governments and nonprofit organizations in all 254 Texas counties. The program is designed to provide information and counseling to prospective homebuyers about the home buying process.
To find the nearest TSHEP homebuyer education provider, please visit the Department's homebuyer assistance information page at http://www.tdhca.state.tx.us/assist_homebuying.htm and simply key in the name of your city. Interested individuals may also call (512) 475-3975 for more information.
•••••• >
Gov. Perry vetoes Skills Development Fund legislation authored by Reps. Chávez, Peña, Guillen
By DAVID A. DÍAZ
Gov. Rick Perry on Friday, June 15, vetoed a bill designed to protect, over the next two years, more than $12 million in the state's Skills Development Fund, which helps provide customized workforce training to thousands of border residents.
The veto, which killed House Bill 48, came even though one of his own political appointees, Diane Rath, chair of the Texas Workforce Commission, had been one of its most visible supporters.
Supporters of the measure fear the state will not be able to provide critical work training to more than 10,000 Texans over the next 24 months.
"By developing skills training to meet the specific needs of employers, the Skills Development Fund has proven to be a well-structured formula for workforce development success," Rath said on May 23, after the Legislature had given its final approval. "We are grateful for the ongoing support of the Legislature for Texas' premier job-training program."
But Perry saw differently, concerned that measure – whose authors include Rep. Norma Chávez, D-El Paso, Rep. Aaron Peña, D-Edinburg, and Rep. Ryan Guillen, D-Rio Grande City – would siphon money away from another key state program, the Texas Enterprise Fund.
"House Bill No. 48 would change the distribution of funds from the Employment and Training Investment Assessment Holding Fund and would reduce funding for the Texas Enterprise Fund (TEF) by $12.8 million for the biennium," Perry explained in his veto proclamation.
"TEF has proven to be one of the state's most successful tools in job expansion and economic development by bringing more than 45,000 jobs and $15 billion in capital investment to Texas. House Bill No. 48 would needlessly reduce funding for this valuable program," the governor concluded.
Under current law, 1/10th of 1 percent of Unemployment Insurance Fund, paid into by all employers, is used to fund the Skills Development Fund and the Texas Enterprise Fund. From the Unemployment Insurance Fund, 33 percent goes to the Skills Development Fund and 66 percent goes to the Skills Development Fund.
With Perry's veto of HB 48, the funding formula will change on September 1, 2007: the allocation is scheduled to change to 75 percent to the TEF and 25 percent to the Skills Development Fund – a decrease of $6.4 million a year in the Skills Development Fund.
Sen. Judith Zaffirini, D-Laredo, was the Senate sponsor of HB 48.
HB 48 was one of the legislative priorities for the Texas Border Coalition, an alliance of mayors, county judges, and economic development officials representing more than 2 million Texans who live in the 11 counties that border Mexico.
TBC leaders who actively worked on HB 48 include Wanda F. Garza with South Texas Community College, who also serves as chair of the TBC Workforce Development Committee; Ricardo Pérez of Mission; and Pat Townsend, Jr., President and CEO of the Mission Economic Development Authority and TBC treasurer.
In addition to Garza, Pérez, and Townsend, other members of TBC include Eagle Pass Mayor Chad Foster, who serves as TBC chairman; Cameron County Judge Carlos H. Cascos; Edinburg Mayor Joe Ochoa; El Paso County Attorney José Rodríguez, El Paso Mayor John Cook; Hidalgo Mayor John David Franz; Laredo Mayor Raúl Salinas; Maverick County Judge José Pepe Aranda; McAllen Mayor Richard Cortéz; Mission Mayor Norberto Salinas; Pharr Mayor Leopoldo Palacios, Jr; Rio Grande City Mayor Kevin Hiles; Roma Mayor Rogelio Ybarra; Val Verde County Judge Manuel "Mike" Fernández; Weslaco Mayor Joe V. Sánchez; Mike Allen of McAllen, a member of the South Texas College Board of Trustees, and other community leaders.
The Texas Border Coalition maintains a web site at http://www.texasbordercoalition.org.
••••••
Gov. Perry vetoes 49 bills, including one measure he said would enrich condemnation lawyers
Gov. Rick Perry on Friday, June 15, announced he has vetoed 49 bills, including House Bill 2006 which would provide a financial windfall for condemnation lawyers at taxpayers' expense.
"The state and local government would be over-paying to acquire land through eminent domain in order to enrich a finite number of condemnation lawyers at the expense of Texas taxpayers," Perry said. "This bill will slow down and shut down needed construction projects through the creation of a new category of damages that are beyond the pale of reason."
Perry pointed to two specific provisions in the proposed law that outweighed the positive benefits of the bill:
•One provision would expand damages a landowner can recover to include any diminished access to the roadway from remaining property when a portion of a landowner's property is condemned. Currently, a landowner is appropriately entitled to have reasonable access to their property maintained when a portion of their property is condemned. However, the provision contained in this bill would require large payments of taxpayer dollars for properties that continue to have reasonable access to the road but where that access has been only altered in some fashion. This is an unreasonable burden to place on taxpayers.
•The second problematic provision would greatly increase the cost taxpayers would pay to compensate an owner for the land which is left after some of the property is acquired through eminent domain. It would allow the recovery of damages for factors such as changes in traffic patterns and visibility of the property from the road. Texas courts have long disallowed this practice because it would make public projects that benefit the greater population prohibitively expensive to build.
Perry supported the bill in its original form but objected to these amendments added in the final days of the session. The governor alerted the bill author and sponsor to his grave concerns about these provisions with several days left in the session, but the author refused to work toward a solution. The governor has received letters from almost every fast-growth city and county asking him to veto the bill because the cost of constructing state and local projects will increase by more than $1 billion annually.
"As someone who grew up in rural Texas, and farmed our family's piece of land, I am a strong proponent of protecting private property rights," Perry said. "But the issue is one of fairness to taxpayers, who will get fleeced in order to benefit condemnation lawyers."
Perry supported the legislature's efforts during a special session in response to the Kelo decision by the United States Supreme Court which had a detrimental impact on private property rights. He worked with legislators to protect Texans' land from condemnation when its intended use was a private, profit-making venture instead of a vital public use.
Perry also vetoed House Bill 1503, which had an unintended consequence that would let ex-convicts who have completed their sentences for rape, murder, robbery or other violent crimes to possess firearms immediately after being released from prison.
"I am as strong a supporter as any for the right of law-abiding citizens to own or carry a concealed weapon, but this bill goes too far," Perry said.
To see the bills vetoed by Gov. Perry go to:
http://www.governor.state.tx.us/divisions/press/bills/veto
••••••
Hidalgo County makes electronic filing possible, say District Clerk Hinojosa, County Clerk Guajardo
By RICARDO CONTRERAS
Attorneys in Hidalgo County now have the ability to file civil documents in the District and County Courts electronically with eFiling for Courts. This service is offered to filers through the Office of Laura Hinojosa, Hidalgo County District Clerk, Arturo Guajardo, Jr., Hidalgo County Clerk, and TexasOnline, the official website of the State of Texas.
Electronic filing enables filers to submit civil documents via the internet without printing, standing in line at the courthouse, or hiring a courier. Filers can send documents through a secure website 24 hours a day, seven days a week from any location with Internet access. The Texas electronic filing rules allow filers to submit most documents up to 11:59 pm and still meet the filing deadline.
Once a document is eFiled, the Clerk's staff can access the document through the eFiling for courts system. Clerks are able to process electronic filings anytime throughout the day, which helps avert the end of day rush that often occurs. Regardless of when the clerk accepts the document, the time and date stamp on the document reflects when the filer clicked the submit button.
Hinojosa notes, "We are excited to offer electronic filing to attorneys not only in the Hidalgo County area but throughout the nation. Although this is not a new service provided by our office, we want to take the opportunity to market it as it reduces paper and improves processing for attorneys, legal secretaries, paralegals and the courthouse staff. With this capability, the courthouse is always open for filing and it helps streamline the judicial process!"
To eFile in the County of Hidalgo, an attorney registers with one of TexasOnline's certified Electronic Filing Service Providers. The current providers are CaseFile Xpress, court File America, eLawServices, Forms Workflow, My file Runner, OneLegal, and ProDoc. Once registered, attorneys can eFile into any participating court in the state. An added bonus for attorneys is the ability to electronically "serve" copies of documents to other parties in the case, with or without a filing. Electronic Service (eService) saves staff time and the expense associated with mailing, delivering, and tracking paper copies.
"It is a constant struggle to stay on top of the diverse expectations that the public puts on county government. I am glad to say that Hidalgo County has taken a leadership role in addressing the needs of our legal community in order to keep up with the demands of today's fast-paced, instant gratification world", said Guajardo.
Pablo Almaguer, Hidalgo County Bar Association President, agrees.
"The use of technology in the practice of law is ever expanding whether it be researching, drafting documents or organizing client files. The use of eFiling by the Clerk's office recognizes this pervasiveness and provides to our practice a more convenient and reliable alternative to the traditional means of filing and service."
Visit http://www.TexasOnline.com/eFiling for more information.
••••••
Gov. Perry signs monumental cancer research legislation
Gov. Rick Perry on Thursday, June 13, signed House Bill 14 into law, creating the Cancer Prevention and Research Institute of Texas and dedicating $300 million in general obligation bonds to annually fund scientific research aimed toward finding a cure for cancer. In his State of the State Address, the governor proposed a $3 billion cancer research trust fund, calling on lawmakers to join the fight against this disease and bring Texas to the national forefront of research efforts.
"The pain and suffering caused for so many for so long is what makes this a historic day, as I sign legislation that gives us great hope we will one day find a cure for cancer," said Perry. "With my signature, and voter approval of cancer research bonds this November, we can put an additional $3 billion into the fight against cancer to fund promising projects, ensure institutional collaboration, and develop promising therapies."
Texas is home to 400,000 cancer survivors. This year 95,000 people will be diagnosed with cancer, and 35,000 lose their battle with the disease. The resources made available through HB 14 will provide research facilities, universities and other members of the medical community means to support research focused on finding a cure for cancer.
Funding for HB 14 is dependant on a constitutional amendment to be voted on by Texans in November. Voters will be asked to authorize $3 billion in general obligation bonds for use during a span of 10 years. If approved by voters, the bill will take effect immediately. The first grants will become available in 2010, and funding is eligible to continue until August 31, 2020.
For more information on legislative action taken by Gov. Perry, please visit http://www.governor.state.tx.us.
••••••
Congressman Hinojosa battles mandatory flood insurance requirements proposed for South Texans
By ELIZABETH ESFAHANI
For the first time in history, Rio Grande Valley residents might be forced to purchase mandatory flood insurance even if the Federal Emergency Management Agency (FEMA) and the Corps of Engineers account for the future repair of substandard dams and levees in their flood maps, said Rep. Rubén Hinojosa on Tuesday, June 13, during a hearing on flood insurance.
Hinojosa urged members of the Financial Services Subcommittee on Housing to properly address this potentially problematic issue under H.R. 1682, the Flood Insurance Reform and Modernization Act of 2007.
"I realize that H.R. 1682 is intended to address several weaknesses in the National Flood Insurance Program that were exposed by the unprecedented 2005 hurricane season, and I support several provisions in the bill," said Hinojosa. "However, I must stress that there are several areas in which I find fault and several issues that have not been dealt with under this bill."
"My main concern is that FEMA and the Corps of Engineers might not be creating very accurate maps," continued Hinojosa. "If mapping is being conducted now, I am concerned that those renderings might not take into account the fact that some areas will eventually have dams and levees that are up to par, including those in my district and along the U.S. border with Mexico."
The Flood Insurance Reform and Modernization Act of 2007 will significantly reform the National Flood Insurance Program. It attempts to ensure the continued viability by encouraging broader participation, increasing accountability, eliminating certain Federal subsidies, and updating flood insurance maps to meet the needs of the 21st century. During the Subcommittee's consideration of the bill, Hinojosa identified several other critical issues that have not been properly addressed or clarified under the current Act. These include:
•The omission of language regarding map accuracy and the use of modern geospatial technologies, which might affect whether FEMA and the Corp of Engineers are using the appropriate methodology and the most advanced technology to draw floodplain maps;
•No consideration of providing watershed mapping, an addition that possibly would result in much more accurate, and less politically motivated, floodplain maps;
•No clear indication as to what would trigger the mandatory requirement for homeowners and homebuyers to purchase flood insurance; and
•No clarification on the phase-in of imposed premiums for low-income homebuyers and current homeowners who currently do not live in a floodplain, but who might once the mapping is complete
"My greatest fear is that this legislation could result in people losing their homes or not being able to afford a home because of mandatory flood insurance premiums," concluded Hinojosa. "There is quite a bit at stake economically if those maps are not drawn using the latest and greatest technology and this bill passes in its current form."
••••••
Hidalgo County Judge Salinas, other leaders outraged over handling of war hero's body
By CARI LAMBRECHT
Hidalgo County Judge J.D. Salinas is joining America's Last Patrol and other elected state and federal officials in calling on the U.S. Department of Defense to investigate how the body of McAllen's first fallen war hero to serve in Iraq — Staff Sgt. Juan Campos — was treated on Wednesday, June 6, during his return home from the Brooke Army Medical Center in San Antonio, where he passed away on Friday, June 1.
At a Monday morning, June 11 meeting called and facilitated by America's Last Patrol — one of the most well-respected veterans' organizations in South Texas — participants relayed the events of last week, trying to figure out what went wrong and how to prevent it from happening again.
On Wednesday, June 6, Sgt. Campos' body was not accompanied by a military honor guard, and even worse, his body was transported to Falfurrias in a white Astro van until Rivera's funeral home, of McAllen, intervened and managed to have his body more nobly arrive in his hometown in a hearse. There were also several miscommunication issues with the local and DoD honor guards slated to give Sgt. Campos a proper military burial.
"On behalf of the entire county, we are deeply concerned about the shameful way a local hero and his family were treated," Salinas said. "Hopefully, we will get some answers from the DoD. I am requesting that the full outcome of the DoD's investigation be submitted to us, and I also am requesting in writing the exact protocol the agency follows when one of our brave soldiers is killed in action."
"It's understandable that we all make mistakes, but we must learn from them. We're not here to point fingers. We do, however, want a corrective action plan put in place. Both our active duty military personnel and our veterans deserve more than what was afforded to Staff Sgt. Juan Campos."
Participants of the meeting were:
State Rep. Juan M. Escobar, D-Kingsville/Willacy County;
Rigo Villarreal, J.D. Salinas Chief of Staff;
Mario T. García , Office of Congressman Henry Cuellar;
Edna Dougherty, State Rep. Verónica Gonzáles' Office;
Mary Hernández, Director of Rio Grande Valley State Veteran's Cemetary;
Emilio de los Santos, Hidalgo County Veterans Service Officer;
Elliott Moore, Hidalgo County Asst. Veteran's Service Officer;
Lydia Caballero, America's Last Patrol;
José María Vázquez, America's Last Patrol;
Apolonio Uresti Jr., Veterans of Foreign Wars;
Mike Escobedo, America's Last Patrol;
Jesús Bocanegra, America's Last Patrol; and
Hilda Casares, Veterans Service Office.
••••••
South Texas College first college in Texas to earn NIMS accreditation in precision manufacturing
By HELEN ESCOBAR
South Texas College is the first college in the entire State of Texas to earn the National Institute of Metalworking Skills (NIMS) Accreditation for its Precision Manufacturing Technology (PMT) Program. This new accreditation means that STC has met and exceeded national metalworking industry standards for quality of instruction, incorporation of important, high-level industry skills and overall safety.
"South Texas College has the distinction of having the first NIMS accredited program in Texas. It was a long time coming, but should reap benefits to the school, students and industry in the entire region," said Stephen C. Mandes, executive director of NIMS. "This is one of the best organized colleges in the nation in terms of interacting with industry and the workforce system. The commitment from the administration to NIMS and the industry is complete and clear."
"We had to go through a stringent process to earn this accreditation, including a self-study of our instructional quality, curriculum, equipment and safety, which was no small feat," said Mario Reyna, division dean of business, math, science and technology for STC. "After this long and in-depth process, it is a real honor and tribute to the quality of our program, instructors, students and administrators that we earned this accreditation. It is also an important milestone for colleges across the State of Texas. As the first college in the entire state to earn this recognition, we are leading by example and hope that other higher education institutions will recognize our dedication to quality and safety and follow our lead."
"Consistency in quality and process is the goal of global business. The NIMS certification quickly conveys that message of quality and process in the STC Precision manufacturing Program," said Keith Patridge, president of the McAllen Economic Development Corporation. "It will give industry assurance that the graduates of the program posses the skills and ability to do the job. Being the first in Texas to achieve this designation is just another indication of STC's drive for global excellence in education."
In addition to the self-study, the process included an on-site audit by a three-person team from NIMS, during which they interviewed personal at all levels of the program and the college, observed course instruction, inspected the facility and equipment, and analyzed the safety practices of the college. Each program instructor was required to earn NIMS credentials for the specific courses they instruct and program students must have earned and continue to earn NIMS credentials in the modules they are taking.
"NIMS accreditation is a highly sought after prize in the precision manufacturing field," said Ed Hausbeck, chair of the program for STC. "It demonstrates that your program is meeting high standards for education and safety. NIMS is working hard to establish a standard that all metalworking professionals will have to live up to, ensuring that their work is top-notch. Because our students will be NIMS credentialed when they graduate with their associate's or certificate from the program, they will be highly sought after and have a higher earning potential. This is a huge competitive advantage for our students."
The college has earned the NIMS accreditation for the standard five year period, engaging in a reaccreditation process in 2012.
"The fact that we have earned this accreditation serves as a beacon to manufacturers that this is the best place to locate their facilities," said Reyna. "We are offering a competitive advantage to employers that can not be found anywhere else in the state."
"We would also like to take this opportunity to extend our thanks to the Texas Workforce Commission and the college's Partnership for Business and Industry Training, who provided support and guidance through the accrediting process," added Reyna." We also want to thank John Dellagmaggiora, previous vice president of the South Texas Manufacturers Association (STMA), who worked closely with the college to launch the NIMS accreditation process. His vision has ensured that our students are entering the workforce with world-class technology skills."
For more information about STC's Precision Manufacturing Technology Program call 956-872-6133.
••••••
Congressman Hinojosa votes for largest investment in college aid since the GI Bill
By ELIZABETH ESFAHANI
Congressman Rubén Hinojosa, D-Mercedes, chair of the Subcommittee on Higher Education, on Wednesday, June 13, applauded the Education and Labor Committee's approval of legislation that will reduce the cost of college and increase the federal government's investment in Minority Serving Institutions.
The bill would make the single largest investment in college financial aid since the 1944 GI Bill, helping millions of students and families pay for college – and doing so at no new cost to U.S. taxpayers
The College Cost Reduction Act of 2007, which the Committee overwhelmingly approved by a vote of 30 to 16, would boost college financial aid by about $18.25 billion over the next five years. The legislation pays for itself by reducing excessive federal subsidies paid to lenders in the college loan industry by $19 billion. It also includes $750 million in federal budget deficit reduction.
"This legislation will increase student financial aid by a magnitude we have not seen in more than a generation," said Hinojosa. "It invests in our public servants and in our teachers. It brings the private sector and charitable organizations to the table and leverages our resources so that more first-generation, low-income college students can realize their full potential."
In addition, the College Reduction Act contains a provision that will commit $500 million over five years to Minority Serving Institutions, including Hispanic Serving Institutions, Historically Black Colleges and Universities, and Tribally Controlled Colleges and Universities. This commitment represents a doubling of the current investment.
"This is truly a historic initiative," said Hinojosa. "Close to half of our public school children are racial or ethnic minorities – one in five is Hispanic," noted Hinojosa. "It is clear that Minority Serving Institutions will only grow in importance and this investment will benefit our nation for generations to come."
Under the legislation, the maximum value of the Pell Grant scholarship would increase by $500 over the next five years. When combined with other Pell scholarship increases passed or proposed by Congress this year, the maximum Pell Grant would reach $4,900 in 2008 and $5,200 in 2011, up from $4,050 in 2006, thus restoring the Pell's purchasing power. Over 6 million low- and moderate-income students would benefit from this increase.
The legislation also cuts interest rates in half on need-based student loans, reducing the cost of those loans for millions of student borrowers. Like legislation passed by the House earlier this year, the College Cost Reduction Act would cut interest rates from 6.8 percent to 3.4 percent in equal steps over the next five years. Once fully phased-in, this would save the typical student borrower – with $13,800 in need-based student loan debt – $4,400 over the life of the loan. About 6.8 million students take out need-based loans each year.
The legislation would also prevent student borrowers from facing unmanageable levels of federal student debt by guaranteeing that borrowers will never have to spend more than 15 percent of their yearly discretionary income on loan repayments and by allowing borrowers in economic hardship to have their loans forgiven after 20 years.
"Let us not forget that in 2003 more than 170,000 low-income, college-qualified students did not enroll in college because of financial barriers," said Hinojosa. "This legislation puts us closer toward our goal of providing more Americans with the opportunity to go to college. As Chairman of the Subcommittee on Higher Education, I am committed to addressing the gaps in access and affordability that still remain."
••••••
Attorney General Abbott cracks down on spammer who hijacked consumers' personal computers
Texas Attorney General Greg Abbott has cracked down on rogue computer networks that illegally mask the origins of spam messages.
A stipulated final judgment filed with the federal district court in Austin prevents Texas resident Alonzo Villanueva from unlawfully sending spam messages to any e-mail addresses in the country. The judgment also prohibits Villanueva from using or selling "botnets," a new mechanism employed by sophisticated hackers and spammers.
"Spam like this is more than a nuisance – it is illegal," Abbott said. "Texans will not tolerate Internet scam artists who profiteer from spam, deceptive e-mails and piracy networks. The Office of the Attorney General will continue our aggressive crackdown on illegal spam."
The Attorney General's enforcement action permanently prohibits Villanueva from sending commercial e-mail with false or misleading header information; attempting to hide the identity of an e-mail's true sender; and attempting to evade an Internet service provider's filtering mechanisms. Any commercial e-mails Villanueva sends must clearly state they are advertisements and must include a physical address and "reply to" electronic address so consumers can request that they receive no future e-mails.
Most importantly, Villanueva is personally prevented from using botnets or offering them for use by others. Botnets, like the one offered and leased by Villanueva, are a collection of exploited computers that are connected to the Internet. Botnets are summoned and controlled by third parties, usually without their owners' knowledge. Botnets unlawfully tap into the processing power and networking access of the individual computers that comprise them.
Spammers are increasingly drawn to botnets, because they make it much easier to hide the sender's identity. Villanueva, whom investigators determined began his illegal scheme as a spammer gained access to a substantial botnet that he "leased" to others. Attorney General Abbott is continuing his investigation into Villanueva's clients and other botnets that were used to send illegal spam.
Villanueva was also one of several defendants sued by the Microsoft Corporation in 2005 for flooding millions of consumers' Hotmail accounts with spam.
This case is the latest effort by Abbott to curb the proliferation of spam. In June 2006, the Attorney General shut down an Austin-based spam network that was run by Ryan Pitylak and partners Mark Trotter, Gary Trappler and Alan Refaeli.
The defendants in that case agreed to numerous strict limitations on their future commercial e-mails, including clearly identifying e-mails as unsolicited commercial advertising and providing consumers an opt-out mechanism.
••••••
Gov. Schwarzenegger encourages Latino immigrants to learn English faster by staying away from Spanish-language media
California Gov. Arnold Schwarzenegger, an immigrant from Austria, was the featured speaker on Thursday, June 14, at the 25th annual convention of the National Hispanic Journalists Association, held in San José, California.
Schwarzenner addressed many issues, ranging from border security to greenhouse warming.
During his interview, which includes a video posted at the California governor's website ( http://gov.ca.gov/index.php?/speech/6687/), Schwarzenegger also encouraged Hispanic immigrants to learn English as quickly as possible in order to succeed in the U.S. One way to do that is to stay away from Spanish-language media, especially television, and spend time viewing English language programming.
He said that strategy allowed him as a young immigrant to the U.S. to learn English much faster.
The text of the interview follows:
MODERATOR: Wow, those are some boots.
GOVERNOR: Don't get jealous.
MODERATOR: Don't get jealous?
GOVERNOR: Don't get jealous. I had to catch that python myself, it was not easy.
MODERATOR: From what, from one of your movies?
GOVERNOR: It's nice to be here. It's nice to be at your 25th Convention here, this is really great. And especially to talk to—oh, finally my mike is coming on, great—to finally talk to all the Hispanic journalists here. How many do we have here?
MODERATOR: Several hundred. I don't know what the final count's going to be, we still have some registration. But we have them from all over the country, and this is the 25th year in San José. It'll be a great four-day convention. So thank you so much for joining us, taking time for doing this.
GOVERNOR: Absolutely.
MODERATOR: Governor, I'm just going to get right into some of the questions, and we can just do this in a give and take. I was listening earlier today to CNN, and the polls came out on national politics. President Bush is at 29 percent popularity rating, Congress 23 percent popularity rating. Only 19 percent of the country said we're on the right track. When you ran for re-election you weren't quite in those numbers, but you turned it around, and you won one of the biggest re-election victories in recent memory in California politics. Part of that has been by taking your nonpartisan approach. What advice do you have going forward on a national level for trying to reverse the trends of the public not having confidence in government?
GOVERNOR: First of all, let me just say that when I was elected in 2003 we had similar numbers. There was almost 80 percent of the people thought that we were on the wrong track, California was going in the wrong direction. As a matter of fact, I was asked by many of my friends not to run, because they thought that it would be impossible to turn it around and to bring the state back. They felt that Democrats and Republicans will never get along, they have been fighting for years and years and years in Sacramento. It was the same situation as we have right now in Washington. And what we did after I was elected, we slowly turned the whole thing around, with the help of Democrats and Republicans working together.
Now, I also went in the beginning in the wrong direction, because I was confrontational, I tried to do things too fast, I was kind of—I thought of the public sector being like the private sector, where you set certain goals, and say in two months it has to be done. Well, that's not the way it works in Sacramento. You know, you have to bring people on board, you have to be inclusive, you have to compromise, and all of those things. So we all had to learn.
But in the end, when it came to the re-election, the one you're talking about, at that point people, two-thirds of the people said now we are going in the right direction. So we totally turned things around. People got the feeling in California that Democrats and Republicans are working together, and we are truly public servants that are serving the people, rather than party servants serving just the parties. And this is why we were able to come together.
So I think that if the politicians in Washington want to learn something about how to get things done, I think California is a good model of how Democrats and Republicans are able to work together, even though they have their own philosophies. And we don't want anyone to sell out or to change their philosophies, or their opinions, but one has to recognize, and everyone will say that in politics you've got to compromise, because you have two opposing points of view. And the only action really there is the action in the middle. That's why in the center is everything, where everything is happening, and we have to just bring people together.
MODERATOR: Well, your own party, in your own party, there is division over whether or not you're following the right path. Recently California Congressman Duncan Hunter said that he doesn't want the Republican Party nationally following your post-partisanship lead. Is he right that you're a member of the Ted Kennedy wing of the Republican Party?
GOVERNOR: Well, just imagine who is saying it, right? That says it all. But I think that there is no wing, there is only one thing in the end. If someone calls me that I make sometimes moves that appear to be moves that are Democratic moves, and sometimes they say I make moves that are Republican moves, it's all bogus talk. It's all nonsense, because in the end we have to make moves, and we have to make decisions that are based on what is best for the people, what is best for the people of California. That's all I think about. I don't think about, is it a Democratic idea, is it a Republican idea? I think you have to take ideas from both parties and put them together, because as soon as you exclude one party, you're excluding 50 percent of the talent that is out there. And I think that's the wrong thing to do, and at that point you're not serving the people well.
So what I do is I bring both of the parties together. And this is why we were able to do the kinds of things that we are doing, and this is why we were able to turn the economy around, and go from a period where we literally were almost bankrupt in 2003, and we were able to turn the economy around and reform Workers' Compensation, and create 866,000 jobs, and have the highest revenues. This year we have the highest revenues in the history of California. So those are remarkable accomplishments. And then simultaneously protecting the environment, and making a commitment to roll back the greenhouse gas emissions and to protect our oceans and our rivers and water for the future, and our air in the future and all those kinds of things. So I am very proud of both of the parties.
So no matter what anyone says from Washington, I pay very little attention to that. I think we should pay attention to what's going on out here in California, and we are a model for the rest of the nation. (Applause)
MODERATOR: Governor, how have your wife Maria and her family, the Shrivers and Kennedys, influenced your thinking as governor? Did Maria encourage you to take your strong action on global warming?
GOVERNOR: No. We have—Maria and I, we have been partners, I would say, since we met. Maria is a very smart woman, and she has her own vision about things. And she grew up in a political family, and she also has been very familiar with show business, because her grandfather was, of course, in show business and was a producer, and has produced many, many movies. So she was very familiar with all of those things, and with sports, so she was very helpful in my bodybuilding career, she was very helpful in my acting career, and she is very helpful in my political career, and me being a public servant.
"We know there is global warming."
So we talk about all of those issues. But I myself have always been very interested in the environment. I come from a country where we have beautiful rivers and mountains and clean air and all this. So I want the same thing here in California. And even though sometimes people think because I drive a Hummer I'm not an environmentalist, but it has nothing to do with that. It has to do with that we have to go and protect the environment and make sure that we all look for technology that will give us the Hummer, but a clean engine. That is really the bottom line, rather than—because it's not the size of the car, or the size of the airplane. It's what kind of engine do we have in that car, that's really what counts. (Applause)
And by the way, one of my Hummers is a hydrogen Hummer now.
MODERATOR: Yeah, you retrofitted it.
GOVERNOR: One is a biofuel Hummer, and another one is right now going through a special treatment where we take the greenhouse gases out of the engine. So technology, in the end, as I always say, will save the day. That is the most important thing.
MODERATOR: So how many Hummers do you have?
GOVERNOR: I have five Hummers. But I have to say that I have not had a chance to drive them much, because I always drive with the CHP.
MODERATOR: Well, Congress is considering a global warming legislation that would preempt the law you signed in California, aimed at reducing the greenhouse gases. You're opposing the national legislation. But doesn't it make sense to have one national standard and require more states to participate, rather than having each state go it alone? Or is California, do you see it as being the leader?
GOVERNOR: What you just said is the ideal situation, that we have a national standard, because companies or car manufacturers, it's very difficult for them to adapt to each one of those different standards. But the federal government is asleep, they're not doing anything about the environment. We are struggling, we want them to go and participate and make a commitment to roll back the greenhouse gases. We want them to make a commitment to really have the kind of new carbon fuel standards, the Low Carbon Fuel Standards that we have here, the Executive Order that I signed.
They won't do it, they want to do another two years of studies. And I think that we have done all the studies. We know that we have global warming, we know that we are in danger. We see already in California right now the affect that it has with the early fires that we have, with the lack of water that we have, the impact it has on our farming and our agriculture, and in many, many different areas. And I think that we are taking a huge risk if we continue waiting and do studies, and wait and do studies. I think that the studies are over, the science is in. We know there is global warming. Let's act now and let's protect our world for future generations.
National ID Act
MODERATOR: In the case of driver's licenses for illegal immigrants, you indicated during the recall campaign that you didn't oppose the concept, just the way Gray Davis had handled it. Yet once you got into office you said you wanted to wait until federal REAL ID regulations were enacted before approving a California law. Then you said you wanted to wait until the federal government passes comprehensive immigration reform. Why do you want a national standard on driver's licenses, but not on global warming?
GOVERNOR: No, I think that it is very important that the federal government is already almost there. As a matter of fact, they have just passed the National ID Act, and I think that we are around the corner of having that, and also immigration reform. And I said in 2003 when I ran, we should make sure that we have immigration reform where we can bring people in legally from outside the country so they can drive here legally, so that we know their background, we check their background, they can own cars legally, they have bank accounts legally, go through the airports legally, and travel back and forth legally, and do all of those things legally. It's not good to piecemeal the whole thing, and now just to go and have a driver's license when we don't have the background check, and when we don't even know who they are.
So this is why I said, let us go and do it the right way, and I still say this today. Let us push the federal government so we have true immigration reform, so that we can move forward and do everything in a legal way, and people don't' have to live in fear anymore in America.
MODERATOR: We'll talk a little bit more about immigration when our other panelists join us. I'm going to go into something that you came into office promising, to clean up the money-driven political system in California. But you've found it necessary yourself to raise millions of dollars to promote, oppose initiatives, to compete on the ballot. Have you given up on reforming the political process? Do you think that can be done?
GOVERNOR: No. I mean, I think that it is two different issues you're talking about. One is to raise money for initiatives, which everyone has to do, or to raise money for a campaign, for a political campaign. We all have to do that. When we talk about what should not happen is that of money in and favors out. That is where things go wrong. We should never go and do favors for money we get from somebody, a campaign contribution. We should not go and feel obligated that we have to give favors back to that person or to that company and so on.
So that is what we have to stop, and this is why I have, since I have come into office now, for three years in a row I have tried to get a bill through that deals with finance reform, which means that before we do the budget, or during the budget time—like right now is budget time—we should really all have a commitment that we should make, and not raise money during the budget negotiations. Because it doesn't work if you go and negotiate and work on the budget until 7:00 o'clock at night, and then at 7:30 you go to a fundraiser and simultaneously meet people that maybe have a stake in the budget. So I think that we should ban fundraising for a month during the time we negotiate the budget, and also the month when I do bill signing. During that time there should be no fundraising activities.
So those are kind of simple kind of political reforms that we should all try to accomplish. We were not able to accomplish it, because Democrats and Republicans have not voted for it. And so I think we are trying it again this year, to put it on the ballot, as a matter of fact, in February, and hopefully we can get all of those three political reforms accomplished, which is:
• To do redistricting reform so we have finally redistricting done by ordinary citizens and not by the legislators, because there's a conflict of interest;
• No. 2, to have the term limits changed, and;
• Campaign finance reform.
Access and politics
MODERATOR: Do you think, though, that money that people, when they give you money, or they give a politician money, that they expect access? The larger the contribution, the more that they expect to be listened to? Have you found that?
GOVERNOR: Well, it's not the access. I mean, I walk up and down the street, and people come up to me and talk to me about their various different issues. So access, anyone can have access. But the problem really is to do favors back. That is really the problem. We have had, for instance today, or yesterday, union leaders in there, we have had business leaders in there. I don't check if anyone contributed or not contributed. As a matter of fact, I've never taken any money from any of the labor leaders, or labor at all, but I still have them in my office. I want to hear their concerns, I want to work with them, because it's very important that we work together, for instance, when it comes to career-tech education, and to educational issues and so on, and labor issues. So I think there are a lot of things that we can do together. But it doesn't mean that they have to give me money in order for me to go and listen to them and work with them.
MODERATOR: Would you like to find a way to stay in elective office, beyond your time as governor, run for another office that might not be the head of government? Maybe US Senate, or do we see you go back into movies? You got another Terminator in you?
GOVERNOR: I'll be back. (Applause)
You know, I have been kind of a public servant for many, many years. I, as an immigrant, always felt very strongly about that I should give something back to this country. And that's why I worked with Special Olympics for 30 years and was the National Coach and the International Coach, to work with people that are intellectually challenged. I have worked on After School Programs, to establish After School Programs all over the country, in 15 different cities, and then ran with the initiative, Prop 49, to provide extra 428 million dollars of after school programs in the state of California. I have worked with the President's Council on Fitness and traveled through all 50 states, being the Chairman of the President's Council on Fitness and promoting health and fitness. All of those kinds of things I have done because I want to give something back.
This job now gives me the ultimate and the best opportunity to give back. But after this is over, I will again do the things that I have always done, which is to serve the people in one capacity or the other, continue working with Special Olympics, After School Programs, promote fitness and the kind of issues that I'm interested in. But I'm not that eager to run for another office, because I can serve the people, like my mother-in-law.
MODERATOR: M-hmm?
GOVERNOR: Eunice Kennedy Shriver. Remember, she started Special Olympics.
MODERATOR: Right.
Immigration
GOVERNOR: And she has now an organization that is in 164 countries, and she works tirelessly in this organization to provide equality for people with mental disabilities, and to provide tolerance for them, and inclusion, and health care, dental care, and the ability to have jobs, and the ability to live anywhere they want to live, and fight for them. And she's not an elected official, so you don't have to be an elected official in order to be able to serve the public. So I will always do something to give something back to the people of California and America, if I'm elected or not elected.
MODERATOR: Okay. Joining us now will be two more panelists, Jodi Hernández, reporter for San José's KNTV/NBC11, in their Oakland bureau. Jodi will join us. (Applause)
And Pilar Marrero, Political Editor of La Opinión in Los Angeles. (Applause)
MODERATOR: Governor, we're going to start the conversation with one of immigration. Your rebound in the Latino community in your re-election campaign was really quite amazing. At one point, as we recall, you were in one poll, a San Jose State poll, I think, had you only supported by 12 percent of the Latinos, mainly on your conversations on the Minutemen, you had some words of praise for the Minutemen. You had supported Proposition 187; you had talked about having a closed border. And you reversed yourself on some of those issues, or really all of them in varying degrees, and you actually ended up getting almost 40 percent, or 40 percent of the Latino vote, a historic level for a Republican in recent times.
What happened there? Did you apologize in many of these cases? Did you see the light somewhere? What happened with your relationship?
GOVERNOR: I would say that—you know, when you're not brought up kind of in the public life, or I should say being a politician, you don't sometimes say exactly the things that are politically correct. And like for instance when I said we should close the borders, it was the wrong usage of words. What I meant was secure the borders. And I remember that my press secretary came to me right afterwards and said, "Did you change your policy?" I said, "No." I said, "Why?" "Well, you just said closing the border." And I said, "Well, that's what I always said." "No," she said, "You said securing the border." I said, "Well, that's what I mean, securing the border." And she said, "Well, there' a big difference." And so the intention was not to say to close the borders, and no one should get in and out of the borders. It just meant securing the borders. So it was misspoken, and I had her go back to the press and say this is exactly what I meant. So there are situations like that, or I did not explain myself well enough.
But I think that I was always very clear about the driver's license issue. And I was always very clear about that I felt very strongly that we should have a temporary working permit for people, because we need workers here in this country, farmers, or construction workers, or restaurant owners, whatever business it is, or high-tech, whatever it may be, they can't get enough talent here in this country, and therefore we should be able to go outside the country, employers, and get the workforce from outside the country. And that's how I came into this country, because they needed a bodybuilding champion that spoke German and English. So everyone has their talents. So therefore, you know, I'm always for that.
I'm also for, have always been for securing the borders, and about having a fence, electronic and highest technology and securing the borders. Not because of Mexicans as much as because of terrorists. Because you know with the Mexicans, I always said we have to be sensitive that these are our friends. We're not talking here about the enemy on the other side.
So those things sometimes are taken in one way or the other, and some people get upset when you say securing the borders and build the fence. Other people then from the other side say, "Well, you're saying bring in people legally, we don't want that." I think the whole thing has become so divisive and so political. I have always said that the center is where the action is, which is to let people come in here legally, to secure the border, and to let people earn a way to apply for citizenship and to pay a certain amount of money for that, and to learn English and do the kind of things that are required, that they are proposing. So I think that is where the center is, and I think this is where the action really is.
MS. MARRERO: Governor, we in La Opinión, we have very fond memories of the day you came and you changed your position on 187. Those positions are now in the minority, according to recent polls, in the LA Times yesterday, for example. Even conservatives and Republicans, and of course Democrats, support immigration reform, they support the bill that's in Congress right now. And look what happened. Last week that bill was stuck. And I'm wondering if you're going to do something, if you're going to go out there with your clout, with your public voice, and say something, knock some sense into some of those Republicans and maybe some Democrats. Do you talk to them? Do you say something?
Keeping immigrant families together
GOVERNOR: Well, first of all, you've got to analyze why is it stuck, why didn't it pass? It's not because people don't want to have this issue resolved. I think the latest polls were very clear, that it is over 60 percent, 65 or 68 percent of the people say yes, you should be able to go and work your way towards citizenship, people that live here and have not broken the law, that have worked here, have contributed to this country or to this state. I think that the large majority of people are there on this issue.
I think that what a lot of the legislators and a lot of the politicians still have a problem with in Washington is the way it is written. Because I myself have a lot of questions about it, and I am—right now, the way the bill is, I would not sign it myself, because I would ask myself, wait a minute. How do we enforce all of this that they are talking about here? Where is the money for all of this? Where is the money to really go and say, when someone comes in here legally to work, on a temporary working permit, what happens to the person that says, for instance, "I'm not gong to go back."' What happens then? What happens to the people that have been told that from January 1st, if you have come to this country before January 1st, then you can go and apply for citizenship if you do certain things. What happens to the people that have come after January 1st? There are thousands and thousands. What happens to them? Who is enforcing all of those kinds of details that you are writing down here? I have not seen that anywhere in that legislation or in that bill. And the same is with the border situation, with all of those things.
It needs to be a little bit worked on, it needs to be fine-tuned. Everything is in place right now. The pieces are in place, I think. And I trust Senator McCain, I've had many conversations with Senator McCain about this issue. He is a great, great Senator and a great leader on this issue. I trust him, but I think we still have to fine-tune, to make everyone kind of feel good about the bill. It just should take another week or two, and I think they can do it. So what we have to do now is encourage them to work on it and not to give up, to work on it, because they are so close. We're literally 5 minutes to midnight when it comes to that kind of reform.
Health care reform
MS. HERNÁNDEZ: Governor, you've made it very clear that health care reform is at the top of your agenda, and included in your plan is coverage for the state's undocumented children. As you know, it could be very challenging —
GOVERNOR: You see? Anyway, go ahead.
MS. HERNÁNDEZ: It could be very challenging for you to convince Republican lawmakers to sign on to that portion of the plan. How committed are you, Governor, to keeping undocumented children in the plan?
GOVERNOR: Well, it's not only children. I think that we should deal with the whole thing, even though it is specifically for children, but I mean, let's be honest. We have a chance here to reform health care. This is the year of health care reform. We have 6.5 million people that are uninsured. And I think that the federal government has talked about it for almost 100 years, since Teddy Roosevelt, since 1912, that we should have universal health care in America. Well, now it's almost 100 years later, and we still don't have it. So that's why I brought together Democrats and Republicans and I said, "Let us be the first state that really has comprehensive health care reform."
And for me, comprehensive health care reform means everybody. Everyone ought to be insured, no matter who it is, and everyone ought to get medical care. And the reason why I think I believe very strongly in that is because the federal law already says that no one should be turned away when you go to an emergency room and you go and get medical care, if you need medical care. If you have an accident, you're sick, or whatever it is, you should be able to go to an emergency room and no matter who you are, documented or undocumented, you should get then treatment, as much as if I maybe am ending up in Mexico and have a motorcycle accident, I wouldn't want anyone to ask me for my passport. I want to get to the hospital, I want to get to the emergency room and get the care, if I'm in Africa or the Middle East, wherever I am. And I think that is what I believe should happen.
And therefore, now the question is, since everyone is by law already getting care, shouldn't we find a more efficient way to give people care? Because right now in the emergency room we are paying five times the cost of a regular medical center. So what we really should do is have medical centers where people can go and get their treatment, if they're here legally or not legally. They should get their treatment if they need treatment, if they want care for their children, or for whatever it is, because we can get it for one-fifth of the cost and in a much more efficient way, rather than crowding up the emergency rooms and getting the emergency rooms and the hospitals stuck with unpaid bills.
MS. HERNÁNDEZ: Governor, would you veto a bill that did not include the undocumented? Undocumented children?
GOVERNOR: Well, I never talk about what I'd do or not do with any of the bills. But I can tell you one thing, it would make absolutely no sense to do that, because what we will do is, we will continue to treat the undocumented immigrants, but at a much higher cost, five times the cost that we normally can get. That's as simple as that. So it is really a question of money and more efficiency. What I want to do is treat everyone I the most efficient way. That's the bottom line.
MS. HERNÁNDEZ: So that's something you'd be willing to drop from —
Negotiations in politics
GOVERNOR: Well, you never go, when you're in the middle of negotiations, what I'm willing to do, and to draw the line in the sand or any of those kinds of things. Because what I want to make sure of is that we move forward in an aggressive way. And I understand that when, as I said earlier to you, that when you deal with two parties, that you always have to compromise, and you have to meet somewhere in the center. So I cannot tell you. There are all kinds of conversations going on right now. And by the way, the Republicans, this is not the only thing my Republicans colleagues don't like. There are many other things in my health care bill that they don't like, so it's all up for negotiations. And there are certain issues that the Democrats don't like, like mandatory health care insurance. I believe very strongly that we should make it mandatory that everyone in the state of California has to have health care insurance, because as soon as one person doesn't have it, that person is basically saying, "I want you to pay for me," and that's not the right way to go.
MS. MARRERO: I want to insist on immigration, and in particular on the future of the Republican Party with Latinos, because I believe that, as the situation is now, they see Republicans in Congress as the ones that are stopping the reform. And President Bush is trying to push this reform forward, and some people are commenting on the fact that they might lose Latinos for a couple of generations if they don't really support immigration reform and some of these issues that are important for Latinos.
You know how important is the Latino vote; you recognized that during your election. Is there anything you think the Republicans should do in Congress to regain this support, to have Latinos recognize that there's another party there?
GOVERNOR: Well, first of all, let me just say that there is Republicans that are not voting for this bill right now, and there are Democrats that are not voting for this bill right now, because you have the two extremes. And what they don't realize is, you have 20 percent on this side, and 20 percent on this side, left extremists, 20 percent, on the right extremists 20 percent, and the action really is in the middle. So the bottom line is that what we have to do is fine-tune the bill so that they both, Democrats and Republicans, feel more comfortable in signing this bill, and move forward and have then comprehensive immigration reform.
MS. MARRERO: What would you do, what would you change in that bill?
GOVERNOR: Like I was saying earlier, I think it just has to be worked so those questions that a lot of Members still have are being answered, and it is being drafted and is being included in the language. And I think, like I said, myself, I have a lot of questions about it, and I think it is important that we answer those questions, that we make it very clear. Because remember that the devil is in the details, because we will not have a chance to redraft this for anther 20 years. Look, the last time we have dealt with this issue was during the Reagan administration in the late '80s. And now we are in the late 2000s, we are almost 2010, and we are now addressing it once again. So it's 20 years later; the next time we will do it is probably another 20 years from now. So I think we have to get it right, right now, and it is better not to rush it. It's important to do it this year. I think it's absolutely important to do it this year, because next year is election year, and then it will get all caught up in politics again. It's already caught up in politics, but it will be more severe then next year.
MS. HERNÁNDEZ: Changing topics, Governor, it's graduation time, as you know. In fact, at this very moment students at Richmond High School in the East Bay are on the stage receiving their diplomas.
GOVERNOR: Congratulations to all of them.
MS. HERNANDEZ: However, many of their classmates are not there. About a third of the high school senior class at Richmond High did not pass the state exit exam, and most of those students are English learners, they've only been in the country for a short time. What do you propose we do to turn that around?
"Turn off the Spanish television set"
GOVERNOR: Well, one of the reasons why I was so adamant about after school programs is because I think it helps minorities, and especially English learners, because they do not have enough time during the day to catch up with the English. Because I know when I went to school, I started at Santa Monica City College, I had to take extra classes, I had to spend extra hours, I had to get tutors to help me. So all of those things are very important. And I think that after school programs are meant to go and provide tutoring and homework assistance, two very important academic components that are apart of after school programs, in order the get funding in the first place for school. So you can't just go out and do three hours of sports programs, you have to do academic programs like homework assistance and tutoring. So those that are learning English should go to after school programs and learn English and get extra tutoring. Our administration put extra money, millions of dollars, into tutors so they can go and help those that are English learners, because we have to get them up to speed as quickly as possible.
The other, the second most important thing is that you've got to turn off the Spanish television set. It's that simple. You've got to learn English. You've got to listen—I know this sounds odd, and this is politically not the correct thing to say, but here I am, getting myself into trouble. But I know, I know that when I came to this country, I did not, or very rarely, spoke German to anyone. Not that I didn't like Austria, my heart was always in Austria, but I wanted to as quickly as possible learn the English language. And I felt that through immersion, and just really sitting in front of the television set—and I remember I watched all the comedies and the news programs. I couldn't understand a word they were saying, but nevertheless I watched it, and eventually I got with it, and I learned. And I remember that the teachers at Santa Monica College also told me the same thing. They said, "Read the LA Times, even though you don't understand it. Look at your dictionary and learn, and look at books that are English, look at comic books that are English, watch television, listen to radio that is English." And it really helped me, that within a year and a half or two years, I really got my act together so I could read the paper and I could understand the news and really get with it also in school. So it is a drastic way of going about it, but it's the only way I can think where everyone, where you yourself can help, the school has to help, and the parents have to help.
MS. HERNÁNDEZ: Is it realistic to expect a high school student to master a language in a couple of years? I mean, do you think —
GOVERNOR: Yes. It is realistic, absolutely. It's just very difficult for Spanish speaking people because they have family members that speak Spanish, when they go to the store they speak Spanish, they listen to Spanish television, they read the Spanish newspaper—and of course I know you like to sell your newspapers, so I'm sorry about that. But you know, I just want to tell you that it can be done. That's why I said many times that people that come from Europe have it easier, because you are on the other side of the continent now, and you make a much more commitment to go and to just go all out to learn the English language. And so a lot of people that come from Europe are much quicker, and it's because they don't speak French, or they don't speak German, because they don't have that many people around to speak German to. So you're just forced to speak English, and that makes you be able to learn the language faster.
It makes it much more difficult and much more challenging when you are, let's say, Latino, because you have so many Latinos. I see it here at the capital, in Sacramento. There are just so many Latinos that speak Spanish all the time, they speak to each other in Spanish. So it makes it difficult to then perfect your English skills as quickly as possible.
MS. MARRERO: They're busy working; they don't have time to learn. (Applause)
MODERATOR: We're going to go to questions from the audience right now, and these questions have been written out on these cards and I'm just going to ask them. And this one actually seems to segue nicely, and this is from the audience: "How much Spanish do you know?"
GOVERNOR: I've been down there, I made four movies in Mexico, and each time I learned a little bit of Spanish. And then, of course, you forget it again when you don't use the language much. But enough that I made my phrase, "Hasta la vista, baby," very famous, world famous all over the world.
MODERATOR: How has your career as an actor informed your career as the governor? And what's more genuine, Hollywood or politics?
GOVERNOR: I think they're very tough, both of them, I can tell you. But I think I cannot imagine doing this job without having had the training that I have had in show business, because I tell you, the amount of times you are in front of the camera, the amount of times you do public appearances, and the rules of acting, which means you've got to be believable, and you've got to reach out and grab the audience. It's no different when you give a political speech and when you do a public speech, or deal with people in this arena, because you've got to be real, and you've got to reach out and you've got to have the people—you've got to reach out to the heart of the people rather than to the brain, and really grab them and bring them in, in order for them to follow your ideas and your policies that you're trying to sell out there. So when I go up and down the state—right now, for instance, I go up and down the state and talk a lot about health care and health care reform—it's very important that I connect with the people so that they go and call their legislators and say, "We need this health care reform, we believe in what the Governor is saying, vote with him, stay with him, stand with him," and so on. So that is all connecting with the people. It's extremely important in show business, and it's very important also in the political arena.
MODERATOR: Again from the audience: "Why did you come forward with your health care reform package this year? Are you afraid that the CNA will add a single-payer proposition on the 2008 ballot in an election year?"
GOVERNOR: No, I'm not worried about that. I think that we have had for too long those kind of legislations put on the ballot. We have had, as you remember, SB 2, which was Proposition 72, and that failed. The people have voted on this issue several times. It has failed at the Capitol. All health care reforms have failed at the Capitol. The single-payer has failed year after year, because we didn't get enough people on board, there was only 22 percent of people that believed in single-payer. So that has always failed.
The reason is simply because I felt like this is the year of health care reform. Let's take on another big challenge, like last year we took on the challenge of rebuilding California and investing 42 billion dollars in California's future to build more highways and more freeways, tunnels, bridges, to fix our levees, to build more schools, more career-tech educational facilities, expand our university system, to do more affordable housing and so on. So this year I felt, let us tackle this year another big issue, which is health care. And like I said, we have 6.5 million people uninsured, we have this enormous hidden tax, which is 14.7 billion dollars that businesses are paying right now because they're paying for the uninsured. Each and every one of you that is insured is paying right now a hidden tax, if it is through premiums, or deductibles, out-of-pocket expenses, co-pay, all of those things, you pay a hidden tax on that because you're paying for the uninsured. What we want to do is insure everybody so we can drop this hidden tax, No. 1, and make sure that insurance companies cover everyone, that everyone has access to health care. That is to me the most important thing, that no insurance company can ever turn anyone away because of age or because of some kind of history, medical history, or something like this. So I think those are very good causes to fight for.
MODERATOR: And this will be the last question for the Governor: "If you were an undocumented worker, what would you do if faced with the possibility of being separated from your American-born children? Would you risk deportation, or leave? You come from a foreign country, so I'm curious."
GOVERNOR: I would try to do everything that I can to stay with my family here in America. You're saying that if someone has children, American-born children?
MODERATOR: Right, American-born children is what the question was.
GOVERNOR: And you're the parent?
MODERATOR: Right.
GOVERNOR: And you're the parent. I would try everything that I can to stay together with my family. (Applause)
I'd try to apply for my visa, do everything that they ask me to do to apply for the visa, if it is to pay a certain fee, to learn the language, whatever it needs to be to go and stand in line to get this visa, even if it takes 10 years. But to go through a system so I can be connected with the family, obviously, yes.
MODERATOR: Thank you, Governor Arnold Schwarzenegger, for joining us. Thank you very much.
GOVERNOR: Thank you very much. Thank you.
••••••