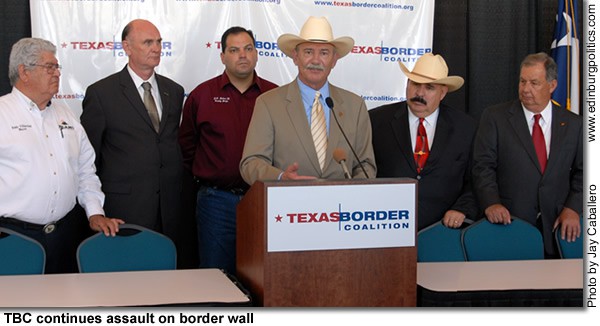 Eagle Pass Mayor Chad Foster, center, chairman of the Texas Border Coalition, is flanked by mayors from Alamo, El Paso, Laredo, and McAllen, along with the Hidalgo County judge, during a Friday, June 1 news conference in McAllen detailing strategies to block plans for a fortified security fence along the Texas-Mexico border. Featured with Foster, from left, are Alamo Mayor Rudy Villarreal, El Paso Mayor John Cook, Hidalgo County Judge J.D. Salinas, Foster (at the podium), Laredo Mayor Raúl Salinas, and McAllen Mayor Richard Cortéz. Judge Salinas said there were "more important issues to South Texas – safety and health issues – than a fence that is going to cost $16 million a mile. That's why we are here today. We feel a Veterans Hospital, taking care of the levees which may be built where they want the fence, are more important than a plan that was (drawn)on a napkin by the Border Patrol over lunch." See story later in this posting.
••••••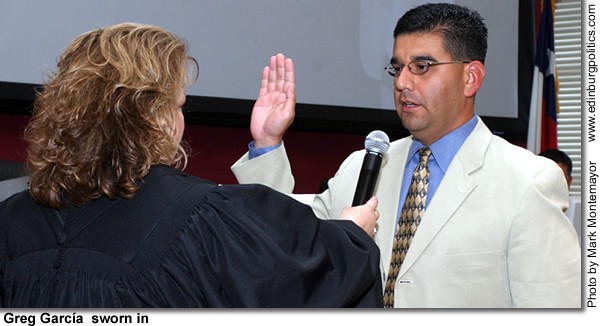 Edinburg school board trustee Greg García was sworn in recently following his successful reelection campaign against two challengers, Cris Treviño and Martin Castillo. Garcia, along with newcomer Robert Peña, Jr., who defeated incumbent Melba González, will each serve three-year terms. The new school board is now led by Carmen González (no relation to Melba), who is president of the ECISD board; Omar Palacios, vice-president; and Ciro Treviño, treasurer. Jaime Chavana and David Torres round out the school board. Featured swearing-in García is Hidalgo County 389th District Court Judge Letty López.
••••••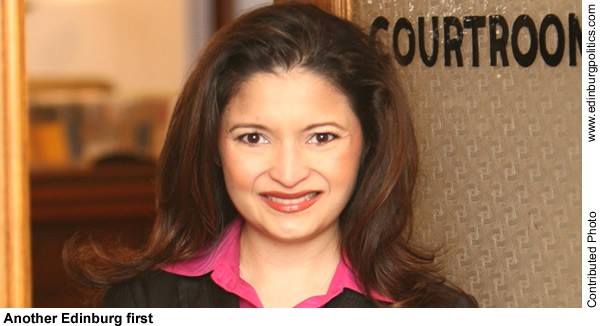 Sylvia Cardona, 32, formerly of Edinburg, and who practices commercial litigation and international law in the San Antonio office of Langley & Banack, Inc., was recently named 2007 president-elect of the Texas Young Lawyers Association (TYLA). The significance to the local and statewide legal community is twofold: it is only the second time in 20 years that a San Antonio attorney has been elected to this office; and it is the first time in the organization's 77-year history that a female Hispanic will hold this position. See story later in this posting.
••••••
Texas leaders finalizing political groundwork for legislative assault on planned border wall
By DAVID A. DÍAZ
Texas border leaders on Friday, June 1, said they are about to embark on a summer-long campaign to rally growing opposition to a planned "border wall" they say will have little effect on curbing illegal immigration and waste precious federal resources that can be used for more effective homeland security and economic development measures.
The Texas Border Coalition, an alliance of mayors, county judges, and economic development leaders from El Paso to Brownsville, met at the McAllen Convention Center to finalize strategies on how to deal with the proposed high-security fence, dubbed by critics as the "border wall", that could be built in deep South Texas in 2008.
The border wall is part of plans by the federal government to build 153 miles of fortified fences in the state, mostly along the Lower Rio Grande Valley. This project is part of a proposed 700 miles of additional fence, promoted as a way to curb illegal immigration, through Texas, New Mexico, Arizona, and California that could cost more than $1 billion.
Hidalgo County Judge J.D. Salinas said border leaders will continue to pressure the federal government and Congress to listen to the concerns of border communities.
"If we start holding them accountable like local taxpayers hold us accountable, to a plan, then we should start getting answers," the county judge said. "This is not just about elected officials trying to get a sound bite, this is not a Democratic or Republican issue, this is a Texas issue that needs to be listened, to make sure we fix the future of the economy of South Texas."
Judge Salinas dismissed the plan by the U.S. Border Patrol to build the barrier, which targets deep South Texas.
"There are more important issues to South Texas – safety and health issues – than a fence that is going to cost $16 million a mile. That's why we are here today," the county judge insisted. "We feel a Veterans Hospital, taking care of the levees which may be built where they want the fence, are more important than a plan that was (drawn) on a napkin by the Border Patrol over lunch."
Major summit ahead
TBC officials said they want to raise the public's awareness of the chaos they contend will result from the border wall, and galvanize public opinion in order to force political change in Congress, which has the final say on if, when, and where the wall will be constructed.
The planned wall in Texas is part of the immigration reform debate taking place in Congress. The U.S. House of Representatives could take action on immigration reform in August.
"This is in preparation for a summit that we hope will take place within the next couple of weeks," explained Eagle Pass Mayor Chad Foster, who also serves as chairman of TBC. "I think we are making an impact. I think we have some traction. I think we have some momentum. The Texas Border Coalition, which represent the mayors, cities, counties, and economic development entities from El Paso to Brownsville, in combination with archaeologists, environmentalists, we can be the conduit. Together, we can make much more impact on this issue. For that reason, we had a very successful meeting."
More than two million Texans live in counties that border Mexico.
El Paso Mayor John Cook said in the past, border leaders were told by federal government officials that they would be a key part of any decision-making process that impacted their communities.
But that trust was broken, TBC leaders contend, when they were surprised in May about plans to build the border wall, without their input, despite promises early this year by Michael Chertoff, the Secretary of the U.S. Department of Homeland Security, to keep border elected officials involved in all major developments regarding the wall.
Hearts and minds
TBC will now include in its political fight a battle for the hearts and minds of the U.S. public.
"Our strategy back in January was we wanted to work very closely with our elected delegation in Washington," Cook said. "The strategy that you see us embarking upon today is we are going to use the media to our advantage, to let the American people know what life on the border is like.
"It's not like the video game that has been shown around the country that depicts our city and our sister city of Cuidad Juárez as being a war game. That's not the reality of life on the border," Cook continued. "That may be somebody's reality in Washington, but it's not ours. We live it every single day. We are going to use the media to our advantage."
Cook and Judge Salinas were joined by McAllen Mayor Richard Cortéz, who hosted the morning-long strategy session, along with Laredo Mayor Raúl Salinas (no relation to the county judge), Alamo Mayor Rudy Villarreal, and Rio Grande City Mayor Kevin Hiles.
Prior to the Friday, June 1 noon press conference at the convention center, the TBC leaders heard from environmental groups, farmers and ranchers, and other invited guests who shared serious concerns about the damage that would be caused by the construction of the planned border wall.
Town hall meetings
Mayor Salinas called on TBC to speed up plans of its own to hold public hearings on the controversy in order to generate a loud and consistent message to Congress.
"We've been burned so many times," the Laredo mayor said of the federal government's handling of the border wall plans, but added that he was "cautiously optimistic.
"But here we have the mayors and the judges together like never before, and who's listening? We're knocking at the door, and nobody is answering the call. It's really time for a wake-up call," Mayor Salinas continued. "But we need to get together and get these public hearings and these public meetings so we can be heard, so the people can be heard. I think it is offensive when we don't give people the opportunity to speak. We're big cities. We deserve that decency to be heard."
Hiles said property rights are also at stake, noting that the border wall could have literally physically separate Texas land from the U.S.
"When you are talking about the issue of a fence, you're not talking about just a barrier," Hiles illustrated. "You are talking about eminent domain, you are talking about comprehensive issues and how those are going to be dealt. You are talking about where is the fence going to go. Is the fence going to be the new border?"
Eminent domain is the power of a governmental entity to take private real estate for public use, with or without the permission of the owner, often without fair compensation to the property owner.
TBC supports security
In McAllen, commerce from Mexico represents about 40 percent of the economy in that border city.
The planned border wall threatens that economic vitality of that, and many other communities, without increasing the nation's security.
"What I want the American people to know is that we're not trying to protect our turf by simply saying (the border wall) would hurt our economy," said Cortéz. "We want to be good Americans. We want to secure our borders, we want to stop illegal immigration. Our quarrel is not with the goals of our country, our quarrel is how they are going about it to solve these problems."
Cortéz and other border leaders scoff at the idea that a physical structure would stem the tide of illegal immigration, given that even a natural boundary – the Rio Grande River – is not able to discourage crossings from Mexico into Texas.
"If you didn't catch them crossing the river, what's adding another layer to that process going to do? We think it is just a waste of time," he said. "But we also think that America needs to pay attention to core of the problem. We have illegals coming because we have a failed legal immigration system. It affects not only McAllen, it affects all of us in this country."
Cortéz said more federal manpower and high-technology equipment are much better ways to address the issue of illegal immigration.
"We have been begging (the federal government) for more officers, not only Border Patrol, but U.S. Customs, immigration people," he said. "We enjoy a tremendous amount of trade with Mexico. Eighty-five percent of the trade that we have Mexico, which is very substantial, comes through land ports of entry."
A port of entry, such as a city on a land border, is a place where one may lawfully enter a country.
"What we have been hearing for years and years and years is that 'we don't have any money to invest in legal ports of entry', and then we hear they have $52 million to build a fence that we think, we're pretty sure, is not going to work," Cortéz said. "Then, we question the logic of Congress. I'm sorry, but that's how we feel."
In addition to the border leaders who participated in the McAllen strategy session, other TBC members include: Brownsville Mayor Eddie Treviño, Jr. (until his successor is selected in a runoff later in June); Cameron County Judge Carlos H. Cascos; Edinburg Mayor Joe Ochoa; El Paso County Attorney José Rodíguez; Hidalgo Mayor John David Franz; Maverick County Judge José Pepe Aranda; Mission Mayor Norberto Salinas; Pharr Mayor Leopoldo Palacios, Jr; Roma Mayor Rogelio Ybarra; Val Verde County Judge Manuel "Mike" Fernández; Weslaco Mayor Joe V. Sánchez; Mike Allen of McAllen, a member of the South Texas College Board of Trustees, and Pat Townsend Jr., president and CEO of the Mission Economic Development Agency, and other community leaders.
The Texas Border Coalition maintains a web site at http://www.texasbordercoalition.org.
••••••
Sen. Hinojosa secures new funding to protect state's valuable agricultural industry in deep South Texas
By MELISSA DEL BOSQUE
As the regular session of the Texas Legislature drew to a close Monday, May 28, Sen. Juan "Chuy" Hinojosa, D-McAllen, commended his colleagues for agreeing to take immediate steps to guarantee the safety of Texas' valuable agriculture industry by combating specific diseases that could threaten South Texas growers and severely impact the local economy.
"Protecting Texas valuable agriculture from extremely damaging invasive pests and disease is a top priority," Hinojosa said.
Hinojosa authored a budget rider to secure $1.6 million for research into a virus that causes disease in potatoes. The rider creates an agreement between the Texas Department of Agriculture and the Texas A&M Extension Station to conduct comprehensive research into the harmful virus called Zebra Chip after the dark stripes it makes on affected potatoes. The disease has already resulted in millions of dollars in crop losses for South Texas growers. There is also concern that the virus could spread northwards, ruining Texas' potato industry. An economic impact study by Texas A&M showed that losses from Zebra Chip would reach $100 million in lost business in Texas and almost 1,000 jobs.
In addition, Hinojosa worked with Texas Agriculture Commissioner Todd Staples to secure $1.3 million for 12 new employees to undertake inspections for harmful plant diseases, including the citrus canker that could put South Texas' valuable citrus crops at risk.
"Under the plan, inspections will increase dramatically," Hinojosa said. "Plant shipments entering Texas will be subject to more than 350 additional quarantine inspections and more than 8,500 additional man hours of scrutiny by state inspectors."
••••••
Former Edinburg City Secretary Mary Villarreal honored for her dedication to open government
By DAVID A. DÍAZ
If "a cultivated mind is the guardian genius of democracy," as Mirabeau B. Lamar, the president of the Republic of Texas, once so eloquently put it, then city secretaries throughout the Lone Star State are the protectors of open government.
A city secretary, which is an appointed official who makes sure that a municipal government operates in full view of the community, is the oldest public service role in local government.
Villarreal completed almost 30 years of public service in 2004 as Edinburg City Secretary in order to pursue an equally impressive career as co-owner, along with her husband, Romeo, of Edinburg Child Care, Inc.
But for the statewide-recognized advocate of the people's right to know, the concept of open government – from fair elections to easy access of public documents – has always been more than a lofty ideal.
It has been her life's calling.
"It's astounding just how much local governments affect our lives," said Villarreal. "So it is very important for citizens to understand that they have the right and the power to get information about their government's activities, no questions asked."
Her determination to help citizens empower themselves with such knowledge has earned her, along with five other former Valley city secretaries, with lofty praise from their colleagues in the Lower Rio Grande Valley City Secretaries/Clerks Association.
"Keepers of the Archives"
"The LRGV City Clerks Association recognizes the contributions made by city secretaries now retired from public service," Annette Villarreal (no relation to Mary), McAllen's City Secretary and president of the organization, proclaimed at the group's April 18 meeting in Port Isabel.
Mary Villarreal, former Weslaco City Secretary Hilda Adame, former Pharr City Secretary Dora Garza, former Mission City Secretary Mona Martínez; former Pharr City Secretary Mary Muñoz, and the late Natividad (Tiva) Sánchez, a former McAllen City Secretary, all were recognized by the Valley organization.
The former city secretaries "have contributed to the success of this association, leaving a legacy to be utilized by their successors in the efficient operation of their offices and their service to the public," Annette Villarreal acknowledged. "We recognize and thank them for the imprint they have left in the association for the benefit of their peers and the public."
According to the South Texas organization, the role of the city secretary has existed before Biblical times. Some of the designations include "Keepers of the Archives", and before writing came to use, they were referred to as "Remembrancer" because their memory served as the public record.
During the Middle Ages, only municipal clerks and clergy could read or write.
Fast forward more than 1,000 years, the role of the 21st century city secretary has taken even greater prominence, especially in the information-intensive and Internet-connect world of today.
The major duties of a city secretary include attending all government meetings and keeping accurate records of all actions taken, setting up and protecting a secure archival system for all public records and documents, and serving as the election officer for all of the government's elections.
Open government
In the mid-1990s, Villarreal was one of the strongest supporters for a plan by Mayor Joe Ochoa and City Manager John Milford to team up with the University of Texas-Pan American to create the Edinburg Cable Network.
"We now take it for granted, but not too long ago, Edinburg residents had to break away from their busy schedules if they wanted to see what was going on during a city council or Edinburg Economic Development Corporation meeting," she said. "But the creation of the Edinburg Cable Network has done away with that burden. We can now see, in the comfort and privacy of our homes, exactly what is going on during those meetings, literally with the touch of a button on the TV remove control. That's a powerful tool for democracy."
The Edinburg Cable Network is available on Time Warner Cable Channel 12, or on the Internet by logging on to the city government's website at http://www.thecityofedinburg.com
In addition to the city and EEDC meetings, the Edinburg Cable Network also produces local newscasts and stories featuring major activities in the three-time All-America City. In addition, programming from the University of Texas-Pan American is also featured on ECN.
When the Internet was starting to make its mark in local government, Villarreal made sure her department was the first at City Hall to implement a computer network. This process involves the
use of a network of computers and computer terminals by individuals at various locations to interact with each other by entering data into the computer system.
She also introduced an imaging system in the department, that allows for the scanning of all documents onto computer discs, not only for archival purposes, but also to allow rapid and inexpensive reproduction of all public documents.
Staying ahead of the curve, she also made Edinburg's City Secretary Department one of the few local governments which are authorized by the U.S. government to issue passports, a service that provides convenience to residents while generating money for the city treasury.
"…know the truth…"
Villarreal still keeps a close eye on state and federal legislative proposals that seek to curtail, or improve, the public's knowledge of their governments' actions.
Over the years, she has championed the cause of open government and public disclosure initiatives, tracking major state and federal bills on those issues, and urging politicians in Austin and Washington, D.C. to favor an informed electorate.
She expressed disappointment that a proposed reporters shield law that would have helped journalists protect their sources was apparently killed in late May on a technicality in the Texas Legislature.
The so-called "shield law" would have allowed journalists, in certain cases, to protect the identity of their news sources in order to encourage people to reveal, through the press, unethical or illegal activities in the public and private sectors.
Opponents of the measure feared it would give journalists a right that other citizens do not possess.
According to newspaper accounts, the shield law was defeated on what is called a "point of order" when opponents noted a grammatical error in the legislation that doomed it to defeat.
"This is a perfect example of how difficult it is to pass a law to help people know what is going on in their government," Villarreal said.
Regardless of that setback, Villarreal added that there are still very good state and federal laws in place to protect the public's right to know.
She noted with amazement that in ancient Greece, the birthplace of democracy, the Town Clerk, during the meetings of the government, placed a curse on anyone would would try to deceive the public.
Acts 19:22.41, according to the LRGV City Secretaries/Clerks Association, gives an accounting of a Town Clerk who dispersed a riotous crowd to insure the safety of Saint Paul and his followers.
With a strong faith in her Christian roots, Villarreal said she was thankful for the role of the Town Clerk cited in the Bible, although she said she drew the line at the use of curses in ancient times.
"I believe that the role of today's city secretary, with the duties to inform the people, is much more in line with the proclamation in John 8:32," she said. "'Ye shall know the Truth, and the Truth shall set you free."
••••••
Rep. Peña says he will run for reelection after all, top goal will be creation of a Valley medical school
By DAVID A. DÍAZ
Saying he was boosted by his legislative achievements and inspired by well-wishers back home, Rep. Aaron Peña, D-Edinburg, said on Thursday, May 31, that he will indeed campaign for a fourth two-year term in the Texas House of Representatives.
Peña said his success in securing $3 million, in the just-concluded legislative session, for a drug treatment center to be located in Edinburg fulfilled the main reason he ran for office in the first place. Now, he is setting his sights on a medical school complex for the Valley that would include and enhance the Regional Academic Health Center in Edinburg.
In mid-May, Sen. Eddie Lucio, Jr., D-Brownsville, passed legislation to create a medical school, which would located in Brownsville. That measure did not receive a committee hearing in the House of Representatives.
Peña's comments, posted on his website, http://www.ACapitolBlog.com, represent his first public pronouncements since a Saturday, May 29, story by the Freedom Newspaper chain portrayed him as leaning against running for reelection.
Peña's term ends in early January 2009. The party primaries will be held in March 2008, and the general election in November 2008.
Peña v. Sáenz, Part II?
Eddie Sáenz, a civil engineer who ran against Peña in 2006, is expected to challenge Peña, an attorney, once again. They battled in the Democratic Party primary in March 2006.
If both the Republican and Democratic parties field candidates in March, then the November 2008 general election – which will include the race for U.S. president – will focus on the effort to represent House District 40, which includes all but southwest Edinburg, the Delta Area, La Joya, Sullivan City and smaller communities in northern Hidalgo County.
Promise kept
Peña laid out his reasons for running again in his website, which featured a return to his first campaign platform – addressing the blight of illegal drug usage in deep South Texas.
"Long ago in the hills of Central Texas on the banks of the Guadalupe River that passes next to La Hacienda Drug Treatment Center, I made a promise to bring a drug treatment center to our small community in South Texas. Our small band of misfits walked 125 miles from Hunt, Texas, where La Hacienda is located, to our state capitol in Austin to bring attention to the lack of treatment services in our community. Our first goal was accomplished on May 18th of this year when the conference committee of both the Senate and House announced that the drug treatment center we long advocated for was coming to my hometown of Edinburg."
Following that legislative achievement, Peña, who was among a handful of Valley Democratic state representatives – the so-called Craddick D's – who supported the reelection in January of Speaker of the House Tom Craddick, a Republican.
Peña contends his controversial support for the Republican speaker wound up getting big projects financed for his legislative district. More important, when Craddick was under blistering attack at the end of May from both Republican and Democratic rivals, who sought to unseat the speaker for his leadership style, Peña remained steadfast in support of Craddick.
Peña suggested that his loyalty to Craddick has paid dividends for House District 40, and constituents recognize the power of Peña's seniority in bringing home the political bacon.
"With that goal (the drug treatment center) complete, I returned home fully prepared to return to civilian life. When I returned home yesterday, I was pleasantly surprised by well wishers from the community and more importantly members of my family who after reading newspaper reports of my potential departure from office, encouraged me to continue my work in the legislature and to build on the successes we saw last session," Peña said.
"Therefore, let me announce to you the faithful readers of this site, that it is my full intention to once again seek election to office so that I can continue serving the people of this community at their capitol."
Valley medical school plans
Earlier in the spring, Sen. Eddie Lucio, Jr. D-Brownsville, secured Senate funding to expand the University of Texas Regional Academic Health Center, which has sites in three Valley cities, including Edinburg, into a full-fledged medical school system.
The Senate bill did not make it out of the Legislature, however.
Peña said now is the time to begin working on the medical school project for the 2009 legislative session.
"My first order of business is to announce our second legislative goal for our South Texas community, that being the construction of a medical school," Peña said. "I have instructed my staff to begin drafting legislation for the construction of a medical as well as other professional schools for our community. These may seem like mere dreams not likely to have a chance of success but so was the drug treatment center when we started."
Peña's call for a medical school comes after several legislative efforts by Lucio, the Brownsville senator, to upgrade the UT Regional Academic Health Centers in the Valley to a four-year teaching institution with degree-granting powers.
The UT-RAHC (pronounced rack) campuses in Edinburg, Harlingen, and Brownsville are branch campuses of the UT Health Science Center at San Antonio.
•••••
Texans to vote on bill by Reps. García, Branch to publicly record all votes by state lawmakers
By ELIZABETH PEARSALL LIPPINCOTT
Amidst the turmoil of a late-night challenge to Speaker Tom Craddick, Rep. Juan García, D-Corpus Christi, secured final passage on Friday, May 26, for a far-reaching measure that will allow Texas voters to enshrine open government in the Texas Constitution.
House Joint Resolution 19, which García joint authored with Rep. Dan Branch, R-Dallas, will place a constitutional amendment on the November 6, 2007 statewide ballot to require the Texas House and Senate to record all final votes, publish the votes on the Internet and maintain the voting records online for at least two years.
HJR 19 won final House approval minutes before a midnight deadline Friday for the House to consider Senate amendments. The legislative session ends at midnight on Monday May 28.
"This November, the people of Texas will have an historic opportunity to send a message to their Legislature demanding more transparency in government," García said. "When the people of Texas pass this Constitutional amendment, it will forever change the culture of our government to make it more open to all Texans."
Thanks to the García amendment, which he added to the House Rules during the first week of the legislative session, the public can view the record vote on HJR 19 and other legislation on the Internet at http://www.capitol.state.tx.us. The direct link for HJR 19 is http://tlis/BillLookup/History.aspx?LegSess=80R&Bill=HJR19.
Also this session, García filed House Bill 2801, which would have required record votes for preliminary "second readings" as well as votes on final passage. García's HB 2801 would also have required the Legislature to publish all record votes within one hour, committee votes within 24 hours and maintain all record vote information online for at least 10 years. However, when it became clear that HJR 19 was the record vote measure with the best chance of passing this session, he joined the bipartisan group supporting the constitutional amendment.
"I will continue to fight for even more openness in the Texas Legislature," García said. "We can continue to use the House rules to improve the public's access to voting information that will hold their legislators accountable."
With the Friday, May 26 passage, HJR 19 goes to Texas Secretary of State Roger Williams for preparation of the November 6, 2007 statewide constitutional ballot. If Texas voters approve the constitutional amendment to require record votes in House and Senate, it will be significantly more binding on legislative procedure than a regular statute.
The proposed constitutional amendment would read: "The constitutional amendment to require that a record vote be taken by a house of the legislature on final passage of any bill, other than certain local bills, of a resolution proposing or ratifying a constitutional amendment, or of any other nonceremonial resolution, and to provide for public access on the Internet to those record votes."
García represents the 32nd District in the Texas House of Representatives. Elected in 2006, he is an attorney and second-generation naval aviator. Garcia lives in Corpus Christi with his wife Denise and their four children.
••••••
EEDC considering funding infrastructure to promote development in East Edinburg
By DAVID A. DÍAZ
The latest business hot spot in the three-time All-America City, anchored by the planned Fiesta Chevrolet in east Edinburg, could soon be getting an additional spark from the Edinburg Economic Development Corporation.
On Tuesday, May 30, the EEDC board of directors authorized its executive director, Ramiro Garza, Jr., to begin negotiations on a development agreement with Fiesta Chevrolet, for the EEDC to pay for needed water and wastewater lines to serve the planned complex, and other businesses that should develop in the corridor as well.
The growth of that region is sure to benefit from another major development – plans for the $80 million Shoppes at the Rio Grande Valley, a 1.1 million square-foot retail complex that will be located a few blocks west of the new car dealership.
The incentive to be offered to Bert Ogden RGV by the EEDC, which is the jobs creation arm of the Edinburg City Council, could represent a public investment of $150,000 or more to pay for water and wastewater lines leading to the car dealership site, owned by Bert Ogden Rio Grande Valley.
The offer of public investment would involve Bert Ogden RGV agreeing to meeting specific job creation, construction investment, and timetable criterion.
The EEDC board of directors would have to review the agreement in open session, during a publicly-posted meeting in the near future.
The EEDC board of directors includes Mayor Joe Ochoa, and its president is former Edinburg Mayor Richard García. The other EEDC board members are Fred Palacios, Mike Govind, and George Bennack.
Company leaders have previously said that the new Fiesta Chevrolet will employ up to 150 people, represent an investment of $2.5 million, and occupy six acres of the 17-acre site.
Eventually, three car dealerships, owned by Bert Ogden RGV, will be located on that site, and represent a private investment by Bert Ogden RGV of $15 million, Garza said.
On April 10, Bert Ogden RGV broke ground for its Fiesta Chevrolet dealership as the first phase of that development. That property was formerly an empty tract of land near the intersection of Trenton Road and the North U.S. Expressway 281 bypass in east Edinburg.
Currently, Fiesta Chevrolet is located near downtown Edinburg, and was the former Roberts Chevrolet dealership. But the current Fiesta Chevrolet complex has been sold to the county, which will build a second public parking lot for courthouse visitors.
Garza said the investment of public funds for the water and wastewater lines will help speed up the development of the 17-acre Bert Ogden RGV complex, and generate construction of additional businesses along that corridor.
"Because of the incentive that we are looking at offering, they are considering expediting their investment in building," said Garza. "The return for the city is the development of that corridor. It will allow for further development along U.S. Highway 281. When we invest in certain areas, it helps not only that development, but opens up other developments along those corridors."
By helping generate new economic development, the EEDC is able to help keep the city's property tax rate from increasing, he added.
"Our focus has been to help different commercial growth," Garza said. "It is increasing our tax base. which offsets the need for the city to increase the tax rate. We make sure there is new tax base that results in less burden on taxpayers and the creation of more jobs."
••••••
Summer of 2007 to continue major changes in county government's presence in Edinburg
By DAVID A. DÍAZ
With an rapidly increasing population that he estimates at about 800,000 residents, Hidalgo County Judge J.D. Salinas says plans are underway for the county government to physically keep up with the growth.
Salinas is a former two-term Hidalgo County County Clerk and a protege of state political icon John Sharp, a Democrat who is the former Texas Comptroller of Public Accounts. The county judge, who took office in January, addressed some of the major issues and projects facing Edinburg, which is the county seat, during a presentation in Edinburg on Thursday, May 17.
His presentation, the latest in a series of Legislative Luncheons sponsored by the Edinburg Chamber of Commerce, covered a wide array of issues, from transportation concerns to improving the Edinburg downtown area.
Those luncheons, which also feature a question and answer format, are coordinated by Ramiro Garza, executive director of the Edinburg Economic Development Corporation, which is the jobs-creation arm of the Edinburg City Council. Garza also serves as head of the Public Affairs Committee, which organizes the legislative luncheons for the local chamber.
The EEDC is governed by a five-member board of directors, which includes Mayor Joe Ochoa, former Mayor Richard Garcia, who is president of the EEDC board, George Bennack, Mike Govind, and Fred Palacios.
Salinas said building a new county courthouse would be out of the question because of the expense. He said there is no concrete estimate regarding what a new courthouse complex would cost.
"Let's face it, I'm going to be honest with you: what is it that we should do?" Salinas reflected.
"Probably build a new courthouse. But how is that going to happen? We'd have to raise from 59 cents (the county property tax rate) probably to 65 cents, but I'm sorry – that's just not going to happen while property valuations are going up every year."
He said that working with available resources, through remodeling, is part of an immediate strategy to handle the growing demands on the courthouse complex and its branch facilities.
"Right now we are developing a short-term plan, because, as you know, we have a new district court that opened about a month ago," Salinas noted." We had to accommodate him right away."
Gov. Rick Perry on Monday, March 26 appointed Thomas P. Wingate of Mission as judge of the 430th Judicial District Court serving Hidalgo County. Wingate will serve until the next general election.
The 430th District Court is currently being housed at leased building located two blocks west of the
Courthouse, according to Cari Lambrecht, public information officer for the county.
Hidalgo County has a lease on this building through July 13, 2007 and is advertising
sealed bids for lease of space to house a trial court, she said. This building recently housed the
Juvenile Justice Court, which now is permanently located at the New Mario E. Ramírez, Jr.
Juvenile Detention Facility on the corner of Richardson and Doolittle roads.
In addition to the courthouse, which has been the dominant landmark in the downtown area for decades, the county government's physical presence also includes the County Administration Building, located at 100 East Cano, and the former K-Mart Building, located in south Edinburg at Closner Boulevard and Canton Road.
Often overlooked, because many people mistakenly believe it is owned by the city, is the downtown parking lot, more commonly known as the downtown square.
For years, that site has been overwhelmed by potential jurors, lawyers, and scores of county residents needing to come to Edinburg to go to the courthouse or to County Administration Building, which houses the county judge's office, among other major departments.
Sallnas said the county has made a major move to address that shortcoming.
"We are already expanding our parking. As you know, that is one of our biggest problems," Salinas said, noting the county bought the former Roberts Chevrolet facility, now Fiesta Chevrolet, in order to eventually raze the buildings and make a second county parking lot.
Fiesta Chevrolet is located at 317 N. Closner Boulevard, just north of the courthouse complex, and within walking distance of the courthouse. The county bought the property for $5.7 million in February 2007 from the LJ Roberts Family Limited Partnership, Lloyd J. "Bob" Roberts and David Mitchell Roberts.
The purchase contract requires vacancy of the property by November 2007. The county could potentially net more than 900 spaces between the courthouse downtown square and the Roberts Chevrolet (now Fiesta Chevrolet, owned by Bert Ogden RGV) site, said Lambrecht.
A few miles down the road, the former K-MART Building is getting ready to take in major county operations.
The county acquired the former K-MART Building in 2005 at a cost of $1,635,000.00. It consists of a building with 55,552 square feet and 6.24 acres of land, county officials noted.
The renovations of the building began late in 2006 at a total cost to date of $3,127,000.00. It was purchased from CapRealty 01-Edinburg LLC, 205 E. 42nd. St., RM 1916, New York, NY 10017-5700.
The departments that will be occupying the former K-MART Building are as follows:
Hidalgo County Tax Assessor-Collector (both tax and auto divisions);
Hidalgo County Treasurer's Office;
Hidalgo County Auditor;
Hidalgo County Veteran's Service Office;
Hidalgo County Fire Marshall Office;
Hidalgo County Purchasing Department;
Hidalgo County Agenda Coordinator; and
Hidalgo County Office of Budget & Management (which includes Safety Division, Risk Management, Worker's Comp., Litigation, Health Insurance & Agenda Coordinator).
Beginning June 15, those departments will begin the move to the former K-MART building.
••••••
Edinburg's Sylvia Cardona will be first female Hispanic to lead Texas Young Lawyers Association
By KATY AKIN
Sylvia Cardona, 32, formerly of Edinburg, and who practices commercial litigation and international law in the San Antonio office of Langley & Banack, Inc., was recently named 2007 president-elect of the Texas Young Lawyers Association (TYLA). The significance to the local and statewide legal community is twofold: it is only the second time in 20 years that a San Antonio attorney has been elected to this office; and it is the first time in the organization's 77-year history that a female Hispanic will hold this position.
A nomination committee comprised of TYLA past-presidents and officers chose Cardona as one of two candidates in February. She spent 20 days in March campaigning throughout the state, making trips to McAllen, Corpus Christi, Houston, Dallas and El Paso, among other locations. Ballots were distributed to approximately 26,000 TYLA members in early April and were due no later than Tuesday, May 1, when it was announced that Cardona had beaten her opponent from Dallas by a 12 percent margin.
TYLA is a department of the State Bar of Texas (SBOT). Attorneys who are 36 years old or younger, or who have practiced law five years or less (regardless of age) are eligible for membership. The president-elect office is the only position that requires an election by TYLA members. Cardona will serve as president-elect for one year beginning in June. In her role, Cardona will serve on the TYLA board of directors and the SBOT board of directors. She will also act as a Texas delegate to the American Bar Association (ABA). In June, 2008 she will take office as president of TYLA at the SBOT annual meeting.
Cardona was raised in Edinburg as part of a family that considered discipline, motivation and a strong work ethic its core values. Her parents, both of whom were migrant farm workers, instilled a respect and appreciation of education in the young Cardona, who became the first member of her family to graduate from college. She earned a bachelor of arts degree in political science and Mexican American studies from the University of San Antonio in 1998 and a doctor of jurisprudence from the University of Oklahoma Law Center in 2001. She received a master of laws (LL.M.), an advanced degree in international and comparative law, from Georgetown University Law Center in 2002. Cardona has been an associate at Langley & Banack, Inc. for four years.
Langley & Banack, Inc. is one of South Texas' most recognized full-service law firms, with 50 attorneys and offices in San Antonio, Eagle Pass and Carrizo Springs. The firm has received the highest rating granted by Martindale-Hubbell for competency in the practice of law and ethical conduct and has been designated as a member of the Martindale-Hubbell Bar Register of Pre-Eminent Lawyers. Langley & Banack, Inc. is the only San Antonio member of MERITAS Law Firms Worldwide, an affiliation of nearly 170 independent member firms throughout the world, providing the resources of approximately 4,800 attorneys in 61 countries.
••••••
Five Rio Grande Valley residents indicted for voter fraud allegedly from 2006 election cycle
RIO GRANDE CITY – Five Starr and Hidalgo County residents face voter fraud charges for their conduct during the 2006 election cycle, Texas Attorney General Greg Abbott announced on Friday, June 1. A week earlier, a Brooks County grand jury returned felony indictments against the five defendants in an investigation that began with a complaint filed by Starr County Elections Administrator Rafael R. Montalvo.
José René Gómez, 33, was indicted for voting twice during the November 2006 general election in Starr County, a third-degree felony. The grand jury charged four other defendants with conducting an illegal mail-in ballot scheme during the March 2006 primary election in Starr County. They are Oralia Frausto, 49; Dolores Gutiérrez, 58, also known as María González; and Gómez, all of Starr County, and Óscar Ríos, 37, of Hidalgo County. Ríos was arrested Thursday by Precinct 3 Constable Lazaro Gallardo, Jr. Arrests of the remaining defendants remain pending.
"Our democratic system of government depends upon fair elections," said Abbott. "Texans will not tolerate illegal schemes that undermine the electoral process. Voters can rest assured that the Office of the Attorney General will protect the validity of their votes and defend the integrity of the ballot box. We are grateful to Starr County Elections Administrator Montalvo for uncovering this extraordinary election fraud case."
Defendants Frausto, Gutiérrez and Ríos collectively face more than 50 counts of possessing the ballot of another person without consent, a state jail felony. Prosecutors with the Office of Attorney General, who presented all five cases to the Brooks County grand jury, will prosecute each of the defendants.
Abbott added, "The Office of the Attorney General has received critical assistance from Starr County Sheriff Reymundo Guerra and Constable Lazaro Gallardo for their efforts to cooperate and assist with the arrests of the suspects in this case."
According to the Attorney General's investigation, false addresses and the names of nonexistent Starr County voters were used to illegally obtain voter registration cards. The addresses that appeared on those cards were not actual voters' residences, but rather were vacant lots and condemned buildings.
Fraudulently obtained registration cards enabled the defendants to complete mail-in ballot applications, which instructed the Starr County elections office to send mail-in ballots to Hidalgo County addresses, presumably where the "voters" would be present during the March 2006 Starr County Democratic primary election. The four defendants picked up the ballots at the Hidalgo County addresses. The ballots were then filled out and mailed them to the Starr County elections office.
During the March 2006 primary election, Starr County Elections Administrator Montalvo noticed a large number of irregularities with both voter registration applications and applications for mail-in ballots with Hidalgo County destinations. Many of these "voters" provided abandoned properties and vacant lots as their primary residences in Starr County. While canvassing the ballots, the administrator also detected that Gómez cast two votes, one in each of two polling locations. The administrator subsequently referred the matter to the Secretary of State, who certified a complaint to the Office of the Attorney General.
••••••
Rep. Peña presents recognition to Edwards Abstract and Edinburg's Elva Jackson Garza
By ORLANDO SALINAS
Edwards Abstract and Title Company celebrated the grand opening of their new headquarters in Edinburg on May 31. Hundreds of community members were on hand to tour the two-story, southwestern themed building located on Freddy González and McColl.
Rep. Aaron Peña joined the festivities, where he presented a state recognition commemorating the occasion and another honoring Edwards Abstract staff member and longtime community leader Elva Jackson Garza.
"Edwards Abstract and Elva Garza represent the embodiment of service and commitment to community," said Peña. "I had the honor of presenting and passing two resolutions in the final hours of the legislative session recognizing their contributions."
The Texas House of Representatives passed House Resolution 2910 commemorating the grand opening of the new Edwards Abstract and Title Company headquarters.
The resolution recognizes the company's founding in 1880 by Judge J.Hl. Edwards and it's continued service to Edinburg and the Rio Grande Valley. Its products and services now include title commitment, insurance, and reports and escrow, tax, and closing services at offices in Edinburg, McAllen, Weslaco, Mission and Sharyland Plantation.
The new facility will also be the home of the law firm of Lewis, Monroe, and Peña, Edinburg Escrow Branch Office, and Edwards Title Plant.
Peña also presented House Resolution 1801 honoring Elva Jackson Garza for contributions to her community. The resolution highlights Garza's outstanding record of service to organizations like the Edinburg Chamber of Commerce, Kiwanis and many other civic and business groups. She has worked with Edwards Abstract since 2002 where she serves as Vice President and Director of Marketing. She is married to Alfredo Ruben Garza.
Peña is serving his third term in the Texas House of Representatives. He is chairman of the House Committee on Criminal Jurisprudence and a member of the House Committee on Ways and Means.
David A Diaz contributed to this article
••••••
Sen. Lucio highlights state budget approved by Legislature, praises work by his son, Rep. Lucio, III
By DORIS SÁNCHEZ
Sen. Eddie Lucio, Jr., D-Brownsville, on Sunday, May 27, voted in favor of the State Budget Bill (Conference Committee Report to House Bill 1) totaling $153 billion for the 2008-09 biennium. The amount reflects an increase of $10 billion or 7 percent from the 2006-07 biennial level. The approved budget excludes the $14.2 billion for property tax relief passed earlier in the session.
"As a member of the Finance Committee, I am thankful that the conferees approved a proposal that will provide nearly $10 million to improve and renovate our Harlingen-South Texas Hospital, solving a 10-year funding problem," Lucio said. "I am proud of my son, Rep. Eddie Lucio, III (D-San Benito)—a member of the House Appropriations Committee—whose efforts helped this and other goals become reality. I am equally elated that we were able to receive an additional $5 million for the Regional Academic Health Center (RAHC) sites in Harlingen and Edinburg, which will allow for improved health services for the people of the area."
A huge success this session includes $7.2 million in new money for the Texas A&M University System Health Science Center – Irma Rangel School of Pharmacy in Kingsville. Student financial Aid was increased by $140 million for a total funding of $533.8 million, representing an increase of 35 percent to serve 80,000 students in FY 2008 and 83,000 in FY 2009.
Non-profit zoos across this state and South Padre Island will benefit by a couple of proposals authored by Lucio.
"Of the two million dollars that we were able to set aside for non-profit zoos in Texas from local matching grants, $600,000 is earmarked for the Gladys Porter Zoo in Brownsville. Together with the $300,000 matching grant for Sand Source Studies (to develop an inventory and preliminary dredging plan to nourish Gulf of Mexico beaches), the zoos and beaches in Cameron County will greatly benefit from this appropriation," explained Lucio.
As Chairman of the Senate International Relations and Trade Committee (IRT) and as a member of the Finance Committee, Lucio was able to get many of the proposals IRT recommended to the Legislature funded in the State Budget. IRT recommended a significant increase in funds for the Bootstrap Program via an increased appropriation to the Housing Trust Fund (HTF) and the necessary funding to reinstate the Office of the Attorney General's Colonia Prevention Law Enforcement Investigators.
"I had requested $30 million for the Housing Trust Fund. Although we were not successful in obtaining complete funding, we were able to garner an additional $5 million to double existing resources for the Bootstrap Program to provide affordable housing for low-income households. I thank Lt. Gov. David Dewhurst for his support of this funding," said Lucio. "The constituents I represent all along the border region also thank the Legislature for funding IRT's recommendation to reinstate the Attorney General's Office Colonia Investigators with nearly half a million dollars to enforce our colonia prevention laws."
Another appropriation in the state budget recommended by IRT and authored by Lucio improves the outlook of colonia residents by providing the necessary debt service ($4.4 million) for water and wastewater services bonds ($37.5 million for the biennium).
Lucio's Senate Joint Resolution 20, which proposes a constitutional amendment to authorize $250 million in additional general obligation bonds for the economically distressed areas program, will provide essential water and wastewater services to distressed areas of the state.
The Legislature also approved IRT's recommendation and Lucio's proposal to provide the necessary debt service to issue another $43 million in bonds for the Colonia Road Access Bond program. "With these $43 million, we are continuing our effort started in 2001 to build needed roadways in our colonias," said Lucio.
The senator further noted, "From the budget that will be going to the Governor's desk, we made it possible to add 127,000 more youngsters to the Children's Health Insurance Program (CHIP) by allowing a one-year enrollment period rather than the six-month period, which caused many children to be dropped from the rolls. We funded CHIP at $2.1 billion, representing an increase of $213.2 million for perinatal services, dental premiums, caseload increases, cost growth, as well as rate restorations and increases. This appropriation also includes an increase of $89.5 million to change certain CHIP eligibility standards."
Money was also made available for more children throughout the state to receive dental health care from mobile dental units with an appropriation of $150 million.
Medicaid services will see an increase of $2.3 billion at all Health and Human Services agencies to address the caseload increases and fund acute care cost growth.
"Our teachers and state employees will see small raises. Teachers will average about $425 extra per year. The state's contribution for retired teachers increased from 6 percent to 6.58 percent. I will continue to work towards raising teacher salaries to be comparable with the national average, and to increase retired teachers' pensions, because this is not satisfactory in my view," said Lucio. "I strongly believe we should approve a yearly cost of living adjustment for them."
School Facilities Funding, or IFA, was funded at $87.5 million, showing an increase of $37.5 million.
Lucio was "pleased to work alongside Sen. Juan 'Chuy' Hinojosa, D-McAllen, to secure $49 million for the new regional Department of Public Safety facility in McAllen and $456,000 million for a drug incinerator for the border.
"I thank Sen. Steve Ogden for his leadership as Chairman of the Senate Finance Committee, as well as my fellow Senators for their hard work on developing this budget," added Lucio. "It doesn't meet every need that I would like to see met; however, we have set aside funding to improve or continue valuable programs that will provide housing, water and wastewater services, increased health care programs and funding for future expansion of medical facilities in South Texas.
"I especially want to thank Gov. Dewhurst for my appointment to the Senate Finance Committee and for my IRT Chairmanship, which allowed me the opportunity to deliver so many programs and initiatives for the benefit of the entire border region and for economically distressed areas of the state," concluded Lucio.
••••••
Reps. King, Guillen, Sen. Zaffirini expand higher education exemptions for dependents of volunteer peace officers
By NICK ALMANZA
Dependents of volunteer law enforcement officers who were killed or disabled in the line of duty are now exempt from higher education tuition and fees at public higher education institutions in Texas. House Bill 741 by Rep. Tracy King, D-Batesville, Rep. Ryan Guillen, D-Rio Grande City, and Sen. Judith Zaffirini, D-Laredo, was signed into law on Friday, May 25. These tuition and fee exemptions are effective immediately.
"This very important exemption gives financial relief and opens the doors of higher education to the children of the brave men and women who volunteer to protect our communities," Zaffirini said. "I truly am grateful for Reps. King's and Guillen's leadership in authoring and sponsoring this important bill and am delighted it will now help children whose parents made the ultimate sacrifice for public service and safety."
Exemptions from tuition and fees at public higher education institutions now are available for the children of full-paid firefighters, police offices, volunteer firefighters and volunteer law enforcement officers who have been killed or disabled in the line of duty. Volunteer peace officers often receive the same training and fulfill the same duties as full-paid law enforcement officers. Their inclusion in these tuition and fee exemptions greatly is warranted.
••••••
Gov. Perry signs legislation by Sen. Zaffirini, Reps. Duke, Coleman to improve access to health care
By NICK ALMANZA
A new law passed recently by the Texas Legislature greatly increases the effectiveness of the Office for the Elimination of Health Disparities (OEHD) and the Health Disparities Task Force (HDTF). The Office and its task force are responsible for eliminating health and health access disparities throughout Texas.
House Bill 1396 by Rep. Dawnna Dukes, D-Austin, Rep. Garnet Coleman, D-Houston, and Sen. Judith Zaffirini, D-Laredo, was signed into law on Friday, May 25k and is effective September 1. The bill enhances the productiveness of the OEHD and the HDTF by reassigning their administration from the Department of State Health Services (DSHS) to the Health and Human Services Commission (HHSC).
"The OEHD reported recently that many programs that potentially could reduce health disparities exist within HHSC's agencies," Zaffirini said. "In 2006 the Health Disparities Task Force requested to move the administration of the OEHD and its task force to the Office of the Executive Commissioner of HHSC to increase its efficiency and effectiveness. HB 1396 focuses on eliminating health disparities and increasing access to health services for Texas families."
The OEHD was created from the re-design and reorganization of the Office of Minority Health, which was administered by DSHS. The organization's mission is to identify and address disparities in certain health services programs relating to multicultural, disadvantaged and regional populations. HB 1396 will facilitate OEHD's identification of health programs hindered by disparities, most of which exist within HHSC agencies outside the authority of DSHS.
••••••
Congressman Cuellar calls for a study on how planned border wall would affect environment
By LAUREN SMITH
Rep. Henry Cuellar, D-Laredo/McAllen, continues to provide the most recent, accurate information regarding the possibility of the construction of a fence along the Texas-Mexico border. On Thursday, May 24, he called for a study to be conducted assessing the impact a potential border fence would have on the environment. Cuellar has been instrumental in making sure that local input is heard at the federal level.
"Customs and Border Protection Commissioner Ralph Basham has assured me that environmental impact studies will be performed prior to making a decision on building a fence. Although no fence will be built in Texas this year, letters will be sent out notifying communities of the commencement of these studies. I have advocated for these studies to begin and encouraged the Border patrol to work directly with local residents," said Cuellar.
In late May, Cuellar hosted a videoconference with high-ranking federal officials and local officials and landowners. Border Chief David Aguilar of CBP and representatives from the Department of Homeland Security (DHS) and SBINet were present for the meeting. They answered questions and addressed the concerns of the residents of South Texas who participated from McAllen and Laredo.
"As a citizen of Laredo, I know how important the issue of building a fence is to residents near our international borders. I have established an ongoing line of communication between the residents of Texas and the federal government and will continue to ensure that people are getting the most up-to-date information," said Cuellar.
The federal officials reasserted that they would partner with the people of the communities that would be affected by any fence construction. Local outreach will begin in the near future, and information will be readily available to the public through local border communications contacts. During the meeting, some of the topics addressed were the status of fence construction, continued access to the Rio Grande River for landowners and possible environmental impact.
"I believe that we can find a variety of solutions that are tailored to each geographic area. I will continue to work with federal officials and in Congress to reach a solution that is the most effective and efficient combination of resources available," said Cuellar.
••••••
Sen. Cornyn files legislation to block sale on Internet of "murderabilia", protect victims of heinous crimes
U.S. Sen. John Cornyn, a member of the Senate Judiciary Committee and former Texas Attorney General, on Tuesday, May 29, announced new legislation to protect victims' rights and combat the exploitation of criminal activity. Before Congress adjourned the previous week, Cornyn introduced the Stop the Sale of Murderabilia to Protect the Dignity of Crime Victims Act of 2007, S. 1528.
"It is with startling and increasing frequency that prisoners are turning to the Internet and seeking to profit from their deplorable crimes. This heinous activity hurts the victims and their families yet again," Cornyn. "This new legislation would cut off the source of these murderabilia Web sites—by simply prohibiting state or federal prisoners from placing almost any item into the mail for purposes of interstate commerce. Experts like Andy Kahan think this approach will shut down the industry, and I hope and pray they are right. I intend to push this legislation until this despicable industry is gone forever."
Cornyn's office has worked closely this year with Andy Kahan, longtime director of the Houston Mayor's Office Crime Victims Assistance Division and Kim Ogg, a former Harris County Prosecutor and former head of Houston Crimestoppers, on federal legislation to combat the sale of "murderabilia."
Kahan coined the term "murderabilia," which refers to the (almost exclusively online) industry in which tangible goods owned or created by convicted murderers are sold for profit. Kahan was successful in convincing eBay in 2001 to cease the sale of murderabilia on its site. But independent online dealers are now numerous. Some prisoners are even setting up their own Web sites to sell murderabilia.
Background:
1) Lee Boyd Malvo was convicted for the 2002 Beltway sniper attacks in Maryland and Virginia, killing 10 people and critically wounding 3 more.
• In all, Malvo is believed to have been involved in 16 murders and 7 additional attempted murders. Victims included people from Texas, California, Arizona, Louisiana, Alabama, Georgia, Maryland and Virginia.
• A sketch of Osama bin Laden drawn by Malvo was recently listed on MurderAuction.com and could be bid on or bought outright for $500.
• Denise Johnson, whose husband was killed in the shooting, and Victoria Snider, whose sister was killed in the shooting, both expressed shock and outrage that the items could be sold legally.
2) In 2000, authorities charged Nathaniel Bar-Jonah with the murder of 10-year-old Zach Ramsay, whose remains have never been found. Authorities found evidence that Bar-Jonah butchered Zach and cannibalized his body in meals served to neighbors. (These charges had to be dropped, however, after Zach's mother said she would testify that she believed her son was still alive.)
• Bar-Jonah was later sentenced to 130 years for kidnapping, sexually assaulting and choking a different teenage neighbor boy.
• The Great Falls Tribune reported that Bar-Jonah appeared to be sending personal items to a woman in Utah who was selling them on his behalf.
•In December 2006, he listed 30 items, including shoes, bifocals, artwork and his own hair for sale on MurderAuction.com. He also listed court documents from the Zach Ramsay disappearance.
••••••
Congressman Hinojosa investigating aid to institutions serving minority, low-income students
By ELIZABETH ESFAHANI
Congressman Rubén Hinojosa, D-Mercedes, Chair of the Higher Education, Lifelong Learning, and Competitiveness Subcommittee, on Monday, June 4, held a field hearing in Austin to investigate the increasing need for Title III and Title V grants authorized under the Higher Education Act. These grants provide funds for Minority-Serving Institutions, which traditionally have limited resources and serve large numbers of low-income and minority students.
Specifically, these titles include programs for Tribally-controlled colleges and universities, Historically Black Colleges and Universities, Native Alaskan and Native Hawaiian-Serving Institutions, and Hispanic-Serving Institutions. For an annual federal investment of roughly $500 million, they provide support to over 670 institutions. These colleges and universities award 30 percent of the bachelors' degrees earned by African American students and enroll 47 percent of Hispanic students.
"Currently close to half of our public school children are racial or ethnic minorities – one in five is Hispanic," noted Hinojosa. "It is clear that Minority-Serving Institutions will only grow in importance and we must provide them the necessary resources so that they can properly educate our next generation of college graduates."
Below are Congressman Hinojosa's opening remarks as prepared for delivery:
Good Morning. Welcome to the Subcommittee on Higher Education, Lifelong Learning, and Competitiveness hearing on the Higher Education Act and Institutional Support for Colleges and Universities under Title III and Title V.
I would like to thank our hosts at Austin Community College. President Kinslow and the Austin Community College staff and community have shown us tremendous hospitality. It is a privilege to hold this hearing on your campus. I would like to also thank my good friend and colleague Congressman Raúl Grijalva of Arizona for joining us in Austin today. A member of the full Education and Labor Committee, Congressman Grijalva is a guest member of our subcommittee today. It is a measure of his commitment to access to higher education for low-income and minority students that he has traveled to Texas to participate in this hearing. Thank you, Congressman Grijalva.
Today's hearing is our fifth subcommittee hearing in preparation for the reauthorization of the Higher Education Act. We have looked at the scale of the challenge to produce the college graduates our economy needs to remain globally competitive. We have considered how well we are preparing our next generation of college students. We have discussed how low and middle-income families finance college and the critical role of student financial aid. We have focused on teacher preparation and the vital role that our institutions of higher education play in equipping our teachers to deliver high quality instruction to all of our students – especially those in high need public schools.
Today, we will discuss how the Higher Education Act supports the key institutions that are the gateways of access to higher education for low-income and minority students.
Title III and Title V of the Higher Education Act provide grants for institutional development and capacity building for colleges and universities that serve high populations of low income and minority students with low resources compared to other institutions. These titles include specific programs for Tribally-controlled colleges and universities, Historically Black Colleges and Universities, Native Alaskan and Native Hawaiian-Serving Institutions, and Hispanic-Serving Institutions.
For an annual federal investment of a little over $500 million, we provide support to over 670 institutions. These are the colleges and universities that award 30 percent of the bachelors' degrees earned by African American students and enroll 47 percent of Hispanic students. They are engines of economic development for their communities.
These institutions are only going to grow in their importance for ensuring that our nation continues to have enough college graduates to fill the jobs in our knowledge-based economy. The 2007 Condition of Education reports that 42 percent of our public school children are racial or ethnic minorities – one in five is Hispanic.
These students face many challenges. 70 percent of black 4th graders, 73 percent of Hispanic 4th graders, and 65 percent of Native American fourth graders are eligible for free and reduced priced lunches. These students are also concentrated in our highest poverty public schools where over 75 percent of the students are from low-income families.
These schools are the focus of the No Child Left Behind Act. They are the feeder schools to our Title III and Title V institutions.
During the reauthorization of the Higher Education Act, we have the opportunity to further strengthen and expand the capacity of the institutions that will be increasingly called upon to prepare our next generation of teachers, scientists, engineers, doctors, lawyers, and other professionals.
For HSIs, we will continue to focus on enacting the provisions of H.R. 451, the Next Generation Hispanic-Serving Institutions Act, to create a graduate program at Hispanic–Serving Institutions.
This has been a long-standing priority for me and other members of the Congressional Hispanic Caucus. We also stand in solidarity with our colleagues to support efforts to strengthen all of the developing institutions programs.
I would like to thank you witnesses for joining us today. We are eager to hear your recommendations on how we can improve and expand programs for Title III and Title V institutions.
Thank you and I now recognize my good friend and colleague Raúl Grijalva for opening remarks.
••••••
Lt. Gov. Dewhurst gavels out 80th Legislature; congratulates Texas Senate on successful session
By RICH PARSONS
Lt. Gov. David Dewhurst on Monday, May 28, gaveled the 80th Legislative session of the Texas Senate to Sine Die. The 140-day, biannual session convened on January 9, 2007.
"I want to congratulate members of the Texas Senate and House for their five months of hard work on behalf of the people of this great state. This has been a productive session. We've delivered the largest tax cut in Texas history, increased funding for schools, colleges and universities, enhanced border and homeland security, cracked down on child predators, and held down spending to less than the rate of population growth plus inflation," Dewhurst said.
Key legislation passed by the Texas Senate and the 80th Legislature this year includes:
•$152.5 billion budget that reduces local school property taxes by $14.2 billion in Fiscal Years 2008-2009, and sets aside $7.5 billion to guarantee continued property tax relief in 2010-2011;
•Texas' version of Jessica's Law to strengthen laws against child predators, including mandatory minimum 25-years to life sentences on a first sexually violent offense and allows prosecutors the option of seeking the death penalty on a second offense;
•Comprehensive water legislation to ensure Texas has an adequate new water supply for the future;
•Over $200 million for additional law enforcement officers and improved technology to enhance border and homeland security capabilities
Dewhurst thanked legislators for passing legislation that comprised his Texas Children First initiative. In addition to Jessica's Law, these successful measures include legislation to: enhance penalties against anyone who solicits a minor on the internet (SB 6); require all public schools to have at least one automated external defibrillator on campus (SB 7); institute mandatory, random steroid testing for high school athletes (SB 8); require background checks for anyone who comes in contact with children on a public school campus (SB 9).
"I believe by protecting our children, we protect the future of our great state and I can't thank the members enough for all they have done this session to make sure our children have the opportunity to grow into safe, healthy and productive adults," Dewhurst said.
Dewhurst also praised the Legislature for taking action to improve air quality, expand access to children's health insurance, and deliver local school property tax relief to the elderly and disabled. Additional achievements include funding for teacher pay raises and incentives to improve performance and decrease dropouts as well as more than $1.3 billion in new funding for universities and community colleges.
••••••
Gov. Perry likens Texas legislative session to Clint Eastwood film, "The Good, The Bad and The Ugly
Gov. Rick Perry on Tuesdaay, May 29, commented on legislative action taken during the 80th Legislative Session. The governor highlighted several achievements from the past 140 days, while also addressing disappointment in the resistance of the legislature to advance certain issues.
"We can say as a result of this session that the border will be more secure, healthcare will be better funded, college will be more accessible and school property tax rates will continue to decrease," said Perry. "However, like the old Clint Eastwood movie, this was a session of The Good, The Bad and The Ugly. Much work was left undone, and I hope legislators will fix their eyes on the unfinished business of the people instead of the political squabbles when they return to Austin."
In February, Perry proposed a budget that established a new, higher standard for fiscal responsibility and truth-in-budgeting, while meeting key priorities for Texas. The result would be slowed government growth, $15 billion in property tax relief, and an end to accounting gimmicks with the use of a one-time $5.4 billion payment. Additionally, $4.3 billion balance in the Economic Stabilization Fund would be left untouched.
On Monday, May 28, lawmakers effectively passed a $153 billion budget financing the record school property tax cut of 2006, creating a cancer research fund, funding a health opportunity pool that will help more Texans buy private health insurance, largely increasing college financial aid, creating a new incentive program to meet higher education goals, and dedicating $100 million to border security.
The legislature's budget included many of the governor's priorities presented in his State of the State Address. Though there were some issues left unfinished, such as property tax relief, true budget and spending reform, and appraisal relief, Gov. Perry commended legislators' for their service and looked optimistically toward the future.
"My quarrel is not with where the dollars flow, but the lack of transparency, accountability and budgetary honesty involved in how they are allocated," said Perry. "That being said, important investments have been made that legislators can proudly proclaim. Lawmakers came here with high hopes and have laid firm tracks that will continue Texas' stride as a prosperous state."
••••••
Sol Technologies makes it easy to go green with solar lighting in Weslaco
By BRANDY CELEDON
The citizens of Weslaco are pleased to embrace renewable energy upon the donation of a solar light for their new skate park located at the Isaac Rodriguez Park.
This fixture will be the first of its kind to provide lighting in Weslaco.
The donation was was scheduled to be formally accepted at the June 5 public session of the Weslaco City Council.
"A combination of solar panels and the sun offers not only energy independence, but an alternative to traditional electric lighting," said René Ortíz, president of the newly established Sol Technologies, a Weslaco-based solar energy company.
"We believe that solar energy is the revolution to light in the Rio Grande Valley," Ortíz added.
Weslaco City Manager Anthony Covacevich, is excited to accept the donation valued at more than $3,000 with the added benefit of never having to pay an electric bill is plus.
"It's eco-friendly and it saves taxpayer dollars on electricity, everyone wins, said Covacevich."
"We are pleased to demonstrate how Sol Technologies' products can help the community reduce emissions and strain on the local utility-grid," said Ortíz.
Sol Technologies LLC: Sol Technologies distributes lighting products, as well as other solar power solutions while protecting the environment and providing sustainable energy solutions using solar technologies.