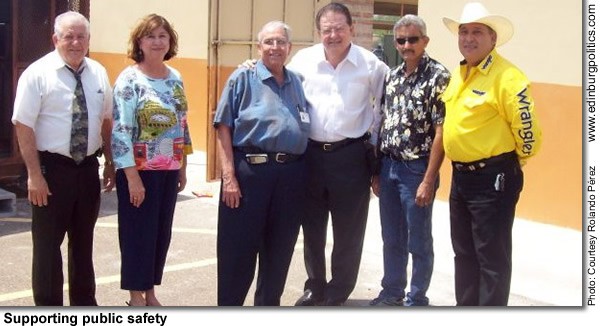 Mission Mayor Norberto Salinas, who also serves on the Texas Border Coalition, on Friday, April 13, helped honor law enforcement officers and firefighters in his hometown during the city's Second Annual Law Enforcement and Firefighters Appreciation Day, sponsored by the Mission Housing Authority. Featured in this photo at the event with the mayor, whose work with TBC includes efforts to improve homeland security and economic growth for the border region, are, from left: Romeo de la Garza, MHA board member; his wife, Norma de la Garza; José Garza, Chairman of the Board of the Mission Housing Authority; the mayor; Rolando Pérez of Edinburg, owner of Keys and Hardware; and Joel González, executive director of the Mission Housing Authority. For more information on the Texas Border Coalition, see story later in this posting.
••••••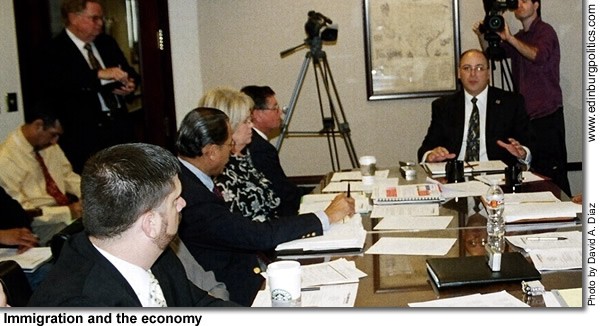 Eddie Aldrete, Senior Vice President for International Bank of Commerce in Laredo, focuses on major immigration issues of importance to the Texas Border Coalition during a recent TBC legislative strategy session in Austin. TBC, an alliance of elected leaders and economic development officials from the Texas border region, is supporting legislation in Austin that could help stem the flow of undocumented immigration and help the border and state economies. See story later in this posting.
••••••
Aerospace giant Lockheed Martin on Tuesday, April 10, donated 50 computers to the Hidalgo County government to help train county employees in the use of software that will improve their work production and help serve more residents. On hand for the dedication were, from left: Mike Robledo, Hidalgo County Information Systems Administrator; JD Salinas, Hidalgo County Judge; Steve Hawkins, Lockheed Martin; Rusty Boone, Lockheed Martin; Renan Ramírez, Hidalgo County Chief Information Officer. See story later in this posting.
••••••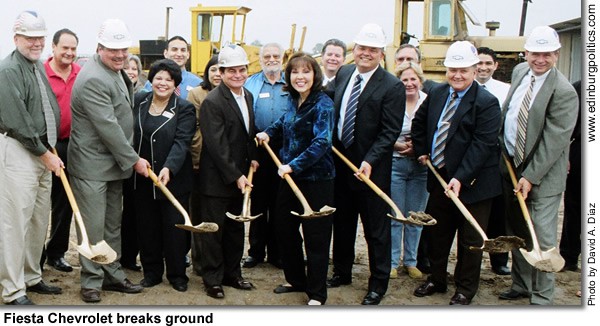 Edinburg Mayor Joe Ochoa, featured center, joined Bob and Janet Vackar, featured to his left, and other dignitaries on Tuesday, April 10, for the groundbreaking of a new, multi-million dollar Fiesta Chevrolet dealership that is being built along U.S. Expressway 281 near Trenton Road in east Edinburg. Up to 150 people will eventually be employed at the facility, which is set to open for business on July 1. City leaders predict other major businesses will soon locate along that stretch of prime real estate as part of the continuing economic boom in Edinburg. See story later in this posting.
••••••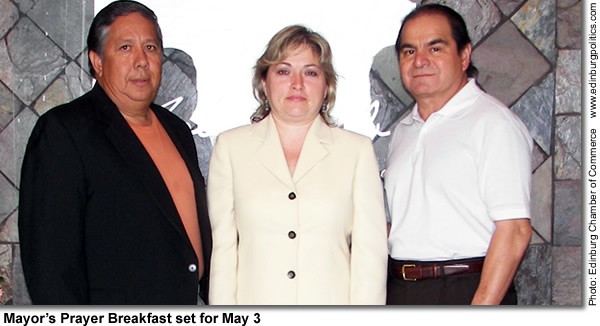 Mayor Joe Ochoa and the City of Edinburg proclaimed Thursday, May 3, as National Day of Prayer (NDP). As part of the NDP, the Edinburg Chamber of Commerce is inviting the community to join the mayor for a prayer breakfast to be held at The Social Club, located on 205 Conquest Blvd in Edinburg. The event begins at 7 a.m. The cost to attend is $10 and includes breakfast along with a chorale, invocation, the presentation of colors, and other custom activities that take place on this special day. The intention of the National Day of Prayer is to have a day where members of all faiths can pray together. In 1952, a bill unanimously passed by both houses of congress proclaiming an annual National Day of Prayer. President Truman signed the bill into law. The bill required the President to select a day for national prayer each year; and in 1988, a bill was introduced to Congress which fixed the annual National Day of Prayer as the first Thursday in May; and on May 05, 1988, the bill was signed into law by President Reagan. "We are very lucky to have the freedoms to celebrate such an important proclamation" said Ochoa. More information is available through the Edinburg Chamber of Commerce at 956/383-4974.
••••••
Bert Ogden RGV breaks ground for Fiesta Chevrolet in east Edinburg
By DAVID A. DÍAZ
Bert Ogden Rio Grande Valley, one of the premier vehicle dealerships in the nation, on Tuesday, April 10, broke ground along the U.S. Expressway 281 frontage road in east Edinburg for its latest addition – Fiesta Chevrolet, a multi-million dollar facility that will showcase, sell, and service the American-made passenger vehicles.
The complex, located immediately north of the U.S. Border Patrol Headquarters near the intersection of Trenton Road and U.S. Expressway 281, is the first phase of development on the 17-acre tract of land, which was purchased by the Valleywide dealership, which has deep roots in the three-time All-America City.
Fiesta Chevrolet will employ up to 150 people, and represent an investment of $2.5 million, company leaders confirmed. It will occupy about six acres of the site, which is currently vacant.
The late Bert Ogden of Edinburg opened his first car dealership more than a generation ago, and his vision – following his and his wife's untimely passing 15 years ago – was proudly carried on by their son-in-law and daughter, Bob and Janet Vackar, said Richard García, president of the Edinburg Economic Development Corporation board of directors.
The EEDC is the jobs-creation arm of the Edinburg City Council.
In addition to García, the EEDC governing board includes Mayor Joe Ochoa, Fred Palacios, Mike Govind, and George Bennack.
"From those local beginnings, the Ogden/Vackar families have become a major economic force and employer in deep South Texas, with state-of-the-art facilities in McAllen, Mission, Harlingen and Edinburg – which will now open this latest complex as early as July 1," added García.
Ochoa, who was one of dozens of company officials and local dignitaries on hand for the Tuesday morning ground breaking ceremony, said the east Edinburg site will be a major boon for that part of the community.
"The vision always has been to improve the development of infrastructure in these areas because we knew they would be huge attractions for commercial development, and this is exactly what is transpiring," Ochoa said. "It will bring opportunities for the expansion of Trenton Road to the east side, and be able to connect to the feeder of I-Road. This is one of the first businesses that will be going up in this area, and we look forward to seeing many, many more."
Bob Vackar, who serves as CEO for the Bert Ogden dealerships, shared the bright economic forecasts of the city leaders.
"We are sitting right here on the bypass of U.S. 281, which will be Interstate Highway 69 in the future," Vackar said. "You have to be proud of Edinburg and what has been been going on in the last 10 years."
He said Fiesta Chevrolet will carry the honored tradition not only of the Odgen/Vackar families, but also of Roberts Chevrolet, which was purchased by Bert Ogden Rio Grande Valley.
"We acquired Roberts Chevrolet, which has now been renamed Fiesta Chevrolet, and we are building it on this six-acre site here," he said. "We are looking to take this facility to about 100 new Chevrolets a month, 50 to 60 used cars, maybe 200 retail units a month. By the end of 2008, we will have to move the Bert Ogden Buick/Pontiac/GMC out here (from its current location at Trenton and Business 281). We will have a major facility here with six acres reserved for any future dealerships or future development."
The former Roberts Chevrolet, located north of the downtown square, was bought in March by Hidalgo County for $5.7 million. The former Roberts Chevrolet will become the site of the county courthouse's new parking lot by next fall.
Meanwhile, when Bert Ogden Buick/Pontiac/GMC comes online at the new location, Vackar said the company will have invested about $7 to $8 million on the two dealerships.
"We are looking at a 32,000-square-foot facility, with a parts department, a service department, and a showroom (for Fiesta Chevrolet). When we build the Buick/Pontiac/GMC dealership, Fiesta
Chevrolet will feature a Chevrolet showroom only, and they will share the service facility," Vackar added.
As for the current Buick/Pontiac/GMC complex in Edinburg, Vackar said the latest plans call for it to eventually be transformed into a Mazda dealership.
Initially, Bert Ogden RGV officials were considering relocating its existing Edinburg dealership to the new site, but once news broke of an $80 million shopping center to be built near the current facility, their plans changed for the better.
"Unbeknown to us, when we first bought this property, we wanted to make a move (from its current Edinburg location). But now that there will be a new mall, there is going to be a retail boom in the area," he said. "There is going to be a lot of traffic coming into Edinburg."
That renovation of its existing dealership will occur as the planned Shoppes at Rio Grande Valley begins to materialize.
"We will bring the General Motors products over here, and when the shopping center comes in, we will build a new Mazda dealership," he said. "We will tear down the north end of the current structure down, and we will build a new Mazda Revolution architecture."
••••••
Sen. Juan "Chuy" Hinojosa secures $49.2 million for Regional DPS Facility
By MELISSA DEL BOSQUE
Sen. Juan "Chuy" Hinojosa, D-McAllen, on Wednesday, April 11, announced that he has succeeded in securing $49.2 million in the Senate budget bill for a new DPS regional office to be located in Hidalgo County.
The facility will help accommodate the growth in the region and give DPS officers a new crime lab and an expansion of office and storage space, Hinojosa said, as well as enough resources for necessary construction of new buildings.
"Our DPS officers are working hard to deal with rapid growth in a region that faces such serious challenges as the prevention of drug smuggling and ensuring public safety," Hinojosa said. "Officers covering the 13 counties along our section of the border are long overdue for a facility that can accommodate the growing number of employees we have at the regional office."
Senate Bill 1, the appropriations bill for the Senate, passed out of the Senate Finance Committee on Tuesday, April 9. Hinojosa is a member of the committee.
"My fellow senators realize that the border region is one of the fastest growing regions in the nation," said Hinojosa. "South Texans appreciate their cooperation with me to secure the funding for this important facility."
The $49.2 million will be financed through General Obligation bonds and general revenue.
Rep. Aaron Peña, D-Edinburg, said he would work with House members to secure matching funds for the DPS complex.
"South Texas is the fastest growing region in the state," said Peña. "The Department of Public Safety must keep up with that growth. We have some unique border security issues that troopers don't see in other parts of the state and we need to ensure that we provide them the resources they need to keep doing their outstanding work. This funding request is similar to a rider we filed in last session's budget and I am going to continue to work with my colleagues to fight for this important state appropriation."
Orlando Salinas contributed to this report.
••••••
Texas Border Coalition wants Legislature to help Mexico reduce flow of undocumented immigration
By DAVID A. DÍAZ
The Texas Border Coalition is supporting a plan that would establish a joint interim legislative study to look at programs that can contribute to increased economic prosperity in the home countries of incoming immigrants.
The study, according to a bill analysis provided by the House Border and International Affairs Committee, would examine opportunities to encourage business and economic development, both in Texas communities that receive immigrants, and in the countries and states from which they come, as a way to stem the tide of undocumented immigration and ensure prosperity in Texas communities.
It is one of the top legislative priorities of the Texas Border Coalition. TBC is an alliance of elected officials and economic development leaders from the 14 Texas counties which border Mexico. They represent an estimated 2.1 million residents.
Members of TBC are: Chad Foster, TBC chairman and Eagle Pass mayor; Mike Allen, TBC vice-chairman and representing the McAllen Economic Development Corporation; Pat Townsend, Jr., TBC treasurer representing the Mission Economic Development Agency; Brownsville Mayor Eddie Treviño, Jr.; Cameron County Judge Carlos Casco; Del Rio Mayor Efraín Valdéz; Edinburg Mayor Joe Ochoa; El Paso Mayor John F. Cook; Harlingen Mayor Richard Rodríguez; Mayor John David Franz of Hidalgo; Hidalgo County Judge J.D. Salinas; Mayor Raúl G. Salinas of Laredo; Mayor Richard Cortéz of McAllen; County Judge José Aranda of Maverick County; Mayor Norberto Salinas of Mission; Mayor Leopoldo Palacios, Jr. of Pharr; Mayor Fernando Peña of Roma; and Mayor Joe V. Sánchez of Weslaco.
The goals are contained in House Bill 2717, jointly-authored by Rep. Tracy King, D-Eagle Pass, who is chairman of the House Border and International Affairs Committee, and Rep. Verónica Gonzáles, D-McAllen. An identical measure – known as a companion bill – is Senate Bill 1139 by Sen. Carlos Uresti, D-San Antonio.
HB 2717 was unanimously approved on Tuesday, April 11, and is now before the House General Calendars Committee, awaiting a scheduled date for action before the full House. If approved by the Texas Legislature and Gov. Rick Perry, HB 2717 would become effective on September 1, 2007.
According to the bill analysis:
Texas has experienced a large influx of immigrants over the past 15 years. Along with the large number of legal immigrants, there are also many undocumented immigrants, often from Latin America. Some of the root causes of this immigration are the lack of job, education, and business opportunities in the immigrants' home countries.
HB 2717 would require the Senate Committee on International Relations and Trade, the House Committee on Border and International Affairs, and the House Committee on Financial Institutions to conduct a joint interim study to investigate current programs in Texas or in other states and possible new programs, that would provide opportunities for immigrants to voluntarily invest in development efforts in their home states or countries, or offer certain exchange programs between Texas, Mexico, or other Latin American countries.
The bill requires the study include an assessment of the viability and capacity of the State of Texas to facilitate such programs.
The bill requires the Senate Committee on International Relations and Trade, the House Committee on Border and International Affairs, and the House Committee on Financial Institutions to report the results of the joint interim study, along with recommendations for statutory changes, to the governor, the lieutenant governor, the speaker of the house of representatives, and members of the 80th Legislature on or before September 1, 2008.
The bill provides that this Act would expire October 1, 2008.
Joe García, one of the legislative consultants for the Texas Border Coalition, represented the group's support for the measure during the House committee hearing. Other individuals/groups registering in support of HB 2717 were: John Guerra, representing the Texas Association of Mexican American Chambers of Commerce; Rebecca Bernhardt, representing the America Civil Liberties Union of Texas; Ann Baddour, representing Texas Appleseed; and Luis Figueroa, representing the Mexican American Legal Defense and Educational Fund.
TBC maintains a web site at http://www.texasbordercoalition.org
House Bill 2717, as approved by the House committee, follows verbatim:
A BILL TO BE ENTITLED
AN ACT
relating to a joint interim study of ways to promote economic development in nations that are a primary source of undocumented immigrants in Texas.
BE IT ENACTED BY THE LEGISLATURE OF THE STATE OF TEXAS:
SECTION 1.
(a) The Senate Committee on International Relations and Trade, the House Committee on Border and International Affairs, and the House Committee on Financial Institutions shall conduct a joint interim study to investigate:
(1) current programs operating in Texas or in other parts of the United States that:
(A) provide opportunities for immigrants to voluntarily invest in development efforts in their home states or countries; or
(B) offer exchange programs between teachers, medical professionals, business people, or local government officials from the United States and professionals in Mexico or other Latin American countries;
(2) possible new programs that would:
(A) provide opportunities for immigrants to voluntarily invest in development efforts in their home states or countries; or
(B) offer exchange programs between teachers, medical professionals, business people, or local government officials from the United States and professionals in Mexico or other Latin American
countries; and
(3) the viability of programs described by Subdivisions (1) and (2) of this subsection and the capacity of the State of Texas to facilitate such programs.
(b) The Senate Committee on International Relations and Trade, the House Committee on Border and International Affairs, and the House Committee on Financial Institutions shall report the results of the joint interim study conducted under Subsection (a) of this section, together with recommendations for statutory changes, to the governor, the lieutenant governor, the speaker of the house of representatives, and the members of the 80th Legislature on or before September 1, 2008.
SECTION 2. This Act expires October 1, 2008.
SECTION 3. This Act takes effect September 1, 2007.
••••••
Senate panel approves TYC reform bill championed by Sen. Hinojosa
By MELISSA DEL BOSQUE
After two years of comprehensive work on youth corrections reform, Sen. Juan 'Chuy' Hinojosa's omnibus Texas Youth Commission reform bill, Senate Bill 103, was approved Wednesday, April 11, by the Senate Criminal Justice Committee.
"The young people in state care, their parents and loved ones, and the taxpayers who foot the bill deserve a system that rehabilitates our youth, not a system that systematically abuses them and then throws away the key," said Hinojosa. "My intent with SB 103 is to rebuild the commission from the ground up so that we have a humane system for rehabilitating youth that is accountable to the people of Texas,"
Hinojosa and his staff began looking into the juvenile justice system two years ago when riots broke out at the Evins Regional Juvenile Center in Edinburg in Hidalgo County. Hinojosa pre-filed his comprehensive reform legislation and has continued to work with stakeholders since the TYC scandal erupted to rebuild the scandal-wracked commission.
Hinojosa's bill calls for improved security by requiring TYC guards and other staff to undergo at least 300 hours of training before being assigned to guard duty; caps the guard-to-youth ratio at no more than 12 to 1 to maintain order and safety; and requires fingerprint and national criminal history checks for employees.
SB 103 also creates a Parents Bill of Rights to guarantee swift and accurate access to information about caseworkers' duties and the agency's grievance policies.
In addition, Hinojosa's reforms call for the establishment of a panel within TYC to review sentencing guidelines bringing strict accountability to the process. His bill features structural improvements to TYC's governing board and strengthens the agency's emphasis on community rehabilitation instead of automatic incarceration.
The senator's bill also provides for the creation of a criminal investigation unit to look into crimes committed by TYC youth, or against them by guards and other juvenile justice employees.
Hinojosa's legislation ends the practice of housing 10- or 11-year-olds with 19- or 20-year-olds; creates an independent authority and law enforcement trained personnel from the Inspector General's Office to ensure safety in TYC facilities; and authorizes child advocacy groups to visit facilities and work with youth.
"The current problems in the Texas Youth Commission demand short-term and longer-term challenges to improve security, provide more training, and enforce strict accountability measures so that the mistakes that led to recent scandals never happen again," Hinojosa said.
••••••
Criminal Justice Committee approves Sen. Zaffirini's bills protecting Texans from sexual offenses
By NICK ALMANZA
The Senate Criminal Justice Committee on Wednesday, April 11, recommended passage of Senate Bill 120 by Sen. Judith Zaffirini, D-Laredo, and House Bill 76 by Rep. Elliott Naishtat, D-Austin and Zaffirini, which would strengthen laws to prevent sexual offenses, including the online solicitation of a minor, and require state law enforcement agencies to collect pertinent information from victims of sexual assault.
HB 76 by Naishtat and Zaffirini would require the Department of Public Safety's (DPS) Bureau of Identification and Records to collect comprehensive information regarding sexual assault for the purposes of statewide statistical reporting. Current law requires DPS to collect data regarding family violence offenses, but not for sexual assault offenses, and does not require local law enforcement agencies to report sexual assault statistics to DPS for statewide data collection. HB 76 changes that.
"The Texas Association Against Sexual Assault (TAASA) reports that 13 percent of Texans are sexually assaulted during their lifetime, but only 18 percent of those assaults are reported," Zaffirini said. "This bill would increase required reporting to enhance agencies' ability to prevent sexual offenses."
SB 120 by Zaffirini would help protect children from internet predators by establishing a clearinghouse of educational resources related to on-line safety at the Texas School Safety Center and directing school districts to update their discipline management program to prevent the use of the internet for sexual solicitation.
These bills build on Zaffirini's legislation that protect persons and families from sexual offenses and sexual exploitation. Last month the Senate unanimously passed SB 6 by Zaffirini, which would protect Texas children and families from sexual communication and solicitation via the internet.
"As legislators we have an obligation to protect persons, families and communities from sexual crimes," Zaffirini said. "These bills greatly would improve procedures for preventing and prosecuting sexual offenses. I look forward to passing these bills."
••••••
Work at Doctors Hospital, five schools helps power construction in Edinburg
By DAVID A. DÍAZ
Total construction activities in Edinburg during the first two months of the year totaled more than $63 million, readily outpacing the $34 million level reached during the same period last year, the Edinburg Economic Development Corporation has announced.
The EEDC is the jobs-creation arm of the Edinburg City Council.
It is governed by a five-person board of directors, which includes Mayor Joe Ochoa, former mayor Richard García, who is the EEDC board president, and Fred Palacios, Mike Govind, and George Bennack.
For the month of February, total construction activities in the city were more than $20.2 million, compared with almost $14.9 million in February 2006.
Doctors Hospital at Renaissance again achieved top billing for the most valuable construction project in the latest monthly report, for work valued at almost $6.1 million for a medical facility being built at 5501 Raphael Drive in the Doctor's Center Phase II Subdivision.
The major medical complex is undergoing an estimated $150 million expansion in southwest Edinburg.
A building permit is permission issued by a city's planning department to oversee and approve any changes to structures.
They are documents designed to guarantee that any construction work, from remodeling to demolition to building a new home or business facility, meets the city's building codes.
The value of construction projects is included when the city issues a building permit.
The building permits do not include the price of the lot.
Building permits for new construction in February 2007 also included other major commercial projects.
The Edinburg school district was issued building permits for work on four of its campuses: Edinburg CISD at 3615 W. Rogers Road; Truman Elementary at 701 Rogers Road; Cantterbury Elementary at 2821 Canton Road; and Escandon Elementary at 1100 E. Trenton Road.
The value of work for each of the school district projects is $933,000.
Meanwhile, the private Discovery School, located at 1711 W. Alberta Road, in February also began work, valued at $800,000, for additions/remodeling of its facility.
Steve Heb Da was issued a building permit for work, valued at $882,000, for a commercial facility being built at 2137 W. Trenton Road in the Trenton Crossroads Plaza Subdivision.
Ector Casas was issued a building permit for work, valued at $500,000, for a commercial facility being built at 303 Conquest in the Sheaval Subdivision.
••••••
Edinburg's jobless rate in February lowest in the Valley at 4.8 percent
By DAVID A. DÍAZ
Edinburg's jobless rate, which is a key indicator of the strength of the local economy, remained the lowest in the Valley for the second consecutive month in 2007, averaging 4.8 percent in February.
The city's unemployment rate was keeping pace with the statewide average of 4.5 percent and the U.S. unemployment rate of 4.5 percent.
In 2006, the annual jobless rate for Edinburg was 5.3 percent, while in 2005, the annual jobless rate for Edinburg was 4.7 percent.
In 2006, the city's jobless rate was the lowest in the Valley during five months, according to the Edinburg Economic Development Corporation, and Edinburg registered the second-best showing for most of the other months last year, edged out only by McAllen.
The EEDC is the jobs-creation arm of the Edinburg City Council.
The EEDC's five-member governing board includes Mayor Joe Ochoa; former Mayor Richard García,
who is president of the EEDC board of directors; and Fred Palacios, Mike Govind, and George Bennack.
As of February, according to the Texas Workforce Commission, 1,370 Edinburg residents were looking for jobs, while 26,920 local residents were employed.
The jobless rate, also known as the unemployment rate, is the number of persons unemployed,
expressed as a percentage of the civilian labor force.
The civilian labor force is that portion of the population age 16 and older employed or unemployed.
To be considered unemployed, a person has to be not working but willing and able to work and actively seeking work.
The jobless rate for Hidalgo County was 7.4 percent in February, down from 7.7 percent in January.
The February jobless rate for Hidalgo County represented 20,199 area residents without jobs, while 254,041 residents were employed during the second month of 2007.
McAllen had the second lowest monthly unemployment rate in February – 5 percent, or 2,952 of their citizens out of work, while 55,761 residents of the City of Palms were employed that month. In January, McAllen's jobless rate of 5.1 percent.
Harlingen's unemployment rate in February was 5.5 percent, while Pharr posted a 5.8 percent jobless rate.
Mission came in with a 6.1 percent unemployment rate in February, followed by Weslaco at 6.9 percent.
In Cameron County, Brownsville's unemployment rate in February came in at 6.7 percent, while Harlingen reported a 5.5 percent jobless rate that month.
Cameron County's jobless rate in February was 6.6 percent, the same as in January. In February, 9,525 residents of Cameron County were looking for work, while 134,719 residents were holding down jobs.
According to the Texas Workforce Commission:
Seasonally adjusted nonagricultural employment in Texas increased by 14,300 jobs in February – almost double the five-year average February job gain. With an annual job growth rate at 2.3 percent, the Texas economy gained 231,200 jobs over the past 12 months.
The February seasonally adjusted unemployment rate held steady at 4.5 percent, down from 5.1 percent a year ago.
The Midland Metropolitan Statistical Area (MSA) experienced the lowest unemployment rate in the state at 3.2 percent (not seasonally adjusted). The Amarillo and Odessa MSAs followed at 3.7 percent.
"The Texas labor market continues to grow at a rapid pace across many different industries," said Texas Workforce Commission (TWC) Chair Diane Rath. "Broad-based job growth and an unemployment rate in line with the national rate of 4.5 percent are clear signs of our state's robust economy."
Professional & Business Services gained 5,500 jobs, posting a seventh consecutive month of over-the month increases. Trade, Transportation & Utilities added 4,400 positions, for a year over year gain of 25,900 jobs.
"The Texas business outlook continues to show sustained job growth," said TWC Commissioner Representing Employers Ron Lehman. "Over the past year, Texas employers have posted widespread industry job gains which benefit employers, workers and communities alike."
The Construction industry recorded a gain of 3,700 positions in February for a strong annual job growth rate of 4.4 percent. Mining employment gained 1,800 jobs, following an increase of 1,400 positions in January. In the past 12 months, Mining gained 20,700 jobs.
"More jobs mean more opportunities for Texans to find work," said TWC Commissioner Representing Labor Ronny Congleton. "Continued job growth in 10 of 11 sectors the past year creates more opportunities for workers of all skill levels."
Initial claims for Unemployment Compensation in February 2007 were 43,908, down 25.8 percent from January 2007 and 1.6 percent since February 2006.
••••••
Rep. Gonzáles wants Texas to provide Spanish translation services to help treat medical patients
By DAVID A. DIAZ
A measure filed by Rep. Verónica Gonzáles, D-McAllen, which would set up Spanish language interpreter services for physicians, hospitals, and health care professionals to help them communicate with Spanish-speaking patients, continues to move through the legislative process.
Rep. Juan Escobar, D-Kingsville/Willacy County, is a joint author of the measure, House Bill 161.
According to a bill analysis of the measure, HB 161 would require the Texas Department of State Health Services to provide oral language interpreter services for certain health care providers via a toll-free telephone number. Interpreter services would be available 24 hours a day, seven days a week.
HB 161 received widespread support during its public hearing in late March, when it cleared the
House Public Health Committee, and is now before the House General Calendars Committee.
The House General Calendars Committee sets the dates for which all major legislation is debated by the full House.
No date for a House vote had been set as of Sunday, April 15.
The plan, is enacted into law, would go into effect on September 1, 2008.
According to the bill analysis:
BACKGROUND AND PURPOSE
Currently, no statewide oral interpreter service is available to our physicians, hospital employees or other healthcare providers in the event that an onsite interpreter is unavailable to patients whose primary language is Spanish.
HB 161 establishes a toll-free number for healthcare providers to assist them in supplying expedient healthcare services to persons with limited English proficiency and ultimately reduces medical liability associated with miscommunication. The toll-free number will operate 24 hours a day, seven days a week and will be answered by a healthcare interpreter trained to orally communicate with physicians, hospital employees and other healthcare providers attempting to administer medical services to individuals whose primary language is Spanish.
ANALYSIS
HB 161 defines a health care interpreter (interpreter) as a person who is trained to orally communicate with a person whose primary language is Spanish by accurately conveying the meaning or oral health care related statements in English and Spanish. The bill requires the Department of State Health Services (department) to establish a telephone number that is answered by an interpreter 24 hours a day, seven days a week.
The interpreter shall provide certain services to physicians, hospital employees, and other health care providers to assist those individuals in communicating with patients whose primary language is Spanish. The bill requires the executive commission to adopt rules to implement the bill, including establishing qualifications required for interpreters who answer the toll-free telephone number.
The bill would require the executive commissioner of the Health and Human Services Commission (HHSC) to adopt rules to implement the provisions of the bill. HHSC indicates rules could be developed and adopted within the agency's existing budget.
The Department of State Health Services (DSHS) indicates 5 full-time-equivalent positions would be needed to provide interpreter services 24 hours a day, seven days a week. It is assumed salaries and associated operating costs would total $283,233 in General Revenue in fiscal year 2008 and $277,548 in General Revenue in each subsequent fiscal year.
Technology
DSHS estimates information technology costs of $6,740 per fiscal year for computer hardware and software.
Local Government Impact
No fiscal implication to units of local government is anticipated.
No one testified against the measure when it was considered by the House Public Health Committee. According to the committe minutes, the following individuals were present for the public hearing:
For:
Adams, Gordon Lee (Texas Academy of Physician Assistants)
Courtney, Skip (Universal Health Services)
Díaz, Esther (Self and Austin Area Translators & Interpreters Assn. & Texas Association of Healthcare Interpreters & Translators)
On:
Jourdan, Laura (Tx Health & Human Services Commission)
Registering, but not testifying:
For:
Banda, Jennifer (Texas Hospital Association)
Capelo, Jaime (Texas Academy of Physician Assistants)
Ellis, Randall (Legacy Community Health)
Figuevoa, Luis (Mexican American Legal Defense & Educational Fund (MALDEF))
Finch, Dan (Tx Medical Assn)
Hernández, Benny (American Civil Liberties Union of Texas)
Jamison, Mazie (Children's Medical Center Dallas)
Parker Coburn, Katie (Texas Association of Community Health Centers)
Trolin, Brenda (Catholic Health Assn of Texas)
Wilkes, Catherine (Christus Health)
On:
Patrick, Donald (Self and Texas Medical Board)
••••••
Senate budget includes $6 million for UT-Pan American's Starr County Upper Level Center
By NICK ALMANZA
The Texas Senate on Thursday, April 12, passed CSHB 1, which would allocate $152.9 billion to fund state programs.
Sen. Judith Zaffirini, D-Laredo, vice chair of the Senate Finance Committee, secured funding for several top priority projects and institutions throughout Texas and within her senatorial district.
CSHB 1 includes $313 millionfor the debt service for $1.9 billion in tuition revenue bonds authorized by Zaffirini's HB 153 (2006), including $37.6 million for A&M International and $6 million for UT-Pan American's Starr County Upper Level Center. The bill authorized 63 projects at 48 higher education institutions, the largest investment in higher education ever made in Texas.
CSHB 1 includes more than a six percent increase in spending, compared with the previous (2005) legislative session's budget. The Senate's version of the budget, however, spends approximately $2.1 billion more than the House version.
"Working with Lt. Gov. David Dewhurst and Senate Finance Committee members, I am committed to developing a budget that prioritizes the needs of Texas families," Zaffirini said. "Communities in my senatorial district and throughout the state greatly will benefit from the funding we worked hard to secure in this budget."
Included in CSHB 1 is a $21.3 million increase compared with current level spending for the UT Health Science Center in San Antonio (UTHSCSA) and a $13.8 million increase for Texas A&M International University in Laredo. Funding includes $3 million for expanding programs at the Laredo campus of UTHSCSA and $2 million for the Student Success Program and a PhD program in business at A&M International. Included in Article XI of CSHB 1 is $6 million for the San Antonio Life Sciences Institute — a joint program between UT San Antonio and the UTHSCSA.
Zaffirini also secured $100 million in new grants for the Instructional Facility Allotment (IFA), which helps poor school districts with facility construction; $1.5 million for the Surplus Agricultural Product Grant Program, which offsets the costs of harvesting, gleaning and transporting agricultural products to Texas food banks; and $8.4 million for debt service for interest on $87.5 million for the Economically Distressed Areas Program, contingent upon passage of a statewide bond election.
CSHB 1 also includes $120 million above the bill as filed for state parks; $448.5 million for State Water Plan programs; $1 million for a new independent living center that could be established in Laredo; $5 million to help compete for a wind turbine contract located largely in Senate District 21; $5 million for waste tire remidiation; and $800,000 to combat zebra chip disease threatening Texas potato crops.
"Although proud of much of what we have accomplished in this budget, more must be done to ensure Texas appropriately funds our priorities," Zaffirini said. "I look forward to working under the leadership of Lt. Governor Dewhurst and our colleagues in the legislature to ensure that we continue to serve persons most in need."
The House version of the budget was passed on March 30, and members from both the House and Senate soon will be appointed to the Appropriations Conference Committee so differences in both budget versions may be reconciled.
••••••
Statue of César Chávez to be unveiled October 9 at The University of Texas at Austin
The unveiling of a statue of civil rights leader César Chávez at The University of Texas at Austin has been scheduled for Oct. 9 as part of a celebration honoring his legacy for social justice. It will become the first statue of a Hispanic person on the 123-year-old campus.
Stacy Torres, chair of the university's César Chávez Statue Committee, said the artist, Pablo Eduardo of Gloucester, Mass., plans to complete the sculpture this spring. Work on the site preparation and foundation are expected to begin in early summer. The statue will be placed on the West Mall between Battle Hall and the West Mall Office Building.
"Our committee is excited to move forward with plans for this historic event," said Torres, a senior majoring in government and one of the Student Government leaders instrumental in moving the statue project forward in recent years. "The unveiling ceremony will be a day of great joy as we honor the life and legacy of Mr. Chávez and celebrate the contributions of students as the driving force of this project since its inception."
Dr. Juan González, vice president for student affairs, said, "We are proud of the students of The University of Texas at Austin for conceiving and bringing this concept to fruition on the campus. We also want to recognize the significant achievement of the committee in the realization of this long-time dream of the students."
For many years, members of the university community have discussed the need for ethnic and gender diversity represented by statues and other works of art prominently displayed on campus. The ideas for the statue of Chávez and also a statue of Barbara Jordan, the first African American woman from the South to serve in the U.S. Congress, came from students. The committee for the Jordan statue project is in the process of selecting an artist.
Chávez, who fought for the rights of farm laborers and minorities, was chosen by the We Are Texas Too student organization, which prompted the formation of the César Chávez Statue Committee.
The issue was taken to a campus-wide student referendum during the spring 2003 semester and was approved by the University of Texas System Board of Regents that summer. During the 78th legislative session, the Texas House of Representatives and the Texas Senate approved House Bill 1537 supporting a student fee to pay for the statues. Gov. Rick Perry signed the bill into law on June 20, 2003.
Collection of the student fees began in the spring 2004 semester and will conclude with the summer session of 2007. Leftover money will go toward a scholarship fund.
••••••
Mexican American Legislative Caucus elects Rep. González to executive committee
By RICARDO LÓPEZ -GUERRA
The Texas House Mexican America Legislative Caucus has elected Rep. Verónica Gonzáles, D-McAllen, as Secretary for the 80th Legislative Session. MALC addresses legislative issues affecting Latinos across the State.
Gonzáles expressed her enthusiasm to being elected to the Caucus's Executive Committee.
"MALC has been instrumental this session in advocating legislation that impacts the Latino population positively and in fighting legislation that is harmful to our constituents. MALC remains committed to championing legislation to decrease the number of uninsured children in Texas and to serve as the clearinghouse to provide analysis on potentially divisive immigration bills," said Gonzáles. "Since the State Affairs Committee is not representative of border Texans, it is vital for MALC to serve as advocate on this immigration issues and ensure the State makes the federal government accountable in enacting comprehensive immigration reform."
Gonzáles is the only member from the Rio Grande Valley to hold an officer position in both the House Democratic Caucus and the Mexican American Legislative Caucus, of which she also serves as Chair of the Immigration Task Force.
"I value the confidence of my fellow Caucus members and look forward to the opportunity to further contribute to MALC," said Gonzáles.
••••••
Reporters' "Shield Law," co-authored by Sen. Hinojosa, approved by Senate committee
By JEREMY WARREN
The Senate Jurisprudence Committee on Wednesday, April 11, passed Senate Bill 966, the Free Flow of Information Act, by Sen. Rodney Ellis, D-Houston, to protect journalists from being forced to testify or disclose confidential sources.
The "Free Flow of Information Act" is also commonly referred to as a "shield law" for journalists because it offers protections from prosecution for news media reporters who, under certain circumstances, refuse to reveal the identify of their confidential sources.
Senate Bill 966, co-authored by Senator Robert Duncan, R-Lubbock, and Sen. Juan "Chuy" Hinojosa, D-McAllen, and sponsored in the House by Corbin Van Arsdale, R-Houston, and Rep. Aaron Peña, D-Edinburg, passed 4-0 and will now be considered by the full Senate.
"This effort is about the public's right to the free flow of information," said Peña. "Information regarding corruption from whistleblowers should be encouraged. The legislation I championed seeks to strike a delicate balance that allows information to be gathered while at the same time allowing prosecutors to seek justice."
In 2003, Peña filed House Bill 188, a similar bill that would have created a privilege for journalists.
"The press plays a vitally important role in our democracy and must be protected from government intimidation," said Ellis. "With the face of journalism and law enforcement rapidly changing in the 21st century, it is time for Texas to pass the Free Flow of Information Act to ensure journalists and their sources are protected in their jobs of keeping the public informed."
Thirty-two other states and the District of Columbia currently have some form of law protecting journalists and their sources, including California, Florida, Georgia, Pennsylvania, North Carolina, and every single state bordering Texas. Similar legislation is on its way to Washington Governor Christine Gregoire's desk; the United States Congress is also currently debating legislation — offered by two Republicans – to enact a federal free flow of information law.
There is currently no state or federal constitutional protection for journalists who are called to testify, turn over reporters notes or otherwise participate in a criminal case in the state of Texas. Ideally the First Amendment would be such a shield, but the courts have largely taken away the understood privilege of the press to protect whistleblowers. The need to protect the confidentiality of sources is often fundamental to a reporter's job.
"Senate Bill 966 strikes the delicate balance between preserving the public's right to know the truth from an independent press, and the state's ability to uphold justice," said Ellis. "It ensures journalists can keep their sources and notes confidential, while still allowing law enforcement the ability to acquire truly necessary material. It is not an unbreakable shield, but simply a limited privilege for journalists to protect the confidentiality of their sources."
"Today marks the furthest advancement of this bill," said Representative Peña. "This is a result of intense negotiations and is an attempted compromise between the competing interests. I will continue to advocate for its passage."
Orlando Salinas contributed to this report.
••••••
Congressman Hinojosa applauds report calling for higher education policy reform for immigrants
By ELIZABETH ESFAHANI
Congressman Rubén Hinojosa, D-Mercedes, chair of the Subcommittee on Higher Education, Lifelong Learning and Competitiveness, on Wednesday, April 11, urged the expansion of access to higher education in light of a groundbreaking study released today by the Institute for Higher Education Policy.
The report, Opening the Door to the American Dream: Increasing Higher Education Access and Success for Immigrants, found that immigrants have lower college enrollment and graduation rates because of multiple barriers that prevent them from accessing and succeeding in higher education. The report is the most comprehensive examination to date of one of the nation's largest but unrecognized student populations.
"The immigrant population is growing faster than it ever has; this country will be at a very serious disadvantage if it does not extend higher education to the whole of its population," said Hinojosa. "Equity of college opportunity is one of the most important ways we can ensure that our workforce remains competitive and our nation is at the forefront of global economic and social development."
The report found that legal immigrants are more likely to experience risk factors linked to dropping out of college, such as family and work responsibilities, financial need, and lack of university-level English skills. It also states that while legal immigrants currently comprise 12 percent of the undergraduate population, a percentage that puts them on par with other minority student groups in the United States, only 23 percent of those who enroll actually graduate.
To combat these troubling statistics, the study recommends that legal permanent residents be eligible for all forms of state and federal financial aid, including the Academic Competitiveness Grants and the National Science and Math Access to Retain Talent (SMART) Grants, which are currently limited to U.S. citizens. It also advocates increasing the availability of English as a Second Language classes for both teenage and adult immigrants, as well as developing programs designed to assist Latino immigrants and those who immigrate as teenagers–the two immigrant groups least likely to enroll in college. It further endorses a more transparent financial aid and college application process, including widespread dissemination of information, resources, and contacts in immigrant communities.
"Higher education is an integral part of the American Dream and we must make certain that all our nation's students have the opportunity to attend and graduate from college," said Hinojosa. "The reauthorization of the Higher Education Act gives us our opportunity to do that. I want to thank IHEP for its timely contribution to our deliberations."
••••••
Gov. Perry joins state legislators in support of the Religious Viewpoint Anti-Discrimination Act
Gov. Rick Perry on Tuesday, April 10, joined by state legislators and Texas families, stood in support of House Bill 3678, the Religious Viewpoint Anti-Discrimination Act. The bill, authored by Rep. Charlie Howard, R-Sugar Land, does not expand religious expression in schools, but reiterates a student's existing right to expression. The bill offers clarity for teachers and administrators who may be confused about what religious rhetoric is permitted.
"Freedom of religion should not be mistaken for freedom from religion. It is one thing to prevent government from sponsoring or endorsing a particular religious view. It is quite another for government to sanitize all dialogue from religious viewpoints in a public setting," said Perry. "The constitution prohibits the former, but was never meant to prohibit the latter."
The United States Supreme Court holds religious discussion in schools legal. However, some schools have found to be misapplying the law and restricting legal expression. In an effort to promote a neutral learning environment, some schools are unintentionally suppressing religious expression.
Isolated instances in Texas public schools led to the creation of HB 3678. In one case, a school prohibited students from wishing troops serving overseas a "Merry Christmas." Another school reprimanded a first grader for invoking the name and image of Jesus when she was asked what she thinks of when she thinks of Easter.
"We don't need to shield our children from religious expression and allow them to only be exposed to the religion of secularism in our schools," said Perry. "Discussion does not lead to indoctrination. Rather, it leads to open-mindedness and personal and educational betterment."
••••••
Hidalgo County accepts donation of 50 computers from aerospace giant Lockheed Martin
Lockheed Martin Corporation on Tuesday, April 10, donated 50 personal computers to Hidalgo County during a ceremony at the Hidalgo County Courthouse in Edinburg.
The computer systems will be used by county employees to learn software applications used by the county and to enhance their computer skills to better serve the residents of Hidalgo County.
The ceremony took place at the weekly commissioner's court meeting at 1100 Closner Blvd in Edinburg.
County Judge J.D. Salinas, and Precinct Commissioners Sylvia S. Handy, Héctor 'Tito' Palacios, Joe M. Flores, and Óscar L. Garza, Jr. were all on hand to receive the donation. The effort was spearheaded by Mike Robledo, Information Systems Administrator of Hidalgo County and Stephen Hawkins, Director of State & Local Information Technology Solutions for Lockheed Martin.
"This donation by Lockheed Martin is a great example of the type of partnerships with the private sector that benefit our employees and also saved taxpayers $42,000 in computer costs," Salinas. "We hope this partnership opens the door for discussions about how we can work with Lockheed Martin and other similar companies to expand technology education and employment opportunities in this region."
••••••
Rep. Eddie Lucio pushing legislation to help secure health insurance for children with Down's Syndrome
By RUBEN O'BELL
State Rep. Eddie Lucio III, D-San Benito, has laid out a bill in the House Human Services Committee that could provide affordable health insurance to children with disabilities.
The measure, House Bill 1738, received the House committee public hearing on Thursday, April 5. It was left pending for further action.
HB 1738, also known as Zariah's Bill, would create a Medicaid buy-in program for families with disabled children. Often times these families have incomes too high to qualify for Medicaid, but must still pay the high costs of medical care for their disabled child with no assistance.
"Hearing stories about families who move to lower paying jobs, refuse promotions, and even file for divorce just so they can qualify for Medicaid is heartbreaking," said Lucio. "These hardworking families are doing everything they can to meet the special needs of their children, and the State should do its best to provide them with affordable healthcare."
The bill would allow these families to receive coverage under Medicaid by paying a small monthly premium that is based on their income. Currently, children with disabilities whose families have incomes above the Medicaid guidelines can only receive coverage through special waiver programs.
"The waiting lists for these waivers in Texas can be incredibly long," said Lucio. "Children can sometimes spend years on a waiting list and never even receive coverage. I feel blessed to be in a position where I can help to change this. Children are the future of our state, and we need to do everything that we can to help those who are most needy."
Special guests from Lucio's legislative district attended the hearing to testify in favor of the bill, including the family of Zariah Zarate, a young girl with Down Syndrome, and representatives from several children's advocacy groups, including Down By the Border and the San Antonio Down's Syndrome Association.
Down's syndrome is the most common cause of mental retardation and malformation in newborns. It occurs because of the presence of an extra chromosome.
"For me the committee hearing was a very emotional time," admitted Lucio, "seeing how much these families have gone through and how hard they are working to care for their children is extremely humbling. Their bravery and faith is a constant inspiration to me, and I hope to do everything I can this session to fight for them."
Lucio and his staff are working closely with various health care agencies and advocacy groups, and will continue to collaborate with other Representatives on this very important bill.
Other highlights of Lucio's bill, contained in a bill analysis provided to the committee, include:
The bill would add Section 32.02491, Medical Assistance for Children with Down Syndrome, to Subchapter B, Chapter 32 of the Human Resources Code.
It would require the Health and Human Services Commission (HHSC), regardless of the availability of federal matching funds, to provide medical services to a person younger than 18 who has a diagnosis of Down Syndrome, and who is not otherwise eligible for Medicaid. The bill would require HHSC to adopt rules that require the agency to provide services only to the extent that the person has no other health insurance or other plan under which services are available.
The bill requires HHSC to actively pursue federal authorization for Medicaid matching funds to provide services under this section. The bill would take effect September 1, 2007.
Methodology
For the purposes of this cost estimate, it is assumed that medical services include both acute and long-term care services. Therefore, the cost of acute care, vendor drug and community-based care are included above. The cost is allocated to General Revenue; however, under the provisions of the bill the agency is directed to seek federal financial participation. Should this occur, approximately 60 percent of the cost could be funded with Federal Funds.
HHSC states that there are approximately 7,500 instances of Down Syndrome children per year. It is assumed that 40 percent are not currently on Medicaid and that 46 percent of this sub-set are people without private insurance. It is assumed that private insurance may cover some long-term care services.
The first year impact is assumed to be one-third, due to time required to implement the program. This provides a caseload impact of 460 in FY 08 and 1,380 in fiscal years 2009 through 2012. No growth in caseload is assumed from FY 09 forward.
Cost estimates are assumed to be $12,906 per year for acute care services through HHSC and $34,407 per year for community-based care at the Department of Aging and Disability Services (DADS). The cost for acute care services is based on the cost to serve disabled and blind individuals in the Medicaid program currently. DADS' estimate of cost is the same as that for the CLASS waiver.
Multiplying caseload times cost results in a total of $21.7 million in fiscal year 2008 and $65.3 million in fiscal year 2009 through fiscal year 2012.
In addition, HHSC states they would require 1 FTE in fiscal year 2008 at a cost of $95,364 and 3 FTEs in fiscal year 2009 and beyond, costing $286,092 per year. Professional services costs, travel, cost pool and start up costs add $201,291 in fiscal year 2008. These costs going forward are $159,936 per year.
••••••
Texas House votes to support cost savings on certain energy efficiency products used in home
By ORLANDO SALINAS
Texans may be able to enjoy additional tax free weekends if legislation joint-authored by Rep. Aaron Peña, D-Edinburg, becomes law.
Peña joined House colleague Lon Burnam, D-Ft. Worth, as a primary joint-author of the legislation.
On Wednesday, April 11, the Texas House of Representatives unanimously approved Pena's bill for the creation of two tax free weekends for energy efficient appliances. House Bill 1000 would exempt certain energy efficient products from sales taxes on two weekends per year.
"This simple piece of legislation will allow the people of our communities an additional tax free weekend to purchase energy efficient products for their homes," said Peña. "This bill is good for our people and good for our state."
HB 1000 would create a sales tax exemption during the Memorial Day weekend and the weekend closest to the Fourth of July, beginning in 2008, on certain Energy Star products and appliances.
The products must be purchased for noncommercial home or personal use in order to be tax exempt.
The bill exempts the following energy efficient products from sales tax: air conditioners, a split system ducted residential air conditioning system with a seasonal energy efficiency ratio (SEER) at least two point higher than that required by federal law, clothes washers, ceiling fans, dehumidifiers, dishwashers, compact fluorescent light bulbs, programmable thermostats, and refrigerators whose sales price does not exceed $2,000 in 2007, with an increase of $100 until 2016 and does not exceed $3,000.00 in and after 2017.
"Every year our state adds more demands to the electric grid," said Peña. "HB 1000 not only promotes energy efficiency, potentially providing real savings to homeowners, but it also provides consumers with a tax break and helps lessen our impact on the environment."
The bill received broad support from both consumer organizations and the business community. That broad based support was reflected in the unanimous vote. Wednesday's vote effectively sends the bill to the Senate for approval.
••••••
Gov. Perry reiterates need for border security funding, praises radio communications plan
Gov. Rick Perry on Wednesday, April 11, praised the progress of the state's radio communications capabilities. At the governor's direction, local officials have worked with the state's 24 regional councils of government to help Texas reach a key milestone in radio communications interoperability.
Perry also reiterated his support for HB 13 and Rep. David Swinford's effort to dedicate $100 million to Texas border security efforts.
One of the key recommendations of the 9/11 Commission is to ensure that when disaster strikes, first responders are able to communicate. A network of interoperable radio systems is a vital component to a swift, coordinated disaster response strategy. Two years ago, Perry set forth an ambitious priority objective to achieve level four radio interoperability throughout Texas by January 2007.
"Radio interoperability in Texas is particularly challenging because of its size and geographic diversity," Perry said. "As a result of local leadership, I am proud to report to you today that Texas has achieved level four radio interoperability throughout the state, and in some areas, it is as high as level six."
Level four radio interoperability allows fire fighters, emergency medical responders, police officers, deputy sheriffs and state troopers to go anywhere in the state and have immediate radio communications with each other using their own equipment on established channels.
"The importance of achieving this goal was demonstrated last year when first responders from around the state battled devastating wildfires and floods, and for the first time, were able to communicate with one another using their own radios to coordinate their efforts," Perry said.
Perry also reiterated his support for HB 13 by Rep. Swinford which will increase border security funding by $100 million. Texas has launched several major border security operations, beginning with Operation Linebacker in 2005, Operation Rio Grande in 2006, and most recently and still ongoing, Operation Wrangler. These surge operations have a proven record of significantly reducing crime, and Perry will continue to urge the Texas Legislature to approve funding to sustain border security efforts for the next two years.
"In Texas, we have a border security strategy that works," Perry said. "When we substantially increase law enforcement personnel and resources, we see a significant disruption of criminal and illegal activity. I urge the Texas legislature to fully fund these proven strategies and pass HB 13."
Perry was joined at the news conference by U. S. Homeland Security Deputy Secretary Michael Jackson, Congressman Michael McCaul, Austin Mayor Will Wynn and members of the Texas Radio Coalition.
••••••
Congressman Cuellar, TXDot's Jorge, meet to discuss Starr County highway projects
By LAUREN SMITH
Congressman Henry Cuellar, D-Laredo/McAllen, on Monday, April 9, met with Texas Department of Transportation (TXDoT) district engineer Mario Jorge and other county and city officials to discuss upcoming projects that will affect Starr County.
Among the numerous issues discussed were the implementation of new traffic lights along U.S. Highway 83, improvements to FM 755 and the refurbishing of rest areas.
"These projects represent significant improvements to the infrastructure in Starr County," said Cuellar. "Starr County has provided an example of how a community can benefit by partnering with the federal government, and I want to thank Mario Jorge for all of his hard work."
The design work for the traffic lights is in the early stages and is expected to be completed this summer. The Texas Department of Transportation expects to begin work in late July and complete the work by the end of August.
The realignment of FM 755 will occur at the Starr/Camargo Bridge and will improve the flow of traffic to and from the international border crossing. Also along FM 755, drainage will be improved by the construction of a one-way curb and gutter section.
TXDoT is currently working with the Rio Grande City Maintenance foreman to upgrade the current rest areas in Zapata and Starr Counties. The refurbishing of the rest areas will include re-roofing and re-painting of existing facilities.
"I am glad to see these projects moving forward. By communicating with TXDoT, local officials and Starr County residents, we have been able to bring much-needed assistance to our local communities. As a Member of Congress, I will continue working with community leaders to ensure that the people of South Texas experience further progress and improvements to our transportation systems," said Cuellar.
••••••
Film documenting modern-day slavery of women, children premieres Thursday at Cine El Rey theater
By VAHE MANSOURIAN
Slavery thrives!
Inspired by a true story, a new generation of filmmakers portrays the modern global slave trade, which is larger than slave trade in 19th century.
This intense and inspiring film depicts an innocent woman who is recruited by traffickers with promises of prosperity in America. Upon arrival to New York City, not only does she find herself trapped in slave prostitution, but also her child is sold to the highest bidder. Refusing to give up hope, this severely abused victim fights against the traffickers despite the odds of saving her child and herself.
Dedicated executive producer Scott Elliot Mann has put his money where his mouth is. He has exposed an elapsed age-old human evil—sex slavery. "Fighting this scourge successfully will take more than another United Nations treaty—we must use our artistic might!" protests Mann.
Your attendance will be a tremendous support for all victims of human trafficking and crucial step toward abolition of slavery.
The screening location is at Cine El Rey theater, 311 S. 17th, McAllen, TX 78501 at 7:30 p.m. The tickets are $7 apiece. For more information, please, call 213-926-2987 or email at [email protected]
All proceeds from the screening will go directly to the Human Trafficking Project at Texas Rio Grande Legal Aid.
••••••
Sen. Cornyn to file legislation to streamline federal agencies
By SEN. JOHN CORNYN
R-Texas
Congress recently passed a five-year, $15 trillion federal budget just as many Americans were looking up from calculating their federal income tax bills.
Taxpayers probably didn't like what they saw, and I don't blame them. One trillion is one thousand billion. By any standard, $15 trillion is an unimaginable amount of money.
What troubles me is that in this budget Congress is not proposing to eliminate a single program or government agency. Though the administration budget process includes an annual review of ongoing programs, Congress isn't doing its part.
Many accounts are funded year after year because there are small — but vocal — interest groups backing them — and no effective congressional oversight to determine when ideas have run their course.
In an effort to correct these problems, I'm introducing legislation that would create a federal "sunset" commission to identify federal agencies and programs that should be reviewed — and perhaps trimmed or even eliminated.
Many of our best ideas for the federal government "bubble up" from individual states. That's the case here. In Texas, the sunset process has led to elimination of dozens of agencies and has saved Texas taxpayers hundreds of millions of dollars.
Most federal programs are authorized by Congress only for a certain number of years. My bill would establish a commission to scrutinize carefully all unauthorized (technically expired) programs that the federal government continues to fund.
There will be plenty of candidates. A recent 83-page report from the nonpartisan Congressional Budget Office found that Congress spent just under $160 billion in 2006 on programs and activities — even though their authorization had expired.
The list included hundreds of accounts, big and small, ranging from the Coast Guard ($8 billion) to the Administration on Aging ($1.5 billion) to Section 8 tenant-based housing ($15.6 billion) to foreign relations programs ($9.5 billion). Many of these programs — perhaps most — deserve reauthorization. But Congress should determine whether they're working as intended.
The bipartisan sunset commission I am proposing would ask a question similar to one the Texas Sunset Advisory Commission asks: "Is an agency or program still needed?"
It would then evaluate each unauthorized agency or program and recommend to Congress whether it should be abolished, streamlined, consolidated or reauthorized with recommendations for improvements. It would also require congressional action on each report.
About half of our states now have a similar process. It's time the federal government provided equivalent oversight of our massive and growing federal bureaucracy.
I'm also co-sponsoring the Fair Tax Act again, which would eliminate income, capital gains, payroll, estate, gift, corporate and self-employment taxes, and would replace them with a national retail sales tax. The move would have the net effect of "sunsetting" a good part of the Internal Revenue Service as well.
The Fair Tax Act would apply only to the sale of new goods and services made to consumers. To eliminate hardship, it would provide every household with a monthly rebate check to offset the tax imposed on essential goods and services.
We spend an estimated $300 billion filling out forms in our 67,204-page tax code. The simplifications in the Fair Tax Act would eliminate much of that wasted time and reduce a significant drag on our national economy.
Unfortunately, inertia often becomes the rule in Washington. Inefficient agencies, outdated programs and increasingly complicated taxes can attain the status of immortality. And it's all augmented by a congressional addiction to increased spending.
From property taxes to income taxes, the overall tax burden continues to rise. This year, Texans will have to work from Jan. 1 through April 19 just to pay their combined taxes for the year.
The United States remains a great place to innovate and do business. Our country has prospered because the Founding Fathers provided for limited government and maximum personal freedom. But keeping that legacy requires our constant vigilance.