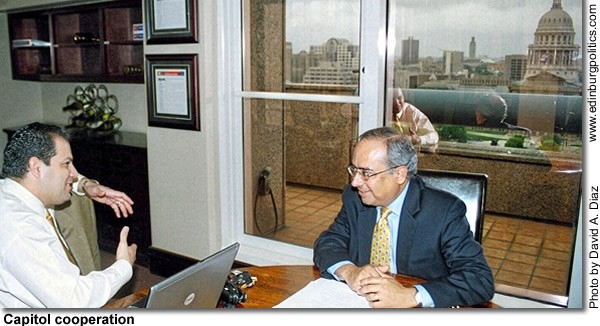 Hidalgo County Judge J.D. Salinas, left, and Maverick County Judge José Aranda have been working in Austin on state transportation issues of mutual concern to the Texas Border Coalition, which is an allliance of elected leaders and economic development officials from the 14 Texas counties that border Mexico. One of those issues, the possible development of a light passenger rail system for the border region, has been approved by a major House committee and could be set for debate by the full House of Representatives as early as Thursday. See related story later in this posting.
••••••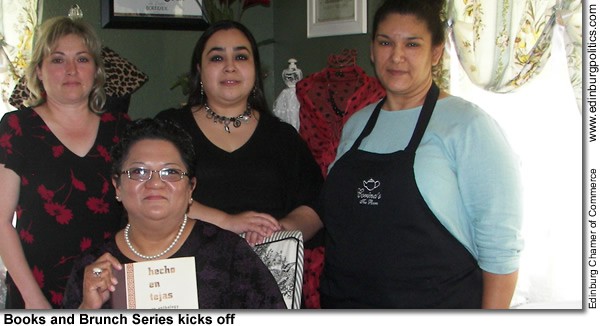 On Saturday, April 28 at 11 a.m., the Edinburg Chamber of Commerce, City of Edinburg, Hecho en Tejas and the Dustin Michael Sekula Memorial Library in Edinburg will host the first Edinburg Books and Brunch Series at the new library, located at 1906 South Closner. Sponsoring the event is Corrina's Tea Room. The Books and Brunch Series is the first of future literary events to come and will include readings, book signings, coffee, sandwiches and deserts. The first series features writers Dagoberto Gilb, Erasmo Guerra and special guest Dr. Rene Saldaña and is free to the public.Dagoberto Gilb, an award-winning fiction writer (Woodcuts of Women) is the editor of Hecho en Tejas. As part of the Rio Grande Valley book tour, he will be doing several readings throughout the Valley. Hecho en Tejas is an anthology of Texas-Mexican authors dating back to the days of the Spanish explorers. The book's comprehensive sweep includes ballads and corridos, poetry, essays, short stories, letters, photographs, novel excerpts and political declarations such as Juan Nepamuceno Cortina's 1859 proclamation declaring the establishment of the Republic of the Rio Grande. The anthology is published by The Southwestern Writers Collection (SWWC) at Texas State University-San Marcos. For more information please call Evana Vleck at 383-4974.
••••••
More Valley lawmakers get on board in support of border light rail plan proposed by Rep. Martínez
By DAVID A. DÍAZ
State Rep. Verónica Gonzáles, D-McAllen, and Rep. Ryan Guillen, D-Rio Grande City, have added their support for a far-reaching plan by Rep. Armando "Mando" Martínez, D-Weslaco – contained in his House Bill 2510 – that could eventually lead to the creation of light rail systems along the Texas-Mexico border.
In general, a light rail system uses special trains designed for urban travel, with capacities of up to 250 passengers per train, along with a bus system, to transport people and luggage while avoiding traffic congestion and other bottlenecks associated with larger population centers.
"HB 2510 will allow the citizens of Hidalgo County, along with the counties that border Mexico, to address one of the issues that results from growth – transportation," Martínez said."As our areas grow, so will the need for alternative forms of transportation. My bill, HB 2510, addresses this issue. With a population of over 1.4 million in the Rio Grande Valley, a light rail system will prove to be an invaluable form of transportation."
Although Martínez envisions a light rail system to link the major cities in the Lower Rio Grande Valley, he said he wrote the legislation to allow any of the 14 Texas counties that border Mexico to be able to set up their own versions of light rail.
Gonzáles and Guillen recently added their names as joint authors to Martínez' House Bill 2510 that would create a light rail district to study, and if necessary, adopt the rules to create and establish a light rail system in the border region.
"I applaud and thank Representatives Verónica Gonzáles and Ryan Guiilen for joint authoring HB 2510. Together, we will make light rail a reality in the Rio Grande Valley," he said. "Additionally, I want to thank Hidalgo County Judge J.D. Salinas and the entire Hidalgo County Commissioners' Court for providing a resolution in support for HB 2510. This resolution was very important to the members of the Transportation Committee."
In addition, according to Scott Jenkines, Martínez' legislative chief-of-staff at the State Capitol, Sen. Juan "Chuy" Hinojosa, D-McAllen, has agreed to carry the measure in the Senate.
The Martínez/Gonzáles /Guillen measure is on a fast track, receiving unanimous approval from the House Transportation Committee on Tuesday, April 3. It could be set for action by the full House as early as Thursday, April 13.
If eventually approved by the Texas Legislature and supported by Gov. Rick Perry, HB 2510 would provide the legal authority for any border county to set up the creation, administration, powers, duties, operations, and financing of a commuter rail district, including granting the authority to issue bonds and granting the power of eminent domain.
The new governmental entity would not need voter approval to be created; however, any financing plan that would involve the use of local property taxes would require the approval of the majority of voters in a county-wide election.
According to a bill analysis of the measure provided by the House Transportation Committee, which held the public hearing on the bill, a light rail passenger district could provide a new option for border leaders grappling with increasing motor vehicle traffic congestion and the many related problems.
"The Border Region, especially the Rio Grande Valley, is one of the fastest growing areas in Texas as well as the entire United States," the bill analysis noted. "As populations grow, so do transportation needs. To address the growing transportation needs and associated problems, alternative forms of transportation need to be studied. If deemed feasible and acceptable, such alternative forms of transportation should be considered for implementation."
Martínez had earlier predicted legislative support by the transportation panel.
"I am very pleased that the Transportation Committee unanimously voted out HB 2510 and sent it to the Committee on Local and Consent Calendars," Martínez said."I appreciate Chairperson Mike Krusee's, and the remaining eight members', support of my light rail bill."
••••••
CHIP expansion sought by Texas BorderCoalition receives final approval by Houseof Representatives
By DAVID A. DÍAZ
An additional 100,000 children in Texas by 2009 could be added to the crucial Children's Health Insurance Program, known as CHIP, following overwhelming approval by the House of Representatives on Tuesday, April 3, of House Bill 109, which is supported by the Texas Border Coalition.
TBC is an alliance of elected officials and economic development leaders from the 14 Texas counties which border Mexico. They represent an estimated 2.1 million residents.
HB 109 cleared third and final reading Tuesday evening on a 126 – 16 vote, and will be picked up in the Senate by Sen. Leticia Van de Putte, D-San Antonio. Rep. Sylvester Turner, D-Houston, who also is the House Speaker Pro Tempore – second in command – was the principal author of the legislation.
The legislation features key priorities for the Texas Border Coalition, including making it easier for working families to purchase the affordable and comprehensive health insurance protections offered by CHIP, which is administered by the state.
"Common sense policies – like reducing paperwork, deducting child care costs when determining eligibility and not counting families' savings against them – will ensure that more of our children receive health care," said Rep. Verónica Gonzáles, D-McAllen, one of the many co-authors of HB 109.
El Paso County Attorney José R. Rodríguez, chair of the TBC Healthcare Committee, said the organization was in strong support of the HB 109 because it would move "more kids into insurance, saves local tax dollars, helps education and improves our state's economy.
"People without health insurance are very likely to obtain their medical care from an emergency room," Rodriguez added. "In fact, uninsured children are five times more likely than insured children to use the emergency room as their primary source for medical care."
Rep. Aaron Peña, D-Edinburg, was one of the five primary joint-authors of the legislation and was a key negotiator in ensuring that more children became eligible to receive healthcare under the program.
"The legislation will allow children to receive continuance coverage for a year at a time rather than having to re-qualify every six months. It eliminates a 90-day waiting period for coverage to begin and makes it easier for families to enroll their children for services," Peña said.
Turner hailed the House passage as a sign of bipartisanship by both political parties.
"Today was a victory for the working poor. The House has shown its support for ensuring the well-being of our children and it's now up to the Senate to do the same," said Turner. "All the time and effort that went into drafting this legislation and working on a bi-partisan compromise with Chairman John Davis, Chairman Patrick Rose, and my fellow joint authors, has always been about the children."
HB 109 addresses key policy changes to the current Children's Health Insurance Program (CHIP) which will insure approximately 102,224 qualified children per month in Texas by the end of fiscal year 2009.
Turner allowed the bill to stay true to its original intent by keeping the provisions that extend the period of eligibility to twelve months and eliminate a 90-day waiting period for children not previously covered by some type of insurance. As passed, HB 109 protects taxpayers by maintaining and revising the asset and verification tests to increase the limit of allowable liquid assets and vehicle amounts.
Rodríguez provided details on how the border region would be impacted.
According to the Comptroller, in 2005, Texas' border Metropolitan Statistical Areas (El Paso, McAllen-Edinburg-Mission, Brownsville-Harlingen-San Benito and Laredo) had about 11 percent of all uninsured Texans, or more than 600,000, he said.
"Three of these MSAs – Laredo, El Paso and Brownsville-Harlingen-San Benito – had the highest rates of uninsured among all Texas counties, at 36, 33.2 and 32.4 percent respectively," Rodríguez said. "The Corpus Christi and McAllen-Edinburg-Mission MSAs were not far behind, with uninsured rates of 28.3 and 27.8 percent respectively."
From September, 2003, to February, 2007, enrollment in CHIP declined statewide from 507,259 to 325,479. For the same period, along the 14-county border, enrollment declined from 80,958 to 48,084; that is, 32,874 children of working families along the border lost their CHIP benefits, he noted.
Insurance coverage is critical to the education of Texas children, Rodríguez contended.
"Children without health insurance are 25% more likely to miss school because of illnesses, and school districts in Texas lose millions per day because of absenteeism," he said.
"Employee productivity also increases with insurance coverage because working parents need to take less time from work for their sick children. CHIP is also good for Texas business; a 2003 report by the Perryman Group noted that the program contributes $1.4 billion in Gross State Product and supports 22,562 jobs," Rodríguez added.
The Texas Border Coalition maintains a web site at http://www.texasbordercoalition.org.
••••••
Sen. Hinojosa counters McAllen Monitor's editorial; he says CHIP is a government program that works
By SEN. JUAN "CHUY" HINOJOSA
The newspaper editorial by the McAllen Monitor entitled "Privatization works, even if firms don't," suggested that the spectacular failure of a politically connected corporation to meet its obligations under a taxpayer-funded state contract to enroll eligible families in social service programs such as CHIP should not be taken as a failure of privatization itself.
Perhaps you also agree with the Houston-area lawmaker who huffed that his family never had insurance when he was growing up so why should anyone else need it.
I don't agree. The Children's Health Insurance Program (CHIP) was passed by a bipartisan Legislature and signed into law by a Republican governor because it is that rarest of government programs — one that works. To qualify, families must have jobs but earn too little to afford private health coverage for their children.
For every $1 Texas spends to fund the program, the federal government kicks in $2.60. And local taxpayers no longer have to foot the bill for uninsured children whose families take them to hospital emergency rooms for routine medical care.
In other words, CHIP is government at its best — a little extra help for those who are working hard and paying their taxes. The bottom line of any business is making a profit — period. The bottom line of government should be serving its constituents in a fair and transparent way that is both humane and worthy of the people who it serves.
Competition is good, especially if it makes vital public programs like CHIP more effective and efficient. Privatization for the sake of shifting tax dollars to political cronies makes no financial or moral sense, and it weakens accountability. This notion that government can be run like a business sounds good until you find out that the business some politicians have in mind is Enron or Halliburton. It should also be noted that Accenture is incorporated in Bermuda where it does not have to pay U.S. taxes.
••••••
Planned shopping center in Edinburg lands JCPenney as a major anchor
By DAVID A. DÍAZ
Edinburg and its planned shopping center have landed JCPenney, one of the country's largest department store retailers, which has selected the three-time All-America City to be part of a 150 store nationwide expansion that began last fall.
The announcement by First Hartford Realty of Manchester, Connecticut, which is developing The Shoppes at Rio Grande Valley, will reportedly result in the construction of a 104,000-square-foot JCPenney retail structure, the first of as many as two dozen stores that will eventually be part of the projected $80 million complex.
The Shoppes at Rio Grande Valley, which is scheduled to be built in stages over the next three years, is located on about 130 acres of currently vacant fields in south-central Edinburg.
The shopping center is bordered by U.S. Expressway 281 and Business 281 to its east and west, respectively, with Trenton Road serving as its southern border.
Ramiro Garza, executive director of the Edinburg Economic Development Corporation, said details on the groundbreaking schedule for the new JCPenney store will be announced later this spring by company and shopping center officials.
However, the news that JC Penney has chosen the Edinburg shopping center is expected to help land other high-quality stores, he said,
"Eventually, the shopping center could result in 800,000-square-feet of retail space, create up to 1,300 jobs, and have a $90 million annual economic impact on the city," Garza added.
But for now, the addition of a local JC Penney introduces the company's newest style of store, known as the off-mall concept, to deep South Texas.
According to a JCPenney announcement last October, Mryon E. (Mike) Ullman, III, JCPenney chairman and chief executive officer, explained the retail giant's expansion plans, including the use of the off-mall stores, by the Plano, Texas-based national corporation.
The announcement continued:
"There is growing demand for JCPenney stores in markets across the country. We are addressing this by launching the most aggressive store opening program in more than 25 years, which will allow us to offer our customers even more access to style and quality at smart prices," said Ullman.
Fueled by the success of its new off-mall format, continued improvement in operating results and strong free cash flow, JCPenney previously announced that it expects to open at least 50 stores per year from 2007 through 2009. Eighty percent to 90 percent of the new JCPenney stores, including 17 of the 20 opening Oct. 6, will adopt the off-mall format, although the company continues to pursue opportunities to acquire mall stores in attractive locations. The company currently has 25 stores open in the off-mall design.
The off-mall format, covering approximately 100,000 square feet on a single level, features wider aisles, new lighting designs and concentrated customer service centers. The new store layout helps shoppers easily locate major brands such as The Original Arizona Jean Company, Chris Madden for JCPenney Home Collection, nicole by Nicole Miller, SouthPole, Worthington, Stafford, Bisou-Bisou, Oshkosh, Nike and more.
"Our off-mall stores have exceeded our expectations, generating higher sales per square foot than our mall-based stores and more frequent visits by customers," continued Ullman. "We have a unique advantage in that our off-mall department stores provide a neighborhood presence that offers convenience and accessibility for mid-week shopping, while complementing our mall stores which continue to be a weekend and holiday shopping destination."
J. C. Penney Corporation, Inc., the wholly owned operating subsidiary of J. C. Penney Company, Inc., is one of America's largest department store, catalog, and e-commerce retailers, employing approximately 151,000 associates. As of July 29, 2006, J. C. Penney Corporation, Inc. operated 1,021 JCPenney department stores throughout the United States and Puerto Rico. JCPenney is the nation's largest catalog merchant of general merchandise, and jcp.com is one of the largest apparel and home furnishings sites on the Internet.
••••••
El Paso state senator invokes Jesus Christ in chastising GOP cuts in health programs
By DAVID A. DÍAZ
On the eve of Good Friday, one of the most solemn days in Christianity, Sen. Elliot Shapleigh, D-El Paso, condemned Republican efforts to cut state taxes at the expense of the poor, invoking the teachings of Jesus Christ to demonize the GOP as the heartless party of the rich.
His essay, featured on his political website, http://www.Shapleigh.org, was released at noon on Thursday, April 5, soon after the Legislature had adjourned for spring break and Easter.
No reaction had been developed by Republican leaders as of this article's deadline for publication.
In his essay on his political website, which was e-mailed April 5 to key media outlets and community leaders statewide, Shapleigh was unforgiving in his judgment of the Republican-controlled Texas Legislature, especially in how the GOP leadership decides to use a multi-billion dollar state budget surplus.
His comments come as a long-standing lawsuit, Frew v. Hawkins, seeking more money to provide health care to poor children comes to a conclusion on April 13
"With a $14.3 billion surplus, what would Jesus do about Frew?" Shapleigh asked. "Throughout the Bible, from Ecclesiastes to Matthew, Jesus teaches us to defend those who are defenseless. Instead, in an 8-6 vote, 7 Republicans and 1 Democrat voted to rob Peter to pay poorer Paul, all to keep tax cuts tucked away for the wealthy."
Shapleigh declined to identify the Democrat by name.
His website posting laying out his contentions follows verbatim:
By SEN. ELLIOT SHAPLEIGH D-El Paso
What would Jesus do about Frew?
Frew v. Hawkins, of course, is the lawsuit by low-income Texans wanting to fully fund basic medical services for poor children in Texas. Frew was filed in 1993 after years of funding allegedly so low as to violate basic Constitutional guarantees.
During a session when a lawmaker wants to introduce the Bible into classrooms and "In God We Trust" is permanently displayed in the Senate Chamber, we need to ask what would Jesus do about Frew.
So, what would Jesus do?
For decades, conservatives in Austin have cut and cut again basic health care services. As a result, Texas covers fewer Texas children with health care than any state in America. After 13 years of litigation, Susan Zinn, the activist attorney who filed the suit has won. The Frew case has a final hearing on April 12.
Last Friday (March 30), in the Senate Finance Committee, a rider was introduced by Sen. Robert Duncan (R-Lubbock) to take whatever funds the Frew case costs the state from existing funds spent on Medicaid and CHIP. In other words, he wants to rob poor Paul to pay poorer Peter. Why? The reason, of course, is tax cuts.
"[I]f the [Frew] decision requires additional spending when the Legislature is not in session, we're going to stay within the four corners of the appropriations bill, and we're not going to the rainy day fund to pay for it," said Sen. Steve Ogden, R-Bryan, the Senate Finance Committee chairman, on passage of the rider.
Of course, the "rainy day fund" is $8.5 billion in tax cuts tucked safely away in the House version of the budget for 2010-2011, right when Republicans run in their primaries.
These tax cuts are not for you and me; they are for people who make over $85,000. In fact, 95% of all the tax cuts will go to people who make $85,000 or more.
So, the moral choice in the Frew rider is to rob poor Peter to pay poorer Paul, so more of your tax money can go to millionaires.
With a $14.3 billion surplus, what would Jesus do about Frew? Throughout the Bible, from Ecclesiastes to Matthew, Jesus teaches us to defend those who are defenseless.
As Jesus said in Proverbs 22:16, "He who oppresses the poor to increase his wealth and he who gives gifts to the rich—-both come to poverty."
In Proverbs, Jesus continued, "Speak up for those who cannot speak for themselves, for the rights of all who are destitute. Speak up and judge fairly; defend the rights of the poor and needy."
Over the course of American history, caring for the poor has been a core value.
After the Civil War, Abraham Lincoln made caring for widows and orphans in poverty a priority. Franklin D. Roosevelt, the author of Social Security, said following the Great Depression, "These unhappy times call for the building of plans that build from the bottom up and not from the top down, that put their faith once more in the forgotten man at the bottom of the economic pyramid."
Later, John F. Kennedy cautioned, "If a free society cannot help the many who are poor, it cannot save the few who are rich."
Today, when we look into our heart of hearts, Texans know that our first responsibility is to take care of the most vulnerable among us—to defend the rights of the poor and needy.
We are a government of people, by people, for people. We should take care of kids.
Instead, in an 8-6 vote, 7 Republicans and 1 Democrat voted to rob Peter to pay poorer Paul, all to keep tax cuts tucked away for the wealthy.
Do you believe that is what Jesus would do with Frew?
Keep the Faith!
••••••
House Democrats pass restoration of health insurance for 100,000 children
By KEVIN VICKERS
House Democrats successfully passed a bill today that will restore 102,000 children to the rolls of the Children's Health Insurance Program (CHIP). The CHIP program was slashed by the Republican leadership in the 2003 legislative session. Shortly thereafter, 250,000 children lost their health insurance coverage.
"The reason this bill passed today is because Democrats across the state pointed out the heartless and immoral nature of the 2003 cuts and we have kept that issue alive ever since," said Rep. Garnet Coleman, D-Houston. "After the Republican leadership took two steps backward and slashed children's health insurance in 2003, Democrats fought hard to make sure that we took one step forward today."
The House Democrats were disappointed that amendments to the bill to make it more comprehensive – in particular one that would have fully restored the 250,000 children to the program – were rejected.
"Fully restoring the cuts made to CHIP and expanding coverage that thousands of more Texas children could receive health coverage is the best public policy we could have advanced with this legislation," Coleman said. "But at the end of the day, I'm a progressive, and I believe in progress, so I was proud to vote for the bill and restore CHIP coverage for 102,000 Texas children."
Other amendments offered would have repealed the assets test and other restrictive policies that prevent children from receiving health coverage for CHIP.
"Repealing the assets test would have ensured we don't punish families for something as simple as saving money for college," House Democratic Leader Jim Dunnam, D-Waco said. "Our work to fully restore CHIP isn't finished, but we've taken an important first step with today's passage of HB 109."
Another amendment would have ensured that the dental benefits package provided through CHIP would cover anesthesia.
"Our children shouldn't have to suffer through a painful procedure because the state is too cheap to pay for the anesthesia," Rep. Pete Gallego, D-Alpine said. "My hope is that, when the bill goes to the Senate, Governor Dewhurst will add the anesthesia coverage and maintain the other important restorations within the legislation."
House Democrats pledged to keep the pressure on as the bill arrives in the Senate. Just as the Democrats have been successful in calling attention to the CHIP issue, the House Democratic leaders said they were hopeful that the bill will improve in the Senate and be signed as soon as possible by the governor.
"Democrats want to do a lot more to help our children, and we have a long way to go to deliver a government whose priorities are in line with the people of this great state," said Dunnam. "But today is a good day and I am proud of the work my colleagues and I have done to protect the children of Texas."
••••••
Rep. Peña: Alarming trend in copper theft addressed by Texas House of Representatives
By ORLANDO SALINAS
The Texas House of Representatives on Wednesday, April 4, unanimously approved House Bill 1766 by Rep. Aaron Peña, Jr., D-Edinburg, that would increase the penalty for theft of aluminum, bronze, and copper wiring.
HB 1766 would increase the penalties for the theft of insulated or noninsulated wire or cable that was at least 50 percent aluminum, bronze, or copper and worth up to $1,500. Penalties would increase from misdemeanors to a state jail felony.
As the price of those metals has increased so has there been a global crisis in the theft of items comprised of those materials, the Valley legislator said.
"Aluminum, bronze, and copper wiring are commonly used by municipalities, electric utilities, railroads and telecommunications companies to provide vital services," said Peña. "Perpetrators are hauling off hundreds of dollars worth of wiring, causing thousands of dollars worth of repairs, lost productivity and commerce but of most concern are the issues of public safety."
The Department of Homeland Security has reported that the theft of copper has degraded the electric power grid's reliability, causing outages affecting thousands of customers. The theft of downed power lines and grounding cables following major storms has also hindered recovery efforts in some states.
At least seven individuals were electrocuted last year while attempting to steal copper wire from electric power generation or substation facilities.
"Current Texas law provides penalties for theft that generally vary by the value of the item stolen," said Peña. "The theft of a train signal wire has a significant business cost but it can lead to deadly accidents and derailments. In these cases the punishment didn't fit the crime. This law aims to change that and send a message that stealing wire isn't worth it."
Home owners, builders and small businesses have also shared their frustrations with the theft of wires from construction and building sites.
••••••
Senate passes child passenger safety bill being carried by Sen. Zaffirini
By NICK ALMANZA
The Texas Senate on Wednesday, April 4, passed Senate Bill 60 by Sen. Judith Zaffirini, D-Laredo, which would strengthen current child passenger safety protections.
The bill requires that children 7 years and younger, unless they are four-feet nine-inches tall, be secured in a child passenger safety seat while riding in a motor vehicle.
"This is a bill that will save lives, preclude tragedies and injuries and qualify Texas for $3.2 million in federal funds while saving the state $17 million in health care expenditures." Zaffirini said. "Each year more than 1,600 children die in vehicular accidents, which is the leading cause of unintentional, injury-related death among children 14 years and younger. SB 60 will strengthen Texas child passenger safety laws and ensure a greater level of public safety."
In 2005 the Texas Legislature directed the Texas Department of Public Safety Committee on Child Passenger Safety to examine the need for a booster seat law in Texas. The committee advised Texas to pass a law based on national recommendations. SB 60 reflects the committee's recommended language.
The DPS Child Passenger Safety Committee determined that SB 60 would reduce Texas health care expenditures by more than $17 million and that that an average $30 booster seat generates $2,000 in cost benefit savings. What's more, by raising child passenger safety standards, Texas also will be eligible for $3.2 million in federal transportation grants each year from 2008 to 2009.
Current law requires only children who are younger than five and shorter than 36 inches be secured properly in child-passenger safety seats during the operation of a vehicle. Children between the ages of five and eight and who are between 36 and 57 inches represent an age group that is at great risk of death or severe injury due to the gap in current law. SB 60 will eliminate this gap and strengthen current child passenger safety protections.
Originally SB 60, as recommended unanimously by the Senate Committee on Transportation and Homeland Security, included a four-month temporary grace period to inform Texas drivers about this new measure and a fine for non-compliance between $100 and $200.
Zaffirini on April 4 amended the bill to extend the warning period from four months to one year and reduce the penalty to $25, instead of up to $200.
"I amended SB 60 because we want to educate parents about the importance of booster seats and child passenger safety, not punish them," she said. "A one year grace period will allow the state to inform more families and increase the impact this bill will have on public safety."
The bill must be passed by the House of Representative before it can be sent to Gov. Rick Perry for final approval. The continued progress of this and all bills authored by Zaffirini can be monitored via the Internet at http://www.zaffirini.senate.state.tx.us or by contacting the Texas Legislative Reference Library's toll free in-state hotline, 1-877-824-7038.
••••••
Gov. Perry urges Legislature to keep transportation projects on track
Gov. Rick Perry on Tuesday, April 3 encouraged the Legislature to support the state's current transportation system and to ensure vital transportation projects continue as planned. The governor was joined by U.S. Secretary of Transportation Mary Peters and Dr. H. K. Park, executive vice president and general manager for Samsung Hard Disk Drive, at the Samsung Austin Semiconductor expansion site currently under construction.
"Our message today is that building needed infrastructure is essential to creating jobs and attracting economic development investments in Texas," Perry said. "And you can't accomplish that with a two-year moratorium on needed road projects."
During the remainder of the session as the Legislature debates critical issues affecting Texas, Perry encouraged the Legislature to consider the successes from past sessions, highlighting key aspects of the existing transportation system. Texas is currently:
• Pouring more concrete and building more roads than any state in the nation; • Attracting multi-billion dollar investments from private partners to build needed roads now; and • Using billions of dollars advanced up front by private concessionaires to build numerous other projects in local communities.
The governor also noted that the land needed for highways will always be owned by Texas, and drivers will always have a non-tolled alternative to toll projects.
"But let no one be confused: there are no such things as freeways," Perry said. "There are taxways and tollways, and for 50 years we have tried taxways that have been underfunded by Austin and Washington and that have left local communities choking on pollution and brimming with congestion.
••••••
Teacher pay raises, CHIP funding increases included in House state budget, says Rep. Martínez
By SCOTT JENKINES
Rep. Armando "Mando" Martínez, D-Weslaco, helped pass a statewide teacher pay raise on Thursday, April 5, as part of the votes cast during more than 18 hours of debate, and 200 amendments to Texas' $150 billion state budget bill (House Bill 1).
Martínez voted for an amendment to increase public school employee pay.
"Ensuring that Texas' children have access to top-notch public schools is my top priority. Our state must do everything possible to attract the best and brightest educators," said Martínez. "I voted to provide an across-the-board pay raise for every public school teacher, counselor, librarian and school nurse because a great education begins with them."
He noted that the House version of the state budget also included crucial funding to improve the Children's Health Insurance Program and other measures important to young Texans.
"I support a state budget that fully funds the children's health insurance program, improves access to higher education, strengthens our public schools and provides the necessary funds to ensure Texas children are secure now and in the future," said Martínez. "I voted for amendments that would strengthen House Bill 1."
The numerous amendments adopted April 5 helped alleviate some of the concerns about the initial shortcomings of the bill. Martínez voted in favor of the amended bill and will work with Sen. Juan :Chuy" Hinojosa, D-McAllen, and Sen, Eddie Lucio, D-Brownsville, as it moves through the Senate.
The House state budget bill and the version that will be approved by the Senate, which will not be identical, will then go to a legislative conference committee, where appointed members of the House and Senate will iron out the differences.
"We made a lot of ground on Thursday. We started with a bill that needed some changes, and we finished with a bill that contained some great provisions, like the across-the-board teacher salary increase," Martínez noted.
••••••
Family violence, stalking victims could more easily qualify for unemployment insurance benefits
By NICK ALMANZA
The Senate Business and Commerce Committee on Wednesday, April 3, unanimously recommended passage of Senate Bill 142 by Sen. Judith Zaffirini, D-Laredo, which would make less burdensome the list of required evidence of eligibility for Unemployment Insurance (UI) benefits provided to victims of stalking or family violence.
"Because it is difficult for a victim of domestic violence or stalking to obtain multiple forms of evidence and because some judges in certain counties rarely issue protective orders, the multiple eligibility requirements for UI make it difficult for many victims to access benefits," Zaffirini said. "This bill would allow victims to present only one form of evidence regarding the violence they are suffering in order to obtain easily the benefits needed to support themselves and their families while evading potentially dangerous domestic situations."
In 2003 the Texas Legislature passed a measure that allows persons who must leave their job to protect themselves from family violence or stalking to be eligible for unemployment compensation. Victims must substantiate the existence of family violence by providing three pieces of evidence, including an active or recently issued protective order documenting family violence or stalking of the employee; a police record documenting family violence against, or the stalking of, the employee; and a physician's statement or other medical documentation of family violence against an employee.
SB 142 would make persons eligible for UI benefits if they left the workplace for protection against family violence or stalking and are able to provide only one of the three forms of evidence mandated by the 2003 legislation.
••••••
Dr. Linda Villarreal of Edinburg recognized for her contributions by the House of Representatives
Dr. Linda Villarreal, an internist who has been an active player in promoting improved access to medical care for the poor in Hidalgo County, has been honored for her accomplishments by the Texas House of Representatives.
Highlights of her career are included in House Resolution No. 1297, authored by Rep. Verónica Gonzáles, D-McAllen. HR 1297 was unanimously approved by the House of Representatives on Tuesday, April 3.
The resolution follows verbatim:
WHEREAS, Dr. Linda Villarreal is being honored by the Zonta Club of West Hidalgo County for her outstanding contributions to her community; and
WHEREAS, Dr. Villarreal is known for her competency, compassion, and dedication to practicing preventative medicine, and her endeavors in promoting the health and vitality of her friends and neighbors have earned her their lasting respect and admiration; and
WHEREAS, Outside of managing her own practice, "Dr. Vee," as she is affectionately called, is a regular volunteer at a local free clinic and is a member of the American Medical Association and the Texas Medical Association-Council on Legislation; this former chief of staff for Edinburg Regional Medical Center is also a mentor to several medical students, a physician advisor for the Texas Medical Foundation's research pilot program on diabetes, and a member of the Border Health Caucus; in addition, she has worked tirelessly for the Health Services District and given generously of her time and expertise to the American Heart Association, American Diabetes Association, Arthritis Foundation, VAMOS, and Easter Seals; and
WHEREAS, The strength of our communities depends on the dedication of individuals like Dr. Villarreal, whose considerable talents have benefited countless people who live and work in South Texas; now, therefore, be it
RESOLVED, That the House of Representatives of the 80th Texas Legislature hereby commend Dr. Linda Villarreal on her years of professional and civic service to her community and extend to her best wishes for the future; and, be it further
RESOLVED, That an official copy of this resolution be prepared for Dr. Villarreal as an expression of high regard by the Texas House of Representatives.
••••••
Carol Lynn Looney of Edinburg recognized for her contributions by the House of Representatives
Carol Lynn Looney of Edinburg, who has been part of the economic, educational and cultural advancements of the city, has been honored for many contributions by the Texas House of Representatives.
Mrs. Looney, whose husband, attorney Cullen R. Looney is a former Edinburg state representative, received the public recognition on Tuesday, April 3, when the House of Representatives unanimously passed House Resolution 1296 by Rep. Verónica Gonzáles, D-McAllen.
The resolution follows verbatim:
WHEREAS, Carol Lynn Looney is being honored by the Zonta Club of West Hidalgo County for her outstanding contributions to her community; and
WHEREAS, A graduate of Beaumont High School and The University of Texas at Austin, Mrs. Looney has long benefited her community through her tireless volunteer service, and her endeavors in behalf of her friends and neighbors have earned her their lasting respect and admiration; and
WHEREAS, Through the years, Mrs. Looney has lent her time and expertise as a president of the Freddy Gonzalez Elementary School PTO, board member and chair of the Museum of South Texas History, and as a member of The University of Texas-Pan American International Women's Board; in addition, she is a member of the Edinburg Junior Service League and St. John's Episcopal Church, where she is involved in the Altar Guild, and she has ably served as a board member of the International Museum of Art & Science, Gladys Porter Zoo, United Way, and the Tip-O-Tex Girl Scout Council; and
WHEREAS, The strength of our communities depends on the dedication of individuals like Mrs. Looney, whose considerable talents have helped make Hidalgo County a better place in which to live, work, and raise a family; now, therefore, be it
RESOLVED, That the House of Representatives of the 80th Texas Legislature hereby commend Carol Lynn Looney on her years of service to her community and extend to her best wishes for the future; and, be it further
RESOLVED, That an official copy of this resolution be prepared for Mrs. Looney as an expression of high regard by the Texas House of Representatives.
••••••
McAllen Mayor Cortéz, a member of the Texas Border Coalition, honored by Texas House
By DAVID A. DÍAZ
McAllen Mayor Richard Cortéz, only the second Hispanic mayor in that city's history, has been honored for his many accomplishments by the House of Representatives with a legislative resolution authored by Rep. Verónica Gonzáles, D-McAllen, Rep. Ismael "Kino" Flores, D-Palmview, and Rep. Armando "Mando" Martínez, D-Weslaco.
The measure, unanimously adopted by the House of Representatives, was filed on Friday, March 23, and approved by the full House a week later, on Friday, March 30. In addition to being mayor, Cortéz is on the governing board of the Texas Border Coalition, an alliance of elected leaders and economic development officials from the 14 Texas counties that border Mexico.
Cortéz, through the Texas Border Coalition, has been instrumental on various state and federal legislative initiatives of the organization, including opposing the controversial proposed construction of a wall that would separate the U.S. from Mexico as a way to address the issue of illegal immigration.
Rather, Cortéz and the other leaders of the Texas Border Coalition are championing their own immigration reform recommendations, both at the state and federal levels, with proposals that would strengthen border security while not adversely affecting legitimate travel and trade.
The resolution follows verbatim:
Whereas, Mayor Richard F. Cortéz has truly distinguished himself through his outstanding service to the McAllen community, and he is being honored for his accomplishments at the ninth annual "A Night at the Oscars"sponsored by the Rio Grande Valley Chapter of the Muscular Dystrophy Association; and
Whereas, Elected to office in 2005, Mayor Cortéz has brought to his role a wealth of insight gained over the course of his life as a successful businessman, public servant, and community volunteer;
Whereas, Mayor Cortéz is a certified public accountant with a career that has spanned more than three decades; he is a senior partner with the public accounting and management firm of Burton, McCumber & Cortéz, L.L.P., where he is in charge of the litigation support department; and
Whereas, His civic involvement is equally impressive, encompassing service with the McAllen Economic Development Corporation, McAllen Chamber of Commerce, McAllen Community Development Council, Rio Grande Valley Partnership, McAllen International Museum, and Boys & Girls Club of McAllen and The University of Texas–Pan American Business Council; he has also held leadership positions with the Border Trade Alliance, McAllen Housing Finance Corporation, McAllen Public Utilities Board, and International Bank of Commerce-McAllen; and
Whereas, Mayor Cortéz has worked tirelessly in behalf of his fellow Texans; supported by his wife, Elva, four children, and nine grandchildren, he is a dynamic leader who will undoubtedly continue to be an outstanding advocate for his community and for the state; now, therefore, be it
Whereas, That the House of Representatives of the 80th Texas Legislature hereby honor Mayor Richard F. Cortéz for his dedicated service in behalf of the residents of McAllen and extend to him best wishes for the future; and, be it further
Resolved, That an official copy of this resolution be prepared for Mayor Cortéz as an expression of high regard by the Texas House of Representatives.
••••••
District Clerk Hinojosa, County Clerk Guajardo to host major conference in McAllen on April 12, 13
Hidalgo County District Clerk Laura Hinojosa and County Clerk Arturo Guajardo will be hosting about 100 of their colleagues in McAllen on Thursday, April 12 and Friday, April 13 as part of a major conference of the County and District Clerks Association of Texas, Region VIII.
Region VIII represents 32 South Texas counties.
The session, which will include appearances by Hinojosa's father, U.S. Congressman Rubén Hinojosa, D-Mercedes, along with Hidalgo County Judge J.D. Salinas, and members of the Hidalgo County Commissioners Court, will be held at the Holiday Inn, 200 W. Expressway, McAllen.
The Thursday session will be held from 8 a.m. to 5 p.m., while the Friday meeting will be held from 8 a.m. to noon.
"The purpose of the County & District Clerk Association of Texas is to promote professional standards, to provide the means for education of its members regarding the statutory and constitutional duties of the offices of the county clerk and the district clerk, and to participate in the legislative, judicial and executive processes of government beneficial in the performance of the member's duties," said Ricardo Contreras, who issued the announcement on behalf of Laura Hinojosa and Guajardo.
••••••
NAHJ disappointed with decline in percentage of journalists of color in U.S. newsrooms
By DANIELA MONTALVO
The National Association of Hispanic Journalists is once again disappointed by the lack of progress made toward achieving diversity in the nation's newsrooms.
As pointed out in the 2007 newsroom census released March 27 by the American Society of Newspaper Editors (ASNE), minority representation in newsrooms slipped by 0.25 percent, to 13.62 percent. The percentage of Latino journalists dropped from 4.51 percent to 4.41 percent.
"Our industry is in the midst of rapid change, but one thing remains the same," said NAHJ President Rafael Olmeda. "Latinos continue to be severely underrepresented in the newsroom workforce. We are asked to adapt to changes in the industry, learn new skills and think differently about the way newspapers deliver the news to readers. Is it too much to ask the industry to adapt to changes in the U.S. population, changes that make newsroom diversity more necessary than ever?"
This year, for the first time, ASNE's census included journalists working full-time online, an addition that makes it appear in the survey that newsrooms added nearly 2,000 jobs. Including online journalists helped the numbers for minorities, who make up 16 percent of that sector, according to the survey. Without including online journalists, the picture for minority hiring and retention is even more bleak.
Minorities also make up 10.9 percent of newsroom supervisors, another decline from last year.
Through the Parity Project, NAHJ has proven that news organizations that commit to increasing Latino representation can succeed. The project has not only improved numbers; it has improved coverage of the Latino community and relationships between news organizations and their readers. To date, 150 Latinos have been hired at 25 Parity Project partners.
When ASNE committed in 1978 to achieving parity in the nation's newsrooms by 2000, the intention may have been noble, but ASNE President David Zeeck referred to it Tuesday as a "hot check" because the association did not have the ability to deliver. Today, the industry strives to reach that goal by 2025, but it is clear to NAHJ that it will be impossible for news organizations to achieve parity at the current rate. The population of the United States is increasingly non-white, while the population of newsrooms just took a step in the other direction.
NAHJ believes it is time for diversity to cease being a slogan or a "value." It's time for diversity to be an unqualified commitment at all levels, from coverage to hiring to upper management.
NAHJ encourages media organizations to work with our association and other partners in Unity: Journalists of Color to play an active role in increasing representation in our newsrooms. The Parity Project, in addition to being a strong program, should be a model to the entire industry of how commitment backed by action can change a newsroom.
••••••
Senate approves bill by Sen. Lucio declaring April as "Fruit and Vegetable Month"
By DORIS SÁNCHEZ
The Texas Senate on Wednesday, April 4, gave approval to a bill by Sen. Eddie Lucio, Jr. that designates April as Fruit and Vegetable Month for Texas.
"Senate Bill 555 was necessary because unfortunately, only 23 percent of Texans report consuming the recommended levels of fruits and vegetables," said Lucio. "This number is unacceptable and needs to be raised by several levels. Declaring April Fruit and Vegetable Month will help encourage Texans to consume more fruits and vegetables."
Various studies have proven there are countless health-related benefits of fruits and vegetables. Fruits and vegetables contain antioxidants, vitamins, minerals, and fiber that may prevent many chronic diseases such as diabetes, hypertension, and cardiovascular disease. The Dietary Guidelines for Americans recommends adults consume 3.5 to 6.5 cups (7 to 13 servings) of fruits and vegetables daily and children eat 2 to 5 cups per day (4 to 10 servings) depending on their ages. Ninety percent of Americans do not eat the recommended amounts.
"I represent an area of Texas rich with fertile soil and a mild climate, ideal for growing some of the tastiest and most nutritious fruits and vegetables in the country," noted Lucio. "Nothing can compare to the Ruby Red Grapefruit grown here.
"But no matter where the fruits and vegetables are raised, our children and families should be eating a lot more of them."
The senator is confident that his bill will "open the door of awareness to the people of Texas and will be part of the strategy to reach out and educate the public of the important contribution of fruits and vegetables in a nutritious diet and healthy lifestyle."
••••••
Rep. Martínez announces grant writing seminar to seek funding for health and health-related programs
By SCOTT JENKINES
Rep. Armando "Mando" Martínez, D-Weslaco, on Thursday, April 5, announced that a grant writing seminar to help communities seek and obtain funding for health and health-related programs in rural and underserved areas will be held in Weslaco on April 19 and 20.
The seminar will be hosted by the Center for Community Health Development's (CCHD).
"The center strives to recognize and analyze the practices affecting the health of our community and procedures designed to increase the overall health status," said Martínez. "Another goal of CCHD is to provide knowledge regarding disease prevention and prevention research to health providers, scholars, and the general population"
The first day of the seminar will concentrate on civic agencies; while the following day will train the health and human service agencies. The seminars will focus on discussing types and sources of funding and reading an RFP. It will also provide valuable tips to successfully write proposals.
"The Center for Community Health Development provides assistance to agencies with understanding and applying data to research and conduct projects," said Martínez. "It is also a very reliable organization as it will continue its support throughout the entire grant writing process and help in locating potential financial donators."
For more information, please contact Delia Morales at (956) 688-6325 or view http://www.cchd.us/services.htm
••••••
Financial aid director placed on leave, investigation begun at The University of Texas at Austin
By ANTHONY P. DE BRUYN
Lawrence W. Burt, associate vice president and director of student financial aid at The University of Texas at Austin, on Friday, April 5, was placed on paid administrative leave pending the completion of an investigation into allegations of conflict of interest.
This action results from allegations made on Thursday, April 4, in a letter sent to William Powers Jr., president of The University of Texas at Austin, by the office of Andrew M. Cuomo, attorney general of the state of New York. The attorney general alleged that Burt received stock from Student Loan Xpress Inc., a company that is included on the university's preferred lender list.
"It is important that the university confirm and ensure the integrity of its financial aid program," Powers said, "and maintain unimpeachable practices on behalf of students and their families."
Powers asked James R. Huffines, chairman of the University of Texas System Board of Regents, and Mark G. Yudof, chancellor of the University of Texas System, to authorize the Office of the General Counsel of the University of Texas System to conduct an investigation in collaboration with the university. The investigation will be led by Vice Chancellor and General Counsel Barry D. Burgdorf of the University of Texas System
••••••
Mario Cuomo, New York attorney general, provides details on alleged student loan deceptive practices
On March 15, New York Attorney General Andrew M. Cuomo revealed deceptive practices that he has uncovered in his nationwide investigation into the college loan industry.
According to Cuomo's announcement, the New York attorney general said in a letter sent to every college and university in New York state, and certain other schools across the country, that he warned them to end or fully disclose potential conflicts of interest in their relationships with private lenders. He also cautioned students and their families to protect themselves against these practices.
Industry practices revealed include: Establishment of so-called "preferred lender" lists without disclosing the basis for selection or the specific benefits associated with these preferred lenders; revenue sharing and other financial arrangements between schools and lenders; denials or impediments to a student or parent's choice of lender based on the borrower's selection of a particular lender or guaranty agency; impediments to competition in the lending industry that stifle better loan terms for students and parents.
Cuomo said, "There is an unholy alliance between banks and institutions of higher education that may often not be in the students' best interest. The financial arrangements between lenders and these schools are filled with the potential for conflicts of interest. In some cases they may break the law."
Cuomo continued, "I do not want another college-bound class to be taken advantage of by schools or by lenders. Students and their families need to know about the practices in the industry so they can better protect themselves when being steered toward a lender by a college or university. With this knowledge, students have the power to select the lender that is truly best for their situation."
The New York attorney general has been leading an ongoing investigation into the $85 billion-per-year student loan industry. In February, he requested information from more than 60 public and private colleges and universities nationwide regarding the standards they use to determine which lending companies are included on their "preferred lender" lists. Financial aid administrators often produce such lists to direct their students toward the lenders that are most preferred by the schools but may not be the best deals for students and parents.
On March 15, Cuomo notified over 400 colleges and universities throughout the country, including all in New York state, to end relationships with lenders that have the potential to mislead students and compromise their ability to obtain the best rate for their student loans.
In his letter, Cuomo revealed the following problematic practices in the student loan industry:
1 Lenders pay financial kickbacks to schools based on a percentage of the loans that are directed to the lenders. The kickbacks are designed to be larger if a school directs more student loans to the lender. And the kickbacks are even greater if the schools make the lender their "exclusive" preferred lender.
2 Lenders pay for all-expense-paid trips for financial aid officers (and their spouses) to high-end resorts like Pebble Beach, as well as other exotic locations in the Caribbean and elsewhere. Lenders also provide schools with other benefits like computer systems and put representatives from schools on their advisory boards in order to further curry favor with the schools.
3 Lenders set up funds and credit lines for schools to use in exchange for schools putting the lenders on their preferred lender lists.
4 Lenders offer large payments to schools to drop out of the direct federal loan program so that the lenders get more business.
5 Lenders set up call centers for schools. When students call the schools' financial aid centers, they actually get representatives of the lenders.
6 Lenders on preferred lender lists agree to sell loans to a single lender so there is actually no real choice for the student.
7 Lenders sell loans to other lenders, often wiping out the back-end benefits originally promised to the students without the students ever knowing.
Rebecca Weber, Executive Director of the New York Public Interest Research Group (NYPIRG), said, "NYPIRG, as a consumer group and a student group, is particularly concerned about deceptive lending practices that appear to target students and their families. The Attorney General is alerting the colleges to the dangers of doing business with predatory lenders and we think that's a crucial move as this investigation continues."
Cuomo also urged students and parents to use these findings to consider whether a college or university is currently engaged in questionable practices. The Attorney General's office has prepared a pamphlet to help those seeking student loans make more informed decisions. The pamphlet is being distributed to every high school in New York State. It is also posted on the Attorney General's website at http://www.oag.state.ny.us.
The investigation is being handled by Executive Deputy Attorney General for Economic Justice Eric Corngold and Assistant Attorneys General Joy Feigenbaum, Melvin Goldberg, and Kevin R. Harkins.
••••••
UTPA to be featured in PBS documentary series
The University of Texas-Pan American will be featured in one of 13 episodes of the State of Tomorrow documentary television series, which begins airing this month on PBS stations across the state.
The series examines some of the most exciting work being done by researchers and academics in public higher education to address major challenges facing Texans today. The University of Texas Foundation and Alpheus Media, Inc. in partnership with KLRU-TV, Austin PBS, co-produced the series, and it is paid for with private funding from sponsors including AT&T Inc., Exxon Mobil Corp., and IBC Bank, among others.
UTPA will be highlighted in the eighth episode of the series titled "Faces of the New Texas." The episode focuses on the increasing population of the state, particularly the growing Hispanic population, and education and access. Dr. Blandina "Bambi" Cárdenas, UTPA president, will discuss how higher education can better serve and reflect its community.
"We are proud The University of Texas-Pan American was chosen to participate in this series and this particular episode, which will highlight our growing Hispanic student population and our dynamic efforts as a University and member of the UT System to make access to higher education possible and affordable for all," Cárdenas said.
Also featured in the episode will be The University of Texas at Brownsville and The University of Texas at El Paso.
The wide-ranging series explores major challenges in areas including public health, homeland security, energy policy, economic development and education, and highlights new research in biosafety, nanotechnology, and proton therapy.
Faculty from Texas A&M, Texas State, Texas Tech, University of Houston, University of North Texas and University of Texas systems are featured in the series, representing a collaboration among Texas' public higher education groups that is thought to be unprecedented.
"Public higher education offers solutions to many of the major challenges facing Texas, and it is important for Texans to know that whether or not they ever set foot on our campuses, we work to ensure that they are the beneficiaries of education's service to society," said UT System Chancellor Mark G. Yudof.
The State of Tomorrow series, which began airing on Sunday, April 8, will be broadcast beginning at 7:30 p.m. each Sunday at 7:30 p.m. on the local PBS station, KMBH-TV 60 (Time Warner Cable Cable Channel 10).