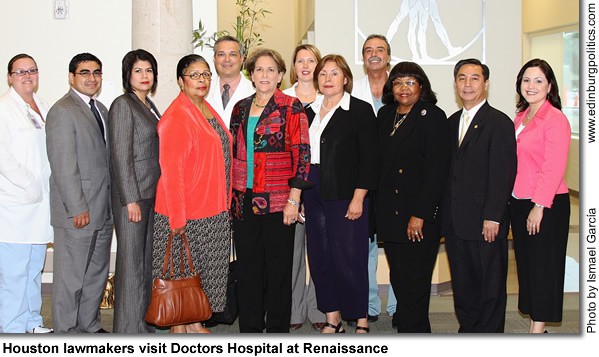 Doctors Hospital at Renaissance, one of the premier hospital systems in South Texas, on Thursday, July 10, hosted a delegation of eight state representatives from Houston as part of the hospital leadership's strategies to build legislative alliances statewide that can benefit Edinburg and the Valley. The delegation of Democrats, which included Rep. Senfronia Thompson, the Dean of the Texas House of Representatives and a candidate for Texas Speaker of the House, reviewed upcoming major legislative issues that will impact the delivery of medical care in Texas.  Prior to a tour of the local hospital system in Edinburg, the delegation also met with Alonso Cantú, a member of the DHR Board of Directors, Sen. Juan "Chuy" Hinojosa, D-McAllen, and Rep. Verónica Gonzáles, D-McAllen.  Featured in this portrait, taken at the Women's Hospital at Renaissance, front row, from left: Sue Bajus, Director of Women's Services at DHR; Rep.-elect Armando Walle; Rep.-elect Carol Alvarado; Thompson; Rep. Ellen Coen; Rep. Dora Olivo; Rep. Alma Allen, Ph.D.; Rep. Hubert Vo; and Rep. Ana Hernández. Back row, from left, are: Dr. Carlos Cárdenas, a gastroenterologist and chairman of the DHR Board of Directors; Patricia Burch, R.N., Director for Neonatology; and Dr. Carlos Mohamed, a gynecologist and oncologist.
••••••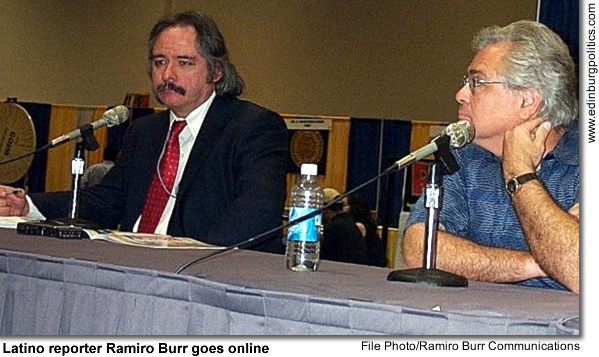 Award-winning reporter/blogger/columnist Ramiro Burr has left the San Antonio Express-News to launch his own company, Ramiro Burr Communications. Burr's move is the latest in a professional trajectory that includes stints as an entertainment writer, newspaper reporter, freelance writer, book author, and regionally syndicated columnist. Most recently, the alumni of the University of Texas at Austin was recognized as No. 1 blogger at Mysa.com. Burr says he is ready for the next level. "I will continue to write and blog about music. I think the community, especially the Latino community, is still underserved when it comes to news and information," he said. "I have always emphasized the need for all media to be well-balanced and fully represent their communities, including the Latino community. By being inclusive, we are all enriched." Burr,  left, is featured here with Nicolás Kanellos, Ph.D., director of Arte Público Press, at the 2004 Edward James Olmos Latino Book Festival in Houston.  See story later in this posting.
••••••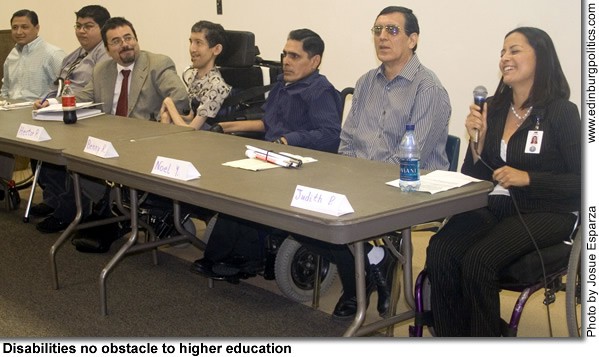 A recent seminar presented at The University of Texas-Pan American offered Rio Grande Valley disability service professionals as well as individuals with disabilities an opportunity to learn more about benefits and services available locally to enable individuals with disabilities to obtain a higher education. The "Disability Benefits and Return to Work" seminar, co-sponsored by the UTPA Department of Rehabilitation Addiction Studies Project, Workforce Solutions and the Texas Department of Assistive and Rehabilitative Services (DARS), covered Social Security Administration's (SSA) disability benefits and return to work considerations and incentives. It also held a session highlighting individuals with disabilities who had been on SSA disability benefits but have successfully transitioned to higher paying professional jobs by obtaining higher education. Featured participating in the Student Success panel at the seminar are, from left: Ernesto González, Eberto Soto Jr., Jorge Urrutia, Héctor Requenez, Benny Ramírez, Noel Ysasi, and Judith Pérez. See story later in this posting.
••••••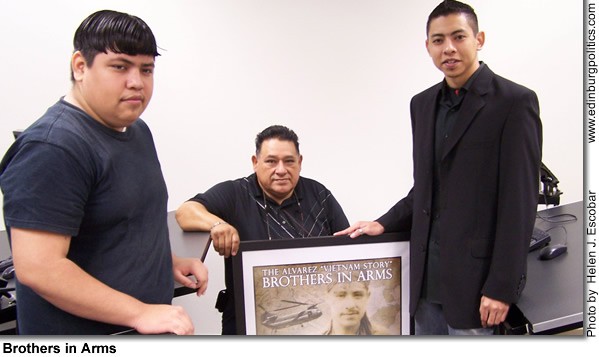 Joshua and Frank Jaramillo of Edinburg show off their movie poster design for an upcoming film, The Álvarez Vietnam Story: Brothers in Arms to Fernando Álvarez, also an Edinburg resident, at South Texas College's Technology Campus. The Jaramillo brothers, both PSJA High School graduates, are experiencing the glitz and glamour of Hollywood-style movie production first hand. They were chosen to design the movie poster and promotional binder for the film, which tells the true story of three Hispanic brothers, Emeterio III, Gilberto and Fernando Álvarez, originally from San Antonio, who risked their lives serving in Vietnam.  See story later in this posting.
••••••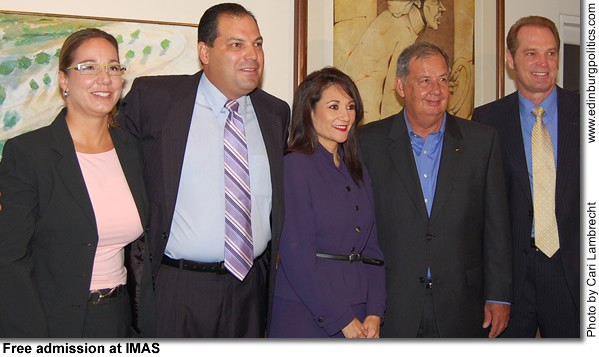 Rep. Verónica Gonzáles, D-McAllen, Hidalgo County Judge J.D. Salinas, III, and McAllen Mayor Richard Cortéz on Thursday, July 3, joined key International Museum of Art & Science (IMAS) leaders to announce the return of the free general admission program every Sunday for the next 12 months. The free general admission program, which will take place every Sunday from 3 p.m. to 5 p.m., began on Sunday, July 6. Complimentary general museum admission is available to all visitors, not just residents of McAllen. Gonzáles, along with Sen. Eddie Lucio, Jr., D-Brownsville, filed legislation in 2007 that was enacted into law, which allows the Hidalgo County Commissioners Court to appropriate county funding to IMAS. Featured at the press conference at IMAS from left: Serena Rosenkrantz, IMAS executive director; Salinas; Gonzáles; Cortéz; and Dr. John Gerling, president of the IMAS Board of Directors. Gonzáles, whose House 41 legislative district includes southwest Edinburg, is facing a reelection challenge in November from fellow McAllen lawyer Javier Villalobos, a Republican. See story on the Gonzáles/Lucio legislation later in this posting.
••••••