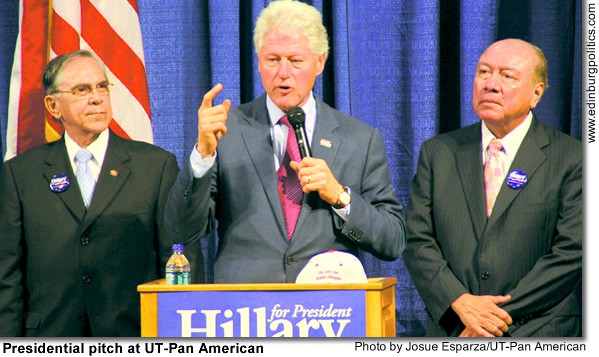 Former President Bill Clinton, flanked by Congressman Rubén Hinojosa, D-Mercedes (left) and Sen. Juan "Chuy" Hinojosa, D-McAllen (no relation), drives a point about his wife's (Sen. Hillary Clinton, D-New York) deep roots with Valley voters. The former president addressed hundreds of area residents during a campaign rally on Monday, March 3, in the University of Texas-Pan American Fieldhouse. He portrayed the Republican Party as the party of the wealthy and that President Bush is out-of-touch with average Americans. His wife, though, was nothing like the ruling class, he said. "You want a president…who every single day won't get carried away driving around in a bulletproof vehicle, flying around on Air Force One and being told you're the greatest thing since sliced bread," Clinton said. "All you are as president is the most fortunate hired hand on the face of the earth. She (Hillary) knows that." Sen. Clinton and Sen. Barack Obama, D-Illinois, are in a tight race to seek the Democratic Party's nomination for president later this summer. See story later in this posting.
••••••
Supporters of Sen. Barack Obama, including Edinburg school board member Robert Peña, Jr., seen here with the presidential candidate in Edinburg on February 22, remain confident about the Illinois Democrat's showing in Texas on Tuesday, March 4. According to the Obama campaign, their projections show that Obama will take the majority of party delegates in Texas, which are just as important as the popular vote, which was won by Sen. Hillary Clinton, D-New York. The Texans for Obama website on Thursday, March 6, stated that the organization "strategically focused our resources on building a massive grassroots operation that would win the caucuses overwhelmingly, and our gamble apparently has paid off. The current projections show us winning the caucuses 55 percent to 45 percent."
••••••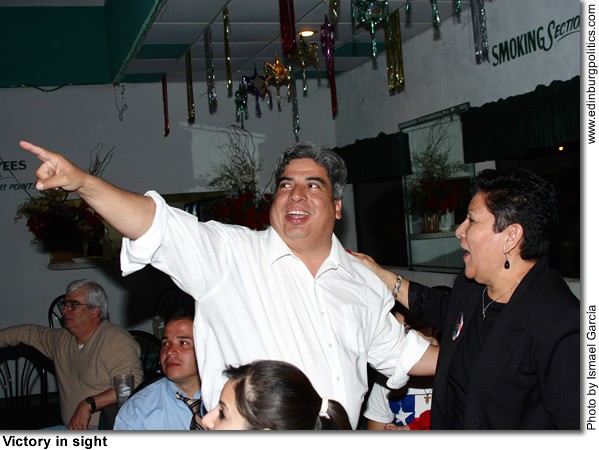 Rep. Aaron Peña, D-Edinburg, points with joy to a television monitor Tuesday night, March 4, that showed news accounts confirming his victory over Eddie Sáenz for a fourth two-year term as state representative for House District 40, which includes most of Edinburg. Peña and his many supporters were gathered at Treviño's Restaurant in north Edinburg for the victory party. According to unofficial totals posted Wednesday, March 5, by the Hidalgo County Elections Department, Peña received 9,839 votes compared with 8,761 votes for Sáenz – or 52.9 percent of the vote for Peña compared with 47.10 percent of the vote for Sáenz. There is no Republican opponent, so Peña's party primary victory sealed his reelection. See lead story later in this posting.
••••••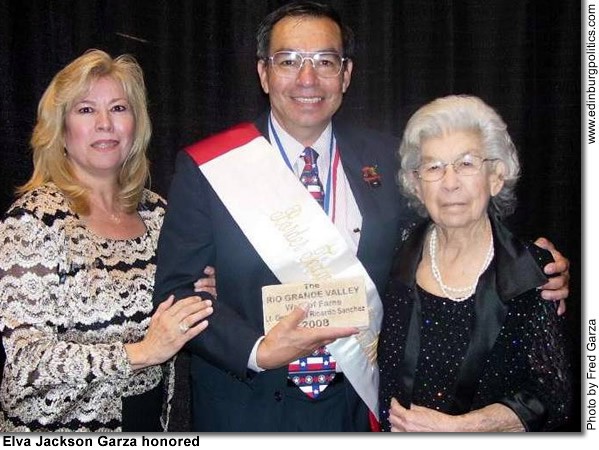 Elva Jackson Garza, an Edinburg community and business leader, was recently inducted into the Rio Grande Valley Walk of Fame in recognition of her achievements and major contributions to deep South Texas. Two highlights of her distinguished work on behalf of the region include her service as board member of the Edinburg Economic Development Corporation – the jobs-creation arm of t he Edinburg City Council – and her leadership as chairman of the Edinburg Chamber of Commerce. Jackson Garza, featured left, receives the Rio Grande Valley Walk of Fame commemorative award from Lieutenant General Ricardo S. Sánchez as her mother, María Sidia Gracia Jackson, proudly looks on. See story later in this posting.
••••••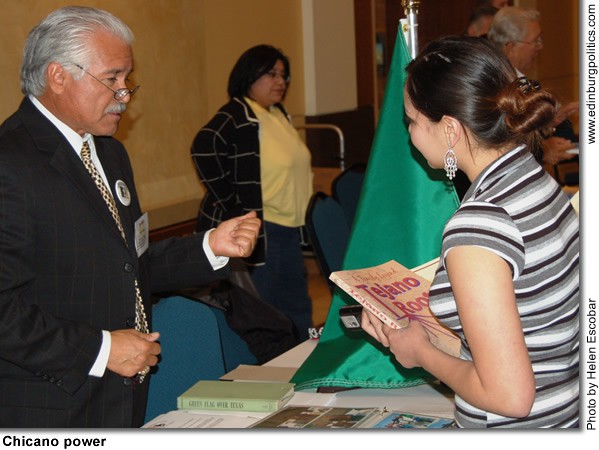 Author of Tejano Roots Dan Arellano meets with South Texas College student Jessica Mirelez during the NACCS Tejas Regional Conference Cultural Night recently held at the McAllen Convention Center. With more than 400 attendees from across the Rio Grande Valley, Texas and the nation, the event offered a forum for the open exchange of ideas about the status and future opportunities for Mexican-Americans, focusing sharply on the need for expanded Mexican-American history and education opportunities. "This event has been highly energizing," said María Ramírez, an instructor with Ohlone Community College out of California. "It has been terrific to connect with people from different generations. I know that younger Mexican-Americans will keep the missing chapters of our history alive and that is very exciting. I have been so impressed with the energy and interest in Mexican-American heritage and history from this community. It has been a remarkable experience." See story later in this posting.
•••••• (more…)