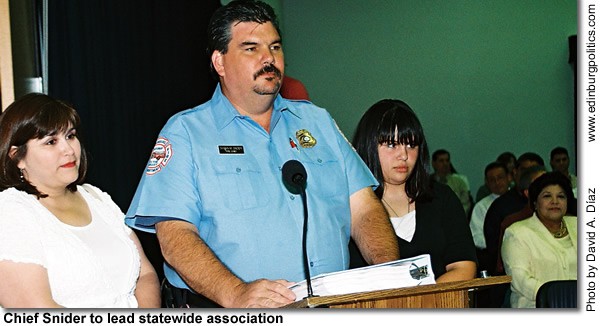 Edinburg Fire Chief Shawn Snider, featured here with his wife, the former Edna Casas, and their 13-year-old daughter, Sarah, on Tuesday, June 17, was honored by the Edinburg City Council for his recent selection as president of the State Firemen's and Fire Marshals Association of Texas. In the 132-year history of the group, only three other Valley residents – including two other fire chiefs from Edinburg – have ever held the top leadership position of the association. Snider, who was born in San Diego, California on July 10, 1964, and was raised by his grandparents in San Juan, has been Edinburg Fire Chief since 1991. He now resides in Edinburg. See story later in this posting.
••••••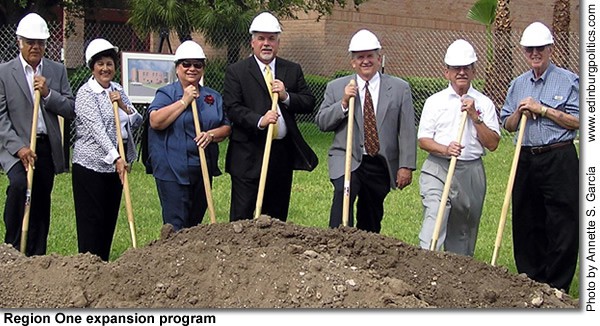 The Region One Education Service Center is one step closer to realizing a 38,171 square foot expansion to its Edinburg facility, located immediately west of the University of Texas-Pan American. The new construction, which officially began with a May 7 groundbreaking ceremony, will increase its size from 74,000 square feet to more than 112,000 square feet. The total project will take about 474 days, with a completion date in mid-August 2009. Featured in this portrait taken at the groundbreaking are, from left: Region One Board of Trustees members Abel Cavazos (Place 7-Willacy County); Alicia E. Requenez (Place 1-Hidalgo County); Dora Ruiz (Place 5-Cameron County); Jack Damron (executive director); Richard R. Cantú (Place 4-Hidalgo County); Dr. Manuel Gómez, Jr., (Place 6-Cameron County); and Noé R. Sánchez (Place 2-Jim Hogg, Starr, and Zapata Counties). See story later in this posting.
••••••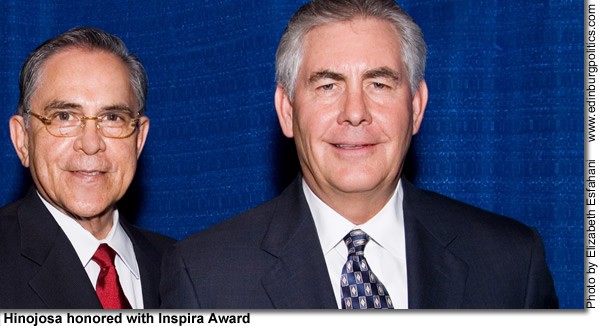 U. S. Representative Rubén Hinojosa, D-Mercedes, featured left, along with Rex Tillerson, the chairman and chief executive officer of Exxon, on Thursday, June 19, were chosen as the 2008 recipients of the Hispanic Heritage Foundation (HHF) Inspira Award. The annual award honors leadership in education and community service for Latinos and for inspiring a new generation of Hispanic leaders in the United States. Actor and CSI: Miami star Adam Rodríguez will be the third Inspira Award recipient and presented during the National Youth Awards Ceremony in Kansas City, Missouri on July 11. See story later in this posting.
••••••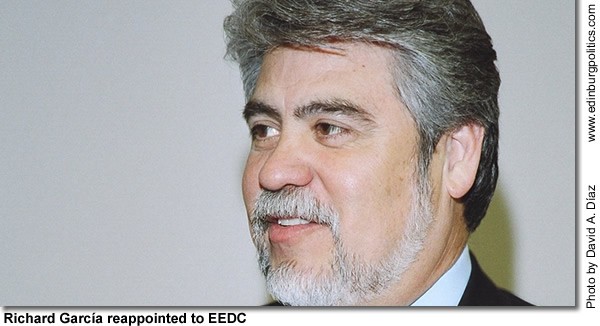 Former Mayor Richard García, feature here in a file photo, was reappointed by the Edinburg City Council to another two-year term on the board of directors for the Edinburg Economic Development Corporation, the jobs-creation arm of the Edinburg City Council. He currently serves as the president of the EEDC board of directors. Under García's leadership, as well as during the first and current administrations of Mayor Joe Ochoa, Edinburg has seen unprecedented economic development and growth in new construction, record-low unemployment rates, advances in higher education, and the development of a significant medical corridor that includes two comprehensive hospitals, a women's hospital, a children's hospital, two behavioral health care centers, a high-tech cancer treatment complex, and a University of Texas Regional Academic Health Center. "I've seen Richard García in action, and he's not doing just a good job, he's doing an excellent job in bringing commerce to this city," said Councilmember Alma Garza. "In my opinion, it is in the city's best interest to keep him in this position." See lead story in this posting.
•••••• (more…)