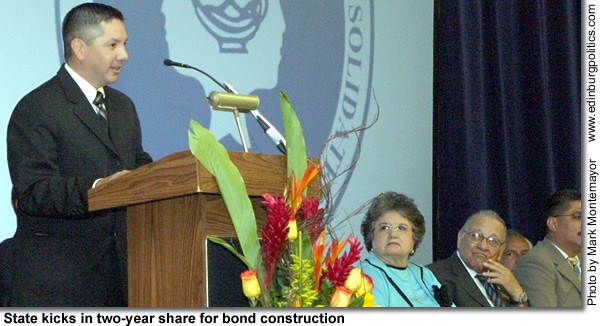 Omar Palacios, president of the Edinburg school board, addresses hundreds of faculty and staff during the Tuesday, August 19 General Assembly, outlining some of the accomplishments and goals for the largest school districts in South Texas. One of the major issues facing the school district is the detailed groundwork being done to implement the $112 million bond construction measure overwhelmingly approved by area voters last May.  In late August, the school district received news that the state will be sending almost $4 million as part of a long-range plan to eventually pay for more than 50 percent of the total bond construction debt. See related stories later in this posting.  Featured with Palacios at the General Assembly were, from left: Mario Salinas, Assistant Superintendent for District Administration; Palacios; trustee Carmen González; board secretary Ciro Treviño, and board vice president David Torres.
••••••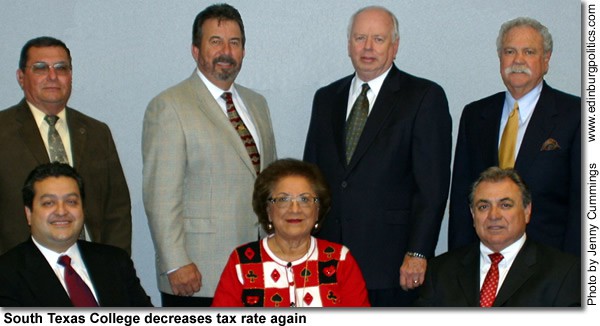 For the sixth consecutive year, South Texas College will not increase its property tax rate. In fact, STC's Board of Trustees voted at its August 21, 2008 meeting to slightly lower the college's rate to $0.1498 per $100 of assessed property valuation, a 2.73 percent decrease from last year's rate of $0.1540. "We recognize that many constituents in our districts are going through some economic struggles and so we felt it was important to look at ways to reduce the college's budget, while ensuring that we do not have to raise taxes or tuition," said Mike Allen, chair of STC's board of Trustees. "We worked closed with the college's administration, financial team, faculty and staff to make sure that every penny requested is tied to a student success initiative. We are very proud of all college employees for using restraint and keeping a keen eye on the bottom line – student access and success."  Featured in this portrait are, from left, sitting: Roy De León; Irene García; and Jesse Villarreal.  Standing, from left: Dr. Alejo Salinas, Jr.; Manuel Benavidez, Jr., Allen; and Gary Gurwitz.
••••••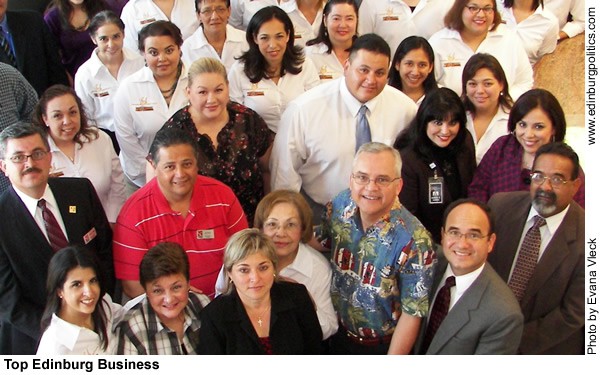 Byron Jay Lewis, (featured bottom row, third from right), president of Edwards Abstract and Title Co. is congratulated by community leaders and staff members for earning the Feature Business of the Month award from the Edinburg Chamber of Commerce. The local chamber's Feature Business of the Month is a program that recognizes local businesses and investors monthly for contributing financial resources, support of the Program of Work and participation in the many events offered throughout the year. "We are honored to receive this recognition from the board of directors, Chamber Champions and staff," said Lewis. "The chamber volunteers and staff, city leaders, business community and citizens of Edinburg have played a role in the continued success of Edwards Abstract and Title Co. and we want to say 'thank you'. We look forward to serving you for years to come." Included in this portrait, taken at the company's corporate headquarters in Edinburg, are Letty González, (bottom row, fifth from right), the president of the Edinburg Chamber of Commerce, and Lee Castro, (bottom row, second from right), the chairman-elect of the local chamber.  See related story later in this posting.
•••••• (more…)