Dr. Glenn A. Martínez, Ph.D., an associate professor of Spanish linguistics and chair of the Department of Modern Languages and Literature at the University of Texas-Pan American, on Tuesday, July 17, was appointed by the Edinburg City Council to the board of directors of the Edinburg Economic Development Corporation. "Over the next few years, I would like to see the EEDC expand its efforts in attracting diverse business and industry to Edinburg and make our city full participants in the knowledge economy of the 21st century," Martínez said. "UTPA, my alma mater and my current place of employment, gives Edinburg a competitive edge over other cities in the region to attract industries with large research enterprises. As a member of the board, I will work to ensure that UTPA and its vast knowledge resources become critical incentives to attract high-paying jobs to our city." See story later in this posting.
••••••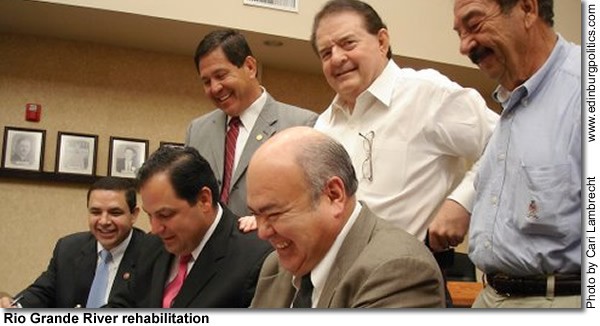 While Mother Nature dropped up to six inches of rain in parts of the Upper Valley earlier that morning and tore rooftops from at least three McAllen businesses, Hidalgo County Judge J.D. Salinas III and U.S. International Boundary and Water Commissioner Carlos Marín on Monday, July 16, executed the long-anticipated memorandum of understanding that will allow for the rehabilitation of several miles of federally-owned river levee. Featured, from left, seated, are: Congressman Henry Cuellar, D-Laredo/McAllen; Salinas; and Marin. Standing, from left, are: Rep. Ismael "Kino" Flores, D-Palmview; Mission Mayor Beto Salinas; and Hidalgo County Commissioner Hector "Tito" Palacios, See story later in this posting.
••••••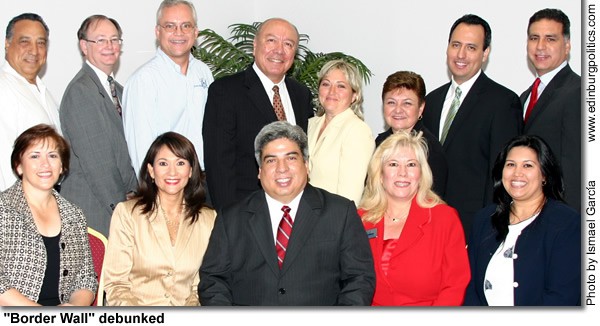 Three South Texas legislators – Sen. Juan "Chuy" Hinojosa, D-McAllen, Rep. Verónica Gonzáles, D-McAllen, and Rep. Aaron Peña, D-Edinburg – say that federal money to build a controversial "border wall" along 153 miles of the international border with Mexico could be better spent on more pressing national security needs, including helping Texas fight illegal drug trafficking that spells heartache, ruin, and death for countless Americans. Their comments came on Thursday, July 19, during a legislative luncheon in Edinburg. Mayor Pro Tem Alma Garza, Gonzáles and Peña are featured, sitting, first, second and third from left, respectively, while Councilmember Noe Garza (no relation to Alma) is shown standing, first from left, while Hinojosa is shown standing, fourth from left. See first story in this posting.