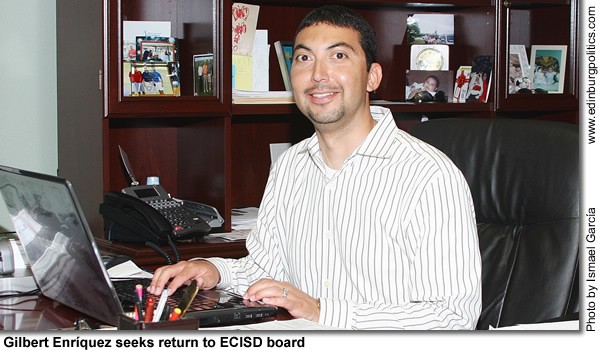 Gilbert Enríquez, a former Edinburg school board president, also serves as executive vice-president of Enríquez Enterprises, Inc., one of the more renowned construction firms in the region. He said he is running for election to the school board on November 4 in order to continue helping the community which has helped shape his life. "I am here to help, to offer my leadership, skills, experience to everyone, to help everybody prosper, not one individual," Mr. Enríquez pledged. "I never had any kind of ambition to be in politics or to be an elected official, but I felt I needed to give back to the district that provided me the education that got me to where I am today."
By DAVID A. DÍAZ
Gilbert Enríquez, a former Edinburg school board president and executive vice-president of a renowned local construction company, on Thursday, September 11, officially launched an election campaign that he hopes will allow him to continue his public service – once again –  on the seven-member ECISD board of trustees.
The election is on Tuesday, November 4.
When he first was elected in May 2000, he was the youngest trustee, at age 26, to have ever served on the local school board. His tenure was from May 2000 to May 2006, and he did not seek reelection after his final term to focus on his family, and professional and business ventures.
Addressing several hundred supporters gathered under a large tent outside Enríquez Enterprises, Inc., located at 3025 South Sugar Road, he outlined his accomplishments as a school board trustee, a résumé which included approving and overseeing the design and construction of tens of millions of dollars in new, badly-needed campuses, as well as renovating numerous other facilities.
Noting that a large majority of local voters last May approved a significant bond construction measure to build more schools for the rapidly-growing district, Mr. Enríquez said he has the professional expertise and track record to again help the school board make the right decisions on how to best implement the latest building projects.
"My forte is in construction. I have been in construction for 12 years. My degree is in accounting," he said.  "The construction portion of this $112 million bond issue is very instrumental. We need schools to be built for our students. But it is one thing  to pass a bond issue, it is another thing to implement that bond issue, and make sure we don't overspend, don't overpay people for the work that is being done."
Under the initiative approved by ECISD voters last spring, the local school district is authorized to: build four elementary schools; build two middle schools; convert Harwell Middle School into a fourth high school; add one multi-purpose fine arts center to each of the three existing high schools; construct additions/renovations at Brewster School; and buy land for the new schools.
Fiscal responsibilities
He said the school board could save millions of dollars if they choose to manage the bond construction projects with currently employed staff, led by the school board and top administrators.
"They have on the agenda to approve a project management team," Mr. Enríquez noted. "We have, in my opinion, a very capable staff to implement that bond issue, if they have a plan, if they have leadership, if they have direction. I don't believe the taxpayers of Edinburg deserve to have to pay $3 million for management of this bond issue. We pay our administrative staff, which handles construction in the school district, more than $350,000 a year in salaries. You look at $350,000 versus $3 million, and I know the taxpayers deserve to pay $350,000, not $3 million."
On Monday, September 15, the Edinburg school board unanimously voted to begin negotiations with Broaddus and Associates, an Austin-based firm with an office in McAllen, to serve as the project manager for the $112 million school construction initiative.
However, Mr. Enríquez expressed confidence that school district could manage the bond program with seven professionals currently on ECISD's payroll, including a knowledgeable and skilled Director of Operations, District Architect, District Engineer, and Facilities Project Manager.
"You will hear that our administration and staff is not capable of (handling) a $112 million bond issue. I say to them the only reason it is $112 million is because the cost of construction, materials, gasoline, have risen," he said.  "You are still only building three elementary schools, one middle school.  The capacity, the size of the facilities are not different (from previous bond construction measures).  We have the staff that is capable, we just need the leadership to guide them. I believe that with my professional experiences, we can do that."
In addition to his top management role at Enríquez Enterprises, Inc., where he also holds the title of chief financial officer, Mr. Enríquez is a president of a local Hungry Howie's Pizza franchise.  He is a 1992 graduate of Edinburg High School, and earned a Bachelor of Business Administration in accounting from the University of Texas-Pan American in 1996.
Successfully oversaw $60 million bond issue
Mr. Enríquez and his fellow school board trustees during his tenure – which included a stretch in which he was president – had their own campus construction initiatives.
"We had just passed a $60 million bond issue. There was not enough money to do the things we needed to do, so we made a concerted effort to increase that amount by adding $10 million from our local funds" he recalled. "A lot of our schools were being neglected, not maintained. As a board, we decided to pump in $10 million in renovations to all the existing campuses that had not been touched."
Mr. Enríquez said that improving schools that had been neglected before he was first elected was a top priority for him.
"I felt that needed to be done, even though it was going to cut into our fund balance," he said of the school district's savings account. "We said we were going to do it, and make it up from somewhere, and we did it while maintaining a 10 percent (surplus) in our operating budget, which is recommended by the Texas Education Agency."
According to Suzanne Marchman, who works with the TEA's public information division,  the state agency – whose mission is to provide leadership, guidance, and resources to help schools meet the educational needs of all students – recommends that school districts maintain a one-month surplus in its operating budget.
Other major achievements
He added that he and his colleagues on the board continued to improve facility conditions throughout the district "every single year while I was there, we operated with a balanced budget, not from a deficit."
Some of the other major ECISD projects initiated during his time on the board included:
The design and construction of the $32.5 million Edinburg High School;
The renovation of the former Edinburg North Junior High School into the Administration Building;
The design and construction of Ávila, Esparza, and Magee elementary schools;
The approval of the Facility Needs Assessment plan for five and ten years growth;
The establishment of an after-school program with the Edinburg Boys and Girls Club to help students whose parents couldn't leave their jobs to pick up their children – or who wound up staying at home alone until their parents returned from work. Instead of being left on their own, those students were able to  participate in educational and other meaningful programs offered by the local Boys and Girls Club; and
The implementation of the Teacher Laptop Program that allows teachers do their lesson plans at home on computers provided by the school district, as well as communicate with parents via the Internet, rather than keep those teachers after school to do their lesson plans.
"Indelible mark on his community"
Mr. Enríquez said he is committed to treating all school district employees, as well as all constituents, with justice and equality.
"I'm the type of person who is going to tell you what I feel," he explained. "What you see is what you get – you are going to get honesty, you are going to get integrity. I am going to help everyone, from the bottom up, no matter where you come from."
In the spring of 2005, Mr. Enríquez was honored by the Texas Legislature for making "an indelible mark on his community with his generosity and public service."
While a school board member – Mr. Enríquez chose not to run for reelection in 2006 – the hometown product improved the lives of countless children through improvements to the district," according to Rep. Verónica Gonzáles, D-McAllen, the author of House Resolution 228.
The area legislator also credited  Mr. Enríquez for "working for high-quality educational opportunities for area students," including volunteering his time with numerous organizations, such as the Edinburg Boys and Girls Club, the Edinburg Chamber of Commerce, the Edinburg Parks  and Recreation Department, and the Valley Alliance of Mentors for Opportunities and  Scholarships (VAMOS)."
The two term state lawmaker, in her resolution honoring him, noted that "Gilbert Enríquez  has made outstanding contributions to Edinburg; his devotion to his city has earned him the respect of his neighbors, and he is most deserving of special recognition."
"Help everybody prosper, not one individual"
Mr. Enríquez, who along with his wife, the former Diana Vega, a classroom teacher who is also from Edinburg, have a young daughter and an infant son. He said he is running for office in order to continue giving back to the community which has helped shape his life.
"I am here to help, to offer my leadership, skills, experience to everyone, to help everybody prosper, not one individual," he said.
The son of Lupe and Guadalupe Enríquez, he was raised in a strong, loving family that featured his parents and four brothers and four sisters.
Now, as he and his wife raise their family in the three-time All-America City, they want to make sure all Edinburg children have the same educational advantages afforded any Texas student.
"I have my six-year old daughter who just entered the first grade, and I want her to have the same opportunities that other kids had in our district before her," Mr. Enríquez said. "I never had any kind of ambition to be in politics or to be an elected official, but I felt I need to give back to the district that provided me the education that got me to where I am today."
Paid Political Announcement by the Candidate.