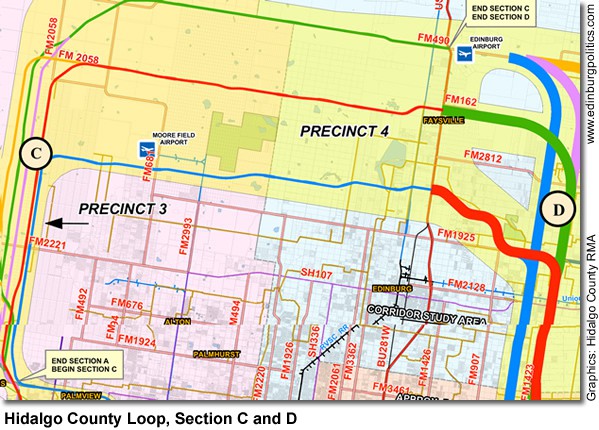 A high-resolution map of the proposed routes for the $650 million Hidalgo County Loop, including the northern loop that would impact Edinburg featured in this graphics, is now available on the Internet, either by clicking on the ad icon posted on the left side of this page, or by logging on to the web site of the Hidalgo County Regional Mobility Authority.  Also, public hearing on the proposed routes have been scheduled for late July, including two that will focus on the northern loop near Edinburg, know as Section C and Section D. Section C proposes to connect U.S. Expressway 83 near Peñitas north to U.S. Highway 281 north of Edinburg. Section D of the planned loop – which proposes to connect from U.S. Expressway 83 between Alamo and Donna to U.S. Highway 281 near Edinburg. Section C will be discussed on Wednesday, July 23, from 5:30 p.m. to 7:30 p.m. at the John F. Kennedy Elementary Cafeteria, 1801 Diamond Avenue in Peñitas. On Tuesday, July 29, Section D will be reviewed in a public hearing to take place at the Edinburg North High School Library, 3101 N. Closner, from 5:30 p.m. to 7:30 p.m.  The Hidalgo County Loop is a planned $650 million to $750 million roadway system that will be designed to direct heavy commercial cargo trucks away from population centers as they transport their goods between Texas and Mexico. Persons interested in attending any of the five scheduled public hearings in Hidalgo (July 22), Peñitas (July 23), Donna (July 24), Edinburg (July 29), or McAllen (July 30) may contact the Hidalgo County Regional Mobility Authority at 956/565-9813.
••••••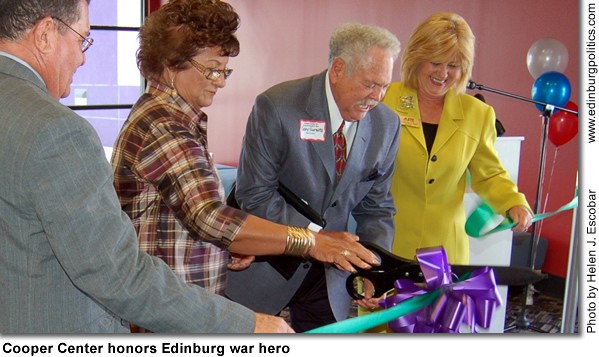 South Texas College on Tuesday, June 24, honored Edinburg native and Vietnam veteran Edward "Ned" Pillow Cooper, dedicating the college's new 27,825 square foot Cooper Center for Communication Arts in his name and memory. Participating in the ribbon-cutting ceremony at the Pecan Main Campus in McAllen included, from left: Dr. Alejo Salinas Jr. and Irene Garcia, members of STC's Board of Trustees; Gary Gurwitz, vice-chair of STC's Board of Trustees; and Dr. Shirley A. Reed, STC president. "Edward 'Ned' Cooper was born in Edinburg, attended the Pharr-San Juan-Alamo schools and eventually lived in McAllen.  He was well liked and respected by his classmates, friends and the community. As a Navy navigator, he gave his absolute best for his country," said Salinas. "Mrs.  Edwynne Cooper, his mother, requested that 'Ned' be honored in some fashion for giving his life to his country during the Vietnam War.  The Board of Trustees of STC chose to honor both 'Ned' and his mother by naming the state of art building for the performing arts in their honor."  Additional details and photographs of the new facility are available through the STC website by logging on to: http://www.southtexascollege.edu/coopercenter/gallery/photos/building/index.html. See story later in this posting.
••••••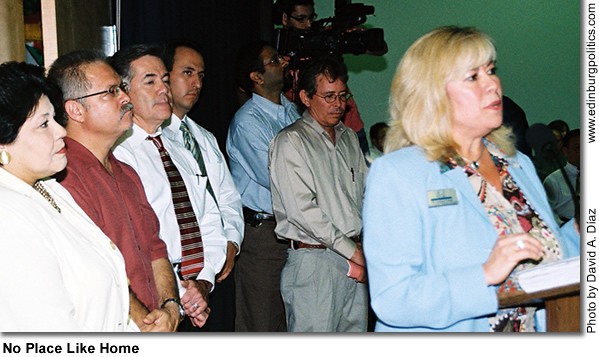 Some of the members of the Edinburg Home Buyers Expo Committee, recently formed to help area residents overcome obstacles faced in trying to buy a new home, listened to Elva Jackson-Garza, featured at the podium addressing the Edinburg City Council on Tuesday, June 17. The citizens volunteer group announced it will sponsor the event on Saturday, July 26 at Edinburg North High School from 9:00 a.m. to 1:00 p.m.  The sessions will allow any resident, at no charge, to learn about the home buying process, ranging from securing financing to understanding real estate terminology. From left are: Edna Peña with Horizon Properties; Manuel Cantú, Jr. with Rio Valley Realty; Elias Longoria, Jr., a member of the board of directors for the Edinburg Economic Development Corporation; Ramiro Garza, Jr., EEDC executive director;  Marty Martin, Rio Valley Realty; and Sam Saxena, Rapid Mortage. There are almost 30 real estate industry professionals involved in the planning of the Edinburg Home Buyers Expo. See story later in this posting.
••••••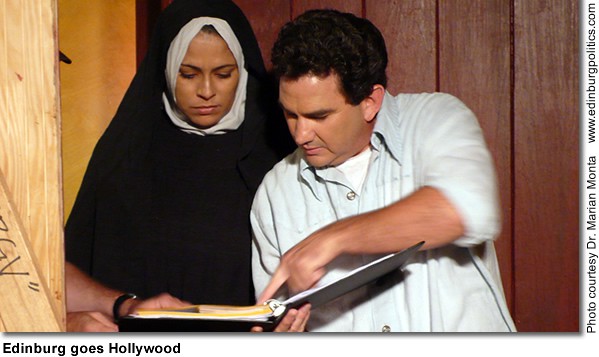 Screen Actors Guild performers Estephania  LeBaron and Valente Rodríguez, most famous for starring on ABC's The George López Show, recently rehearsed a scene for an upcoming movie, The Red Queen, which is being filmed by University Theatre Productions at the University of Texas-Pan American. The movie, an action-thriller that focuses on a young woman's search for the true identity of her deceased mother, is scheduled to complete location shooting the first week in July, with hopes that it can compete in major film festivals later this fall. On Tuesday, June 24, the Edinburg Economic Development Corporation approved a $10,000 grant to help in the production of the film, which will include scenes that feature Edinburg, and also expose UT-Pan American on a national and level.  See lead story in this posting.
•••••• (more…)