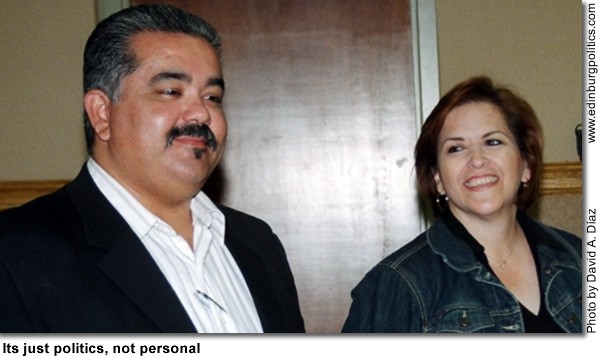 Mayor Pro Tem Alma Garza and Johnny Rodríguez, her opponent in the Saturday, May 10 city council elections, maintained a positive, friendly tone on Wednesday, March 12, when both candidates showed up late that morning at Edinburg City Hall to see whose name will be placed first on the ballot for their seat. Staff members for the City Secretary drew the names with the candidates looking on as witnesses. Garza will have her name first on the ballot. In the second race, challenger Leonel Guerrero's name will be first on the ballot in his race against Councilmember Gene Espinoza. Guerrero also attended the drawing, which was open to the public. Espinoza was unable to attend due to other important business. Garza and Rodríguez are vying for the Place 4 city council post, while Guerrero and Espinoza are seeking the Place 3 seat.
••••••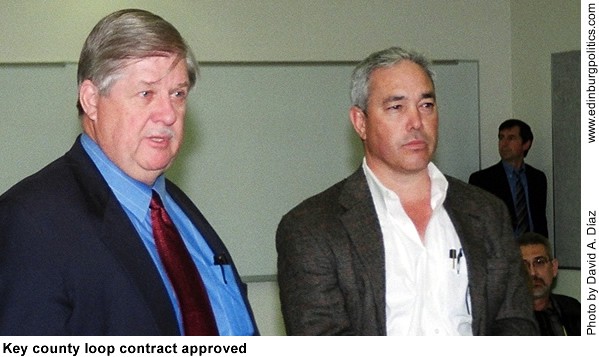 Gerry Pate, standing left, managing general partner with Hidalgo County Road Builders, a private coalition, has negotiated a $46.3 million contract with the Hidalgo County Regional Mobility Authority – a governmental entity – to provide pre-construction services in preparation for the building of major portions of the $645 million Hidalgo County Loop, which will be designed to shuttle heavy commercial truck traffic coming to and from the region. Services included in the agreement include advance planning, environmental clearance, preliminary and final design, right-of-way acquisition services. The contract was approved on Thursday, February 28. HCRB is contracted to complete the pre-construction services within 18 months and deliver to the RMA board a guaranteed maximum price for the completion, including construction of a major portion of the loop project by 2013. The agreement is expected to be executed within the next week. Also featured with Pate is Jacinto Garza, the project engineer. Both men were addressing the RMA board during the organization's meeting in Weslaco on Thursday, February 28. See lead story later in this posting.
••••••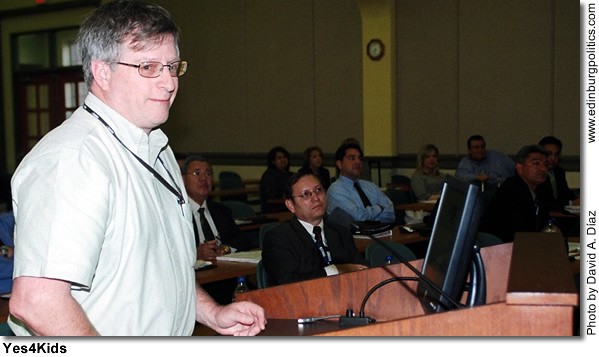 Bryant Morrison, a faculty member at the University of Texas-Pan American, addressed the Edinburg School Board on Tuesday, March 11, to announce the formation of Yes4Kids, a political action committee that will raise money to help pass a two propositions relating to the construction and renovation of schools in the district. The election will be held on Saturday, March 10. were among some of the Yes4Kids members who made their pitch before the Edinburg school board during the trustees' regularly bimonthly meeting on Tuesday, March 11. Also at the meeting were opponents of the bond election, who are concerned that, with the U.S. economy slowing down – possibly already in an economic recession – now is not the time for local taxpayers to go into long-term debt by passing bond issues. But Morrison and other bond proposals believe otherwise. "We don't need their money, we need their support and we need the community discussing the pros and cons of the bond. The more people talk, the more they will see that there is really no debate here," Morrison said. "When they get the information, they will see we will be saving money, we will get a bigger bang for the bank, and we will relieve the district from some of the bond debt they already have." See story later in this posting.
••••••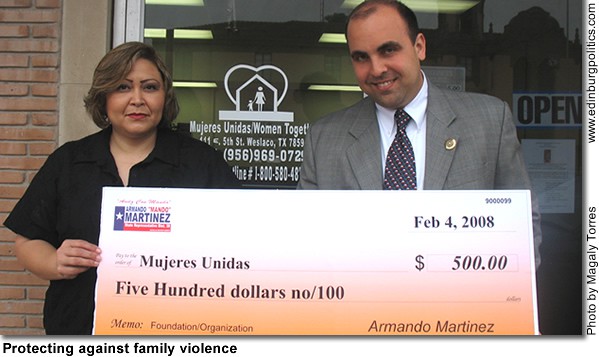 Rep. Armando "Mando" Martínez, D-Weslaco, recently presented a $500 check to Women Together/Mujeres Unidas, a local charity organization whose vision is to end violence so that individuals may live without fear, abuse or oppression. The mission of Women Together/Mujeres Unidas is to provide shelter and support services to victims of domestic violence and sexual assault and their families. Martínez organized a charity event in November 2007 to benefit various charity organizations in the Rio Grande Valley. Among those charities that benefited from the event was Women Together/Mujeres Unidas. Since 1978 Women Together/Mujeres Unidas has worked to end domestic violence and sexual assault in Hidalgo and Starr Counties. Women Together/Mujeres Unidas have three locations, two in McAllen and one in Weslaco. They provide education, awareness and prevention programs to the communities. Featured with the Mid-Valley lawmaker is Marlene Ramírez, Outreach Advocate for Women Together/Mujeres Unidas in front of Martínez' district office in Weslaco.
••••••
Hidalgo County Road Builders negotiates $46.3 million contract to work on Hidalgo County Loop project for local Regional Mobility Authority
By JIM MOORE
On Thursday, February 28, the Hidalgo County Regional Mobility Authority (HCRMA) approved an agreement with Hidalgo County Road Builders (HCRB) to allow the Hidalgo Loop Project to take one more step forward to reality.
HCRB, a subsidiary of Pate Transportation Partners (PTP), is the private sector road developer selected by the HCRMA in August to develop the loop project. HCRMA Board Chairman Dennis Burleson of Mission said terms were reached with Hidalgo County Road Builders for pre-construction services of $46.3 million.
The local RMA identified the Hidalgo County Loop as it top priority project because of its importance to the economic growth of the entire county. Hidalgo County is the sixth largest in Texas and one of the fastest-growing metropolitan areas in the U.S. The loop will be designed to move truck traffic quickly from the border and contribute to the safety of the urban core by helping relocate heavy truck traffic to the county's perimeter.
"Our seven-member RMA board agreed with the 'local control' model the Road Builders brought to us," said Burleson, who negotiated the agreement for HCRMA "In addition to securing services and prices, we are also using the Tax Reinvestment Zone proposed by HCRB as a central source of funding. We will have control of our transportation destiny without having to depend on the state."
The agreement is a contract to provide pre-construction services in preparation for the building of major portions of the Hidalgo County Loop. Services included in the agreement include advance planning, environmental clearance, preliminary and final design, right-of-way acquisition services.
"The leadership of Hidalgo County should get full credit for uniting on behalf of this type of new and innovative program," said Gerry Pate, Managing General Partner of HCRB.
"New ideas have to be used to help communities across Texas establish local funding solutions because the state has made it clear it just doesn't have the money any more," Pate said. "We've come up with an approach that gives local governments more control in the building and funding process and also allows them to retain ownership of whatever road is constructed."
"Pate Transportation Partners has done similar types of big road projects with counties elsewhere in the state, but this is the first of these agreements with a regional mobility authority," added Burleson. "And the quality of the local partners that PTP recruited to create Hidalgo County Road Builders also impressed our board. Local civil engineers L&G Engineering and J.E. Sáenz and Associates are high-quality engineering firms and we are fortunate to have them in Hidalgo County."
HCRB is contracted to complete the pre-construction services within 18 months and deliver to the RMA board a guaranteed maximum price for the completion, including construction of a major portion of the loop project by 2013. The agreement is expected to be executed within the next week.
••••••
Edinburg school board agrees to pay unspecified fee to Hidalgo County to conduct trustees' election
By DAVID A. DÍAZ
Soon after an independent auditor recommended ways for the Edinburg school district to improve how it handles the public's money, the local school board, on a 4-3 vote, recently agreed to pay Hidalgo County an unspecified fee to conduct the school board election in November.
The Edinburg school board approved the contract at its Tuesday, February 26 public meeting.
The issue of fiscal accountability also comes in advance of another upcoming election – the $112 million school construction bond issue facing Edinburg school district voters on May 10.
The agreement for the November school board election would be between the Edinburg school district and the Hidalgo County Elections Administrator.
The tentative contract for the November school board election must still be approved by the Hidalgo County Commissioners Court.
Although the duties required of the county are clear-cut in the proposed agreement, the financial obligations of the school district are vague or confusing, essentially leaving the school district at the mercy of the county government if a dispute arises over the school district's monetary obligations.
In ratifying their end of the deal, the majority of the school board approved the measure without even receiving a written estimate from the county or top school district administrators of the probable cost to the school district.
Although the agenda packet for the school board members stated there was indeed a written cost estimate available for public review, no such document was provided, either to the board members or on the school district's website that is available to the public.
(The agenda packets submitted to the school board for all of their meetings are available online at:
http://www.ecisd.us/users/ecisd/index.htm – then click "Boardbook".)
Voting for the contract were board president Carmen González and board secretary Ciro Treviño, whose seats are up for election in November.
Both veteran political leaders are expected to run for reelection.
Trustees David Torres and Omar Palacios also voted for the contract with the county.
Trustees Jaime Chavana, Greg García, Jr., and Robert Peña, Jr., voted against the contract.
The key financial promises made by the school district, without knowing the costs, involve several monetary commitments to the county.
The language in the agreement, where taken directly from the proposed contract, is in quotation marks.
• "Costs of services will be prorated for ballots based on the district's precincts voting."
• "The school district will reimburse 50 percent of the ballot printing costs."
• "Costs of labor and elections supplies will be split 50/50 with the county or other calculated rate if additional jurisdictions participate in the district area of the county."
• "The district will pay $50 of programming fees."
• "The school district will pay the county an administrative fee of the entire cost of the election as described in the" key financial promises.
Eight other area school districts also will be contracting with the county to hold their school board elections in November.
The agreement between the Edinburg school district and with the county follows a recent audit, released during a February 12 school board meeting.
CPA and Cameron County Judge Carlos Cascos, who helped spearhead the audit, which is required by state law, called for better documentation of the school district's accounting practices.
Cascos is a member of Pattillo, Brown & Hill, L.L.P., a certified public accounting firm based in Brownsville, which prepared the audit and suggestions.
Cascos' recommendations are designed to help keep and improve public confidence in the day-to-day financial operations of the school district.
In all, 18 recommendations to improved accounting practices and accountability by the school district were made in the 72-page Annual Financial Report received by the school board during that public session.
The Annual Financial Report covered the 12-month period that ended on August 31, 2007.
High voter turnout anticipated
The school board election will be be on the same ballot that will feature the race for U.S. president and U.S. Senate, as well as several high-profile statewide elections, including the historic bid by Edinburg resident and 13th Court Appeals Court Justice Linda Reyna Yañez for Texas Supreme Court, Place 8, against Republican incumbent Texas Supreme Court Justice Phil Johnson.
In addition, thousands of school district voters will be showing up to cast their ballots in the race between Rep. Verónica Gonzáles, D-McAllen, and Javier Villalobos, her Republican opponent.
Another hometown product – 449th District Court Judge Dan Ríos will be on the ballot against Democratic nominee Jesse Contreras of Mercedes.
Given the record turnout of voters in Edinburg and Hidalgo County on March 4 that was directly attributed to the Democratic Party presidential primary, the November presidential election could also set a voter turnout record – along with increased costs for conducting that general election.
Underlying political drama
Having the county perform all duties relating the holding school board elections is designed to "provide a convenient, simple, and cost-saving election" to Edinburg school district constituents, Gilberto Garza, Jr., the school district superintendent, explained in his memorandum to board members on their agenda packet.
But government is never that simple, especially with the political drama that almost always surrounds it.
The contract, which is allowed by Section 271.002(a) of the Texas Election Code, is the latest development in the ongoing political battle within a divided Edinburg school board regarding whether the local politicians should have increased the length of their terms to four years from three years, and switched to date of the board elections to November from May.
Those two significant changes to the terms of office and month of the election were approved, also on a 4-3 vote, on Tuesday, December 11.
Trustees Chavana, García and Peña cast the opposing votes to the changes affecting the board members' terms and election dates.
Increasing the terms of office and changing the month of the election were required by a state law passed last spring, according to Jacques Treviño, the school district's attorney, who is not related to Ciro Treviño.
The four trustees who voted for those two major election-related changes – González, Treviño, Torres and Palacios – have taken the position that whether or not they agree with the state law, they have no choice but to follow it.
In addition, the board majority noted, the state law required the school board to make those two changes by December 31, 2007.
Chavana, García and Peña contend the state law is permissive, not mandatory, and they point out there is no financial or legal penalty if the school board simply ignored those major changes. The bottom line, they claim, is any school board in Texas that approves those changes is simply trying to grab more political power without the consent of the people.
Dozens of school board in Texas, including several in the Valley, increased their terms of office and switched their elections to November from May.
The U.S. Department of Justice, which must approve any changes to any elections in Texas, is currently reviewing the request from the divided Edinburg school board for the changes in the length of the terms and the month of the board election.
••••••
"Yes4Kids" PAC in Edinburg hopes to raise $20,000 to support $112 million bond election
By DAVID A. DÍAZ
A group of about 25 area residents, calling themselves "Yes4Kids", hopes to raise about $20,000 in the coming weeks in order to rally support for two bond issues they believe will help relieve student overcrowding in the rapidly-growing Edinburg school district, keep the school property tax rate equal or below last year's rate, take advantage of state matching funds, and provide a better quality-of-learning environment.
Yes4Kids is a PAC – a political action committee – which as been organized to raise money to influence the passage of two bond issues that will face area voters on Saturday, May 10.
The bond election issues involve the following measures:
Proposition 1 includes building four (4) elementary schools, two (2) middle schools; converting Harwell Middle School into a fourth high school; three (3) multi-purpose fine arts centers at each of the existing high schools; Brewster School addition/renovations, and land acquisition for a total of $111,920,000.
Proposition II includes $37,675,000 of 1998 Lease Purchase Bonds to be converted into Series 2008 voter authorized IFA supported bonds.
IFA means Instructional Facilities Allotment (IFA), which is a state fund available to help qualified school districts such as Edinburg receive help in paying for construction of new campuses.
IFA is distributed through grants, most of which go to districts with low property wealth.
Many, but not all of the PAC members, were part of a Citizens' Facilities Committee that was appointed by the Edinburg school board in August 2007. The role of the facilities committee was to evaluate if, and where, new campuses were needed, according to superintendent Gilbert Garza, Jr.
After numerous meetings, which included campus visitations, the committee presented their findings and recommendations to trustees at a board workshop held on February 6, 2008. The board voted to place the bond issues on the May 10 ballot.
As part of their fledgling political campaign, members of the political action committee on Tuesday, March 11 announced the launching of an Internet web site – http://www.edinburgyes4kids.com.
The May 10 election which involves the two propositions in many cases will be on the same ballot as the upcoming Edinburg City Council races.
However, school district voters who live outside the city limits will not be able to vote on the Edinburg City Council races since they are not residents of the city.
According to http://www.edinburgyes4kids.com, the local school district's needs are great. The pro-bonds advocates note that:
• The Edinburg school district currently is using 179 portable buildings;
• The student to teacher ratio is over the state limit;
• There are no plans to build more school facilities;
• A needs assessment study showed that ECISD needed six new elementary, two new middle, and one new high school; and
• Renovations are required at the current three high schools.
Francisco J. Guajardo and Bryant Morrison, both faculty members at the University of Texas-Pan American, were among some of the Yes4Kids members who made their pitch before the Edinburg school board during the trustees' regularly bimonthly meeting on Tuesday, March 11.
Their remarks, which came during the public comment forum during the board session, were countered by several other residents who also addressed the trustees on the upcoming bond election.
Among the concerns raised by opponents of the bond election, with the U.S. economy slowing down – possibly already in an economic recession – now is not the time for local taxpayers to go into long-term debt by passing bond issues.
Also, critics assert, aspects of Proposition 1 that would include about $20 million to add multi-purpose fine arts facilities at the district's three high schools don't focus on academics. Yes4Kids leaders dispute that belief, pointing out that the fine arts facilities would be used for many academic purposes, and enhancing fine arts in the school district would build "the creative infrastructure" that is lacking for thousands of students.
Winning the hearts and minds of area voters is a fight Yes4Kids readily accepts, and they believe community leaders will respond positively.
"We are appealing to people who have a vested interest in the economic well-being of this community, and to people who will lend us their own credibility, their good name, as we develop the broader strategy to advocate the bond issue," said Guajardo.
Morrison, who along with Guajardo, is the co-chairman of the effort, said generating public discussion on the bond election will be critical to their goal.
"We don't need their money, we need their support and we need the community discussing the pros and cons of the bond. The more people talk, the more they will see that there is really no debate here," Morrison said. "When they get the information, they will see we will be saving money, we will get a bigger bang for the bank, and we will relieve the district from some of the bond debt they already have."
The two men were joined at the March 11 board meeting by other ECISD residents, including Roel Zamora, and educator and retired administrator who is currently a teacher in the La Joya school district; Derek Moon with Rocksteady Productions of Houston, which has a satellite branch in Edinburg; Frank Vela, also with Rocksteady Productions; and Ludi Leal, an educational diagnostician who works with the PSJA school district.
Yes4Kids leaders said they plan to address the Edinburg City Council during the public forum segment of their meeting on Tuesday, March 18, as well as meet with various community groups during the next few weeks as part of their campaign.
••••••
Rep. Gonzáles says diabetes medical bills, lost productivity in Valley surpassed $1 billion in 2006
By RICARDO LÓPEZ-GUERRA
According to recently released reports by the American Diabetes Association (ADA), diabetes is costing Americans $174 billion annually. The study reveals that the direct economic costs associated with diabetes have reached unprecedented levels. Medical expenditures of care for people with diabetes are estimated to be $116 billion, with a disproportionate percentage of the costs resulting from treatment and hospitalization of people with diabetes-related complications.
Closer to home, the medical cost of diabetes in the Rio Grande Valley totaled $770 million in 2006 with approximately 94,200 Valley residents diagnosed with diabetes. The estimated lost productivity value due to diabetes-related complications cost the Valley $301.5 million.
The Centers for Disease Control and Prevention identified prevention as the leading deterrent to reverse the costly trend of treating diabetes in the U.S. The 2005 Youth Risk Behavior Survey indicated that among Texas high school students, the problems leading students towards Type II diabetes included obesity, poor dietary choices and physical inactivity.
"The rapid development of the Rio Grande Valley is beginning to attract attention not only statewide, but nationwide," said Gonzales. Our bright future is challenged, however, by the devastating toll diabetes is taking on our healthcare costs."
She added that the latest results from the American Diabetes Association reveal diabetes related costs have climbed 32 percent since 2002 and that does not take into account that there are currently six million people who have diabetes, but have not been diagnosed.
"The finding further suggests that $1 out of every $5 in health care costs is spent caring for someone with diagnosed diabetes," Gonzales said. "But there is good news. Diabetes is a disease that can be prevented and new efforts in outreach and education tackle the cultural challenges regarding diet and lifestyle choices that can reverse this debilitating trend to ensure our future generations do not further inherit the high cost of diabetes but rather, a healthier lifestyle.
The community at large has a responsibility to support efforts to find culturally sensitive plans to lead people who are diagnosed with diabetes towards successful management of their disease through a medication treatment and healthier diet and lifestyle.
The American Diabetes Association is the leading authoritative source of information for people with diabetes and their families.
For information on how to find an education program, a doctor and to answer questions regarding diabetes and treatment, please visit:
http://www.diabetes.org/communityprograms-and-localevents/whatslocal.jsp
or to take a risk test for diabetes, visit:
http://www.diabetes.org/risk-test/text-version.jsp
or call 1-800-DIABETES (342-2383).
••••••
UT-Pan American President Cárdenas new chair of UT Borderplex Health Council
By GAIL FAGAN
Dr. Blandina Cárdenas, president of The University of Texas-Pan American, recently assumed the chair of the UT Borderplex Health Council and will lead the council's mission to promote education and research to address the health challenges of the South Texas border region.
Established in 2006, the UT Borderplex Health Council is a collaborative initiative bringing together the scientific and health research expertise of two of The University of Texas System health science centers with the knowledge and skills of the many UT System academic institutions along the Texas-Mexico border.
Its founding members include The University of Texas Health Science Center at San Antonio and its Regional Academic Health Center campuses in Harlingen and Edinburg, The University of Texas Health Science Center at Houston and its School of Public Health, The University of Texas-Pan American and The University of Texas at Brownsville/Texas Southmost College. The Council also works collaboratively with the UT Health Science Center at San Antonio Laredo Campus Extension, The University of Texas at El Paso and the UT School of Public Health's El Paso regional campus. The current Council also includes community representatives from the border region.
"The Borderplex institution presidents are united in our commitment to collaboration that will strengthen this work on the border," Cárdenas said.
The council offers financial support in the form of grants ranging from $20,000 to $50,000 to promote inter-institutional, interdisciplinary research, scientific inquiry, and programs initially targeting three significant health-related issues facing border residents – diabetes, obesity and the nursing workforce shortage.
Since its inception, it has funded $550,000 in 11 proposals examining topics ranging from the susceptibility of tuberculosis in diabetic patients to a feasibility evaluation of expanding existing accelerated LVN to BSN/RN nursing programs to additional campuses.
For more information on the Borderplex Council or proposal submission procedures, contact Carol Rausch, assistant to the UTPA president, at 956/381-2127 or via e-mail at [email protected].
••••••
Opinion: AG Abbott's example of a voter fraud prosecution in Hidalgo County is dismissed
By VINCE LEIBOWITZ
http://www.CapitolAnnex.com
Remember back in 2006 and 2007 when Texas Attorney General Greg Abbott was crowing about a bunch of "voter fraud" indictments in Hidalgo and Starr Counties?
It appears, now that the majority of those cases have been dismissed, that the AG has little or nothing to crow about:
Criminal charges against two politiqueras accused of tampering with ballots in the 2005 McAllen mayoral election were dropped Tuesday, March 11, the same day their case was scheduled to go to trial.
Hidalgo County Court-at-law Judge Jaime Palacios dismissed the case against María Helena Belasquez and Alicia Liscano Molina at the request of prosecutors who did not feel they had enough evidence to convince a jury of wrongdoing.
The decision comes five days after a similar case was dismissed against another politiquera, Gloria Barajas.
Most amusing about this situation is that the local District Attorney, left to prosecute the case in the wake of Abbott's swoop-in-and-indict-them episode, has no problem throwing Abbott under the bus and telling the world what he thinks of the prosecutions:
"They were not our investigations, and I didn't feel they would stand up before a jury," Hidalgo County District Attorney Rene Guerra said.
In this case, the investigation was conducted by the Texas attorney general's office but did not produce specific evidence linking the women to any crime, Guerra said.
"There's a very high standard of proof required by jurors (in voter fraud cases)," he said. "You can't just show evidence of irregularities. You have to show that the defendant was responsible."
This, after Abbott held up these prosecutions as a shining star:
In 2006, Abbott held up the Hidalgo County voter fraud case as an example of a successful voter fraud investigation that produced results.
And the Texas AG's office has spent how much on these prosecutions, 99 percent of which lead nowhere?
(Vince Leibowitz is the publisher of A Capitol Annex (http://www.ACapitolAnnex.com), an Internet publication which covers major legislative issues out of Austin and Washington, D.C.).
••••••
Congressman Hinojosa: Democratic federal budget passed on Thursday reflects the nation's priorities
By ELIZABETH ESFAHANI
Congressman Rubén Hinojosa, D-Mercedes, on Thursday, March 13, released the following statement in response to the passage of the 2009 Democratic budget resolution in the House of Representatives. The investment plan maps out the year's budget priorities and serves as a tipping off point for future negotiations on specific spending bills:
"The Democrats have come up with a responsible budget that will enable Congress to follow through on a new set of priorities. We have passed a budget that will benefit not just wealthy Americans but all Americans, including the middle class, veterans, students, and seniors. It includes more funding for critical initiatives such as health care, education, and homeland security.
"My Republican counterparts argue that this investment plan is a tax hike on Americans. I beg to differ — the plan restores critical programs, imposes fiscal responsibility, and outlines a plan to begin to balance the budget without raising taxes. It makes sure that we stay within our means and puts us on a path toward a budget surplus by 2012.
"This budget moves America closer toward the goal of truly leaving no child behind. Our budget resolution provides $7.1 billion more than the President for vital education, job training, and social services programs. This increase will better ensure that key education initiatives like Head Start and No Child Left Behind receive the injection of funding they so desperately need.
"It will also ensure that the assault on Hispanic education programs stops. We will be better equipped to support critical programs affecting our Hispanic students such as dropout prevention, GEARUP, and the TRIO programs of Upward Bound and Talent Search. We will be better prepared to fund Hispanic-Serving Institutions, which educate nearly half of all Hispanic students in college.
"Currently, millions of our hardworking men and women go to bed each night in fear of a child becoming unexpectedly sick or injured. In Texas alone, 1.4 million children, or 20 percent of the state's population, are living without health insurance. This is unacceptable. The Democratic budget accommodates an increase of up to $50 billion so that millions of children will not have to forego medical care. Once again, we intend to put America's children first.
"By rejecting the President's proposal to cut first responder programs, this budget upholds our obligation to effectively respond to our most immediate security threats. In addition, it upholds our commitment to America's veterans by boosting funding by $3.6 billion. Our veterans, who have so bravely defended our country, deserve to have access to quality health care. This increase will enable the VA to treat 5.8 million patients in 2009, including 333,275 Iraq and Afghanistan war veterans.
"The federal budget is our most direct and telling statement of our nation's values. Nothing demonstrates our values more than our spending choices. I am proud to support an investment plan that reflects our Democratic ideals and better secures our country's future prosperity."
••••••
Sens. Cornyn, Leahy introduce legislation to strengthen nation's open government law
As Sunshine Week nears, open-government leaders U.S. Sens. John Cornyn, R-Texas, and Patrick Leahy, D-Vt., on Wednesday, March 12, introduced their latest tandem effort to peel back the curtains on government secrecy and further strengthen the nation's primary open government law, the Freedom of Information Act (FOIA).
Their new bill would add new transparency and accountability standards when Congress considers adding new FOIA exemptions to the law. The OPEN FOIA Act would require Congress to explicitly and clearly state its intention to provide for statutory exemptions to FOIA in new legislative proposals. Similar legislation unanimously passed the Senate in the last Congress. The new OPEN FOIA Act follows the passage of the Leahy-Cornyn OPEN Government Act, which the President signed into law in December, adding the first reforms to FOIA in more than a decade, including restoring meaningful deadlines for agency action under FOIA and imposing real consequences on federal agencies for missing FOIA's 20-day statutory deadline.
"It was encouraging to see Congress take major steps recently to expand the American people's right to government information," Cornyn said. "This latest bill is an effort to further enhance government transparency and accountability. Sunshine Week is an opportunity to highlight these important principles of our founding fathers—a truly self-governing society depends on an informed citizenry. Chairman Leahy and I will continue working together to ensure the public's fundamental right to know what their government is doing."
The exemptions to FOIA addressed in the OPEN FOIA Act, known as (b)(3) statutory exemptions, are typically buried in complex and lengthy legislative proposals, making it difficult for requestors to determine whether access to information is subject to FOIA. The OPEN FOIA Act would provide more transparency when Congress includes such exemptions in legislation.
"This Congress has signaled its support for strengthening the Freedom of Information Act," Sen. Leahy said. "Senator Cornyn and I have worked together for years to restore openness and transparency to a government that has become increasingly secretive. While some government information needs to be kept secret, we cannot allow the government to hide behind the veil of secrecy and curb the public's right to know, just to avoid accountability. Our new legislation will take steps to make clear those exemptions to FOIA, and this is a fitting start to Sunshine Week."
Sunshine Week is a national program highlighting the importance of open government and freedom of information. News organizations, schools, nonprofit groups and others have celebrated Sunshine Week since 2005, and this year the commemoration is set for March 17-21. Leahy and Cornyn are longtime advocates for open government.
On the Web: http://cornyn.senate.gov/FOIA
Cornyn serves on the Armed Services, Judiciary and Budget Committees. In addition, he is Vice Chairman of the Senate Select Committee on Ethics. He serves as the top Republican on the Judiciary Committee's Immigration, Border Security and Refugees subcommittee and the Armed Services Committee's Airland subcommittee. He served previously as Texas Attorney General, Texas Supreme Court Justice, and Bexar County District Judge.
••••••
U.S. Senate candidate Noriega claims Sen. Cornyn, allies, helped "smear Noriega, veterans again"
By HOLLY SHULMAN
Democratic U.S. Senate nominee Rick Noriega, returning from serving National Guard Duty over the weekend, on Monday, May 10, made the following statement in response to the latest round of smears by surrogates of U.S. Sen. John Cornyn, R-Texas.
Noriega, currently a Houston state representative, also challenged Cornyn to a debate on veterans and military issues.
Statement of Noriega:
"First, Senator Cornyn's surrogates go after my record of military service. Then, his campaign refers to veterans who criticize his abysmal record as 'pawns.' Now, his hand-picked operative, Roger Williams, questions my patriotism and says Democrats want to 'retreat from taking on the terrorists.' In the Texas I know questioning someone's patriotism, well, those are fighting words.
"I don't recall doing a whole lot of retreating when I was operating a vehicle on the road outside of Kabul in Afghanistan, or down busting traffickers on the Mexican border, and I don't recall seeing a lot of retreating by the men and women who served along side me – Democrat or Republican.
"Veterans and those on active duty are tired of Mr. Cornyn refusing to support them, and tired of his campaign and allies attacking anyone who dares question his lack of leadership.
"It's time for Mr. Cornyn to take responsibility by speaking for his campaign.
"Specifically, I challenge him to a debate within 30 days – moderated by veterans, in front of veterans and their families – to address issues affecting veterans, their families and the military. If instead of defending his own poor record, Mr. Cornyn wants to attack those of us who have served, he can say it to our faces."
According to Noriega, Cornyn twice rejected responsible troop deployment limits, twice voted against increased funding for veteran health care, voted against funding for armored vehicles, against increased funding for TRICARE but for allowing TRICARE fees to triple, and against protecting soldiers' civilian salaries while they're serving in Iraq.
Noriega won the Democratic nomination on Tuesday, March 4, without a run-off, the first time a Democrat running for U.S. Senate has done so in a multi-candidate field since 1976. Noriega received 1.1 million votes in a four-way race, significantly more than Cornyn did in a two-way race against token opposition.
••••••
Gov. Perry orders tax cuts for an estimated 370,000 Texas businesses
Gov. Rick Perry on Monday, March 10, announced that an estimated 370,000 Texas businesses will be getting a tax cut of $90 million, thanks to the state's strong economy and low unemployment.
"I believe in truth-in-budgeting: when government levies a tax and collects more money than is needed, we must either stop collecting the tax, return the money or both," said Perry. "Thanks to our healthy economy and low unemployment rate last year, the state collected more money for the unemployment trust fund than we need, which is why I'm directing the state to bring that tax to a screeching halt for this year."
The tax cut will come in the form of a one-year suspension of the Unemployment Insurance (UI) replenishment tax. An estimated 370,000 Texas businesses will be eligible for the tax cut, which will save employers $90 million. The Texas Workforce Commission (TWC) approved the suspension of the tax after reviewing employment figures and economic forecasts for Texas and determined there were sufficient reserves to meet unemployment obligations for 2008.
In 2007, Texas created more jobs than any other state in the nation, resulting in record-low unemployment. Thanks to the momentum of a healthy economy, Texas is able to give a tax break to those hardworking businesses that contribute to our overall economic prosperity.
In addition to the one-year suspension of the 0.12 percent replenishment tax, TWC will continue to distribute the surplus tax credit announced in October to those qualifying employers who file quarterly unemployment tax reports and owe UI taxes. They will receive the surplus tax credit after their first quarter 2008 tax returns are filed and taxes are paid. In addition, qualifying employers must have had a payroll in 2007 and must have paid all taxes due.
"With this one-year suspension of the UI replenishment tax, the overall 2008 tax rate for Texas employers will be even lower than previously announced and is just one example of the competitive environment that Gov. Perry and other state leaders are trying to foster for Texas businesses," said TWC Commissioner Ron Lehman.
The 2008 UI tax rates also reflect the elimination of the obligation assessment, previously a component of the UI tax. The 80th Texas Legislature passed a measure allowing TWC to pay off bonds issued in 2003 to bolster the Trust Fund. By paying off the bonds early, Texas employers will save an additional estimated $270 million in taxes in 2008.
••••••
South Texas College to host horticulture seminar series beginning in April
By ALEXUS OCHOA
The Biology Club at South Texas College, in conjunction with the Rio Grande Valley Horticulture Society and the Weslaco Beautiful Committee, will present a Horticulture Seminar Series to run Wednesdays April 9, 16 and 30. Professionals in the field will discuss developments in bio technology that affect the way North Americans consume food and energy.
Presentations begin at 6 p.m. at specified locations. Admission is free and open to the public.
Biology Club members are trying to raise public awareness of the importance of bio fuels, safety, recycling, and the consumption of organic fruits and vegetables, said Debbie Villalon, STC biology instructor and club adviser.
The April 9 series focuses on the importance of water conservation. Featured speaker is Dr. Jorge Da Silva, whose expertise is in sugarcane molecular biology and genetic breeding. Also presenting are Dr. Shad Nelson of Texas A&M University Kingsville (TAMUK) and Dr. Juan Anciso of the Texas Agrilife Research & Extension – Weslaco. Presentations will be held in lecture hall G191 at the South Texas College Mid-Valley Campus, 400 N. Border Ave. in Weslaco.
The series continues on April 16 with Dr. Juan Anciso, who will discuss food safety and the continuing issue of food production. Dr. Eliezer Louzada of the TAMUK- Citrus Center in Weslaco and Dr. William Kuvlesky, assistant dean, College of Agriculture at TAMU, will discuss education and research opportunities in agriculture. Presentations will be held in lecture hall G191 at the South Texas College Mid-Valley Campus.
The April 30 seminar will be at the Weslaco Chamber of Commerce. Jennifer Owen, natural resource specialist of Estero Llano Grande State Park, will discuss the world birding centers wildlife habitat program. Jim Booker, park naturalist of Estero Llano Grande State Park, will present on gardening for wildlife in the Lower Rio Grande Valley. He will offer valuable tips on how to make a garden attractive to local wildlife. The Weslaco Chamber of Commerce is located on 205 W. Railroad St. in Weslaco.
••••••
Nation's largest telephone bill aggregators will pay $1.9 million, stop 'cramming' to settle FTC charges
By FRANK DORMAN
Three companies that placed more than $30 million in bogus collect call charges on consumers' telephone bills have agreed to pay $1.9 million for consumer redress in a settlement with the Federal Trade Commission that bars them from billing for unauthorized charges and misrepresenting that consumers are obligated to pay for them.
The FTC charged BSG Clearing Solutions North America, LLC, ACI Billing Services, Inc. d/b/a OAN, and Billing Concepts, Inc. (collectively, "BSG") with placing charges on behalf of co-defendant Nationwide Connections, Inc. (see press releases dated March 15, 2006 and September 26, 2006). The three related companies control more than 85 percent of the billing aggregation market, in which aggregators contract with local telephone companies to bill on behalf of third parties. According to the FTC, BSG began receiving complaints from consumers soon after the Nationwide billing began, including complaints about charges for calls made to telephone lines dedicated to computers and fax machines, and to phones where no one was present.
The settlement would prohibit BSG from misrepresenting that consumers are obligated to pay for telecommunications charges that have not been expressly authorized. It also would be barred from billing or submitting any telecommunications charges for billing on a consumer's telephone bill unless such charge has been expressly authorized. BSG would be in compliance with the proposed court order's prohibitions against unauthorized billing if it takes all necessary steps before billing on behalf of new clients and while billing for existing clients to ensure it does not engage in the unauthorized billing of telecommunications charges. The settlement bars BSG from selling or renting consumers' personal information obtained from Nationwide and requires BSG to create and maintain billing and consumer complaint records for eight years and submit various compliance reports to the FTC for five years.
In December 2007, the court entered a $34,426,696.85 judgment – the total amount that consumers paid for the phony charges – against Nationwide Connections, which a court-appointed receiver is winding down. The FTC has settled with Nationwide's ringleader, defendant Willoughby Farr, with a $35 million judgment and a ban on all telephone billing (see press release dated March 5, 2008). The Commission's case against The Billing Resource d/b/a Integretel, another billing aggregator in this massive cramming scheme, and its cases against three remaining individual defendants, are still pending.
The Commission vote to authorize staff to file the stipulated final order was 5-0. The order for permanent injunction will be filed in the U.S. District Court for the Southern District of Florida.
NOTE: This stipulated final order is for settlement purposes only and does not constitute an admission by the defendant of a law violation. A stipulated final order requires approval by the court and has the force of law when signed by the judge.
The FTC works for the consumer to prevent fraudulent, deceptive, and unfair business practices and to provide information to help spot, stop, and avoid them. To file a complaint in English or Spanish, click http://www.ftc.gov/ftc/complaint.shtm or call 1-877-382-4357. The FTC enters Internet, telemarketing, identity theft, and other fraud-related complaints into Consumer Sentinel, a secure, online database available to more than 1,600 civil and criminal law enforcement agencies in the U.S. and abroad. For free information on a variety of consumer topics, click http://ftc.gov/bcp/consumer.shtm.