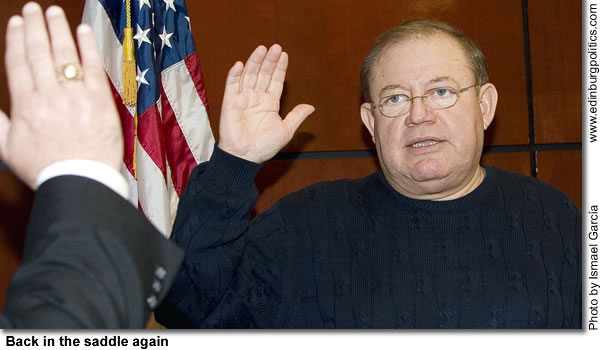 Former Hidalgo County Judge Ramón García takes his oath of office on Thursday, December 13, to become the newest member of the Hidalgo County Regional Mobility Authority, which met in Weslaco. "While I was county judge (2003-2006), I quickly realized that there are two very important issues that need to be addressed in this county: one was transportation, the other was drainage, not necessarily in that order," he recalled. "To be able to serve on a board that I consider to be a meaningful board, I welcome that opportunity." His oath of office was administered by Justice of the Peace Luis Garza of Mission. See story later in this posting.
••••••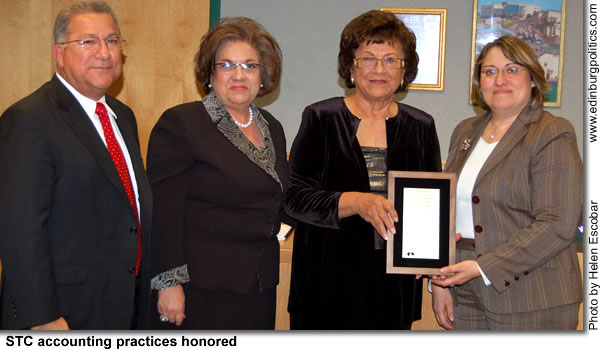 South Texas College has earned a financial reporting award from North American government group for fourth consecutive year. From left are Rubén Moreno, CPA and partner with Long Chilton, LLP of McAllen; Diana Peña, vice president for finance and administrative services for STC; Irene García, chair of the South Texas College Board of Trustees; and Mary Elizondo, STC Business Office comptroller. See story later in this posting.
••••••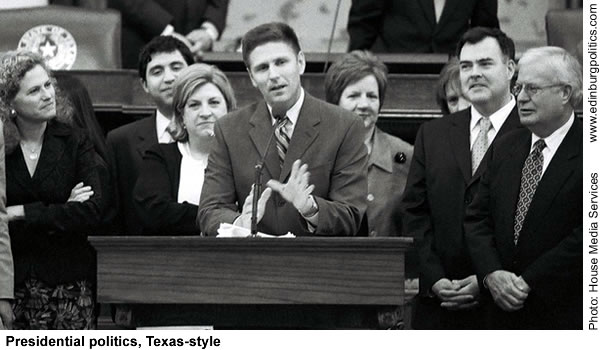 Rep. Juan García, III, D-Corpus Christi, featured center at the front podium of the House of Representatives last January in this file photo, is calling on a Texas to play a bigger role in deciding who the nominees will be for president. " Last April I was part of an overwhelming majority of the State House of Representatives who voted to move our primary to the first Tuesday in February, giving Texans a say in who our next President will be," García said. "However, the measure died in the Senate, with members arguing that the change would create a burden on election officials, who would have to conform to new dates (registration deadlines, sending new registration cards, filing dates for candidates, etc.), several of which would fall over the holidays." García elaborates on his thoughts in his essay, featured later in this posting.
••••••
Judge Susan Criss files for Texas Supreme Court, says she will bring diversity, justice for all Texans
By DAVID A. DÍAZ
Texas District Judge Susan Criss, D-Galveston, on Monday, December 17, in Austin filed as a Democratic candidate for Place 8 on the Texas Supreme Court.
The Texas Supreme Court is the state's highest legal arena for civil matters and is comprised of a chief justice and eight justices elected on the statewide ballot.
Criss, a veteran district judge and former prosecutor, said the primary purpose of her campaign "is to fight to protect the constitutional rights of all of our citizens."
In filing for the March 4 Democratic Party nomination, she said the GOP's stranglehold on the state's highest court is a threat to all Texans.
"Republican control of our state's highest civil court has put the average Texan's constitutional right to a trial by jury at risk. When an injured Texan is awarded damages by a trial at his/her local courthouse – and that decision is appealed – this Republican-dominated court reverses the jury's decision about 90% of the time," she said. "Texans deserve better."
Criss criticized the current court, point out that the Republican high court "has consistently favored wealthy corporations and insurance companies, and has made life for everyday working Texans more dangerous."
By comparison, Criss said she has a proven track record for fairness and equal opportunity in the justice system.
She has been recognized around the nation for leadership on behalf of women judges and the recruitment of minorities for careers in the law.
As part of that commitment, Criss recently called on the University of Texas System to support the creation of a UT Law School in the Lower Rio Grande Valley, which is predominantly Hispanic.
"Of the more than 77,000 lawyers in Texas, only 14 percent are from minority populations, according to a report produced last spring by the State Bar of Texas," said Criss. "Yet more than 59 percent of Texas schoolchildren are considered to be from minority populations, and Mexican Americans make up one-third of our state's population. We need to encourage more minority students to pursue careers in the law."
Her dedication to minority issues and protecting working families also stems from her family, including her father, former Rep. Lloyd Criss, D-Galveston, who in the 1980s helped shape legislation she says freed thousands of Texas farm workers from working conditions she called "slavery."
She has also has spearheaded tougher sanctions against sex offenders and fought for stronger protection for children.
The most important work the Texas Supreme Court does is review cases and determine whether trials were conducted fairly and according to the law – and she has the experience and credentials to do the job, she said.
"I bring a new perspective based on actual courtroom experience earned from presiding over hundreds of cases as a trial court judge and from handling thousands of cases as a trial court attorney. I have worked in the courtroom trying cases with juries for over 20 years. I have been there in the trenches and know firsthand how the jury system works," Criss said.
Since announcing for this position in April, 2007, Criss has traveled across Texas, visiting over 90 Texas counties and gathering over 1600 signatures for her candidacy.
"The response has been overwhelming. The people want change. The year 2008 can be a banner year for Democrats," she reported. "Our party deserves its strongest electable candidates. We need Democrats with the courage and determination to do what is right for Texas and Texans."
Criss was elected to the 212th District Court in Galveston County in 1998 and has been reelected twice.
She presides over both felony criminal and civil cases.
Criss has received numerous awards, including the 2005 People Making a Difference Award from the Fred C. Johnson Foundation, the 2004 outstanding Woman Officeholder in Texas Award from the Texas Democratic women Association, and the 1994 Outstanding Young Lawyer of Galveston County Award.
A former prosecutor and criminal defense attorney, Criss served as assistant district attorney in Galveston County from 1986 to 1997 where she was Chief of the Misdemeanor Division and served as Special Prosecutor for Child and Elder abuse.
Criss started her legal career a law clerk in the Texas Attorney General's Environmental Protection Division and has also run her own private practice.
More information on her campaign is available at her website, http://www.JudgeCriss.com, or by contacting her at the Susan Criss Campaign, PO Box 16474, Galveston, Texas 77552 (PH: 409-771-4069).
Pol. Ad paid for by Susan Criss Campaign. Lloyd Criss, Treasurer, PO Box 16474, Galveston, TX 77552
••••••
Former county judge Ramón García to stay in the limelight with appointment to Hidalgo County RMA
By DAVID A. DÍAZ
As an elected official, former Hidalgo County Judge Ramón García said he was against toll roads, but is for economic development in deep South Texas.
Now, as the newest member of the Hidalgo County Regional Mobility Authority, the veteran trial lawyer will have the chance to use all his negotiating skills to help create major road systems – and with them, economic growth – but without relying on the politically-charged concept of toll roads.
"Our county right now is the fourth-fastest growth area in the country, and there is no question we need to address our transportation issues," says García. "There is a tremendous need. It is going to be a real delicate balancing act. All of us can identify the need, but how to come up with the financial resources to pay for them, and how do we prioritize, those are going to be some of the bigger issues."
If he is successful, García will build on his already extensive public service credentials and position himself for a return to public office in the near future.
Despite losing to former Hidalgo County County Clerk J.D. Salinas, III, literally by a razor's edge (249 vote difference) in March 2006, García's political stock remained so high that even his rivals urged him to consider a race for Congress in the summer of 2006 against Rep. Henry Cuellar, D-Laredo.
A court ruling last year redrew Cuellar's Laredo-based congressional district, bringing Starr County and western Hidalgo County into Cuellar's domain of responsibility.
But García declined to challenge Cuellar, saying the time, and especially the demographics – the population base is still in Laredo/Webb County – were not right to take on an entrenched incumbent.
But politics and public service obviously remain in García's blood, and on Thursday, December 13, the Edinburg resident returned back into the public eye in a big way.
He was sworn in to the seven-member governing board of the RMA, which is the nearest thing the county has to an economic development entity.
García, whose first RMA meeting was held in Weslaco, is succeeding Rubén Plata of Mission, who earlier this fall was elected to the Mission City Council. Under state law, an elected official is not allowed to serve on the board of directors of a regional mobility authority.
García was nominated to his newest position by Precinct 3 Hidalgo County Commissioner Joe Flores of Mission, and García's candidacy was unanimously approved by the Hidalgo County Commissioners Court on Wednesday, December 5.
He was quick to point out that, although he lives in Edinburg and Flores is elected from western Hidalgo County, García was "appointed to represent the interests of the county as a whole."
García expressed his appreciation to Flores for the nomination, noting that the RMA offers him a good way to continue shaping Hidalgo County in a positive fashion.
"While I was county judge (2003-2006), I quickly realized that there are two very important issues that need to be addressed in this county: one was transportation, the other was drainage, not necessarily in that order," he recalled. "To be able to serve on a board that I consider to be a meaningful board, I welcome that opportunity."
Whether García's return to the public spotlight is irony or destiny remains to be seen. But the fact is he oversaw the creation of the Hidalgo County RMA as county judge, "so I certainly understand the importance of it."
His first meeting on the board – following a ceremony in which he took his oath of office – served him with a full plate of key issues.
From a presentation by RMA advisor Ron Morrison on how to come up with ways to finance the planned southern section of a planned countywide loop, to a report by Mario Jorge, district engineer with the Texas Department of Transportation in Pharr, who said funds for many highway projects throughout the state were being slashed, García received a crash course in mobility issues.
Regardless, García remained confident that he would quickly pick up on the mechanics and politics of highway transportation concerns.
"I am trying to become a little bit more informed about the process, but to me, everything was important," he said of his inaugural meeting. "I have to get beyond that learning curve, which I don't think is much of a curve based on what we had to talk about, in order to appreciate the need for an RMA."
By its own definition, the Hidalgo County RMA "was created to be a proactive partner empowering our community to address our congestion and mobility concerns through local means with local leadership."
It's preamble, found on its website, http://www.lrgvdc.org/RMA/, further states:
"The Hidalgo County Regional Mobility Authority is committed to doing our part to help ensure a bright and prosperous future for our community through innovations in financing transportation projects, and the ability to accelerate needed projects to relieve congestion today, instead of waiting for years under traditional methods."
With such a wide-ranging mission, García is also counting on his extensive background in government to help him promote the RMA priorities, particularly when they have to go before the state legislature and other major state agencies.
"I have dealt with many of these agencies in the past, as an elected official while a county judge, and as a lawyer, I have represented more than 24 public bodies during my career," said García, whose credentials also include serving on Pan American University Board of Regents and being elected as Hidalgo County Democratic Party chairman.
"I was asked if I would be interested, and I considered it, and I felt this would be a way to keep on making a contribution to our community," García explained his decision to serve in this latest public endeavor.
Still, his eagerness to once again serve Hidalgo County doesn't sugarcoat the magnitude of the roadblocks that are facing the RMA.
"There is no question – all one has to do is get on our expressways or start traveling anytime between 6:30 and 8:30 in the morning, and 4:30 and 6:30 in the evening, and we begin realizing that pretty soon, we are going to be having big city problems throughout most of the day," he warned.
••••••
Edinburg retail economy continues to show growth through October, up almost 11 percent over 2006
By DAVID A. DÍAZ
Edinburg's retail economy in October, as measured by the amount of local and state sales taxes generated by a wide range of local businesses, was up almost eight percent over the same month period in 2006, the Edinburg Economic Development Corporation has announced.
Year-to-date, Edinburg's retail economy from January 1 through October 31, 2007 was up almost 11 percent over the same period last year.
The EEDC is the jobs-creation arm of the Edinburg City Council.
It's five-member governing board, which is appointed by the Edinburg City Council, includes Mayor Joe Ochoa, former Mayor Richard García, who serves as board president, Fred Palacios, Dr. Glenn E. Martínez, Ph.D., and Elias Longoria, Jr.
The latest monthly figure translates into more than $1 million generated in local sales taxes, mostly in October, sent to the state comptroller of public accounts in November, then sent back by the comptroller's office to the Edinburg city government in the form of a rebate on December 14.
The local sales taxes are generated by the city's 1 1/2 cent local sales tax and the 1/2 cent economic development sales tax that is administered by the EEDC.
Retail businesses are required to collect both the local and state sales taxes and send them to the Texas Comptroller of Public Accounts. The state government then sends the local share of the sales taxes to the communities in which they originated.
The local sales tax is used to help pay for dozens of major city services, ranging from new streets to city personnel.
Between January 1 and October 31, 2007, Edinburg's economy generated $13,415,745.69 in local sales taxes, compared with $12,115,261.80 during the same period last year, an improvement of 10.73 percent.
For the month of October, Edinburg's economy generated $1,002,977.19 in local sales taxes, compared with $930,412.70 in local sales taxes in October 2006, an improvement of 7.79 percent.
From January 1 through October 31, McAllen posted a 6.76 percent improvement, generating more than $57.5 in local sales taxes, compared with more than $53.8 million during the first 10 months of 2006.
McAllen's economy generated almost $4.3 million in local sales taxes in October, compared with almost $4.1 million during the same month last year, an increase of 4.73 percent.
According to the comptroller's office, Hidalgo County also showed continued prosperity.
In October 2007, all cities in Hidalgo County generated more than $9.1 million in local sales taxes, up 9.06 percent over October 2007, which reached almost $8.4 million.
From January through October 2007, all cities in Hidalgo County generated almost $120.2 million in local sales taxes, up 10.09 percent over the $109.1 million mark set during the same period in 2006.
Neighboring Cameron County registered smaller economic growth, according to the state figures.
In October, all cities in Cameron County generated almost $4.6 million in local sales taxes, compared with slightly more than $4.2 million during the same month in 2006, an increase of 7.64 percent.
From January through October 2007, all cities in Cameron County generated almost $60.6 million in local sales taxes, a 4.38 percent improvement over the same period in 2006, which resulted in almost $58 million in local sales taxes.
Other major cities in Hidalgo and Cameron counties reported the following sales tax figures:
•Brownsville's retail economy generated more than $2.5 million in local sales taxes in October 2007 – 11.78 percent better than the October 2006 level of more than $2.2 million.
•Harlingen's retail economy generated more than $1.36 million in local sales taxes in October 2007, compared with more than $1.34 million in October 2006, an increase of 1.54 percent.
•Mission's retail economy generated more than $964,000 in local sales taxes in October 2007, compared with more than $857,000 in October 2006, an increase of more than 12.4 percent.
•Pharr's retail economy generated almost $918,000 in local sales tax activities in October 2007, compared with more than $821,000 during the same month in 2006, an increase of more than 11.7 percent.
•Weslaco's retail economy generated almost than $642,000 in local sales tax activities in October 2007, compared with slightly more than $607,000 in October 2006, an increase of more than 5.7 percent.
Statewide, Texas Comptroller Susan Combs said sales tax collections also continued to rise, although at a slower rate than in previous months.
According to Combs:
The state collected $1.8 billion in sales tax in November, up 9.5 percent compared to November 2006. The Comptroller sent local governments $447.3 million in December sales tax allocations, up 10.8 percent compared to last December.
"State sales tax collections through the first three months of fiscal 2008 are up 6.6 percent compared to the same period last year," Combs said. "Growth is substantially slower than the vigorous 12 percent and 10.9 percent seen in fiscal 2006 and 2007, respectively. As the pace of the U.S. and Texas economies continues to cool, we expect the growth in Texas sales tax collections will continue to moderate."
Combs sent Texas cities December sales tax allocations of $300 million, up 9.9 percent compared to December 2006. City sales tax allocations during calendar year 2007 totaled $3.8 billion, up 6.9 percent compared to 2006.
Counties' December sales tax allocations were $27.5 million, up 11.1 percent compared to December 2006. Counties received $338.9 million in sales tax during calendar year 2007, up 8.4 percent compared to last year.
Ten local transit systems received December sales tax allocations of $104.4 million, an 11.9 percent increase over December 2006. Sales tax allocations to transit systems in 2007 totaled $1.2 billion,
up 5.4 percent compared to the 2006 total. December sales tax allocations of $15.2 million went to 124 special purpose taxing districts, an increase of 21.3 percent compared to last December. Special purpose districts received $180.6 million during 2007, up 17.9 percent compared to 2006.
"The final sales tax allocation of 2007 brings total local sales tax allocations for the calendar year to $5.6 billion, surpassing last year's local sales tax revenue by 6.9 percent, despite a slowing economy," Combs said.
For details of December sales tax payments to individual cities, counties, transit systems and special purpose districts, locate the Monthly Sales and Use Tax Allocation Comparison Summary Reports on the Comptroller's Web site at http://www.window.state.tx.us/taxinfo/allocsum/compsum.html.
The next local sales tax allocation will be made on Friday, January 11.
••••••
Congressman Hinojosa secures $73 million for Valley projects, including $850,000 for Edinburg airport
By ELIZABETH ESFAHANI
Rep. Rubén Hinojosa, D-Mercedes, on Tuesday, December 18, announced that he has secured $73 million for local projects in the omnibus spending bill that was approved by the House of Representatives last night. The $516 billion spending package includes critical funding for myriad programs in education, veterans health care, medical research, and law enforcement.
The bill now goes to the Senate for approval and is expected to be signed into law by the President.
"This bill is a huge win for the Rio Grande Valley and will provide a much-needed infusion of money for major infrastructure projects that have long been underfunded," Hinojosa said.
The budget bill contains a landmark $23.3 million for the Donna-Rio Bravo International Bridge Project. The money will pay for the construction of the bridge's inspection facilities and represents the single largest federal appropriation for the project to date. The Office of Management and Budget has estimated that the federal cost for the project will total $100 million over 10 years for construction, equipment, and personnel.
"Today marks a significant day for the progress of this project and for the City of Donna," Hinojosa said. "This money puts us one step closer to providing more jobs and opportunities for the City and the Mid-Valley communities. When this project is completed, I envision the unemployment rate for the Mid-Valley region to be similar to the 6 percent rate enjoyed in the areas of Harlingen, McAllen, and Edinburg."
The money for the Donna-Rio Bravo Bridge is one of several major Rio Grande Valley projects funded in the spending bill. Other initiatives affecting the region include:
Water projects
$20 million for North American Development Bank's Border Infrastructure Fund — to provide loans and grants to border communities for water and wastewater projects. In the past, Mercedes and Pharr have utilized the NADBank Border Infrastructure Fund to implement projects.
$10 million for Lower Rio Grande Valley Levees — for the International Boundary and Water Commission (IBWC) to rehabilitate the Lower Rio Grande Valley's levees and flood-protection system. This represents a 400 percent increase over the roughly $2 million the IBWC has historically received for flood-control projects. In 2005, the IBWC completed a study concluding that many levees would not hold up under severe rain and that a substantial federal investment would be needed to remedy the documented shortcomings. Since then, the IBWC had been awaiting federal appropriations to begin scheduled work on increasing the heights of levees in Hidalgo and Cameron Counties.
$2.7 million for Water Conservation Projects in the Valley — to fund and continue work on irrigation canal lining that will more efficiently deliver irrigation water. In the 110th Congress, Hinojosa introduced a bill to amend the Lower Rio Grande Valley Water Conservation Act to authorize 15 additional conservation projects along the Texas-Mexico border. The bill passed the House on June 5, 2007. In the past two Congresses, Hinojosa has passed legislation authorizing 19 such water conservation projects. Hinojosa has helped secured almost $40 million in federal funding for these irrigation canal lining projects in the Lower Rio Grande Valley. As a result, several projects have been completed and are showing water savings of more than 30 percent.
$492,000 for the Raymondville Drain — to help with the construction of flood relief drains that will link to the Raymondville Drain Project creating a flood network that has an outlet linked to the Gulf of Mexico. This investment reduces the probability of flooding in case of hurricane and unexpected flash floods from heavy rain.
$246,000 for the Nueces River Basin study — to fund a feasibility study into the relationships between surface water, groundwater, and the communities dependent on such water. The project's goal is to restore ecosystems of the Nueces River Delta through increased freshwater flows; reduce damage from flooding; and, increase stream flows.
Transportation and infrastructure projects
$1 million for Interstate 69 Construction — to fund construction of I-69 in Texas. In March, the Interstate 69 corridor from Texas to Michigan was included on a short list of interstate corridors being considered for fast track development by federal transportation officials. The Texas Department of Transportation recently announced that it is looking for a private sector partner to help implement the project.
$850,000 for Edinburg Airport — to finance a runway extension, the construction of a taxiway, and other upgrades to boost the region's cargo capacity.
$500,000 for the Mid-Valley Bus Route — to add a North-South bus line through the Mid-Valley. This route will connect several major regional economic projects including the Delta Mercado, Donna-Rio Bravo Bridge, Progresso Bridge, the outlet malls in Mercedes, and the Weslaco campus of South Texas College.
$500,000 for the Lower Rio Grande National Wildlife Refuge — enable the Fish and Wildlife Service to purchase land from willing sellers and add to the existing wildlife refuge.
$250,000 for the San Juan Library — for the construction of a larger public library in San Juan, which has a population of roughly 30,000 people.
Health and human services projects
$12 million for the Veterans Clinic in Harlingen — to enable the expansion of services at the veterans' clinic in Harlingen. The expanded clinic opened in November and offers increased outpatient services to the region's veterans and reduces the need for trips to San Antonio's Audie Murphy Hospital. The $12 million will help complete the second phase of the project's expansion by expanding medical care and services for patients.
$517,000 for the Hidalgo County Truancy Program — to provide individualized services to at-risk youth in nine school districts and to expand the program to other school districts in Hidalgo County. The program, overseen by Judge Mary Alice Palacios and the Hidalgo County Court System, addresses the cause of truancy and provides drug and mental health counseling, family services, and housing.
$170,000 for the Vannie Cook Pediatric Clinic — for the development of an epidemiology research study to evaluate the incidence of childhood cancer along the border. It will also facilitate an increase in medical staff and the implementation of patient outreach programs to reach over 1 million citizens in the South Texas border area. The clinic is the Rio Grande Valley's only comprehensive pediatric cancer facility and serves a primarily indigent Hispanic population.
$170,000 for the Valley Baptist Health System — for the Hispanic Stroke Care Center to buy state-of-the-art equipment. Studies show that that stroke is the leading cause of disability in the US and is associated with a higher risk of disability among elderly Mexican-Americans.
$312,000 UTPA Border Health Disparities Center — to implement an obesity prevention campaign targeting Hispanic and African American families. The Project would be conducted in South Texas and Tennessee in collaboration with Tennessee State University. A research component would also focus on addressing chronic conditions related to diabetes.
$47,000 for the Cameron County Interoperability Funds — for first responder communications radio equipment to improve emergency response coordination with federal and state governments and other local organizations.
••••••
UT-Pan American receives key accreditation from The Southern Association of Colleges and Schools
By MELISSA VÁSQUEZ
The University of Texas-Pan American received word Tuesday, December 11 that The Southern Association of Colleges and Schools (SACS) Commission on Colleges reaffirmed the accreditation of the University.
"This is extraordinary news for our University. Today we not only celebrate the reaffirmation of our accreditation, but our reaffirmed dedication to providing excellence in educational programming and opportunities to our students," Dr. Blandina Cárdenas, UTPA president, said.
Cárdenas said this news means UTPA has fully met the demanding criteria established by SACS, which administers the accreditation process for colleges and universities in 11 states – Alabama, Florida, Georgia, Kentucky, Louisiana, Mississippi, North Carolina, South Carolina, Tennessee, Texas and Virginia every 10 years.
"It is important for our faculty, staff, students and all of South Texas, the state and nation to know that UTPA has been recognized by The Southern Association of Colleges and Universities as providing a true quality education to all who pass through our doors. Our employees and students can be proud to work here and to attend this wonderful institution," she said.
The reaffirmation work at UTPA was a three-year long process that included a self-study, a quality enhancement plan (QEP), and a review by an external visitation team. The University's QEP, a major component of the SACS accreditation process, focuses on improving student success in college algebra.
Dr. William L. Turk, UTPA assistant professor of political science and the SACS accreditation coordinator and liaison, said the entire process was very detailed and comprehensive.
"Everything from the groundskeeping to the graduate school was reviewed. We filed five all-inclusive paper and electronic reports, and we reported on everything from the President's Office to the painters who make our buildings so attractive," Turk said. "Two different groups of academics from universities all over the SACS 11-state region dissected everything we do at UTPA."
Turk said the announcement of the reaffirmation of accreditation signaled the end of a lengthy process, which involved the countless time and effort of about 150 members of the UTPA community – students, faculty and staff. The announcement was made during the annual SACS meeting held in New Orleans, which Turk attended with Dr. Paul Sale, provost/vice president for Academic Affairs.
"The final result of reaffirmation can be summed up quite simply. Every day thousands of employees work at UTPA and at the end of the day each one has made a terrific contribution to the education of thousands of students. The SACS assessment of the accumulation of those days of work is simply a confirmation of what this University is about – giving the best quality of everything associated with higher education to our students and community," Turk said.
Accreditation is a voluntary, independent review of an institution's educational programs and their adherence to accepted academic standards. It determines a school's eligibility for participation in Title IV (federal) and state financial aid programs as well as the acceptance and transfer of college credits of its students. Graduation from an accredited institution also qualifies its students for admission to higher education (graduate school), more specialized institutions or for professional practice. UTPA was first accredited in 1956.
For an overview of UTPA's reaffirmation of accreditation process, visit http://sacs.utpa.edu/sacs/.
••••••
RAHC Academic and Clinical Research Building dedicated in Harlingen; third facility in network
By WILL SAMSOM
Diabetes and children's health research will be the initial areas of focus in the Academic and Clinical Research Building, a state-of-the-art, $25.5 million clinical research facility dedicated on Thursday, November 30, by The University of Texas Health Science Center at San Antonio at its Regional Academic Health Center (RAHC) Harlingen Campus.
The UT Health Science Center also celebrated the fifth anniversary of the RAHC November 28.
Research will focus on chronic health concerns
"This new clinical research building will be an important venue for collecting and analyzing data on the Rio Grande Valley's most pressing health problem, type 2 diabetes," said Francisco G. Cigarroa, M.D., president of the UT Health Science Center. "Our School of Medicine will launch a diabetes research program at the RAHC that makes full use of our internationally renowned diabetes research faculty at the Health Science Center."
Diabetes-related mortality in the Rio Grande Valley is roughly 1½ times the state average. Prevalence of diagnosed diabetes in Cameron, Hidalgo, Starr and Willacy counties is about 8 percent, compared to 6 percent statewide. However, actual prevalence is believed to be much greater because so many cases of diabetes go undiagnosed and unreported.
RAHC to be part of landmark National Children's Study
The children's health research focus at the RAHC will be part of the landmark National Children's Study (NCS). The Health Science Center recently was awarded a $33.8 million contract to be a study center, and a portion of that effort will focus on genetic, environmental factors and social factors affecting childhood in Hidalgo County.
Veterans to be served at RAHC in Harlingen
The 80,000-square-foot Academic and Clinical Research Building also includes 34,000 square feet of space leased to the South Texas Veterans Health Care System for the Harlingen Veterans Health Center, which opened its doors to patients in November. The building will be the site of a 3-Tesla magnetic resonance imaging (MRI) system housed in a specially shielded containment suite. The South Texas Veterans Health Care System has generously agreed to purchase the MRI system at an estimated cost of $2 million for placement in the RAHC building.
"We are proud to continue our more than 30 years of partnership with the South Texas Veterans Health Care System by offering a wonderful venue for the new Harlingen Veterans Healthcare Center," Cigarroa said. "As I have said in the past, it is truly a privilege and honor for our Health Science Center residents, students and faculty members to serve the men and women who so courageously defended our country."
3-Tesla MRI system to be used for clinical research and diagnostics
Services offered at the VA's Harlingen center are planned to include primary care, radiology, dentistry, pharmacy, clinical laboratory, audiology, physical therapy, mental health and social work. The MRI system will be of great benefit to both the VA clinical and Health Science Center research operations in the building.
"A 3-Tesla MRI system is considered to be high-field strength for clinical research and the diagnostic imaging needed to care for the veteran population of the Valley," said William L. Henrich, M.D., M.AC.P., dean of the School of Medicine and vice president for medical affairs at the Health Science Center.
Henrich also noted that having the VA patient population in a RAHC building will provide medical students and residents great opportunities to learn about caring for veterans.
Regent Estrada formally accepted building
Community and business leaders, elected officials, health care providers, VA representatives and a UT System Board of Regents member joined Cigarroa, Henrich and Leonel Vela, M.D., M.P.H., regional dean of the RAHC, at the dedication ceremony. The regent, Robert Estrada, formally accepted the building on behalf of the board of regents.
Research opportunities
The addition of clinical research to the RAHC will enhance the education of Health Science Center medical students who complete their third and fourth years at the RAHC Medical Education Division, all the while doing rotations in internal medicine, obstetrics and gynecology, surgery and other areas of medicine at Valley Baptist Medical Center-Harlingen, Su Clinica Familiar and with RAHC clinical faculty throughout the Valley. "This offers our students the opportunity to be involved in clinical research, which more and more is becoming a requirement for students as we move forward," Dr. Vela said.
MRI will join VA patient space and university's clinical research area
In addition to the VA patient care center, the Academic and Clinical Research Building features 8,400 square feet of examination rooms, a laboratory to process samples, and offices for a nurse manager and a clinical research statistician. The MRI space will be situated between the VA patient space and the UT Health Science Center clinical research area.
"We will have support personnel to collect and process samples such as blood draws," said Robin Brey, M.D., associate dean for research in the School of Medicine. "A research nurse will record vital signs and perform other study-related procedures, freeing investigators from having to hire others to do that work. This will be of great benefit to RAHC faculty members conducting clinical research projects."
Kleberg Medical Scholars will benefit from enhanced research opportunity
The core facility also will benefit the Kleberg Medical Scholars, a select group of RAHC internal medicine residents whose research projects are supported by stipends from the Robert J. Kleberg Jr. and Helen C. Kleberg Foundation. "It will be very helpful to the scholars to have statistical help for their pilot studies, for example," Vela said.
RAHC in Edinburg
The clinical research facility will be a bridge to the RAHC Medical Research Division in Edinburg, which is a basic science facility. Discoveries generated at the Edinburg campus will be tested in clinical research in Harlingen and ultimately may be utilized with patients at the bedside. "These two facilities are going to function together, and what will tie them are the translational applications of research, from the bench to the bedside," Vela said.
In July 2006, Cigarroa discussed the second Harlingen RAHC building with Valley leaders at a luncheon. He said the building represented "a firm and enduring commitment by the Health Science Center to the people of the Lower Rio Grande Valley, chief among them our veterans."
At the November 29 ceremony, the president reiterated that commitment.
"The Academic and Clinical Research Building will be a major clinical research and patient care center, and all 80,000 square feet of it is dedicated to the people of South Texas," he said.
The University of Texas Health Science Center at San Antonio is the leading research institution in South Texas and one of the major health sciences universities in the world. With an operating budget of $576 million, the Health Science Center is the chief catalyst for the $15.3 billion biosciences and health care sector in San Antonio's economy.
The Health Science Center has had an estimated $35 billion impact on the region since inception and has expanded to six campuses in San Antonio, Laredo, Harlingen and Edinburg. More than 22,000 graduates (physicians, dentists, nurses, scientists and allied health professionals) serve in their fields, including many in Texas. Health Science Center faculty are international leaders in cancer, cardiovascular disease, diabetes, aging, stroke prevention, kidney disease, orthopaedics, research imaging, transplant surgery, psychiatry and clinical neurosciences, pain management, genetics, nursing, allied health, dentistry and many other fields.
••••••
Regional Academic Health Center marks fifth anniversary
By WILL SANSOM
Leaders of The University of Texas Health Science Center at San Antonio celebrated the fifth anniversary of the opening of the Regional Academic Health Center (RAHC) at a dinner on Wednesday, November 28, at the Harlingen campus.
The following day, the UT Health Science Center dedicated its third building at the RAHC, the Academic and Clinical Research Building, a state-of-the art, $25.5 million clinical research facility
The first RAHC facility at Harlingen was dedicated in 2002 with 1,000 people present, including Gov. Rick Perry. The new Academic and Clinical Research Building, dedicated on Thursday, November 29, is the third RAHC facility, complementing the RAHC Medical Education Division adjacent to it in Harlingen and the RAHC Medical Research Division in Edinburg.
Francisco G. Cigarroa, M.D., president of the UT Health Science Center, celebrated the support of many that led to the RAHC's establishment and first five years of development.
"Back in 2001, during the 77th regular legislative session, Sen. Eddie Lucio Jr. (D-Brownsville)) worked hard, as did Sen. Juan 'Chuy' Hinojosa, (D-McAllen) back then a member of the Texas House of Representatives, and all our Rio Grande Valley House delegation, to help us secure the $25.5 million in tuition revenue bonds to construct this new building," Cigarroa said.
Lucio authored the legislation that established the RAHC. House sponsorship of the bill was accomplished by. Hinojosa, then a representative.
Lucio and Hinojosa spoke at the dedication, along with Reps. Eddie Lucio III, D-San Benito, and Aaron Pena, D-Edinburg; Harlingen Mayor Chris Boswell; Bob Shepard, chairman of the Texas Higher Education Coordinating Board; and UT System Regent Robert Estrada.
••••••
South Texas College earns award for excellence in financial reporting for fourth consecutive year
By HELEN ESCOBAR
For the fourth consecutive year, South Texas College was awarded the Certificate of Achievement for Excellence in Financial Reporting by the Government Finance Officers Association of the United States and Canada (GFOA) for its comprehensive annual financial report (CAFR).
The award was presented to the college at its December Board of Trustees meeting.
"We really appreciate the dedication and hard work of our team here at South Texas College," said Manuel Benavidez Jr., member of the STC Board of Trustees. "We have a strong group of finance managers that hold us all accountable to very high standards and I know that the community, who helps fund this institution, will be glad to know that you are doing such fine work to safeguard the appropriate use of their monies. This recognition reflects very highly on the quality of the team that we have built at STC."
The CAFR program, established in 1945, is designed to recognize and encourage excellence in financial reporting by state and local governments. More than 68 percent of all cities and 46 percent of all counties with populations in excess of 50,000 participate in the program, as well as 42 state governments.
"This is the highest form of recognition in governmental accounting and financial reporting, bearing witness to our commitment to excellence and accountability," said Diana Peña, vice president for finance and administrative services for STC. "We are servants of the community, acting as guardians of their monies to support higher education needs in Hidalgo and Starr counties and we take that obligation very seriously. Earning this award for the fourth straight year demonstrates quality reporting and a significant achievement for the college and its management."
For additional information about South Texas College call 872-8311 or visit http://www.southtexascollege.edu.
••••••
Sen. Cornyn makes final push for emergency border security funding before year's end
U.S. Sen. John Cornyn, R-Texas, the Ranking Member of the Immigration and Border Security subcommittee, on Thursday, December 13, sent a letter to Senate Majority Leader Harry Reid and House Speaker Nancy Pelosi urging the leaders to include emergency funding for border security in the omnibus appropriations bill.
Cornyn has been working to pass this critical funding for months, and despite the fact that it has been voted for by a majority of senators on three different occasions, the $3 billion in emergency funding continues to meet resistance from Democrat leadership.
"The American people are losing patience with this Congress for failing to deliver on promises to secure our country's borders. Authorizing funding for much-needed border security measures is a tangible step toward restoring the trust of the American people—and it's one a majority of us agree on. Yet despite the fact that a majority of senators voted for this critical border security funding three times this year, some continue to block it.
"This long-overdue funding will greatly boost security along our borders. It will also help reimburse state and local officials who have been struggling to address unfunded mandates associated with this growing problem. I hope my letter will send a strong message to the leaders in the majority and encourage them to do what's right for America's security and economy."
Cornyn serves on the Armed Services, Judiciary and Budget Committees. In addition, he is Vice Chairman of the Senate Republican Conference and the Senate Select Committee on Ethics. He serves as the top Republican on the Judiciary Committee's Immigration, Border Security and Refugees subcommittee and the Armed Services Committee's Airland subcommittee. He served previously as Texas Attorney General, Texas Supreme Court Justice, and Bexar County District Judge.
Full text of Cornyn's letter below:
Dear Majority Leader Reid and House Speaker Nancy Pelosi:
As we complete the appropriations process, I strongly urge you to include emergency funding for border security in the omnibus appropriations bill. Yesterday, I joined several of my colleagues and called on the Senate to adopt by unanimous consent S.2348, the Emergency Border Funding Act. S. 2348 appropriates $3 billion dollars for 23,000 additional border patrol agents; 300 miles of vehicle barriers; 700 linear miles of fencing; 105 ground based radar and camera towers; 4 unmanned aerial vehicles, increasing detention capacity to 45,000, and funding other Department of Homeland Security activities that will help secure the border. Unfortunately, there was objection to passage of the legislation, but I am hopeful you will include this important funding.
As you recall, this border security funding has been passed on at least three occasions:
• An amendment to the Comprehensive Immigration Reform bill in May (SA 1172);
• An amendment to the Department of Homeland Security Appropriations bill in July (SA 2480); and
• An amendment to the Department of Defense appropriations bill in October (SA 3117).
Each amendment passed by a majority in the Senate, indicating the strong will of the Senate to provide additional funding for border security. We need to restore the American people's faith in the federal government and demonstrate that we are serious about securing the border and enforcing our current immigration laws. I urge you to work together to ensure that we pass this critical funding before the Senate adjourns.
••••••
Rio Grande Valley and Gulf Coast named "Judicial Hellholes" six years running
Civil courts in the Rio Grande Valley and the Texas Gulf Coast continue their six-year reign as judicial hellholes where uneven justice and unfair legal practices are commonplace, according to an annual report released on Tuesday, December 18, by the American Tort Reform Association (ATRA).
"Everything is bigger in Texas, including the dollar signs personal injury lawyers see when they file cases in the 'magic jurisdictions' of the Valley and the Coast," said Bill Summers, president and founder of Citizens Against Lawsuit Abuse of the Rio Grande Valley. "We'll never shake this hellish reputation as long as our courts continually serve up uneven justice to line personal injury lawyers' pockets."
According to the report, the Valley and the Coast persist as destinations for what's been described as "litigation tourism." Since courts in these regions notoriously favor personal injury lawyers, "plaintiffs' attorneys become the 'travel agents' for the 'litigation tourist' industry, filing claims in jurisdictions with little or no connection to their clients' claims," according to the report.
"It's no wonder enterprising personal injury lawyers would flock to judicial hellholes because judges systematically apply laws and court procedures in their favor," Summers said. In fact, the
Rio Grande Valley and the Texas Gulf Coast are known collectively "as one of the toughest jurisdictions for corporate defendants in the country," according to published reports.
Further evidence of courthouse bias cited by the report included the Starr County case where a district judge single-handedly stifled a defendant's request for a new trial – even after all parties discovered that a juror in the first trial actually knew the plaintiff, had accepted interest-free loans from her and contacted her several times after receiving his jury summons. The case was brought by the widow of a smoker with a 28-year history of heart disease, high blood pressure and quadruple bypass surgery, claiming his heart attack was the result of a 17-day course of Vioxx. Instead of ruling on the request for a new trial with a fair jury, the judge sat on the request, allowing the 75-day time limit for a new trial to expire.
"Personal injury lawyers brag about their success in the Valley," Summers said. According to one prolific personal injury lawyer's description of Starr County, Texas, "That venue probably adds about 75% to the value of the case… [W]hen you're in Starr County, traditionally you need to just show that the guy was working, and he was hurt. And that's the hurdle."
In fact, a well-used quote from personal injury lawyer Dickie Scruggs sums up the personal injury lawyer view of hellholes (Scruggs prefers to call them "magic jurisdictions") as a place where "cases are not won in the courtroom. They're won on the back roads long before the case goes to trial. Any lawyer fresh out of law school can walk in there and win the case, so it doesn't matter what the evidence or law is."
Summers added, "Baseless lawsuits, with near-guaranteed windfall verdicts, are the bread and butter for more than a handful of personal injury lawyers who know how to strike it rich in judicial hellholes.
"Our judicial hellhole reputation – and the personal injury lawyers who exploit the system – make a mockery, not only of our justice system, but of our communities. We need a no tolerance policy for peddlers of lawsuit abuse and the judges who enable them. Until then, greed-fueled notoriety will continue to sully the proud landscape of Texas."
Citizens Against Lawsuit Abuse (CALA) is a nonprofit, nonpartisan, grassroots, public education organization dedicated to serving as a watchdog over the legal system and those who would seek to abuse it for undeserved gain. Founded in the Rio Grande Valley in 1991, CALA now strives nationwide to raise awareness of the costs and consequences of lawsuit abuse. More than 25,000 Texans now support the movement. For more information, visit http://www.citizensagainstlawsuitabuse.com.
••••••
Let the entire nation participate
By REP. JUAN GARCIA, III
D-Corpus Christi
By all accounts, the voters of Iowa and New Hampshire take their responsibilities in casting the nation's first votes for the next President of the United States very seriously. But it is difficult to argue that these two sparsely populated states provide a representative sample of the American electorate. However, if history is a guide, they are likely to play a wildly disproportionate role in determining who the next leader of the free world will be.
If the nominations are not decided by those two states in the first week of January, and somehow the races remain competitive after the South Carolina and Nevada primaries that follow immediately thereafter, the consensus among analysts is that the parties' respective candidates will be unequivocally decided on February 5, when for the first time, over 20 states will hold their primaries, in what has been dubbed "Super Duper Tuesday." The result: nominations for the next Commander-in-Chief will be sealed before half of the country, including Texas, gets a chance to vote.
Last April I was part of an overwhelming majority of the State House of Representatives who voted to move our primary to the first Tuesday in February, giving Texans a say in who our next President will be. However, the measure died in the Senate, with members arguing that the change would create a burden on election officials, who would have to conform to new dates (registration deadlines, sending new registration cards, filing dates for candidates, etc.), several of which would fall over the holidays.
A stampede of states to see who can schedule their primary earlier is not good for the process either (this spring, Florida considered a measure that would have actually moved its' primary to 2007, for offices that won't be assumed until 2009). A frontloaded calendar, producing early nominees, results in low voter turnout in state's with subsequent primaries. It also creates further advantage for ultra-wealthy candidates, who can self-finance the organizational infrastructure across early states that other contenders have to earn through retail campaigning.
A proposal advanced by the National Conference of Secretaries of State, and supported by the Commission on Federal Election Reform co-chaired by former U.S. President Jimmy Carter and former U.S. Secretary of State James A. Baker III would group the states into four different regional areas. One region would vote the first Tuesday in March, the next in April, the third in May, and the last in June. A lottery would be held to determine which region would begin the sequence the first year of the plan. The next presidential election cycle, the region that held the first position would move to the end of the sequence, and the other regions would move forward.
Assessing the presidential candidates' positions on subsidies for corn ethanol and national forestry policy are important for Iowa and New Hampshire voters. But here in Texas and across the country, voters deserve to hear our interests addressed as well. It's time to let the entire nation participate in this process.
(Garcia represents District 32 in the Texas House of Representatives, including Aransas, Calhoun and San Patricio counties and part of Nueces County.)
••••••
Attorney General Abbott reaches agreement with Web site that collects personal information from minors
Texas Attorney General Greg Abbott on Tuesday, December 18, reached an agreement with Santa.com that will protect the privacy and safety of children who use the California-based Web site.
The Attorney General's legal action ensures that Santa.com complies with the Texas Deceptive Trade Practices Act (DTPA) and the Children's Online Privacy Protection Act (COPPA). COPPA is a federal law that generally prohibits Web sites from unnecessarily collecting personal information from children under 13.
Under the terms of the agreement, Santa.com, which is operated by Small's Seed Company, L.L.C., must obtain verifiable parental consent before collecting personal information from children, such as names, home addresses and e-mail addresses. The Web site also must clearly disclose how it intends to use the collected information, including whether it will be shared with third parties or other Internet users. Santa.com also agreed not to require children to disclose excessive personal information as a precondition to participating in the site's online games and features.
"Today's agreement ensures that a popular children's holiday Web site will fully comply with laws that protect young Internet users," Abbott said. "Under federal law, Web sites that cater to young children must obtain parental consent before collecting young users' sensitive personal information and must take steps to limit pass-through access to inappropriate content online. The Office of the Attorney General will continue aggressively enforcing laws that protect Texas children."
Under COPPA, Web sites that cater to children must make a greater effort to ensure that parents consent before their children younger than 13 provide personal information online. The Federal Trade Commission (FTC) offers several options for Web site operators to obtain verifiable parental consent. Among them, the FTC recommends that Web sites maintain a toll-free telephone number staffed by trained personnel for parents to call in their consent or provide a form for the parent to print, complete, sign, and mail or fax back to Web site operators.
Today's agreement requires Santa.com to maintain a link on every page of its Web site, including its homepage, that collects children's personal information. The link must direct users to a disclosure statement that provides the types of personal information the Web site collects from children; how the information may be used; and whether it is disclosed to third parties. The link should inform parents that they may decline the collection and use of a child's personal information.
The December 18 action is Abbott's third legal action under COPPA. Earlier this month, the Attorney General filed enforcement actions against TheDollPalace.com and Gamesradar.com for unlawfully collecting personal information such as names, ages, and home addresses from children. Investigators also discovered that the sites' parental consent features were easily manipulated and circumvented. The lack of reasonable controls readily allow children to access the sites' various features, including interactive chat rooms and forums, without their parents' knowledge. Both lawsuits are pending.
Abbott reminded parents to closely monitor their children's Internet activities by using the following safety tips:
• Teach children never to give out personal information such as their last name, birthday, home address or telephone number, especially in a chat room, over an online bulletin board, or to an online pen pal, without your permission.
• Make sure your children know never to agree to a face-to-face meeting with someone they meet online.
• Instruct your children never to respond to e-mail or chat messages that make them feel uncomfortable or from someone they don't know. Stress that they should show such messages to you.
• Surf the Internet with your kids. If it is not possible for you to actually surf with your children, at least talk to them about the Web sites they are visiting.
• Place the computer in a public room in your home so that even when you are not surfing online with your children, you can monitor their use. Do not allow computers in a child's bedroom or permit the use of Web cams.
• Establish ground rules for your children's Internet usage, including the hours they may surf and the kinds of Web sites they may visit. Post the rules near the computer.
• Learn how to use parental controls and archiving features. You should be able to check your child's e-mail account and review the sites your child has visited on the Internet.
To find out more about Attorney General Abbott's efforts to protect children, visit the Attorney General's Web site at http://www.oag.state.tx.us or call (800) 252-8011.