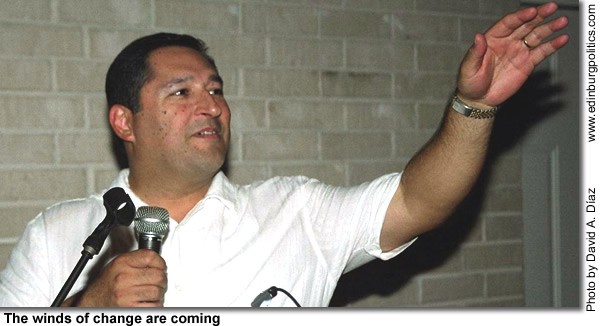 Javier Villalobos of McAllen, who is seeking the House District 41 state representative seat currently held by Rep. Verónica Gonzáles, D-McAllen, points to more than 300 friends who showed up on Thursday, October 4 in McAllen for a fundraiser to help power his campaign. "The winds of change are coming," Villalobos told his supporters. "I think people are interested, and they do want to help. We were hoping to raise about $20,000 or $25,000, but we were able to raise $61,400." See story later in this posting.
••••••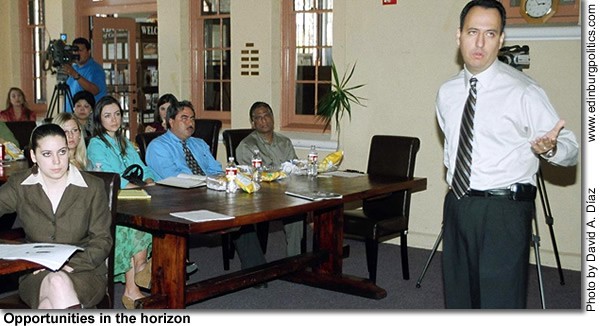 Ramiro Garza, Jr., executive director for the Edinburg Economic Development Corporation, gestures to a screen containing economic and demographic information about the city during a Thursday, October 4 commercial real estate roundtable hosted by the EEDC at the Edinburg Depot. Leticia Reyes, EEDC project manager featured left, also participate in the presentation. See story later in this posting.
••••••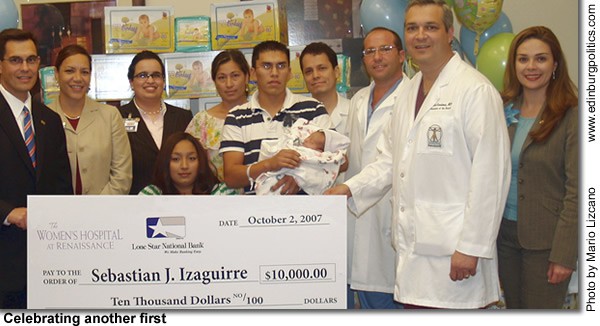 Sebastian J. Izaguirre, son of José and Mayra Izaguirre from Edinburg, was the first baby born at the newly-opened, $67 million Women's Hospital at Renaissance. The baby was delivered at 3:14 p.m. on Monday, October 1, weighing seven pounds and measuring 20.5 inches. "This modern state-of-the-art facility is the Valley's only hospital dedicated exclusively to women's healthcare needs," says Marissa Castañeda, DHR Chief Operations Officer. "We are elated to join with over 45 obstetric and gynecological physicians in providing the highest quality care to women in South Texas." In recognition of being the first baby born at The Women's Hospital at Renaissance, Baby Izaguirre received a $10,000 savings bond from Lone Star National Bank and Doctors Hospital at Renaissance. HEB Food Stores was present during the formal presentation to the community and will be providing a supply of diapers and wipes for the first year to the Izaguirre family. The Women's Hospital at Renaissance is scheduled to deliver 8,000 babies in its first year of operation and will revolutionize women's healthcare in our region. For more information please call the Women's Hospital at Renaissance at (956) 688-4000.
••••••
Javier Villalobos raises $60,000, hopes for GOP in local House District 41 race against Rep. Gonzáles
By DAVID A. DÍAZ
Only three weeks earlier, Javier Villalobos, who is challenging Rep. Verónica Gonzáles, D-McAllen, wondered how many of his friends would be able to show up, on short notice, for a Thursday, October 4 appreciation barbecue hosted at one of his neighbor's home.
His worries were laid to rest, while the local Republican Party's hopes were elevated, when more than 300 GOP faithful flocked to a north McAllen subdivision and helped raise more than $60,000 for Villalobos, who is seeking to become the first Republican from Hidalgo County to be elected to the Texas House of Representatives.
Villalobos and Gonzáles, both McAllen-based attorneys, are running for House District 41, which includes southwest Edinburg, most of McAllen, northeast Mission, Palmhurst, Alton and Sharyland.
His good financial showing, plus his view that House District 41 is friendly to conservative and Republican political candidates, are money in the bank for him – both figuratively and literally.
"The winds of change are coming," Villalobos told his supporters at the fundraiser. "I think people are interested, and they do want to help. We were hoping to raise about $20,000 or $25,000, but we were able to raise $61,400."
Villalobos, 41, filed his paperwork with the Texas Ethics Commission in Austin late last spring, marking his first public notice that he was going to make his inaugural run for elected office. It also allowed him to begin raising and spending money for his campaign.
He has hired Jeff Butler of BSC Ltd in Austin as his campaign consultant, who will be responsible for his media and advertising strategies, among other key duties.
Villalobos said he has not yet selected a campaign manager.
As for his campaign platform, Villalobos said the barbecue was intended to thank his friends for their support, not hear political rhetoric.
Among the supporters who showed up were: former Mayor Othal Brand, Sr.; Donna Mayor Ricardo L. Morales; McAllen Municipal Court Judge Ernest Aliseda, who is also a former presiding judge of Hidalgo County's 389th District Court; Hidalgo County Republican Party Chairman Hollis Rutledge; and Tom Haughey, a political columnist with the Advance News Journal in Pharr.
Villalobos said he would begin detailing his legislative issues in the coming months.
The Republican and Democratic Party primary election won't be held until early March 2008.
If no one else files for either primary election by January 2, it will be only those two candidates who will face off in the November 2008 election.
District 41: Economic heart of the Valley
During a break from serving as host to his supporters, Villalobos did share some of his political philosophy, confident that the majority of voters in House District 41 – especially Mexican Americans – have a lot in common with the Republican Party.
"I am running as a conservative, but I don't want people to think this is the old time, right-wing kind of individual – I am not. But I definitely am not a liberal individual," Villalobos explained.
He said House District 41 is a key economic engine for the Valley, and if elected, promised to help promote the continuing development of businesses, which in turn, will help keep and generate jobs for the area.
"A lot of businesses in the Valley are located in House District 41," he noted. "In the morning, you see the cars coming along Expressway 83; in the afternoon, you see them going out. The Valley needs a strong District 41."
He said that business owners in House District 41 tell him that they "get help from no one."
Villalobos said there are many programs available through a myriad of sources, including the government, designed to help start and expand businesses, which lead to more hiring and higher-paying jobs. But no one is getting that help to business owners, he contended.
"That's one of the things that I want to do. Get those businesses some assistance," Villalobos said. "There are a lot of government programs to help the unemployed or the low-income to get jobs, and the businesses can get help through that. But it is not being pushed.
"If we have employers creating jobs, we don't have to worry about unemployment," he added. "If you have a strong business, you can help your employees. You can get them out of where I was back when I was a kid."
The measure of a man
Villalobos was born and raised in Crystal City, one of the poorest communities in Texas, and the birthplace of La Raza Unida Party, a political movement that promoted the interests of poor Mexican Americans in Texas.
But Villalobos, like his family, worked themselves out of economic obstacles.
After graduating from high school in Crystal City, he attended junior college before he earned a Bachelor of Business Administration, with an emphasis in accounting, from Southwest Texas State University in San Marcos.
He worked with the Texas Railroad Commission for about three years, auditing gas companies, before making the move to become an attorney.
In the mid-1990s, he earned his law degree from Thurgood Marshall School of Law in Houston, working for an area law firm during his final year of legal studies.
"As soon as a took the (Texas State) Bar (Examination), I came 'home' to the Valley, opening up my own office in 1995, even though many people told me I wouldn't succeed, that I had to work for someone else first," Villalobos recalled. "But with the blessing of the Lord, we also have an office in Houston, and we just opened an office in San Antonio, which will focus on economic development."
Last fall, Villalabos' life story drew the attention of Gov. Rick Perry, a Republican.
Perry appointed Villalobos to the Texas Funeral Service Commission to serve for a term to expire Feb. 1, 2011. The commission oversees the licensing of funeral directors and embalmers, and compliance with state statutes and regulations regarding funeral services, cemeteries and crematories.
Villalobos is the founder and managing partner with Villalobos and Vaughan, a general practice firm, and is city attorney for the cities of Donna, San Juan, Elsa and Progreso. He is a member of the State Bar of Texas, the Hidalgo County Bar Association and serves as general counsel for the South Texas Economic Development Corporation. Villalobos serves as chairman of Nuestra Clinica Del Valle and volunteers as a coach for the Boys and Girls Club. He formerly served as general counsel of the Progreso Independent School District.
He and his wife, Annette, who is from Sharyland, have been married about seven years. They have four children.
Villalobos is a man of the people in more ways than one, said his supporters.
"Javier is a very humble person," said Rogelio "Roy" Martínez, owner of an area business brokerage firm. "He became very well-educated, he grew up in the public school system, has become a successful attorney, and now he is ready to give back to the community by serving the community and representing our area."
Brand, the former longtime McAllen mayor and Republican heavyweight, said Villalobos is a man of character who is ideally suited for what he says is a politically-conservative House District 41.
"I am ready to support a conservative view across this nation, a Congress and a Texas Legislature that can work together to solve problems that are our problems," Brand said. "I believe he has integrity, he is sound morally, he is a good man any way you measure it, and I believe he will perform well for us."
••••••
Rep. Gonzáles selected as one of 24 "true rising stars" in American politics by The Aspen Institute
By RICARDO LÓPEZ-GUERRA
Rep. Verónica Gonzáles, D-McAllen, was recently selected by The Aspen Institute as a member of the Aspen-Rodel Fellowship in Public Leadership class of 2007. The Aspen-Rodel Fellowship selects 24 of the nation's top young elected officials – 12 Democrats and 12 Republicans – that the Institute has identified as "the true rising stars" of American politics to discuss broad issues of democratic governance and effective public service.
Former Congressman Mickey Edwards, the program's director, said the new fellowship class "represents the true promise of America – an outstanding group of young leaders with a clear commitment to putting the nation's interest ahead of partisan considerations."
Edwards, R-Oklahoma, was a member of the House Republican leadership, national chair of the American Conservative Union and a founding trustee of the Heritage Foundation. He represented Oklahoma's 5th congressional district from 1977 to 1993.
"It is very humbling to be nominated and selected to participate in this elite program," said Gonzáles. "We live in a country that is very diverse but as Americans, we share many common goals. It is exciting to be part of an organization that exists to provide political leaders an opportunity to share ideas with other like-minded individuals who have the best interests of their constituents and communities in mind," said Gonzales.
The fellowship selects 12 Democrats and 12 Republicans annually. Edwards said the selection process involved looking for young officials who had not only earned reputations for thoughtfulness and intelligence, but who had also been recognized for "their willingness to cross party lines and their ability to remain focused on the ideals that led them into public service in the first place."
The invitation-only nomination process ensures that those selected have been vouched for as the area's most respected and most promising leaders on their way up in the political hierarchy. The 24-month program consists of three weekend-long seminars in the United States as well as week-long seminars in foreign countries to observe the operation of other governments.
Gonzáles is the third Fellow from Texas and is only the second Texas legislator selected to join the ranks of the prestigious fellowship. The Aspen Institute, founded in 1950, is an international non-profit organization dedicated to fostering enlightened leadership and open-minded dialogue. It seeks to promote nonpartisan inquiry through seminars, policy programs, conferences and leadership development initiatives.
Gonzáles is seeking the March 6 Democratic Party primary nomination to a third-two year term as state representative for House District 40. She is facing a challenge from fellow McAllen attorney Javier Villalobos, who has filed for the Republican Party primary nomination for that post.
House District 40 includes southwest Edinburg, most of McAllen, northeast Mission, Palmhurst, Alton and Sharyland.
(David A. Díaz contributed to this article.)
••••••
With cancer hitting home, Eddie Sáenz rallying support for passage of $3 billion cancer research fund proposal
By KELLY FERO
Eddie Sáenz, a Democratic candidate for state representative, House District 40, on Thursday, October 4, said that he will help lead the effort to pass Proposition 15, the far-reaching initiative on next month's ballot designed to find a cure for cancer, saying that the disease touches the lives of every Texan, including more than 650,000 Texans.
Proposition 15 would double the amount of money currently spent for cancer research in Texas at a time when experts believe they are on the verge of major breakthroughs into what causes the deadly disease. If approved, Proposition 15 will attract additional private dollars and investment resources. The initiative will be funded through general obligation bonds, and debt would be issued only as the program moves forward. All research will be overseen by leading cancer research specialists.
Proposition 15 on the November 6 ballot, one of 16 constitutional amendments facing voters statewide.
"This is an investment in a future of hope and human possibilities," said Sáenz, who serves as chairman of the Board of Governors, an advisory panel, to Edinburg Regional Medical Center. "At a time when the federal government has cut back on funding for a cure, we have the power to regain the momentum here in Texas and become a national leader in the effort to wipe out this disease."
Sáenz, a civil engineer in Edinburg, is challenging Rep. Aaron Peña, D-Edinburg, for the Democratic Party nomination that will be decided in early March 2008. There are no other announced candidates so far.
House District 40 includes all but southwest Edinburg, La Joya and Sullivan City in western Hidalgo County, Edcouch, Elsa, La Villa, and San Carlos in eastern Hidalgo County, and northern Hidalgo County.
The proposal, also being pushed by Sen. Juan 'Chuy' Hinojosa, D-McAllen, former State Comptroller John Sharp, and others, calls for a $3 billion investment over the next 10 years to make Texas a center of research into cancer prevention. The legislation putting the measure on the ballot passed the Texas House in May.
Sáenz, who also heads the governing board of the Edinburg Children's Hospital, said there will be 87,000 new cancer cases in Texas this year.
"Sooner or later, this disease touches every family, including mine," he said. "We owe it to ourselves and those we love to invest in medical research and the discoveries it can bring."
Sáenz' father-in-law succumbed to oral cancer six years ago, his mother is a breast cancer survivor, and his father was diagnosed with liver cancer just three weeks ago – his third bout with the deadly disease.
In addition to his chairmanship of the Board of Governors of the Edinburg Regional Medical Center and Edinburg Children's Hospital, Sáenz also served as chairman of Avance, a non-profit organization whose focus is to strengthen families and helped to implement the enrollment process for the successful Children's Health Insurance Program in South Texas.
(David A. Díaz contributed to this article.)
••••••
EEDC planning to contribute $40,000 for downtown sidewalk improvements
By DAVID A. DÍAZ
Efforts to improve the looks of downtown Edinburg are expected to go before the Edinburg Economic Development Corporation later this month, following action taken Tuesday, October 2, by the Edinburg City Council.
The city council authorized City Manager J.J. Rodríguez to enter into a reimbursement construction agreement between the city and the EEDC for the downtown sidewalk project, which will focus on the northeast corner of the courthouse square.
On September 18, 2007, the city council awarded a bid to Álvarez Construction for the demolition and construction and ADA ramps, as well as the installation of brick pavers, at different intervals throughout the project limits, along the east side of 12th Avenue and the north side of McIntyre Street, Rodríguez said.
The Edinburg Economic Development Corporation has expressed interest in entering into a reimbursement agreement with the city of Edinburg for the improvements," the city manger explained. "The city shall pay all costs associated with the improvements, and EEDC agrees to reimburse the city an amount not to exceed $40,000. Any costs in excess of the amount approved by the EEDC shall be paid by the city."
The EEDC is the jobs-creation arm of the Edinburg City Council.
Along with Mayor Joe Ochoa, the EEDC board of directors includes former Mayor Richard García as the board president, Fred Palacios, Mike Govind, and Dr. Glen E. Martínez, Ph.D.
Ramiro Garza, Jr., the executive director of the EEDC, said money had already been set aside for participation in the project, which he says will help make the downtown area more attractive to investors.
"It's been an effort to work with the county government in the long term for the improvements they are going to be making," Garza said, noting that the county will be building a second, major parking lot in the area to serve the courthouse complex.
About a block north of the courthouse, the former Roberts Chevrolet/Fiesta Chevrolet, which was bought by the county earlier this year, will be demolished to make room for the new parking lot.
Across the street from the former car dealership, the Museum of South Texas History is making its own improvements, including the development of a small park, that will add to the aesthetics of the area.
The sidewalk improvements "will help tie in that area, along with the new City Hall being built, to lead to the downtown area," Garza said. "Hopefully, it will help attract new investments to downtown."
••••••
The SHOE DEPT. announces plans to join The Shoppes at Rio Grande Valley
By MEGAN PHILLIPS
First Hartford Realty Corporation announced on Monday, October 8, that Concord, NC based retailer, the SHOE DEPT.., has signed on to join The Shoppes at Rio Grande Valley, currently under development in Edinburg.
The 7,125 sq. ft. store marks the third location in the Rio Grande Valley for the company.
The 1.1. million sq.ft. shopping center located at Highway 281 and Trenton Rd. is projected to cost over $80 million dollars and spans 130 acres. The official groundbreaking for the open-air center took place on August 2 and the grand opening is scheduled for fall 2008. "
We are pleased to announce the addition of the SHOE DEPT, a leading national retailer carrying a wide variety of brand name footwear, to our merchandise mix," said Jay Shaw, Senior Vice President / Director of Leasing for First Hartford Realty Corporation.
Shoe Show, Inc., parent company of the SHOE DEPT., was founded by Robert B. Tucker, who opened the first Shoe Show 47 years ago with used carpeting bought from a church and racks that were spray painted by Tucker and friends recruited to help. The first store employed Tucker, his wife and one part-time employee. The company now has over 8500 employees with locations in 36 states. Shoe Show, Inc, averages opening one store every seven days.
Much of the company's growth has been through a series of acquisitions of companies such as Burlington Shoes in 1986. The "Burlington Shoes/the SHOE DEPT" division, which began with the purchase of 7 stores, has grown to 634 and continues to expand. These stores offer customers an impressive lineup of brands such as Aerosoles, Clarks, Columbia, Easy Spirit, Florsheim, Liz Claiborne, Nine West, Rockport, Rocky Boots, Skechers, Steve Madden, Timberland, Tommy Hilfiger, as well as branded athletics such as Reebok, Nike, New Balance, Keds, K Swiss and "adidas".
In December 1993 SHOE SHOW, INC. acquired Altier Shoes, an upscale footwear retailer in Rochester, New York. These 7 stores became part of the "the SHOE DEPT." division.
In the Spring of 2000, SHOE SHOW, INC. acquired over 80 Pic N' Pay leases which operated moderate-price stores under the names Pic N' Pay, Shoe City, and Shoe World throughout the South and mid-Atlantic. Most of these locations became a part of the SHOE SHOW division.
In January 2002, SHOE SHOW, INC. purchased the Shoebilee / El Bee Shoes chain consisting of 44 stores in the upper Midwest.
The most recent acquisition, occurred in May 2004 with the purchase of six "just for feet" stores.
The SHOE SHOW division carries its own popular-price brands as well as Eastland, Timberland, Tommy Hilfiger, Hush Puppies, Life Stride, Rocky Booths, K Swiss, Reebok, Nike, Keds, New Balance, Hi-Tec and "adidas".
The company's corporate headquarters and distribution center (13 ½ acres and expanding) is located in Concord, North Carolina, 15 miles north of Charlotte. The distribution center ships an average of 1,000,000 pairs per week using a totally paperless, radio-frequency system. The corporate office and distribution center employes approximately 580 people. The chain boasts a total of 1071 stores.
First Hartford Realty Corporation is based is a commercial real estate developer based in Manchester, CT. The company has developed over 35 million sq.ft. in real estate, including over 6 million sq.ft. of space of retail space, since the company's inception in 1949. For more information, visit http://www.firsthartford/com.
••••••
EEDC provides update to commercial, real estate developers during roundtable at Edinburg Depot
By DAVID A.DÍAZ
In advance of a major national retail conference in San Antonio that will be held from October 10 through October 12, the Edinburg Economic Development Corporation held its first-ever commercial real estate round table on Thursday, October 4, to bring local developers up-to-speed on retail and real estate opportunities in the three-time All-America City.
Ramiro Garza, Jr., executive director of the EEDC, led the local discussion, held at the Edinburg Depot late last week, and was scheduled to participate this week at a major gathering, sponsored by the International Council of Shopping Centers, which will allow him to promote Edinburg to the leaders of major retail interests who will be in attendance.
Founded in 1957, the International Council of Shopping Centers (ICSC) is the global trade association of the shopping center industry. Its 70,000 members in the U.S., Canada and more than 80 other countries include shopping center owners, developers, managers, marketing specialists, investors, lenders, retailers and other professionals as well as academics and public officials. As the global industry trade association, ICSC links with more than 25 national and regional shopping center councils throughout the world.
The principal aims of ICSC are to advance the development of the shopping center industry and to establish the individual shopping center as a major institution in the community through a number of key initiatives.
Many real estate and commercial developers from Edinburg and South Texas are scheduled to attend the San Antonio session, so Garza wanted to give them an advanced look at what is going on in Edinburg.
"Due to the high interest in the commercial development industry, we have received quite a bit of calls for information. We seem to work quite a bit with a lot of different professionals in the real estate industry, which are developing in Edinburg," Garza said. "But, there are so many things that are changing rapidly, we felt we needed to bring everyone together, not only on ongoing projects, but on the date that is being made available. This allows us to share the information we have, but we can also get information and feedback from this community as well on what is taking place."
Any resident can also get information on economic development updates by logging to the EEDC's web site at http://www.EdinburgEDC.com
There is no charge to access the website.
Residents may also call the EEDC at 383-7124 for information.
••••••
Sen. Lucio praises selection of South Texan Dan Flores as president of security association
By DORIS SÁNCHEZ
As it faces major border security challenges, the Associated Security Services and Investigators of the State of Texas (ASSIST) recently gave its vote of confidence to Dan Flores from Brownsville by naming him its 2007 President at its annual conference in El Paso on Friday, October 5.
Formerly the group's Vice President, Flores has also served as the Regional President for the Rio Grande Valley ASSIST Chapter. Flores will replace outgoing President Dave Parker from Houston.
"I am deeply honored to have been elected president of ASSIST," stated Flores. "Our organization represents over 3,280 security companies and approximately 160,000 security officers statewide. I will take the time to listen to anyone in the security profession. Most importantly, I will continue to promote high standards of conduct and ethics in our security profession."
Presenting him with a Senate Proclamation, Sen. Eddie Lucio, Jr., D-Brownsville, said, "Mr. Dan Flores is well-qualified to undertake the leadership position of the Associated Security Services and Investigators of the State of Texas."
ASSIST is dedicated to enhancing security services for Texas citizens by promoting and safeguarding high-standards of services in the security industry through quality training programs for security officers, championing of appropriate legislative and continuous improvement initiatives, and promoting and sustaining constructive dialogue among security professionals. There are 225 members comprising ASSIST, who work in fields ranging from security to private investigations.
Flores has owned and operated his own security firm, American Investigations and Security International, for the last 18 years and has been a member of the Association of Licensed Investigators for more than 15 years. Committed to his community, Flores has served as Director of the Brownsville Chamber of Commerce for three years, and is currently treasurer of the Brownsville Crime Stoppers.
As president, Flores will be challenged with the group's goals of fostering research and distributing knowledge of the security profession among its membership and the general public. ASSIST seeks to broaden public understanding of the security profession, as well as to foster, promote, maintain and encourage the civic, social and economic welfare of the security profession.
Also dedicated to supporting our system of free competitive enterprise and individual acceptance of responsibility, ASSIST strives to cooperate with federal, state and local government authorities for the good of the community and the security profession.
"I am certainly proud that we have our own South Texan leading this important organization," added Lucio. "I can't think of a person with more experience and knowledge of border security and other issues than Mr. Flores, and feel confident he will help enhance our state's safety in this 21st Century environment."
••••••
HESTEC has many good points, but silencing protesters reflected badly, says UTPA professor
By SAMUEL FREEMAN
For the past six years, the University of Texas-Pan American, in conjunction with Congressman Rubén Hinojosa, D-Mercedes, has sponsored Hispanic Engineering Science and Technology Week (HESTEC), a generally outstanding program designed to encourage public school students to consider careers in science and technology.
Congressman Hinojosa's primary objective in Congress has been to improve education. He certainly deserves credit and praise for those efforts, and the HESTEC program specifically.
That's the Good; now the Bad.
Attendees of multiple HESTEC "events" might get the uneasy feeling a key purpose of HESTEC is for university officials to preen their feathers while announcers sing their praises, then bloviate as tryouts for George Bush's position on the Yale Yell Team.
One also needs to question the "age appropriateness" of the audience for some of the program. On a related note, though HESTEC Web pages and ads in local newspapers reference UTPA students, it is clear HESTEC organizers have little or no interest in UTPA students' involvement other than as "staff" androids.
There supposedly was a "Congressional Roundtable" with Congressmen Hinojosa, Henry Cuellar, D-Laredo, Charles Gonzalez, D-San Antonio. Actually, there were 13 other speakers representing HESTEC sponsors, not counting the obligatory round of strutting UTPA officials.
One unfortunate but inescapable aspect of HESTEC is several sponsors (e.g. Raytheon, Lockheed, Boeing, Haliburton, and the CIA) are huge partners in the military-industrial complex. Given how these swine suck up scientists and technicians, it is understandable they would sponsor HESTEC. Given how states, Texas in particular, have been defunding higher education, turning to the military-industrial complex for funding has become an unfortunate necessity for universities.
Lockheed was the only one of the most egregious military-industrial complex sponsors represented on the "roundtable." Their representative was Ben Romero who spoke at a UTPA Spy Center function last spring. He was the only one to mention the war, boasting of Lockheed's new fighter. After all, aren't universities supposed to be about finding and promoting better ways to slaughter people?
Not a "roundtable" at all, the program was a series of scripted puff questions tossed to each speaker who presented a rehearsed PR spiel of their corporation's efforts to recruit minorities and assist education, especially minority education. Though a couple of statements were interesting, most were standard boiler plate self congratulatory PR pronouncements one would hear at any corporate headquarters.
Representatives Cuellar and Gonzalez, rather than participating in a genuine roundtable discussion, each spoke once for a couple of minutes. Congressman Hinojosa was allowed to speak twice.
Seating for the "roundtable" was at tables for ten, with muffins, fresh fruit, orange juice and coffee for attendees. UTPA students basically were not allowed, only a select few invitees. Yet, there were over 400 empty seats at tables. I understand the tables were purchased, but some kind of provision could and should have been made to allow interested UTPA students fill in the empty seats. This is routinely done at the University Theater. When I suggested this to HESTEC officials, they acted as though the idea was logistically impossible and not worth consideration. So much for the hype about involving UTPA students in events occurring on their campus.
When House Speaker Nancy Pelosi spoke, about 20 members of Students for Peace, LUPE (La Union del Pueblo Enterno), MEChA Movimiento Estudiantil Chicano de Aztlan), and People for Peace and Justice were outside with signs and handing out flyers linking the Iraq war to the struggle for justice in the U.S., and examining the daily cost of the war ($720 million) and what could be done in terms of education, children's health care, low cost housing each day if we were not dumping $720 million daily down the Iraq rat hole.
Inside were well over 1,000 people. The overwhelming majority were public school students, including many elementary school students who simply were too young to have a clue. Only 100 UTPA students were allowed in and probably no more than a dozen faculty. Again, there were numerous empty seats UTPA students and faculty could have had if HESTEC organizers had any real interest in UTPA students being there. Also, one should ask who would benefit more from listening to the Speaker of the United States House of Representatives – university students and faculty, or 4th and 5th graders.
Interestingly, the press hyping Speaker Pelosi's presentation stated she would be speaking to students at UTPA, implying it would be UTPA students. But UTPA students virtually were banned.
As was pre-arranged, whenever applause started, peace activists who managed to get inside chanted "PEACE NOW." They did not begin until applause had begun and stopped before the applause ended. That worked fine a few times, until HESTEC staff could identify the "trouble makers" and admonish them "You have been warned."
"Warned of what?" "You have been warned." "Of what?" "You are creating a disruption." "No, we're not. We are not saying a word unless there is applause. If the applause is not a disruption, then saying something during applause is not a disruption." "Yes it is." "How?" "You have been warned." "Warned of what?" "You have been warned."
Clearly HESTEC officials anticipated the possibility students actually might attempt to communicate with Speaker Pelosi, and had trained staff in their "you have been warned" mantra for that was the phrase each of the "warners" used. None ever identified the consequences of continuing to advocate peace during applause. And God forbid public school students see people actually have a right to speak out or assert themselves.
Peace advocates subsequently remained silent until the end of the event when they once again picked up the chant "PEACE NOW," with more audience members joining than previously. As the audience was filing out, peace advocates once again were admonished "You have been warned."
Furthermore, Students for Peace members who attempted to distribute flyers inside were confronted. HESTEC staff took their pictures and threatened disciplinary action against them. We probably should be thankful they were not tasered, or simply taken out and shot.
Pelosi gave a decent presentation, but did not mention the war once. Given her comments about Congressional efforts and determination to improve federal funding for education, why did she not draw the obvious conclusion and say "Congress could increase education funding by stopping the war?" To her credit – and I do not know whether this was in her prepared remarks or she just added it in – in the middle of her speech, she said: "Our fore fathers were young, and some of them were disruptive." I am not sure what she meant by that, but I took it to mean she was not annoyed by people in the audience chanting "PEACE NOW" during applause.
Indeed, if Speaker Pelosi actually opposes the war as she so vociferously claims, chanting "PEACE NOW" was not dissent but support. That, unfortunately, was lost on the wannabe UTPA Gestapo.
Ironically, President Bush, to his credit, has imposed sanctions on the Myanmar dictatorship for its brutal denial of the rights of speech and dissent. Yet, on our university campuses throughout the nation, administrators work feverishly to prevent the very things that are the hallmark of universities and of free societies – FREE SPEECH AND THE RIGHT OF DISSENT. UTPA administrators should be ashamed.
(Samuel Freeman is a political science professor based in the Rio Grande Valley. He writes a weekly political column for the Pharr Advance News Journal. The above column appears courtesy of the Advance.)
••••••
Sen. Zaffirini receives 2007 Communicator of the Year Award from Texas Speech Communication Association
By NICK ALMANZA
Sen. Judith Zaffirini, D-Laredo, on Friday, October 5, received the 2007 Communicator of the Year award from the Texas Speech Communication Association (TSCA) at its annual conference in San Antonio.
TSCA is a professional and academic association committed to excellence in communication, increasing awareness of political dialogue and the use of proper communication skills in the classroom and work environment. Its membership includes educators, students, consultants and others interested in speech communication. Zaffirini is among their lifetime members.
"It is a tremendous honor to be recognized by my colleagues as the 2007 Communicator of the Year, and I thank TSCA for uniting us in our commitment and dedication to advancing speech, communication and leadership skills," Zaffirini said. "As an undergraduate and graduate communication student, I worked hard and learned to discuss, listen and negotiate successfully. As a senator, I use these skills to discover problems and work effectively to develop solutions through dialogue and consensus."
Zaffirini is a communication specialist with 13 years of teaching experience, including at the college and university levels. Through her business, Zaffirini Communications, she provides communication services, including consulting, workshops and seminars, one-on-one coaching, keynote addresses and writing. A distinguished communicator, educator, and leader, she holds B.S., M.A., and PhD degrees from The University of Texas at Austin, each with a 3.9 grade-point average.
Zaffirini has received more than 585 awards for her professional, leadership and public service work, including more than 100 for communication projects. This year she received a gavel from Lt. Gov. David Dewhurst for casting her 38,530th consecutive vote in the Senate.
••••••
Citizens Against Lawsuit Abuse use radio ads to warn of economic threats from frivolous litigation
By BETH WALKER
As part of Lawsuit Abuse Awareness Week (LAAW) that was marked from October 1 through October 5, Citizens Against Lawsuit Abuse (CALA) groups across Texas call attention to how lawsuit abuse threatens our healthcare system, costs jobs, increases consumer prices, and can cripple small businesses.
"Lawsuit abuse is alive and well as recently demonstrated by the now-infamous $57 million lawsuit against a dry cleaner over a lost pair of pants," said Connie Scott, executive director of Bay Area Citizens Against Lawsuit Abuse. "Although the dry cleaner won in court, the owners shuttered their business in the wake of a single, ridiculous lawsuit. Lawsuit Abuse Awareness Week is critical because these kinds of abuses continue."
Across the state, CALAs ran radio advertisements called "Why" that reminds Texans why they should care about lawsuit abuse. The ads aired in Central Texas, Houston, and the Bay Area; in the Rio Grande Valley, the sixty-second radio spot was broadcast on KURV 710 AM News Talk Radio.
"You don't have to be involved in a court case for lawsuit abuse to affect you," said Bill Summers, president and founder of CALA of the Rio Grande Valley. "Even if you never step foot in a courthouse, lawsuit abuse drives up costs and siphons money out family pocketbooks."
This past year, Tillinghast-Towers Perrin estimated that our lawsuit system costs $880 for every man, woman and child in America – or $3,500 for a family of four.
The CALA radio advertisement described how lawsuit abuse can threaten the health care system by slowing down life-saving medical research and reducing access to medical care.
"Despite significant reforms in Texas, some personal injury lawyers are eyeing the pockets of healthcare providers, looking for new ways to sue," said Kirsten Voinis, spokesperson for CALA of Central Texas. "While reforms went far in putting the brakes on the medical liability lawsuit gravy train, lawsuits continue to threaten our health care system so we must remain vigilant."
For more information about Citizens Against Lawsuit Abuse or to listen to the radio advertisement, log on to http://www.citizensagainstlawsuitabuse.com.
Citizens Against Lawsuit Abuse (CALA) is a nonprofit, nonpartisan, grassroots, public education organization dedicated to serving as a watchdog over the legal system and those who would seek to abuse it for undeserved gain. Founded in the Rio Grande Valley in 1991, CALA now strives nationwide to raise awareness of the costs and consequences of lawsuit abuse. More than 25,000 Texans now support the movement.
••••••