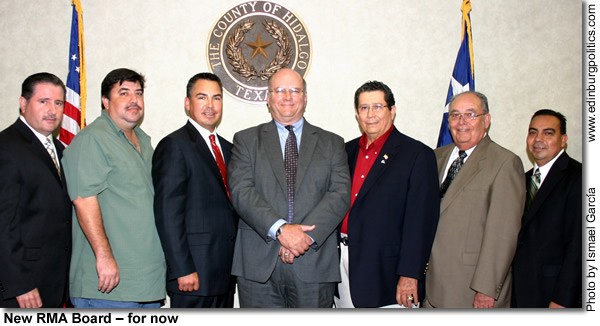 Ricardo Pérez of La Joya, featured first on left, on August 9 became the newest member of the Regional Mobility Authority board of directors, which a public entity that will have tremendous influence over the creation of major roadway systems in Hidalgo County, including a planned $643 million southern loop. Pérez' first major action on the board involved voting to select Hidalgo County Road Builders, led by Gary E. Pate, P.E. of Houston, to serve as the agent for the Southern Loop Project. Pérez' status as the newest RMA board member may be temporary if fellow RMA board member Rubén Plata, featured first on right, is elected to the Mission City Commission later this fall. If Plata wins his bid, the bylaws of the RMA prohibit any elected official from serving on the governing board, and Plata would have to be replaced. The current RMA board featured here, from left, are: Pérez, the branch president of Rio Bank Palmview, and who was appointed by Hidalgo County Judge J.D. Salinas, III; Joe Olivárez of Weslaco, the operations manager for L.C. Olivárez and Company, Inc. of Weslaco; Rick Pérez of McAllen and RMA vice-chairman, who is an attorney in the Pérez Law Firm of McAllen; Dennis Burleson of Mission, the RMA chairman who was appointed by Gov. Rick Perry, and who Vice-President of A.G. Edwards Financial Services in Mission; Ramiro E. Salazar of McAllen, a retired civil engineer; Ruben Serna of Pharr, who is retired from the U.S. Customs Agency; and Plata of Mission, who is branch president for First National Bank in Mission.
••••••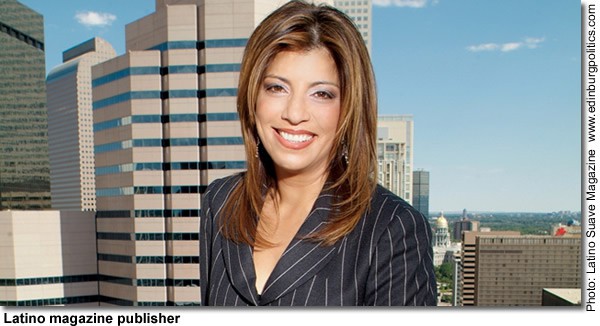 The 2nd Jewels of the Valley Conference and Business Expo, for aspiring 'Women Entrepreneurs of the 21st Century,' will feature Mónica A. García Pleiman from Denver, Colo. as the keynote luncheon speaker. The conference is scheduled for August 28 from 8 a.m. to 4 p.m. at the McAllen Convention Center located at 700 Convention Center Blvd. in McAllen. In June 2006, Pleiman launched Latino SUAVE Magazine, a bi-monthly publication written in both English and Spanish, which focuses on the lives of Latinos. The Edinburg Economic Development Corporation is a sponsor of the event. See story later this posting.
••••••
AG Abbott seeks halt in Edinburg to Kaweah Indian Nation Inc. from selling 'tribal' memberships that promise U.S. citizenship
Texas Attorney General Greg Abbott on Tuesday, August 21, took legal action against three individuals who conceived an unlawful scheme to sell U.S. citizenship to non-citizens. The so-called Kaweah Indian Nation Inc. and the three individuals claimed that non-citizens who purchased "tribal" memberships would be entitled to U.S. citizenship and thus circumvent the ordinary legalization process.
The defendants, the Kaweah Indian Nation Inc., Malcolm L. Webber of Wichita, Kan., (also known as "Grand Chief Thunderbird IV"), Ralph B. Tipton of San Antonio, and Víctor Ramírez of Edinburg, grossly exaggerated the legal effect of membership in their so-called "tribe." Although denied tribal status by the U.S. Bureau of Indian Affairs in 1984, the defendants falsely claimed that the Kaweah Indian Nation Inc. is under consideration as a federally recognized tribe, membership to which automatically confers U.S. citizenship.
"The Office of the Attorney General is committed to strict law enforcement," said Abbott. "With today's enforcement action, we are cracking down on an outrageous scheme to sell United States citizenship. Texans can rest assured we will continue aggressively enforcing the law."
According to the Attorney General's enforcement action, Webber promotes himself as Grand Chief Thunderbird IV, titular head of the Kaweah Indian Nation Inc., while Tipton claims he serves as the group's ambassador to Texas. Ramirez holds himself out as a pastor who promotes the services of the Kaweah Indian Nation Inc. in the Rio Grande Valley. According to court documents filed by the Attorney General, the defendants are suspected of operating both statewide and across the nation.
The three defendants typically solicit pastors in Hispanic communities, ask them to serve as the organization's agents and encourage them to recruit new members to the so-called "tribe." Individuals targeted for recruitment are typically persons who are not legally authorized to reside in the United States. Another category of targets includes those who are authorized to live in the United States on a conditional basis and for a limited period of time.
The defendants' sales pitch to prospective members is that a $400 membership fee entitles them to Social Security cards, protection from deportation, a "Certificate of Citizenship" and an identification card that confers the rights of a sovereign Indian nation. In reality, the card is legally ineffective and does not alter the purchaser's immigration status. However, the Kaweah Indian Nation Inc.'s claims mislead both the purchasers and others who might be deceived by the false certificates of citizenship.
The Attorney General seeks injunctions to halt all violations of the Texas Deceptive Trade Practices Act, as well as civil penalties of up to $20,000 per violation of the act.
••••••
Sen. Hutchison: Independent study calls for major expansion of veterans health services
By GEOFF EMBLER
U.S. Senator Kay Bailey Hutchison, R–Texas, on Monday, August 20, received a briefing from U.S. Department of Veterans Affairs (VA) officials on the results of an independent study that she requested be conducted by the VA to suggest ways to improve veterans' health care in the Rio Grande Valley.
The briefing was also attended by U.S. Rep. Henry Cuellar, D-Laredo/McAllen, Lt. Gen. Ricardo Sánchez (U.S. Army, Ret.), Reps. Juan García, III, D-Corpus Christi, Ismael "Kino" Flores, D-Palmview, and Aaron Peña D-Edinburg.
Also attending were Harlingen Mayor Chris Boswell, McAllen Mayor Richard Cortéz, La Feria Mayor Steve Brewer and UT Health Science Center at San Antonio President Francisco Cigarroa, M.D.
"The study showed something that we have known for a long time in the Valley, that health care services for veterans must be expanded," Hutchison said. "The study conducted by the VA will rapidly expand services and cut down on 95% of the travel to Audie Murphy in San Antonio. Together, working with the Texas Congressional delegation, state legislators from South Texas, and local leaders and veterans, we can deliver a major improvement in the short term upon which we can build in the future. Now, with this study in hand, we have a building block to accomplish what Valley veterans need."
Valley veterans have been burdened with hours-long bus rides to receive treatment at the VA hospital in San Antonio. Expanded health care resources in the region will allow more convenient access to a wider range of medical services without arduous trips to another facility.
Hutchison personally made a request to VA Secretary Jim Nicholson to have his department conduct a study to examine access to health care for veterans in the Rio Grande Valley in December 2005. The VA contracted with an independent consulting firm to conduct the study. Hutchison wrote a letter to Secretary Nicholson on April 5, 2007, requesting a progress report on the study and inquired about it further at a hearing with the secretary on April 12.
••••••
Sen. Cornyn: "We must continue working toward new VA hospital for South Texas"
U.S. Sen. John Cornyn, R-Texas, and a member of the Senate Armed Services Committee, made the following statement on Monday, August 20, regarding the results of a recent study conducted by the Department of Veterans Affairs that looked at efforts to improve veterans' health care in the Rio Grande Valley.
The VA study calls for increasing the current VA health facility space in Harlingen from 11,700 square feet to nearly 160,000 square feet by 2010.
"This study gives voice to what many in South Texas have known for far too long which is that the current level of access to quality health care for our veterans is absolutely unacceptable. The federal government needs to take action.
"Expanding the current VA health facility in Harlingen is good news and an important step to address this problem in the short-term. However, it should not be the last step or a final answer for the long-term. Our veterans in South Texas have risked their lives to preserve our freedom and democracy. They deserve access to top health care at a first-rate facility that provides them with the same deep commitment that they provided to our nation over these many years.
"So while I applaud the results of this study and will work with my colleagues in Congress to ensure that the funding is provided, I will continue to make sure the federal government fully meets the inpatient hospital needs of South Texas veterans. The federal government must remain focused on the long-term by providing for the over 100,000 veterans in South Texas who deserve a new health care facility in the region."
Background:
On July 20, Cornyn introduced the South Texas Veterans Access to Care Act of 2007, S. 1838. This is a Senate companion bill to similar legislation introduced in the U.S. House in January by U.S. Reps.Solomon Ortiz, D-Corpus Christi; Rubén Hinojosa, D-Mercedes; Lloyd Doggett. D-Austin, and Henry Cuellar, D-Laredo/McAllen.
••••••
Edinburg Mayor Joe Ochoa, 12 other area mayors endorse Democrat Mikal Watts for U.S. Senate
By DAVID A. DÍAZ
South Texan Mikal Watts, a probable Democratic Party candidate for U.S. Senate in 2008, was endorsed by more than a dozen area mayors, including Edinburg's Joe Ochoa, on Wednesday, August 15, during a noontime press conference held at the ECHO in Edinburg.
Watts and Rep. Rick Noriega, D-Houston, are both considering seeking the Democratic Party nomination in March 2008 to challenge incumbent Sen. John Cornyn, R-Texas, in the November 2008 general election.
Although Ochoa was the host for the political event, he was unable to make it to the function due to illness, according to La Joya Mayor Billy Leo, who served as the master of ceremony for the event.
But most of the other area mayors endorsing Watts did show up.
In addition to Ochoa and Leo, the other mayors throwing their political support for Watts, a San Antonio-based trial lawyer with offices in Corpus Christi and the Valley include:
•René Castillo of La Villa;
•Senovio Castillo of Elsa;
•Buddy De La Rosa of Weslaco;
•Gumaro "Mark" Flores of Sullivan City;
•Jorge G. García of Palmview;
•José Guzmán of Edcouch;
•Alberto Magallan of Granjeno;
•Servando Ramírez of Peñitas;
•Ramiro Rodríguez, Jr. of Palmhurst;
•San Juanita Sánchez of San Juan;
•Salvador Vela of Alton; and
•Rudy Villarreal of Alamo.
Notables in the audience of about 100 persons included Rep. Ismael "Kino" Flores, D-Palmview; Juan Maldonado, the Hidalgo County Democratic Party chairman; Saúl García, a member of the Edouch-Elsa school board and principal association of Delta Consulting International; Bobby Villarreal, a former member of the Hidalgo County Regional Mobility Authority; former Hidalgo County District Judge Fernando Mancías; Brittney Booth, a reporter with the Edinburg Cable Network; Cynthia Pacheco, district office coordinator for Flores; and Orlando Salinas, district chief-of-staff for Rep. Aaron Peña, D-Edinburg.
Flores said he has not endorsed anyone in the U.S. Senate race. His father is Sullivan City Mayor Flores and his father-in-law is Palmview Mayor García, both who endorsed Watts.
Maldonado had previously endorsed Watts.
Booth said she was at the event on behalf of another broadcast entity, and not in any capacity for the Edinburg Cable Network, which is owned by the city government.
According to the news release issued by Watts campaign:
Watts and the mayors assembled at the press conference attributed Cornyn's weakness locally to his unpopular positions for building a border wall and against expanding the Children's Health Insurance Program.
"This isn't just a fight that's worth fighting. It's a fight that we can't afford to lose. And there's no better example of this than John Cornyn's recent vote against expanding the Children's Health Insurance Program," said Watts referring to Cornyn. "This is just the latest example of why I say that getting rid of George W. Bush but leaving John Cornyn in the U.S. Senate would be like surviving lung cancer but keeping your two-pack-a-day habit."
On August 2, 2007, a bi-partisan majority including the senior senator from Texas, Republican Sen. Kay Bailey Hutchison voted (68-31) to reauthorize and expand the Children's Health Insurance Program by $35 billion. Texas leads the country in the number of uninsured children, and this vote would pay for covering more children by raising tobacco taxes. Even so, John Cornyn voted "nay." (HR 976, Record Vote 307, 2007)
The mayors' endorsement marks the second major demonstration of support in Hidalgo County.
Recently, Watts welcomed the endorsements of Hidalgo County Judge J.D. Salinas, State Sen. Juan "Chuy" Hinojosa, D-McAllen, and Maldonado at a press conference that came on the heels of a staged photo op with John Cornyn and Bush administration political advisor Karl Rove in Hidalgo County.
"Now Karl Rove is leaving the White House in disgrace. Soon Bush will be coming back to Texas, too. But our job won't be done, and South Texas won't get the representation we need in Washington, unless we fire John Cornyn and replace him with a South Texan," said Watts, a South Texas native.
"These mayors are with me here today," continued Watts, "because the way I will provide leadership when I am a United States Senator is by treating South Texas as my native soil and not as merely an election-year destination.
Leo predicted other area mayors would also be endorsing Watts.
"Mayors of Hidalgo County are today endorsing Mikal Watts and urging him to run against the junior senator from Texas, Republican John Cornyn," Leo said. "Mikal has shown that he is one of the hardest working candidates to come along in many years, and he is the best prepared and most qualified candidate in this race.
"Watts was born and raised in South Texas, and knows the challenges we face and concerns we have as South Texans," Leo continued. "We support him because South Texas needs a senator who will go to Washington and fight for us. We know Mikal Watts will never forget where he came from."
••••••
Hispanic magazine publisher García Pleiman to keynote women's conference co-sponsored by EEDC
 By ELIZABETH C. MARTÍNEZ
The 2nd Jewels of the Valley Conference and Business Expo, for aspiring 'Women Entrepreneurs of the 21st Century,' will feature Mónica A. García Pleiman from Denver, Colo. as the keynote luncheon speaker. The conference is scheduled for August 28 from 8 a.m. to 4 p.m. at the McAllen Convention Center located at 700 Convention Center Blvd. in McAllen.
Pleiman is chairman/chief executive officer of Optimum Management Systems (OMS), LLC, a rapidly growing Denver-based technology and communications consulting firm. OMS has grown from $40,000 in revenues and four employees in 1998 to $5.5 million in revenue and over 50 employees in 2006. OMS' estimated revenues for 2007 are $6 million.
In June 2006, Pleiman launched Latino SUAVE Magazine, a bi-monthly publication written in both English and Spanish, which focuses on the lives of Latinos. She is also co-founder of the Latina Chamber, which promotes the interests of Latina-owned businesses. Among many other honors and achievements, Pleiman was named Latina Style Entrepreneur of the Year in 2006 and most recently received the 2007 Woman of Achievement Award by the Association for Women in Communications.
The Jewels of the Valley Conference and Business Expo brings together aspiring women entrepreneurs and women business owners with key experts, corporations and government agencies that provide the tools and services needed by these entrepreneurs to create or expand their business.
For the past two decades, women-owned firms have continued to grow at around two times the rate of all firms. According to the U.S. Department of Labor, nearly 10.4 million firms are owned by women (50 percent or more), employing more than 12.8 million people, and generating $1.9 trillion in sales.
Supporting the 2nd Annual Jewels of the Valley is the U.S. Small Business Administration, the Office of Congressman Rubén Hinojosa, the Edinburg Economic Development Corporation, and the Office of Hidalgo County Judge J.D. Salinas III.
Event sponsors include Time Warner Cable, McAllen Hispanic Chamber of Commerce, McAllen Convention Center, Medi-Quip, The Business Times of the Rio Grande Valley, Horizon Properties, Texas National Bank, TXU Energy, IBC Bank, One Hour Hispanic Millionaire, Law Office of Sergio J. Valdéz, Alltel Business Solutions, Tri-County Maintenance Services, Inc., Clear Channel, Cynthia Contreras-Gutiérrez Law Firm, Mary Kay, and Merchants Business Credit.
For more information about attending the event or sponsorship opportunities, contact Southwest Community Investment Corporation's Women's Business Center at (956) 661-6560.
••••••
Threat from Hurricane Dean results in UT Regents relocating August 22-23 meeting from Edinburg to Austin
The University of Texas System Board of Regents scheduled its next regular quarterly meeting on Wednesday and Thursday, August 22 and 23 in Austin. The meetings on both days will be on the 9th floor of Ashbel Smith Hall, 201 W. 7th Street.
The board meeting had been scheduled to take place at the UT-Pan American campus in Edinburg. Because of the threat of Hurricane Dean and its potential to adversely affect the Texas Gulf Coast region, the UT System Board of Regents Office moved the location of the meeting to the UT System Administration complex in Austin.
This change in location was decided by UT System leaders in order to allow the UT-Pan American campus to focus efforts on preparations for what was then an approaching storm.
•••••
Rep. Peña scheduled to help rally opposition against border wall at Mission event on Saturday, August 25
By DAVID A. DIAZ
The strong opposition to plans by the federal government to build a border fence to discourage illegal immigration into Texas and the United States will be featured during a rally in Mission on Saturday, August 25, according to event organizers.
The rally is designed to bring together speakers with diverse views who are united in their opposition to the planned border wall, according to an area group, No Border Wall, which maintains a website at notexasborderwall.com.
Rep. Aaron Peña, D-Edinburg, Father Roy Snipes, pastor of Our Lady of Guadalupe Catholic Church in Mission, Valley historian Dr. Joe Chance, and Sue Still, director of the NABA Butterfly Park, are the featured speakers, according to the announcement by No Border Wall.
The controversial "border wall" involves plans by the U.S. Department of Homeland Security, acting under congressional mandate, to build high-security fencing along 153 miles of the Texas' with Mexico.
Portions of the border wall would separate populated regions of Texas, including El Paso and Laredo, and more so, the Lower Rio Grande Valley, from Mexico.
The so-called "border wall" is being promoted as a way to help curb illegal immigration into the U.S., and also help protect the nation from international terrorists trying to sneak into the nation.
The plan – and ensuing confusion, intentions, and even secrecy surrounding the federal bureaucracy's intentions – have drawn strong opposition from the Texas Border Coalition, an alliance of elected leaders and economic development officials representing more than two million Texans who live in the 11 counties that border Mexico.
TBC and other border leaders contend that federal money for the border wall could be better spent on more pressing national security needs, including helping Texas fight illegal drug trafficking that spells heartache, ruin, and death for countless Americans.
Also according to No Border Wall:
The rally begins at 5 pm on the grounds of the historic La Lomita Chapel on the banks of the Rio Grande in Mission and features speakers who represent diverse views, but who are all united in their opposition to a wall. After the rally, participants will join in a formal ecumenical procession to the river carrying the banners of every group represented. The procession will board the pontoon boat at the nearby Riverside Club. Boaters are encouraged to bring their boats out on the river at 6:30 pm to accompany the pontoon boat.
After the procession, the Riverside Club will be offering free pontoon rides on the river for all participants, and food and beverages will be available for purchase. We will have a piñata shaped like a wall for the kids to break!
The music begins at 8 pm with Rumbo al'Anacua featuring Joe and Rosa Pérez, musicians and cultural activists who will share the rich musical traditions of the Texas-Mexico border region.
Directions to La Lomita
Take Expressway 83 to the Conway Ave exit. Go South on Conway 2 miles. Take the first right after the RR tracks. When you see the entrance to Chimney Park RV Campground, turn left up onto the levee and follow the signs. For more information email: [email protected]
••••••
Edinburg's retail economy in June up 27 percent over June 2006 level
By DAVID A. DÍAZ
Edinburg's retail economy in June 2007, as measured by the amount of local and state sales taxes generated by a wide range of local businesses, was up more than 27 percent over the same month in 2006, the Edinburg Economic Development Corporation has announced.
The EEDC is the jobs-creation arm of the Edinburg City Council.
It's five-member governing board, which is appointed by the Edinburg City Council, includes Mayor Joe Ochoa, former Mayor Richard García, who serves as board president, Fred Palacios, Mike Govind, and Dr. Glenn E. Martínez, Ph.D.
The figure translates into more than $1.3 million generated in local sales taxes in June, and sent back to the Edinburg city government on August 10 by the state comptroller of public accounts.
The local sales taxes are generated by the city's 1 1/2 cent local sales tax and the 1/2 cent economic development sales tax that is administered by the EEDC.
Retail businesses are required to collect both the local and state sales taxes and send them to the Texas Comptroller of Public Accounts, which soon after returns the local sales tax back to communities in the form of a rebate.
The local sales tax is used to help pay for dozens of major city services, ranging from new streets to city personnel.
In June, Edinburg's economy generated $1,335,130.71 in local sales taxes, compared with $1,050,933.13 in local sales taxes in June 2006, an improvement of 27.04 percent.
During the first half of 2007, Edinburg's retail economy has generated more than $9 million in local sales taxes, up 7.5 percent over the first six months of last year, which had reached more than $8.1 million.
Edinburg registered the best monthly improvement among the major cities in Hidalgo County. In terms of local sales taxes generated, McAllen outpaced all communities in June 2007.
McAllen's economy generated more than $5.3 million in local sales taxes in June, compared with more than $4.8 million during the same month last year, an increase of 11.27 percent.
According to the comptroller's office, Hidalgo County also showed continued prosperity. In June 2007, all cities in Hidalgo County generated more than $11 million in local sales taxes, up 12.95 percent over June 2006, which reached more than $9.7 million.
From January through June 2007, all cities in Hidalgo County generated more than $82.1 million in local sales taxes, up 10.82 percent over the almost $74 million mark set during the same period in 2006.
Neighboring Cameron County registered smaller economic growth, according to the state figures.
In June, all cities in Cameron County generated more than $5.4 million in local sales taxes, compared with more than $5.3 million during the same month in 2006, an increase of slightly more than two percent.
Other major cities in Hidalgo and Cameron counties reported the following sales tax figures:
•Brownsville's retail economy generated more than $2.7 million in local sales taxes in June 2007, only 0.46 percent better than in June 2006.
•Harlingen's retail economy generated more than $1.6 million in local sales taxes in June 2007, compared with almost $1.6 million in May 2006, an increase of 2.83 percent;
•Pharr's retail economy generated more than $1 million in local sales tax activities in June 2007, compared with almost $1.1 million during the same month in 2006, a decrease of almost 7.8 percent;
•Mission's retail economy generated more than $1 million in local sales taxes in June 2007, compared with more than $962,000 in June 2006, an increase of more than 7.1 percent; and
•Weslaco's retail economy generated more than $745,000 in local sales tax activities in June 2007, compared with almost $668,000 in June 2006, an increase of more than 11.66 percent.
Statewide, the state distributed $534 Million in local sales tax revenue.
On Friday, August 10, Texas Comptroller Susan Combs said the state collected $1.6 billion in sales tax revenue in July, up 5.3 percent compared to July 2006.
July state sales tax revenue and August allocations to local governments represent sales taxes collected in June by businesses that report sales taxes monthly, and sales taxes collected in April, May and June by quarterly filers.
"Growth in sales tax collections eased in July, but moved ahead at a steady pace," Combs said. "In particular, receipts from the mining, construction, manufacturing, and service sectors reflect a Texas economy resisting the cooling seen in the national economy."
Combs sent $534.2 million in August sales tax allocations to local governments, up 5.1 percent compared to August 2006. So far this calendar year, sales tax allocations to local governments are up 6.6 percent compared to last year.
Combs sent sales tax payments of $364 million to Texas cities, up 4.1 percent compared to last August. Calendar year to date, city sales tax revenues are surpassing 2006 by 6.9 percent. Sales tax payments of $31 million went to Texas counties, 5.6 percent higher than last August. So far in calendar year 2007, county sales tax allocations are up 7.8 percent compared to last year.
In addition, $17.6 million in sales tax revenue went to 121 special purpose taxing districts, 20.3 percent more than in August 2006. Ten local transit systems received $121.5 million, up 5.9 percent compared to a year ago.
For details of July sales tax payments to individual cities, counties, transit systems and special purpose districts, locate the Monthly Sales Tax Allocation Comparison Summary Reports on the Comptroller's Web site at http://www.window.state.tx.us/taxinfo/allocsum/compsum.html.
The Comptroller's next sales tax allocation will be made on Friday, September 14.
••••••
Edinburg's July 2007 jobless rate posts at 5.8 percent, better than in July 2006
By DAVID A. DÍAZ
Edinburg's jobless rate, which is a key indicator of the strength of the local economy, in July 2007, went up slightly from the previous month, but was still ahead of the same month last year, and represents more than 800 new jobs created since then in the three-time All-America City
The latest numbers were released by the Edinburg Economic Development Corporation, which is the jobs-creation arm of the Edinburg City Council.
The EEDC's five-member governing board includes Mayor Joe Ochoa; former Mayor Richard García, who is president of the EEDC board of directors; and Fred Palacios, Mike Govind, and Dr. Glenn A. Martínez, Ph.D.
Edinburg reported an unemployment rate – also known as the jobless rate – of 5.8 percent in July 2007, compared with 5.5 percent the previous month in June 2007.
In previous years, in July 2006, Edinburg's jobless rate was 6.4 percent, while in July 2005, Edinburg's unemployment rate was 5.4 percent.
The latest figures place Edinburg with the third-best jobless rate among major Valley cities during the first seven months of 2007.
McAllen and Harlingen registered lower unemployment rates than Edinburg.
With the exception of the July 2007 level, Edinburg has posted either the lowest, or second-lowest jobless rate in the Rio Grande Valley during the current calendar year.
Among the Valley's largest cities, Brownsville in July 2007 posted a 7.7 percent jobless rate, followed by Weslaco with a 7.2 percent jobless rate, while Pharr and Mission both registered 6.1 percent jobless rates.
Harlingen reported a 5.7 percent jobless rate in July 2007.
The jobless rate is the number of persons unemployed, expressed as a percentage of the civilian labor force.
The civilian labor force is that portion of the population age 16 and older employed or unemployed.
To be considered unemployed, a person has to be not working but willing and able to work and actively seeking work.
Between July 2005 and July 2007, Edinburg has seen an increase of almost 1,328 jobs, according to the Texas Workforce Commission.
•In July 2005, there were 25,248 people employed in Edinburg.
•In July 2006, there were 25,711 people with jobs in the three-time All-America City.
•In July 2007, there were 26,576 people employed in Edinburg.
Those levels represent some of the lowest unemployment rates and the largest numbers of people employed in the city's history.
In 2006, the annual jobless rate for Edinburg was 5.3 percent, while in 2005, the annual jobless rate for Edinburg was 4.7 percent.
McAllen's jobless rate of 5 percent was the best showing among major Valley cities in July, but even that figure was higher than the 4.7 percent unemployment level it reported in June.
The same trend was seen for Hidalgo County, with the jobless rate for all cities in the county averaging 7.2 percent in July, compared with 6.9 percent in June.
Edinburg's jobless rate in July was compared with a close to the state's jobless rate, which averaged 4.4 percent.
The U.S. unemployment rate in June was 4.6 percent.
The monthly breakdown of the city's jobless rate in 2007 follows:
•In July, the jobless rate in Edinburg was 5.8 percent.
•In June, the jobless rate in Edinburg was 5.5 percent.
•In May, the jobless rate in Edinburg was 4.4 percent.
•In April, the jobless rate in Edinburg was 4.3 percent.
•In March, the jobless rate in Edinburg was 4.4 percent.
•In February, the jobless rate in Edinburg was 4.8 percent.
•In January, the jobless rate in Edinburg was 4.9 percent.
Statewide, the jobless rate also rose in July.
According to the Texas Workforce Commission:
Seasonally adjusted nonagricultural employment in Texas grew by 29,400 jobs in July, the third largest gain this year. After record lows for the previous three months, the July seasonally adjusted unemployment rate rose to 4.4 percent from 4.1 percent in June.
The unemployment rate is down significantly from 4.9 percent a year ago and below the current national unemployment rate of 4.6 percent. The state's annual job growth rate is a strong 2.6 percent with Texas employers adding 265,900 jobs over the past 12 months.
"Texas employers continue to create jobs at an exceptional pace, reflecting the underlying strength of our state's economy," said Texas Workforce Commission (TWC) Chair Diane Rath. "By outpacing the national job growth rate, Texas offers job seekers tremendous opportunities."
The Midland Metropolitan Statistical Area (MSA) experienced the lowest unemployment rate in the state at 3.2 percent (not seasonally adjusted). The Amarillo MSA was second at 3.7 percent, followed by the Odessa MSA at 3.8 percent.
Several industries saw big gains this month, with Professional & Business Services and Government leading the job numbers with increases of 5,900 and 11,000 positions, respectively.
Professional & Business Services now has a 5.0 percent annual job growth rate, adding 61,400 positions in the past 12 months. Other Services, which includes repair and maintenance, automotive shops and hair salons, among many others, also showed significant increases, with 4,900 jobs added in July.
"With more than 29,000 jobs added this month, Texas employers accounted for nearly a third of the 92,000 U.S. jobs added in July," said TWC Commissioner Representing Employers Ron Lehman.
"That's a remarkable statement about the health of the Texas economy."
Leisure & Hospitality and Trade, Transportation & Utilities also showed strong numbers in July, adding 3,100 and 2,700 positions, respectively. The Natural Resources & Mining industry followed with 2,300 jobs added in July, and led the state with the highest annual job growth rate at 9.8 percent.
"Our solid job growth statewide is good news for Texans who need jobs," said TWC Commissioner Representing Labor Ronny Congleton. "Since the beginning of the year, Texas workers have had the opportunity to apply for more than 141,000 job openings."
••••••
Rep. Gonzáles announces that new Texas organ donor registry is now online
By RICARDO LÓPEZ-GUERRA
Rep. Verónica Gonzáles, D-McAllen, has announced that the Texas Department of State Health Services made the Glenda Dawson Donate Life – Texas Donor Registry available online.
(Editor's note: Gonzáles is facing at least one opponent in 2008 – fellow McAllen attorney Javier Villalobos, who is seeking the Republican Party nomination.)
http://www.DonateLifeTexas.org provides a quick, secure and easy way for Texans to register as organ, tissue and eye donors and provides information about organ donation.
Gonzáles, whose House District 41 includes southwest Edinburg, was a joint-author of the legislation that renamed the organ donor program in Texas to pay tribute to the long-standing commitment of the late Rep. Glenda Dawson, R-Pearland, a donor recipient, who raised public awareness and of the organ donor registry in Texas.
"Making the registry available online allows people to save time by accessing information that will help them determine if registering as a donor is the right choice for them," Gonzáles said.
Donor information is protected. Only authorized organ procurement organizations and tissue and eye banks can access registrant information.
"One donor can save the lives of as many as 50 people with gifts of organs, tissues, and eyes, and the process to register typically takes no more than a potentially life-saving five minutes" she added.
Before the registry, there was no official state list in Texas of people who consented to being donors. For those who register, the list can help ensure their wishes are carried out after they die.
There is a critical shortage of organs available for transplants, with more than 7,000 Texans waiting for life-saving organs. More than 96,000 people in the United States are awaiting organs. Gonzáles noted that more than 400 people in Texas died last year waiting for organ transplants.
"Rep. Dawson dedicated her efforts to educating the public about organ donation, and I am very proud that her memory will be honored through the statewide organ donor registry," said Gonzáles. "For every patient who receives an organ donation in Texas, Glenda's memory will be honored through the gift of life."
••••••
New laws to protect residents of South Texas colonias part of accomplishments of state Senate committee
By SEN. EDDIE LUCIO, JR.
As Chairman of the Senate Committee on International Relations and Trade (IRT), and as a member of the Finance Committee, I worked with fellow legislators during this recently completed session on a number of initiatives aimed at improving the lives of those living in economically distressed areas of the state, including in our Texas-Mexico border region.
I thank Lt. Gov. David Dewhurst for his tremendous leadership that helped ensure our success on these and many other issues. The positive impact from these bills will affect not only those with low incomes, but everyone who calls Texas home.
We passed Senate Joint Resolution 20 (SJR 20), which I authored and that proposes a $250 million package of water and wastewater bonds. If approved by Texas voters in November (Constitutional Amendment 16 on the ballot), this initiative can provide critical water and sewer services by funding the Economically Distressed Areas Program II (EDAP II).
This is a key program for the people of South Texas. According to the Texas Water Development Board, in my Senate District 27 alone, nearly 600,000 individuals live in 103 communities classified as Economically Distressed. If these communities have demonstrable water need, they may be eligible to apply for EDAP II funding.
Contingent upon the passage of the constitutional amendment, our budget committees in the Senate and House provided enough money to issue a total of $87 million in all EDAP bonds within the next two years. That is why it is critical that everyone register and vote in November!
We also provided enough revenue to issue $43 million in transportation bonds under the Colonia Road Access Program that I authored and helped establish in 2001. School buses, emergency vehicles and everyone traveling to and from these communities will have access to paved roads instead of dangerous potholes that transform into lakes during rainy weather.
To protect our low-income Texans from unscrupulous developers, the Legislature funded my proposal to provide the Attorney General of Texas nearly a half million dollars for four "colonia investigators" to enforce the state's Colonia Prevention Laws. The enforcement of these laws is critical toward ensuring that low-income Texans are not victimized by those who would prey on their innocence. We can't raise the quality of life if we continue to see "shanty towns" develop in our great state.
Along the same lines, I authored Senate Bill 781, which for the first time in history provides to victims of unscrupulous developers the legal right to seek help from a court so that developers who violate state law can be held accountable for their actions.
As has been reported, some individuals have continued to defy the state's Colonia Prevention Laws by selling illegally platted lots of land. Until the passage of SB 781, those who fell prey to illegal plat developers could not seek a court injunction to hold them accountable. With passage of this legislation, which was recently signed into law, victims of these sub-dividers are provided new legal remedies against those who fail to comply with state water and sewer services laws. Not only can these homeowners request intervention from a court via a court injunction, they can also request from the court compensation of actual expenses incurred as a result of the failure of the developer to provide water and sewer services.
I also worked with Lt. Gov. Dewhurst to follow through on my committee's recommendation to significantly increase the amount of the Housing Trust Fund. Historically, the vast majority of this Fund has been used to fund the popular Bootstrap Self-Help Program, which I helped establish back in 1997 to allow families to provide part or all of the labor to build or improve their homes. We were successful in doubling the amount of the Housing Trust Fund by appropriating an additional $5 million. This money will go a long way towards improving living conditions for many more low-income Texans by providing greater affordable housing opportunities to them.
These were some of the many accomplishments that I am proud of. These new laws will be of great benefit to the people of my District and the entire state. I thank our Lieutenant Governor, as well as fellow legislators and supporters, for their efforts that helped us craft and pass this meaningful legislation. However, I continue to seek support for a number of additional initiatives that can raise the standard of living and housing in our communities.
••••••
Former Rep. Talmadge Heflin named executive director of the Republican Party of Texas
The Republican Party of Texas has announced Talmadge Heflin has been hired as the new executive director. Heflin, a former state representative from Houston, will begin his new position on July 30.
"Talmadge Heflin has over twenty five years of conservative leadership and experience as both a leader in the Texas Legislature and a businessman. This background will be invaluable in helping lead the team of political professionals we have assembled who will lead Republicans to victory in 2008 at the Republican Party of Texas," said Tina Benkiser, Chairman of the Republican Party of Texas.
Heflin served in the Texas Legislature from 1983 to 2004, including a stint as the Chairman of the powerful Texas House of Representatives Appropriations Committee during a period where his leadership helped close a 10 billion budget shortfall without raising taxes. He served as the Chairman of the Texas Conservative Coalition from 1989-92. Heflin will continue to serve as a Visiting Research Fellow at the Center for Fiscal Policy Studies at the Texas Public Policy Foundation. Heflin will take over for Jeff Fisher who will continue as an advisor to the Republican Party of Texas.
"This is an important transition for the RPT. Jeff Fisher has helped lead the Party with great expertise through two very challenging election cycles; I am glad he will continue with my team as a trusted and valued advisor," Benkiser concluded.
••••••
STC receives $1.2 million grant to target shortage of information technology professionals in Valley
By HELEN ESCOBAR
South Texas College's Information Technology Program received a $1.2 million dollar grant from the United States Department of Labor as part of the President's Community-Based Job Training Grants Program to address the shortage of professionals in the computer and information technology field in the Rio Grande Valley. The grant will be administered over a three year period and will be used to train approximately 1,225 individuals in this field.
Currently, the U.S. Bureau of Labor Statistics forecasts that CIT-related job vacancies will increase by 58 percent throughout the two county region and computer support specialist positions that require two-year degrees will increase by 50 percent by 2015; an increase that can not be managed at the current pace of CIT training in the Valley.
The college will attack this upcoming shortage head on through its high schools dual enrollment program. Through dual enrollment qualifying students will be able to take college-level courses in the computer and information technology field while still in high school and earn college credit upon successful completion of course curriculum.
"Studies show that students who earn college credits while in high school are more likely to graduate and, upon graduation, attend college and that is one of the goals of this effort," said Belinda G. Garcés, STC dual enrollment specialist. "We are working hard to ensure a bright future for each student in Hidalgo and Starr counties and helping the school districts provide an incentive for students to succeed. We believe this program will be very successful and go a long way in helping to address the critical shortage we are forecasting in the CIT field in the Valley."
STC's Information Technology Program has and continues to work closely with local business leaders to design a curriculum for this program that will arm students with the skills necessary to be successful in the field. For the fall 2007 semester, courses will be offered in computer applications, computer support and web design. Other courses will be added as the program progresses and additional instructors are prepared for each school district.
"We have courses being offered at more than 15 high schools in six districts across the two counties we serve and with the funding of this grant, we will be able to recruit and prepare additional instructors and develop courses to help get students ready for the challenges of this career path," said Meliton Hinojosa III, project director for STC. "By connecting much needed computer skills with students still in high school and helping them understand the opportunities open to them, we are building the future of CIT here in the Valley,"
For more information and the grant contact Farwa Naqvi, STC outreach specialist, at 956-872-6229.
••••••
Mattel, Inc. recalls more than nine million toys due to lead poisoning hazard, choking risk
The Office of the Attorney General is urging Texas consumers to stop using certain toys after Mattel, Inc. and the U.S. Consumer Product Safety Commission (CPSC) on Tuesday, August 14, issued a recall of more than nine million toys due to lead poisoning hazards and potential choking risks. Texans are urged to remove these toys from their homes and contact Mattel to learn more about replacing the recalled products.
According to CPSC, a die-cast toy vehicle featuring the "Sarge" character from the movie, "Cars," may contain surface paints with excessive levels of lead, which could be toxic if ingested. More than 250,000 of the "Sarge" cars, which look like toy military jeeps, were sold nationwide from May 2007 to August 2007. The products were sold both alone and as parts of sets. The recalled toys are marked with "7EA" and "China." Single cars may have the product number "M1253" printed on the packaging. Cars sold as part of a set bear the marking "K5925."
Mattel also recalled more than 8.5 million magnetic toys that may pose a choking hazard to young children, including Polly Pocket dolls, Batman action figures, Doggie Day Care play sets, and Barbie and Tanner play sets. More than two million Polly Pocket play sets were recalled in November 2006 over similar concerns. According to CPSC, Mattel has received more than 400 reports of magnets coming loose from the Polly Pocket doll play sets since the initial recall. Three children who swallowed more than one magnet suffered intestinal perforations that required surgery.
A detailed list of the recalled toys can be found in the "News Releases" or "Consumer Alert" section of the Attorney General's Web site at http://www.oag.state.tx.us.
Consumers who own these recalled toys or figures should immediately remove the products from children and contact Mattel at (800) 916-4997 or visit the company's Web site at http://www.service.mattel.com. Consumers who wish to return the recalled products will receive a replacement toy.
CPSC tests consumer products on an ongoing basis to ensure they are safe. As it did with the Mattel toys, the CPSC issues warnings whenever products do not meet certain safety standards.
While the majority of consumer products are safe when used properly, consumers are encouraged to regularly check the CPSC Web site (http://www.cpsc.gov) to make sure they do not have items that could pose a danger. Many of the alerts posted by CPSC involve toys, car seats, cribs and other items for children.
Parents and friends might be particularly interested in the "Toys" and "Child Products" section of the CPSC Web site, which provides information on recent recalls. The Web site also allows consumers to submit information on a product they believe is hazardous.
••••••
Gov. Perry helped coordinate significant statewide response to threat of Hurricane Dean
Gov. Rick Perry on Monday, August 20, advised Texans to keep a wary eye on Hurricane Dean, despite current projections that it will strike Mexico rather than the Texas coast.
"Texans can be confident that we have activated the resources necessary to handle whatever Dean throws at us," Perry said at a briefing, where he was joined by Homeland Security Director Steve McCraw and Jack Colley, chief of the Governor's Division of Emergency Management.
"Now is the time for Texans to make sure they are prepared. Coastal and South Texas residents need to keep a close eye on weather reports, fill up their gas tanks, and make sure they have their medications, plenty of water and non-perishable foods on hand."
Although current models projected the center of Hurricane Dean making landfall in Mexico, this potentially catastrophic storm could have result in flooding and tornadic activity in South Texas.
As of Monday, August 20,, the City of Brownsville was the only jurisdiction to have issued a voluntary evacuation. The state is coordinating ground and air evacuation resources for the Rio Grande Valley special needs population if necessary. All hospitals in the state are preparing to care for medical special needs evacuees.
Should local leaders issue mandatory evacuations, residents who are unable to evacuate themselves will be aided by local, state and federal resources. The Alamo Regional Unified Command in San Antonio is coordinating logistical efforts to ensure evacuee needs are met, and will organize transfers to hospitals, shelters or other venues if necessary.
The State Operations Center remains at the highest level of activation around the clock and is conducting twice daily statewide conference calls with local elected officials, first responders, mass care providers, the Federal Emergency Management Agency (FEMA), and the National Weather Service to assess the latest weather projections, and to coordinate state and local preparation and response.
DEVELOPMENTS AND AGENCY REPORTS
Office of the Attorney General
• Attorney General Greg Abbott's office was prepared to respond to calls relating to price gouging.
Texas Department of Criminal Justice (TDCJ)
• Three TDCJ facilities in South Texas were evacuated Sunday. TDCJ began evacuations of the Willacy County State Jail in Raymondville, and the Lopez State Jail and Segovia Unit, both in Edinburg. The move impacted 3,320 offenders, and was completed without incident shortly after 1 a.m. on Monday.
• TDCJ's Parole Division is completing the evacuation of 82 high risk offenders to a TDCJ halfway house facility in El Paso. The offenders were identified as those reporting to the Harlingen and McAllen District Parole Offices who had not submitted an approved hurricane evacuation plan prior to the start of hurricane season. Law enforcement officials with the Office of Inspector General are supporting this effort, and report that there have been no incidents.
Texas Education Agency (TEA)
• Roughly 500 school buses from throughout the state were dispatched to San Antonio for staging purposes.
• During the weekend, an estimated 500 members of the Texas Military Forces received training for driving school buses. The Elgin Independent School District provided the buses for this training.
Texas Engineering Extension Service
• Texas Task Force 1 and 2 were deployed to the Rio Grande Valley over the weekend. Resources included heavy rescue, light rescue and water rescue teams.
Department of Family Protective Services (DFPS)
• DFPS notified DFPS foster parents, private foster care agencies and residential facilities on how to report their whereabouts and the condition of the children in their care. Reporting would be handled by web-based and telephone surveys, which will be operational no later than Tuesday morning.
• Child Protective Services, Adult Protective Services and DFPS Licensing staff were prepared to assist evacuees at Texas shelters: reuniting families, locating services for the elderly, and oversight of emergency day care.
Texas Forest Service
• An 80 member Lone Star State Task Force and 4 Regional Incident Management Teams were activated during the weekend.
State Fuel Coordinator
• The State Fuel Coordinator is managing the delivery of fuel to coastal area retailers in preparation for Dean.
• Between 60,000 to 80,000 barrels of gasoline were transported to Valley Region gas stations Sunday, August 19. An additional 25,000 barrels were sent on Monday, August 20.
Texas National Guard
• More than 5,000 soldiers and airmen were activated, with the potential activation of 10,000 troops.
• 47 helicopters were to begin arriving by Thursday in Austin, San Antonio and Dallas from sister states under the Emergency Mutual Aid Compacts. C-130s from the Texas Air National Guard and other state Air National guard units were ready and on-call to perform air evacuations out of Brownsville, Harlingen and McAllen if necessary.
Texas Parks and Wildlife
• 275 game wardens and 125 search and rescue boats were deployed to South Texas on Monday, August 20, and were to be staged near Mission, Corpus Christi, Port Isabel and Choke Canyon State Park.
Department of Public Safety (DPS)
• DPS mobile communications unit in Austin were ready to be deployed if needed.
• Preliminary planning had taken place to support Texas Search and Rescue Teams.
• DPS Disaster District commands were activated in the Valley, Laredo, Corpus, Houston and San Antonio.
• Ready to assist in implementation of TxDOT contraflow plan for the Valley if needed.
Railroad Commission (RRC)
• Railroad Commission was on standby to respond to incidents involving oil and gas wells, drilling and work-over operations, natural gas plants, pipeline ruptures and liquefied petroleum gas (LPG) facilities.
Texas Sheriff's Association
• Deputy sheriffs were providing a secure escort of critical commodities, including fuel, to South Texas.
Department of State Health Services (DSHS)
• DSHS secured medical personnel, equipment, supplies and transportation for comfort stations along evacuation routes, evacuation of hospital and patients, and shelters for those with special medical needs.
• Resources include 68 ambulances staged in San Antonio and three helicopters with special medical needs capabilities in Austin, which were ready for potential deployment.
Texas Department of Transportation (TxDOT)
• TxDOT activated more than 50 Courtesy Patrol vehicles along evacuation routes from Brownsville to Corpus Christi and up to San Antonio to move stranded vehicles off the road and provide other emergency motorist assistance.
• More than 200 dynamic message signs were operational to encourage motorists along the Texas coast from Corpus Christi to Brownsville to fill their vehicle fuel tanks. Messages were being displayed in English and Spanish.
ADDITIONAL INFORMATION
• More than 600 buses, both school buses and commercial coaches, were positioned at the Alamodome in San Antonio. Approximately 700 of these buses were pre-deployed to the Valley Region on Sunday, August 19.
• The Alamo Regional Unified Command in San Antonio was serving as a shelter, mass care and transportation logistical hub.
• During the weekend the Texas Fire Chief's Association, through the statewide mutual aid agreement, activated five Strike Teams with five engines each, five Heavy rescue units, and one1 Catastrophic Hazmat Unit.
• Search and rescue resources were provided by 72 organizations, including 185 boats, 295 vehicles, 32 helicopters with search and rescue capability. Total available search and rescue personnel equaled 1,153.