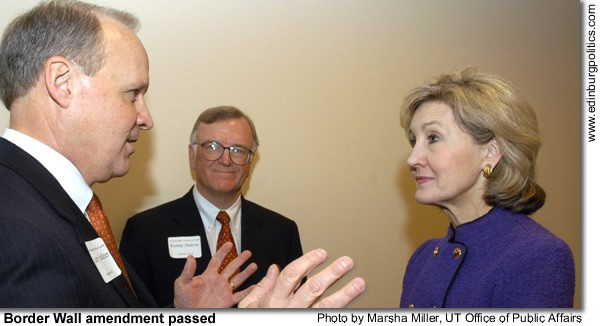 U.S. Sen. Kay Bailey Hutchison, R-Texas, on Thursday, July 26, successfully passed an amendment to H.R. 2638 / S. 1644, the U.S. Department of Homeland Security (DHS) Appropriations bill, which will prevent Congress from dictating to states where border fencing will be built. Hutchison, shown in this file photo earlier in the year with Larry R. Faulkner, president of the University of Texas at Austin (left) and Kenneth M. Jastrow, II, chief executive officer of Temple-Inland, received key help on the amendment from Sen. John Cornyn, R-Texas. See story later in this posting.

••••••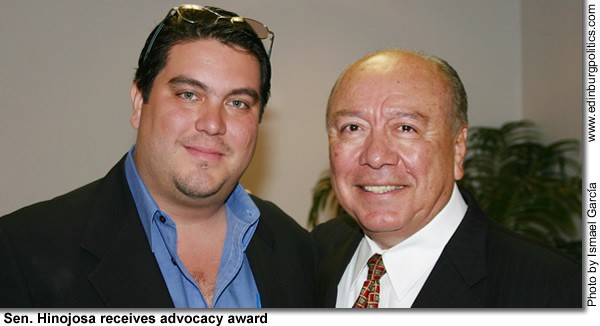 Sen. Juan "Chuy"" Hinojosa, D-McAllen, featured right, was honored Saturday, July 28 with the 2007 Patient Advocacy Award from the Texas Academy of Family Physicians for his work during the 80th legislative session in fighting for transparency in managed care contracts and protecting taxpayer money. The award was presented during the TAFP's 58th annual scientific assembly in Corpus Christi at the American Bank Center. Hinojosa is featured here in Edinburg with Social Life Magazine publisher Pepe Cabeza de Vaca. See story later in this posting.••••••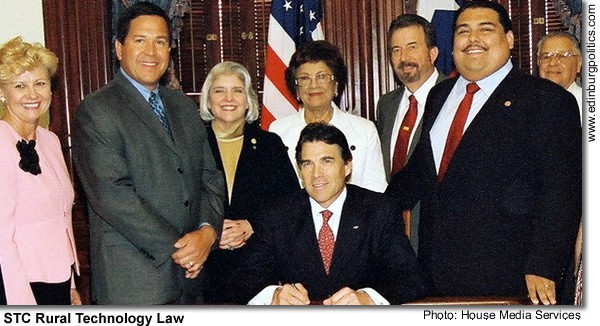 Gov. Rick Perry, seated, was joined by South Texas College leaders and legislators on Thursday, July 19, at the State Capitol for a ceremonial bill-signing ceremony authorizing the creation of a STC Rural Technology Center in Starr County. The Rural Technology Center will be managed by STC in partnership with local public schools, libraries, learning centers, businesses, and the local community. STC will also fund the annual operating costs. Participants will be able to learn about computers and information technology, explore related career pathways, further their education through the development of skills in the area of technology, and much more. Featured in this photograph are, from left: STC President Dr. Shirley Reed; Rep. Ismael "Kino" Flores, D-Palmview; Sen. Judith Zaffirini, D-Laredo, the author of the law; Irene García of Mission, chair of the STC Board of Trustees; STC board trustee Manuel Benavides of Rio Grande City; Rep. Ryan Guillen, D-Rio Grande City, the author of the law; and Palmview Mayor Jorge García. See story later in this posting.
••••••
Sen. Hinojosa, County Judge Salinas endorse Mikal Watts for U.S. Senate during swing through Edinburg
By KIM DEVLIN
Signifying his deep roots in South Texas, Mikal Watts, a Democrat exploring a challenge against the Sen. John Cornyn, R-Texas, on Thursday, July 26, welcomed the endorsements of Sen. Juan "Chuy" Hinojosa, D-McAllen, Hidalgo County Judge JD Salinas, and Hidalgo County Democratic Party Chairman Juan Maldonado.
Rep. Nick Noriega, D-Houston, is also considering seeking the Democratic Party nomination to challenge Cornyn. The party primaries are in March 2008; the general election will be in November 2008.
"The fact that my exploratory effort enjoys the support of these good folks here with me today shows you more than I could ever tell you about where my roots are-and who I am. Because down here, more than anywhere, you're known by who your friends are," said Watts, a South Texas native and longtime resident. "South Texas politics is about roots and relationships, and no one in this race has better roots and relationships in Hidalgo County than I do. And that's the primary reason I think this is our best chance to beat John Cornyn and bring real change to Washington."
Watts is from Corpus Christi, and maintains law offices there and in San Antonio.
Watts, whose endorsement press conference was his 16th exploratory event in South Texas since he began investigating the senate bid on June 1, highlighted Cornyn's recent photo op with Karl Rove announcing a study to bring a VA hospital, at long last, to South Texas.
"If John Cornyn was serious about a new VA hospital. . . If he was serious about South Texas at all. . . don't you think he might of done this back when the Republicans were in charge? Don't you think he would have asked for more than yet another useless government study? We know we need the hospital. Let's stop talking about it and start building it," said Watts.
"I have encouraged Mikal Watts and endorse him to run against Cornyn because he is the most prepared. He is one of us, he is from South Texas. He is the most qualified," said Salinas at the press conference.
"Mikal Watts has the education, experience and the energy to be our next United States Senator. He is not afraid to speak out. He has spent all of his adult life fighting for working families, fighting for the middle-class," said Hinojosa. "We need someone with his energy, his intelligence, his background and experience to take on a republican incumbent who has done nothing for South Texas. I am going to work as hard as I can to get Mikal Watts elected as our next United States Senator."
"We haven't had an opportunity like this since Lloyd Bentsen. We have not had an opportunity to elect one of our own to the US Senate," added Maldonado. "I am going to do everything possible to help make sure Mikal Watts is successful in this campaign."
"I am honored to have the support of these great leaders of South Texas because they know that the way I will provide leadership when I am a United States Senator is by treating South Texas as my stomping grounds and not merely as an election-year destination," concluded Watts at the press conference.
••••••
Sen. Hutchison passes amendment to require local officials' input on the location of Border Wall
By GEOFF EMBLER
U.S. Sen. Kay Bailey Hutchison, R-Texas, on Thursday, July 26, successfully passed an amendment to H.R. 2638 / S. 1644, the U.S. Department of Homeland Security (DHS) Appropriations bill, which will prevent Congress from dictating to states where border fencing will be built.
The amendment passed by unanimous consent.
The Hutchison-Bingaman amendment was co-sponsored by Sens. John Cornyn R-Texas, Pete Domenici, R-New Mexico, Barbara Boxer, D-California, and Dianne Feinstein D-California.
"My amendment requires DHS to work with local communities to find a workable plan that protects local commerce and respects the proud heritage of border communities," said Hutchison.
The Hutchison amendment ensures that fencing along the southwest border of the United States will not be constructed without DHS engaging, consulting, and meeting with individuals in the areas affected by the enactment of the Secure Fence Act.
Hutchison initiated the dialogue between Texas' border leaders and DHS at a meeting attended by Sen. Cornyn, DHS Secretary Michael Chertoff, and the entire senior leadership of DHS, in Hutchison's Washington office on January 17, 2007.
"I continue working with Sen. Hutchison to insist border elected officials, community leaders and property owners are consulted by the federal government," said Cornyn. "This will help achieve the most effective means of border security, which is a nonnegotiable objective."
The bill now goes to a conference committee with the House to reconcile the different versions of the bill.
••••••
Sen. Cornyn passes measure in U.S. Senate to authorize $100 million for border law enforcement
The U.S. Senate on Thursday, July 26, unanimously passed a measure by U.S. Sen. John Cornyn, R-Texas, the Ranking Member on the Immigration and Border Security subcommittee, to authorize $100 million in funding for border law enforcement officials.
The funding reimburses law enforcement officials who participate in immigration training initiatives, including identifying, processing and detaining offenders.
Cornyn proposed the amendment to double the amount of funding authorized by the Department of Homeland Security appropriations bill, which also passed Thursday night.
"The federal government has a responsibility to ensure border communities don't have to foot the bill when their local law enforcement officials support our security needs," Cornyn said. "I'm encouraged to see this measure pass and will continue working to make sure we meet the needs of those working on the front lines of our homeland security."
Cornyn's amendment doubles the amount of funding authorized in the bill from $50 million to $100 million for the Border Relief Grant Program. These funds can be used to: (1) obtain equipment; (2) hire additional personnel; (3) upgrade and maintain law enforcement technology; and (4) cover operational costs, including overtime and transportation costs.
Earlier last week, Cornyn passed an amendment, which was included in the final homeland security bill, to maximize efforts to control the invasive Carrizo cane plant on the border and support the efforts of the Border Patrol.
•••••••
Sen. Hinojosa receives 2007 Patient Advocacy Award from the Texas Academy of Family Physicians
By MELISSA DEL BOSQUE
Sen. Juan "Chuy" Hinojosa, D-McAllen, on Saturday, July 28, received the 2007 Patient Advocacy Award from the Texas Academy of Family Physicians for his work during the 80th legislative session in fighting for transparency in managed care contracts and protecting taxpayer money.
The award was presented during the TAFP's 58th annual scientific assembly in Corpus Christi at the American Bank Center at 11:30 a.m.
Dr. Doug Curran, M.D., a family doctor in Athens, Texas, and president of the TAFP, said that Hinojosa has been tireless in his efforts to ensure affordable and accessible health care insurance for Texas families.
"Physicians and patients have no better friend than Senator Hinojosa," said Curran. "He has been a great advocate in protecting patients from the abusive tactics of health insurers."
The Texas Academy of Family Physicians is the state's largest medical specialty organization, with more than 5,500 member physicians, residents and medical students throughout 33 local chapters. TAFP serves the family medicine community and provides a unified voice for family medicine as it continues to be one of the most patient-oriented public health groups in Texas.
The American Academy of Family Physicians, TAFP's parent organization, maintains a membership of more than 94,000 members in 50 states, Washington D.C., Puerto Rico, the Virgin Islands and Guam.
The Texas Academy of Family Physicians maintains its headquarters in Austin.
The Academy is governed by a board of directors, comprised of the TAFP Leadership and TAFP members from various local chapters. The board establishes and reviews Academy policy and plans during the TAFP Interim Session and Annual Session meetings. Members also serve on TAFP committees, commissions, task forces and sections where they study, analyze and make informed policy recommendations to the board.
••••••
Congressman Hinojosa secures $60 million in funding for South Texas, including $600,000 for Edinburg airport runway extension
By ELIZABETH ESFAHANI
Congressman Rubén Hinojosa announced on Friday, July 27, that he has helped secure critical appropriations that would give South Texas a $60 million boost in federal funding, including critical money for highway construction, water projects, and levee repairs.
Specifically, Hinojosa has garnered the following appropriations for the 15th Congressional District:
• $25 million for the Border Environmental Infrastructure Fund that will allow the North American Development Bank to fund new water and waste water projects along the border;
• $16.8 million for rural housing;
• $15.5 million for levee repairs along the Rio Grande;
• $1 million to keep the I-69 project moving forward;
• $750,000 for the addition of Mid-Valley bus routes to the current transit system in Hidalgo County;
• $600,000 for the Edinburg Airport for a runway extension, the construction of a taxiway and various other upgrades;
• $400,000 for the Hidalgo County Truancy Center;
• $200,000 for the Cameron County Interoperable Communications Technology Program; and
• $150,000 for the construction of a larger San Juan Public Library at a new site.
"I am pleased to announce this critical funding that will help address key transportation and infrastructure issues in our region," said Hinojosa. "It will enable our communities to better manage the extraordinary growth South Texas is enjoying and improve the lives of all its residents."
••••••
Rep. Peña to set up shop in Edinburg with longtime Brownsville law firm
By DAVID A. DÍAZ
Rep. Aaron Peña, D-Edinburg, has convinced an established law firm from Brownsville to also set up shop, with him, in the three-time All-America City.
The announcement was made on Thursday, July 19, by Elva Jackson-Garza, a member of the board of directors of the Edinburg Chamber of Commerce, during its legislative update luncheon, featuring Peña, Rep. Verónica Gonzáles, D-McAllen, and Sen. Juan "Chuy" Hinojosa, D-McAllen, at the ECHO.
Jackson-Garza, who was recently honored with a legislative proclamation by Peña for her professional and community contributions, said Peña promotes the city on many different levels, not just in the Legislature.
"He is doing a lot of marketing for the Edinburg Chamber of Commerce," she told the audience at the legislative luncheon. "He works for a law firm in Brownsville, and through his persuasion tactics, he has actually convinced them to locate right here in our community. They will be moving to Cano Street, just about two blocks from the courthouse."
Garza add that that law firm is "going to be our newest member of the Edinburg Chamber of Commerce, so thank you, Aaron, we appreciate that."
Peña is listed as being an Of Counsel to Rodríguez, Colvin, Chaney & Sáenz, L.L.P.
"Of Counsel" is a term often use in law to describe an attorney who has been hired to help in the preparation and management of certain cases, but who is not the main attorney in the litigation.
In its marketing materials, the law firm describes itself as "South Texas lawyers working in the area of liability defense. In this litigious region, defense attorneys face aggressive plaintiff trial lawyers and jurors who are often skeptical of defense assertions."
In its website, (rcclaw.com), the firm asserts that it "has earned a strong reputation in the area of civil litigation, particularly in the areas of products liability law, labor & employment law, insurance coverage, toxic torts, professional malpractice and general negligence, among other areas of trial work."
In its Internet web page, the law firm lists Peña's credentials, including his status as state representative for House District 40, which includes La Joya, Sullivan City, most of Edinburg, Edcouch, Elsa, La Villa and northern portions of Hidalgo County.
The law firm also lists an address for Peña as currently being 4900 N. 10th Street, Building A-2, in McAllen.
Peña's legislative website lists his legislative district office as being located at 1110 South Closner in Edinburg.
In addition to Peña, the law firm lists two other lawyers with deep roots to Edinburg: Eduardo Roberto Rodríguez, a Senior Partner, was born in Edinburg in 1943, and Neil E. Norquest, Of Counsel, was born in Edinburg in 1947.
The law firm's web site notes that Peña, who was raised and lives in Edinburg, was born in Austin in 1959.
On its website, the law firm provides a history of itself:
Rodríguez, Colvin, Chaney & Sáenz, L.L.P., has a long history of service to the Brownsville business community and the people of South Texas. The firm's history began in 1950, when the General Solicitor for the Missouri Pacific Railroad suggested to two Brownsville attorneys that a merger of their firms would better enable them to represent the railroad.
The firm of Sharpe, Cunningham & Garza was born and it began representing the Rio Grande Valley business community in civil litigation. The Missouri Pacific/Union Pacific Railroad has remained a major client of the firm since that time.
Over the next decades, the firm continued to grow and emerged as a major South Texas law firm. During that time, founding partner Reynaldo G. Garza was appointed to the bench as the first Hispanic federal district court judge, and Mr. Cunningham and Mr. Sharpe parted ways.
T. Gilbert Sharpe joined forces with another established Brownsville attorney, Benjamin Hardy. The firm of Hardy & Sharpe became the firm of Hardy, Sharpe & Rodríguez when UT law graduate Eduardo Roberto Rodríguez made partner. In subsequent years, Norton A. Colvin, Mitchell C. Chaney, and Jaime A. Sáenz joined the firm and became name partners. In 2004 the firm assumed its current name of Rodríguez, Colvin, Chaney & Sáenz.
••••••
Edinburg's jobless rate edges up to 5.5 percent, but still better than June 2006 unemployment level
By DAVID A. DÍAZ
Edinburg's jobless rate, which is a key indicator of the strength of the local economy, in June 2007 went up slightly from the previous month, but it was still good enough to tie for the second best showing among the Valley's major communities, according to the Texas Workforce Commission.
Edinburg reported an unemployment rate – also known as the jobless rate – of 5.5 percent in June, compared with 4.4 percent in May.
In June 2006, the Edinburg's jobless rate was 6.2 percent, while in June 2005, Edinburg's unemployment rate was also 5.5 percent.
During the first six months of 2007, Edinburg has posted either the lowest, or second-lowest jobless rate in the Rio Grande Valley.
The jobless rate is the number of persons unemployed, expressed as a percentage of the civilian labor force.
The civilian labor force is that portion of the population age 16 and older employed or unemployed.
To be considered unemployed, a person has to be not working but willing and able to work and actively seeking work.
Between June 2005 and June 2007, Edinburg has seen an increase of almost 1,200 jobs, according to the Texas Workforce Commission.
In June 2005, there were 25,885 people employed in Edinburg.
In June 2006, there were 26,489 people with jobs in the three-time All-America City.
In June 2007, there were 26,981 people employed in Edinburg.
Those levels represent some of the lowest unemployment rates and the largest numbers of people employed in the city's history.
In 2006, the annual jobless rate for Edinburg was 5.3 percent, while in 2005, the annual jobless rate for Edinburg was 4.7 percent.
In June, Edinburg and Harlingen shared the second lowest jobless rate.
McAllen's jobless rate of 4.7 percent was the best showing among major Valley cities in June, but even that figure was higher than the 4.2 percent unemployment level it reported in May.
The same trend was seen for Hidalgo County, with the jobless rate for all cities in the county averaging 6.9 percent in June 2007, compared with a 5.7 percent unemployment rate in May.
Summer fluctuations
Ramiro Garza, Jr., executive director of the Edinburg Economic Development Corporation, noted that monthly jobless rates fluctuate during the calendar year, and for Edinburg, the closing of public schools during the first month of summer vacation usually affects that benchmark.
"Here in Edinburg during the summer, because schools are out, it doesn't appear to be as strong a month as maybe the fall or the spring," Garza said. "In Edinburg, the unemployment rate is based on cycles of business activities. One of our largest sectors is the service sector – retail trade – so we are seeing that reflected in the unemployment trends. That's why we see it go up and down, depending on the types of business activities."
The EEDC is the jobs-creation arm of the Edinburg City Council.
The EEDC's five-member governing board includes Mayor Joe Ochoa; former Mayor Richard García,
who is president of the EEDC board of directors; and Fred Palacios, Mike Govind, and its newest member, Dr. Glenn A. Martínez, Ph.D., whose first board of directors meeting was Tuesday, July 24.
Edinburg's jobless rate in June was close to the state's jobless rate, which averaged 4.1 percent.
The U.S. unemployment rate in June was 4.5 percent.
In May, the jobless rate in Edinburg was 4.4 percent.
In April, the jobless rate in Edinburg was 4.3 percent.
In March, the jobless rate in Edinburg was 4.4 percent.
In February, the jobless rate in Edinburg was 4.8 percent.
In January, the jobless rate in Edinburg was 4.9 percent.
More jobs over the horizon
As the fall approaches, more jobs will be created in those coming months, predicted Garza, who noted several major private business projects that will boost hiring in Edinburg.
"In the commercial industry, there is going to be quite a bit of growth," he said. "The Fairhaven subdivision where the Lacks is being built, is going to open this October. Also this fall, the Trenton Crossroads should open up. We are going to see quite a bit of growth in that area."
Lacks Home Furnishings is building a 48,000-square-foot facility, the first part of the Fairhaven Crossing commercial complex which will be located by the intersection of Canton Road and North U.S. Highway 281 in east Edinburg.
Eventually, Fairhaven Crossing will feature about 500,000-square feet of commercial space.
Trenton Crossroads already has some businesses up and running, but the featured anchor – Alamo Drafthouse, a six-screen, 30,000-square-foot movie theater which serves meals to patrons – will be opening in the early fall.
Trenton Crossroads will eventually represent almost 102,000-square-feet of commercial development.
About a year down the road, the city will begin seeing hundreds of more jobs created as the first phase of construction winds up for the Shoppes at the Rio Grande Valley, a major shopping center that will be built between U.S. Highway 281 and Business Highway 281 in south Edinburg.
That project, estimated to be worth up to $80 million in private investments, should employ up to 1,300 people when the shopping center is fully completed in three years.
On August 2, a groundbreaking ceremony will be held at the planned shopping center for construction of a J.C. Penney store, one of the featured anchors for the retail complex.
••••••
Sen. Hinojosa welcomes plan by Lt. Gov. Dewhurst to recover vetoed funding for college health insurance
By MELISSA DEL BOSQUE
Sen. Juan 'Chuy' Hinojosa, D-McAllen, on Wednesday, July 25, issued the following statement after receiving Lt. Governor David Dewhurst's letter indicating that he intends to convene a working group to find a solution to the funding crisis caused by the Governor's veto last month of health insurance benefits for community college employees.
"South Texas welcomes the news that the Lt. Governor intends to bring together the appropriate stakeholders and work towards a solution to this crisis.
As a member of the working group, I urge him to convene the group sooner rather than later so that we can assure middle-class families and their communities that they will not face local tax hikes, tuition increases, or cuts in education programs at their junior colleges.
I look forward to meeting soon to resolve this urgent situation so that we can restore the funding as it was appropriated in the budget and let our community colleges get back to their mission of helping students prepare for their futures."
••••••
South Texas College legislators, leaders praise governor's approval for Rural Technology Center
By HELEN ESCOBAR
South Texas College will lead the development of a new $3.5 million project to build and operate a Rural Technology Center in Starr County. Texas House Bill 2235 established a grant program under the Office of Rural Community Affairs to fund the construction and equipping of rural technology center in Starr and Zapata counties.
The center will offer the opportunity to learn about a variety of information technology from basic computer skills, to Internet and wireless technology, to advanced courses and seminars on Web design, graphic design, multimedia development, computer maintenance and computer aided drafting and design. Local school districts will have an opportunity to participate in dual enrollment courses in the area of information technology and the development of a Dual Enrollment Information Technology Academy. In addition, the local schools will be encouraged to utilize the Center to enhance the preparation of students interested in fields related to information technology.
"If there is anything we can attribute to perseverance, this project is a great example," said Manuel Benavidez Jr., founding member of STC's Board of Trustees. "After being told no for more than seven years from so many different people and organizations, we just decided not to take no for a final answer. There is a desperate need for this kind of facility in Starr County and so we persisted. We thank everyone who contributed to the success of HB 2235 to approve the funding of this project. It is only through team work that we are able to accomplish so much."
HB 2235 was carried by Rep. Ryan Guillen, D-Rio Grande City, during the 80th Legislative session, and had been carried by Rep. Ismael "Kino" Flores, D-Palmview, in previous sessions.
"Opening doors to a better future for south Texas students and their families is a duty that I take seriously and passing and funding HB 2235 was part of that duty. I look forward to working closely with STC president Dr. Shirley A. Reed, the staff at STC and local officials to provide this advanced training," said Guillen after a private signing ceremony for HB 2235 at the Texas capital last week.
The development of a Rural Technology Center with an infrastructure of hardware, software, wireless technology, high speed internet connections, coupled with learning and training modules in the area of information technology, dual credit information technology programs, and entry level job skills training awards in technological disciplines can create a vehicle for economic development, better paying jobs and community collaboration.
South Texas College will lead the project and coordinate with local public schools, libraries, learning centers, community groups and businesses to ensure that the center is accessible and offers the needed courses, technologies and materials. The college will offer a variety of information technology-related courses and programs at the center, in particular, courses that high school students can take for dual enrollment, which gives students both high school and college credit.
"More than 35 percent of Starr County's population is 18 years old or younger and these students need access to cutting-edge technology that will put their knowledge-base on par with other students in large metropolitan areas. That is the point of this facility – to provide students with a cutting edge advantage," said STC president Dr. Shirley A. Reed. "We hope to offers a variety of credit and non-credit courses to students and the community. We also hope to build labs that will be available to the community to use computer technology and the Internet. These are invaluable tools and with the median annual household income just at $16,500 dollars, we know that many families do not have a computer or Internet access at home."
A Rural Technology Center in Starr County serving K-12 education and adult learning through an empowered community will accomplish the following: Awareness of career fields in the area of information technology for public school students and members of the community, career pathways leading to employment in these fields, continuing education for those seeking careers in these fields or for professionals seeking advancement in the same, targeted workshops and dual enrollment in the area of information technologies, and the development of the infrastructure required by a rural community to improve its economic status.
Once complete, the 22,000 square foot facility will provide space for Internet-connected classrooms, computer aided drafting labs, a graphic arts lab, a network administration lab, a Web page design lab, telecommunications technology labs, computer maintenance labs and areas for a variety of other information technology-related tools and instruction. The state of Texas has provided $3.5 million in state appropriations to fund the center's construction and initial technology purchase costs. STC will fund the center's annual operating costs.
••••••
Legislative efforts successful to help deliver treatments for autism
By SEN. EDDIE LUCIO, JR.
Today in the United States a new child is diagnosed with autism every 20 minutes at an estimated cost of $95 billion per year. The federal government and many states have taken recent action to mitigate the effects of this epidemic.
During our state's recent legislative session, we proposed a total of 13 bills to benefit autistic children. I authored two of these bills, but unfortunately, only one passed.
I filed Senate Bill (SB) 419, mandating insurance coverage for all autism-related treatments for children ages three to five. Early intervention treatments like speech therapy, occupational therapy and Applied Behavior Analysis (ABA) for children with autism are proven to lead to substantial gains in functional ability, but the treatments are too costly for many parents with autistic children.
SB 419 passed with enormous support in the Senate, and out of the House Committee on Insurance, but like so many other bills, ran out of time in the House. However, I was able to amend most of my bill's content to House Bill (HB) 1919, authored by Rep. Todd Smith (Bedford), stipulating that insurers cover specific treatments for individuals with traumatic brain injuries. Adding my bill to his was risky, but once Rep. Smith learned more about the issue, he was willing to assist by fighting to keep the autism language in his bill. Because of this cooperation, my bill is the only autism-specific legislation that survived the legislative process.
Although the last day of the session was Monday, May 28, the final day for bills to be adopted was Sunday, May 27. HB 1919 was scheduled for a vote in the final hours that bills could be considered, but there was a mass uprising in the House, which shut the chamber down only hours before the final deadline to hear bills.
HB 1919, like so many others, appeared to be "dead." With many key issues still pending, members of the House decided to suspend the rules to hear bills on the final day. At about 8 p.m., HB 1919 was brought up before the full House, but failed to receive the two-thirds needed for a vote. Again, it looked as though the legislative process was going to fail young children with autism. However, upon realizing that the bill was only 10 votes shy, I rushed to the House to advocate for the bill along with Senate sponsor Leticia Van de Putte, D-San Antonio.
With the help of co-authors Rep. John Davis, R-Houston, and Rep. Juan García, D- Portland, we were able to explain to many members how much money the bill would save the state and improve the lives of affected families.
Within an hour, Rep. Vicki Truitt, R-Southlake, asked the full Chamber to reconsider the bill. This time, support was overwhelming. Out of 142 voting, HB 1919 passed with 105 votes. On Friday, June 16, Gov. Rick Perry signed HB 1919 into law.
The treatments allowed under this bill should positively impact children, families and state resources. Modern research and medicine have provided a tangible solution to the growing problem of autism, but their value is dependent on access to treatment. Once our lawmakers see the benefits, coverage may be expanded. Already, I've heard from other states looking to follow Texas' lead.
HB 1919 will increase the number of autistic children who can be mainstreamed in school, but those who need special attention in the classroom setting should not be overlooked. SB 840, another essential piece of legislation addressing autistic children in public schools was also stalled in the House during the final days of the legislative session.
Earlier in the session, parents and teachers approached me concerned that general education teachers and paraprofessionals, who teach students with disabilities, are not receiving the training needed for appropriate instruction and behavioral management of these children. It is equally necessary that both general education and special education teachers learn the new, science-based teaching methods that are evolving.
SB 840 would have directed the Commissioner of Education to develop the training institutes that would help these educators implement research-based practices in their classrooms. Attempts to amend SB 840 to other legislation failed. However, I am determined to file this legislation again next session.
The long-term consequences of the autism epidemic are far from understood, but we do know we can do some things now to reduce the impact. Improving how we treat and teach children with autism is not only important for today's youngsters, but for those of tomorrow who will also bear the consequences if we don't act now.
••••••
Gov. Perry signs into law seven bills passed by Sen. Zaffirini
By NICK ALMANZA
Gov. Rick Perry on Thursday, July 19 ceremoniously signed seven bills passed by Sen. Judith Zaffirini, D-Laredo, during the 2007 legislative session. The legislation included SB 673, known as "Scooter's Bill," and SB 1500, which renamed the Texas Donor, Education, Awareness and Registry program (DEAR) the Glenda Dawson Donate Life-Texas Registry to honor the late state representative who received a kidney from her sister.
"I am pleased to join the governor on this momentous occasion," Zaffirini said. "His ceremonial signing of these bills and others that provide unemployment insurance for victims of family violence and support communities in my district marks a successful end to the 2007 legislative session."
Effective immediately, Scooter's Bill will allow students with disabilities who are in individualized education programs (IEP) and who have completed four years of high school to participate in graduation ceremonies and receive attendance certificates. They would receive their diplomas upon completing their IEP. It is named "Scooter's Bill" in honor of Gene "Scooter" Long, a Dallas IEP student who was denied participation in his class's graduation ceremonies by the Dallas Independent School District.
Senate Bill 1500 by Zaffirini and Rep. Jodie Laubenberg, R-Parker, is a tribute to former Rep. Glenda Dawson — a transplant recipient who died last September. Because of SB 1500, DEAR was renamed the Glenda Dawson Donate Life-Texas Registry. Texas' organ and tissue donor registry may now affiliate with the National Donate Life America alliance and campaign, which allows the registry to educate and reach more potential donors statewide. The bill is a follow-up to HB 120 (2005) by Dawson and Zaffirini, which created DEAR.
Other bills signed by Perry included House Bill 550 by Rep. Dawnna Dukes, D-Austin, and Zaffirini authorizing employees to use a protective order, a police record or medical documentation as evidence of family violence for purposes of unemployment benefits.
He also signed several bills passed by Rep. Ryan Guillen, D-Rio Grande City, and Zaffirini including HB 1373, which creates a task force to study and make recommendations regarding a comprehensive screening, diagnosis, and treatment plan for Texans with chronic kidney disease; HB 2095, which authorizes counties with no incorporated areas, but that have ordinance making authority, to be eligible for any federal grant or funding program for which cities are eligible; HB 2235, which establishes a grant program under the Office of Rural Community Affairs to fund the construction of and equipment for rural technology centers that will prepare area students for careers in applied technology and other highly skilled industries; and HB 2233, which exempts Zapata County from the four percent limit on its hotel occupancy tax, allowing the rate to be up to the statutory seven percent limit.
••••••
Revised Community College Week rankings put STC at top of education chart
By HELEN ESCOBAR
Previously South Texas College reported its rankings in awarding associate's degrees in a variety of areas according to an annual report by to the national education journal Community College Week. The publication just released a new version of the ranking, stating that its original report contained corrupted data charts. The new rankings maintain STC's position in the top 100 community colleges in the nation in awarding degrees, but jump the college from fifth to first in the nation in awarding degrees in the field of education.
"This is the second year that we have ranked number one in the entire nation is awarding degrees to students in the field of education," said Mary Gonzales, Child Development/Education Program chair for STC. "I believe that our faculty and staff have put together a very strong academic program that lays a solid foundation for our students. That is why we continue to see such large numbers in this program.
There is no doubt that there is a teacher shortage in the Valley and we are committed to doing our part to get students in the program and continuing on to bachelor's degree at UT-Pan American, UT-Brownsville and other colleges around the state. We are very honored to be recognized for our hard work."
Additionally, according to the publication's revised July report "Top 100 Associate Degree Producers," STC maintains its ranking as third in the nation in awarding degrees to Hispanic students. The college also maintains its rank in the top 50 community colleges in the nation in awarding degrees in the fields of criminal justice, and family and consumer sciences and human services.
Community College Week ranks colleges based on the number of degrees granted annually. The data is collected by the National Center for Education Statistics. For additional information about the publication and its national rankings visit http://www.ccweek.com.
For additional information South Texas College visit http://www.southtexascollege.edu or call 872-8311.
••••••
Golf tournament to benefit Starr County nursing students during benefit at Los Lagos in Edinburg
The Family and Friends of Lauren and Nadia López present the 1st Lauren and Nadia López Scholarship Golf Tournament to be hosted Saturday, Aug. 4, 2007 at Los Lagos Golf Club in Edinburg. Funds raised from the event will be awarded to Rio Grande City Independent School District and South Texas College students who wish to pursue a career in nursing. Additionally, a donation will be made to the American Cancer Society.
"This event is held in memory of Nadia López and her daughter Lauren, whose lives were tragically cut short in 2006, just three months apart from each other," said Johnny Cantú, coordinator of the tournament and friend of the family. "We hope that this event will not only serve as a tribute to their love and devotion to family, but also raise awareness about cancer and the need to fund students in the field of nursing."
The tournament will be a three-man scramble with a $75 per player entry fee. Fees include green fees, cart rental, range balls, two mulligans, breakfast, lunch, goodie bags, unlimited refreshments and a ticket for entry in the grand prize drawing. Registration starts at 8 a.m. and play starts at 9 a.m.
Prizes for the tournament include $300 for first place, $225 for second place, $150 for third place and a new vehicle from the Ramírez Ford Family Dealership for a hole in one. Other prizes will be given for the longest drive, closets to the pin and longest put.
A special grand prize drawing will take place at the event for a stay and round of golf at the South Padre Island Golf Club.
To pre-register for the event call Los Lagos Golf Club at 956-316-0444. For more information about the event or to become a sponsor contact Johnny Cantu at 210-260-2632 or Art Menchaca at 956-225-7936.
••••••
Sen. Cornyn legislation could lead to creation of $175 million VA Hospital in South Texas
U.S. Sen. John Cornyn, R-Texas, a member of the Senate Armed Services Committee, was joined by area veterans and local officials at Harlingen City Hall on Friday, July 20, to announce he and U.S. Sen. Kay Bailey Hutchison, R-Texas, have introduced legislation to meet the inpatient hospital needs for the more than 100,000 veterans in South Texas.
The South Texas Veterans Access to Care Act of 2007, S. 1838, is a Senate companion bill to similar legislation introduced in the U.S. House in January by U.S. Reps. Solomon Ortiz, D-Corpus Christi; Rubén Hinojosa, D-Mercedes; Lloyd Doggett, D-Austin, and Henry Cuellar, D-Laredo/McAllen.
Among the key provisions of the legislation, the measure would authorize the U.S Department of Veterans Affairs to build a $175 million for a VA Hospital in a location in "far South Texas" to be selected by the Secretary of Veterans Affairs.
Jim Nicholson is currently VA Secretary, but he recently tendered his resignation to President Bush, effective no later than October 1, 2007.
"Our veterans here in South Texas have served this nation honorably and bravely, and have risked their lives to preserve our freedom and democracy. We have a solemn obligation to honor our commitment to them by providing the health care they need and deserve," said Cornyn. "Our legislation advances the effort to make sure South Texas veterans, some of whom currently travel more than 250 miles, have much-needed access to inpatient medical, surgical and extended care. I'll continue working with Sen. Hutchison and our Texas colleagues in the U.S. House to ensure our veterans get the hospital care they deserve as soon as possible."
Hutchison added, "I remain committed to working with local officials, my colleagues in Congress and the VA to provide significantly greater access to health care for veterans in South Texas. At my request, the VA is currently conducting a study on this issue and I am eagerly awaiting the results."
Cornyn's South Texas Veterans Access to Care Act of 2007 does the following:
•Reinforces through a Sense of Congress regarding the needs of veterans in the Valley;
•States that the current and future health care needs of veterans residing in the deep South Texas area are not being fully met by the Department of Veterans Affairs;
•Affirms that more than 100,000 veterans reside in deep South Texas;
•Highlights that travel times for veterans can exceed six hours from their residences to the nearest Department of Veterans Affairs hospital (in San Antonio) for inpatient health care;
•Notes that peployments involving members of the Texas National Guard and Reservists from Texas will serve to continue to increase the veterans population in deep South Texas;
•Mandates that six months after enactment, the VA Secretary will determine and notify Congress on how the needs of veterans in South Texas for inpatient hospital care will be met. It offers three possible solutions for Veterans hospital care:
• Through a project for a public-private venture to provide inpatient services and long-term care to veterans in an existing facility in deep South Texas; or
•Through a project for construction of a new full-service, 50-bed hospital with a 125-bed nursing home in deep South Texas; or
•Through a sharing agreement with a military treatment facility in deep South Texas.