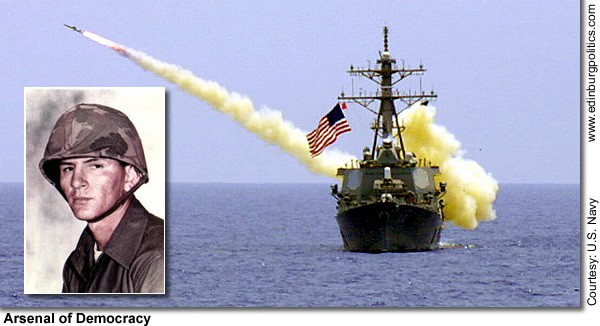 In this file photo provided by the U.S. Navy, a Tomahawk missile is fired from the USS Alfredo "Freddy" González, a $900 million guided missile destroyer named in honor of the late Marine Sergeant from Edinburg, who was killed in action during the Tet Offensive in Vietnam. Forty years after his death, González – whose mother, Dolia, lives in Edinburg – has been honored by his home state. In mid-June, Gov. Rick Perry signed into law a proclamation posthumously bestowing the state's highest military honor – the Texas Legislative Medal of Honor – upon the Edinburg war hero. See story later in this posting.
••••••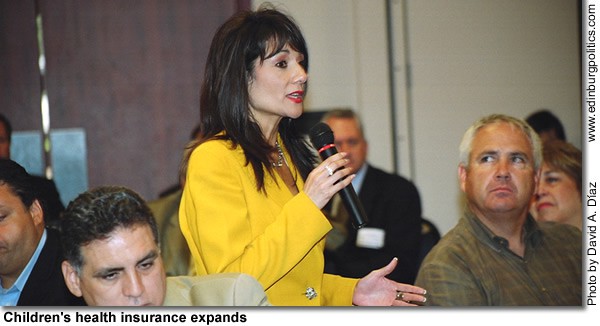 Rep. Verónica Gonzáles, D-McAllen, recently provided a legislative update to her constituents in McAllen, which included news that Gov. Rick Perry had signed into law a measure that will make it easier for working families in Texas to enroll their children in the popular Children's Health Insurance Program. The expansion of CHIP to almost 130,000 more children ranks among the biggest victories for health care to come out of the recently concluded 80th session of the Texas Legislature, says the Texas Border Coalition, which lobbied for the improvements to CHIP. See story later in this posting.
••••••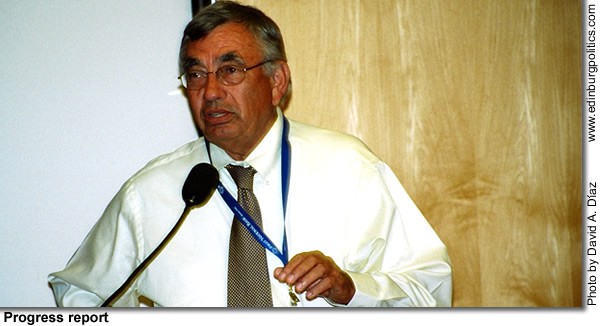 Robert Gandy, III, president of First National Bank of Edinburg, on Tuesday, June 26, provided an update on plans by the local financial institution to eventually create a $100 million corporate bank headquarters/retail development in west Edinburg. Gandy, who addressed the Edinburg Economic Development Corporation during its board session, said up to $2 million has already been spent by the bank to lay the groundwork at the 115-acre site, and the first building should begin going up later this fall. See story later in this posting.
••••••
As nation celebrates freedom, Freddy González, icon of courage, posthumously honored by Texas
By DAVID A. DÍAZ
His country is protected by his namesake, his buddies in combat were saved by him, his fellow Marines have been inspired by him, he made his hometown famous, and now – almost 40 years after being killed in action in Vietnam – his home state of Texas has finally honored him.
U.S. Marines Sgt. Alfredo "Freddy" González, the only son of a single working mother, twice answered his nation's call to arms against the forces of evil on the other side of the world.
For such devotion to his homeland and brothers in arms, and for much more, González is now officially a Texas hero.
Less than a month before the nation was scheduled to celebrate Independence Day, Gov. Rick Perry signed into law House Concurrent Resolution 121, authored by Rep. Aaron Peña, D-Edinburg, and sponsored by Sen. Juan "Chuy" Hinojosa, D-McAllen, that represents the rarest and most profound state actions – bestowing the Texas Legislative Medal of Honor.
Now, all eyes are turned to Austin as Perry, Hinojosa, and Peña are contemplating where and when the public ceremony for this awarding of this most impressive award will be delivered to Freddy's mom, Dolia.
As of Friday, June 29, no details were yet available from the governor's office. But when the event takes place, it is sure to draw not only the state's top elected leaders, but scores of Edinburg and South Texas residents as well.
Dolia González says she is overwhelmed with the Legislature's actions.
"I was really stunned to learn Gov. Perry signed the bill from Rep. Peña and Sen. Hinojosa," Dolia said. "Now that this is real, and I want to thank everybody involved in this Texas Legislative Medal of Honor effort. It took a lot of time but it's worth it. This means a great deal to me personally, and I know Freddy would be so proud if he were here. Though he would not want to take credit himself."
Dolia, whose own life story is as inspirational as that of her late son, remains humble, not wanting to presume that the medal ceremony should be on a grand scale.
But if the powers-that-be were to ask her, she would want to share Freddy's latest glory with the hometown that has produced legions of brave servicemen and servicewomen.
"He was awarded, after his death in 1968, the Congressional Medal of Honor, the national medal of honor, and now he has the Texas medal. That is a great honor," Dolia said. "We may have a ceremony on board the USS González in August, but I don't know yet about that. I hope it can work out," she added.
Edinburg has another reason to be proud of their city, among many other reasons, she continued.
"Freddy is a symbol now of all the men and women who have served in the military and died. He is a reminder that honor still counts," Dolia added. "Leadership means a great deal too. We need more people like my son today. But there are a lot of good people defending America today. We have to always realize that no matter what, there will always be good people out there doing important work."
Legislative Medal of Honor
In bestowing Texas' highest public recognition for valor, the Peña/Hinojosa resolution provides a detailed account of the actions taken by González. That resolution follows verbatim:
WHEREAS, The Texas Legislative Medal of Honor was established to honor gallant and intrepid service by a member of the state or federal military forces, and through his courageous actions in Vietnam, Sergeant Alfredo "Freddy" González distinguished himself as a worthy recipient of this prestigious honor; and
WHEREAS, Born May 23, 1946, in Edinburg and a graduate of Edinburg High School, Sergeant González enlisted in the U.S. Marine Corps in May 1965; after his first tour of duty in Vietnam, he was chosen to train new marines for guerilla warfare; and
WHEREAS, A few months later, Sergeant González learned of an ambush in which men who had served under him had been killed; impelled by a strong sense of duty to his fellow marines and to his country, he volunteered for a second tour in Vietnam; and
WHEREAS, When, at the end of January 1968, North Vietnamese and Viet Cong troops launched the massive Tet Offensive, Sergeant González and his platoon were ordered to Hue to relieve the pressure on that city; en route to Hue, the platoon's convoy was hit by heavy fire on several occasions; during one such encounter, Sergeant González saw an injured marine lying in the road ahead and ran through enemy fire to carry the man to cover, receiving fragmentation wounds in the rescue; and
WHEREAS, With the column halted by withering fire from a fortified machine-gun bunker, Sergeant González proceeded to guide his men to a protective dike; he then moved out onto a road being raked by the gun and destroyed the bunker with hand grenades; later, on February 3, Sergeant González was seriously wounded but continued to refuse medical treatment and to lead his men in their attack; and
WHEREAS, During fighting in Hue on February 4, his platoon of some 35 troops was again pinned down by a ferocious barrage; telling his unit to stay behind shelter, Sergeant González moved forward aggressively with hand grenades and small antitank rockets, firing numerous rounds against enemy emplacements; and
WHEREAS, Entering a church, where the North Vietnamese were heavily fortified, he succeeded in suppressing virtually all of their fire; before the last of it could be silenced, however, he was mortally wounded; and
WHEREAS, Because he succeeded in destroying so many North Vietnamese positions, Sergeant González was credited with saving the lives of the men in his platoon; the following year, in consequence of his extraordinary and selfless action, he was posthumously awarded the Medal of Honor, becoming the only marine in combat during the Tet Offensive to receive that award; and
WHEREAS, For those with whom he served, the heroism displayed by Sergeant González was completely in character; "it seemed like he was everywhere all the time," one remembered; "he was always there in the front, never in the back . . . he was always there for us"; and
WHEREAS, Among the awards subsequently conferred on Sergeant González were three Purple Hearts, four Presidential Unit Citations, and a Combat Action Ribbon, Good Conduct Medal, National Defense Medal, and Cold War Certificate; in addition, he was the posthumous recipient of two South Vietnamese decorations–the Vietnam Cross of Gallantry with gold palm and star and the Vietnam Service Medal with four bronze stars; in 1996, the U.S. Navy commissioned a new guided missile-destroyer in his honor; and
WHEREAS, Through his unhesitating selflessness and his unfaltering devotion to duty, honor, and his country, Sergeant Alfredo González embodied the highest ideals of the armed service, and he most assuredly merits the award of this state's supreme military medal; now, therefore, be it
RESOLVED, That the 80th Legislature of the State of Texas hereby posthumously confer the Texas Legislative Medal of Honor on Sergeant Alfredo "Freddy" González in recognition of his heroic service and express to his family its deepest appreciation on behalf of all his fellow Texans; and, be it further
RESOLVED, That an official copy of this resolution be prepared for the family of Sergeant González as an expression of highest regard by the Texas House of Representatives and Senate.
John Flores, author of When The River Dreams: The Life of Marine Sgt. Freddy González, contributed to this article.
••••••
Work underway on planned $100 million corporate complex by First National Bank
By DAVID A. DÍAZ
Dirt is literally flying at the site of the future $100 million corporate headquarters of First National Bank of Edinburg, located near the intersection of West University Drive and North 10th Street, bank president Robert Gandy, III reported on Tuesday, June 26, to the Edinburg Economic Development Corporation board of directors.
Gandy said up to $2 million has been spent so far by the Edinburg-based institution, one of the most successful banks in Texas, as part of its seven-year plan to create, what he believes, will be one of the best-designed financial centers in the United States.
His presentation before the EEDC board of directors came in the form of an update to the organization, which is the jobs-creation arm of the Edinburg City Council.
Former Edinburg Mayor Richard García is president of the EEDC board of directors, which also includes Mayor Joe Ochoa, Fred Palacios, Mike Govind, and George Bennack.
In December, 2004, the EEDC awarded First National Bank the right to buy the site – a 115-acre, long-unused tract of land that had been a former Edinburg airfield – in exchange for transforming the area into a commercial and retail development that would eventually create up to 1,000 high-skilled, well-paying jobs with an annual payroll approaching $50 million.
The bank bought the property for $4.55 million, and has been slowly, but steadily laying the groundwork for up to 22 buildings that bank leaders plan on constructing by February 2012.
"So far, our budget for the contract we have let out is about $2 million for the dirt work and the utility work," Gandy said. "We have spent a lot of money so far – it doesn't look like much because there is dirt out there, but we are making some progress, although it has been slow."
Bank leaders have said the first phase of construction will include building its financial data center and its corporate administrative offices.
The large complex eventually will feature 20 other bank functions, ranging from a small luxury hotel to a conference center surrounded by lush landscaping and featuring a 30-acre lake.
Other components of the planned complex include an amphitheater, branch bank, botanical conservatory, call center, business dining club, employee cafeteria, training, health services and day care facilities, heliport, warehousing, motor pool, cash management services, and personnel department.
"We have finished the storm sewer installation, we have our water lines in, these are all of Phase I," Gandy said. "We have taken the old drainage ditch that emptied under (State Highway)107, we have made it into a holding channel with a concrete pilot channel."
He added that construction crews have dug and roughed in a planned first lake, and will be drilling a water well that will be hooked up to Hidalgo County Irrigation District No. 1 in order to have access to additional sources of water for the man-made lake.
"The next thing we will be doing will be putting our first streets, and finishing up the lake with a hard edge, and it will have a PVC liner in it," Gandy continued. "Our plans for our data center, which will be roughly a 65,000-square-foot building – those are about 99 percent complete. They are at our architects being redlined. This week, we started further planning to construct our first general purpose office building there. It will be three stories and house about 300 to 400 people when it is completely full."
Gandy said four buildings will be part of the first phase of construction, with the proposed financial data center set for construction to begin in mid-fall 2007.
"It is a pretty complicated building," he said of the data center, but noted the bank has "already built the pad for that, so that will give us a couple of months heads start.
"Our other plans are, once we get the first lake installed and tested to see how it is going to operate, make sure that we know exactly what the technology is that we are using, then we will start on the second lake," Gandy continued. "That will give us a chance to then open the rest of the project to the retail/commercial development."
••••••
CHIP legislation step in right direction, but more still needed, say border leaders
By DAVID A. DÍAZ
The expansion of CHIP, the Children's Health Insurance Program, to almost 130,000 more children ranks among the biggest victories for working families to come out of the recently concluded 80th session of the Texas Legislature, say state and border leaders.
"The issue of the uninsured continues to plague all areas of our state," said Speaker of the House Tom Craddick, R-Midland, whose support for the measure was vital for its passage.
"I was pleased that members of the House and Senate were able to work together in a bipartisan manner to identify barriers in the Children's Health Insurance Program while maintaining the integrity of program participation on behalf of taxpayers," the top House leader added.
House Bill 109, by Rep. Sylvester Turner, D-Houston, which included Rep. Aaron Peña, D-Edinburg, as a joint author, was signed into law by Gov. Rick Perry on Friday, June 15.
Sen. Kip Averitt, R-Waco, was the Senate sponsor of the measure. Sen. Juan "Chuy" Hinojosa, D-McAllen, Sen. Elliot Shapleigh, D-El Paso, and Sen. Judith Zaffirini, D-Laredo, were among the Senate cosponsors of HB 109.
HB 109 extends CHIP coverage to one year, eliminates the 90-day waiting period, allows families to deduct child-care expenses, and expands the asset limits for the program, according to a bill analysis of the legislation. Families earning more than 185 percent of the federal poverty level will have an income review at their sixth month of coverage.
The Texas Health and Human Services Commission, which administers the program, estimated that these changes will increase CHIP enrollment by almost 130,000 children.
TBC's key role
The Texas Border Coalition, an alliance of elected city and county leaders, along with economic development officials, representing more than two million people who live in the 11 Texas counties that border Mexico, had been a major supporter of HB 109.
El Paso County County Attorney José R. Rodríguez, who chairs TBC's Committee on Border Health, said the governor's approval is a major step in the right direction.
"This is beneficial to border communities because we can get more children covered with health insurance," said Rodríguez. "However, we should not forget that this just brings back half of the children that were dropped from the rolls during the 2003 session. In other words, we had over 200,000 children dropped because of those cuts. HB 109 merely restores half of those children back to the insurance program, and we need to continue working to get all the eligible children covered."
A $10 billion state budget shortfall that year was blamed for dramatically cutting funding for CHIP, along with scores of other state programs, as the Republican-led Legislature looked for ways to avoid any significant state tax increases.
The Texas border has the highest rates of uninsured in the nation, approximately one third of the population, he said.
"HB 109 represents not only more health insurance coverage for children, thus closing the gap on the uninsured, but also an investment in the healthy workforce Texas needs to compete in the global economy," Rodríguez said. "Because the border has the fastest growing young population in the nation, it is good public policy to invest in the healthcare of America's future workers."
In addition to Rodríguez, other members of TBC include Eagle Pass Mayor Chad Foster, who serves as TBC chairman; Cameron County Judge Carlos H. Cascos; Edinburg Mayor Joe Ochoa; El Paso Mayor John Cook; Hidalgo Mayor John David Franz; Laredo Mayor Raúl Salinas; Maverick County Judge José Pepe Aranda; McAllen Mayor Richard Cortéz; Mission Mayor Norberto Salinas; Pharr Mayor Leopoldo Palacios, Jr; Rio Grande City Mayor Kevin Hiles; Roma Mayor Rogelio Ybarra; Val Verde County Judge Manuel "Mike" Fernández; Weslaco Mayor Joe V. Sánchez; Mike Allen of McAllen, a member of the South Texas College Board of Trustees; Monica Stewart of McAllen; and Pat Townsend Jr., president and CEO of the Mission Economic Development Agency, and other community leaders.
Recovering from 2003 budget cuts
In deep South Texas, the cuts in CHIP funding by the Legislature in 2003 had a profound negative impact, said Rep. Verónica Gonzáles, D-McAllen.
Gonzáles was a co-author of HB 109.
"The Rio Grande Valley saw a tremendous decline in the number of CHIP enrollees since the cutbacks in 2003, probably one of the largest declines in the entire state, she said.
"CHIP is not free; it is for working families who are not poor enough for Medicaid, but cannot afford private insurance," Gonzáles explained. "Enrolling more children in CHIP is a win/win. It means more healthy children, less time and money lost by businesses whose employees are out with sick children, less backlog in our hospital emergency rooms and more money from the federal government which provides a $2.60 match for every $1.00 Texas spends. It is time that we as a state make it as easy as possible to assure that all children are given access to healthcare because a healthy child is a successful child."
Also, as part of the state budget approved by Perry, the Legislature approved $2 billion in funding for the Children's Health Insurance Program (CHIP) – a $1 billion increase over 2006-2007 funding levels, according to the Texas Health and Human Services Commission.
This includes $698.5 million for the new CHIP perinate coverage, which expands the availability of prenatal coverage in the state. The perinate coverage, which began in January 2007, also provides CHIP coverage for the baby after birth. The eligibility limit is maintained at 200 percent of the federal poverty level. That's the same level since the program's inception in 1999.
••••••
Houston Rep. Coleman urges Congress to maintain federal funding for CHIP
By PHILLIP MARTIN
State Rep. Garnet F. Coleman, D-Houston, on Tuesday, June 26, sent a letter to each and every member of the Texas Congressional delegation this week urging them to support Senate Bill 1224, which will reauthorize the Children's Health Insurance Program in a manner that best helps Texas provide coverage to the hundreds of thousands of children that are eligible for CHIP.
"This legislation is key to the continued efforts to fully restore CHIP in Texas," Coleman said. "Currently, more than 9 million children in America are uninsured, including one out of every five Texas children. Despite our recent shortcomings, we need Congress to look favorably on the state of Texas when they appropriate the federal funds or else more and more Texas children will lose their health coverage."
Texas has 1.3 million uninsured children – more than any other state in the nation. At least 600,000-700,000 of those uninsured children would be eligible for CHIP, possibly more.
"Even with HB 109, Texas would still be enrolling 200,000 to 300,000 fewer children in CHIP than are eligible for the program," Coleman said. "My concern is that Congress will look at Texas' inaction and disinterest over the past four years and not allocate enough dollars to Texas to ensure we can fully restore CHIP in the coming years."
Over the past years, Texas has lost $913.4 million in federal matching funds for CHIP to other states because of the Texas Legislature's inability to enroll every eligible child in CHIP. Over 500,000 children were enrolled in CHIP in 2003, and despite recent efforts made by the Texas Legislature, over 100,000 fewer children would be enrolled in CHIP in 2009 than were enrolled in 2003.
"Many Texas lawmakers thought passing House Bill 109 was enough — that we could go home to our districts and tell everyone, 'we fixed CHIP,' " Rep. Coleman said. "But the fight to fully restore CHIP didn't end at the end of our session. It requires constant vigilance, and I will continue to do everything in my power to support the children of Texas year-round. I believe our work isn't over until our state laws match federal guidelines to ensure every eligible child is enrolled in CHIP."
••••••
Hidalgo County Commissioner Handy proclaims innocence following FBI raid of her precinct offices
By DAVID A. DÍAZ
Sylvia S. Handy, Hidalgo County's first woman county commissioner, on Friday, June 29, strongly proclaimed her innocence following a raid of her precinct headquarters in Weslaco earlier in the day by the FBI.
Television news footage featured FBI agents combing through Handy's Precinct One county offices, located at 1902 Joe Stephens Avenue. For most of the day, while FBI agents were inside the facility, her office was closed to the public.
But news coverage of the FBI's activities painted a bleak picture, with televised and photographic images showing federal law enforcement officers taking packed boxes of files from Handy's county office.
However, Handy, a 10-year veteran of the county commissioners court — and who is up for reelection in 2008 — fired back with a mid-afternoon press conference, insisting she has done nothing wrong.
"This morning at approximately 8:15 a.m., agents from the Federal Bureau of Investigation arrived at my precinct offices at 1902 Joe Stephens Avenue," Handy said. "I assume that this investigation is being conducted in reference to the allegations of a phantom employee that the auditor alerted us to a few months ago, a case which the Hidalgo County Sheriff then took up before turning it over to federal authorities."
Handy added — emphatically — that she had nothing to fear from any investigation.
"Whatever business the FBI has at my precinct offices, I can say without a doubt that I have not been involved in any illegal activity to defraud taxpayers whom I have dutifully served for the last ten years on the Hidalgo County Commissioners Court," she told reporters. "I have not done anything wrong, and that is why I am talking to you today. I have nothing to hide."
"Innocent until proven guilty"
Also Friday, separate from Handy's news conference, Hidalgo County Judge J.D. Salinas said all county leaders hold themselves to the highest ethical standards, but he asked residents not to jump to conclusions.
"I would like every single resident of Hidalgo County to know that when I and other county public officials were elected, we each took an oath to serve the public," said Salinas. "In light of the events that occurred today at the Precinct One offices in Weslaco, I would like to remind our citizens that all people are innocent until proven guilty."
Let "the investigation play out, and remember the cardinal rule of the law," urged Salinas, who was strongly supported by Handy in his successful election bid last year to unseat one-term incumbent County Judge Ramón García.
"I also understand that the FBI has a job to do. I respect that, and I also applaud the sheriff and the auditor for the jobs they have done so far in trying to make sure everything in this county is done by the book," Salinas continued.
Late last March, Hidalgo County Auditor Ray Eufracio said an audit by his office had allegedly found evidence that the county government had a person on payroll who was not performing any county-related work.
Neither Eufracio nor Hidalgo County Sheriff Lupe Treviño, who was called into the initial investigation, named the individual, nor did they say link the "phantom employee" to any specific county department.
A few weeks later, the auditor's and sheriff's information was reportedly turned over to the FBI.
"If wrongdoing has occurred, I want them to find it," the county judge continued. "The work the sheriff and the auditor have done is of utmost importance.
"I think I speak for myself and the rest of the court when I say that we will cooperate with whatever the federal government needs to conduct its investigation," Salinas promised. "We will, however, not jump to conclusions."
"I have nothing to hide"
Appearing determined and concerned during her Friday afternoon press announcement, Handy steadfastly worked to protect her good name.
"I am not for certain that this investigation is about the phantom employee because I have not been personally contacted by either our sheriff or the FBI. Neither agency has ever identified me as a suspect in the investigation, although this has been insinuated in the media," Handy said. "Contrary to what has been reported in the media, my home has not been raided."
She pledged to "cooperate to the fullest of my ability with law enforcement authorities. I want this matter to be resolved as soon as possible so we may all get back to our lives as normal."
Handy acknowledged the political and personal pain that has been inflicted by the FBI raid.
"I have nothing to hide. My life in public office has always been an open book. I take pride in serving the residents of Hidalgo County, and I strive to live my life — personally and publicly — by high moral standards," Handy proclaimed. "I am saddened by the stress this situation has caused my employees and my family, especially my two children."
••••••
Voters support tougher sanctions for jury no-shows, according to CALA poll
By ELIZABETH WALKER
An overwhelming number of Texas voters believe that people should be held accountable for ignoring a summons to jury service and a majority support tougher penalties for individuals who shirk the responsibility, according to a new public opinion survey released on Tuesday, June 26.
According to the survey of 400 Texas voters conducted for Citizens Against Lawsuit Abuse (CALA), nearly all voters surveyed (90 percent) agree that Texans should be held accountable for ignoring a jury summons. And a majority support stronger sanctions against no-shows:
• More than half of voters surveyed (54 percent) support increasing the maximum fine for failure to report for jury duty. The current fine ranges from $100 to $1000.
• A majority of voters (51 percent) support suspending the driver's license of those who repeatedly fail to answer the call for jury service.
Unfortunately, many in Cameron, Hidalgo, Starr, and Willacy counties do fail to answer the call for jury service, demonstrated by appallingly low local response rates. District clerks report that in some parts of the Rio Grande Valley as few as only thirty percent of citizens summoned for jury service even show up.
"Jury service is one of the best weapons we have against lawsuit abuse," said Bill Summers, president of Citizens Against Lawsuit Abuse. "Not only is jury service a responsibility, it is a privilege we want to encourage all eligible citizens to embrace. By returning an impartial verdict, jurors make sure our courts are used for justice, not greed."
Since its inception, CALA has made promoting jury service a priority of its public awareness activities. Over the years, CALA and its sister groups in Texas have aired pro-jury service TV and radio Public Service Announcements, erected billboards, delivered numerous speeches on the topic, and produced a brochure that outlines the importance of jury service.
According to the Texas survey most voters – nearly 90 percent – believe serving on a jury is an important right. "But it's clear that we don't walk the walk," Summers said.
Summers noted that almost all voters surveyed (87 percent) believe high number of no-shows hurts our civil justice system and were surveyed on specific concerns. Other findings include the following:
• Almost all voters were concerned that scheduled trials may be delayed due to lack of available jurors (90.4 percent) and that such delays could lead to a backlog of cases (90.5 percent).
• Nearly 9 out of 10 voters (85.7 percent) were concerned that a lack of available jurors could lead to juries that are not representative of local communities and juries that are not of "peers."
• Even more (89 percent) said they were concerned about the potential impact on the quality of justice when there aren't enough potential jurors at the courthouse.
• And, finally, more than 8 out of 10 (85 percent) expressed concern that those who do respond for jury duty may end up shouldering a greater burden – such as increased or repeated summons to jury duty – because of the high number of no-shows.
Also according to the survey, many Texas voters were surprised at the high number of people who ignore a jury summons. Almost half (40 percent) of voters surveyed believed that 20 percent of those summoned to service ignore the call while another 23 percent estimated the figure to be 40 percent.
Only about 15 percent of Texas voters believed that as many as 70 or 80 percent of those called to duty would fail to show up for service.
In 2005 Texas lawmakers increased juror pay from $6 to a minimum of $40 per day after the first day of service. However, the CALA survey found that fewer than 3 in 10 voters (27.5 percent) were aware of this pay increase. More than half (55.3 percent) of voters said the increase would make them more likely to respond the next time they were summoned for jury service.
"While Texas lawmakers have provided a carrot, it is clear from our survey that Texas voters also support having a strong stick in the delicate balancing of encouraging people to answer the call," Summers said. "We hope the information we are sharing today and our Public Service Announcements will serve as a useful tool to raise awareness about the importance of jury service.
"We want to challenge Texans to stand up for jury service and take a seat on a jury," Summers said.
The survey of 400 Texas voters was conducted June 12-18, 2007, and has a margin of error of + 4 percent. The survey was conducted on behalf of Citizens Against Lawsuit Abuse groups in Texas by Braun Research Inc.
Citizens Against Lawsuit Abuse (CALA) is a nonprofit, nonpartisan, grassroots, public education organization dedicated to serving as a watchdog over the legal system and those who would seek to abuse it for undeserved gain.
Founded in the Rio Grande Valley in 1991, CALA now strives nationwide to raise awareness of the costs and consequences of lawsuit abuse. More than 25,000 Texans now support the movement. For more information, visit http://www.citizensagainstlawsuitabuse.com.
••••••
Rep. Peña selected one of top negotiators in House of Representatives by Capitol Inside political website
By ORLANDO SALINAS
State Rep. Aaron Peña, D-Edinburg, was selected as one of the top negotiators in the Texas House of Representatives for the 80th Legislative Session by Capitol Inside, a non-partisan news source.
Peña was named to 17conference committees, which is more than any other member of the Texas House of Representatives. Appointments to conference committees often reflect that a member has seniority and influence, and are trusted by their peers to do what is right for the state of Texas. As a result, the Valley representative mediated many of the important pieces of legislation of the
session.
In addition, according to Capitol Inside's scoring system, Peña ranked fourth out of 150 as the top conference committee member. Peña was also appointed twice as the chair to lead negotiations on two important pieces of criminal justice legislation, one dealing with indigent defense and the
other dealing with online sexual predators.
The scoring system took into account the total number of conference committee appointments, the number of conference committees the member chaired, and the number of conference committees that the member was appointed to that dealt with the session's major legislation.
"I am pleased that I was able to work for our community in these conference committees. The legislation that we handled included issues such as water, taxes, and transportation, which are all critical to the needs of the Rio Grande Valley. These appointments gave me a significant voice for the people in South Texas during this legislative session," said Peña.
Conference committees are composed of Senate and House members for the purpose of reconciling differences in legislation of importance that has passed both chambers. There are times when amendments are added to a bill in one chamber that the other chamber disagrees with, and the purpose of the conference committee is to negotiate and compromise on those differences.
••••••
Valley's Internet media coalition to hold inaugural meeting on July 21 at Moonbeans Coffee in McAllen
Local Internet bloggers are scheduled to gather to form the Rio Grande Valley New Media Group in McAllen on Saturday, July 21, according to the event organizer, Shaine Mata.
The "RGV New Media Group" will center around the use of Internet technology for branding, marketing, and social movements.
Co-organizer of PodCamp San Antonio, Mata, who most recently served on the staff of the House Committee on Criminal Jurisprudence in the Texas House of Representatives, promotes forming a technology community in the Rio Grande Valley.
The local technology and social media experts will be gathering at Moonbeans Coffee at 1200 N 10th St in McAllen, he said. The session will begin at 1 p.m.
"New Media groups exist in larger metropolitan areas like San Antonio, Dallas, Houston, and other large cities throughout the country," Mata explained. "This would be the first new media group in the Rio Grande Valley. Such groups tend to pave the way for larger events like technology conferences once the expert community is gathered."
Any person who blogs, podcasts, or who uses social media for personal or marketing purposes should be a part of the RGV New Media Group, he added. The group is a great opportunity for networking with people who are knowledgeable in Internet technology, online marketing, personal branding, and Internet community building, all vital components of the New Media. Such gatherings are great venues for sharing knowledge and team building.
"Being part of the RGV New Media Group is more than an opportunity for personal enrichment; it also serves to recognize the talent that exists in our community," said Mata.
This will first New Media group in the Rio Grande Valley where peers can gather to trade knowledge, work, and recognition of each others' strengths. A New Media Group is more encompassing as it includes people with both technical and marketing skills.
"Nothing compares to learning from somebody with whom you share an interest in sharing and mentoring about New Media," added Mata..
Persons interested in joining the RGV New Media Group may visit http://rgvnewmedia.org for more information. Or, Mata can be contacted directly at
[email protected] or 956-432-4322. Area residents who plan on attending should RSVP to the Upcoming.org event announcement to allow time for preparations. Guests are welcome, Mata said.
••••••
Sen. Cornyn joins in introducing bill to ensure free, open media
U.S. Sen. John Cornyn, R-Texas, a member of the Senate Judiciary Committee, joined several Senate colleagues on Friday, June 29, in introducing legislation to prohibit the Federal Communications Commission (FCC) from using funds to impose the so-called "Fairness Doctrine" on America's broadcasters. Sen. Cornyn is an original cosponsor of the Broadcasters Freedom Act of 2007, S. 1748. The bill's main sponsor is U.S. Sen. Norm Coleman, R-Minn.
"A basic principle of our democracy is a press that is free of government influence or control. It is shameful that some now believe the federal government should dictate to Texans what they can say and when on the airwaves," Cornyn said. "If reinstated, the 'Fairness Doctrine' would be a direct assault on one of this nation's most cherished freedoms. This important legislation will ensure that all ideas can be expressed openly and freely on our nation's airwaves."
In recent days, Democrat leaders in both the U.S. House and U.S. Senate have expressed support for reinstating the "Fairness Doctrine," which was repealed some 20 years ago. This was an obsolete federal regulation that, until its repeal in 1987, required broadcasters to air all sides of controversial issues, regardless of listener choice, or risk the loss of their broadcast license, Cornyn said.
••••••
Former Port Lavaca Councilwoman Debra M. Briseño to serve five years in prison for voter fraud
A former Port Lavaca city councilwoman on Monday, June 25, was sentenced to five years in prison for committing voter fraud during the March 2006 primary election. A Jackson County jury found Debra M. Briseño, 51, guilty on Friday, June 22, of registering non-citizens to vote.
Briseño, who ran unsuccessfully as a candidate for county justice of the peace in that election, also facilitated noncitizen voting by tampering with government documents. The offense of illegal voting is a third-degree felony.
Briseño accepted the five-year prison term as part of a sentencing agreement with the prosecutors from the Office of the Attorney General, the Calhoun County District Attorney and the Jackson County District Attorney.
"Texans will not tolerate illegal schemes that undermine the integrity of the electoral process," said Texas Attorney General Greg Abbott. "Voters can rest assured the Office of the Attorney General will protect the ballot box by aggressively enforcing election laws. We are grateful to Calhoun County District Attorney Dan Heard and Jackson County District Attorney Bobby Bell for their hard work in this case and their commitment to fair elections."
Under the sentencing agreement, Briseño admitted that she and her husband, Richard Morales, lied to the jury during their testimony last week. Both falsely testified that their voter registrants were informed that only United States citizens can legally vote. Admitting to aggravated perjury, Briseño acknowledged that she did not ask registrants about their citizenship, nor did she inform them that only United States citizens are eligible to vote. As a result, Briseño registered non-citizens to vote in Calhoun County, and thereafter lied about her efforts at trial.
In open court Briseño admitted to one count of tampering with a government record, a state jail felony. In this instance, she visited local residents who were non-citizens and assisted them with their voter registration. She informed them that they needed only a valid driver's license to become registered to vote. Under Texas law, noncitizens can obtain a driver's license but are not eligible to vote. Briseno then filled out the portion of the registration application inquiring about citizenship and falsely claimed that the individuals were citizens.
Both Briseño's confessions to lying to the jury and tampering with a government record were taken into consideration by Jackson County District Judge Joseph P. Kelly when he accepted the sentencing agreement.
Last month, Briseño's trial was moved from Calhoun County to Jackson County after her counsel filed a motion to change venue. She was transferred from Jackson County to the Calhoun County Jail on Monday morning, June 25.
••••••
NAHJ responds to Gov. Schwarzenegger regarding Spanish language media
California Gov. Arnold Schwarzenegger, an immigrant from Austria, was the featured speaker on Thursday, June 14, at the 25th annual convention of the National Hispanic Journalists Association, held in San José, California.
Schwarzenner addressed many issues, ranging from border security to greenhouse warming.
During his interview, which includes a video posted at the California governor's website ( http://gov.ca.gov/index.php?/speech/6687/), Schwarzenegger also encouraged Hispanic immigrants to learn English as quickly as possible in order to succeed in the U.S. One way to do that is to stay away from Spanish-language media, especially television, and spend time viewing English language programming.
He said that strategy allowed him as a young immigrant to the U.S. to learn English much faster.
Schwarzenegger's comments from the Thursday, June 14 appearance before a NAHJ panel, and the response from the NAHJ a few days later, follow:
GOVERNOR: Well, one of the reasons why I was so adamant about after school programs is because I think it helps minorities, and especially English learners, because they do not have enough time during the day to catch up with the English. Because I know when I went to school, I started at Santa Monica City College, I had to take extra classes, I had to spend extra hours, I had to get tutors to help me. So all of those things are very important. And I think that after school programs are meant to go and provide tutoring and homework assistance, two very important academic components that are apart of after school programs, in order the get funding in the first place for school. So you can't just go out and do three hours of sports programs, you have to do academic programs like homework assistance and tutoring. So those that are learning English should go to after school programs and learn English and get extra tutoring. Our administration put extra money, millions of dollars, into tutors so they can go and help those that are English learners, because we have to get them up to speed as quickly as possible.
The other, the second most important thing is that you've got to turn off the Spanish television set. It's that simple. You've got to learn English. You've got to listen—I know this sounds odd, and this is politically not the correct thing to say, but here I am, getting myself into trouble. But I know, I know that when I came to this country, I did not, or very rarely, spoke German to anyone. Not that I didn't like Austria, my heart was always in Austria, but I wanted to as quickly as possible learn the English language. And I felt that through immersion, and just really sitting in front of the television set—and I remember I watched all the comedies and the news programs. I couldn't understand a word they were saying, but nevertheless I watched it, and eventually I got with it, and I learned. And I remember that the teachers at Santa Monica College also told me the same thing. They said, "Read the LA Times, even though you don't understand it. Look at your dictionary and learn, and look at books that are English, look at comic books that are English, watch television, listen to radio that is English." And it really helped me, that within a year and a half or two years, I really got my act together so I could read the paper and I could understand the news and really get with it also in school. So it is a drastic way of going about it, but it's the only way I can think where everyone, where you yourself can help, the school has to help, and the parents have to help.
QUESTION FROM PANEL MEMBER: Is it realistic to expect a high school student to master a language in a couple of years? I mean, do you think —
GOVERNOR: Yes. It is realistic, absolutely. It's just very difficult for Spanish speaking people because they have family members that speak Spanish, when they go to the store they speak Spanish, they listen to Spanish television, they read the Spanish newspaper—and of course I know you like to sell your newspapers, so I'm sorry about that. But you know, I just want to tell you that it can be done. That's why I said many times that people that come from Europe have it easier, because you are on the other side of the continent now, and you make a much more commitment to go and to just go all out to learn the English language. And so a lot of people that come from Europe are much quicker, and it's because they don't speak French, or they don't speak German, because they don't have that many people around to speak German to. So you're just forced to speak English, and that makes you be able to learn the language faster.
It makes it much more difficult and much more challenging when you are, let's say, Latino, because you have so many Latinos. I see it here at the capital, in Sacramento. There are just so many Latinos that speak Spanish all the time, they speak to each other in Spanish. So it makes it difficult to then perfect your English skills as quickly as possible.
The NAHJ responds:
The National Association of Hispanic Journalists appreciates the governor taking the time out of his schedule to be with us in San José (California) on Thursday, June 14. During his appearance, he made the controversial statement that students who have not learned English should turn off Spanish language television. The statement generated more buzz outside our convention than inside. Perhaps that is because we heard the whole context. Perhaps it is because English is the governor's second language. Perhaps it is because what he said had ramifications for larger issues he did not address in his limited time on stage. In any event, we believe the governor made a good point – poorly.
The substance of what the governor said was not controversial: Latino students who struggle in school because they have trouble with English need to improve their English language skills to succeed academically in the U.S.
It is said by some that too many use Spanish language media as a crutch, and that it prevents people from fully assimilating into American society. But crutches are a good thing. They help people walk. Latinos who have yet to learn English in the United States should do so, sooner rather than later. In the meantime, we have a social network that was not available to many previous waves of immigrants in the U.S. We have an extensive network of news media available in Spanish. The current inability of some Latinos to speak English should not bar them from learning about what's happening in their communities. And the ineffectiveness of the mainstream media in providing substantive news about the nations to the south of the United States should not bar those of us who are bilingual from getting that news in Spanish.
Spanish language media serves a purpose. Teaching English is not that purpose. And yet Spanish television and newspapers regularly advertise English courses and programs, and those courses and programs are routinely filled. Latinos want to learn English.
Sometimes it takes a generation before an immigrant wave in the U.S. becomes fully bilingual. Becoming an English speaker was difficult for the Germans and Italians before us. The problem appears exacerbated with Spanish speakers because Latinos continue to arrive in the United States in large numbers. But second-generation Hispanics, born or largely raised in the U.S., are fluent in both languages, or even English-dominant. Just like our predecessors from Italy, Germany and other nations.
The governor's comments, removed from the context of the need to learn English to succeed academically, left the unfortunate impression that he was advocating the demise of Spanish media, or that Latinos in the U.S. should disconnect from our heritage. He did not make either of those statements, and we do not believe he intended to.
The governor might have done better to tell struggling students to turn on English language television rather than to turn off Spanish. That would have placed his concern with adding language skills to our futures rather than detracting from the language of our heritage.