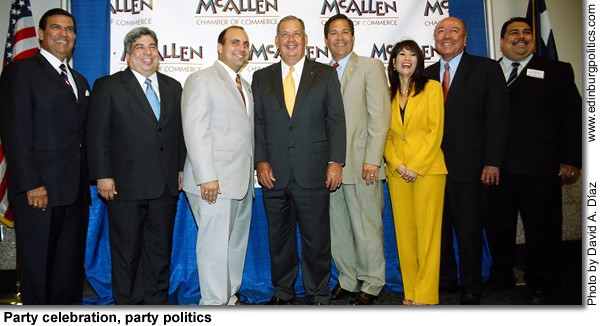 Most of the Valley legislative delegation, along with McAllen Mayor Richard Cortéz, surprised Rep. Verónica Gonzáles, D-McAllen, by congratulating her on her birthday in McAllen on Tuesday, June 19. The lawmakers, who were featured speakers during a legislative wrap-up luncheon sponsored by the McAllen Chamber of Commerce, along with Cortéz and a full house in the audience, sang Happy Birthday to Gonzáles, who is the first woman state representative in the history of Hidalgo County. Featured, from left, are Sen. Eddie Lucio, Jr., D-Brownsville; Rep. Aaron Peña, D-Edinburg; Rep. Armando "Mando" Martínez, D-Weslaco; Cortéz; Rep. Ismael "Kino" Flores, D-Palmview; Gonzáles, whose legislative district includes southwest Edinburg; Sen. Juan "Chuy" Hinojosa, D-McAllen; and Rep. Ryan Guillen, D-Rio Grande City. The issue of party politics, including the controversial support by some Valley Democrats for Speaker of the House Tom Craddick, a Republican, was one of the highlights of the event. See story later in this posting.
••••••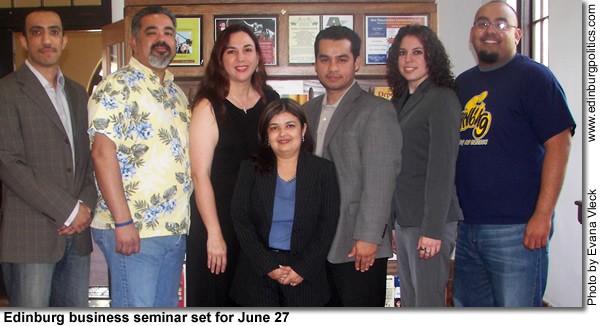 The Edinburg Chamber of Commerce, Edinburg Economic Development Corporation, WorkForce Solutions, and the Small Business Development Center organized a Business Development Seminar for Wednesday, June 27 from 11:30 a.m. – 1:00 p.m. at the Depot, located on 602 W. University Drive in Edinburg. This is a free event organized for the community that will include topics on the following: on-the-job training; work experience program; work opportunity tax credit; OSHA training; business loans; market research; and business procurement. More information is available by calling 956-383-4974. This event is being made possible by Austin Personnel Services. Promoting the event are, from left: Haitham Alhaddad, Small Business Development Center; Johnny Rodríguez: Austin Personnel Services; Melissa Rodríguez, Austin Personnel Services; Nancy Reed, Texas Workforce Solutions; Javier Martínez III, Small Business Development Center; Leticia Reyes, Edinburg Economic Development Corporation; and Frank Lara, Edinburg Chamber of Commerce
•••••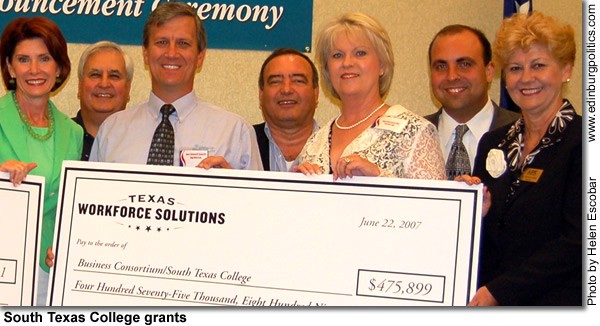 State and South Texas College leaders on Friday, June 22, participated in a ceremony announcing two major grants from the Texas Workforce Commission, which was represented at the event by Diane Rath, chair of the TWC. "We are overwhelmed by the continued support we receive from TWC," said Wanda Garza, executive officer for Workforce Development and External Affairs for STC. "It is clear that the leadership of TWC understands our mission and vision. They have consistently stepped up to the plate to find ways to assist STC's efforts in building a better workforce for the Rio Grande Valley." Featured, from left, at the ceremony, which was held at Knapp Medical Center in Weslaco, are Rath; Al Serrano, market manager for Wal-Mart-McAllen District; James A. Summersett III, president and CEO of Knapp Medical Center; Sam Díaz, human resources director for Convergys; Garza; Rep. Armando "Mando" Martínez; and Dr. Shirley A. Reed, president of South Texas College. Also present at the event, but not shown in this photograph, were Sen. Eddie Lucio, Jr., D-Brownsville; Manuel López Delgado, Consulado de México; Janie Oliváres, chief operations officer for the Center of Industrial Rehab Services; María Elena Sánchez, director of special projects for Starr County Memorial Hospital; and Bonnie González, chief operations officer for Workforce Solutions. See story later in this posting.
••••••
In anticipation of possible Democratic challenge, Rep. Peña defends working with GOP leadership
By DAVID A. DÍAZ
With a former Democratic Party rival considering a second challenge in next spring's primary, Rep. Aaron Peñã, D-Edinburg, is emphasizing how his willingness to work with the Republican leadership in the House of Representatives has paid off handsomely for his legislative district and the Lower Rio Grande Valley.
Peña, who will be seeking a fourth two-year term that would begin in January 2009, is expected to face a familiar foe next spring: Edinburg civil engineer Eddie Sáenz.
All 150 state representative slots are up for reelection every two years.
The two men battled in the March 2004 Democratic Party primary; they could both be on the ballot again in the March 2008 party primary for the right to represent House District 40, which includes most of Edinburg.
Peña's current term ends in early January 2009.
Neither man has formally announced.
Peña, an attorney, has said he is running for reelection, while Sáenz has been working behind the scenes, preparing for a possible second campaign effort later this year.
Key programs funded
Addressing a packed house recently at the McAllen Chamber of Commerce, Peña released a list of 18 major pieces of legislation carried by, or supported by, himself and the Valley legislative delegation that will address major economic, health care, public safety, and border security needs for deep South Texas.
"When you get to see the list, and we can provide it to you, you will see that our communities fared better, I dare say, than any other part of the state of Texas," he said. "It is because of the representatives and senators who really worked really hard."
He also noted that the state budget included significant increases in funding for almost 50 programs that benefit deep South Texas.
"I can go project after project," Peña said. "We can talk about the drug treatment center that we all have been wanting in the Valley, we can talk about funding increases for our universities – 13 percent, 20 percent increases in funding –we can talk about the $40 million Fine Arts Center we are going to have. We can talk about the new parks we are going to have in the Valley, the park in McAllen, the park in Edinburg, the park in Weslaco, the park in Brownsville, the park out in the west side of Hidalgo County."
Legislative initiatives which will have a direct impact in Hidalgo County include the $3 million substance abuse facility to be located in Edinburg, a $45 million Department of Public Safety headquarters to be built in the McAllen area, a $13.2 million increase in the budget for the University of Texas-Pan American, and a share of $5 million for the University of Texas Regional Academic Health Center in Edinburg.
Peña's remarks were part of a series of brief presentations by area lawmakers that highlighted a legislative luncheon hosted by the McAllen Chamber of Commerce on Tuesday, June 19, at the chamber's headquarters in the City of Palms.
Sen. Juan "Chuy" Hinojosa, D-McAllen; Sen. Eddie Lucio, Jr., D-Brownsville, Rep. Ismael "Kino" Flores, D-Palmview; Rep. Ryan Guillen, D-Rio Grande City; Rep. Verónica Gonzáles, D-McAllen, and Rep. Armando "Mando" Martínez, D-Weslaco, also participated in the event.
"In some other part of the state, some other lonely legislator is reporting to his chamber of commerce, saying, 'Maybe next time.' Well, that's not true for us," Peña said. "South Texas – your delegation – delivered. I say that with confidence. You have heard that from your senators, from
Chairman (Kino) Flores. We even had newspaper reports where some Republicans were complaining that the Valley had too much influence."
Flores is chairman of the House Committee on Licensing and Administrative Procedures, while Peña is chairman of the House Committee on Criminal Jurisprudence.
Under the House rules, the Speaker of the House appoints the chairs of the House standing committees.
"Craddick Democrats"

Peña and Flores are among about a dozen so-called "Craddick Democrats" who supported Tom Craddick, the first Republican Speaker of the House in more than 100 years, to remain in arguably the most powerful legislative position in Texas.
Late last year, in early January, and during the tumultuous final days in late May of the regular session – when some Republicans and a Democratic majority repeatedly but unsuccessfully attempted to unseat Craddick – the two veteran Valley lawmakers stood solidly with Craddick.
For his loyalty, Peña, along with Flores, Guillen, and Lucio, III, were rewarded with House committee chairmanships and plum spots on the state budget-writing House Appropriations Committee.
Those positions of power translated into big bucks for legislative priorities important to their South Texas constituents, Peña said.
"That happened because we are one of the few delegations that was willing to work across the aisle, in a bipartisan basis, in an attempt to make this state a better place," said Peña, who also represents the Delta Area communities of Edcouch, Elsa, San Carlos, and La Villa.
La Joya, Sullivan City, and smaller communities in northern Hidalgo County are also part of this legislative district.
He noted that his access to Craddick also translated into access for other elected leaders in South Texas.
When (McAllen) Mayor (Richard) Cortéz went to see the Speaker of the House, other people had to make appointments and wait," said Peña. "The reason we succeed is because we try for the community and the proof is in the people in this room. Whether we are Republicans or we are Democrats, we work for the betterment of our community."
The bottom line, Peña proclaimed, "is we did a great job, and I don't mean the legislative delegation, I mean our communities did a good job. Time after time, when an issue came up, you were there. When we called on you, you were there, and we very much appreciated your support."
"Yellow-Dog Democratic Country"
For his part, Flores, who along with Peña has been criticized for crossing party lines and casting key votes for the Republican speaker, was more forceful in promoting, and protecting, Craddick as House speaker.
Flores, whose House District 36 includes Mission, south McAllen, and Pharr, publicly endorsed Craddick in the Republican lawmaker's first bid for the top spot in the House.
"I want to go back a little bit, four years ago, when we brought Tom Craddick down here, and I was being criticized for stepping out and helping a Republican," Flores reminded the audience. "'How dare you? What are you doing? This is Yellow-Dog Democratic Country.'
According to U.S. political history, in the late 19th century and throughout the 20th century, yellow dog Democrats were voters in the U.S. Southern states who consistently voted for Democratic candidates because of lingering resentment against Republicans from the Civil War and Reconstruction periods. The term arose from the notion that a Southerner would vote for a yellow dog before voting for a Republican.
Flores echoed Peña's contentions that the Valley needed to work with Republicans – who control the state Senate, House, and all state offices, including the governor – as well as Democrats for the good of the region.
"I told you all this was the guy (Craddick) we needed to get behind, and the result is here today, all the things our senators have been able to talk about, that we have been able to accomplish in the House," Flores said. "We have Aaron Peña chairing a major committee, we have Ryan Guillen as the vice chair of Appropriations Committee, Armando sitting on the Business and Industry Committee, Veronica sitting on Public Health."
Flores said the Valley was now on the inside of the political pecking order in the House of Representatives, and no longer on the outside trying to get in.
"We have the door wide open" Flores said. "It makes it easy for us to accomplish the things that we are working on. Before, it would be like the kid being the seventh man on the team, saying, 'Hey, Coach, hey, Coach, hey Coach, let me play, let me play!' Now, we can get beyond all of that and step up and say, 'This is what we need for our area.'"
Now, Flores said, "you look at it from a broad spectrum, you look at health, education, highway transportation, we were able to impact for the first time.
"South Texas has become a force, not only economically, but our population has become educated, it is responsible, it is loyal, and people are addressing us," Flores continued. "They are taking note of what we are doing here in South Texas."
••••••
Veterans Hospital for South Texas endorsed by South Texas County Judges and Commissioners Association
By CARI LAMBRECHT
A resolution sponsored by Hidalgo County Judge J.D. Salinas, which calls for the passage of H.R. 538, also known as the "South Texas Veterans Access to Care Act of 2007," was unanimously passed by the South Texas County Judges' and Commissioners' Association on Wednesday, June 20, at the group's conference in Corpus Christi.
The South Texas County Judges' and Commissioners' Association represents 67 counties in Texas. These 67 counties are now behind the ever-growing push for a Veterans Administration hospital south of San Antonio.
H.R. 538 — introduced by Rep. Solomon Ortíz and co-sponsored by Congressman Hinojosa, Cuellar and Doggett — states the current and future health care needs of approximately 114,000 identified veterans residing in South Texas are not being met by the Department of Veterans' Affairs.
The bill calls for either 1) a public-private venture to provide inpatient services and long-term care at an existing facility in deep South Texas; 2) a project to build a new full-service 50-bed hospital with 125-bed nursing home in Far South Texas; or 3) to adopt a sharing agreement with a military treatment facility in Far South Texas. Local veterans and elected officials would like to see the full-service hospital option come to fruition.
"Word about the plight of the veterans of the Valley is finally reaching beyond our region, as evidenced by this vote today. I would like to thank my colleagues for their unwavering support," said Salinas. "I hope these words, shared by 67 counties in Texas, find their way all the way to Washington."
"I think the judges and commissioners at the South Texas County Judges' and Commissioners' conference have recognized that this hospital we are collectively pushing for will benefit everybody," Salinas continued. "Our local veterans could have increased access to long-term medical care, wait times and doctor to patient ratios would be reduced in San Antonio where most of our veterans travel to, and even our winter visitors would benefit from a VA hospital. All these things, in turn, lead to healthier veterans, families, and economies."
"At one of our recent town hall-style meetings, someone rightly said that veterans living in this so-called 'Far South Texas' do not fight only for the freedoms of their neighbors in 'Far South Texas.' They fight for the freedoms of everybody, and they deserve to be treated equally. Decent health care should not be a luxury afforded to a few, but to all. I am proud that my colleagues are helping us in the Valley take the charge for equal access to care," Salinas said.
Salinas will be traveling along with Cameron County Judge Carlos Cascos, to Washington D.C. on July 10 to July 12 to continue the fight for a Veterans' Administration hospital for the region.
••••••
Edinburg continues posting historic low jobless rates
By DAVID A. DÍAZ
Edinburg's jobless rate, which is a key indicator of the strength of the local economy, in May posted one of the lowest jobless rates in the Valley, reporting a 4.4 percent unemployment rate, according to the Texas Workforce Commission.
The latest figures continue a positive trend, going back several years, that Edinburg has recorded single-digit unemployment rates – historic levels for a community that in the early 1990s, was rocked by jobless rates higher than 20 percent.
The May unemployment rate also means the three-time All-America City had the lowest jobless rate in the Valley for the first four months of 2007, and the latest figure placed it close to McAllen's jobless rate in May, which registered at 4.2 percent, according to the Edinburg Economic Development Corporation.
The EEDC is the jobs-creation arm of the Edinburg City Council.
The EEDC's five-member governing board includes Mayor Joe Ochoa; former Mayor Richard García,
who is president of the EEDC board of directors; and Fred Palacios, Mike Govind, and George Bennack.
In April, Edinburg and McAllen shared the lowest jobless rate for that month, each at 4.3 percent.
In March, Edinburg's jobless rate was 4.4 percent, in February it was 4.8 percent, and in January it was 4.9 percent.
The city's unemployment rate was keeping pace with the statewide average in May of 4.1 percent, an historic low for Texas, and the U.S. unemployment rate of 4.3 percent.
In 2006, the annual jobless rate for Edinburg was 5.3 percent, while in 2005, the annual jobless rate for Edinburg was 4.7 percent.
In 2006, the city's jobless rate was the lowest in the Valley during five months, according to the Edinburg Economic Development Corporation, and Edinburg registered the second-best showing for most of the other months last year, edged out only by McAllen.
In May, according to the Texas Workforce Commission, 1,230 Edinburg residents were looking for jobs, while 26,760 local residents were employed.
The jobless rate, also known as the unemployment rate, is the number of persons unemployed,
expressed as a percentage of the civilian labor force. The civilian labor force is that portion of the population age 16 and older employed or unemployed.
To be considered unemployed, a person has to be not working but willing and able to work and actively seeking work.
The jobless rate for Hidalgo County was 5.7 percent in May, compared with 6.1 percent in April, 6.5 percent in March, 7.4 percent in February, and 7.7 percent in January.
The May jobless rate for Hidalgo County represented 15,344 area residents without jobs, while 252,533 residents were employed during the fifth month of 2007.
McAllen's top showing in May of 4.2 percent represented 2,400 of their citizens out of work that month, while 55,430 residents of the City of Palms were employed.
In April, McAllen reported a 4.3 percent jobless rate, in March, McAllen reported a 4.6 percent jobless rate, 5 percent in February, and 5.1 percent in January.
Cameron County's jobless rate in May was 5.3 percent, an improvement from 5.5 percent in April.
In May, 7,625 residents of Cameron County were looking for work, while 135,101 residents were holding down jobs.
Harlingen's unemployment rate in May was 4.6 percent, the same as in April, while Pharr in May reported a 4.8 percent jobless rate, an improvement from 5 percent in April.
Mission in May registered a 4.9 percent jobless rate, an improvement from 5.2 percent in April.
Weslaco reported a 5.1 percent unemployment rate in May, an improvement from 5.3 percent in April.
Brownsville in May reported a 5.4 percent jobless rate, an improvement from 5.6 percent in April.
Statewide, Texas also posted the lowest jobless rates in modern history, according to the Texas Workforce Commission.
According to TWC:
The May seasonally adjusted unemployment rate fell to 4.1 percent, its lowest point since the current series began in 1976. The unemployment rate dropped from 4.2 percent in April and 5.0 percent a year ago. Seasonally adjusted nonagricultural employment in Texas grew by 22,700 jobs
In May, with 10 industries gaining jobs from the previous month. Texas employers now have added 239,000 jobs over the past 12 months.
"Sustained job growth and a strong Texas economy have driven the unemployment rate to this historic low," said Texas Workforce Commission (TWC) Chair Diane Rath. "Texas employers are prospering which means more opportunities for working Texans."
The Midland Metropolitan Statistical Area (MSA) experienced the lowest unemployment rate in the state at 2.6 percent (not seasonally adjusted).
The Amarillo and Odessa MSAs were second at 3.0 percent, followed by the College Station-Bryan and Lubbock MSAs at 3.1 percent.
Professional & Business Services continued to surge forward with 10 consecutive months of job growth, gaining 5,400 positions in May. This industry has added 61,600 jobs this past year. Education & Health Services showed the largest over-the-month increase since last summer, gaining 4,900 jobs. The industry has now logged 38 months of job growth since January 2004.
"Texas employers are making enormous strides across a wide spectrum of industries," said TWC Commissioner Representing Employers Ron Lehman. "Our state's annual job growth rate at 2.4 percent now outpaces the U.S. rate at 1.4 percent."
Trade, Transportation & Utilities recorded employment gains for the sixth consecutive month, adding 2,600 positions in May and 20,900 jobs in the past 12 months. The Mining industry added 1,600 positions this past month and 19,100 jobs in the past year, achieving a 10.5 percent annual job growth rate.
"As more and more people find work, the economy improves for all Texans," said TWC Commissioner Representing Labor Ronny Congleton. "The state has added more than 104,000 jobs since the first of the year."
••••••
STC tuition may rise 20 percent in the fall of 2008 as result of veto by Gov. Perry
By DAVID A. DÍAZ
South Texas College students could see their tuition go up by 20 percent beginning in the fall of 2008 as a result of a veto by Gov. Rick Perry that will take away about $4 million in state money now used to pay for health insurance of the college system's 1,4o0 employees.
STC faculty and staff will still continue to have their health insurance coverage, but the tab will have to be picked up locally — most likely by students through higher tuition and fee costs, college leaders fear.
STC, which has campuses in McAllen, Weslaco, and Rio Grande City, has an enrollment of almost 20,000 students.
According to STC president Dr. Shirley Reed, the college system has only two sources of local revenue available to make up the $4 million loss – raising tuition or increasing local property taxes. And increasing local property taxes is not politically viable, she contends.
"We could go before the voters and ask them to vote a tax increase – there is no chance of that," Reed said after a legislation luncheon in McAllen on Tuesday, June 19. "So what are we going to do? It is going to be on the backs of our students. It is going to be a combination of having to increase tuition and fees and reduce critical services that are needed to help students be successful."
Community college leaders across Texas expressed unanimous surprise and dismay at the governor's veto. Perry, who has line-item veto power – he can select any item in the state budget and kill it – on Friday, June 15 blocked almost $154 million that was going to be used by the state's 50 community colleges to pay for their employees' health insurance premiums.
The governor said community college employees are not state-workers, and thus not eligible to receive state money to pay for their health insurance.
Mike Allen, who serves on the seven-member STC Board of Trustees, roundly criticized Perry and his staff.
"What the governor has done is raised taxes for local taxpayers, we are going to have to raise tuition for students, and Gov. Perry is responsible for that," Allen said. "I have no idea why he would not support education and health care for teachers who are doing the most important work in Texas. It is beyond my comprehension.
"Who advised the governor?" Allen asked. "I don't the governor himself did this, I think some of his advisors did in trying to save money. But, they shouldn't do it on the back of education, and that's exactly what he has done."
In his veto proclamation, Perry explained that his action deletes fiscal year 2009 funding for Higher Education Employees Group Insurance Contributions for Public Community/Junior Colleges.
Fiscal year 2009 begins September 1, 2008.
A budget rider states that "the funds appropriated by this Act out of the General Revenue Fund may not be expended for employee benefit costs, or other indirect costs, associated with the payment of salaries or wages if the salaries or wages are paid from a source other than the General Revenue Fund," the governor said.
Perry contended that community colleges have violated this provision, using millions of state dollars annually to pay the benefits of non-state paid employees.
"To get money for these employees, community colleges falsified their appropriations requests," he alleged in his veto proclamation. "As a result, their appropriation for fiscal years 2008-09 is approximately $126 million too high.
Community colleges have unexpended balance authority, so they can apply proportionality in fiscal year 2008 and fund most of fiscal year 2009 with fiscal year 2008 savings and the rest with increases provided for instruction and operations."
Reed was flabbergasted by the governor's decision, saying STC trustees and top administrators are trying to figure out how to compensate for the loss of the state support.
"We are just recovering from the shock of what he has done, so now we are going to have to look at every option, and we want to do the least harm we can to the students," she said. "Tuition is already barely affordable for our students. It is the biggest deterrent to going to college and completing college, and now that governor is asking us to increase tuition and put it on the backs of our students. Basically, the governor has switched funding medical insurance for STC faculty and staff towards our students. Does that seem like an appropriate shift?"
The state of Texas mandates that all community colleges must pay 100 percent of medical insurance for employees, and 50 percent of the insurance for their dependents, she said.
"We are all mandated to be part of the state employee retirement system," Reed continued, noting that state funds have always been allocated to pay for the health insurance premiums of community college employees.
"It has been going on since the beginning of community colleges in this state. It has always been that way. All of the sudden, the governor says he has some issue with it," Reed added. "We do not understand his issue, we do not believe there is any legal basis for his issue."
••••••
Sen. Obama apologizes for ethnic slur by campaign staff member against Indian American community
By LAURA LEE BLAKE
With over 8,300 members who own 37% of all hotels and motels in the United States worth more than $50 billion in property value, the Asian American Hotel Owners Association (AAHOA) is a leader in the hospitality industry, and the largest Indian American business association in the country.
AAHOA routinely endorses political candidates who support its programs and initiatives. AAHOA members look forward to a presidential campaign in the upcoming months that will foster vigorous debate on issues of concern to all Americans.
In response to the recent release of a memorandum by a staff member of U.S. Sen. Barack Obama, that attacked Senator Hillary Clinton for her ties to the Indian American community and called her a Democrat from Punjab, AAHOA encouraged Obama to promptly address the derisive comments and take appropriate action to ensure that such rhetoric will not re-enter the dialogue of the Presidential campaign.
Since this memorandum first came to light on Friday, June 15, AAHOA has been very concerned that it singled out India and Indian Americans, and implied that a relationship with this ethnic community is a generally undesirable characteristic for a presidential candidate.
After three days without comment, AAHOA is heartened by Obama's apology and comment that his "campaign made a mistake."
"This weekend, AAHOA was extremely disappointed to learn that a respectful presidential candidate with such broad-based support would allow his staff to circulate a memorandum that conveys prejudicial attitudes towards individuals of Indian descent, including American citizens of Indian heritage," said AAHOA Chairman Dilipkumar (Danny) Patel. "Our concerns about Sen. Obama's personal beliefs have been allayed by his statement on the matter. We trust that Sen. Obama will now be diligent in guarding against the use of such derogatory comments concerning Indian Americans in the presidential debate."
"The Indian American community has made substantial contributions to this country through their hard work, generous support of charitable organizations, and advocacy efforts at the local, state, and national levels,"" said AAHOA President Fred Schwartz. "It is unacceptable for anyone to make inappropriate comments about a minority group of American citizens. Going forward, AAHOA will support the efforts of Senator Obama and all Presidential candidates to treat the Asian American community with the respect and dignity they deserve."
AAHO is the fastest-growing organization in the United States hospitality industry. It was founded in 1989.
AAHOA has a membership base of more than 8,000 members who together own more than 22,000 of the hotel properties in the U.S., totaling $50 billion in property value. The association provides year-round programs focusing on education, advocacy and assistance. For more information, please call 404-816-5759 or visit http://www.aahoa.com.
••••••
Congressman Hinojosa holds hearing to analyze successes, shortcomings of Title IX for women
By ELIZABETH ESFAHANI
In 1972, U.S. Congresswoman Patsy Mink of Hawaii introduced a seemingly straightforward piece of legislation. It stated:
No person in the United States shall, on the basis of sex, be excluded from participation in, be denied the benefits of or be subjected to discrimination under any education program or activity receiving Federal Financial assistance.
Despite its simplicity, this 37-word law would go on to fundamentally change the fabric of American society. Title IX, now known as the Patsy Takemoto Mink Equal Opportunity in Education Act, ended the days of women being denied admission into academic programs based on their gender. It ushered in a new era of opportunity for women and girls in America.
In light of the 35th anniversary of this law, Congressman Rubén Hinojosa, D-Mercedes, Chairman of the Subcommittee on Higher Education, held a subcommittee hearing on Tuesday, June 19, to reflect on the progress that has been made under Title IX and the hurdles that remain in the way of a truly level playing field.
"As we celebrate the success of Title IX, we must look to the future and the work left to be done," said Hinojosa. "It is critical that we find ways to better strengthen and enforce the law and widen the educational opportunities for our next generation of female leaders."
In its 35 years as law, Title IX has made a significant footprint on America's educational landscape. In 1972, the year Title IX was enacted, women earned merely 28 percent of all bachelor's degrees awarded in the fields of science, technology, engineering, and mathematics. Today, women earn 49.2 percent of the bachelor's degrees in these fields.
Title IX also shattered the myth that women and girls were not interested in competing in interscholastic athletics. Since its enactment, the number of women participating in intercollegiate athletics has increased five-fold. The number of female high school athletes has grown by almost 900 percent.
"Despite these successes, we still have a great deal of work to do in order to achieve the promise of equality and freedom from discrimination that is at the heart of Title IX," noted Hinojosa. "There are still great gaps in the support offered to women's athletics and in the participation levels found in technical academic disciplines. More critically, there is still much to be done to ensure that our educational institutions are free from sexual harassment."
According to witness who testified before the subcommittee on June 19, continued discrimination remains in fields of science, technology, engineering, and mathematics, otherwise known as the STEM fields. Women remain underrepresented in engineering and physical sciences, earning only 20 percent of the degrees awarded in these subjects.
Witnesses also raised concerns about the continued lack of support for women's athletics. According to a study by the National Women's Law Center, women are still given fewer opportunities than males to participate in sports. When they do play, they are treated like second-class citizens in the facilities, equipment, coaching, publicity and other support services they receive. At the same time, sexual discrimination and harassment is a still widely prevalent problem on campuses, even though Title IX bars recipients of financial assistance from discrimination on the basis of sex.
Witnesses detailed their concerns over lax enforcement of the law and repeated efforts by the Bush administration and other opponents to roll back Title IX's protections. In March 2005, for example, the Department of Education significantly loosened the regulations that schools must meet to comply with the law's athletic participation requirements.
"We have seen on-going efforts to undermine the protections of Title IX through regulation or through litigation," concluded Hinojosa. "Over the course of the last 35 years, we have learned that we can never take equal opportunity for granted."
••••••
University of Texas-Pan American maintains top rankings nationally in awarding degrees to Hispanics
By MELISSA VÁSQUEZ
Once again, The University of Texas-Pan American is ranked second and fifth in the nation in the number of bachelor's and master's degrees awarded to Hispanics, respectively.
According to the Hispanic Outlook in Higher Education's annual review of the "Top 100 Colleges for Hispanics," UTPA awarded 86 percent of its bachelor's degrees in 2006 to Hispanics to keep its second-place ranking on the list. With a total of 2,198 bachelor's degrees awarded, 1,889 went to Hispanics. Of those degrees, 1,240 were to Hispanic females and 649 to Hispanic males.
Florida International University, which has ranked first for more than 10 years, awarded 2,903 out of 5,080 total bachelor's degrees to Hispanics. The University of Texas at San Antonio (UTSA) ranked third with 1,616 bachelor's degrees awarded to Hispanics out of 3,370.
The report, which was released in the May 7 edition, is based on 2005-2006 data by the National Center for Education Statistics (NCES) produced by the U.S. Department of Education.
Eighty-one percent of UTPA's master's degrees were granted to Hispanics, which enabled the University to maintain its fifth-place ranking. UTPA awarded 420 out of 518 master's degrees to Hispanics with 293 going to Hispanic females and 127 to Hispanic males.
In addition, UTPA's graduate programs were ranked in the publication's "Top 25 Graduate Schools for Hispanic Students" in its April edition. In the Top 25 rankings for Hispanic master's degree recipients, UTPA had the highest percentage of any school on the list with 81 percent.
According to Hispanic Outlook this is an indication of "increasing Hispanic dominance in graduate schools of states with high percentages of Hispanic residents."
UTPA also ranked seventh in the Top 25 for Hispanic enrollment in graduate school. Based on 2005 NCES data, UTPA had 79 percent Hispanic enrollment in master's and doctoral programs. Of the 2,106 students enrolled, 1,669 were Hispanic.
UTPA was one of three schools in The University of Texas System, including The University of Texas at El Paso and UTSA that ranked in the top five of the Top 100 according to the publication.
Of the 28 different academic program areas examined in the rankings, UTPA placed in the top 10 of 12 categories. In degrees awarded to Hispanics by academic programs, UTPA ranked first in biological and biomedical sciences, English literature, foreign language, and multi-interdisciplinary studies.
UTPA also ranked second in health sciences, and third in business and marketing, social services, and visual and performing arts. Other rankings in UTPA academic programs include fourth in protective services, seventh in communications and mathematics, and tenth in engineering/engineering tech.
Dr. Paul Sale, provost/vice president for the Division of Academic Affairs, said the rankings demonstrate how UTPA is committed to creating more opportunities for Hispanic students to help them realize their dream of a higher education.
"Our strategic planning, enrollment management and resource allocation have all contributed to greater access and greater student retention — above the national average in freshman to sophomore retention," Sale said. "It is particularly gratifying to see us moving up in the rankings in health and the biomedical sciences areas. There is such a great need in these areas and we are contributing greatly to the supply in these areas."
Sale said if current and future students and faculty to UTPA look at these rankings and other data on the University, they will discover "an institution that is growing not only in numbers but in quality."
"This is a dynamic and positive academic environment — an institution that embraces our responsibility to developing tomorrow's leaders. Students and faculty thrive in such environments," Sale said.
To view Hispanic Outlook in Higher Education's Top 100 list visit http://www.hispanicoutlook.com/top100.htm.
••••••
South Texas College receives $740,000 in grants from Texas Workforce Commission
By HELEN ESCOBAR
South Texas College's Partnership for Business and Industry Training has been awarded two grants totaling more than $740K from the Texas Workforce Commission. The funds will be used to support customized training in a variety of workforce skill areas for more than 800 new and incumbent workers across Hidalgo and Starr Counties. To date STC's Partnership has trained more than 17,724 workers through TWC Skills and Self Sufficiency grants of $6M since its inception in 1996.
"A prominent leader in workforce training statewide, South Texas College deserves its well-earned recognition as the first training institution in Texas to earn National Institute of Metalworking Skills (NIMS) accreditation," said Texas Workforce Commission Chair Diane D. Rath, who also serves on the NIMS Board of Directors. "Since the governor and state Legislature established the Skills Development Fund in 1996, STC has worked with South Texas employers to take advantage of these valuable grants that create jobs for or upgrade the skills of the region's workforce.
"Such dedication to employers, the workforce and the community are what enable the college to provide the training programs, curricula, quality faculty and facilities that have earned this accreditation and set an example for other Texas schools to follow," Rath added.
"We are overwhelmed by the continued support we receive from TWC," said Wanda Garza, executive officer for workforce development and external affairs for STC. "It is clear that the leadership of TWC understands our mission and vision. They have consistently stepped up to the plate to find ways to assist STC's efforts in building a better workforce for the Rio Grande Valley, whether it is through grant support or helping us find partners or other contacts. STC extends its appreciation for these two grants on behalf of the college, our partners and future Valley employees."
The college received a Self Sufficiency Grant of $475,899 to provide customized training in the areas of computer applications, contextual models, customer service, manufacturing, phlebotomy, short order cooking, transportation and welding. The trainings will focus on basic skill development, job-specific duties and on-the-job learning to prepare 507 new and incumbent workers.
Approximately $268,481 was awarded through a Skills Development Grant to train 305 new and incumbent workers in the fields of clerical work, OSHA requirements, phlebotomy, physical assessments, telemetry and other health industry areas.
STC's employer consortium partners for the training grants are Cornerstone Regional Hospital, Denny's Bramble Restaurants, Consulado De Mexico-McAllen, Convergys, Kings Prosperity, Knapp Medical Center, Palmer Steel, South Texas Health Systems, Starr County Memorial Hospital, The Center of Industrial Rehabilitation Services, and Wal-Mart.
"We appreciate the technology and leadership training Knapp employees have received through the grant programs secured by South Texas College," said James A. Summersett III, president and CEO of Knapp Medical Center. "These skills make our employees more efficient and better managers. We are proud to be a partner in this consortium."
The funds were presented to STC administrators at a special event at Knapp Medical Center's Conference Center in Weslaco on Friday, June 22, 2007. The Honorable Buddy de la Rosa, Mayor of the City of Weslaco, provided introductory remarks. Eddie Lucio Jr, D-Brownsville, and Rep. Armando "Mando" Martínez, D-Weslaco, both spoke about the importance of workforce development for Valley workers.
••••••
Sen. Hutchison's legislation advances to establish graduate programs for Hispanic-serving Institutions
By GEOFF EMBLER
U.S. Senator Kay Bailey Hutchison, R-Texas, Chairman of the Republican Policy Committee, and U.S. Rep. Kevin Brady, R-Tx., a member of the Ways & Means Committee, on Wednesday, June 20, reintroduced The Public Servant Retirement Protection Act (S.1647 and H.R. 2772).
The legislation offered by Hutchison, Chairman of the Republican Policy Committee, and Sen. Jeff Bingaman (D-NM) was included as part of the Higher Education Reauthorization bill, which today advanced through the Senate Health, Education, Labor, and Pensions (HELP) Committee.
S. 565, known as the Next Generation Hispanic Serving Institutions (HSI) Act, would establish an HSI graduate program to provide fellowships and support services for graduate students, facility improvements, faculty development, technology and distance education, and collaborative arrangements with other institutions.
"Since I arrived in the Senate, I have worked to increase appropriations for HSIs," said Hutchison. "These institutions are vital to ensuring that Texans have the opportunity to advance their education. This graduate program will substantially increase the enrollment of Hispanic students in graduate and professional degree programs."
"Hispanic students are earning bachelor's degrees in greater numbers than ever before, but we must keep pace. We must expand the capacity of colleges and universities to serve the increasing number of Hispanic students who want to go on to graduate school," said Bingaman.
"We are grateful to Senators Hutchison and Bingaman and the other members of the HELP committee for marking up this legislation, especially the Title V section," said Dr. Antonio Flores, President and CEO of the Hispanic Association of Colleges and Universities (HACU). "This new part will strengthen the capacity of Hispanic serving institutions across Texas, New Mexico, and the rest of the nation to ensure that future generations of Hispanic and under-served populations have a chance to pursue graduate education programs that in past years have not been available to them."
S. 565 was introduced in February 2007 by Senators Bingaman and Hutchison and included Senators Barbara Boxer (D-CA), Hillary Clinton (D-NY), John Cornyn (R-TX), Dianne Feinstein (D-CA), Mel Martinez (R-FL), Bill Nelson (D-FL), and Ken Salazar (D-CO) as co-sponsors.
Similar legislation has been introduced in the House of Representatives by House Education Subcommittee Chairman Rubén Hinojosa, D-Mercedes.
••••••
Brian Newby appointed Chief of Staff to Gov. Perry
Gov. Rick Perry on Wednesday, June 20, appointed Brian Newby as his new Chief of Staff.
Newby, who previously served as the governor's General Counsel, succeeds Deirdre Delisi, a long time advisor to Perry. Delisi will finish her service on July 1.
Additionally, Perry announced his appointments of Kathy Walt and Kris Heckmann as Deputy Chiefs of Staff. These new appointments take effect July 1, 2007.
"Brian Newby has proven himself to be an exceptional leader and manager who will bring immense energy, dedication and expertise to my administration as Chief of Staff.," Perry said.
"I am honored that Gov. Perry has entrusted me in this new capacity to continue to help advance his positive, conservative agenda for Texas," said Newby. "The governor has a deep commitment to public service and to providing greater opportunity for all Texans. I both admire and share his enthusiasm for public service and the betterment of our great state."
Prior to becoming Perry's General Counsel in November 2004, Newby was a partner at Cantey & Hanger, L.L.P., where he specialized in the areas of commercial litigation, regulatory, employment and business law. He is a lieutenant colonel in the Texas Air National Guard. He serves as staff judge advocate for the 136th Airlift Wing, Naval Air Station, Joint Reserve Base in Fort Worth. He has served on the Texas Tech University Board of Regents from 1999 to 2004. He has also served on the board of directors of the Tarrant Regional Water District.
A long-time resident of Fort Worth, Newby is a graduate of Texas Tech University and the University of Texas at Austin School of Law. He is a member of the Texas Bar Association where he served on the State Bar Mentor Committee, is past-president of the Fort Worth-Tarrant County Black Bar Association, and former director of the Tarrant County Bar Association and Tarrant County Bar Foundation. He was named Outstanding Young Lawyer by the Tarrant County Young Lawyers Association in 1987.
"Kathy Walt and Kris Heckmann bring a wealth experience and expertise to their new positions that will not only benefit me but also the people of Texas," Perry said.
Walt has served in Perry's administration since December 2000 as his press secretary and, most recently, as senior advisor. Previously, Walt was a reporter for the Houston Chronicle and other newspapers in Texas, Virginia and Ohio. She also taught communications and journalism at Virginia Commonwealth University, Ohio State University and Sam Houston State University. Walt is a graduate of Ohio State University with both a bachelor's and master's degree in journalism.
Heckmann is currently serving as Perry's Deputy Legislative Director. Heckmann joined Gov. Perry's office in 2001 as an advisor to the governor on transportation policy issues. Previously, he spent two years as a policy analyst and deputy general counsel for the Texas Sunset Advisory Commission.
Heckmann was raised in Dallas and attended Texas A&M University, graduating with a Bachelor of Science degree in political science. He continued his studies at the Thurgood Marshall School of Law at Texas Southern University where he graduated with a law degree in 1996.
••••••
Deirdre Delisi to step down as Chief of Staff for Gov. Perry, will continue as a consultant to the governor
Deirdre Delisi, long time advisor and current chief of staff to Gov. Rick Perry, on Tuesday, June 19, announced that she was resigning her position effective July 1.
For the better part of a decade, Delisi has served as a policy and political advisor to Perry for three statewide elections and five regular legislative sessions. She is the longest serving Chief of Staff for Perry and is the first woman to serve as Chief of Staff under a Republican governor.
"Deirdre Delisi is one of the most loyal and intelligent people that I have come to know in my time in office. She has been a valuable and trusted member of my staff and though she is leaving her current role, I will continue to count on her insightful advice in the future," Perry said.
Delisi began working for Perry during his 1998 campaign for Lt. Governor as policy and research director. She served as Perry's campaign manager in 2002, helping Gov. Perry win the largest margin of victory for a newly elected Governor in over 40 years. She has served as Deputy Chief of Staff and his Chief of Staff since September 2004. Delisi was also a policy advisor for George W. Bush's first presidential campaign.
"Serving Gov. Perry has been a high-water mark in my career. Gov. Perry has and will continue to make numerous, positive advances for Texas, and I am proud to have been a part of those efforts," said Delisi.
She and her husband, Ted, are new parents to twin boys, Will and David, born on June 6th. Delisi, a graduate of Duke University, received a master's degree in international policy studies from Stanford University.
••••••
South Texas College, Texas Tech University seal student transfer agreement
By HELEN ESCOBAR
South Texas College (STC) and Texas Tech University Health Sciences Center (TTUHSC) and Texas Tech University (TTU) have signed an agreement facilitating a seamless transfer process for STC students interested in transferring from STC to the universities.
"The universities have proactively offered our students the opportunity to continue their studies in strong academic environments and pursue bachelors and advanced degrees in a wide range of areas," said Juan E. Mejia, vice president for instructional services for STC. "Their leadership in research and high academic standards makes the universities a very strong choice for our students, who are used to academic rigor."
Under the terms of the agreement TTU and TTUHSC will actively recruit STC students from applicable programs. Recruitment activities include campus visits and sponsored visitations to the universities' campuses in Lubbock, TX. The Texas Tech University System currently services more than 32,000 in both universities.
Additionally, the institutions will offer students a seamless transfer process, including transcript sharing services and joint academic advising. The universities plan to provide support services to students that transfer from South Texas College and then offer STC status reports about the progress of the students. They will also offer students the opportunity to reverse transfer credits to STC in order to fulfill graduation requirements, enabling student to earn their associate's degree from the college after transferring to Texas Tech.
"STC sets a very high academic bar and we are confident that the college is doing a wonderful job in preparing students for the demands of this high energy field," said Dr. William M. Marcy, provost of TTU. "That is why we are so enthusiastic about this partnership and its prospects for the future. There is a shortage of skilled and motivated medical professionals across the State of Texas. We feel it is important to provide students a clear pathway to career success. That is the purpose of this agreement. We hope to see many students take advantage of this opportunity in the near future."
"I also want to add that Texas Tech and Lubbock are very friendly, open places and that is something we share in common with STC," added Marcy. "I know your students will feel right at home at TTU."
Another exciting component of the program is the sharing of distance education resources between the institutions. Texas Tech University will review and provide courses to STC that will benefit students in the nursing and allied health fields of study, as well as biology students.
"The distance education courses will serve as an excellent vehicle for collaboration between our faculties," added Mejia. "While this may be taking place through other collaborations, we do believe that we will be establishing a higher standard of quality instructional partnerships through the strong use of technology. We plan to integrate this model into future agreements in which we participate."
For more information about the agreement contact Dr. Ali Esmaeili, associate dean for bachelors programs and university relations for STC at 872-7270. For more information about STC visit http://www.southtexascollege.edu. For more information about Texas Tech Health Science Center visit http://www.ttuhsc.edu or Texas Tech University at http://www.ttu.edu.
••••••
Dr. Héctor P. García: A quiet hero remembered
By U.S. SEN. JOHN CORNYN
The civil rights movement of the past 60 years has benefited from the involvement of many Texans, but one man stands out. His generosity and sense of equality have left a mark on this nation, which will always be felt.
Dr. Héctor P. García was a man of great moral clarity. When he saw injustice or human suffering, he acted. For that, he was occasionally reviled, and often honored. His life of service is an inspiration.
Héctor García was brought to Mercedes, Texas as a small child by parents fleeing the Mexican Revolution in 1917. He proved to be an able student, graduating from the University of Texas Medical School in 1940. He later joined the U.S. Army, serving as an infantryman, a combat engineer and a medical doctor during World War II. His distinguished service earned him the Bronze Star medal with six battle stars in Italy.
The U.S. military had always taken care to reward performance and merit, but when García returned to Corpus Christi and began working with the Veterans Administration, he noticed a disturbing trend. To his disappointment, he found Mexican-American veterans were not receiving proper medical treatment and educational benefits.
"I had to learn the Constitution to become a citizen," García said. "I knew all the rights, all the things that it gave us." In 1948, he founded the American GI Forum to push for equal treatment. A year later, the GI Forum and García were catapulted into national prominence by what became known as the "Félix Longoria Affair."
Félix Longoria, from Three Rivers, Texas, was a soldier killed by a Japanese sniper in the Philippines during World War II. He was originally interred there, but in 1949, his widow decided to move his body home.
The funeral director, however, declared she could not hold a wake in the town¹s sole funeral chapel because the dead man was a Mexican-American.
García contacted Texas¹s junior U.S. Sen. Lyndon Johnson, who arranged a burial for Longoria with full military honors at Arlington National Cemetery, with García and the news media in attendance.
Afterwards, the GI Forum became a forceful advocate and publicist for equal rights, and García became highly controversial. Frank Perales, who now heads the GI Forum chapter in San Antonio, recalls García throwing a blanket over himself in the back seat of a car to elude pursuers.
But García did most of his best work quietly. Judge James deAnda recalled accompanying the doctor to an abandoned railroad boxcar to treat a dying grandfather.
"He took care of the man, and we would go in other homes that were just about as humble," deAnda said. "The people obviously had no means of paying or even getting to his office. He would see all these people and administer to them. They had just absolute faith in the man."
At one point, García overturned an attempt by his accountant to file collection notices against some patients. "If these people could pay me, they would pay me," he told him. "And you writing them a letter is not going to give them any money."
At President Johnson's nomination, García became the first Mexican-American to serve as an ambassador to the United Nations. He was also the first Hispanic on the U.S. Commission on Civil Rights. Before he died in 1996, García received dozens of additional awards and honors.
In 1984, President Ronald Reagan bestowed upon García the Presidential Medal of Freedom. "That was the highlight of his life," recalled García's daughter, Cecilia Akers. "He wore that medal everywhere he went."
Earlier this year, Congress renewed the historic Voting Rights Act, and I received unanimous consent from my colleagues to add two Texas civil rights pioneers, including García, to the official title. We¹ll present an engraved copy of the bill to García's widow, Wanda, in San Antonio later this year.
García's story reminds us all that progress in our society is often made possible by the devotion of selfless men and women, who give and sacrifice for greater principles. We all benefit from Héctor García's legacy, and it is a privilege to bestow this much-deserved honor upon him.
••••••
Gov. Perry signs legislation ordering state divestment in Sudan
Gov. Rick Perry on Thursday, June 21, signed Senate Bill 247, which directs the state Employees Retirement System (ERS) and Teachers Retirement System (TRS) to divest financial holdings in companies doing business in Sudan.
"As one of the richest nations in the world, our country holds both tremendous power and great influence," said Perry. "The brutal attacks on the people of Darfur are sickening. And what is worse, they are coming from the very body that should be protecting them: the Sudanese government.
"I am proud that lawmakers joined me in demanding resources be pulled from this country of carnage. Texas is setting an example for the rest of the nation – and the world – that these unconscionable acts will not be tolerated or supported."
The Sudanese government is responsible for mass genocide and other inhumane attacks on their people. Today, 17 states, including Texas, have adopted divestment policies. SB 247 specifically directs divestment of funds that have a direct relation to the atrocities taking place in Sudan. The Comptroller's Office will compile and publish a list of prohibited companies and update on a quarterly basis. ERS and TRS will give written notice to companies recognized as actively participating or linked to genocide, and provide a timeline for companies to discontinue business with Sudan.
SB 247 takes effect January 1, 2008.
For more information regarding legislative action taken by Perry, please visit