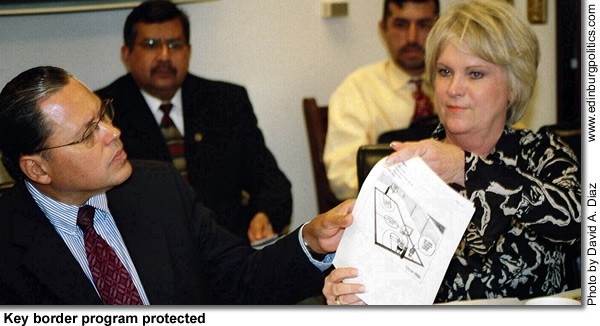 Wanda Garza of McAllen, during a Thursday, March 29 meeting in Austin of the Texas Border Coalition, shared a copy of an editorial cartoon depicting difficulties that face Texas workers if they do not have enough training to keep and hold good jobs. Garza, who chairs the TBC Workforce Development Committee, praised the House of Representatives for the Tuesday, March 27 passage of House Bill 48, which would protect millions of dollars a year for the state's Skills Development Fund, which pays for crucial workforce training along the Texas border region. The bill, whose principal authors are Rep. Norma Chávez, D-El Paso, Rep. Ryan Guillen, D-Rio Grande City, Rep. Aaron Peña, D-Edinburg, and Rep. Joaquin Castro, D-San Antonio, now goes to the Senate for action. Featured in this photograph with Garza is El Paso County Attorney José R. Rodríguez, while in the background, from left, are Celestino Hernández of Eagle Pass and Ignacio Madera, Jr. of Austin. See story later in this posting.
••••••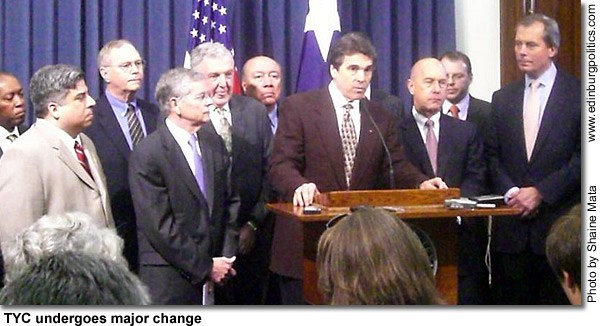 Gov. Rick Perry on Wednesday, March 28, announced that he had abolished the Texas Youth Commission's governing board and replaced it with a juvenile prison czar during a press conference in Austin. Perry was flanked by various legislators, including Rep. Aaron Peña, D-Edinburg, and Sen. Juan "Chuy" Hinojosa, D-McAllen, who were appointed to the select committee investigating the agency. See story later in this posting.
••••••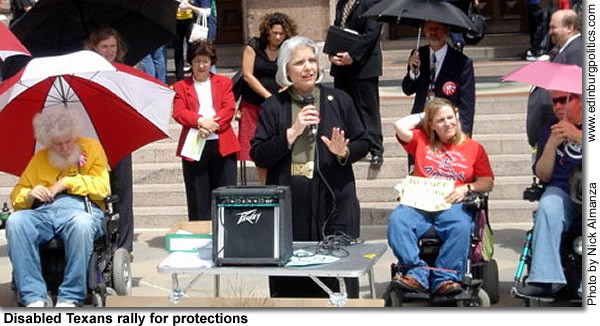 The Texas Disability Policy Consortium and the AARP in conjunction with a coalition of aging and disability groups and Sen. Judith Zaffirini, D-Lardo, on Wednesday, March 29 rallied at the State Capitol to encourage legislators to eliminate waiting lists and fund access to community care for 90,000 persons with disabilities. Currently more than 90,000 Texans are on waiting lists for home and community based services and care. "With only 61 days before the 2007 legislative session adjourns sine die, it is absolutely imperative that we unite to pass good legislation, stop bad bills and focus especially on increased funding to reduce the waiting lists for health and human services programs," said Zaffirini. "We should do everything in our power to adopt a 10-year plan to eliminate waiting lists and invest the much needed resources so long term care services can be provided at home." As vice chair of Senate Finance, Zaffirini worked to secure funding for a 10 percent wait list reduction and will continue to work toward increased funding for an additional 10 percent.
••••••
House passes Texas Border Coalition's bid to protect Skills Development Fund
By DAVID A. DÍAZ
A measure seeking to prevent a decrease in September of $6.4 million a year in the state's Skills Development Fund, which is a customized workforce training program that has been beneficial in the Texas border region, was approved Tuesday, March 27, by the House of Representatives.
It now goes to the Senate. As of March 27, no Senate sponsor had been selected by the House authors of the legislation.
The legislation, House Bill 48 by Rep. Norma Chávez, D-El Paso, would protect a funding formula that dedicates money to the Skills Development Fund and the Texas Enterprise Fund. Rep. Ryan Guillen, D-Rio Grande City, Rep. Aaron Peña, D-Edinburg, and Rep. Joaquin Castro, D-San Antonio are joint authors of the measure.
It is one of the top legislative priorities of the Texas Border Coalition. TBC is an alliance of elected officials and economic development leaders from the 14 Texas counties which border Mexico. They represent an estimated 2.1 million residents. The goal of the Skills Development Fund, according to the Texas Border Coalition, is to increase the skills levels and wages of the Texas workforce.
"Let business dollars work for business," said Chávez. "This bill keeps more money for worker training and creates more jobs. The positive impact of enhancing the Skills Development Fund is universal because employers, workers, and the economy all benefit."
The Skills Development Fund is an important part of the TBC's efforts to bring higher paying jobs to the border areas by providing a trained workforce.
"Over 12,000 workers have been trained or retrained and millions of dollars have been spent in our areas to provide that training," said Guillen. "Economic growth and job creation are a major part of the solution to other border problems such as limited health care and educational opportunities," Guillen said.
Wanda Garza of McAllen, chair of the TBC Workforce Development Committee, praised the lawmakers for their work in the House.
"We would like to commend Rep. Chávez, as well as border and Texas legislators, for their commitment to skills training. Protecting the Skills Development Fund will directly impact economic growth in every community across the state. We must have a skilled workforce in order to stay competitive in the global economy."
Without passage of HB 48, the Skills Development Fund's share of dedicated money, which is generated from an assessment on employers, would drop from 33 percent to 25 percent on September 1. According to the House committee's bill analysis, dropping from 33 percent to 25 percent would represent a loss of $6.4 million a year to the Skills Development Fund.
HB 48 would keep the 33 percent share intact and prevent the $6.4 million annual loss to the Skills Development Fund.
The skills development program is a customized workforce training program, with funds distributed as a partnership grant between a business and a community college in the area, according to a bill analysis of the proposal.
The Texas Border Coalition maintains a web site at http://www.texasbordercoalition.org.
According to the House Research Organization, which provides analyses of all major legislation set for debate by the full House, supporters of the measure such as TBC say:
HB 48 would result in more money for the skills development fund by retaining the percentage allocated to the fund in the most recent fiscal year, rather than diminishing that percentage beginning on September 1, 2007.
Skills and workforce training is under-funded in Texas. The Texas Workforce Commission has said it receives three requests for training for every dollar it spends, demonstrating a need for skills development in Texas without a means to provide it.
The skills development program is a customized workforce training program, with funds distributed as a partnership grant between a business and a community college in the area. The job training can be either for new workers or for incumbent workers to acquire new skills. The program trains workers only when an employer has demonstrated a need and requested that employees be trained in a specific area. The funds for training are put to immediate and specific use.
One of the best ways to combat unemployment is to have a more stable, larger, and better trained workforce, and the skills development fund can help with this. As the cost of training increases, it would be beneficial to have a dedicated funding source for an effective training program.
The skills development fund would a better place to allocate more of the money from the employment and training investment assessment (ETIA) because the Texas Enterprise Fund uses money from current employers to attract future competitors. The TEF has been used primarily to attract out-of-state employers with money from in-state employers paying a state tax.
Through this program, in-state employers use their own money to provide tax breaks to get their competition to Texas at their disadvantage. These are tax breaks for which in-state employers often are not eligible.
Further, the TEF has benefited primarily urban areas of the state, while the skills development program benefits communities in all regions of Texas. The TEF rarely is used by itself but is often used in conjunction with other subsidies so that the benefit the TEF brings is low for each dollar spent.
••••••
House budget includes combined $5 million in state funding for UT-RAHCs in Edinburg and Harlingen
By ORLANDO SALINAS
and
DAVID A. DÍAZ
As the Texas House of Representatives began debate on the state's $151.1 billion budget during the final days of March, critical funding for the University of Texas – Regional Academic Health Centers in Edinburg and Harlingen were included prominently in the House of Representatives' version of the state budget.
In February, Rep. Aaron Peña, D-Edinburg, filed legislation securing that amount for both campuses, which are part of the University of Texas Health Science Center at San Antonio.
Initially, Peña said he wanted $5 million for the Edinburg RAHC campus, but the legislation that was finally approved in the House budget leaves it up to the UT Health Science Center at San Antonio on how much each campus receives from that appropriation, according to James Lampley, Peña's chief-of-staff in Austin.
However, Lampley remained confident that the Edinburg RAHC would get enough state funding for its needs during the Legislature's upcoming two-year budget cycle, which begins September 1.
Peña negotiated with House leaders to include the $5 million in combined funding RAHC funding in Article 3 of the budget bill.
"Getting these $5 million in Article 3 of the state budget is critically important in assuring that the RAHC gets the funds it needs to staff this facility with world-class scientists," said Peña. "There were hundreds of amendments and contentious debate on the budget bill. I worked hard to ensure that this funding makes it to our community."
The Senate still has to pass its version of the state budget, which could include more, less, or different funding formulas for the Edinburg RAHC and all other state government agencies and functions.
The University of Texas-Pan American serves as a partner in providing faculty, administrative and research support for the Edinburg facility.
Research areas may include the study of diabetes, emerging infectious diseases, aging, environmental health, mental health and other conditions that may affect residents in deep South Texas.
The $20 million Edinburg RAHC campus houses 12 laboratories, state-of-the-art class room spaces and administrative offices.
••••••
Rep. Peña: Reducing drug demand necessary part of an effective border security plan
By ORLANDO SALINAS
As the Texas House of Representatives debated immigration and border security on Wednesday, March 28, many of the witnesses testified about the growth of drugs, violence and the rise of drug cartels on the border.
Rep. Aaron Peña, D-Edinburg, responded to those concerns by amending the House's version of the state's budget to include $4 million for a substance abuse treatment center to be located in Edinburg.
House Bill 1, the House's budget plan, was approved after hours of debate on Thursday, March 28.
"An integral part of the strategy in making our state safer is to give people the tools to break the dependency of drugs," said Peña. "Cutting demand will cut the supply of drugs and violence along our border. South Texas needs a facility where families can help their loved ones break the devastating cycle of substance abuse."
The treatment facility, included in Article 11 of the bill, is a part of a broader state-wide strategy to stem the flow of drugs and violence through our borders and address substance abuse and rehabilitation issues in our criminal justice system.
HB 1 includes over a $100 million for border security. The border security component of the legislation provides funding for local and state law enforcement to hire more personnel. The bill also includes monies for training, operations, DPS helicopters and pilots and grants for local police departments and sheriffs offices.
"Providing increased funding for border security, coupled with substance abuse treatment programs for the general public and inmates in the state criminal justice system is a new approach for the state of Texas," said Peña. "Many of my colleagues in the legislature have embraced the idea that drug and alcohol treatment can keep many people out of our criminal justice system."
The budget includes more funding for substance abuse treatment and diversion programs for low level, non-violent offenders at the Texas Department of Criminal Justice. The bill also adds treatment and capacity dollars at the local level to give judges and the parole board an alternative to sentencing offenders and considering probation and parole options.
The Texas Juvenile Probation Commission will receive an increase of funding for mental health and substance abuse treatment services and post-adjudication facilities. This is expected to keep hundred of kids from entering into the Texas Youth Commission.
"I have long advocated the strategy of treatment and diversion rather than spending hundreds of millions of dollars in building more prisons," said Peña. "The more we can keep adults and kids out of our prisons the better we are all off. It is important that we are looking at a variety of strategies to combat the terrible effects that illegal drugs have in our community."
••••••
ECISD trustee candidates draw for positions on ballot
By GILBERT TAGLE
School board candidates seeking election to the ECISD Board of Trustees in the May 12th elections drew for ballot spots Tuesday, March 20.
The election is to fill positions for Place 4 and Place 5 on the board currently held by Melba González and Gregory "Greg" García, respectively.
Both incumbents did not, however, draw first position on the May 12 ballot. The top position on the ballot for Place 4 will read: Robert Pena (who is challenging González), followed by Melba Gonzalez.
The top position on the ballot for Place 5 will read: Dr. Martín Castillo, followed by Cris Treviño in the number two spot, and Gregory "Greg" Garcia in the number three spot.
The Edinburg school district also released key contact information about the candidates, which is contained in public documents filed with ECISD, for distribution to the community.
Place 4
Robert Peña, 1112 Loyola, Edinburg, Tx 78540
(w) 318-1000/(c) 207-3644
Employment: Robert is a businessman involved in construction
Campaign Treasurer is Alex Zúñiga, of Edinburg
(h) 381-5800
Melba González (Pl. 4 Incumbent and current board president)
P.O. Box 1042, Edinburg, Texas 78540
(h) 318-0148/(c) 457-9793
Employment: PSJA ISD elementary school teacher
Campaign Treasurer is María Natalia González
(c) 533-1798
Place 5
Dr. Martín Castillo, Jr., 3020 W. Rogers Road, Edinburg, Tx 78540
(h) 381-0551
(c) 393-1130
Employment: Chiropractor in Pharr
Campaign Treasurer is Felipe de la Garza — (h) 383-6454
Cris Treviño, 975 Ebony, Edinburg, Texas 78539 — (h) 383-1415
Employment: Did not list
Campaign Treasurer is Cris Treviño
Gregory "Greg" García (Pl. 5 Incumbent)
604 E. Van Week, Edinburg, Texas 78539 — (w) 968-2504
Employment: Boys & Girls Club in Weslaco
Campaign Treasurer is Xavier Morín
••••••
Gilberto Garza voted sole finalist for ECISD superintendent's job
By GILBERT TAGLE
The Edinburg Consolidated ISD Board of Trustees voted Tuesday, March 27, to make Gilberto Garza Jr. the sole finalist for the job of superintendent of schools.
Garza has been leading the Edinburg school district since August when he was named acting superintendent by the school board. He was named interim superintendent in December.
Garza is a veteran educator in the Edinburg school district who served as a teacher, an elementary school principal, and director of Elementary Education prior to being tapped to fill the superintendent's job which became vacant early last August.
Dr. Jacques Treviño, attorney for the school board, said that under the government code the district must post notice of the school board's decision to make Garza the sole finalist for the job for 21 days. At the end of that time period the school board has the option of voting to officially make Garza the superintendent of schools or continuing it search for a new superintendent.
Board president Melba González said the same down-to-earth nature and fairness in leadership that Garza has demonstrated as a principal and as an administrator has made him a successful interim superintendent of schools.
"Mr. Garza has brought unity to the school district in dealing with important academic, financial and operational issues. The response from the community to Mr. Garza's role as interim superintendent has been very positive," said González. "He is doing an excellent job and we are confident that our district will rise to new heights under his leadership."
••••••
House passes House Bill 1, the state's proposed $150 billion, two-year budget, says Speaker Craddick
By ALEXIS DELEE
Early Friday morning, March 30, the Texas House of Representatives passed House Bill 1 (HB1), the Appropriations Bill for the 2009-2010 biennium. HB 1 presents a fiscally conservative and responsible budget that funds the state's responsibilities while saving revenue for future appropriations, according to Speaker of the House Tom Craddick, R-Midland.
The budget totals just over $150 billion, an increase of 5.4 percent from the previous biennium. Compared to the state's population growth and the rate of inflation since that time, this increase represents a fiscally conservative use of taxpayers' money. This amount also leaves $4.2 billion unappropriated, which will be carried forward to the following biennium.
In addition, the state's Rainy Day fund is expected to accumulate $4.3 billion by the end of the 2009 fiscal year. The combined $8.5 billion ensures that homeowners will continue to enjoy property tax reductions enacted during the 79th Legislature.
"I'm thrilled that we were able to accomplish so many goals at once with this budget," Craddick said. "We have met the state's funding obligations, put away revenue for future appropriations and protected tax cuts for Texas homeowners."
Several key programs saw increased general revenue funding with HB 1. When compared to FY06-07 funding, education received a $3.6 billion increase, covering the Teachers' Retirement System, financial aid and additional funding for public schools and higher education.
More than $2.5 billion was added to health and human services for increased Medicaid and Children's Health Insurance Program costs, improved provider rates for physicians and other healthcare professionals, increased trauma funding for hospitals, and a new mental health crisis stabilization program. Additionally, corrections received nearly $600 million to meet projected inmate population growth and increase border security.
Before debating HB 1 on the House floor, members voted to require that any new spending item added to the budget must be accompanied by removing another item of equal value. In this way, representatives worked to ensure that they maintained fiscal responsibility in crafting the budget for the 2009-10 biennium.
••••••
House Democrats pass historic teacher pay raise, kill school vouchers, say party leaders
BY KEVIN VICKERS
Texas House Democrats on Thursday, March 29, passed an historic increase in teacher pay and killed efforts to fund private school vouchers today, flying in the face of opposition from Republican Speaker of the House Tom Craddick.
Led by Reps. Rick Noriega, D-Houston, and Joe Heflin, D-Crosbyton, Democrats in the House led a bipartisan coalition to convert a controversial and divisive teacher incentive pay program—which is opposed by teachers across the state—into an across-the-board pay raise for every teacher in Texas and drove a nail into the coffin of private school vouchers.
During Thursday's debate on the $165 billion Texas budget, Noriega authored a measure to increase teacher pay by approximately $900 annually for every Texas teacher, librarian, counselor, and nurse.
"Hardworking Texas teachers deserve to be paid what they are worth. Texas teachers are paid thousands of dollars below the national average. The teacher pay raise we passed today will help to get Texas teacher pay closer to the national average," commented House Democratic Leader Jim Dunnam, D-Waco.
Following the vote increasing teacher pay, Heflin led a bipartisan coalition to kill efforts to rob public schools to pay for private school vouchers.
"Texans have spoken and we've been on their side—we hear them loud and clear," said Dunnam. "Texans support our public schools and they simply do not believe it is right to rob our public schools to pay for more failed social experiments. Today, a bipartisan majority of the House rejected the radicalism of Rick Perry (and) Tom Craddick."
"By passing an across-the-board pay raise for Texas teachers and killing vouchers, House Democrats are delivering on the promises we have made the people of Texas. We will continue to work hard for hard-working families," Dunnam concluded.
••••••
Rep. Peña secures $750,000 for Museum Park in state budget approved by Appropriations Committee
By ORLANDO SALINAS
The Museum of South Texas History in Edinburg stands to receive $750,000 for construction of a park and renovations to the historic Hidalgo County Jail House if efforts by Rep. Aaron Peña are successful.
The state budget, approved on Thursday, March 29, included a rider in Article 11 authored by the Edinburg Democrat securing that amount for the museum.
"This year's budget includes more funding for our state and local parks," said Peña. "Our state has shown that it is committed to enhancing our quality of life by investing in our communities. This appropriation will only serve to improve the beauty of our community."
The funds will be applied to the completion of the Will Looney Legacy Park in downtown Edinburg. The project includes the conversion of recently acquired property to a sanctuary that features educational stations, a palapa, an archeology pit, and a windmill. The park will also feature a sculpture commissioned by the Looney family in honor of their son, Will, and his grandmother, Mrs. Margaret Looney.
The funding may also be used for the preservation of the Museum's cornerstone structure, the 1910 Hidalgo County Jail House building, a Texas Historic Landmark. A companion structure to the former Spanish revival county courthouse, the jail was designed by Atlee B. Ayres and includes a hanging tower, which was used once in 1913. The jail is deteriorating due to rising damp and age. A master plan for its preservation has been developed.
"Growing up in Hidalgo County we have all heard stories about the old county jail," said Peña. "I am going to continue to fight to save this South Texas treasure."
The budget is now headed to the Senate for consideration. After passage in that chamber the bill heads to conference for final approval.
Peña is serving his third term in the Texas House of Representatives. He is Chairman of the House Committee on Criminal Jurisprudence and is a member of the House Committee on Ways and Means.
••••••
Rep. Gonzáles' bill to protect home buyers from toxic drug exposure risks unanimously approved by House
By RICARDO LÓPEZ-GUERRA
Rep. Verónica Gonzáles, D-McAllen, on Tuesday, March 27, passed her first bill of the 80th Legislature with unanimous support of the House.
Her House Bill 271 requires disclosure by home sellers whether they are aware of any previous use of a residence for the manufacture of methamphetamines.
Residents living in former meth labs can suffer long-term effects such as cancer; damage to the central nervous system, liver, kidneys; birth defects and miscarriages.
"A home is a huge investment – for many of us our largest investment – and buyers should know exactly what they are getting" she said." HB 271 protects the public from the lingering effects of meth labs."
Gonzáles' bill defends the interests of buyers and sellers.
"The disclosure protects those in the chain of sale – that is the seller, the realtor and most importantly, it protects the buyer of the home. Children are especially vulnerable to develop adverse health effects from exposure to residue from methamphetamines," Gonzáles said.
Like mold, if meth labs have not been properly cleaned, young children and others with compromised immune systems can suffer respiratory problems for the rest of their lives. "Meth is the new mold," said Gonzáles. "Disclosure in this bill promotes consumer health and the integrity of the real estate industry."
In 2005 alone, Texas seized 269 meth labs which raised the urgency to address the need to extend the protection of buyers' health as well as the liability of banks and realtors selling homes that were previously used to manufacture methamphetamines. "I commend the state and local authority's efforts to prevent and reduce the existence of meth labs, but it is also necessary to address how to deal with the long term effects produced by meth labs after they have ceased to exist," said Gonzáles.
Gonzáles is currently serving her second term representing parts of McAllen and Hidalgo County in the Texas House. In addition to serving on the influential Judiciary and Public Health Committees, she has also been elected by her colleagues to serve as Secretary of the House Democratic Caucus and has been appointed to the National Conference State Legislature standing committee on Health.
••••••
Senate approves $250 million funding authority by Sen. Lucio for water/wastewater Services
By DORIS SÁNCHEZ
The Senate on Tuesday, March 27 approved Senate Joint Resolution 20 by Sen. Eddie Lucio, Jr., D-Brownsville, the Chairman of the International Relations and Trade Committee.
Lucio's measure would would allow the Texas Water Development Board to issue the an additional $250 million in general obligation bonds for economically distressed areas to obtain water and wastewater services statewide if approved by Texas voters.
"As Chairman of IRT, for the last two years, I've been working with Lt. Gov. David Dewhurst to address the water and wastewater needs of distressed areas of our State. Today, with the passage of SJR 20, we are a step closer to bringing essential water and wastewater services to the most economically distressed areas in Texas," said Lucio.
"On behalf of the communities impacted by the IRT Committee, I want to thank Lt. Gov, Dewhurst for appointing me to the powerful Senate Finance Committee," said Lucio. "This appointment has enabled me to work with Finance Committee Chairman Steve Ogden, R-Bryan, and Natural Resources Committee Chairman Kip Averitt, R-Waco, to address a number of issues outlined in our IRT Interim Report, including acquiring the necessary funding to finish out the original Economically Distressed Areas Program – EDAP I – and setting aside the necessary debt service revenue in the base state budget to support the newly expanded statewide EDAP II program, which would be funded by SJR 20."
SJR 20 is the accompanying joint resolution of the bill Lucio amended last session with the help of Sen. Mario Gallegos, D-Houston, and Rep. Kevin Bailey, D-Houston, which took the Economically Distressed Areas Program statewide. SJR 20 provides for a constitutional amendment that if approved would give the TWDB up to $250 million in Bonding Authority to address the estimated $5.4 billion in water & wastewater needs for distressed areas of the state.
Lucio added, "My committee, along with the Texas Water Development Board, identified communities statewide during the interim that are in dire need of water and wastewater services, and SJR 20 will afford them an opportunity to apply for critical EDAP funding."
When approved by the House, SJR 20 will be one of the constitutional amendments up for voter approval in November. "My good friend, Rep. Norma Chávez from El Paso, will be the main sponsor of SJR 20 in the Texas House of Representatives. Her leadership and understanding of the water/wastewater needs of Texas will ensure that SJR 20 will be found on the Governor's desk in the weeks to come," added Lucio.
••••••
Rep. Peña encourages immediate action from TYC conservator
By ORLANDO SALINAS
The embattled Texas Youth Commission has been placed into a conservatorship, thus allowing a single executive to take control of the agency.
Gov. Rick Perry made the announcement on Wednesday, March 28, flanked by various legislators, including Rep. Aaron Peña, D-Edinburg, and Sen. Juan "Chuy" Hinojosa, D-McAllen, who were appointed to the select committee investigating the agency. The press conference revealed the strategy of permanently abolishing the Texas Youth Commission's board and replacing it with a juvenile prison czar.
"Less talk and more action, this is what many of us are demanding," said Peña. "Today's announcement will allow the agency's conservator to start cleaning house. The first to go should be the firing of the 111 TYC employees with felony convictions. I strongly encourage the conservator to take immediate action."
Jay Kimbrough will serve as conservator until the end of the legislative session in May. After that, the goverrnor will appoint, with the Senate's approval, another conservator who will serve as the agency's new chief. Texas law gives conservators the power to hire and fire employees.
"I have seen and heard enough," said Kimbrough. "We want a fresh start and we are going to have a fresh start."
Speaker of the House Tom Craddick expressed his support for Kimbrough's selection by Perry.
"I applaud the Governor's decision to appoint a conservator to the Texas Youth Commission. This is a serious issue that the Legislature has done an excellent job of quickly addressing. The appointment of Jay Kimbrough will further ensure a rapid and thorough investigation of this issue so we can guarantee the safety and well-being of these children and good management of this agency."
Peña has been participating in bi-weekly committee meetings investigating all aspects of the management and operation of the Texas Youth Commission. The committee was created after allegations of sexual misconduct came to light in a West Texas juvenile center.
"The sense that we get in testimony from officials and employees at the TYC is that things aren't moving fast enough," said Peña. "Even after the increased scrutiny of the commission I am getting word that working conditions at our facility in Edinburg and others centers are getting progressively worse."
For the past 18 months Peña's office has maintained a dialogue with guards, staff and teachers from the Evins Center who have shared their concerns of conditions at the unit.
"Today's announcement will result in having all superintendents of the various juvenile centers reapply for employment," said Peña. "They should be aware that their re-hiring will be dependent on how well they were able to do their job in the past. This is a positive step in moving this agency forward."
••••••
Concerns at Evins Regional Juvenile Center in Edinburg raised in letter to TYC by Rep. Peña
Rep. Aaron Peña, D-Edinburg, in a March 27 letter to Ed Owens, Acting Executive Director for the Texas Youth Commission, which oversees the Evins Regional Juvenile Center in Edinburg, raised some of his concerns regarding reported abuses at the South Texas state facility.
His letter follows verbatim:
March 27, 2007
Ed Owens
Acting Executive Director, Texas Youth Commission
P.O. Box 4260
Austin, Texas 78765
Dear Mr. Owens,
At the request of a group of teachers from the Evins Regional Juvenile Center my office was called to a meeting on March 24, 2007 to discuss issues of working conditions at the Edinburg unit. I am writing you this letter to share with you their concerns. A summary of their sentiments follow:
•Claim that Local Administration has created a hostile working environment for those who have expressed concerns about conditions at the Evins Center
• Some teachers and staff feel intimidated and believe they have been subject to retaliation for speaking out against administration of policy
• Local Administration has contributed to hostile working environment by selectively applying policy to curry favor
• Claim that there is selective application of state and federal education policy
• Lesson plans were not required until recently
• No technology allowed in classrooms, no music or vocational programs are available to youth
• Large number of uncertified teachers employed at Center
• Expressed little confidence in grievance policy
• Claim that Local Administration has insensitive attitude towards students and staff
• Principal uses abusive language and gestures in meetings with teachers and staff
• Local Administration has on occasion expressed derogatory attitudes towards youth at facility
• Claim unsafe and unsanitary working conditions at Evins Center
• For six weeks the Center has faced severe water pressure problems limiting the use of toilets and lavatories
• Doors at Center malfunction often being open and closed when they aren't supposed to
On various occasions over the last year and a half my office has met with guards and staff members from the Evins Center to discuss workplace issues. It concerns me that these educators believe that working conditions have worsened at the Evins Center even after the recent scrutiny of all TYC centers across the state. That same sentiment was expressed to me at the last meeting I had with guards and staff on March 11, 2007.
It remains our duty to provide safe conditions for the rehabilitation of our youth and for the employment of our staff at our TYC centers. I will continue to monitor conditions at the Evins Center. If I can be of any assistance or to discuss this matter further please do not hesitate to contact me or my staff.
Sincerely,
Aaron Peña, Jr.
Chairman, House Committee on Criminal Jurisprudence
••••••
Congressman Hinojosa: new report documents what works for first-generation college students
By SUSAN TREBACH
Raising aspirations, navigating the admissions process and robustly supporting the transition to college life are all essential parts of the college access formula for first-generation students, according to a new study by the Pell Institute for the Study of Opportunity in Higher Education.
Congressman Rubén Hinojosa, D-Mercedes, chairman of the House Subcommittee on Higher Education, Lifelong Learning and Competitiveness, said the researchers focused on Texas students because "our state is making a sincere effort to increase disadvantaged student participation in college."
Hinojosa cited the College for Texans Campaign and the Higher Education Assistance Pilot Program as evidence of Texas' commitment.
Hinojosa said that seeking Texas students' perspectives proved effective: "The Pell Institute's report enhances our understanding of the complexities of life for first-generation students."
"Congress now has the opportunity to turn these insights into some effective strategies as we move forward in reauthorizing the federal Higher Education Act," he continued. "We appreciate this timely, valuable addition to our information base."
"Straight from the Source: What Works for First-Generation College Students" offers a comprehensive look at the college access struggles of Texas students who are the first in their families to pursue post-secondary education. Based on intensive focus group interviews with students in Dallas, Edinburg, El Paso, Houston, Kingsville, and San Antonio, the report is a best-practices road map for policymakers and college access professionals across the country.
"As these students make clear, it is not enough to raise first-generation students' hopes and dreams," said Colleen O'Brien, Director of the Pell Institute and a co-author of the report. "To make the successful leap to college, disadvantaged students need intensive help with the admissions and financial aid processes and a real comfort level with both campus life and college academic support resources. And once they are in college, the challenges to stay enrolled are just as significant."
In Texas about 365,000 students (35%) currently attending college are first-generation. They are under-represented at four-year colleges and over-represented at two-year institutions. They tend to be female, from minority backgrounds and from families with mean incomes of $45,000 a year. Nationally, 6.5 million current college students are first-generation.
The report, funded with a grant by the Texas Guaranteed Student Loan Corporation (TG), reveals the academic, financial, familial and work issues first-generation students confront on a daily basis as they strive to succeed in college. Some of the key recommendations include:
• First-generation students need to understand why college matters and trust the people delivering the information;
• The message that a college education can move the entire family forward is particularly salient;
• Involving parents and family members early in the process prepares everyone for the challenging transition;
• Pressures on students to earn money for both family and college conflict with students' need to spend more time on academic work;
• Prior exposure to college life and, once they are enrolled, access to college-based support services are extremely important to first-generation students.
For an online view of the entire report, go to http://www.pellinstitute.org
••••••
Gov. Perry appoints Thomas Wingate judge of the 430th Judicial District Court
Gov. Rick Perry on Monday, March 26 appointed Thomas P. Wingate of Mission as judge of the 430th Judicial District Court serving Hidalgo County. Wingate will serve until the next general election.
Wingate is legal counsel to Wingate Law Offices and CEO of Security Land Title, a Texas title insurance company. He served six years in the U.S. Army as a Captain in the Judge Advocate Generals Corps.
Wingate retired from the Army Reserves as a Lieutenant Colonel after 21 years of service. He is a board certified specialist in commercial and residential real estate law by the State Bar of Texas Board of Legal Specialization. He is also a member of the Supreme Court of Texas and the U.S. Court of Military Appeals.
Wingate received a bachelor's degree from St. Mary's University and a law degree from the University of Texas at Austin.
This appointment is subject to Senate confirmation.
••••••
Senate approves pro-consumer, pro-worker bills by Sen. Lucio
By DORIS SÁNCHEZ
The Senate on Thursday, March 29 approved a bill by Sen. Eddie Lucio, Jr., D-Brownsville, designed to assist consumers to comparison shop for home and auto insurance, and another to assist injured employees with legal representation.
Senate Bill 611, the one-stop-shop for insurance comparison, would offer consumers the ability to log onto a website and view a listing of insurers offering homeowners and automobile insurance in this state. The website would simplify one of the most complex financial services to interpret and decide upon.
"Since coverage levels vary so greatly between the different policies, policyholders cannot shop based on price alone," said Lucio. "My bill directs the Texas Department of Insurance and the Office of Public Insurance Counsel to develop this website with side-by-side comparisons of different policies, rates charged, the percentage by which rates have fallen or risen in the past three years, and other pertinent information."
Executive Director of Texas Watch, a statewide consumer advocacy and research organization, Alex Winslow, noted, "This legislation will go a long way toward making our insurance market more transparent for consumers by giving them tools they need to make the best choices for their families."
Senate Bill 287 would provide district courts the authority to appoint an attorney to represent injured employees who have won approval throughout the administrative process of the legitimacy of their employment-related injuries. Generally insurers opt to go to court because the cost is less for legal fees than for payment benefits. Injured employees are usually at a disadvantage in the court room because they cannot afford legal representation and insurers can. When employees represent themselves, the insurer usually prevails.
"No one should have to forfeit a court case with merit because of the lack of money to hire an attorney," explained Lucio. "Our judicial system should be based on equity, and through this bill, we can ensure fairness to both sides in workers compensation cases."
••••••
Senate passes SB 64 by Sen. Zaffirini to eliminate PAC campaign contribution disclosure loophole
By NICK ALMANZA
The Texas Senate on Thursday, March 29 unanimously passed Senate Bill 64 by Sen. Judith Zaffirini, D-Laredo, which requires general-purpose political committees (PACs) to disclose contributions of more than $5,000 during the last nine days of a campaign. This disclosure is required of candidates and their campaign committees for contributions of $1,000.
The bill closes a legal loophole that allows large contributions to general-purpose PACs to go unreported for months after a general or primary election.
"We must ensure the integrity of the electoral process, which is why I filed SB 64," Zaffirini said. "All PACs should be held to the same standards as candidates and campaign committees. This bill provides this essential level of parity."
Under current law the Texas Ethics Commission (TEC) is not authorized to issue penalties automatically for PACs that fail to file timely special reports near an election. SB 64 also will authorize the TEC to notify and issue automatic penalties for campaign committees that fail to submit those reports timely.
The bill must be passed by the House of Representative before it can be sent to Gov. Rick Perry for final approval. The continued progress of this and all bills authored by Zaffirini can be monitored via the internet at http://www.zaffirini.senate.state.tx.us or by contacting the Texas Legislative Reference Library's toll free in-state hotline, 1-877-824-7038.
••••••
TXU Corp. could be fined $210 million by state Public Utilities Commission, says Sen. Lucio
By DORIS SÁNCHEZ
The Texas Public Utilities Commission staff has recommended a $210 million fine against TXU Corporation, which includes $70 million that would be reimbursed to consumers, said Sen. Eddie Lucio, Jr., D-Brownsville.
The remaining $140 million would be assessed for administrative penalties. It is important that TXU customers be compensated for their overpayments and that refunds go directly to them.
"I am pleased that the Public Utility Commission (PUC) staff has acted expediently to formalize the alleged violations of market power abuse by TXU Corp," said Lucio. "I feel confident that we are headed in the right direction towards fairness and equity for the consumer."
The PUC is in the initial step of making a final determination on the independent report. The PUC staff recommendations must still go through the hearing process and be approved by the three PUC Commissioners before final penalties can be assessed.
On March 12, an independent report concluded that TXU, one of the largest generators of electricity in Texas, manipulated the wholesale electric market, causing at least $70 million in higher electricity prices across the state in 2005. That same week, the Senate approved a package of electric utility bills to improve competition in the retail electric market, discourage market and price manipulation, and bring rate relief to Texas households.
Lucio amended one of the electric utility bills to strengthen language that would require refunds to be passed to consumers or to an organization that offers emergency payment assistance. The amendment also included language that would require PUC to make a final determination within 30 days after the Independent Market Monitor issued a report on market power abuses or violations, and that the report be referred to the Attorney General's office for further investigation and prosecution.
This legislation that passed the Senate in mid-March will likely come before the House this week.
••••••
A Down Payment on Texas' Future
By SEN. EDDIE LUCIO, JR.
and
SEN. RODNEY ELLIS
Texas faces a looming crisis: while our diverse, high-tech economy relies on a highly skilled, highly educated workforce, we rank near the bottom in the nation at producing college graduates. We lag particularly behind in graduating Hispanics and African Americans
As Texas becomes a more heavily minority-majority state, the future literally depends on increasing college access and success for Hispanic and African American Texans.
Unfortunately, all our efforts to close the gaps in college participation continue to fall far short of what is necessary and, unless the state significantly increases investment in direct grant aid, more and more students and families will be priced out of a college education, further jeopardizing our social and economic future.
So what is Texas doing about this challenge? Sadly, not nearly enough.
In 1999, Texas leaders promised high school students that if they worked hard and followed the rules, we would help them pay to go to college. Senator Rodney Ellis(Houston) and I co-authored legislation to create the TEXAS Grants program, which provides tuition and fees to students who have taken the Advanced or Recommended curriculum in high school. By every account, this program has been a runaway success.
Since we created the program, 161,000 students have received a TEXAS Grant to help them achieve the dream of college. The program has been the key to increasing minority college participation to meet the goals of the Closing the Gaps initiative.
No area has benefited more from this program than the Lower Rio Grande Valley. In just the last four years, 26,423 students have received $67.6 million to help them pay for college. Unfortunately, that success will be destroyed unless the Legislature takes dramatic steps today.
Frozen funding and skyrocketing tuition costs, thanks to tuition deregulation, have forced over 70,000 students to lose their TEXAS Grants in just the last two years and, if nothing is done today, the number of students left behind will soon explode. If funding is not dramatically increased, 150,000 students – 75 percent of those eligible – will be left behind every year, making TEXAS Grants an empty, broken promise.
Texas already compares poorly to other states – our competitors for new jobs – in producing college graduates. The numbers speak for themselves:
·Texas ranks 41st in the nation in the rate of college enrollment;
·Texas ranks 34th in the percentage with a bachelor's degree or higher;
·Only 26 percent of Texans aged 25-65 have earned a bachelor's degree or higher;
·Only 13 percent of Hispanic Texans have earned an Associate's Degree or higher;
·Texas spends, on average, $180 million less on direct grant aid than the other five largest states, California, New York, Florida, Illinois and Pennsylvania;
Unless we significantly increase direct grant aid to students, our state will fall further behind our competitors in producing the graduates needed to fuel the 21st century economy.
To address this looming crisis, we have filed legislation to put our money where our mouth is and fulfill the state's promise to Texas students and their parents. Our plan, SB 1176, would dedicate $897 million to the TEXAS Grant program, and ensure that every eligible Texas student has a chance to go to college.
This is simply a matter of priorities. We have a $14 billion budget surplus, so the money is there to keep our promise. If Texas is serious about Closing the Gaps and ensuring the doors to college are open to every student who wants an education, we will make this down-payment on our children's future.
(Senator Eddie Lucio represents South Texas in the Texas Senate. Senator Rodney Ellis represents Houston in the Texas Senate.)