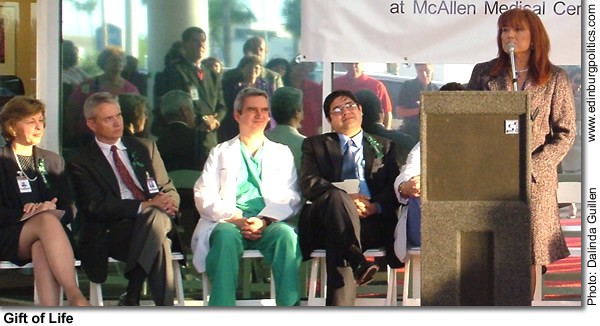 Linda Villarreal, M.D. of Edinburg, shares her personal story as a kidney donor with guests at a recent ribbon-cutting and open house for the South Texas Transplant Center at McAllen Medical Center. Her message about giving life to others by becoming an organ donor was echoed by recipients and donors at the center's unveiling during World Kidney Day. See story about transplant center later in this posting.
••••••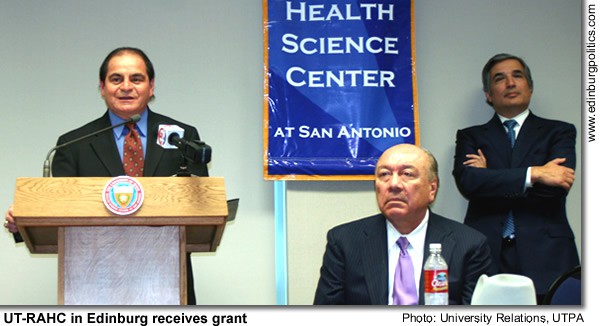 Mayor Joe Ochoa, flanked to his left by Sen. Juan "Chuy" Hinojosa, D-McAllen (seated) and Francisco G. Ciagarroa, M.D., president of the University of Texas Health Science Center at San Antonio, on Friday, March 9, announced major funding for a groundbreaking study of diseases that impact the border region. The $1.2 million grant is derived partly from the RAHC budget in the Health Science Center School of Medicine and partly from $1 million previously donated to the RAHC by the city of Edinburg under Ochoa. Hinojosa in 1997, as a state representative, sponsored the legislation that created the RAHC. Sen. Eddie Lucio, Jr., D-Brownsville (not shown), was the Senate author of the RAHC legislation. See story later in this posting.
••••••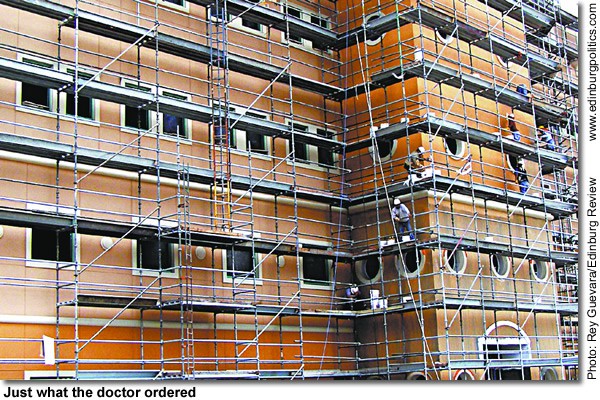 Construction crews continued their work on the four-story, 83,000-square-foot medical office building that is part of a major expansion of Doctors Hospital at Renaissance. The facility, set to open later this spring, is part of four major new medical buildings, representing an investment of an estimated $150 million, that will be part of the second major phase of the Edinburg-based hospital complex in southwest Edinburg. See story later in this posting.
••••••
Work on Women's Center boosts Edinburg construction to $42.7 million in January 2007
By DAVID A. DÍAZ
Total construction activities in Edinburg in January 2007 totaled almost $43 million, more than double the $19 million level reached in January 2006, the Edinburg Economic Development Corporation has announced.
The EEDC is the jobs-creation arm of the Edinburg City Council.
It is governed by a five-person board of directors, which includes Mayor Joe Ochoa, former mayor Richard García, who is the EEDC board president, and Fred Palacios, Mike Govind, and George Bennack.
The big increase over the same month last year was fueled by $30 million in new construction at the planned Women's Hospital at Renaissance that was reported in a city building permit.
A building permit is permission issued by a city's planning department to oversee and approve any changes to structures.
They are documents designed to guarantee that any construction work, from remodeling to demolition to building a new home or business facility, meets the city's building codes.
The value of construction projects is included when the city issues a building permit.
The building permits do not include the price of the lot.
A start in construction is defined as the beginning of excavation of the foundation for the building.
Eventually, the 200,000-square-foot hospital that will be solely dedicated to all stages of women's health – including having the capability of 8,000 birth deliveries per year – and will represent a $65 million investment.
The hospital represents the latest major phase to an estimated $150 million expansion underway in southwest Edinburg of Doctors Hospital at Renaissance.
In June 2006, EEDC leaders, state legislators, and hospital officials reflected on the importance of the planned women's hospital, which is located at 5502 S. McColl Road.
With bulldozers at the ready in the background, last summer's gathering, shielded from the sun under a large tent, heard from numerous speakers, including Dr. Lawrence Gelman, DHR chief executive officer, who announced the name, goal and vision of the Women's Hospital at Renaissance.
"Medicine, ultimately, is the expression of confidence and hope in the future. What better expression of confidence and hope than having children?" Gelman reflected. "It is also an expression of confidence and hope in our community and the people of our community, the future of Hidalgo County and the future of the Rio Grande Valley. In this way, we demonstrate all of that."
The continuing work on the sprawling medical complex was not the only highlight reported by the EEDC.
Building permits for new construction in January 2007 also included the following major commercial projects:
•The Edinburg school district was issued a building permit for work valued at $3.4 million for additions/remodeling of Harwell Middle School, located at 1100 E. Ebony Street in the Tex-Mex Subdivision;
•IBC Bank was issued a building permit for work valued at $1 million for a commercial facility at 2205 W. University Drive in the Jackson Plaza Phase II Subdivision;
•Halle Properties was issued a building permit for work valued at $850,000 for a commercial facility at 4109 S. McColl Road in the Trenton Town Center Subdivision;
•Edinburg Dollar General, Ltd. was issued a building permit for work valued at $500,000 for a commercial facility at 3007 S. Sugar Road in the Trenton Town Center Subdivision; and
•Daniel López was issued a building permit for work valued at $340,000 for a commercial facility at 2563 S. Raul Longoria in the Fairhaven Village Commercial Subdivision.
Commercial construction in January 2007 – which does not include the value of construction by the government or churches – was $33,202,000, compared with $12,573,000 in January 2006.
Residential construction of single-family homes in January 2007 was $4,471,020, compared with $5,176,387 in January 2006.
Residential construction does not include multi-family dwellings, such as duplexes, triplexes, fourplexes, and apartment buildings.
That figure represented 40 homes being built that month, compared with 58 new homes that began construction in January 2006.
The work at Harwell Middle School represented almost the entire $3.4 million in building permit construction values issued in January 2007 for non-taxable construction.
There was no non-taxable construction reported in January 2006.
New construction of multi-family residences in January 2007 reached $894,000, compared with $648,000 in January 2006.
In January 2007, building permits were issued for nine multi-family residences, or 18 units, compared with 16 multi-family residences, or eight units.
Residential alterations in January 2007 totaled $385,327, compared with $414,970 during the same month last year.
Commercial alterations in January 2007 totaled $321,300, compared with $212,934 in January 2006.
••••••
$1.2 million grant to fund study of diabetes and schizophrenia by UT-RAHC in Edinburg
By WILL SANSOM
Leaders from The University of Texas Health Science Center at San Antonio on Friday, March 9, announced three years of funding — at a total cost of $1.2 million — for Health Science Center professors to mentor younger faculty from The University of Texas-Pan American (UTPA).
The research, which focuses on the genetics of complex diseases such as diabetes and schizophrenia, is under way at the Health Science Center's Regional Academic Health Center (RAHC) Medical Research Division adjacent to UTPA in Edinburg.
Michael A. Escamilla, M.D., the Mary Weir Professor in the Health Science Center's department of psychiatry, leads the program.
Complex disorders
"I have worked on genetics of depression, bipolar disorder and schizophrenia, and have collaborated with other Health Science Center scientists in work on diabetes and obesity. Those are the areas this grant will address," Escamilla said.
Those diseases are "multifactorial," he said; they are caused by the interaction of genes and environment. The new research puts the lens on how these interactions occur and how they lead to the development of these diseases in Hispanics, the largest population of people in South Texas.
Health Science Center faculty Michael P. Stern, M.D., professor of medicine, an authority on epidemiology of diabetes in Hispanic populations, and Robin J. Leach, Ph.D., professor of cellular and structural biology, who directs sophisticated genetics studies, are helping to develop the program.
City, state contributions
Escamilla is spending 20 percent of his time working with three UTPA faculty members in the state-of-the-art, $20 million RAHC Medical Research Division. Dedicated in April 2006, it is the first biomedical research facility of its type along the Texas-Mexico border.
Sen. Eddie Lucio Jr., D-Brownsville, authored the bill that established the RAHC, and Sen. Juan "Chuy" Hinojosa, D-McAllen, during his tenure as a state representative, sponsored the legislation in the House.
The $1.2 million grant announced March 9 is derived partly from the RAHC budget in the Health Science Center School of Medicine and partly from $1 million previously donated to the RAHC by the city of Edinburg under Mayor Joe Ochoa.
Spirit of partnership
At the announcement, Health Science Center President Francisco G. Cigarroa, M.D., and UTPA President Blandina Cárdenas, Ph.D., celebrated the partnership of a health-related institution with a general academic institution, both in The University of Texas System.
"This is a day to celebrate science and collaboration," Cigarroa said. "The grant that Dr. Escamilla has received will focus attention on complex diseases that are prevalent in South Texas."
William L. Henrich, M.D., M.A.C.P., dean of the School of Medicine and vice president for medical affairs at the Health Science Center, said: "We are delighted to be able to make available these funds to stimulate basic research activities at the RAHC, and we are very happy to partner with The University of Texas-Pan American, as collaboration with other UT schools is a high priority for us."
Stimulating research careers
Leonel Vela, M.D., M.P.H., regional dean of the RAHC, said the Edinburg research facility is an integral part of the Regional Academic Health Center, which has a Medical Education Division located in Harlingen. The Health Science Center also operates that division, where 24 School of Medicine students are assigned each year to complete their third and fourth years of the medical curriculum, including rotations at the RAHC's clinical partners.
The RAHC Medical Research Division provides a place for these students to pursue quality research close to their clinical education and training in the Lower Rio Grande Valley, Vela said.
The RAHC Medical Research Division is equipped with 12 state-of-the-art laboratories including a Biosafety Level 3 (BSL-3) lab. "The Edinburg facility is a fantastic facility, and we have great support enabling us to bring the research here to the Valley," Escamilla said. "I also see this as a way that students at UTPA can be stimulated to enter careers in the health professions and biomedical research, with more than a few conducting studies right here in their home region."
Genes, environment
The new RAHC research program will profile individuals' and families' genetic makeup and the environmental risk factors in their lives. This information will be matched with actual disease diagnoses and courses in these individuals and families.
"In diabetes, the environmental factors of most interest to us are diet and exercise. In schizophrenia, we are incorporating stressors such as exposure to violence and exposure to substance abuse," Escamilla said. "We want to become the leading U.S. research center for the study of genetic disorders in the Latino population," he added.
UTPA faculty
The first mentored faculty members are from UTPA's College of Science and Engineering. They are Andres Figueroa, Ph.D., assistant professor in the department of computer science, who specializes in bioinformatics and genetics; Anita Davelos Baines, Ph.D., assistant professor in the department of biology, whose interest is the gene-environment interaction; and Jonathan Lieman, Ph.D., assistant professor of biology, who specializes in molecular biology. "Each brings a special set of knowledge and skills to the table," Escamilla said.
The University of Texas Health Science Center at San Antonio is the leading research institution in South Texas and one of the major health sciences universities in the world. With an operating budget of $536 million, the Health Science Center is the chief catalyst for the $14.3 billion biosciences and health care industry, the leading sector in San Antonio's economy.
The Health Science Center has had an estimated $35 billion impact on the region since inception and has expanded to six campuses in San Antonio, Laredo, Harlingen and Edinburg. More than 22,000 graduates (physicians, dentists, nurses, scientists and allied health professionals) serve in their fields, including many in Texas. Health Science Center faculty are international leaders in cancer, cardiovascular disease, diabetes, aging, stroke prevention, kidney disease, orthopaedics,
research imaging, transplant surgery, psychiatry and clinical neurosciences, pain management, genetics, nursing, allied health, dentistry and many other fields.
••••••
Edinburg's jobless rate in January lowest in the Valley at 4.9 percent
By DAVID A. DÍAZ
Edinburg's jobless rate, which is a key indicator of the strength of the local economy, remained the lowest in the Valley at 4.9 percent in January, keeping pace with the statewide average of 4.5 percent and the U.S. unemployment rate of 4.6 percent.
In 2006, the annual jobless rate for Edinburg was 5.3 percent, while in 2005, the annual jobless rate for Edinburg was 4.7 percent.
In 2006, the city's jobless rate was the lowest in the Valley during five months, according to the Edinburg Economic Development Corporation, and Edinburg registered the second-best showing for most of the other months last year, edged out only by McAllen.
The EEDC is the jobs-creation arm of the Edinburg City Council.
The EEDC's five-member governing board includes Mayor Joe Ochoa; former Mayor Richard García, who is president of the EEDC board of directors; and Fred Palacios, Mike Govind, and George Bennack.
As of January, according to the Texas Workforce Commission, 1,372 Edinburg residents were looking for jobs, while 28,120 local residents were employed.
The jobless rate, also known as the unemployment rate, is the number of persons unemployed, expressed as a percentage of the civilian labor force.
The civilian labor force is that portion of the population age 16 and older employed or unemployed.
To be considered unemployed, a person has to be not working but willing and able to work and actively seeking work.
The jobless rate for Hidalgo County was 7.7 percent in January, up from 6.9 percent in December. The January jobless rate for Hidalgo County represented 21,051 area residents without jobs, while 252,420 residents were employed during the first month of 2007.
McAllen had the second lowest monthly unemployment rate in January – 5.1 percent, or 2,065 of their citizens out of work, while 55,406 residents of the City of Palms were employed that month. In December, McAllen's jobless rate of 4.4 percent.
Harlingen's unemployment rate in January was 5.3 percent, while Pharr and Mission both reported a 6.2 percent jobless rate during the same month.
Brownsville's unemployment rate in January came in at 6.8 percent, followed by Weslaco, which reported a 7.5 percent jobless rate during that same month.
Cameron County's jobless rate in January was 6.6 percent, up from December's 5.7 percent unemployment rate. In January, 9,603 residents of Cameron County were looking for work, while
135,343 residents were holding down jobs.
Harlingen had the third-best showing among major Valley cities in January, reporting a 4.7 percent jobless rate, followed by Mission and Pharr, which each registered 5 percent unemployment rates for that month.
According to the Texas Workforce Commission:
Texas' seasonally adjusted unemployment rate fell to 4.5 percent in January from a revised 4.7 percent in December 2006 and down from 5.2 percent in January a year ago.
During the past 12 months, the Texas economy grew by 243,700 jobs for a growth rate of 2.5 percent, outpacing the nation as a whole.
The Texas Workforce Commission (TWC) annually revises the Total Nonagricultural employment and the Civilian Labor Force statistics, which includes the unemployment rate, under the guidance of the U.S. Department of Labor Bureau of Labor Statistics.
Eight Metropolitan Statistical Areas (MSAs) reported unemployment rates of 4.0 percent or lower.
The Midland MSA experienced the lowest unemployment rate in the state at 3.2 percent (not seasonally adjusted), and the Amarillo and Odessa MSAs followed at 3.6 percent.
"Our falling unemployment rate highlights the state's healthy economic climate," said TWC Chair Diane Rath. "Coupled with year-over-year, sustained job gains, these lower unemployment rates signify strength in the Texas labor market."
In the past 12 months, the Professional & Business Services industry saw gains of nearly 50,000 jobs, followed by Leisure & Hospitality, which grew by 40,000 positions.
"Employers in the Lone Star State continue to set a tremendous pace with record job growth," said TWC Commissioner Representing Employers Ron Lehman. "Ten industries spurred statewide job growth over the past year, with Manufacturing gaining 16,200 jobs and Construction growing by 26,600 positions."
The Mining industry has added jobs every month since November 2003. In January, Mining gained another 1,800 positions, reaching an annual growth rate of 12.7 percent. Financial Activities grew for the third straight month, adding 1,500 jobs in January and 12,800 positions since January 2006.
"We've made great strides, with a record number of workers – 11,063,400 – in the labor force today," said TWC Commissioner Representing Labor Ronny Congleton. "It's always good news when more Texans find work."
Initial claims for unemployment compensation in January 2007 were 59,196, down 2.6 percent from January 2006.
••••••
Edinburg Marine Rey Leal, Bronze Star receipt in Iraq, honored by House of Representatives
The Texas House of Representatives on Thursday, March 8, honored U.S. Marine Rey Leal of Edinburg for his heroic actions during combat duty in Iraq in December 2004.
The recognition came in the form of House Resolution 474, filed by Rep. Aaron Peña, D-Edinburg.
The resolution reads:
WHEREAS, U.S. Marine Corporal Rey Leal of Edinburg was awarded the Bronze Star with Valor device for his act of heroism during combat in Iraq; and
WHEREAS, On December 12, 2004, while clearing houses in the city of Fallujah, he and fellow Marines recognized the sound of insurgent gun fire coming from a nearby home; Corporal Leal, a
private first class at the time, courageously entered the house and discovered several wounded soldiers; after moving one to a secure location, he organized a group of Marines to help rescue his platoon sergeant, who was injured and trapped amid enemy fire; with the evacuation complete, he subsequently returned to the house and retrieved the sergeant's weapon; and
WHEREAS, Since then, Corporal Leal has often drawn on this experience in his role as a fire team leader for Company K, 3rd Battalion, 5th Marine Regiment, helping prepare new Marines for combat in Iraq; and
WHEREAS, Through his unfaltering devotion to duty, honor, and this nation, Rey Leal embodies the highest ideals of the U.S. armed forces, and his bravery and dedicated service have earned him the
sincere appreciation of his fellow Texans; and
WHEREAS, Representative Aaron Peña has justly recognized Corporal Leal by authoring this resolution in his behalf during the Regular Session of the 80th Texas Legislature; now, therefore, be
it
RESOLVED, That the House of Representatives of the 80th Texas Legislature hereby commend Corporal Rey Leal for his heroic actions in Iraq and congratulate him on his receipt of the Bronze Star; and, be it further
RESOLVED, That an official copy of this resolution be prepared for Corporal Leal as an expression of high regard by the Texas House of Representatives.
••••••
Sen. Hinojosa adds amendment to utility legislation that protects vulnerable consumers from disconnects
By MELISSA DEL BOSQUE
A package of proposals designed to provide greater oversight by regulators of one of the state's largest electricity providers passed the Texas Senate Thursday, March 15, with important consumer protection provisions that will prevent utilities from disconnecting service to customers during extreme weather conditions.
"The combination of high electricity rates and skyrocketing summer temperatures is pushing too many Texas households to the brink," said Sen. Juan 'Chuy' Hinojosa, D-McAllen, sponsor of the consumer protection provisions. "I commend the Senate for agreeing that it's important to protect vulnerable Texans and save lives."
Hinojosa's amendments to Senate Bill 482 by Sen. Troy Fraser, R-Horseshoe Bay, provides increased legal protections for elderly Texans and those with fragile medical conditions.
"An average of more than 75,000 Texans are disconnected from their electricity service every month," Hinojosa said. "Many of them are elderly or sick, and this bill gives them the help they need until they get back on their feet."
Hinojosa worked closely with the AARP on amendments, which also include a provision to allow for Texans with good payment histories with their current electric companies to have their security deposits waived if they switch providers.
"I have heard from families who are being charged security deposits as high as $400 when they try to switch to a new electric provider," Hinojosa said.
••••••
Sen. Lucio's amendment, passed by Senate, would require utility companies to refund consumers
By DORIS SÁNCHEZ
The Senate on Thursday, March 15, passed a comprehensive package of electric utility reforms to improve competition in the deregulated retail electric market, discourage market and price manipulation, and bring rate relief to Texas households.
"Electric utility rates are out of control and we need to reel them back in. We had rates nearly as high as 18 cents per kilowatt hour in South Texas for 2006," said Sen. Eddie Lucio, Jr, D-Brownsville. "While rates have dropped this year to 15 cents per kilowatt hour, I'm still concerned that those rates are too high and the deregulated electric market needs major reforms. That's why these bills, as passed in the Senate, are so important."
On Monday, March 12, an independent report concluded that one of the largest generators of electricity in Texas manipulated the wholesale electric market, causing at least $70 million in higher electricity prices across the state in 2005.
To address this abuse, Lucio was successful in persuading members to adopt an amendment that requires companies to refund customers for their overpayments if they are found by the Texas Public Utility Commission (PUC) to have manipulated the market. The PUC would have the authority to either order refunds or allow offending companies to pay an equivalent amount to community action agencies for emergency bill payment assistance programs.
"I want to make it clear that those refunds must be passed to consumers, either through direct refunds or by payments into an emergency assistance program," explained Lucio.
His amendment also requires that the PUC act promptly in making their final determination and assessing administrative penalties after an independent study of market power abuses is reported to them. The Commission would then refer the matter to the Office of the Attorney General for further action, investigation and prosecution.
"If we are to continue with the deregulated electric utility market," said the senator, "we need to be firm and penalize those who attempt to manipulate the market and profit unfairly off the backs of working Texans.
"Although I support these bills, I was disappointed that they do not address any protections for the System Benefit Fund, a program that assists qualifying low-income Texans with paying their utility bills. I offered an amendment to this effect, but it was not added to the bill," he said. "I am gravely disappointed that the SBF Fund was swept up for other general revenue programs last session rather than electric utility assistance.
"This is not what we told ratepayers the fee would be used for," Lucio added. "We should not continue to sweep the SBF for general revenue when there are needy Texans struggling to pay their electric bills. Ratepayers are assessed a fee for this assistance program; therefore, the fund should be used for what it was intended."
The bills will now be sent to the House for consideration.
••••••
Valley state representatives predict House will boost funding for Children's Health Insurance Program
By ORLANDO SALINAS
A group of South Texas state representatives working to restore and expand the Children's Health Insurance Program (CHIP) funding and rules to pre-2003 levels on Friday, March 16, predicted victory this week as the bill comes to the House floor for debate on Monday, March 19.
Rep.Ryan Guillen, D-Rio Grande City, said this week that negotiations by he, Rep. Aaron Peña, D-Eidnburg, and Rep. Eddie Lucio III, D-San Benito, have been touch-and-go to get the bill out of the Health and Human Services Committee and past opponents in the powerful Calendars Committee.
The bill provides changes that will allow many more working families to qualify for insurance for their children and makes signing up easier.
"This bill nearly died in both committees, but we have been able to help push it along and we look forward to a vigorous debate when it comes to the House Floor on Monday," said Guillen, himself a member of the Calendars Committee.
"The bill that Rep. Sylvester Turner (D-Houston) will bring to the House Floor Monday will do away with the 90-day waiting period for new applicants to the program and will allow families to register their children only once a year instead of ever six months," Guillen explained.
"These changes in eligibility requirements, including allowing working parents once again to deduct their child care expenses from their income, will go a long way toward getting many children who were unfairly dropped from the CHIP rolls reinstated," Peña added.
The bill cleared the House Human Services Committee by a vote of 8-1 a week earlier, after behind- the-scenes negotiations provided bipartisan support which previous efforts to reinstate funding and benefits have lacked. But some Republicans still want a six-month renewal schedule.
Lucio said the change from six months to a year is crucial because "studies and reports from doctors and medical groups have shown that that 12-month cycle is a much better situation for these low-income families and for the children."
Lucio also pointed out that another change will allow families to have more assets – $10,000 instead of $5,000 and two cars – and still qualify for the program.
"Expanding CHIP to cover more kids was one of my top legislative priorities," said Peña. "I am extremely proud to be an author of this bill that's going to provide hundreds of thousands of children with more healthcare. I urge my House colleagues to come together and pass this important legislation."
HHS Committee Chairman Patrick Rose, D-Dripping Springs, said the new bill appeals to Republicans because it would make permanent two CHIP rules: One issued in 2005 makes families submit pay stubs when they apply for or renew coverage. Another issued two years earlier limits how much cash and how expensive a vehicle a family can have.
Meanwhile, two Senate leaders, Lt. Gov. David Dewhurst and Sen. Steve Ogden, R-Bryan, Finance Committee chairman, have said they support the six-month eligibility period but that they will look at the bill if it makes it to the Senate.
Advocates for lower-income Texans have said counting the value of people's cars against them makes it difficult for people who need drive to work. "In rural areas of Texas, where there is no adequate public transportation, counting the value of an auto against a family makes no sense because they have to have a car to go to work," Guillen said.
••••••
Hidalgo County Judge J.D. Salinas hosts forum of key area economic development groups
By ALMA WALZER
Hidalgo County Judge J.D. Salinas on Monday, March 12, hosted a forum for members of economic development corporations from area cities.
"It is our hope that some roundtable discussion on the priorities and needs of the cities will help us best decide what to go after first, and how to get it," Salinas said. "As a region, I think we know what we need, but the input from the individual cities about the projects they're eyeing will be invaluable."
In attendance were: Keith Patridge, McAllen EDC; Albert González, Mercedes EDC; Pat Townsend, Mission EDC; Lori López, City of Palmhurst; Rubén González, City of Peñitas; Raúl Garza, Pharr EDC; Greg Ayala, San Juan EDC; Larry Rincones, Alton city manager; Ramiro Garza, Edinburg EDC; Hernán González Weslaco EDC; and P.R. Ávila, Donna city manager.
These leaders will also be asked to help develop a countywide economic development organization, Salinas said.
"We want their assistance and expertise on helping us produce an organizational structure, with possible roles and responsibilities," Judge Salinas said. "This organization will help promote and coordinate regional initiatives and large scale business recruitment projects."
Hidalgo County's priorities for economic development, according to Salinas, are to improve the levee system, find funding for transportation projects such as the Regional Mobility Authority and a Rural Rail District; resolve immigration reform issues; opposed any reductions in federal Community Development Block Grant funds; and review tax abatement and tax increment financing incentives.
This economic development group will meet again in the near future. For more information, please contact Salinas at 956.318.2600.
••••••
Gov. Perry orders May 12 special election on school property tax relief for elderly, disabled homeowners
Gov. Rick Perry on Monday, March 12, signed a proclamation ordering a special election to be held May 12 to vote on a constitutional amendment to extend public school property tax rate reductions to Texas' elderly and disabled residents for the 2006 and 2007 tax years.
"I encourage all Texans to join me in voting for this constitutional amendment so that elderly and disabled Texans benefit from record property tax relief the same as other homeowners," Perry said.
In 2006 Gov. Perry signed a record $15.5 billion property tax cut, but some elderly and disabled Texans were precluded from benefiting because their rates were already frozen.
Senate Joint Resolution 13 amends the Texas constitution to allow elderly or disabled households' property tax rates to reflect any reduction in school property tax rates for 2006 and 2007
••••••
.
Sen. Hinojosa: TYC Board resignation "a step in the right direction" toward reform
Sen. Juan "Chuy" Hinojosa, D-McAllen, on Thursday, March 15, issued the following statement regarding the decision by members of the board of the Texas Youth Commission to resign:
"It was clear that the Texas Youth Commission board was in over their heads and did not have the experience, background or the time to fully oversee such a vital agency as TYC. The Board finally decided to do the honorable thing and resign."
The South Texas lawmaker added, "This board had to go. It was asleep at the wheel. They ignored all the red flags, they refused to be active."
Members of the Texas Youth Commission Board of Trustees announced that they would resign after a measure dismissing the board was passed by the Senate on Wednesday, March 14. Senate Bill 1921, by Sen. Chris Harris, R-Arlington, fired all current board members and precluded their re-appointment back to the board.
Members were under fire for allegations of sexual abuse that occurred on their watch, and for not taking swift or appropriate action to address the allegations once they knew about them.
Lt. Gov. David Dewhurst commented on the mass resignation, saying it will help the state move forward with repairing the troubled youth commission. "I'm pleased that a change in leadership is finally forthcoming at the Texas Youth Commission, and I think that change in leadership will help us protect the juveniles in our custody," he said.
••••••
Gov. Perry proposes single commissioner structure for Texas Youth Commission
Gov. Rick Perry on Wednesday, March 14, proposed that the Texas Youth Commission (TYC) be governed by a single full-time commissioner rather than a part-time, volunteer board of directors.
"Leading the Texas Youth Commission is a full-time job that demands the attention of a full-time, criminal justice professional," Perry said. "A single commissioner would provide better oversight of the agency on a day-to-day basis and would be more accountable to the executive and legislative branches."
Like the Commissioner of Education, the Commissioner of Insurance and the Commissioner of Health and Human Services, the Commissioner of TYC would be appointed by the governor to a two-year term and must be confirmed by the senate.
"While the acting Executive Director and the Special Master have worked to complete the initial phase of the investigation and the rehabilitation plan, it was important for the current board to remain in place in order to approve the plan," Perry said. "Now is the time for lawmakers to take the next step to fix a broken agency and change the culture of TYC by permanently changing the agency's leadership structure."
Current TYC board members will meet on Friday to approve the rehabilitation plan that is being drafted by Acting Executive Director Ed Owens. All are expected to tender their resignations once the rehabilitation plan is approved.
••••••
Congressman Cuellar hosts teleconference with Department of Homeland Security for first responders
By RUBÉN BAZÁN
On Wednesday, March 14, Congressman Henry Cuellar, D-Laredo/McAllen, hosted a video teleconference from his Congressional office in Washington, D.C. for First Responders. The teleconference also included the 28th Congressional District offices in Laredo, San Antonio, McAllen, and Seguin.
The participants were joined by Department of Homeland Security Assistant Secretary Corey Gruber. The conversation focused on federal funding programs that are provided by the Department of Homeland Security for First Responders.
"It is important to keep our First Responders up to date with grant programs available from the Department of Homeland Security," said Cuellar. "This video teleconference was set up with our communities in mind, and hopefully we will see an increase in assistance from the federal government for these communities."
Over 100 attendees sat in on the teleconference, including county Commissioners, mayors, judges, fire and police chiefs, sheriffs, and other local officials and emergency planners from the 28 Congressional District of Texas. Assistant Secretary Corey Gruber spoke to the guests about infrastructure protection grant programs, technical assistance, and training programs available to eligible applicants.
Cuellar continued, "I'm glad that such a large group of local officials and representatives were able to come together and become familiar with the grant programs available from DHS. I will continue looking for opportunities for our First Responders to become acquainted with DHS and other programs that will benefit all Americans."
Cuellar is a member of the House Homeland Security, Small Business, and Agriculture Committees in the 110th Congress; accessibility to constituents, education, health care, economic development, and national security are his priorities. Congressman Cuellar is also a Majority Senior Whip.
••••••
"Ya era tiempo," says Sen. Hinojosa about state cancellation of $899 million contract with Accenture
By MELISSA DEL BOSQUE
Sen. Juan 'Chuy' Hinojosa, D-McAllen, on Tuesday, March 13, issued the following statement after the announcement by state officials that they have canceled a $899 million contract with Accenture that failed to adequately perform its function of determining who qualifies for such vital health and human services as food stamps and children's health insurance.
"Ya era tiempo. I called on state leaders last summer to cancel this contract because the private company was simply not getting the job done.
The Texas families who depend on these services and the Texas taxpayers who foot the bills deserved far more than they received from this controversial contract.
Maybe now, Texans will begin to receive the high-quality, low-cost public services they deserve."
The March 13 announcement follows more than a year of mounting evidence that Accenture was failing to adequately provide the services it was required to under the agreement. A new computer system never worked properly, leaving tens of thousands of Texans without Medicaid, food stamps, and family assistance benefits for which they were eligible.
"I have heard from numerous families and providers in my district that this privatization of health and human services was simply not working. Families were left without vital health care services and providers were left with a bureaucratic mess," Hinojosa said. "I hope we can get back on track and Texans can once again receive these vital services in a timely and efficient manner."
••••••
Sen. Lucio applauds contract termination with Accenture, opposed it from the beginning
By SEN. EDDIE LUCIO, JR.
It comes one year and nine months too late, but the Texas Health and Human Services Commission (HHSC) finally announced today that it will end a key contract with the private consulting firm, Accenture's Texas Access Alliance.
The state contracted with the company in June 2005 to oversee the Children's Health Insurance Program (CHIP) and assist with the enrollment of Texans in other key health and human services programs.
The pathway to the privatization of these services was paved in 2003 with the passage of House Bill 2292. This bill directed HHSC to save as much money as possible and provided them with the flexibility needed to outsource key functions. I voted against HB 2292 because I did not feel that the administration of programs like CHIP and Medicaid should be subjected to uncertainty. When it comes to basic human rights like child health, people must come first.
Since its inception, problems with the contract have been constant. Families across the state were told their CHIP applications were lost, children were left unable to visit the doctor and no one accepted accountability. When it comes to health and human services and our children, privatization should never work in concert with spending reductions.
State employees have a long and proven track record for providing high quality and effective services. Unfortunately, decisions made in 2003 devalued some of our most loyal state employees by jeopardizing 2,500 positions, and the result has been disastrous.
Unfortunately, this decision comes too late for many Texas families. However, the state has an opportunity to learn from this experience, reinstate its commitment to crucial services and serve children and families through key programs like CHIP and Medicaid.
••••••
Steep decline in Texans served by CHIP tied to "mismanagement" by Accenture, says Sen. Zaffirini
By SEN. JUDITH ZAFFIRINI
Texas Health and Human Services Commission (HHSC) Executive Commissioner Alberto Hawkins' announcement of the state's gradual withdrawal from its health and social services contract with Accenture's Texas Access Alliance comes with little surprise, considering the problems that have plagued Texas health services for years. Since the initiation of Accenture's contract, independent audits, investigations by the Comptroller's staff and reports from eligible persons who were denied services revealed Accenture's growing list of problems.
Throughout the contract's span, enrollment in CHIP and Children's Medicaid experienced sharp declines due to Accenture's mismanagement of records and documentation. Accenture continuously was behind schedule in updating records and organizing call centers, resulting in the names of children and persons eligible for state social services literally disappearing from enrollment data. What's more, the Comptroller's investigation revealed that Accenture constantly was over budget.
I was saddened to learn of the recent death of Devante Johnson, a 14-year old cancer patient who was dropped indefensibly from Medicaid enrollment, demonstrating the extreme crisis afflicting the state's Medicaid and CHIP eligibility system. I truly hope that the ensuing transition from Accenture's contract does not further disrupt and prevent persons from seeking health services eligibility.
I repeatedly expressed my concerns and ardent opposition to privatizing these important social and health services, which is one of the reasons I voted against House Bill 2292 (2003). Today's announcement sends a clear message that Texas no longer will tolerate unnecessary and unreasonable gaps that tremendously hinder access to state health services for children and low-income families.
Access to children's health programs through CHIP and Children's Medicaid and providing quality health and human services for all Texas families are among my highest legislative priorities. Since December, 2005, privatization caused significant losses in Children's Medicare and CHIP enrollment. This clearly is unacceptable. The damage has been done and must be repaired swiftly.
This session I filed SB 769, which would improve significantly the processes by which state agencies solicit, negotiate, enter into and manage contracts with vendors. Specifically, this important legislation would subject major contracts such as Accenture's to a robust review process prior to approval by using Governmental in Nature (GIN) analysis by the state's Council on Competitive Government and a full and fair cost comparison.
SB 769 would establish a h2er, more stringent review process prior to a contract's approval and ensure that outsourced activities would be performed at the highest quality level by contractors. Had these safeguards been in place before the Accenture contract, we could have prevented this debacle.
•••••
Sen. Lucio files variety of bills before deadline, including measure calling for Valley UT-Law school
By DORIS SÁNCHEZ
Sen. Eddie Lucio, Jr;, D-Brownsville, on Friday, March 9, the deadline for filing bills in the Senate, announced he filed several bills both recently and earlier that promote good government.
Senate Bill (SB) 1403 would eliminate the TAKS test in high school and phase in end-of-course exams.
"The bill gives teachers the ability to provide input into the development of the end-of-course exams," said Lucio. "The bill eases the high stakes nature of the tests by giving teachers and school districts more discretion in determining whether a student who has failed an exam may have done so because of extenuating circumstances and therefore may still be able to graduate."
Another measure, SB 840, would direct the Commissioner of Education to develop training institutes for teachers and paraprofessionals who work with students with disabilities, including students with autism spectrum disorders, to implement research-based education practices in their classrooms. The training would be voluntary and carry stipends for completion of the training.
"Federal requirements mandate that students with disabilities be educated in the 'least restrictive environment,'" said Lucio. "Most of these students spend all or part of their school day in general education classrooms. This bill would benefit teachers with no special education background or no experience working with certain disabilities, as well as the paraprofessionals who assist them in providing direct services to students with extensive needs.
"I anticipate that SB 840 will result in greater academic achievement of special needs students, better management of the classroom and an overall positive classroom environment," added the senator.
Pharmaceutical companies would have to report gifts valued over $75 made to health care providers under Lucio's SB 414. The reports, to be housed in the Department of State Health Services, would be posted for the public. The bill does not ban gifts and provides exceptions for samples, scholarships and payment for participation in clinical drug trials.
"The intent of this bill is to increase awareness about financial relationships between pharmaceutical marketers and health care providers," explained Lucio. "This bill would also provide the state with a better understanding of the amount spent on gifts and how those gifts affect prescribing practices and prescription drug costs."
A bill that would allow hospitals and nursing homes to donate pharmaceutical samples and unused products to patient assistance programs that help provide low-income Texans with free or low-cost medications will be filed later today.
Lucio is also laying the foundation for a law school in the Rio Grande Valley. SB 1400 would authorize a law school at the University of Texas at Brownsville in Cameron County.
Another proposal, SB 1707, would make a person strictly liable who conducts a private investigation and is unlicensed and not exempt under the law and the investigation results in injury, death or property damage.
••••••
Rep. Guillen appointed by House Speaker to Select Committee on Higher and Public Education Finance
By Alexis DeLee
Speaker of the House Tom Craddick, R-Midland, on Friday, March 16, announced the creation of the House Select Committee on Higher and Public Education Finance.
This committee, which includes Rep. Ryan Guillen, D-Rio Grande City, will work to improve college and workforce readiness by coordinating public and higher education finance policy toward this end.
"In the face of rising expectations, improving college and workforce readiness for our students is immensely important for increasing Texas' competitiveness in the global market," Craddick said. "I'm very pleased that these representatives have agreed to serve Texas in this capacity."
Rep. Dan Branch, R-Dallas, will serve as chairman of the committee and Rep. Scott Hochberg, D-Houston, will serve as vice chairman. Additional members serving on the committee will be Rep. Harold Dutton, D-Houston, Rep. Rob Eissler, R-The Woodland, Rep. Helen Giddings R-Dallas, Rep. Lois Kolkhorst, R-Brenham, Rep. Geanie Morrison, R-Victoria), and Rep. John Otto R-Dayton.
The select committee will focus on several aspects of higher and public education to achieve its main goal. These include examining the efficiency and effectiveness of state programs to increase student achievement, and aligning formula and non-formula funded programs with the state's educational goals. The committee is also charged with developing strategies to more effectively leverage and deploy federal funds and meet state obligations under the Texas Guaranteed Tuition Plan.
"I am grateful to the Speaker for the opportunity to work on these important issues with such a highly qualified group of members," Branch said. "It's critical that we get this right. We must continue to supply an educated workforce, so employers will keep relocating to Texas."
••••••
Senate passes "Scooter's Bill" by Sen. Zaffirini to help disabled Texas students participate in graduation ceremonies
By NICK ALMANZA
The Texas Senate on Wednesday, March 14, unanimously passed Senate Bill 673, known as "Scooter's Bill," by Senator Judith Zaffirini, D-Laredo. It would allow students with disabilities who are in individualized education programs (IEP) and who have completed four years of high school to participate in graduation ceremonies and receive attendance certificates.
"It is important that students with disabilities celebrate their accomplishments with their peers and have a sense of closure as their classmates move on and leave campus," Senator Zaffirini said. "My bill provides students in IEP programs a means to achieve this goal."
SB 673 is named "Scooter's Bill" after Gene "Scooter" Long, a Dallas IEP student who was denied participation in his class's graduation ceremonies by the Dallas Independent School District. The bill calls for a consistent policy throughout Texas. What's more, it would allow students to continue the IEP program after they participate in commencement ceremonies and would not preclude their receiving high school diplomas upon completing the program.
The bill must be passed by the House of Representative before it can be sent to Governor Rick Perry for final approval. The continued progress of this and all bills authored by Senator Zaffirini can be monitored via the internet at http://www.zaffirini.senate.state.tx.us or by contacting the Texas Legislative Reference Library's toll free instate hotline, 1-877-824-7038.
••••••
Sen. Hutchison passes bill naming U.S. Department of Education building in Washington, D.C. after LBJ
By JAMIE LOFTUS
U.S. Sen. Kay Bailey Hutchison, R-Texas, on Friday, March 9, announced passage of legislation that names the U.S. Department of Education building in Washington, D.C. after Lyndon Baines Johnson, the nation's 36th president and proud Texan.
"As a lifelong Texan, it gives me great pride to lead this effort on behalf of the first president to be elected from the great state of Texas. It would be a fitting honor for this small town Texas teacher who went on to become our "Education President," Hutchison said. "President Johnson signed a combined total of over 60 education bills. His commitment to education continued after office by teaching students while he wrote his memoirs."
The legislation was approved by the House of Representatives by a voice vote on March 6th. Hutchison ushered through final passage of the bill in the Senate which was approved by unanimous consent. The bill will now go to President Bush to be signed into law.
••••••
Jury service an expression of pride, says new commercial produced by CALA organization
To highlight the importance of serving our state and country through jury service, Citizens Against Lawsuit Abuse is airing a new television Public Service Announcement (PSA) during the month of March across the Rio Grande Valley.
"In a free society, we all have a responsibility to serve on a jury when called. It's a contribution we can embrace with much pride and honor," said Bill Summers, president and founder of Citizens Against Lawsuit Abuse (CALA). "Jury duty is an opportunity that many people around the world would love to have. We shouldn't take it for granted."
Unfortunately, many in Cameron, Hidalgo, Starr, and Willacy counties do take jury duty for granted, demonstrated by appallingly low local response rates, CALA officials contend. District clerks report that in some parts of the Rio Grande Valley as few as only thirty percent of citizens summoned for jury service even show up.
To help counter this perceived trend, the 30-second PSA began airing Thursday, March 15, 2007 on KGBT-TV, the CBS affiliate on local channel four. The spot features a veteran who has served in the Middle East, urging fellow Americans to answer the call to serve on a jury and to "be an example of freedom here at home."
"I fought a half a world away so that others may know the freedoms we enjoy here at home, like freedom of speech, religion and trial by jury," the veteran notes. He explains that he served his country when called upon and now encourages other citizens to do the same when called for jury service.
The veteran, Army Specialist David Escobar, is a 26-year old native of Harlingen. As part of the Third Infantry Division, he served in combat missions in the Middle East; now he serves with Alpha Company 3141 of the Texas National Guard in the Rio Grande Valley. Though a decorated military veteran, he is a television novice; this PSA marks his first televised appearance. He volunteered for the PSA because he believes, like military service, jury service is more than a duty: it is a privilege.
Summers agrees, "When you are selected to serve on a jury, you become an active participant in ensuring justice is fair and balanced."
Recognizing the importance of jury service to a fair and balanced civil justice system, Citizens Against Lawsuit Abuse groups across the state have made encouraging jury service a hallmark of their work over the years.
In 2006, CALA groups drew attention to a new state law that increased juror pay from $6 to a minimum $40 after the first day of service, a 500-plus percent increase in juror pay. CALAs also have made a 21-minute jury duty informational video and brochure available to high schools around Texas.
To view this public service announcement, go to
http://www.citizensagainstlawsuitabuse.com/jurypsa.wmv
Or, for more information about CALA and its work to promote jury service, visit
http://www.citizensagainstlawsuitabuse.com.
Citizens Against Lawsuit Abuse (CALA) is a nonprofit, nonpartisan, grassroots, public education organization dedicated to serving as a watchdog over the legal system and those who would seek to abuse it for undeserved gain. Founded in the Rio Grande Valley in 1991, CALA now strives nationwide to raise awareness of the costs and consequences of lawsuit abuse.
••••••
Bilingual Hispanics use Internet much more than Spanish-dominant Latinos in the U.S., according to Pew Hispanic Center
Latinos comprise 14% of the U.S. adult population and about half of this growing group (56%) goes online. By comparison, 71% of non-Hispanic whites and 60% of non-Hispanic blacks use the internet.
Several socio-economic characteristics that are often intertwined, such as low levels of education and limited English ability, largely explain the gap in internet use between Hispanics and non-Hispanics.
These are some of the key findings in a new report issued today by the Pew Hispanic Center and the Pew Internet Project titled "Latinos Online":
• 78% of Latinos who are English-dominant and 76% of bilingual Latinos use the internet, compared with 32% of Spanish-dominant Hispanic adults.
• 76% of U.S.-born Latinos go online, compared with 43% of those born outside the U.S. Some of this is related to language, but analysis shows that being born outside of the 50 states is an independent factor that is associated with a decreased likelihood of going online.
• 89% of Latinos who have a college degree, 70% of Latinos who completed high school, and 31% of Latinos who did not complete high school go online.
• Mexicans are the largest national origin group in the U.S. Latino population and are among the least likely groups to go online: 52% of Latinos of Mexican descent uses the internet. Even when age, income, language, generation, or nativity is held constant, being Mexican is associated with a decreased likelihood of going online.
The report, written by Susannah Fox and Gretchen Livingston, is based on telephone surveys of 6,016 Latino adults, aged 18 and older, conducted in Spanish and English from June to October, 2006.
"For many people living in the U.S., the internet is the go-to source for information and for staying in touch with friends and family," said Fox, an associate director at the Pew Internet Project. "But we find that significant portions of the population are cut off from online resources. Only about one-third of Hispanics who have not completed high school and one-third of Latinos who do not speak and read English go online."
"The balance among Latinos could swing within a few generations," said Livingston, a research associate at the Pew Hispanic Center. "The sons and daughters of immigrants are flocking online – eight out of ten second-generation Latinos have access to the internet."
Some Latinos who do not use the internet are connecting to the communications revolution in a different way – via cell phone. Fully 59% of Latino adults have a cell phone and 49% of Latino cell phone users send and receive text messages on their phone. Looking at the numbers in a different way, 56% of Latino adults go online, 18% of Latino adults have a cell phone but do not go online, and 26% of Latino adults have neither a cell phone nor an internet connection.
The Pew Hispanic Center and the Pew Internet & American Life Project are non-profit initiatives of the Pew Research Center and are funded by The Pew Charitable Trusts. The Pew Hispanic Center's mission is to improve understanding of the U.S. Hispanic population and to chronicle Latinos' growing impact on the entire nation. The Pew Internet Project examines the social impact of the internet.
Projects of the Pew Research Center do not advocate for or take positions on policy issues.
••••••
South Texas Transplant Center unveils gift of life during World Kidney Day
By DALINDA GUILLEN
The gift of a lifetime was celebrated in an official unveiling of the Rio Grande Valley's first renal transplant center. Healthcare professionals, patient groups, caregivers and local organizations convened at the South Texas Transplant Center at McAllen Medical Center on Thursday, March 8.
The event was organized to raise awareness on the incidences and impact of chronic kidney disease (CKD) and to support the option of a life altering treatment closer to home.
"Encouraging early detection and prevention of kidney disease is an important first step," said Irfam Agha, MD, Physician Medical Director at the new center. "The new center works with area nephrologists to identify patients who require transplantation as a life saving treatment."
The new center also offers patients who have undergone the life altering treatment at other centers the ability to receive post transplant care closer to home. "People do not need to travel to other centers for a transplant," said Agha and added that follow up care for transplant recipients is also available locally with the new center.
In collaboration with "World Kidney Day," observed during "National Kidney Month" in March, the new center joined a global effort to direct attention to the vital organs and offer education about the risks of Chronic Kidney Disease (CKD). The center also provided information about the transplant process, evaluation and care.
"As a first in the Rio Grande Valley, the South Texas Transplant Center at McAllen Medical Center fills a great need," said Rebecca Ryder, Interim CEO for McAllen Medical Center, McAllen Heart Hospital, South Texas Behavioral Health Center and the new transplant center. "Today more than ever, we are pleased to introduce a legacy of hope and awareness in our community."
According to the National Kidney Foundation, 20 million Americans suffer from CKD and another 20 million are at risk. If left untreated or undiagnosed CKD can lead to loss of kidney function and develop to kidney failure and the need for dialysis or transplantation.
Based on data as of March 6, 2007 by the Organ Procurement and Transplantation Network, (OPTN), a national registry for donors and patients, there are over 5,000 patients on the waiting list for a kidney in Texas. OPTN supports the new center assisting with organ matching and placement process for candidates waiting to undergo a kidney transplantation.
Since the center's opening, has registered approximately 60 patients who have begun the rigorous screening process to determine if they meet the requirements for kidney transplantation by undergoing the evaluation process and reviewing eligibility requirements.
"We have successfully listed the first patient on the official United Network for Organ Sharing (UNOS) waiting list. This means that we are in a constant "state of preparedness" with hopes of our first kidney transplantation," said Ryder.
"The center brings together the expertise of surgical intervention, nephrology care, and the multi-disciplinary team approach," said Rick McLean, MD, Surgery Medical Director, whose dream to create the center has become a reality. "As a team, we are prepared to offer this life saving procedure."
McLean further explained that the wait list for the vital organ does not account for dialysis patients who may be potential candidates for the procedure but cannot afford the expense for travel to seek evaluation in transplant centers north of the Valley. "Those already on the list and potential candidates will benefit from the convenience of the new center's location," said McLean.
"As a member of the governing board, we realize the importance of needed services for the area," said David Guerra, Vice-Chairman of the Board of Governors at McAllen Medical Center and McAllen Heart Hospital. "Diabetes is the single biggest health concern in the Valley, and in some communities it affects up to 50 percent of our population. The impact of this new service will afford many the opportunity to seek care close to home, families can be with their loved ones during the process from initiation to recovery, and the procedure will be expedited as timing becomes critical in the transplantation process."
Staffed by experienced transplant specialists, patients are monitored by a transplant nephrologist, transplant surgeons, nurses, data collectors, social workers, pharmacists, and dietitians. This group of professional workers known as "the transplant team," oversee patient care.
The South Texas Transplant Center at McAllen Medical Center worked closely with the local Chapter of the Texas Organ Sharing Alliance (TOSA) to facilitate needed education and local awareness of kidney disease and organ donation at the celebratory event. Information from the "Donate Life" campaign supported by TOSA to encourage live donation was provided to those in attendance.
"Over the years, kidney donations from family members or friends have become a common practice," says Roger Luna, RRT, Program Director at the center. Luna received a kidney from his brother 13 years ago. Since his transplant, Luna has been able be active and a model for second chances at life.
Linda Villarreal, a local physician shared her personal story about being an organ donor with guests to help inspire others to give loved ones a second chance at life. The Second Chance Transplant Support Group of McAllen championed the cause with their presence and support at the celebratory event.
••••••
Attorney General Abbott files suit against companies to recover credit insurance refunds
Texas Attorney General Greg Abbott on Tuesday, March 13, took legal action against four insurance companies for defrauding consumers who purchased "credit insurance" policies to protect their vehicles' financing.
According to the Attorney General's petitions, the companies failed to refund unearned premiums to customers who paid off their vehicles ahead of schedule or otherwise terminated their financing earlier than expected. Refunds to Texas vehicle owners in these cases could reach a total of $6 million.
"The Texas economy depends upon the thousands of businesses that fairly and lawfully conduct commerce across the state," said Abbott. "Texans will not tolerate businesses that boast about benefits of credit insurance but secretly scheme to keep premiums that actually belong to consumers. We intend to return hard-earned money to consumers who bought credit insurance from these defendants."
The companies named in the suit are:
• American Heritage Life Insurance Co. (Dallas)
• Protective Life Insurance Co. (Dallas)
• Old United Life Insurance Co. (Dallas)
• Resource Life Insurance Co. (Austin)
The refunds, if approved by a court, would amount to an average of $222, plus interest, for an estimated 27,000 Texans who purchased the coverage but did not receive the required refunds.
The lawsuits charge the companies with convincing customers to purchase credit insurance that covered consumers for the duration of their vehicular loans. In the event of an insured's death or disability, the insurance would pay off the balance of the vehicle loan. The defendants sold consumers "single-premium" policies, in which the companies bundled the entire cost of the credit insurance policy into the buyer's total loan.
However, if the customer paid off the loan early, the defendants promised to refund the unearned portion of the insurance premium. Despite those promises, they retained the unearned premiums. The Texas Insurance Code requires that these premiums be refunded.
In addition to consumer refunds, the lawsuit seeks penalties of up to $10,000 and $20,000, respectively, for violations of the Insurance Code and Texas Deceptive Trade Practices Act.
••••••
Tax incentives for La Sienna Development to be reviewed Tuesday, March 20, by Edinburg City Council
EDINBURG CITY COUNCIL
CITY OF EDINBURG,
HIDALGO COUNTY, TEXAS
LOCATION:
University of Texas – Pan American
International Trade and Technology Building
1201 West University Drive
300 Block, Dr. Miguel Nevarez Drive
MARCH 20, 2007
REGULAR MEETING AGENDA 7:00 P.M.
I. CALL TO ORDER, ESTABLISH QUORUM.
A. Prayer.
B. Pledge of Allegiance, Agustin Gus Garcia, Councilmember.
II. CERTIFICATION OF PUBLIC NOTICE.
III. PUBLIC COMMENTS.
IV. MAYOR'S REPORT.
V. CITY MANAGER'S REPORT.
VI. AWARDING OF BIDS/CONTRACTUAL/RESOLUTION.
A. Consider Authorizing the Purchase of 3M Opticom GPS Equipment from Consolidated Traffic Controls, Inc., in the amount of $70,532.35.
B. Consider Awarding Bid No. 2007-56, Police Department Uniforms, to Lonestar Uniforms, Inc. of Houston, Texas, in the Amount of $20,119.50.
C. Consider Rejecting Bid No. 2007-60, Manhole Replacement Project.
D. Consider Settlement Offer from Bond Company Regarding the Contract with Velasco Construction Development L.P.
E. Consider Resolution of the City of Edinburg, Texas Authorizing Publication of Notice of Intention to Issue Certificates of Obligation.
VII. CONSENT AGENDA.
A. Consider Resolution Extending a Pay Program To Waive Interest And Penalty Fees Due On Principal Of Outstanding Mowing Liens, Dated January 26, 1967 through March 31, 2007 for one additional month ending April 30, 2007.
B. Consider Transfers of Funds in the Fiscal Year 2006-2007 Budget Within the Following Accounts: 1. Fire Marshal: From Motor Vehicles (Materials) Account to Tools Account, in the amount of $1,800. 2. CDBG: From Colonia Rodriguez Waterline Improvements Account to Colonia Rodriguez Drainage Improvements Account, in the amount of $3,862.
C. Consider Change Order Number 3, City Hall Construction.
D. Consider Approval of Change Order No. 1 for Bid No. 2007-55, Colonia Rodriguez Water and Drainage Improvements Project, Increasing the Contract Amount by $55,624.
E. Discuss and Consider Approving the Transfer, to Gutori, L.P., A Texas Limited Partnership, of the Real Property being 0.51 Acres of Land out of and Part of the West 19.06 Acres of the South 22.09 Acres of Lot 7, Block 2, A.J. McColl Subdivision of Portion 68 as per the Map or Plat Recorded in Volume 21, Page 598, Deed Records of Hidalgo County, Texas Being the Same Land Described in a Warranty Deed from L. Aron Pena to Carlota M. Gutierrez, Individually and as Independent Administrator of the Estate of Ramon Gutierrez Dated April 2, 1975, Recorded in Volume 1440, Page 253, Deed Records of Hidalgo County, Texas.
VIII. EXECUTIVE SESSION.
The City Council will convene in Executive Session, in accordance with the Texas Open Meetings Act, Vernon's Texas Statutes and Codes Annotated, Government Code, Chapter 551, Subchapter D, Exceptions to Requirement that Meetings be Open, §551.071, Consultation with Attorney; Closed Meeting.
1. Legal Discussion – Regarding Settlement Offer from Bond Company Regarding the Contract with Velasco Construction Development L.P.
2. Legal Discussion – Tax Increment Reinvestment Zone for La Sienna Development as Requested by SKC Development, LTD.
OPEN SESSION:
The City Council will convene in Open Session to take necessary action, if any, in accordance with Chapter 551, Open Meetings, Subchapter E, Procedures Relating to Closed Meeting, §551.102, Requirement to Vote or Take Final Action in Open Meeting.
IX. ADJOURNMENT.
I hereby certify this Notice of a City Council Meeting was posted in accordance with the Open Meetings Act, at both bulletin boards located at the main entrances to the City Offices of the City of Edinburg, and at the 210 West McIntyre entrance outside bulletin board, visible and accessible to the general public during and after regular working hours. This notice was posted on March 16, 2007 at 6:30 p.m.
By:/s/Myra L. Ayala Garza,
City Secretary
City of Edinburg, Texas
[All matters listed under Consent Agenda are considered to be routine by the Governing Body and will be enacted by one motion. There will be no separate discussion of these items. If discussion is desired, that item will be removed from the consent agenda and will be considered separately.]
IF ACCOMMODATIONS FOR A DISABILITY ARE REQUIRED, NOTIFY THE CITY SECRETARY DEPT. AT 383-5661 PRIOR TO THE MEETING DATE. WITH REGARD TO ANY ITEM, THE CITY COUNCIL MAY TAKE VARIOUS ACTIONS; INCLUDING BUT NOT LIMITED TO RESCHEDULING AN ITEM IN ITS ENTIRETY FOR A FUTURE DATE OR TIME. THE CITY COUNCIL MAY ELECT TO GO INTO EXECUTIVE SESSION ON ANY ITEM WHETHER OR NOT SUCH ITEM IS POSTED AS AN EXECUTIVE SESSION ITEM AT ANY TIME DURING THE MEETING WHEN AUTHORIZED BY THE PROVISIONS OF THE OPEN MEETINGS ACT.