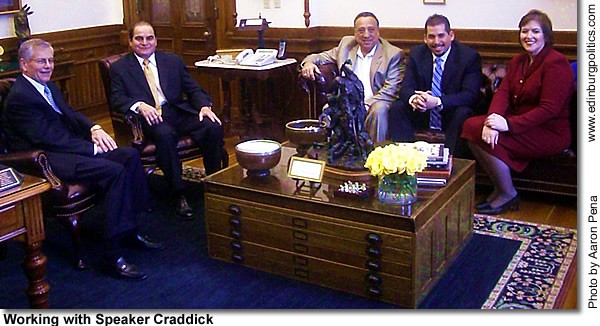 The city's elected leadership, led by Mayor Joe Ochoa, on Thursday, February 8, met with Speaker of the House Tom Craddick, R-Midland, at the State Capitol in Austin to lay out some of the major legislative priorities for the three-time All-America City. Craddick, featured left in this photograph, heard from the mayor and the Edinburg City Council about key funding issues important to Edinburg, including securing $5 million in state funding to hire scientists for the $20 million University of Texas Regional Academic Health Center Biomedical Research Facility in Edinburg. The delegation, which also included Mayor Pro Tem Noe Garza, Councilmember Gus García, Jr., and Councilmember Alma A. Garza, also worked with state lawmakers to push for debt service funding on student tuition revenue bonds that will build a $50 million Performing Arts Center at UT-Pan American. Debt service is the series of payments of interest and principal required on a debt, such as tuition revenue bonds, over a given period of time. Tuition revenue bonds are bonds – long term-debt – that are paid for by money generated from tuition (fees) paid by university students. The city's legislative agenda is a combined effort of the Edinburg City Council, led by the mayor, and its jobs-creation arm, the Edinburg Economic Development Corporation, led by former Mayor Richard García as the chairman of the board of directors, and Mayor Ochoa, who serves on the EEDC board of directors. Featured in this photo, taken by Rep. Aaron Peña, Jr., D-Edinburg, are, from left: Craddick; Ochoa; Noe Garza; Gus García, Jr., and Alma A. Garza. In addition to presenting the city's legislative priorities, the Texas Legislature honored the community by designating Thursday, February 8, as Edinburg Day at the State Capitol. The legislative resolution is included later in this posting.
••••••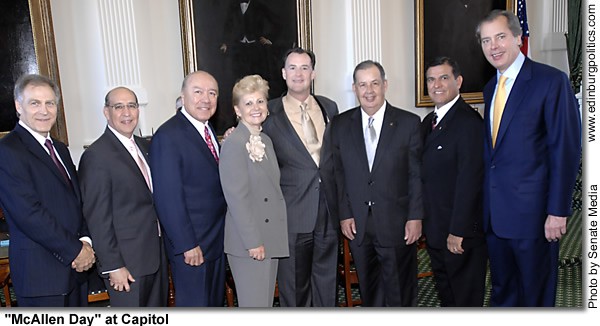 Sen. Juan "Chuy" Hinojosa, D-McAllen, and Sen. Eddie Lucio, Jr., D-Brownsville, on Tuesday, February 6, joined Mayor Richard Cortéz and McAllen leaders in the Senate chamber to celebrate McAllen Day at the Texas State Capitol with a Senate Resolution, SR 184. "We are one of the fastest growing areas in the nation as well as a key region for international trade with Mexico and the rest of Latin America. I am very proud to celebrate McAllen Day here at the Capitol and to make other state leaders aware of the importance, both culturally and economically, of McAllen," Hinojosa said. Lucio, who also represents portions of McAllen in his legislative district, added: "Over the years, McAllen has been privileged with great leadership in the city's administration, school boards, medical and business communities, South Texas Community College and other organizations that promote economic development and quality of life. McAllen can be extremely proud of its advances, and it was an honor for me to join Sen. Hinojosa in welcoming this city's impressive delegation to the Texas Capitol." Featured in this photo taken in the Senate chamber are, from left: Keith Partridge, CEO of the McAllen Economic Development Corporation; Adrian Arriaga, a McAllen business leader; Hinojosa; Dr. Shirley Reed, president of South Texas College; McAllen City Commissioner John Ingram; Cortéz, Lucio, and Dewhurst.
••••••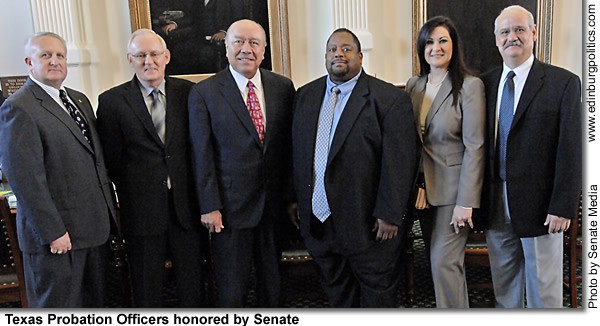 Sen. Juan "Chuy" Hinojosa, D-McAllen, on Tuesday, February 6, joined members of the Texas Probation Association in the Texas Senate to honor the contributions of Texas probation officers with a Senate Resolution, SR 170. "I want to honor the men and women across Texas who tirelessly work to improve our public safety and perform this difficult but important job to keep Texans safe while helping rehabilitate people in the criminal justice system," Hinojosa said. SR 170 honors the Texas Probation Association which represents professionals in nearly 300 adult and juvenile probation departments across the state. The association was formed in 1974. Featured from left are: John D. McGuire, supervisor for the Brazos County Community Supervision and Corrections Department; Tommy W. Ellis, fiscal officer for the Montgomery County Department of Community Supervision and Corrections; Hinojosa; Aris Johnson, Chief Juvenile Probation Officer for Gregg County; Angie Castillo-Sáenz, Supervisor of the Cameron-Willacy Community Supervision and Corrections Department; and Israel "Buddy" Silva, Jr., Director of the Hidalgo County Juvenile Center.
••••••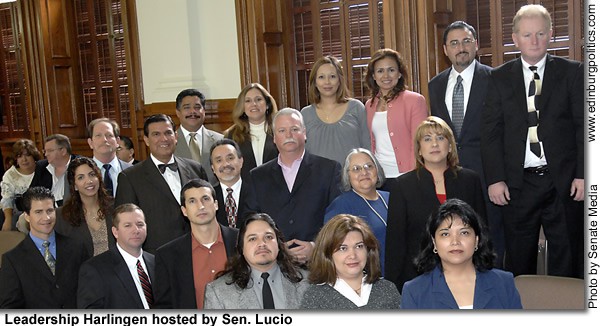 Sen. Eddie Lucio, Jr. D-Brownsville, on Wednesday, February 7, welcomed the 2006-2007 Leadership Harlingen Class to the Texas Capitol, where he presented them with certificates of excellence for outstanding community leadership and class participation. Leadership Harlingen is a program of the Harlingen Area Chamber of Commerce that seeks to identify and train current and emerging leaders to make them more effective community volunteers. Ms. Melissa Boykin, Special Events Manager, said "The purpose behind the trip to Austin is to met their elected representatives, as as expose them to state government at work. We hope to give them as much opportunity to develop their leadership skills with information and insight on the ins-and-outs of not only their community and how it works, but how decisions made in Austin affect their community. Lucio said, "This program develops and enhances community leadership by giving participants expanded knowledge and awareness of the strengths, needs and issues within the Harlingen area. It offers program participants a broader view of civic leadership through direct contact with a wide spectrum of institutions and people that make the Harlingen area a vital and growing community." Participants making the trip were, in alphabetical order: Brad Baumunk; Scott Bradwell; Chris Elliff; Mitchell Fladerman; Steven Glover; Paula González; Richard Guerrero; Brenda Heredia; Alberto Jáimez; Bertha Klefisch; Michael Lamon; Ericka Lopez; Sandra López; David Luna; Héctor Heira; Angelina Ochoa; Nilda Pérez; Steven Salinas; Juan Silva; Rod Snell; Rose Snell; and Joe Treviño.
••••••
Rep. Peña, Rep. Gonzáles provide glimpse of city's history, milestones in "Edinburg Day" resolution
House Resolution 266, authored by Rep. Aaron Peña, D-Edinburg, and co-authored by Rep. Verónica Gonzáles, D-McAllen, whose legislative district includes southwest Edinburg, on Thursday, February 8, passed the legislative proclamation honoring the three-time All-America City at the State Capitol.
The text of the resolution follows:
R E S O L U T I O N
WHEREAS, Members of the Texas House of Representatives are pleased to join with a delegation of citizens of Edinburg in celebrating Edinburg Day at the State Capitol on February 8, 2007; and
WHEREAS, Long considered the gateway to the lower Rio Grande Valley, Edinburg was originally known as Chapin when it became the Hidalgo County seat nearly 100 years ago; it was a ranching
community in its early years, then the arrival of the railroad and the introduction of irrigation in the early 20th century shifted the emphasis of the local economy to the farming of cotton, grain,
and citrus; and
WHEREAS, Officially incorporated in 1919, Edinburg experienced a period of growth and prosperity fostered by the foresight of such city leaders as John Closner and W. F. Sprague; as a thriving center for agricultural marketing and processing, Edinburg experienced a building boom that included the construction of the Grandview Hospital and the Sam Houston and Stephen F. Austin Elementary Schools, all of which still stand; and
WHEREAS, The educational needs of area students are capably met by the Edinburg Consolidated Independent School District; encompassing 945 square miles, the district includes 27 elementary
schools, four middle schools, three high schools, and an alternative campus; and
WHEREAS, Founded in 1927 as Edinburg Junior College, The University of Texas-Pan American remains one of the Valley's premier institutions of higher learning; the university has recently established a master's degree program in creative writing in order to foster a new generation of South Texas writers; nearing completion on campus is a $20 million Regional Academic Health
Center that will develop treatments for illnesses prevalent along the Texas-Mexico border; the university's Wellness and Recreation Sports Complex, encompassing more than 150,000 square feet, is scheduled to open in August 2007, and a proposed fine arts facility will include classrooms, practice rooms, and event space; and
WHEREAS, The Edinburg Children's Hospital has a 24-hour pediatric emergency room; the Doctors Hospital at Renaissance offers a full range of medical and surgical services; and the new Women's Hospital at Renaissance, due to open in spring 2007, will be able to handle the delivery of 8,000 babies a year; and
WHEREAS, The vibrant history and culture of the region are highlighted by the Museum of South Texas History; the facility's recent expansion includes the Rio Grande Legacy exhibit, tracing
the history of the Valley from prehistoric times to the 19th century; further expansion of the museum will include the continuation of the Rio Grande Legacy exhibit to the present day, as
well as the construction of the Will Looney Legacy Park; and
WHEREAS, Other Edinburg attractions include the 40-acre wetlands of the World Birding Center, where waterfowl and native plants can be viewed from winding trails and viewing platforms;
events such as the annual All-American 10K Run/Walk promote health and fitness, attracting participants from all over Texas and the world; Edinburg is also home to the Texas Cook'Em cook-off, where grill cooks compete to prepare the best steaks, chicken, spare ribs, and brisket; and
WHEREAS, Under the able leadership of Mayor Joe Ochoa and city commissioners Gene Espinoza, Agustín G. García, Noe Garza, and Alma A. Garza, the city has experienced steady and positive growth, and Edinburg has been recognized three times by the National Civic League as an All-America City; and
WHEREAS, Proud of their rich history, the people of Edinburg are determined to preserve the best of the city's past while joining together to build a future full of hope and opportunity; and
WHEREAS, Representative Aaron Peña has justly recognized the city of Edinburg by authoring this honorary resolution in its behalf during the Regular Session of the 80th Texas Legislature; now, therefore, be it
RESOLVED, That the House of Representatives of the 80th Texas Legislature hereby recognize February 8, 2007, as Edinburg Day at the State Capitol and extend a warm welcome to the delegation from Edinburg.
••••••
Edinburg school board approves order calling for school board trustee elections on Saturday, May 12
The Edinburg school board has approved a resolution and an order calling for a school board trustee election on Saturday, May 12.
The election is to fill positions for Place 4 and Place 5 on the board currently held by Melba González and Gregory "Greg" García, respectively.
González is being challenged by Robert Peña.
García has drawn two rivals: Dr. Martin Castillo and former Edinburg school board member Cris Treviño.
The election will be held at 11 polling places. Those locations are:
•Hargill School: Precincts 30, 105 and 109
•Jefferson School: Precinct 14
•Freddy González School: Precincts 52, 73 and 106
•Francisco Barrientes MS: Precincts 53 and 110
•Fountain Center: Precincts 31, 69 and 108
•Lee School: Precincts 13, 54 and 107
•Capilla de San José-Lull: Precincts 68 and 129
•San Carlos School: Precincts 15, 43, 104 and 119
•Hargill School: Precinct 18
•Brewster School: Precinct 19
•McCook: Precincts 24, 75, 76 and 89
The polls will be open on Election Day from 7 a.m. to 7 p.m.
Important dates for the May 12 school board elections are:
February 10, 2007
First day to apply for a place on the ballot
March 12, 2007
Deadline to file application for a place on the ballot
March 13, 2007
Ballot position drawing
March 13, 2007
First day to accept applications for early voting mail ballots
March 20, 2007
Last day for a candidate to withdraw in an election
March 28, 2007
First day to begin mailing early voting ballots to applicants
April 12, 2007
Last to register to vote in May 12, 2007 election
April 30, 2007
First day to vote early in person
May 4, 2007
Last day to receive application for an early mail ballot
May 5-6, 2007
Weekend early voting from 1-5 p.m.
May 8, 2007
Last day to vote early by personal appearance
May 12, 2007
Election Day
••••••
The late Elias Longoria, Sr., former longtime Edinburg school board member, honored by Rep. Peña, House of Representatives
The late Elias Longoria, Sr., 75, a well-known community and political leader in Edinburg until his passing in August 2006, was honored on Thursday, February 8, with a memorial resolution authored by Rep. Aaron Peña, D-Edinburg, and approved by the House of Representatives on Thursday, February 8.
The text of the legislative measure, House Resolution No. 209, follows:
R E S O L U T I O N
WHEREAS, A full and generous life came to an end with the passing of Elias Longoria, Sr., of Edinburg who died on August 7, 2006, at the age of 75; and
WHEREAS, Born on April 26, 1931, in La Reforma, Elias Longoria graduated in 1950 from Edinburg High School, where he excelled in both academics and athletics; he earned a scholarship to attend Pan American College and played as a third baseman for the baseball team before leaving school to serve his country; a veteran of the Korean War, he served as a member of the U.S. Navy from 1951
to 1955; and
WHEREAS, This esteemed Texan shared his time and talents with the Edinburg community as a member of the school board for nearly a decade, including serving as the first Hispanic president; his tenure was characterized by his efforts to ensure fair hiring practices, and he was instrumental in hiring the district's first Hispanic superintendent; in addition, he volunteered for more than
20 years as a coach for local youth baseball teams; and
WHEREAS, After retiring from a distinguished career with Southern Pacific Railroad, Mr. Longoria continued to fulfill his civic duty, serving on the grievance committee of the Edinburg Housing Authority and as a member of the Hidalgo County Grand Jury; moreover, he was a faithful congregant of El Buen Pastor Methodist Church; and
WHEREAS, A devoted husband and father, Mr. Longoria shared nearly 50 years with his wife, the former Maruca Garza, and their union was blessed with four children, Elias Longoria, Jr., Luis
Longoria, Leticia Lankford, and Victor Longoria; and
WHEREAS, Elias Longoria, Sr., was a man known for his strong sense of responsibility and for his humility in the face of numerous accomplishments, and he will be remembered with great affection by all those who held him dear; and
WHEREAS, Representative Aaron Peña has justly recognized Elias Longoria, Sr., by authorizing this resolution in his memory during the Regular Session of the 80th Texas Legislature; now, therefore, be it
RESOLVED, That the House of Representatives of the 80th Texas Legislature hereby pay tribute to the life of Elias Longoria, Sr., and extend sincere sympathy to the members of his family: to his wife, Maruca Longoria; to his children, Elias Longoria, Jr., and his wife, Laurie, Luis Longoria and his wife, Noelia, Victor Longoria and his wife, Kristy, and Leticia Lankford and her husband, Gary; to his grandchildren, Philip, Aaron, Julia, Jon Eli, Adam, Gram, Gray, Marco, Amanda, Chad, Isabella, and Abigail; to his sisters, Rosa Elena March, Elma Vela, and Lidia Gordon; and to his other relatives and many friends; and, be it further
RESOLVED, That an official copy of this resolution be prepared for his family and that when the Texas House of Representatives adjourns this day, it do so in memory of Elias Longoria, Sr.
••••••
Australians purchase Texas firm that owned Edinburg Review, RGC Herald, and Town Crier
Halyard Capital recently announced that its announced that its portfolio company, American Consolidated Media, has entered into an agreement with Macquarie Media Group (MMG) to be acquired for $80 million.
The acquisition is subject to regulatory approval and other customary closing conditions. Other financial terms of the transaction were not disclosed.
American Consolidated Media (ACM), which is based in Dallas, was formed in 1998 by Jeremy L. Halbreich, formerly president and general manager of The Dallas Morning News. The company publishes 40 community newspapers and shopping publications serving nine communities throughout Texas and Oklahoma.
Among those publishing ventures are the Edinburg Review, the Rio Grande City Herald, the Valley Town Crier, the Rio Grande Valley Business Journal, Bargain Books, and the Winter Texan.
Macquarie Media Group (MMG) is an investment fund established to create a flexible platform for investments in a broad range of media assets globally, and is listed on the Australian Stock Exchange (ASX: MMGCA).
MMG seeks to combine operational expertise from quality media operators with Macquarie's financing and acquisition expertise, to access investments across the media sector globally, and provide investors with stable cash yields, the benefits of organic growth through market growth and asset performance improvement, as well as growth through acquisition.
In July 2004, Halyard made its investment in ACM to facilitate the acquisition of Valley Media, a publisher of the shopper and community newspaper publications with a significant Hispanic audience in the Lower Rio Grande Valley, one of the fastest growing regions in the U.S.
"Halyard was attracted to ACM community papers' strong franchise values in high-growth communities where there are few local media competitors. In locations where there are competitive publications, ACM generally owns the dominant paper," said Christopher Ruth, a partner at Halyard Capital. "Most of its publications are mature brands with a strong, loyal readership and long relationships with local advertisers. In addition, ACM's publications are geographically clustered, providing operating leverage and cost synergies in the areas of distribution, printing, newsprint and
administration. All these factors increased ACM's attractiveness as a media investment."
"We are delighted to have partnered with Jeremy and his team in our firm's fourth successful investment in the newspaper industry. Jeremy and his team have demonstrated exceptional execution capabilities and will continue to drive the growth in the business with MMG through their focus on targeted community content," Ruth added.
"Halyard Capital has demonstrated throughout our relationship a deep understanding and extremely valuable commitment to our business, our operating strategy and our people," said Halbreich. "Along with fellow investors Arena Capital Partners and BancBoston Ventures, they have served as true partners in facilitating and supporting the growth and development of ACM," he added.
Other Halyard investments in the sector have included ImpreMedia, Herald Media, and American Community Newspapers. Dirks, Van Essen & Murray acted as the company's financial advisor and Paul, Weiss, Rifkind, Wharton & Garrison LLP as well as Akin Gump Strauss Hauer & Feld LLP served as legal advisors to the company.
Halyard is a private equity fund with $350 million of capital under management focused on investing in media, communications and business services companies. The firm specializes in middle-market leveraged buyouts, growth equity and structured equity investments. Halyard invests in and works closely with exceptional management teams in companies with defensible market positions and franchise characteristics, which generate strong cash flow and operate in attractive growth markets.
The firm will commit up to $40 million to individual portfolio companies with a focus on investments of between $15 million and $30 million. Halyard has the ability to complete larger transactions utilizing its network of investment partners.
For more information, please visit http://www.halyard.com.
••••••
Rep. Guillen lands plum spots as Vice-Chairman of House Appropriation Committee, General Calendars Committee
Rep. Ryan Guillen, D-Rio Grande City, was appointed by Speaker of the House Tom Craddick, R-Midland, to arguably the most powerful position of any Valley state representative.
Guillen was selected by the Republican speaker to serve as vice-chairman of the House Appropriations Committee, which writes the state budget that is almost always adopted by the 150-member House of Representatives.
The House's version of the state budget then is matched up against the Senate's version of the state budget, and leaders from both chambers hammer out compromises to arrive at a single spending plan.
As vice-chairman, Guillen is automatically one of the handful of state senators and state representatives who serve on what is called a "conference committee" to come up with the final budget plan for approval by the full Legislature.
A conference committee is composed of five members from each house appointed by the respective presiding officers to resolve the differences between the House and Senate versions of a measure, such as the state budget, when the originating chamber refuses to concur in the changes made by the opposite chamber. Upon reaching an agreement, the conferees issue a report that is then considered for approval by both houses.
The key Appropriations appointment makes Guillen the first House legislator from the South Texas border to be named to the high-level post in 40 years. Rep. Maurice Pipkin, D-Brownsville, was named to that position in 1967.
As news of the appointments spread throughout South Texas and across the state, community leaders offered praise for the decision.
"For the short tenure he has had in Austin, these appointments speak volumes for what he has been able to accomplish and are a feather in Starr county's cap. He is an up and coming representative and I have faith he will accomplish whatever goals he sets his sights on," said Starr County Judge Eloy Vera said after the announcement in late January.
"For a 29-year-old legislator to be named to such high ranking positions in the Texas Legislature clearly demonstrates Rep. Guillen's highly-regarded leadership and future potential," said McAllen Mayor Richard Cortéz.
Guillen also was appointed by Craddick to serve on the House General Calendars Committee, which decides what House and Senate bills are scheduled for action by the full House of Representatives.
The House Calendars Committee serves as a control valve for all bills and resolutions to reach the House Chamber for a vote. These committees control the agenda of the Texas Legislature.
Guillen also was appointed to the Natural Resources Committee which oversees the Texas Commission on Environmental Quality and the Texas Water Development Board and controls all legislation dealing with the development of land and water resources in Texas.
"I am humbled by Speaker Tom Craddick's confidence in my abilities and I look forward to working hard to get the job done for the people of Texas," Guillen said.
••••••
Rep. Guillen bill would excuse lawmakers from being called into lawsuits when they are in session
State lawmakers would be able to postpone testifying or being deposed in a lawsuit anytime the Texas Legislature is in session under a bill filed on January 30 by Rep. Ryan Guillen, D-Rio Grande City.
The text of the measure, House Bill No. 965, follows:
A BILL TO BE ENTITLED AN ACT
relating to excusing a member of the legislature from being compelled to testify or give a deposition in a civil suit or contested case when the legislature is in session.
BE IT ENACTED BY THE LEGISLATURE OF THE STATE OF TEXAS:
SECTION 1.
Chapter 30, Civil Practice and Remedies Code, is amended by adding Section 30.0035 to read as follows:
Sec. 30.0035.
TESTIMONY OR DEPOSITION OF MEMBER OF LEGISLATURE.
(a) In this section, "contested case" has the meaning provided by Section 2001.003, Government Code.
(b) This section applies to:
(1) a civil suit, including a matter of probate or condemnation proceeding, and to any matter ancillary to a civil suit at which the testimony of a witness may be taken or in which a person may be required to give a deposition; and
(2) a contested case before a state agency.
(c) This section does not apply to a member of the legislature who is a party to the suit or contested case in which the person is called to testify or give a deposition.
(d) At any time when the legislature is in session, on application of a member of the legislature who has been called, by subpoena or other method, to testify as a witness or to give a deposition in a suit or contested case to which this section applies, or who in discovery has been named as a potential witness by a party to the suit or contested case, the court in which the suit is pending or the official conducting the contested case hearing, as applicable, shall excuse the member from being compelled to testify as a witness or to give a deposition as provided by this section.
(e) A member of the legislature seeking to be excused under this section must file a request for the excuse with the court in which the suit is pending or with the official conducting the contested case hearing, as applicable. On receipt of the request, the court or official shall excuse the member from being compelled to give testimony or a deposition in the suit or contested case until a time and place agreed to by the member or until a date not earlier than the fifth day after the date the legislative session ends.
(f) This section does not diminish or affect any immunity or privilege of a member of the legislature under other law, including the constitution or common law.
SECTION 2.
This Act takes effect September 1, 2007.
••••••
Pensions for retired teachers would increase under measure filed by Sen. Lucio
Retired teachers in Texas stand to receive a boost to their pensions under a bill introduced by Sen. Eddie Lucio, Jr., D-Brownsville, on Thursday, February 7. Senate Bill 492 would increase a retired teacher's monthly retirement, disability or death benefit by a five percent cost-of-living adjustment. Retired teachers have not received a cost of living increase since 2001.
"The Legislature can from time to time provide a cost of living adjustment based on the performance of investments of the Teacher Retirement System pension fund," said Lucio. "These retirees have lost 16 percent spending power over the last six years from inflation, not counting the 50 percent increase in health care costs they must additionally contend with."
"Sen. Lucio is addressing a situation that has languished since 2001," said Tim Lee, Executive Director of Texas Retired Teachers Association (TRTA). "Providing retired educators with a real cost of living raise will help ensure their quality of life during their retirement years. His leadership on this issue is greatly appreciated by the hundreds of thousands of employees who dedicated their lives to Texas public education."
"For Sen. Lucio to have filed this bill is awesome," said Sylvia Suárez, a retired teacher and legislative chair for TRTA District 1. "We are ecstatic. We feel that this bill would help not only teachers, but everyone who retires from a school district, like support staff. Retired educators and paraprofessionals are not eligible for social security. Some retired support staff receive only from $300 to $600 a month (total retirement pension). When their spouses die, some are forced to sell their homes because they cannot get their social security benefits."
Many retired teachers cannot afford health insurance with the average monthly premiums of $300 they must pay and are living below the poverty level. This bill offers equity in the state contribution through a small adjustment that can help retired teachers keep up with increasing costs of living.
••••••
ECISD sets new school boundaries for 2007-2008 school year
The Edinburg CISD school board has approved a comprehensive rezoning plan that goes into effect in the 2007-2008 school year.
Gilberto Garza Jr., interim superintendent of schools, said the opening of the district's fifth middle school next fall and the construction of classroom wings at Canterbury, Escandón, Zavala, Guerra, Kennedy, Truman and Lincoln elementary schools, have made the new boundaries necessary as the school district attempts to address the continued new student growth.
Garza said the new boundaries will enable the school district to evenly distribute students with regard to building capacity.
The boundary changes will directly affect 19 of 27 elementary schools; the four middle schools and the high schools, said Garza. The elementary schools that will not be affected are Austin, Brewster, Cano-González, De la Viña, Guerra, Hargill, Jefferson, Lee, Travis and Truman schools.
Garza said a 13-person Rezoning Committee met nine times to study several different possible new boundary options. The criteria the committee used in order to arrive at a recommendation for the school board included:
•To keep within the neighborhood school concept as much as possible;
•To take the building capacity into consideration;
•To maintain a workable and safe student membership at each affected campus; and
•To minimize as much as possible the number of students impacted by the rezoning.
Central Administrative staff took a final recommendation to the school board in early January for approval. The changes will become affective for the 2007-2008 school year, said Garza.
As it stands currently, the Edinburg school district has grown by 1,333 students over the 2005-2006 school year, Garza said. He said the elementary totals show 15,359 students (an increase of 674 students) in 27 elementary schools. Of that total, Garza said, Ávila, Eisenhower, Escandón, Treviño and Villarreal elementary schools are well over the 700 mark and rapidly approaching 800 students. Additionally, Betts, Freddy González, Guerra and Truman elementary schools are bordering on the 700 student mark.
The new boundaries will impact the middle school levels the most, Garza said. The district has 6,441 students in its four current middle schools. The opening of the district's fifth middle school, Francisco Barrientes Middle School, in August, will enable the district to more evenly distribute middle school students, Garza said. Barrientes Middle School is currently under renovation to accommodate middle school students. The middle school should be ready by June 2007.
The impact to the high schools will be minimal, said Garza. Although the three schools will be somewhat impacted by the new boundaries, Garza said, the boundaries at the high schools will not be as impacting as at the middle schools where the growth has been greater.
For any questions regarding individual school boundaries, contact the school principals.
••••••
Public meetings set for faculty, parents with questions about new school boundary changes
The Edinburg school district will host several public meetings to provide parents and school staff information on the new school boundary changes for the 2007-2008 school year. Information letters will also be sent out to the parents of students to be impacted by the boundary changes.
Elementary schools will host individual public meetings on their respective campuses between February 26 and March 1.
The middle school schedules are:
South – February 22;
Harwell – February. 26;
B.L. Garza – March 1; and
Memorial – March 8.
The high schools' schedules will be announced later in February.
••••••
Gov. Perry designates six additional emergency items for Legislature to quickly consider
Gov. Rick Perry on Monday, February 5, declared additional emergency items for the 2007 legislative session. The emergency designation will allow lawmakers to begin considering these issues in the initial 30 days of the legislative session.
The emergency items include:
• The general appropriations bill;
• Legislation relating to making supplemental appropriations and reductions in appropriations;
• Legislation relating to making appropriations to the Texas Education Agency for the purpose of school district property tax rate reductions;
• Legislation relating to the management of the water resources of the state, including the protection of instream flows and freshwater inflows;
• Legislation relating to the allocation and use of the sporting goods sales tax revenue to fund state and local parks; and
• Legislation relating to the prosecution, punishment, and supervision of certain sex offenders and to certain crimes involving sex offenders.
"The sooner these legislative items are addressed, the sooner taxpayers will see results on these important issues," Perry said. "By designating these issues emergency items, the Legislature can begin working on them very soon."
••••••
Rep. Peña applauds governor's move to place child predator legislation as emergency item for action
Rep. Aaron Peña, D-Edinburg, is applauding Gov. Rick Perry's decision declaring legislation relating to the issue of sexual assault against children as an emergency matter for the 80th Texas Legislature.
Issues listed as emergency items are considered a top priority and are treated as such in the legislative process.
"Texas has some of the toughest laws regarding those who perpetrate sexual crimes against children," said Peña. "There can be no doubt that we are going to continue to look for ways to keep our children safe from sexual predators."
As Chairman of House Criminal Jurisprudence, Peña will lead the committee charged with tackling this critical issue. Earlier this mont, Peña asked Perry to consider adding the item to the emergency call since House rules prevent regular legislation from reaching the floor within 60 days of the start of the session.
In the Senate, Lt. Gov. David Dewhurst has championed legislation modeled after Florida's "Jessica's Law." The statute is named after Jessica Lunsford who was kidnapped, raped and killed in 2005 by a convicted sex offender.
Some provisions of the law include satellite monitoring of those convicted and subsequently released of sexual assault of a child, larger safe harbor zones around parks and schools, the doubling of the statue of limitations and mandatory punishment of a minimum 25 years prison sentence for first time offenders.
There are several bills that have been filed in the House and Senate modeled in part by the Florida law.
"We will keep sending the message that Texans will not tolerate these crimes against children," said Peña. "There are some concerned about the unintended consequences that some of the proposed legislation may have and we will take that into consideration. There is important work before this committee and we are ready to take on the responsibility."
Peña is finalizing committee staff appointments. The committee is expected to hold its first meeting on Wednesday, February 13. Peña expressed his support for getting started working on the issue at the earliest possible date.
"This legislation will receive the highest priority in the House Criminal Jurisprudence Committee. I fully expect that it will be the first bill considered on our agenda," the Edinburg lawmaker said.
••••••
Gov. Perry outlines proposed $163.7 billion, two-year state budget that would begin on September 1
Gov. Rick Perry on Tuesday, February 6, outlined his 2008-09 budget proposal that establishes a new, higher standard for fiscal responsibility and truth-in-budgeting while meeting key priorities for Texas. The governor's budget slows government growth, provides $15 billion in property tax relief, allocates $5.4 billion to pay for past accounting gimmicks such as delayed payments and leaves a $4.3 billion balance in the Economic Stabilization Fund untouched.
Perry proposes a stricter spending cap tied to the average of inflation and population growth. In this session, the governor's proposed spending cap would be 3.5 percent lower than the current limit. Because the goal of a spending cap is to limit spending, not tax relief, property tax relief would be excluded from the governor's proposed cap. The governor's budget complies with this new proposed spending limit.
In total, Perry's budget provides $167.3 billion from all funds, including $15 billion in tax relief. Absent tax relief, this represents an increase of $9.8 billion, or 6.9 percent over 2006-07. Spending from general revenue absent tax relief totals $71.4 billion, an increase of $5.8 billion or 8.8 percent over the 2006-07 biennium.
••••••
Rep. Gonzáles expresses concerns about plan by Gov. Perry to sell Texas Lottery to private investors
Rep. Verónica Gonzáles, D-McAllen, on Wednesday, February 7, issued the following statements in response to Gov. Rick Perry's State of the State address.
"I hope Gov. Perry will deliver on the promises he made in today's speech. "I have been working to make quality, affordable health care accessible to the families in our area, and I am glad that the governor has said he will join that fight. Gov. Perry says he wants to invest in cancer research, and I look forward to joining him in that effort."
I am also fighting to fully fund the Children's Health Insurance Program. Cancer research can help Texans in generations to come and I hope Gov. Perry will join in that fight as well. I am committed to giving hardworking Texas families access to health care for their children today."
In addition to proposing increased funding for cancer research, Gov. Perry also used his State of the State address to propose a controversial plan to sell the state lottery to a private company.
"I want to learn more about the governor's proposal to sell the state lottery before making up my mind on this issue. I also want to hear from the constituents I serve. While the governor's plan to sell the lotto may provide a short term financial boost for the state, I have grave concerns that this plan may cost us money in the long run.
"Some of our highways have already been sold to a Spanish company, there was an attempt to sell our state parks to a company in Mexico, our Children's Health Insurance Program has been outsourced to a company in the Bahamas and now there is a proposal to sell the lottery—I think we need to take a hard look at his plan and proceed with caution."
"I look forward to working with Gov. Perry when we agree on proposals that will bring good jobs, quality education and affordable health care to our state and our district. But I will stand up to the governor if I believe his policies are wrong for Texas, and I will always put the families of our community first."
••••••
Gov. Perry: Selling state lottery would help fund cancer research, public education
Gov. Rick Perry on Thursday, February 8, told the Texas Public Policy Foundation that his proposal to sell the Texas Lottery for a 40 year private concession is a fiscally sound proposal that will benefit the state. Financial experts conservatively predict the lottery may be sold for $14 billion, generating an estimated $1.3 billion annual interest based on an average return of 9 percent.
"Selling the lottery will work for Texas," Perry said. "The financial gains the sale will generate can effectively provide a long-lasting source of revenue that can ensure we have the money we need to invest in the great challenges we face."
In recent years, the lottery has yielded approximately $1 billion annually. However, this funding is an unstable source of revenue. Selling the lottery for a conservatively estimated $14 billion allows the state to invest in secure trust funds which would annually generate nearly $1.3 billion interest, $300 million more than yearly lottery returns. Perry proposes using the annual interest gained from the sale of the lottery to establish trust funds in perpetuity for cancer research efforts, public education, and a premium assistance program for the uninsured.
This session, legislators have discussed efforts intended to make Texas a leader in cancer research. With the sale of the lottery, the state can dedicate $300 million annually to finding a cure. Steady funding is particularly important in research endeavors to ensure uninterrupted progression of scientists' work.
The governor also proposes using close to $800 million in earned trust fund interest to fund public education. The governor's budget allocates additional general revenue for public education to ensure there is no gap in education funding.
"Without the sale of the lottery, legislators must fund cancer research from general revenue or through a bond proposal, which will inflate a $3 billion price tag for 20 years to a total of $6 billion due to debt," Perry said. "If legislators are willing to find $300 million in general revenue to finance bonds to fund cancer research, then why not use a smaller amount instead to make education funding whole under the alternative scenario of selling the lottery?"
Additionally, $270 million in annual trust fund earnings is proposed to create a premium assistance program for the uninsured. More than 2 million uninsured Texans are below 200 percent of the federal poverty limit. Perry's proposed "Healthier Texas" program would help individuals purchase health insurance through employer-based programs or private plans.
"This is a unique opportunity for our state to invest in the pillars of prosperity: education, jobs and healthcare," Perry said. "Let's invest in a better Texas through wise use of our resources and a continued commitment to fiscal responsibility."
••••••
Sen. Lucio wants governor to help promote health science center/medical school, I-69 development
Sen. Eddie Lucio, Jr., D-Brownsville, on Tuesday, February 6, issued the following statements regarding Gov. Rick Perry's State of the State address:
"I sincerely believe that Gov. Rick Perry has the best interest of the state at heart, as do I. Many of his proposals certainly hold my interest and many of his efforts have my support. Our agendas for the people of Texas share many commonalities, but until we take the pencil to the speech will we know exactly what these words will mean for Texas to become a leader of the 21st Century.
"In his remarks, Gov. Perry said that this state is building roads faster than any state in the nation. However, the Rio Grande Valley still lacks an interstate highway and thus lacks connectivity to the rest of this country. In light of the population growth of South Texas and its increase in traffic from this growth and from NAFTA, our roads aren't being built fast enough, yet we continue in the struggle for approval and funding.
"Another issue raised was the rising cost of health care as an obstacle to prosperity. I concur!
"Gov. Perry said five and a half million Texans are uninsured. In my senatorial district, 25 percent of the residents are without insurance. His Healthier Texas plan proposes that the state pay $150 monthly per individual for health insurance, depending on the family's income. That certainly sounds like a step in the right direction, as does his commitment to continue the necessary funding to operate the Irma Rangel Pharmacy School at Texas A&M at Kingsville.
"I am also seeking his commitment for my bill that will create a health science center and medical school in South Texas. These facilities will certainly improve and increase access to quality health care in the area. And of course, we must accelerate and expand the Children's Health Insurance Program for our Texas children.
"I support the governor's plan to increase financial aid by $360 million for our college students, but not at the expense of curtailing programs that have successfully increased college participation along the Texas border, like the South Texas Border Initiative.
"Increasing teacher pay has been my mantra for many years. Although we have made some inroads in this arena, we still underpay the people who teach and guide our future generations.
"The governor has ideas about immigration that deserve attention. Texas is being forced to look at a primarily federal issue of great impact to Texas handled with little compensation from Washington, D.C. I continue to frown upon building any fences or walls between our two countries, while keeping a positive attitude toward guest worker programs that protect our economy, our businesses and American workers.
"Texas faces many challenges, and the governor outlined them well. I've voiced my motto for this session: Finding Solutions Together. It appears that the many issues the governor touched on today certainly stand a better chance of being solved if we work in unison rather than along party lines. And they will fare better if we all keep the welfare of Texans uppermost in our minds and actions."
••••••
Sen. Zaffirini supports more money for universities, wants to protect special funding for border colleges
Sen. Judith Zaffirini,, D-Laredo, on Tuesday, February 6, issued the following statements in response to Gov. Rick Perry's State of the State address
"I congratulate Gov. Rick Perry on delivering his fourth State of the State address and look forward to working with him and the members of the Texas Legislature toward our mutual goals of establishing and enacting a positive agenda that benefits and champions Texas families.
"Gov. Perry's emphasis on education and increased resources for health and human services certainly is promising. His calling for an additional $80 million to expand the 'Texas Early Start' pre-kindergarten program demonstrates a strong commitment to improving public education. What's more, I am especially pleased the governor intends to dedicate additional funding to early education programs since I filed legislation that would expand Texas Early Education Model (TEEM) sites throughout Texas while increasing the recruitment of highly-trained, qualified early childhood education professionals.
"Because higher education is my top legislative priority, I also am pleased that Gov. Perry is placing it high on his list of priorities. Higher education is an impressive economic multiplier. The governor's proposal of $1.7 billion in new money for higher education is a great investment in our state's future that is certain to deliver remarkable economic and social returns. His support of funding increases to my B-on-Time zero-interest higher education loan program and measures to increase graduation rates across the board will help students be graduated timely and successfully.
"While I remain concerned about proposed funding reallocations that would accompany the governor's higher education proposals, especially cuts to university special items that include institutional enhancements such as the South Texas Border Initiative, I remain optimistic that our state government will produce well-measured policies that will assist all Texas institutions.
"I look forward to working with Gov. Perry, Lt. Gov. David Dewhurst, and my colleagues in the Senate and House in providing Texas students with an excellent education; eliminating all access-to-care waiting lists while increasing access to affordable, quality health care; and providing a better quality of life for all Texas families."
••••••
House Democratic Caucus leaders say Gov. Perry "misses the important priorities" in his state budget
Reps. Jim Dunnam, D-Waco, Garnet Coleman, D-Houston, and Pete Gallego, D-Alpine, on Tuesday, February 6, responded to Gov. Rick Perry's State of the State address.
The House Democrats maintained that despite a few forward-looking recommendations, Perry failed to recognize many of the most essential priorities the legislature must address to move Texas forward.
"The people of Texas deserve a state government that works as hard for them as they work for their families," Coleman, Chair of the Legislative Study Group said. "Unfortunately, the Governor failed to address too many of the fundamental priorities that impact the pocketbook and quality of life for every Texas family that works for a living."
When Texans voted last fall, they made their priorities clear: improve our children's schools, make college affordable again, provide access to health coverage for all Texas children, and lower the cost of our electric bills. In terms of dollars and cents, however, the governor's budget priorities focus almost entirely on property tax cuts that disproportionately benefit wealthy property owners at the expense of needs that are even more important to the future of our state's economy.
"We all support lower property taxes, but Texans are also demanding greater investments in our children's schools, affordable college for our families, and a healthier Texas," Gallego, Chair of the Mexican-American Legislative Caucus, observed. "The Governor talks about these things, but he doesn't offer a plan to put our money to work for us on these critical matters."
Coleman said the state must increase teacher pay across the board to attract and retain quality teachers for our classrooms, and that those teachers should no longer be forced to teach only to a standardized test.
"After twelve years of learning and study in the classroom, graduation should not be based solely on a test that tries to boil it all down to 'A, B, C, or none of the above'," Coleman said.
Dunnam, Chair of the House Democratic Caucus, agreed that the state should increase student assistance for college, but added that eliminating tuition deregulation is a more important step if we are to make college affordable again for all Texas families.
"Unfortunately, tuition deregulation has led to tuition increases that are pricing many students from middle class families out of the opportunity that can only be provided by a college education," Dunnam said.
He cited figures that show a 47% increase in the cost of tuition to the University of Texas at Austin has led to a tuition increase of $2,500 per year. And the problem isn't just at UT – there has been a 54% increase in tuition at UT-Brownsville, a 34% increase in tuition at Texas Tech, and a 49% increase in tuition at the University of Houston.
Coleman said the governor should be commended for acknowledging that Texas has the highest rate of people without health insurance in the country – 24.5% of all Texans. However, he said the Governor's speech failed to adequately address this critical need.
"We cannot gamble on a return from privatizing the Texas Lottery to fund a limited health insurance program for adults," Coleman said, adding that "we must closely watch proposed cuts to Medicaid benefits to make sure they do not result in a similar loss of heath coverage that resulted from the 2003 cuts to the Children's Health Insurance Program."
"The fastest way to insure the children of Texas is to repeal the policies enacted in 2003 that caused 200,000 Texas children to lose their CHIP coverage, policies that cost us $893 million in federal matching funds," Coleman noted.
Gallego, speaking about taxes said, "All Texans should expect truth in taxation, so that our tax dollars go where we expect them to go. The taxes on sporting goods should go to improve state parks, as promised. We also need to prevent the governor from eliminating the System Benefit Fund, which helps the very poor pay their utility bills. Texans shouldn't have to choose between groceries and keeping the lights on."
The Democratic leaders said the state should work to increase the use of renewable energy technologies like solar energy. Such new technologies will help answer the state's growing need for additional energy sources and mitigate the need for unhealthy options such as the new coal plants Perry is currently attempting to fast-track to completion.
"Texans know how the sun beats down on us, so it's time we put it to work for us instead of fast-tracking coal plants that increase health risks, including the risk of cancer," Gallego said.
"Texans are calling for action on these important priorities, but the Governor keeps trying to give that responsibility to private interests who want to use our tax dollars to make a profit," Dunnam said.
"From private school vouchers to private call centers for CHIP to toll roads, privatization has failed us, and it's time for the state of Texas to work for the people again and not for profit," Dunnam concluded.
••••••
Senate panel unanimously approves bill by Sen. Zaffirini to strengthen child passenger safety
The Senate Committee on Transportation and Homeland Security on Wednesday, February 7, unanimously recommended Senate passage of Senate Bill 60 by Sen. Judith Zaffirini, D-Laredo, which strengthens current child passenger safety protections.
The bill requires that children younger than eight years, unless they are four-feet nine-inches in height, be secured properly while riding in a motor vehicle.
"Each year more than 1,600 children die in vehicular accidents," Zaffirini said. "This is the leading cause of unintentional, injury-related death among children 14 and younger. SB 60 would save lives and would make certain our younger children are safe and secure while riding on Texas roads and highways."
Current law requires only children who are younger than five years of age and shorter than 36 inches be properly secured in child-passenger safety seats during the operation of a vehicle. Children between the ages of five and eight and who are between 36 and 57 inches represent an age group that is at great risk of death or severe injury due to the gap in current law.
SB 60 will eliminate this gap and strengthen current child passenger safety protections. It provides for a four-month temporary grace period to inform Texas drivers about the new measure.
"Unrestrained children are more likely to be injured, suffer more severe injuries and possibly die in motor vehicle accidents than children who are restrained," Zaffirini said. "I am very pleased that the Senate Transportation and Homeland Security Committee favorably and unanimously recommended my SB 60, and I look forward Senate passage. We anticipate a remarkable victory for child and public safety."
••••••
Rep. Martínez throws support behind energy assistance program for low-income electricity users
Rep. Armando "Mando" Martínez, D – Welaco, is one of several Valley lawmakers who have signed on as co-authors of House Bill 551, which deals with eligibility of low-income families for an energy assistance program.
The principal author of the legislation is Rep. Sylvester Turner, D-Houston, who is the Speaker of the House Pro Tempore – second-in-command of the House of Representatives.
"House Bill 551 would provide assistance to low-income electric customers by providing a targeted energy efficiency program," Martínez said. "A customer qualifies under the system benefit fund if the household income is not more than 125 percent of the federal poverty guideline."
A resident is also qualified if they meet one of the following:
•Receives food stamps.
•Receives federal housing asístanse.
•Has a child enrolled in the national school lunch program, or reduced-price lunches.
•Receives lifeline telephone service.
"Assisting the economically disadvantaged individuals is one of my goals while in Austin." Martínez said., "I will assist with the passage of this legislation. Not only for the benefit of my constituents, but for all Texans."
The other Valley legislators listed as co-authors are Rep. Verónica Gonzáles, D-McAllen; Rep. Eddie Lucio, III, D-San Benito; and Rep. Juan Escobar, D-Kingsville. Esocobar's legislative district includes Willacy County.
A co-author is a legislator authorized by the primary author to join in the authorship of a bill or resolution. A coauthor must be a member of the chamber in which the bill was filed.
••••••
Rep. Martínez co-authors measure that would increase public awareness of children's health insurance program
Rep. Armando "Mando" Martínez, D-Weslaco, has signed on as a co-author for Bill 109, which would require the state government to inform more Texans that they qualify for the Children's Health Insurance Program (CHIP).
"Under this bill, a commission would provide information through community outreach programs and an education campaign on the availability of health benefits for children who qualify," said Martínez, "The campaign will involve the efforts of school health clinics and make available a toll-free telephone number that will provide information about health coverage for children."
"Assisting families' maintain the health of their children is one of my goals here in Austin," Martínez, said, "I hope legislation will be passed so that all Texas children will have an opportunity to receive the health care they need and deserve."
The principal authors of House Bill 198 are Rep. Sylvester Turner, D-Houston, who is the Speaker of the House Pro=Tempore, and Rep. Aaron Peña, D-Edinburg.
A co-author is a legislator authorized by the primary author to join in the authorship of a bill or resolution. A coauthor must be a member of the chamber in which the bill was filed.
••••••
Congressman Cuellar, Hinojosa to host government contracting workshop in McAllen on February 21
Hidalgo County's two U.S. congressmen – Ruben Hinojosa, D-Mercedes, and Henry Cuellar, D-Laredo/McAllen, will host a federal grants workshop to be be held in McAllen on Wednesday, February 21.
The event will be conducted from 5:30 p.m. to 8 p.m.
The workshop, which is being held at the McAllen Chamber of Commerce, will include presenters from the Small Business Administration, the General Services Administration, and Boeing Corporation. The workshop's primary focus will be on preparing small business owners for doing business with the federal government.
The McAllen Chamber of Commerce is located at 1200 Ash Avenue.
••••••
Congressman Hinojosa supports National Consumer Protection Week
The U.S. House of Representatives on Monday, February 5, passed by a vote of 398-0 a resolution introduced by Rep. Rubén Hinojosa, D-Mercedes, co-chair of the Financial and Economic Literacy Caucus, that recognizes the importance of consumer protection.
"Technological advances have made it easier than ever for criminals to take advantage of our nation's consumers," said Hinojosa. "We must remain vigilant in providing our citizens the best tools to combat the growing number of frauds and deceptions bombarding them."
H. Res. 94 supports the goals and ideals of National Consumer Protection Week, which is Feb. 4th through 10th, and seeks to boost awareness of consumer protection options among Americans. To highlight the week's importance, Hinojosa is collaborating with the Federal Trade Commission and 14 other federal agencies on a Consumer Education Fair scheduled for Feb. 8th in 1302 Longworth House Office Building from 9 a.m. until noon. The fair will be open to all Capitol Hill staff as well as Members of Congress who would like material on how to help constituents improve their financial literacy levels. The general public is also welcome to attend.
In 30 states, the Federal Trade Commission (FTC) reports that more than 60 individuals per 100,000 population were victims of identity theft in 2005. In Texas alone, there were over 26,000 reports of identity theft in one year. According to the FTC, Texas ranks among the top five states where consumers are most likely to have their personal information compromised.
The theme of this year's National Consumer Protection Week, "Read Up and Reach Out: Be an Informed Consumer," encourages people to utilize the wealth of online resources that can vastly improve their confidence in the marketplace. Consumers can boost their knowledge by simply logging on to the National Consumer Protection Week's Web site, http://www.consumer.gov/ncpw, where they can find useful tips on how to make well-informed purchase decisions.
"It's critical that Americans take the necessary steps to protect themselves from consumer fraud and identity theft," said Hinojosa. "I urge everyone to take advantage of the numerous available tools that will help them better secure their information."
••••••
Regents told that the UT System enrolling more minority students that five years ago
Institutions within the University of Texas System are enrolling more minorities, graduating more students in critical math and science fields and producing substantially more research than they were a half-decade ago, according to a report prepared for the UT System Board of Regents.
Regents on Thursday, February 8 approved the wystem's fourth annual Accountability and Performance Report, which provides data and analysis on a variety of academic, health-care and service missions across the System's nine academic and six health institutions.
The report uses 135 measures to gauge such things as enrollment, diversity, student outcomes, faculty productivity, clinical care and community impact over five years at all 15 institutions as well as System administration.
"We are leaders nationally in pioneering this process and making our institutions transparent to the public, and this report demonstrates that," UT System Chancellor Mark G. Yudof said. "What's significant in this accountability study is we offer proof to the public that tax dollars are being used efficiently and productively.
"Moreover, this document is a useful tool in helping us identify those things we wish to improve to make our institutions even better."
Among some of the report's highlights:
• Research expenditures at UT System institutions grew 36 percent since 2002 to more than $1.8 billion in FY 2006. And the total number of new inventions rose by roughly one-third, from 459 in 2001 to 613 in 2005. The UT System in 2004 ranked fourth nationally in the number of patent awards received.
• Enrollment at UT System academic campuses increased by an average of 17 percent from 2001 to 2005, and the proportion of Hispanic freshmen at those institutions (39 percent) exceeded the proportion of Hispanic students graduating statewide from high schools (35 percent).
• UT System institutions, which already account for about one-third of the degrees conferred in the state, awarded 23,167 undergraduate degrees in 2005, a 22 percent increase from 2001. Four institutions were among the top 10 in the nation in the number of undergraduate degrees they awarded to Hispanics.
• Twenty-five percent of all degrees conferred at UT System institutions were in the critical areas of science, technology, engineering and math, which was significantly higher than the national average of 17 percent.
• Faculty from UT System health institutions treated 79,262 patients in state-owned hospitals in FY 2005, up roughly one-third from the 60,785 they treated in FY 2001.
Other noteworthy findings revealed nearly half of undergraduate students received some form of need-based financial aid, which covered nearly 80 percent of their total academic costs. Also, all academic institutions improved six-year graduation rates from 2001 to 2005, five of them by four or more percentage points; and seven of eight four-year campuses showed gains in four-year graduation rates. Seniors at eight academic institutions performed at or above expected levels on the Collegiate Learning Assessment Performance Task scale.
"This report clearly shows progress across the board at our academic and health institutions, but we will continue to evaluate where improvement is most needed and adjust our efforts accordingly," said Dr. Geri Malandra, interim executive vice chancellor for academic affairs and vice chancellor for strategic management.
The UT System Accountability and Performance Report is regarded as one of the top models for higher education accountability in the nation. The System was the first higher education body in the state to devise a comprehensive model for public accountability.
"We are proud of the progress our institutions have made and this study continues to serve us well in developing strategies to make our campuses even stronger," said James R. Huffines, chairman of the UT Board of Regents.
Serving the educational and health care needs of Texans for more than 125 years, the UT System is one of the nation's largest higher education systems with 15 campuses – including nine academic and six health institutions – and an annual operating budget of $10 billion (FY 2007). Student enrollment exceeded 190,000 in the 2006 academic year. The UT System confers one-third of the state's undergraduate degrees and educates three-fourths of Texas health care professionals. With more than 76,000 employees, the UT System is one of the largest employers in Texas.
••••••
Sen. Hutchison cosponsors bill to create National Museum of the Latino
U.S. Sen. Kay Bailey Hutchison, R-Texas, chairman of the Republican Policy Committee, on Thursday, February 8, signed on as an original cosponsor of a bill to establish a commission on the National Museum of the Latino. The legislation, S.500, creates a 23 member commission and authorizes funding to help establish a national museum honoring Hispanic heritage.
"Since the very founding of our great nation, American society has benefited from the contributions of myriad cultures and backgrounds," Hutchison said. "I am pleased to cosponsor this legislation to honor the heritage of our many Hispanic citizens. The museum would also serve as an educational resource for people interested in learning about Latino history and traditions."
The legislation introduced today establishes a 23 member commission with appointments from the president and bi-partisan leaders from both the U.S. Senate and House of Representatives. It calls for the development of a fundraising plan with a national conference, and a report to determine location and governance for the museum. In addition, the legislation authorizes funds for use by the commission.
••••••
Lt. Gov. Dewhurst announces two new appointments to the Texas Ethics Commission
Lt. Governor David Dewhurst has announced the appointments of James Graham and Paula Mendoza to the Texas Ethics Commission.
Graham, a resident of Dallas, is currently an investment manager at Hunt Realty Corporation. He is a graduate of Miami University and George Washington University.
Mendoza, a resident of Houston, is owner of Possible Missions, Inc., a small business consulting firm. Mendoza is the Chairwoman of the Texas Association of Mexican-American Chambers of Commerce. She is a graduate of University of Houston.
The Texas Ethics Commission, created by Constitutional amendment in 1991, is responsible for administering and enforcing political contribution and expenditure laws, lobbyist activities, state officers' financial disclosure statements, state officers' salaries, and other ethics issues.